"A city in a garden": Singapore's journey to becoming a biodiversity model
Biodiversity transformation: Preserving quality of life and urban spaces, Singapore style
You wouldn't know it today, but in 1965 Singapore was a polluter's paradise: mucky rivers, polluted canals and raw sewage running rampant. It was a developing country, newly split from neighbouring Malaysia, an island surrounded by waters that now they had to govern on their own.
The incredible journey of Singapore, from a struggling polluted backwater into a global green powerhouse, was not automatic or easy. How it aimed to maintain its environmental momentum, was to take the lessons of history and create a new generation of eco-warriors in its students. The engine behind this is Singapore's national park service.
The energetic Group Director for National Biodiversity Centre at National Parks Board, Lim Liang Jim, recently shared his vision for Singapore's future – a future dependent on its students becoming eco-activists and preserving the gains made since the city-state's gritty early days.
"From 1965 we merely wanted to rise above the region we found ourselves in. Lee Kuan Yew had a plan. Keep us clean. Keep us green." The city's pioneer generation, he said, understood that if you make a city "a nice place to live, then people will come and invest. Then we moved up." Lee Kuan Yew was often called 'Chief Gardener' for his belief in the power of plants and biodiversity to transform people's overall mental well-being, as well as physical spaces.
As a city-state, Singapore had the luxury of a centralized government solely concerned with looking after its citizens' well-being and future. Biodiversity was not just a 'nice-to-have' but a 'must-have' for Singaporeans who wanted to stay in their land and build their new country from the ground up.
The National Biodiversity Centre, for instance, recently developed a high-tech app, the SGBioAtlas. This allows all members of the public (including students) to take a photo of a plant, bird or animal. The app geotags it and uploads it into their central database. Through their smartphones, students as well as ordinary citizens become instant citizen scientists.
Walk around Singapore today, and you will not see smelly, polluted rivers, but plants that literally crawl up skyscrapers, a garden or park in virtually every corner of the city, and teams of eco-volunteers who scour the island nation looking after its wildlife of all stripes.
As Masagos Zulkifli, Singapore's Minister for the Environment and Water Resources, stated in his recent Global Environment Outlook 6 (GEO6) opening address, "in the 1960s, Singapore was like any other developing country – dirty and polluted, lacking proper sanitation and facing high unemployment. These challenges were particularly acute, given our constraints as a small island state with limited resources; we did not even have enough drinking water."
Singapore, since its break-off from Malaysia in 1965, had no choice but to become one big urban space where its citizens would pack into its urban centre. Less well known, is the difficult and long journey towards sustainable conservation and biodiversity.
With independence came the push to industrialize as fast as possible. According to Minister Zulkifli, "one of Singapore's transformations involved the cleaning of the Singapore River, which was literally an open sewer in the 1960s and 1970s. The clean-up took ten years and involved thousands of Singaporeans relocating from farms, factories and street-food stalls that were polluting the river catchment. The successful clean-up also set in motion a process to create a reservoir in the heart of the city."
So how did they manage to become an advanced economy and preserve their environment at the same time? As is the case in many countries, short-term thinking was always going to prioritize economic development over the environment. A mindset shift was needed, said Minister Zulkifli. "Our approach has been to build a liveable and sustainable city, through pragmatic policymaking based on sound economic principles and science; a focus on long-term planning and effective implementation; and the ability to mobilise popular support for the common good." The message was clear: if Singapore could transform itself from a polluted backwater into a global green powerhouse, so can any city.
For thirty years, the city-state painstakingly cleaned up its polluted areas, created agencies like the National Parks Board, and determined that everywhere one looked, one could find greenery. A concrete jungle was never what the pioneers had in mind. From urban planning to policy inducements to zoning to public awareness campaigns, the successive governments of Singapore have followed this central vision for their nation. They now call it the 'biophilic City in a Garden,' and the government calls upon every Singaporean to do their part to keep their city green and clean.
Youth are the key
The current evolution of this vision, says Lim, includes a key component of the Nature Conservation Master Plan (NCMP): outreach. In this vision, they are targeting Singapore's youth.
"We are going back to history, to ensure that we build from the ground up and ensure that the youth of Singapore don't take our 50 years of history for granted," Lim says. With a new generation of Singaporeans who only know clean air and green parks, the lessons of history can easily be forgotten.
"We don't want that to happen. We want a ground up effort, to appreciate nature more, contribute to the science behind the conservation of nature so it becomes a movement." A youth movement and a generation which has grown up educated in conservation is insurance, Lim says. "In future if someone says, 'let's not think about green, let's build', there will be a significant percentage of population" who can act as informed advocates for nature's conservation and green spaces instead of a modern, first-world city.
The next generation will hopefully buy-in to the vision, he says, that "'we treasure Singapore's unique status as a green and biodiverse city and we should work to keep it this way.'" To him, this is the legacy of Singapore's founding generation he and his team are working to retain and enhance. "We want to ensure the sustainability of our green vision."
Environmental conservation "has to be something that is driven by the grassroots movement, it has to become in a sense political. You can't easily turn a nature reserve into buildings, it would require some reasoned discussion with the public. We have to make sure that the younger generation appreciate our nature and biodiversity and not take them for granted."
Structural Transformation Can Turn Cities into Engines of Prosperity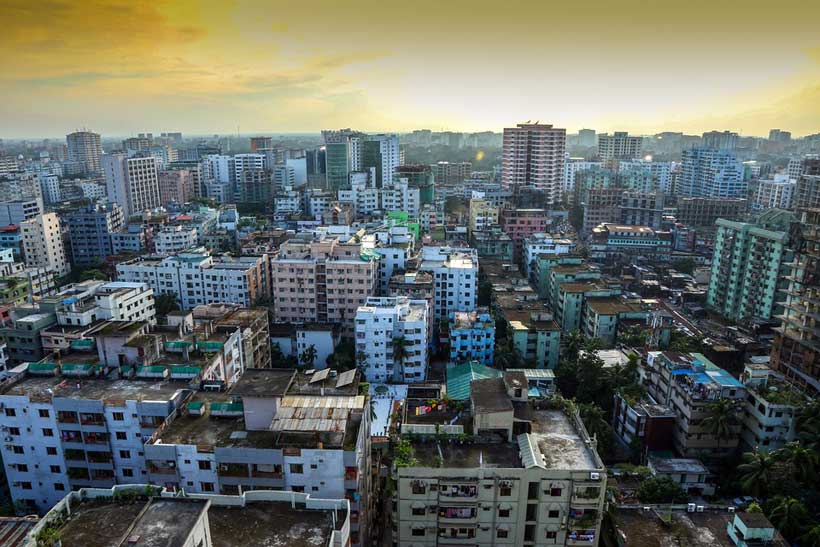 By 2050, the population of cities is projected to double from its current size, with nearly 70 percent of the global population residing in urban areas. For many, cities are beacons of hope that offer the prospect of a better job or education, but a new body of research is highlighting how the complex interactions between cities, their surrounding rural areas, and structural transformation can make or break cities as engines of prosperity.
"Poverty reduction is almost universally accompanied by a transition of the workforce from agriculture into higher-productivity jobs in the manufacturing and service sectors," said Francisco Ferreira, Acting Director of Research at the World Bank. "Urbanization plays a central role in this process, but getting this right requires an understanding of how cities are shaped by investments in infrastructure as well as human capital."
At a recent Policy Research Talk, World Bank Senior Economist Forhad Shilpi shared insights into how to manage this process based on more than a decade's worth of research spanning many of the world's poorest countries. According to Shilpi, all cities share certain common features: higher population density, a predominance of non-agricultural activities, a high degree of labor specialization, and a diverse set of economic activities.
But history demonstrates that the underlying economic structure of cities can vary significantly. Prior to the industrial revolution, cities like ancient Rome grew through concentrated trade and services. The growth of manufacturing in the 19th century produced the modern industrial town, exemplified by Manchester. More recently, knowledge-intensive industries have helped shape post-industrial cities like San Francisco.
According to research by Shilpi and her colleagues, cities in many developing countries still bear a greater resemblance to ancient Rome than to Manchester or San Francisco. In Nepal, for instance, Shilpi found that the size of manufacturing firms in cities was on average no larger than in rural areas and these firms employed no more skilled managerial workers than those in rural areas. Both of these characteristics point to an absence of the kind of high-productivity jobs that are associated with economic specialization.
Worryingly, this pattern applies more generally for cities across South Asia and to an even greater degree for many cities in Africa. According to a widely-cited study published in 2000, African countries are prone to urbanization without economic growth. More recent research has found that African cities are relatively closed to the world, with only half of economic activity taking place in sectors that produce tradable goods and services. Some cities have even been described as consumption cities that live off the proceeds of resource exports rather than more dynamic manufacturing and services sectors.
Despite this depressing portrait, Shilpi still offered her audience cause for optimism. In 1999, Shilpi's native country of Bangladesh opened the World Bank-supported Jamuna Bridge, which crosses the Jamuna River and connects the rural and poorer northwest part of Bangladesh to the rest of the country. The nearly 5-kilometer bridge brought about a dramatic reduction in trade costs with travel time cut by at least four hours and freight costs reduced by 50 percent.
According to Shilpi and colleagues' research, the greater integration of the northwest with the rest of Bangladesh following the opening of the Jamuna bridge transformed both rural and urban areas. In the northwest, population density increased and rice yields rose significantly. Manufacturing moved to urban areas, while the agricultural and services sectors generated more employment in rural areas.
"In 1974, Bangladesh suffered a devastating famine. The northwest region was hardest hit," said Shilpi. "But by 2010, that region had become the breadbasket of the country."
Additional research on trade costs in Burkina Faso and Mali confirms a broader point: bringing down trade costs through smart investment in infrastructure can allow rural and urban areas to specialize in the sectors for which they are best suited, with benefits for both rural and urban populations.
Another key element that connects cities to their surrounding areas is internal migration. Cities are almost always the destination of choice for internal migrants, but a study by Shilpi and her colleagues of migration in South Africa suggests that the decision about which city to migrate to is far from arbitrary. The study found that unskilled migrants were more concerned with levels of unemployment across cities, while skilled workers were driven more by wage differences.
The results point to the role that migration can play as an engine for equality between regions—those without jobs move to where the jobs are, while those seeking higher wages move to where wages are higher.
For individual cities, this presents a challenge, since efforts to create new jobs will only have a partial impact on their own unemployment rate. Migration can also further exacerbate inequality within a city, as unskilled job seekers find themselves concentrated in areas lacking basic amenities like electricity that the wealthier residents can afford. Shilpi highlighted the positive role that targeted policies—especially education initiatives targeted to poor areas—can play in helping manage these challenges.
Managing cities not as islands, but as parts of an integrated whole, may serve as one of the most effective methods for building a world without poverty.
Smart housing prototype shows promise in rapidly urbanizing Africa
Africa is urbanizing fast, as its population grows and many flocks to cities in search of jobs, education and healthcare.
Studies show that hundreds of millions more Africans will live in cities over the next three decades.
Many of these new urban Africans, however, are likely to end up in informal settlements. Already an estimated 200 million Africans live in informal settlements—often without access to energy and sanitation.
The growing class of urban poor need access to decent housing. But the challenge is that the global housing sector already emits almost a third of global greenhouse gas emissions and uses up to 40 per cent of the planet's total resources. New approaches are clearly needed.
As the housing sector grows—and it must grow if we want an equitable world—we need to reduce its environmental impact, not raise it," said UN Environment Acting Executive Director, Joyce Msuya. "Smart design is the only way to meet our housing needs and stay within planetary boundaries."
UN Environment, UN Habitat, the Yale Center for Ecosystems in Architecture and associated partners are working on these designs, one of which is on display at the UN Environment headquarters in Nairobi, Kenya.
First unveiled at the fourth United Nations Environment Assembly, the 3D-printed modular structure, made from biodegradable bamboo, aims to spark ideas and debate on how future biomaterial processes can help meet the Sustainable Development Goals, Habitat III New Urban Agenda and Paris Agreement.
The pavilion shows how post-agricultural waste—like bamboo, coconut, rice, soy and corn—can be turned into construction materials. It demonstrates solar energy and water systems that make homes self-sufficient and zero carbon. It highlights how micro-farming can be achieved with plant walls. All these features, and more, are integrated, monitored and managed by sensors and digital controls.
"As urbanization gallops forward, people around the world are tired of seeing precious natural habitats paved over with toxic, energy-intensive materials such as concrete and steel," said Anna Dyson, Director of the Center for Ecosystems in Architecture at Yale University. "In the 21st century, global construction practices must innovate towards nature-based solutions for future cities. Our research consortium with East African collaborators is devoted to advancing state-of-the-art locally produced building systems."
It is fitting that the pavilion is based in Kenya, as the government there has prioritized affordable housing as a key pillar of its Big Four Agenda, which aims to make the East African nation an upper middle-income country by 2030. Over the next five years, the government plans to build over 500,000 affordable houses across the country to meet the ever-growing housing demand.
To achieve the low-cost housing agenda, however, the industry needs to embrace technological changes that will result in the use of innovative sustainable construction, the aggregate effect of which would be to lower the embodied energy and average cost of manufacturing and housing. "Architecture must address the global housing challenge by integrating critically needed scientific and technical advances in energy, water, and material systems while remaining sensitive to the cultural and aesthetic aspirations of different regions," said Deborah Berke, Dean of the Yale School of Architecture.
The pavilion serves as a starting point for those in government and industry to think about what they can do better. It is part of a series of demonstration buildings, which started with a 22-square-meter "Ecological Living Module", powered by renewable energy and designed to minimize the use of resources such as water. This module was displayed at the United Nations High-level Political Forum on Sustainable Development in 2018.
First ever Cities Summit calls for integrated approach to urban infrastructure
While Member States were adopting a resolution on sustainable infrastructure at the UN Environment Assembly, the Cities Summit reinforced the importance of local action and the need for an integrated approach to urban infrastructure.
Already 60 per cent of waste and three quarters of resource use and greenhouse gas emissions come from cities, making them great places to tackle sustainable consumption and production. But preserving the well-being of an increasingly urban population, many of whom still lack access to affordable and adequate housing and basic services, is just as important as we seek to achieve the sustainable development goals.
An integrated approach to urban infrastructure can help do both.
In the São Paulo neighbourhood of Jardim Helian, around 14,000 people live in an informal settlement, where the unplanned nature of the area has led to obvious problems.
"One of the issues is when houses invade the river's territory, leading to forced channelling [which causes floods during the rainy season]," said local resident Mohammed. "Another is that sewage is thrown directly into the creek."
The Sustainable Cities Programme and UN Environment is helping create an integrated "neighbourhood approach", which addresses multiple environmental issues by bringing locals together with government and including their concerns in city planning. Lifestyles are already becoming more sustainable there thanks to the intervention.
According to the International Resource Panel Report Weight of Cities, optimizing systems and creating cross-sector synergies between buildings, mobility, energy and urban design can reduce greenhouse gas emissions and resource use by up to 55 per cent.
"Close to 70 per cent of the urban infrastructure that we will see in 2050 is yet to be built," said Joyce Msuya, Acting Executive Director of UN Environment, at the summit. It is a huge opportunity to solve different for our cities and future-proof investments."
UN-Habitat head Maimunah Mohd Sharif, who opened the summit alongside Msuya, concurred, saying that cities are where "the most-severe challenges arising from human-made climate change will have to be confronted".
Solutions are everywhere
Many solutions exist, such as smart supermarkets and district energy systems, which allow wider systems integration. The retail chain Aktiv & Irma in Germany, for example, has installed an integrated system that links refrigeration, lighting, heat, ventilation and air conditioning. This optimizes power use and cuts 20 per cent off energy costs.
"Remember whenever you hold your hand behind the fridge, it is warm. And today, most supermarkets don't use this heat," said Ziad Al Bawaliz, Danfoss Chief Executive Officer, Turkey, Middle East and Africa. "By using waste heat from all the supermarkets in just Europe, we could replace 10 coal power plants."
With a district energy system—a network of underground pipes that heat or cool multiple buildings—waste heat can even be stored. This includes heat from data centres, industry and metro systems, as seen in countries like Japan, Korea or Chile.
But integration is also needed at different levels, from vertical governance to horizontal, cross-sectoral planning, policy, and finance.
"A sustainable city needs sustainable infrastructure and an integrated, holistic and circular approach to sustainability challenges," said Tserenbat Namsrai, Mongolia's Minister of Environment and Tourism, who backed the resolution on creating sustainable infrastructure.
The Cities Summit showed that visionary local governments, companies and communities are developing solutions that link systems like transport, energy, housing, water and waste. Some cities have set high climate and/or circularity targets.
Osaka, Japan is including energy policy and climate change measures within urban development planning to enable integrated solutions. Dakar, Senegal emphasized the need for good data to undertake holistic planning, while and Buenos Aires and the Ministry of Environment in Argentina demonstrated how multiple levels of government can jointly address the sustainable management of land, transport, and energy.
A new initiative on infrastructure
Integration of partners is just as important, which is why leading companies—including ENGIE, Siemens, JCI and Danfoss—said at the Summit that they would join forces with the UN Environment on a new public-private partnership to promote and implement urban system integration
"The technology is there, finance is there, but we need capacity," said Michael Schack, Director of Networks and Cogeneration ay ENGIE. "Only the UN can address this gap. And we, as the private sector, stand ready to launch a new partnership with UN Environment."
The new UN Environment Urban Systems Integration programme will help local and national governments accelerate their transitions to circular and low-carbon economies, enhance efficiency, and reduce cities' resource demands while improving health and well-being. Country participants, including Korea, Poland and Germany, also expressed support for such a partnership.
"Our specialty is to integrate things in Korea and we stand ready to assist any city and country to fast track to integration," said Benjamin Yoon of the Korean District Heating Corp and a member of Korea's delegation to the UN Environment Assembly.
The initiative aims to support cities in developing integrated approaches to cross-sectoral infrastructure planning and policies and in implementing key technologies that can facilitate connections and interactions across buildings, energy, transportation, wastewater treatment and waste management.
As United Nations Secretary-General's Special Envoy for the 2019 Climate Summit Luis Alfonso de Abla, said in the closing panel, "we need concrete, bold and ambitious climate actions".
The commitment by UN Environment and partners to accelerate integrated urban infrastructure is undoubtedly one such action.