Neocons hate Russia even more than they hate any other nation
Neoconservatism started in 1953 with Henry "Scoop" Jackson, the Democratic Party U.S. Senator from the state of Washington (1953-1983), who became known as a 'defense' hawk, and as "the Senator from Boeing," because Boeing practically owned him. The UK's Henry Jackson Society was founded in 2005 in order to carry forward Senator Jackson's unwavering and passionate endorsement of growing the American empire so that the U.S.-UK alliance will control the entire world (and U.S. weapons-makers will dominate in every market).
Later, during the 1990s, neoconservatism became taken over by the Mossad and the lobbyists for Israel and came to be publicly identified as a 'Jewish' ideology, despite its having — and having long had — many champions who were 'anti-communist' or 'pro-democracy' or simply even anti-Russian, but who were neither Jewish nor even focused at all on the Middle East. Republicans Donald Rumsfeld, Dick Cheney, and John McCain; and the Democrat, CIA Director James Woolsey — the latter of whom was one of the patrons of Britain's Henry Jackson Society — were especially prominent neoconservatives, who came to prominence even before neocons became called "neoconservatives." What all neocons have always shared in common has been a visceral hatred of Russians. That comes above anything else — and even above NATO (the main neocon organization).
During recent decades, neocons have been hating Iranians and more generally Shiites — such as in Syria and in Lebanon, and now also in Yemen — and not only hating Russians.
When the Israel lobby during the 1990s and after, pumped massive resources into getting the U.S. Government to invade first Iraq and then Iran, neoconservatism got its name, but the ideology itself did not change. However, there are a few neoconservatives today who are too ignorant to know, in any coherent way, what their own underlying beliefs are, or why, and so who are anti-Russians (that's basic for any neocon) who either don't know or else don't particularly care that Iran and Shia Muslims generally, are allied with Russia. Neoconservatives such as this, are simply confused neocons, people whose underlying ideology is self-contradictory, because they've not carefully thought things through.
An example is Vox's Alex Ward, who built his career as an anti-Russia propagandist, and whose recent ten-point tirade against Russia I then exposed as being false on each one of its ten points, each of those points having been based upon mere allegations by U.S. neocons against Russia without any solid evidence whatsoever. Indictments, and other forms of accusations, are not evidence for anything. But a stupid 'journalist' accepts them as if they were evidence, if those accusations come from 'the right side' — but not if they come from 'the wrong side'. They don't understand even such a simple distinction as that between an indictment, and a conviction. A conviction is at least a verdict (though maybe based on false 'evidence' and thus false itself), but all that an accusation is is an accusation — and all accusations (in the American legal system) are supposed to be disbelieved, unless and until there is at least a verdict that gives the accusation legal force. (This is called "innocent unless proven guilty.")
Earlier, Mr. Ward had headlined as if he were an anti-neocon, when he posted his "America is fueling the war in Yemen. Congress is finally pushing back." What can account for that seemingly incongruous article?
Mr. Ward is a Democrat — an heir to Senator Jackson's allegedly anti-communist though actually anti-Russian ideology — but, since Ward isn't as intelligent as the ideology's founder was, Ward becomes anti-neocon when a Republican-led Administration is doing things (such as Ward there criticizes) that are even more-neocon than today's Democratic Party itself is. In other words: 'journalists' (actually, propagandists) such as he, are more partisan in favor of support of Democratic Party billionaires against Republican Party billionaires, than in support of conquering Russia as opposed to cooperating with Russia (and with all other countries). They're unaware that all American billionaires support expansion of the U.S. empire — including over Yemen (to bring Yemen in, too — which invasion Ward incongruously opposes). But politicians (unlike their financial backers) need to pretend not to be so bloodthirsty or so beholden to the military-industrial complex. Thus, an American doesn't need to be intelligent in order to build his or her career in 'journalism', on the basis of having previously served as a propagandist writing for non-profits that are mere fronts for NATO and for Israel, and which are fronts actually for America's weapons-manufacturing firms, who need those wars in order to grow their profits. Such PR for front-organizations for U.S. firms such as Lockheed Martin, is excellent preparation for a successful career in American 'journalism'. If a person is stupid, then it's still necessary to be stupid in the right way, in order to succeed; and Ward is, and does.
This, for example, is how it makes sense that Ward had previously been employed at the War on the Rocks website that organized the Republican neoconservative campaign against Donald Trump during the 2016 Republican primaries: the mega-donors to both U.S. Parties are united in favor of America conquering Russia. And that's why War on the Rocks had organized Republican neocons to oppose Trump: it was done in order to increase the chances for Trump's rabidly anti-Russia and pro-Israel competitors such as Ted Cruz or Marco Rubio to win that nomination instead, which would then have produced the billionaires' dream contest, between Hillary Clinton versus an equally neoconservative Republican nominee. A bipartisan neoconservatism controls both of the American political Parties. A 'journalist' who displays that sort of bipartisanship can't fail in America, no matter how incompetent at real journalism he or she might be. (However, they do have to be literate. Stupid, maybe; but literate, definitely.)
The core of America's form of capitalism has come to be the U.S. aristocracy's bipartisan, liberal and conservative, Democratic and Republican, form of capitalism, which isn't merely fascist (which includes privatizing everything that can be privatized) but which is also imperialist (which means favoring the country's perpetration of invasions and coups in order to expand that nation's empire). The United States is now a globe-spanning empire, controlling not merely the aristocracies in a few banana republics such as Guatemala and Honduras, but also the aristocracies in richer countries such as France, Germany and UK, so as to extract from virtually the entire world — by means mainly of deception but also sometimes public threats and clearly coercive — unfair advantages for corporations that are within its borders, and against corporations that are headquartered in foreign countries. America's billionaires — both the Democratic ones and the Republican ones — are 100% in favor of America's conquering the world: this ideology is entirely bipartisan, in the United States.
Though the billionaires succeeded, during the first Cold War — the one that was nominally against communism — at fooling the public to think they were aiming ultimately to conquer communism, George Herbert Walker Bush made clear, on the night of 24 February 1990, privately to the leaders of the U.S. aristocracy's foreign allies, that the actual goal was world-conquest, and so the Cold War would now secretly continue on the U.S. side, even after ending on the U.S.S.R. side. When GHW Bush did that, the heritage of U.S. Senator Jackson became no longer the formerly claimed one, of 'anti-communism', but was, clearly now and henceforth, anti-Russian. And that's what it is today — not only in the Democratic Party, and not only in the Republican Party, and not only in the United States, but throughout the entire U.S. alliance.
And this is what we are seeing today, in all of the U.S.-and-allied propaganda-media. America is always 'the injured party' against 'the aggressors'; and, so, one after another, such as in Iraq, and in Libya, and in Syria, and in Iran, and in Yemen, and in China, all allies (or even merely friends) of Russia are 'the aggressors' and are 'dictatorships' and are 'threats to America', and only the U.S. side represents 'democracy'. It's actually an aristocracy, which has deeply deceived its public, to think it's a democracy. Just as every aristocracy is based on lies and on coercion, this one is, too — it is no exception; it's only that this particular empire is on a historically unprecedentedly large scale, dominating all continents. Support that, and you're welcomed into the major (i.e., billionaire-backed) 'news' media in America, and in its allied countries. This is America's  'democracy'. (Of course, an article such as this one is not 'journalism' in America and its allied countries; it's merely "blogging." So, it won't be found there though it's being submitted everywhere. It will be accepted and published at only the honest news-sites. A reader may Web-search the headline here in order to find out which ones those are. Not many 'news'media report the institutionalized corruptness of the 'news'media; they just criticize one-another, in the way that the politicians do, which is bipartisan — the bipartisan dictatorship. But the rot that's actually throughout the 'news'media, is prohibited to be reported about and published, in and by any of them. It is totally suppressed reality. Only the few honest news-sites will publish this information and its documentation, the links here.)
However, actually, the first time that the term either "neoconservatism" or "neo-conservatism" is known to have been used, was in the British magazine, The Contemporary Review, January 1883, by Henry Dunkley, in his "The Conservative Dilemma" where "neo-conservative" appeared 8 times, and was contrasted to traditional "conservatism" because, whereas the traditional type "Toryism" was pro-aristocratic, anti-democratic, and overtly elitist; the new type was pro-democratic, anti-aristocratic, and overtly populist (which no form of conservatism honestly is — they're all elitist): "What is this new creed of yours? … That there must be no class influence in politics? That any half-dozen hinds on my estate are as good as so many dukes? That the will of the people is the supreme political tribunal? That if a majority at the polls bid us abolish the Church and toss the Crown into the gutter we are forthwith to be their most obedient servants?" "No: from whatever point of view we consider the question, it is plain that the attempt to reconstruct the Tory party on a democratic basis cannot succeed." "The Tories have always been adepts at conservation, but the things they have been most willing to conserve were not our liberties but the restrictions put upon our liberties." "The practical policy of Conservatism would not alter, and could not be altered much, but its pretensions would have to be pitched in a lower key." "Here we seem to get within the smell of soup, the bustle of evening receptions, and the smiles of dowagers. The cares which weigh upon this couple of patriot souls cannot be described as august. It is hardly among such petty anxieties that the upholders of the Empire and the pilots of the State are bred." "The solemn abjuration which is now proposed in the name of Neo-conservatism resembles a charge of dynamite." He viewed neo-conservatives as being let's-pretend populists, whose pretense at being democrats will jeopardize the Empire, not strengthen it. Empire, and its rightness, were so deeply rooted in the rulers' psyche, it went unchallenged. In fact, at that very time, in the 1880s, Sir Cecil Rhodes was busy creating the foundation for the UK-U.S. empire that now controls most of the world.
The modern pro-Israel neoconservatism arose in the 1960s when formerly Marxist Jewish intellectuals in New York City and Washington DC, who were even more anti-communist than anti-Nazi (if they weren't in some ways even pro-Nazi), became impassioned with the U.S. empire being extended to the entire world by spreading 'democracy' (and protection of Israel) as if this Israel-protecting empire were a holy crusade not only against the Soviet Union, which was demonized by neocons, but against Islam, which also was demonized by them (since they were ethnocentric Jews and the people whose land the 'Israelis' had stolen were overwhelmingly Muslims — who now were very second-class citizens in their own long-ancestral and also birth-land, 'Israel'). This was how neoconservatives distinguished themselves from "paleoconservatism", which wasn't nearly so Messianic, but which was more overtly ethnocentric, though ethnic Christian (and mainly Roman Catholic), instead of ethnic Jewish. The "paleoconservatives" were isolationists, not imperialists. They originated from the opponents of America's entry into WW II against the imperialists of that time, who were the fascists. Those American "isolationists" (now called "paleoconservatives") would have given us a world controlled by Hitler and his Axis allies — and maybe even they would have supported Hitler against Stalin, since they were rabid against communists. All conservatism is absurd, but there are many forms of it, none of which makes intelligent sense, and no type has compassion for anyone who is unlike themselves.
Some of Senator Henry Jackson's staff members, such as Paul Wolfowitz and Richard Perle, subsequently became prominent Republican neoconservatives; others, such as their fellow-Democrat Jeanne Kirkpatrick, were close friends and political supporters of Jackson, and likewise switched to become Reagan Republicans, and then Bush Republicans — especially prominent under George W. Bush.
The roots of neoconservatism are 100% imperialistic, colonialist, supremacist, and blatantly evil. They hate Russia because they still crave to conquer it, and don't know how to do this, short of nuclear annihilation, which would be extremely dangerous, even for themselves. So, they endanger everyone; they're enemies of the whole world, even if they're too unintelligent to know it. On top of that, they are unsurpassable in their blatant arrogance. And they become hired to very responsible positions, by America's billionaires who fund both Parties. Neoconservatism is bipartisan. It has become America's bipartisan foreign policy.
Author's note: this piece first posted at strategic-culture.org
Hardened US and Iranian positions question efficacy of parties' negotiating tactics
The United States and Iran seem to be hardening their positions in advance of a resumption of negotiations to revive a 2015 international nuclear agreement once Iranian President-elect Ebrahim Raisi takes office in early August.
Concern among supporters of the agreement to curb Iran's nuclear program which former US President Donald J. Trump abandoned in 2018 may be premature but do raise questions about the efficacy of the negotiating tactics of both parties.
These tactics include the Biden administration's framing of the negotiations exclusively in terms of the concerns of the West and its Middle Eastern allies rather than also as they relate to Iranian fears, a failure by both the United States and Iran to acknowledge that lifting sanctions is a complex process that needs to be taken into account in negotiations, and an Iranian refusal to clarify on what terms the Islamic republic may be willing to discuss non-nuclear issues once the nuclear agreement has been revived.
The differences in the negotiations between the United States and Iran are likely to be accentuated if and when the talks resume, particularly concerning the mechanics of lifting sanctions.
"The challenges facing the JCPOA negotiations are a really important example of how a failed experience of sanctions relief, as we had in Iran between the Obama and Trump admins, can cast a shadow over diplomacy for years to come, making it harder to secure US interests," said Iran analyst Esfandyar Batmanghelidj referring to the nuclear accord, the Joint Comprehensive Plan of Action, by its initials.
The Biden administration may be heeding Mr. Batmangheldij's notion that crafting sanctions needs to take into account the fact that lifting them can be as difficult as imposing them as it considers more targeted additional punitive measures against Iran. Those measures would aim to hamper Iran's evolving capabilities for precision strikes using drones and guided missiles by focusing on the providers of parts for those weapon systems, particularly engines and microelectronics.
To be sure, there is no discernable appetite in either Washington or Tehran to adjust negotiation tactics and amend their underlying assumptions. It would constitute a gargantuan, if not impossible challenge given the political environment in both capitals. That was reflected in recent days in Iranian and US statements.
Iranian Spiritual Leader Ayatollah Ali Khamenei suggested that agreement on the revival of the nuclear accord was stumbling over a US demand that it goes beyond the terms of the original accord by linking it to an Iranian willingness to discuss its ballistic missiles program and support for Arab proxies.
In a speech to the cabinet of outgoing President Hassan Rouhani, he asserted that the West "will try to hit us everywhere they can and if they don't hit us in some place, it's because they can't… On paper and in their promises, they say they'll remove sanctions. But they haven't lifted them and won't lift them. They impose conditions…to say in future Iran violated the agreement and there is no agreement" if Iran refuses to discuss regional issues or ballistic missiles.
Iranian officials insist that nothing can be discussed at this stage but a return by both countries to the nuclear accord as is. Officials, distrustful of US intentions, have hinted that an unconditional and verified return to the status quo ante may help open the door to talks on missiles and proxies provided this would involve not only Iranian actions and programs but also those of America's allies.
Mr. Khamenei's remarks seemed to bolster suggestions that once in office Mr. Raisi would seek to turn the table on the Biden administration by insisting on stricter verification and US implementation of its part of a revived agreement.
To achieve this, Iran is expected to demand the lifting of all rather than some sanctions imposed or extended by the Trump administration; verification of the lifting; guarantees that the lifting of sanctions is irreversible, possibly by making any future American withdrawal from the deal contingent on approval by the United Nations Security Council; and iron-clad provisions to ensure that obstacles to Iranian trade are removed, including the country's unfettered access to the international financial system and the country's overseas accounts.
Mr. Khamenei's remarks and Mr. Raisi's anticipated harder line was echoed in warnings by US officials that the ascendancy of the new president would not get Iran a better deal. The officials cautioned further that there could be a point soon at which it would no longer be worth returning to because Iran's nuclear program would have advanced to the point where the limitations imposed by the agreement wouldn't produce the intended minimum one year 'breakout time' to produce enough enriched uranium for a bomb.
"We are committed to diplomacy, but this process cannot go on indefinitely. At some point, the gains achieved by the JCPOA (Joint Comprehensive Plan of Action) cannot be fully recovered by a return to the JCPOA if Iran continues the activities that it's undertaken with regard to its nuclear program…The ball remains in Iran's court, and we will see if they're prepared to make the decisions necessary to come back into compliance," US Secretary Antony Blinken said this week on a visit to Kuwait.
Another US official suggested that the United States and Iran could descend into a tug-of-war on who has the longer breath and who blinks first. It's a war that so far has not produced expected results for the United States and in which Iran has paid a heavy price for standing its ground.
The official said that a breakdown in talks could "look a lot like the dual-track strategy of the past—sanctions pressure, other forms of pressure, and a persistent offer of negotiations. It will be a question of how long it takes the Iranians to come to the idea they will not wait us out."
Wendy Sherman's China visit takes a terrible for the US turn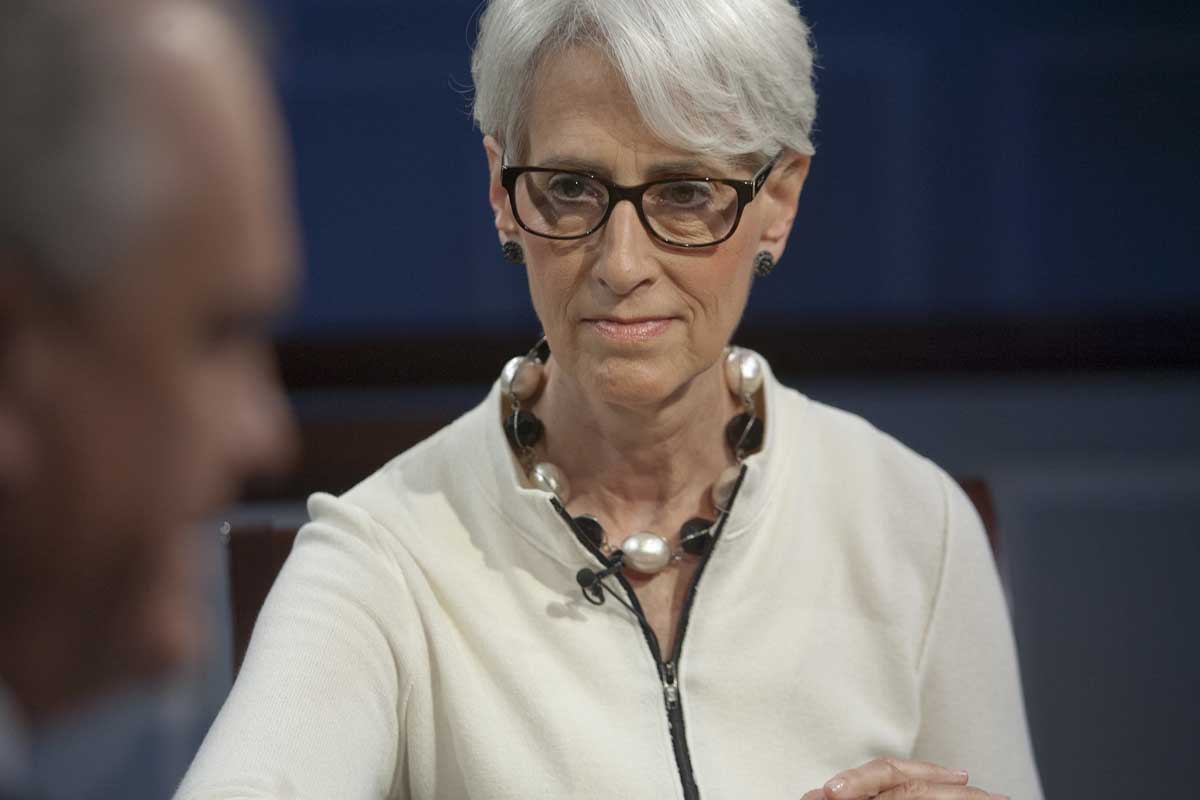 US Deputy Secretary of State, Wendy Sherman, had high hopes for the meeting in China. At first, the Chinese side did not agree to hold the meeting at all. The reaction had obvious reasons: Antony Blinken's fiasco in Alaska left the Chinese disrespected and visibly irritated. This is not why they travelled all the way.
So then the State Department had the idea of sending Wendy Sherman instead. The US government actually needs China more than China needs the US. Sherman was in China to actually prepare the ground for Biden and a meeting between the two presidents, expecting a red carpet roll for Biden as if it's still the 2000s — the time when it didn't matter how the US behaved. Things did not go as expected.
Instead of red carpet talk, Sherman heard Dua Lipa's "I got new rules".
That's right — the Chinese side outlined three bottom lines warning the US to respect its system, development and sovereignty and territorial integrity. In other words, China wants to be left alone.
The bottom lines were not phrased as red lines. This was not a military conflict warning. This was China's message that if any future dialogue was to take place, China needs to be left alone. China accused the US of creating an "imaginary enemy". I have written about it before — the US is looking for a new Cold War but it doesn't know how to start and the problem is that the other side actually holds all the cards.
That's why the US relies on good old militarism with an expansion into the Indo-Pacific, while aligning everyone against China but expecting the red carpet and wanting all else in the financial and economic domains to stay the same. The problem is that the US can no longer sell this because there are no buyers. Europeans also don't want to play along.
The headlines on the meeting in the US press are less flattering than usual. If the US is serious about China policy it has to be prepared to listen to much more of that in the future. And perhaps to, yes, sit down and be humble.
Why Jen Psaki is a well-masked Sean Spicer
When Sarah Huckabee Sanders showed up on the scene as White House Press Secretary, the reaction was that of relief. Finally — someone civil, normal, friendly. Jen Psaki's entry this year was something similar. People were ready for someone well-spoken, well-mannered, even friendly as a much welcome change from the string of liars, brutes or simply disoriented people that the Trump Administration seemed to be lining up the press and communications team with on a rolling basis. After all, if the face of the White House couldn't keep it together for at least five minutes in public, what did that say about the overall state of the White House behind the scenes?
But Psaki's style is not what the American media and public perceive it to be. Her style is almost undetectable to the general American public to the point that it could look friendly and honest to the untrained eye or ear. Diplomatic or international organization circles are perhaps better suited to catch what's behind the general mannerism. Jen Psaki is a well-masked Sean Spicer, but a Sean Spicer nevertheless. I actually think she will do much better than him in Dancing With The Stars. No, in fact, she will be fabulous at Dancing With The Stars once she gets replaced as White House Press Secretary.
So let's take a closer look. I think what remains undetected by the general American media is veiled aggression and can easily pass as friendliness. Psaki recently asked a reporter who was inquiring about the Covid statistics at the White House why the reporter needed that information because Psaki simply didn't have that. Behind the brisk tone was another undertone: the White House can't be questioned, we are off limits. But it is not and that's the point.
Earlier, right at the beginning in January, Psaki initially gave a pass to a member of her team when the Politico stunner reporter story broke out. The reporter was questioning conflict of interest matters, while the White House "stud" was convinced it was because he just didn't chose her, cursing her and threatening her. Psaki sent him on holidays. Nothing to see here folks, move along.
Psaki has a level of aggression that's above average, yet she comes across as one of the most measured and reasonable White House Press Secretaries of the decade. And that's under pressure. But being able to mask that level of deflection is actually not good for the media because the media wants answers. Style shouldn't (excuse the pun) trump answers. And being able to get away smoothly with it doesn't actually serve the public well. Like that time she just walked away like it's not a big deal. It's the style of "as long as I say thank you or excuse me politely anything goes". But it doesn't. And the American public will need answers to some questions very soon. Psaki won't be able to deliver that and it would be a shame to give her a pass just because of style.
I think it's time that we start seeing Psaki as a veiled Sean Spicer. And that Dancing with the Stars show — I hope that will still run despite Covid.