Mesut Ozil's retirement and the dark face of identity politics in Germany
Distinguished commentators are pondering upon a particular question in common. What was Ozil supposed to do when Recep Tayyip Erdogan-the President of Turkey had invited him for a compassionate meeting in a hotel room? The answer is obvious. He could not have ignored. Except for breakouts inside the Christian Democratic Party (CDP) and the anti-immigration AfD (Alternative for Germany), Mesut Ozil has substantial approval from all corners. More than football, the issue is deeply rooted in the Christian roots of political parties in Germany.
Rienhard Grindel-a former politician hailing from CDP, manufactured a fuss about how Ozil should not have met with Erdogan in front of a packed press before flying to Russia for the World Cup. Former footballer and Germany's team manager, Olivier Bierhoff struck a controversial statement too. He regretted not leaving Manchester City's prolific Ilkay Gundogan and Ozil out of the aeroplane to Russia. When the animosity became public, Germany was out in the Russian summer, preparing for a doomed destiny of failing to qualify from the group stages. Ozil kept quiet until it was over but for outsiders and in Turkey, there was a serious accusation to tackle. Erdogan was advertised as a leader practicing anti-democratic values and arguments like Ozil's meeting with the Turkish president was against the values of Germany baffled all neutrals. How could a country's democracy diminish by a footballer's honourable act? Slowly and subsequently, Rienhard was reminded of his statement in 2004. "Multiculturalism is a myth", he had declared. Renowned journalist, Matt Pearson pierced him in public and questioned his ability to lead a team full of second and third generation Germans. Read Ozil's statement carefully. He has cultivated feelings of justifying his citizenship every time he is on the pitch. "When we lose, I'm not German", Ozil wrote in his long address. The problem is about identity. It is a fight of political values, lost in transition.
Germany's chancellor-Angela Merkel is with Ozil. Her colleague Grindel was a former CDP man until elected as the association's president in 2016. Defectors from CDP formed the Alternative for Germany. Ozil's retirement has underlined the problem of clashing political franchises in Germany. Merkel has often been accused of straying away from the values of CDP, which in its inception, was assembled by World War survivors to protect the Christian character of the German nation. The AfD was born in the same light to correct the frailties of the existing CDP. Ozil's case of mistreatment is only the result of the clashing politics, deeply rooted with the values of religious identity. Unlike modern societies, it is not the case of Islam being politicised. Instead, it is a contest of Christian quality. An attempt to correct the founding values of German political structure. The AfD are making dangerous strides and to put it in their own words, they are seeking to become the true guardian of Christian identity in Europe. Influential pastors and bishops are supporting the AfD agendas to incorporate Christian values in schools. Ozil is right about the nature of his German society. It is in a skirmish. In a civil war of values tied with Christianity.
France is a good comparison to make. Officials from the French National team were angered by social media statements of how Africa had won the world cup; not France. A fellow French footballer of an African descent replied with twenty-three French flags; the total number of his teammates who won the cup in Russia. Ozil expressed the same emotion; unlike in Germany, he would have still been a French-when he lost matches. Rightly, the 2010 Bambi award winner has questioned his treatment by the German Football Association (DFB). However, recurring racial attacks in the past have often disparaged the good impression of a German society. Be it rejections of Indian students by a professor in Leipzig (2015) or the murder of an Egyptian national in 2009; it is a society expanding in turmoil.
Turkey, his ancestral land has commended his courage to speak up against the system. Erdogan reportedly telephoned him in sympathy and support. For many, it has come as a political agenda in the midst of elections but Mesut Ozil's cause deserves widespread endorsement. When Rienhard Grindel was just a treasurer for the DFB, Ozil won the world cup for Germany in 2014.
How our Europe will regain its strength
The last few weeks have turned our world upside down. It seems like a lifetime ago that we were going about our everyday business. But by now, some of you reading will have had symptoms, many of you will know someone who is sick and every single one of us are worried about our loved ones.
But what is unique about the situation we are in is that all of us are part of the solution: all of us as citizens, but also companies, cities, regions, nations and the whole world over. Yes, it is true: Europe was initially partly blindsided by an unknown enemy and a crisis of unprecedented scale and speed. This false start is still hurting us today.
But Europe is now standing tall together. And that is being driven by a surge of compassion across our Union. In the last weeks, we have seen retired doctors and nurses answer the call of duty and millions more volunteer to do anything they can to help. We have seen restaurants deliver food to exhausted medical staff, designer labels make hospital gowns and car makers turn into ventilator producers.
That solidarity is infectious – and it is at the heart of our Union. Thanks to that impulse the real Europe is back. The one that works together to do what none of us could do alone. The EU is now delivering and is working flat out every day to save every life we can, to protect livelihoods and kickstart our economies.
In the last weeks, we have taken measures which would have been unthinkable only recently. We have made our state aid rules more flexible than ever before so that businesses big and small can get the support they need. We have relaxed our budgetary rules more than ever before to allow national and EU spending to go quickly to those that need it. This has helped EU institutions and Member States put up €2.8 trillion to fight the crisis – the strongest response anywhere in the world.
And this week the European Union went one step further. We have proposed a new scheme called SURE to make sure that people can keep their jobs and their incomes, as well as ensure that businesses can stay afloat while we hibernate. The scheme will provide €100 billion to help governments make up the difference if your company has had to reduce your hours – and it can support the self-employed too. This will help those in need to pay their rent, bills or food and keep other businesses alive in the process.
And to step up the fight to save lives, we have also decided to put every cent of the remaining money in this year's budget into an emergency instrument to help secure vital medical equipment and scale up testing.
This reflects the fact that in this crisis there can be no half-measures. And that will be the case for years to come as we seek to lift our economy out of the crisis valley. To do this, we will need massive investment in the form of a Marshall Plan for Europe. And at the heart of it should lie a powerful new EU budget. The advantages of this are obvious: the EU budget is a proven instrument of solidarity and modernisation. And with its seven-year term, it creates certainty for investors and reliability for all parties involved.
But just as the world looks very different from the way it did just a few weeks ago – so must our budget. It must be there for the time when economies weakened by the current crisis will need to spark their engines and get our unique internal market going again.
The billions and trillions being spent today to avert a greater disaster are an investment in our future protection and they will bind generations. This is why the money in our next budget must be invested in a smart and sustainable manner. It must help preserve what is dear to us and renew the sense of belonging amongst Europe's nations.
And crucially we need to invest strategically in our future, for example for innovative research, for digital infrastructure, for clean energy, for a smart circular economy, for transport systems of the future. A Marshall Plan of this nature will help build a more modern, sustainable and resilient Europe. This is the Union that I believe can emerge from this – just as it did after we every crisis in our history.
And this enormous effort, this new Europe, will need one thing more than any else: The people of Europe must want a common future where we stand up for each other.
What I see around Europe today shows the way and it fills me with pride. The future of Europe is the Polish doctors going to Italy. It is Czechs sending 10,000 masks to Spain and elsewhere. It is the airplanes that fly sick people from northern Italy to eastern Germany or the trains that bring people across borders to be treated in free intensive care beds. It is the Bulgarians who send protective equipment to Austrians, and Austrians who send masks to Italy. It is the first common European stock of medical equipment, or the respirators and test kits purchased together by almost every country, from Romania to Portugal, to be sent to Spain, Italy and elsewhere. The power and solidarity of this Union was also felt by thousands of Europeans who were stranded in Vietnam, South Africa or Argentina and were flown back home on a European ticket.
With each one of these acts of solidarity, Europe rises back up that little bit more. And I am in no doubt that before long Europe will be back up on its feet. Together.

This article was also published in several European media.
Republic Of Cyprus: Ruling a Country Against Its Constitution
When you hear about Cyprus, one of the things that comes to mind is the word "conflict." Then, its beautiful beaches, paradise-like nature, and warm island culture.
But you could not guess that this island nation, which is also part of the European Union, has been ruled against its constitution for more than half century. What if we also tell you that this fact is even forgotten by its own citizens? This is exactly what is going on.
Cypriots gained their independence in 1960, after living under the control of the United Kingdom for 82 years. However, this was not an end, but the beginning of the pains they will suffer, the nation that did not experience governing their own island for a very long time.
But during the period of British rule, something needed to change, for the sake of their "divide and rule" policy. Cypriots were a community that was living in great harmony in their remote and isolated island far from the mainland that can influence them easily.
But there was a community without a name. In Ottoman censuses, they were called just Muslims. In the books written by European travellers they were called Linobambaki, Cypriots who spuriously converted to Islam to save themselves from the Ottoman oppression. After World War I, with the death of Ottoman Empire and the birth of the Turkish state, Brits had already found an identity for this community of the descendants of Crypro-Christian Cypriots: Turkish Cypriots. But there was a problem and it was the fact that a big portion of this community spoke Greek. Then, the young Republic of Turkey lent a hand by sending Turkish teachers to the British-controlled Cyprus and the Turkification process began.
Until 1960, there were small gang fights between these two communities with the provocations of Turkey and Greece, but nothing serious happened. When the independence day came for Cyprus, the representatives of these two Cypriot communities were at the table. The Orthodox Archbishop Makarios representing Greek Cypriots and the extreme secular DoctorFazıl Küçük representing Turkish Cypriots. And they agreed on the constitution that is "still in force" today in the Republic of Cyprus. Let's point out the main articles of the official Constitution of the Republic of Cyprus.
• "Greek Cypriot President and Turkish Cypriot Vice President with veto right"
• "Greek and Turkish as official languages"
• "70 percent of the parliament, cabinet, government and law enforcement officers made from Greek Cypriots, and 30 percent from Turkish Cypriots"
• "60 percent of its army made from Greek Cypriots and 40 percent of it Turkish Cypriots"
    • "Adoption of new national flag"
• "The authorities and any public corporation or utility body of the republic are not allowed to fly any other flag than Republic of Cyprus flag, except holidays"
Now, have a wild guess about how many of these articles of the constitution are being violated by the Greek Cypriot community who seized the republic since 1963. The answer is all of them except for the "national flag" that they use, which was drawn by a Turkish Cypriot.
I know what you are thinking. How can a country that is part of the European Union, a symbol of democracy, get away with such activity? We must get into more history to see how.
Three years after the independence, the Greek Cypriot President of the republic, Archbishop Makarios unconstitutionally proposed his infamous thirteen points, which took away many rights from the Turkish Cypriots. This attempt made Turkish Cypriots leave the government.
Then, the rest of the unconstitutional activities of the Greek Cypriot administration followed, which includes establishment of Greek Cypriot-only army and adopting the national anthem of Greece as the anthem of the Republic of Cyprus.
The main aim for all these activities was achieving "enosis," which is the idea of a union with Greece. But the Republic of Cyprus and its constitution were the biggest obstacle, since it was clearly based on the idea of an independent republic with equal ownership by Greek and Turkish Cypriots.
While all these events were happening, we cannot say that the Turkish Cypriot administration was innocent either. Like the Greek Cypriot administration, the Turkish Cypriot administration silenced people and groups who believed in the existence of Republic of Cyprus and who demanded more struggle to save the republic, instead of leaving it to the hands of the Greek Cypriots. The reason behind the decision of the Turkish Cypriot administration to not struggle for their rights effectively was their beliefs that the greed of Greek Cypriots would be a shortcut to achieve "taksim," which is the idea of partition.
When we come to 1974, after painful events and internal struggles within each Cypriot community, a group of enosis-dreamer Greek Cypriots tried to overthrow the Greek Cypriot administration, which was not sharing the same enosis dream anymore, with a coup d'état backed by the Greek junta. With this event, Greek Cypriots gave Turkey a chance to intervene in the situation in Cyprus according to international agreements. And, as we all know, this intervention turned into an occupation, which has continued since then.
Today, what is on the table is a United Nations backed "federal solution" for the Cyprus problem. Despite the current status quo, the unconstitutionally Greek Cypriot-governed Republic of Cyprus continues its life with the constitution which was written in 1960. The main reason behind keeping the constitution is the Greek Cypriots' desperate tactic of showing the world they are not the ones who broke the deal. But even the Greek Cypriot population is not aware or educated about their own constitution, since legislation continues like the country does not have one. Greek Cypriot people do not even have an idea of simple facts, such as that Turkish is an official language of the country or that their flag was designed by a Turkish Cypriot artist, İsmet Güney.
But all these seem to be changing. While crypto-Enosis desire and impossible federal solution talks continue, there are organisations like the Union of Cypriots (Ένωσις Κυπρίων / Kıbrıslılar Birliği) that advocate and promote that the only way to end this madness and occupation is restoring the constitutional order—the deal that was already made and a lot of pain and suffering that hit all Cypriots after it was broken. Failing to ease the pain with different dreams, maybe it is indeed the right choice for Cypriots to hold on what they have to delegitimize Turkey's existence on the island. Because the speed of Turkish colonization of Cyprus tells us that Cypriots do not have much time left to save their homeland for good.
A New Twist in the Spanish Approach to Politics in Venezuela: Podemos in the Spanish Government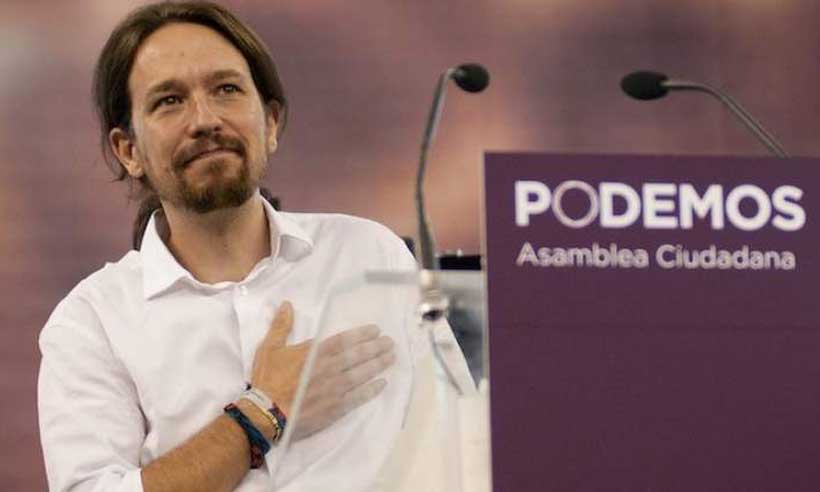 During the last pseudo-legislature in Spain, the position that had been maintained by the Spanish government towards Venezuela and its government was not too far from the quasi-common position that was established at the European level. After the entry of Podemos, a far-left party, into the Spanish government, the Spanish narrative towards the Latin American country and its leaders has taken a turn that calls into question the position of the Spanish government towards Venezuela.
The Special Relationship of Spain with Venezuela
Since 1845, the year the Treaty of Peace and Friendship was signed after the independence of the South American country, Spain and Venezuela have maintained bilateral ties and diplomatic relations. In fact, history has only one instance of no diplomatic relations existing between the two countries, specifically from 1945 to 1949. Despite suffering many serious crises during the Chavista period in face of a number of political disagreements that seriously endangered mutual understanding, the special relationship between the two countries has been maintained constantly.
After the Spanish Civil War and between 1969 and 1990, Venezuela, along with Argentina and Mexico, was the main destination for Spanish exiles and emigrants. Beyond migration, the Hispano-Venezuelan ties are transcendental in nature, both historically and socio-economically. Venezuela is home to more than 150,000 Spaniards; the Venezuelan community, in turn, is the fourth largest ethnic group in Spain. In 2017, exports from Spain to Venezuela amounted to 111 million euros and imports from Venezuela to Spain were worth 318 million euros; however, these figures are quite low compared to those of previous years, for example, in 2014, Spanish exports equaled 550 million euros and Venezuelan imports – 1,325 million euros.
Podemos in the Spanish Government
As a well-known Spanish journalist said, "Venezuela has been a thrown weapon since Podemos appeared on the Spanish political scene in 2014". The relationship with the Latin American country for the political party led by Pablo Iglesias is not only a political issue, but also an ideological link. The core of the party has maintained close ties with the government of Hugo Chavez, including becoming advisers to the then Venezuelan president, and later to Nicolas Maduro; the party also has links with the rest of Bolivarian leaders, such as Evo Morales or Rafael Correa.
After the November 10 general elections in Spain, a coalition government consisting of the historic socialist party PSOE and the far-left party Podemos was created. This coalition marks a period of the greatest political instability in the history of Spanish democracy. The two parties and their leaders devised this joint government to break away from the ungovernability that the country has been facing for almost three years due to the lack of a stable and consolidated government. This is how Pablo Iglesias became the second Vice President of the Spanish government and his current partner Irene Montero – the Minister of Equality.
From "Delcygate" to Guaido
Two recent controversial diplomatic episodes have once again made Venezuela an urgent subject of the Spanish politics. On the one hand, the stopover of the Venezuelan Vice President Delcy Rodriguez at the Madrid Airport of Barajas, where she held a meeting with the Spanish Head of the Ministry of Transport. The Spanish authorities first denied the meeting and then clarified it with different versions, giving rise to a speculation about the case, cosnidering that the EU imposed individual sanctions that restricted Rodriguez from entering the Schengen Zone.
The second mistake of the Spanish Government, according to its critics, was not to receive Juan Guaido, who is recognized as an interim president by more than fifty countries, including Spain and Germany, at the highest official level on his European tour. Throughout his European tour, Guaido met with several heads of state, including Merkel, Macron, and Johnson. Many people deemed Sanchez's gesture upon the Venezuelan leader's arrival in the Spanish capital as a legitimt cause of outrage. In addition, when explaining, the Spanish president called Guaido an "opposition leader." More and more voices have since accused the current Executive of having changed his position with respect to Venezuela by the influence of Podemos.
Spain Flies Alone
A turn at the helm in Madrid would be more than a national decision. The consequences for Venezuela of such a turn cannot be understated, because historically Europe has seen Latin America through the eyes of Spain, and Madrid has been in charge of relations with Latin America. Undoubtedly, Spain will lose a lot if its relationship with Venezuela continues to deteriorate. The human and socio-cultural ties between the two countries are obviously close, but just as relevant are the Spanish economic interests in this South American state, particularly in its oil companies.
Some European countries, such as Italy, did not recognize Guaido as the president-in-charge at the time – Rome still does not. A more neutral, less pro-Guaido Spain would mean aligning with the Italian position, which does not imply neglect, as the Italian diplomacy continues to work on finding solutions to the Venezuelan question through the Contact Group of European and Latin American countries.
What does this mean for the European approach to the crisis in Venezuela? From the point of view of capabilities, it can be said that Spain does not have as much weight as to change the Community's foreign policy; however, because Spain is a traditional filter of relations between the European and the Latin American blocks and the Head of European Diplomacy Josep Borrell is Spanish, a possibility that the positions will be killed exists -"cooling," therefore, cannot be ruled out.
Conclusions
As a victim of its own contradictions, the Spanish government has projected an image of chaos and confusion. It is evident that PSOE and Podemos have disparate positions regarding Venezuela, but it is necessary that the executive government adopt a coherent line of thinking, the continued absence of which deteriorates cohesion within the EU and complicates relationships with its international partners like the USA.
Sanchez defying Guaido is not so much a concession to the former's Podemos partners in the government, but rather a symbol of the latter's waning influence. Guaido has become an awkward figure, who failed to achieve his main objective of free elections. This is why Maduro is stronger today than a year ago.
Nonetheless, too much importance is being attached to the role Podemos really plays in the new Spanish government. Though its power is magnified, it has a minimum effect on foreign matters. When Sanchez came to power in alliance with another party that had more votes, that is PSOE, he assumed that he has no choice but to respect their decisions, whether he likes them or not. He has yet to distance himself from such conformism.
Meanwhile, the shadow of the Venezuelan crisis keeps flying over internal politics in Spain, especially over its progressive government, without facing any of the harshest opposition forces in the country's democratic history. The truth is that a year after half the world placed its hopes in Guaido to find a way out of the humanitarian crisis and the political impasse in Venezuela, the opposition leader is making substantual efforts to prevent the passage of time from opening cracks in his political legitimacy. At this juncture, the whole international community needs to act as a mediator of negotiations between the Venezuelan Government and its opposition to get out of the ongoing stagnation.
From our partner RIAC