BRICS Expansion Comes Under Spotlight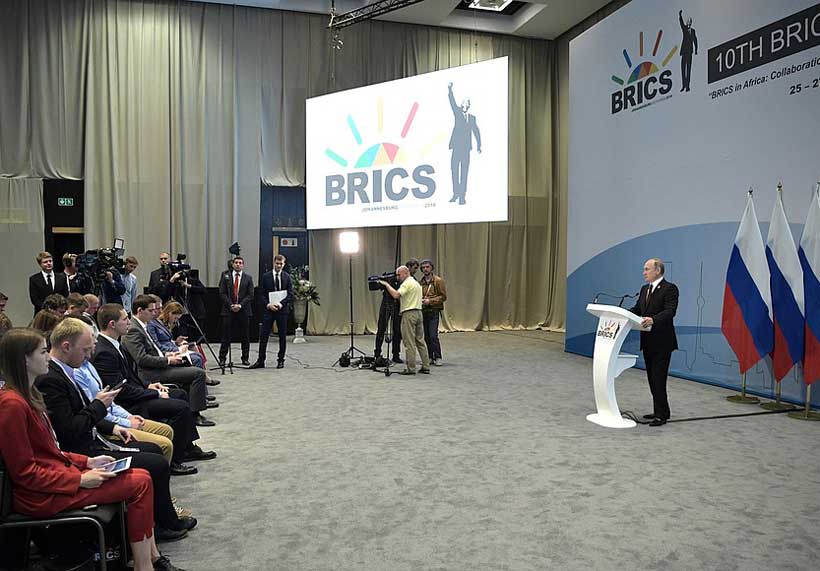 On July 25 -27, South Africa hosted the 10th BRICS summit (Brazil, Russia, India, China and South Africa), an important milestone as it represents a decade of its cooperation, in Johannesburg's Sandton Convention Center. As Chairman of 2018 BRICS summit, South African President Cyril Ramaphosa hosted the (BRIC) namely Brazilian President Michel Temer, Russian President Vladimir Putin, Indian Prime Minister Narendra Modi and Chinese President Xi Jinping.
It was under the theme "BRICS in Africa: Collaboration for Inclusive Growth and Shared Prosperity in the 4th Industrial Revolution." All the five BRICS leaders participated in official, private and expanded meetings, and signed documents.
They have primarily expressed high commitment to further strengthening of the full-fledged strategic partnership, secondly recognized the overall emerging tasks, challenges and opportunities, and thirdly most importantly to determine the key priorities of the «Big Five» activities for years ahead.
On both days, July 26 to 27, there several scheduled sessions that involved BRICS leaders and non-BRICS countries invited to the summit. The summit was an expanded-format. In 2013, when South Africa first hosted a BRICS summit, it invited a number of African leaders.
Russia Leads the Way
Russian leader Vladimir Putin made the Group's position known during his final media conference held at the 2018 BRICS summit in Johannesburg, South Africa.
He said that "BRICS is an organic association of countries that have many things in common: they have many shared interests and common approaches to addressing challenges that are relevant to all of humanity, including Russia. This is one of its key advantages, and today, many countries are showing an interest in BRICS."
"Concerning the group's expansion, BRICS Plus and Outreach format have already been created to this effect. For now, we agreed to rely on these formats for expanding our reach and drawing into our orbit countries that share the underlying principles and values of BRICS," the President said.
While many viewed the existing formats of interaction effective, Putin explained that any questions regarding BRICS enlargement in future would definitely need additional thorough discussions and final consideration.
"But so far, we have no plans to expand BRICS membership, since the existing formats have proven effective. As for discussions of issues we intend to address, these are issues relevant for a vast majority of countries and economies around the world. The sky is the limit for us," the Russian leader explained.
"They are willing to cooperate with other countries and do not rule out BRICS expansion in the future but they believe that it requires additional analysis. This does not mean that the organization is closed, that its doors are closed. No, it is just that this issue should be properly analysed. Otherwise, the organization is open to anyone," Putin stressed at the media conference.
Historically, the first meeting of the Group began in St Petersburg in 2005. It was called RIC, which stood for Russia, India and China. Brazil and subsequently South Africa joined later, which is why now it is refered to as BRICS.
Initially, the goals and tasks were very modest, primarily focus on the economy, and the coordination of efforts toward attaining more ambitious goals. As more members joined the Group, it developed into a full-scale organisation with new spheres of activity and broader common interests.
BRICS Expansion Still the hottest question
Understandably, BRICS leaders' common position on the question of expansion was previously shared this way: BRICS countries represent a major stabilizing factor promoting sound multilateral initiatives in global affairs.
The fact that Pretoria has paid a special attention to Africa-related issues in the work of BRICS, other friends of the five countries from around the world representing authoritative integration associations participated in the 10th summit. This was the practical implementation of the «BRICS plus» initiative approved by the Group leaders during the Xiamen Summit.
Thus, 2018 Johannesburg summit expanded the global reach of the Group and established the outer circle of like-minded countries. In this regard, BRICS has good potential to become a unique platform for linking various integration processes in a flexible way.
Furthermore, BRICS has many current challenges and tasks to manage in the face of global transformation. It is important for BRICS to seek new initiatives, strategies, and policies that can potentially challenge the global order. Experts have expressed different views:
Nandan Unnikrishnan, Research Fellow at the Observer Research Foundation, India: There is nothing wrong in trying to expand the BRICS if the new countries meet the criteria of what BRICS represents and their entry adds to the cohesion of the grouping. However, it appears that at this stage of the evolution of BRICS the need of the hour is not expansion, but consolidation. Given developments in the world as well as in each of the BRICS countries, it appears that BRICS needs to catch its breath and regain the momentum that originally infused the grouping.
Secondly, BRICS is quite clear about the Africa's developmental needs. The question is whether in their current circumstances they have the wherewithall to mobilise the necessary resources to actively propel Africa's development over and above their bilateral commitments to African countries. All the BRICS countries are facing economic challenges that they need to address urgently. But in the long-run, BRICS is keenly aware of the importance of contributing towards Africa's development agenda.
Charles Robertson, Chief Economist at Renaissance Capital: The BRICS was just a concept from Goldman's with little intellectual coherence beyond the fact that 1) all four of the original BRIC countries had a-historically low GDP and were likely to rebound in size, 2) they were populous, 3) there were among them two commodity importers and two commodity exporters among them. South Africa was a late minor addition to the group, to add a "bridgehead to Africa" angle.
So, could it expand – yes. Why? Because the BRICS are under-represented in the global financial architecture. Europe and the US dominate institutions like the IMF and the World Bank, and to some extent the UN, the WTO, the ADB, the IADB, NATO etc.
Russia and others in the BRICS would like to see larger power centres emerge to offer an alternative to that Western dominated construct. That is reasonable enough – providing there are countries with the money to backstop the new institutions, such as China supporting the BRICS bank, and if the countries offer an alternative vision that provides benefits to new members. But, would a broader BRICS + body offer tariff free access to their markets as the EU and the US can? I doubt that. Can they offer financing via a BRICS bank. Perhaps.
Would there be a unified BRICS approach to Africa. I doubt it. I suspect the only unified stance would be one supporting non-interference in domestic affairs – but to be honest, there is little interest in the US or UK to get very involved in Africa either (Libya is one prominent exception), so there is relatively little to oppose.
Professor Georgy Toloraya, Russian National Committee for BRICS Research: "Now, is a very good time to show that BRICS members and relations between them are an alternative to the format existing in the West," Executive Director of the Russian National Committee for BRICS Research, Georgy Toloraya, told the Kommersant – a Russian daily business newspaper, adding that "BRICS favors order, compliance with agreements and development." Plans are in store to expand the group, so the leaders of Argentina, Turkey, Indonesia and some African countries invited to the summit.
According to Toloraya, India is currently opposed to expanding BRICS fearing that new members will support China. On the other hand, Moscow argues that "the entrance ticket" to the group is independence and sovereignty, and under no circumstance, potential candidates can be called China's satellites.
Many Experts interviewed shared the same sentiments. BRICS creation based on the principle of equality so it is very difficult to reach a compromise among so different countries. The number of members cannot be to big anyway as BRICS comprise big emerging economies and regional powers with a certain unique civilizational features.
There are not so many countries like that – they would include Indonesia, Mexico, Turkey, Egypt and Iran… But there are certain political requirements for new members – including recognition of BRICS values and core foreign policy principles. Experts have suggested the creation of "observer status" and "partners for dialogue" platforms within the group.
The BRICS member countries (Brazil, Russia, India, China and South Africa) collectively represent about 26% of the world's geographic area and are home to 2.88 billion people, about 42% of the world's population.
Violence in North and West Africa increasingly targeting civilian and border areas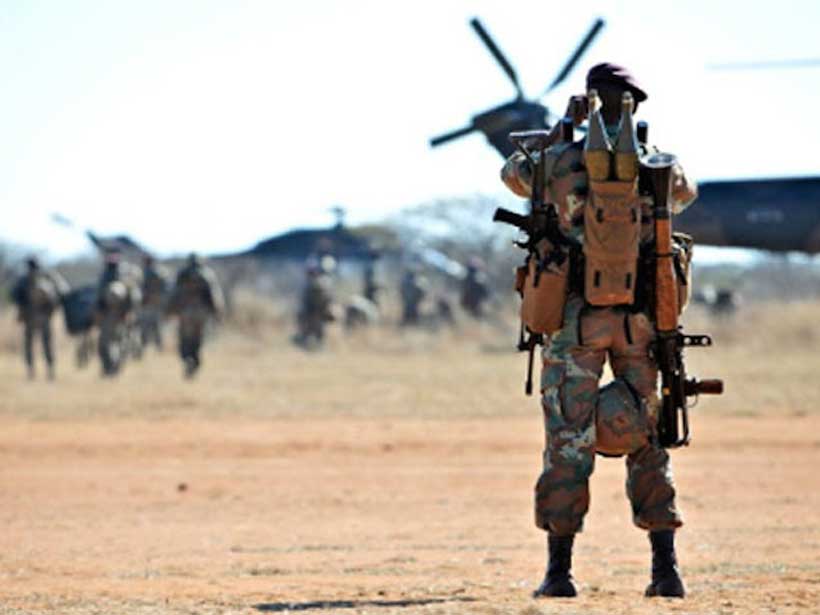 Violence in North and West Africa is increasingly targeting civilian and border regions as today's conflicts involve non-state actors with diverging agendas, according to a new report by the OECD's Sahel and West Africa Club (SWAC).
The report uses granular data to assess the intensity and geographical distribution of violence in the region since 1997. It finds that the last five years have been the most violent recorded in North and West Africa, with more than 60,000 people killed between January 2015 and the end of 2019. More than 40% of violent events and fatalities occur within 100 km of a land border, and 10% of deaths from political violence occur less than 10 km from a border. Civilians are increasingly specific targets of violence, rather than just being caught in cross fire.
The report uses a "Spatial Conflict Dynamics Indicator" to show which regions of North and West Africa experience the most conflict, how conflicts evolve geographically over time and how military interventions affect the intensity and spread of violence. It notes that attempts to stabilise the region are complicated due to the number of players involved and their shifting alliances.
"Paying close attention to the geography and dynamics of these deadly conflicts and the complex interactions between the large numbers of actors involved may help to find ways to resolve this worsening insecurity," said OECD Secretary-General Angel Gurría, presenting the report at the Munich Security Conference.
The Sahara-Sahel region is suffering from exceptional levels of political instability involving a combination of rebellions, jihadist insurgencies, coups d'état, protest movements and illegal trafficking of drugs, arms and migrants. Conflicts tend to regionalise across borders as armed groups defeated by counter-insurgency efforts relocate to other countries. The geographic spread and opportunistic relocation of conflicts is exacerbated by a lack of controls on many African borders that facilitates the circulation of fighters, hostages and weapons.
The study calls for states in the region and the international community to promote regional initiatives to restore state legitimacy, increase investment in border regions and improve protection of civilians — creating secure regions where inclusive forms of policies are put in place and a strong dialogue between states, local actors and populations is reinforced.
Russia's interest in South Sudan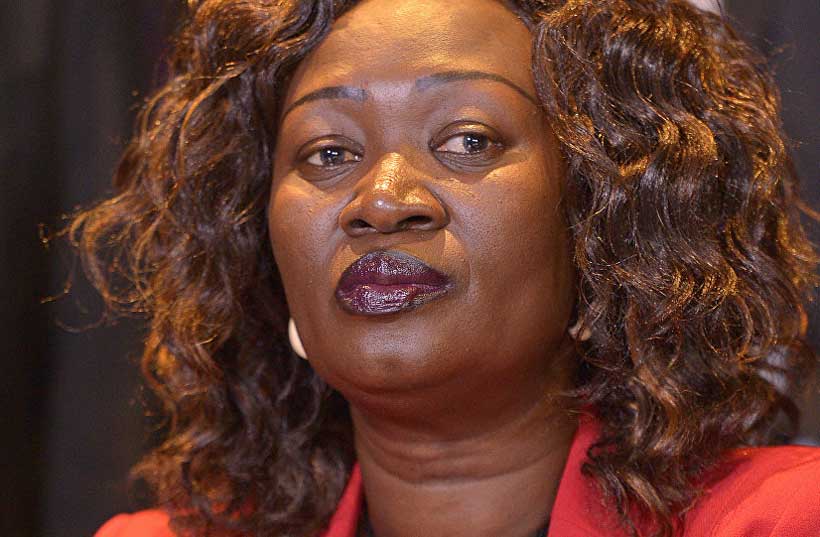 On January 27-29, Minister of Foreign Affairs and International Cooperation of the Republic of South Sudan, Awut Deng Acuil, made an official working visit to Moscow where she held diplomatic talks focused on strengthening economic cooperation with Russian Foreign Minister Sergey Lavrov.
She is a South Sudanese politician and the current Minister of Foreign Affairs and International Cooperation since August 2019. For the first time, Awut Deng Acuil was visiting Moscow – this made it more meaningful and significant to discuss ways of moving forward with relations and comprehensive development of cooperation with the Russian Federation. Russia and South Sudan already signed a Memorandum of Consultations between both Foreign Ministries last October 2019 in Sochi, during the first Russia-Africa Summit.
"There is potential for expanding trade and economic cooperation, including in such areas as energy, construction, development of automobile, railway and pipeline infrastructure, and agriculture. One of the promising areas of bilateral cooperation is the development of the fuel and energy complex in South Sudan. A number of projects with Russian participation are already being implemented," according to the media report released before the official talks held January 28.
"We have discussed the prospects of bilateral cooperation, first of all, with an emphasis on the development of its economic cooperation. We informed our colleagues about the Russian companies working in the oil and gas, infrastructure, railway and transport sectors that are ready to discuss possible mutually beneficial projects with our South Sudanese partners," Lavrov said at the media briefing after their closed diplomatic talks.
Back in 2016, Russia and South Sudan also signed the Intergovernmental Agreement on Military Technical Cooperation, which is still effective. Both have agreed to use this sphere of cooperation in order to strengthen security and military capability of South Sudan, only after the United Nations Security Council lifts finally its restrictions on weapons trade with that country.
South Sudan, a landlocked country located in the east-central Africa, is making efforts for further recognition and climb onto a global stage. Africa gaining its independence in July 2011, to become the 55th African state, it has suffered ethnic violence and endured civil war since 2013.
The United States supported the 2011 referendum on South Sudan's independence. The New York Times reported that "South Sudan is in many ways an American creation, carved out of war-torn Sudan in a referendum largely orchestrated by the United States, its fragile institutions nurtured with billions of dollars in American aid."
The U.S. government's long-standing sanctions against Sudan were officially removed from applicability to newly independent South Sudan in December 2011, and senior South Sudanese officials participated in a high-level international engagement conference in Washington, D.C., to help connect foreign investors with the RSS and South Sudanese private sector representatives
South Sudan has a population of 12 million, and a predominantly rural, subsistence economy. It, however, exports timber to the international market. The region contains many natural resources, but as in many other developing countries, the economy is heavily dependent on agriculture.
It has the third-largest oil reserves in Sub-Saharan Africa. However, after South Sudan became an independent nation in July 2011, southern and northern negotiators were not immediately able to reach an agreement on how to split the revenue from these southern oilfields.
It is estimated that South Sudan has around four times the oil deposits of Sudan. The oil revenues, according to the Comprehensive Peace Agreement (CPA), were split equally for the duration of the agreement period. Since South Sudan relies on pipelines, refineries, and Port Sudan's facilities in Red Sea state in Sudan, the agreement stated that the government of Sudan in Khartoum would receive a 50% share of all oil revenues.
South Sudan is attracting many foreign players. But currently, China National Petroleum Corporation (CNPC) is a major investor in South Sudan's oil sector. It is under pressure to diversify away from oil as oil reserves will likely halve by 2020 if no new finds are made, according to the International Monetary Fund (IMF).
Abraham Telar Kuc, a postgraduate researcher on Diplomacy and International Relations at the Institute of Peace, Development and Security Studies, University of Juba, and currently with South Sudan Broadcasting Corporation, suggests South Sudan officials take advantage of the strategic geo-political location, especially use its membership of different international and regional political cooperation and economic integration blocs, to improve the economy.
More recently, economic partnership, in general, is gaining momentum in direct foreign investments through bilateral and multilateral relations. India is investing limitedly in South Sudan oil sector through India's Oil and Natural Gas Commission. In addition, Indian companies are investing in the ICT, pharmaceuticals and medical services, finance and banking, housing and construction sectors. India companies such as Reliance Industries, Tata Group, Bajaj Group, Bharti Airtel Communications and others are making forays into the economy, according to Abraham Telar Kuc.
Abraham told Modern Diplomacy: "Soviet Union offered enormous support for liberation and pro-independence movements including those in South Sudan. We are glad that Russians are waking up for investments and existing economic opportunities in Africa, returning to the African arena and moving into new investment opportunities there. As influential government officials and businesspeople have expressed interest, it's necessary to make sure that they get access to South Sudan."
Russia and Africa have a long history relationship based on mutual trust, and are lined-up on the principles of equality and mutual respect. In recent years, strategic communications have intensified and are developing in various directions. Moscow has repeatedly indicated that it supports the principle "African solutions to African problems" formulated by the African countries.
The children's Continent: Keeping up with Africa's growth
The world's population is growing, but it is in Africa where this challenge is particularly acute. We know Africa as the place where human life began – a place with an ancient and noble history, but today it is also a place that is becoming home to more children than any other place on earth. Already, 77% of population is below age of 35.
For many decades the enormous populations of South America, Europe and Asia have grown quickly, but today they have slowed, and the majority of their populations are adults. In India the average age is 29, in China it is even older, at 37. But in Africa, the average age is 19 years old and rapidly getting younger. The continent is growing so quickly that by halfway through this century, it will be home to one billion children. By 2050, two in every five children in the world will be born here.
This is going to present a unique challenge. Graça Machel has warned: "Even though our youth have the potential to transform Africa, if neglected, they could exacerbate poverty and inequality while threatening peace, security and prosperity". Therefore, we must be proactive in ensuring we meet the needs of this burgeoning population.
But this flourishing of exciting new generations presents acute challenges. Evolving in tandem with this exponential population growth is a rate of urbanisation in Sub-Saharan Africa that is unmatched in the rest of the world.
Africa's urban population is expected to nearly triple by 2050, to 1.34 billion. Coupled with a high rate of urban primacy in African countries (whereby one city is multiple times bigger than the next nearest) and the high number of mega cities, enormous stress is going to be placed on the physical, political, economic and societal infrastructure in these places.
Young people across the continent are increasingly migrating towards the modern technology, connectivity, and entrepreneurial opportunity of city life. Poverty, lack of resources and financial independence are simultaneously pushing them away from their rural lives.
Urbanisation is being driven by rural-urban migration, but city planners and management are not always prepared. Growth rates are unplanned, unregulated and beyond their ability to control. The problems manifest quickly from this point. High levels of unemployment lead to high levels of informal employment, which in turn is improperly taxed, denying vital financial capital to the state. Physical infrastructure is unable to keep pace, leading to overcrowding and informal accommodation. Waste management is unable to keep up, bringing its own environmental dangers.
SDG 11 has the stated goal of making cities and human settlements inclusive, safe, resilient and sustainable. While progress has undoubtedly been made on this, there is a great need to act fast to guarantee the last part of this goal: sustainability. The environmental impact at local, national and international scale is at high risk, with rapidly-growing urban populations demanding instant solutions. We have seen innovative ideas spring from the continent already, such as Diamniadio in Senegal, Tatu City in Kenya, or Vision City in Rwanda – but more is needed.
It would be possible to talk at great length on the issues, and how one enables the next, creating a vortex of seemingly never-ending challenges. But we should view these challenges with resolve and see the opportunities that lie ahead.
Yes, Africa is facing some of the toughest challenges in the world right now. But it is also in Africa that we are seeing some of the most innovative, forward thinking ideas when it comes to tackling the issues.
It is in Africa where we can see the beginnings of the development of truly smart cities, with smarter infrastructure. The Fourth Industrial Revolution has given us unparalleled access to data analytics, providing us with real time solutions to real world problems, based on empirical data. We need to ensure we are making the most of this, driving smarter decision making.
The Islamic Development Bank (IsDB) believes that science, technology and innovation have been solving global challenges on how we build and maintain our cities since the very beginning of civilisation. Investing in science, technology and innovation is a key driver for growing urban populations creating sustainable cities and communities, thereby achieving SDG 11.
Cities occupy just 3% of the Earth's land, but account for 60-80% of energy consumption and 75% of carbon emissions. Affordable housing, safe & sustainable transport, mass migration, climate change and pollution affect us all, but those in the developing world experience these issues much more keenly due to weaker infrastructure.
IsDB has actively launched a science, technology and innovation fund to accelerate progress in cities worldwide. Transform is a $500 million fund for innovation and technology that provides seed money for start-ups and SMEs to facilitate economic and social progress in their respective cities and communities.
We will continue to drive our new development model that maximises our operating assets of $16 billion and subscribed capital of $70 billion to continue providing solutions to international infrastructure challenges.
financing investment Africa children population
The financing gap between what is required to achieve the SDGs versus the current level of investment
The challenges ahead of us require diverse, innovative solutions for the new generations in Africa. Already we can see young entrepreneurs taking the lead in their countries, but we need to be there to support them: helping develop human capital, nurturing the growth of science, technology and innovation in the journey towards the achievement of SDG 11.
Our energy must be focused – the size of the challenge offers little room for error – but we can look forwards with optimism that the solutions to the problems are taking root. We need to nurture and encourage them to flourish.