Anticipated Dimensions of Pakistan-U.S. Relations Post July 2018 Elections
Traditionally, bi-lateral relationship of two frenemies has under gone different ups and fuzzes. Though 'war on terror' opened new horizons of mutual partnership exceeding to a new level, but President Trump's antagonistic approach towards Pakistan scattered the brief honey moon period of good relations. Soon after being elected, Donald Trump's revulsion towards old ally created an environment of qualm for both sides. The situation further worsened with the announcement of South Asian policy in August 2017.
Despite these shortcomings, the US has always been yelling in favor of democracy and peaceful transition of power to democratic institutions in Pakistan. Though, Atlantic power has endorsed dictators in Pakistan in different phases of relationship based on its own interests. Whatever the case had been, the current political situation and suppositions of 25 July elections has left analysts to foresee the future of Pakistan-US relations which are presently not very good. Constant blaming on Pakistan assisting terrorists, diplomatic restraints, matter of FATF and mutual lack of conviction raises many questions.
First of all, it is quite rational to envision the upcoming government's behavior towards the US. At the same, it is equally important to assume the US response to actions of the upcoming government in Pakistan. The US administrations has shown diplomatic alertness by giving statements of free, fair and transparent electoral process with the hope of working together for peace and stability in the region. But, the things are not as simple as they seem to be. A lot more depends on the upcoming Pakistani government that how it responds to the US policies and intentions while safeguarding own national interest.
Secondly, the root causes of trust deficit need to be identified by both sides via adopting harmonious approach. No one needs to be over confident and over conscious of immediate results because there is nothing easy to get rid of in dealing with the US like super power. Similarly, Pakistan will never allow any power to compromise on its national interests. Pakistan's international image as portrayed by the US and its other close ally having anti-Pakistan agenda leaving no opportunity to deprecate Pakistan require realistic approach to minimize growing hostile sentiments.
At third place, there is wide spread anti-American sentiments and resentment among masses in Pakistan because of no-recognition of Pakistan's positive role, sacrifices and favoring India in this region. Religious spheres take the US as anti-Islamic power, general public views it as aggressor and civil-military officials are fed-up with the 'do more' mantra. Cutting of aid will leave no positive impact. Strategic alliance with China and recent inclination towards Russia are immediate responses from Pakistan to the changing behavior of the US. Strategic importance of South Asian region will never allow the US to ignore this part of land as is evident from its hegemonic surveillance over here. The US has to admit need of purposeful comprehensive negotiations with Pakistan. Threats, economic chaos creating suspicions will never pay back good upshots. Conversely, it will lead to further worsening of circumstances.
Furthermore, the United States' apprehensions prevail like heavy clouds. Pakistan must ensure the US its full support to eradicate terrorism from its soil. Diverse sects of society, political parties and military official should unite to detect the problems and devise a comprehensive plan to sustain national peace and stability. Improvement in relations with neighbors can create a softer corner in the US. Importantly, the US should limit its pressurizing tactics on Pakistan. Diplomatic maneuvering and positive international image can do a lot for Pakistan. Both states need each other. There is no alternate for both of them considering the geo-strategic realities except accommodating each other. The US is also cautious of recent entry in main stream politics of previously banned militant organization. This really is a serious issue for Pakistan itself which demands positive role from civil society along with the government to limit their activities to the acceptable level.
Seemingly, things are not as bad as they are being tacitly exposed by international media. Tragedy is that Pakistan has been unproductive to present its case in an appealing way. It is lagging behind in diplomatic performances. The exemption of civil-military collective approach to some extent might be among the reasons behind this horrendous state of affairs along with inactive foreign policy institutions. Economic dependency and low-level output in terms of indigenous resources and capabilities is another area which the state of Pakistan suffers through which ultimately defines its foreign policy choices. Internal law and order situation and individual rights preservation can minimize the impacts of external threats in such an ethno-diverse country.
Recent elections are very significant in this perspective because the future of Pakistan's foreign affairs has to be handled by the upcoming Government. The US is also eyeing on this electoral phase to define its future conduct of bi-lateral relations. Though, there is no major breakthrough expected instantly after the elections in terms of dealing with the super power. But, it definitely will bring out the new spirit and motivation among Pakistanis to handle the major power's reservations. Ostensibly, there is nothing much different in the election manifestoes of all most all major political parties contesting elections. This is a clear indication of few conjoint apprehensions about policies and treatment of the super power. The tangible steps will define the future road map of Pak-US relations. How the policies are pursued will be seen shortly.
Sirimavo of Sri Lanka: Refocusing on World's first Women Prime Minister
Authors: Srimal Fernando and Pooja Singh*
In 1970s, there was a time when Sirimavo Bandaranaike caught the global attention and her premiership was one of the most momentous times in Sri Lanka's political history. On 21 July, 1960, she became the first ever woman Prime Minister of Sri Lanka (formally known as Ceylon) and the world. Even today nearly half a century later, Sirimavo's name is remembered among the thousands of Sri Lankans and among the Sri Lanka Freedom Party (SLFP) supporters. Thus the Sri Lankan voters expectations about Sirimavo rose within no time after the unfortunate assassination of her husband S.W.R.D. Bandaranaike in 1959.
In the summer of 1970, the Sri Lanka Freedom Party (SLFP) , the Lanka Sama Samaja Party (LSSP) and also the Communist Party (CP) was sweeping electorates in a general election by winning 115 seats out of 151. In essence, Sirimavo's administration presented far-reaching constitutional and socio-economic reforms that were suitable for a small island nation.  In fact Mrs. Bandaranaike handled the transfer of island nation becoming a republic under a new constitution tactfully. In this context, Dr. N.M. Perera, Felix Dias Bandaranaike, Philip Gunawardena was some of the primary shapers of her administration. At that time, unlike her predecessors, the former premier showed great interest in developing cement, paper, steel and chemical industries. Despite promising signs under her leadership, uneven inequalities from 1948 to 1970 and economic stagnation created tensions within rural masses. Surprisingly, a coup in 1971 by the southern insurgents headed by Rohana Wijeweera, the leader of the Janatha Vimukthi Peramuna (JVP) shattered the hopes of Bandaranaike government for a short time. Although coup was unsuccessful because of Sri Lanka's military support to premier's rule.
It is noteworthy to mention Sirimavo era solidified Sri Lanka's foreign policy in the coming decades, which set the stage for the island to increase bilateral ties with India and China. In fact, Indian Prime Minister Indira Gandhi was a trustworthy friend of Mrs. Bandaranaike. This period also saw the closest bilateral relations between the neighbouring countries. Especially, Mrs. Bandaranaike was a giant among Non-Alignment leaders. In the summer of 1976 at the fifth Non Aligned Movement (NAM) summit held at the Bandaranaike Memorial International Conference Hall(BMICH) in Colombo, Mrs. Bandaranaike stated, "The non-aligned countries should fight against injustice, intolerance, inequality, old concept of empire and intervention."
On the domestic political scenario, the opposition leader J.R. Jayewardene and his deputy Ranasinghe Premadasa had been outspoken critics of Sirimavo Bandaranaike policies. When she lost 1977 general elections, it was extremely a difficult situation for Mrs. Bandaranaike and for the Sri Lanka Freedom Party (SLFP) coalition partners who had developed a remarkable sense for socialist political culture within the multicultural society in  Sri Lanka. Seven years later Mrs. Bandaranaike had lost her civic rights, the party hierarchy nominated veteran SLFP stalwart Hector Kobbekaduwa for the forthcoming referendum. The Referendum results did not reflect the true situation. Then while the    atmosphere began to change in the island country after the eruption of ethnic conflict and signing of the Indo-Lanka accord. This scenario caused strong anti-United National Party (UNP) regime change feeling.  In a closely fought presidential election in 1988, the SLFP leader Mrs. Bandaranaike lost to UNP presidential candidate Mr. Premadasa. There were no immediate solutions to the crisis in Sri Lanka under Premadasa's presidency.  Hence  in  the South, due to the JVP uprising and the Tamil tiger (LTTE) attacks in Northern and Eastern provinces, conditions inside the Island nation was going from bad to worse.
At the same time, the crisis in the Sri Lanka Freedom Party (SLFP)  came to surface and the party was divided into several wings.  Thus, the time had come for SLFP party unity for doing away with the seventeen years United National Party (UNP) rule. Mrs. Bandaranaike was convinced that it was time for a new generation of party leadership. She opened the corridors of political power to Chandrika Bandaranaike Kumaratunga, Mahinda Rajapaksa, and Maithripala Sirisena who later became presidents of Sri Lanka. In late years, Mrs. Bandaranaike was a prime minister for a short time from when her daughter Mrs. Kumaratunga was president. On the Foreign Policy front she reworked strong bilateral ties with India and China and her policies remained important for Non Aligned Movement (NAM) nations and for India  and China ties with Sri Lanka. After more than fifty years of service to the Sri Lanka Freedom Party (SLFP), to the nation many of the Sri Lankan's were finding it hard to come to terms with Sirimavo's sudden death on 10th October, 2000.Late premier Sirimavo Bandaranaike's pragmatic policies mattered very much for the South Asian island nation, the region and to the world at large.
* Pooja Singh, a scholar of Masters in Diplomacy, Law, Business at Jindal School of International Affairs, India.
Indian Human Rights violation in Kashmir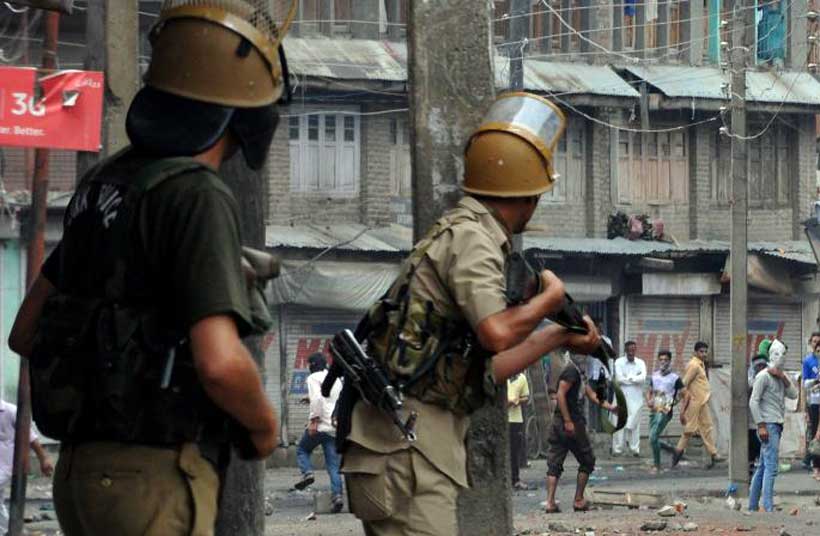 In International conflict management, the models and approaches to solve the deep-rooted issue are vital and applicable but these models became fragile if any one of the belligerent states lacks the intent to solve any tangible solution. India rigid stance of avoiding any Peace Talks on Kashmir issue is the main irritant between rivalries which derails the conflict resolution. It is far important for rivalries to elucidate the dispute to move ahead.  Because it is ultimate truth that all the conflict and crises have an alternate way of tenacity.
In South Asian framework, Indian strategic ambitions are the main stumbling block in the way of Kashmir Resolution. While in the Global framework, major powers like Russia and USA military and then ideological interests compels states not to play any significant role for the resolution of Kashmir conflict.
Kashmiri Freedom Movement started from 1931 and still in 2018 it is constantly being exploited in the hands of Indian aggressive leaders. From 87 years, Indian barbarism is not a top-secret. Indian wanted to sideline and suppress the Kashmir issue in the prism of their national interests but the issue will remain alive with determined efforts of the Kashmiri and Pakistani people, human right activists, political and military leaders. The issue of Jammu and Kashmir must be resolved as per aspirations of Kashmiris.
Pakistanis and Kashmiris across the world chronicled their protest against Indian brutality and illegitimate occupation in Kashmir. Struggle for freedom of Kashmiri people will one day succeed by the grace of Almighty Allah.  Each day is like a black day until the resolution of Jammu and Kashmir with the consent of Kashmiri people.
There are many pragmatic choices for the resolution of Kashmir issue but the real dilemma is that India is not ready to come on Table for Peace talks due to their hegemonic ambitions. Recent Talks at UNGA 73rd session was also negated by Indian. As a rational nuclear state, they should realize that Kashmir is a nuclear flashpoint. Both the nuclear states should talk constructively and negotiations are the only way forward in which mutual national interests must be considered.
In 1948, it was India who went to United Nations and then it was decided unanimously a plebiscite in Kashmir. It is the right of every Kashmiri to decide his destiny indigenously. As there are no law enforcement agencies of international organizations to implement its resolution but the role of P-5 states can facilitate for resolution. Till now no such role is played by them but the importance of UN forum cannot be negated as states like Pakistan can raise their voices at international level against Human Rights violations.
The Indian occupational forces under the cover of Armed Forces Special Protection Act (AFSPA) and other black laws frequently involve in religious cleansing of Muslims. After the martyrdom of Burhan Wani in 2016 Indian forces started using most dangerous weapons of pellet firing shotgun. Where are Human Rights Law against the killing of innocent Kashmiris? The lives of Kashmiris are as important the people killed in 9/11, London attacks, in Mumbai attack or a single Indian soldier. The US fought the war on terror and still engage in most complex war but What about Terror of India in Kashmir. Kashmir needs not to be forgotten at all. US Secretary of State Michael Pompeo asked Pakistan to abandon terrorist attacks into India but from Where Kashmiri demand Freedom. The US needs to let her interest go, at least for once, to settle the Kashmir issue. For Pakistan, it is not just a matter of territorial importance but relates to the lives of Kashmiri people who are suffering at the hands of India's state terrorism.
Modi government is supporting to have Direct Talks with the Taliban, but when it is about Kashmir, they became silent. There is a dire need for the Indian government to review their mindless Kashmir policy. Kashmiri people must be given the right of plebiscite to decide them their destiny. Pakistan's foreign policy is on right direction that the tools of diplomacy need to be improved for better results and peace process is the only way forward.
13th G-20 Summit: India's Diplomacy Finest Hour
The week leading up to the 13th G-20 Summit 2018 was one filled with chaos for the world's mightiest economic and military superpowers. Great Britain was at loggerheads with the rest of EU and with its own Parliament over the Brexit deal. France was on the boil with protests over rising fuel and commodity prices. The United States of America and China had locked horns on who would cede ground in the ongoing trade war. Russia was again caught in conflict with Ukraine. Germany was in a fix on whether or not to impose sanctions on Russia over the Kerch Strait incident. Finally, Saudi Arabia was entering the summit knowing it would face diplomatic isolation over the ongoing yet to settle incident brutal murder of journalist Jamal Kashoggi.
At the summit, there was no success between the abovementioned countries to break the palpable tensions amongst them. The only diplomatic breakthrough and yet not a success was drawn between China and the United States wherein they decided to halt the tariff war for now. However, there no details are out on this halt and the devil is the details which is yet to be revealed. On the bilateral front, POTUS Trump did not meet Crown Prince MBS of Saudi Arabia or with Vladimir Putin.
While the above two paragraphs seem to portray a gloomy summit, one country made diplomatic strides in balancing and holding all the powers present at Buenos Aires together and achieved in bringing forth a very progressive Buenos Aires G-20 Leaders' Declaration. I'm referring to the Republic of India. In a matter of 48 hours at the summit, under the stewardship of Prime Minister Narendra Damodardas Modi, India left a significant foot print. India was able to hold bilateral and trilateral meetings with very contrasting and contradicting groups without either of the groups gaining more prominence over the other.
India held the first ever Japan-America-India (JAI) trilateral meeting. The meeting of the three democracies discussed their converging interests to ensure security and stability in the Indo-Pacific region. Despite being a part of this group, India has made it clear that it sees Indo-Pacific as a geographic and not a strategic construct. While James Mattis proclaimed recently that the Indo-Pacific for the United States is from Hollywood to Bollywood, Mr. Modi long before this meeting had stated that for India, it stretches all the way from the East African Coast to the Western Coast of America. India stands by this firm position in order to maintain a friendly relationship with China which it has rebuilt since the Doklam stand off last year. India has now held 4 bilateral meetings between Xi Jinping and Modi. Even the Chinese side has acknowledged that there has been perceptible improvement in the Indo-China relations post the informal Wuhan summit between the two leaders. The JAI meeting can be termed as a victory for India as it did not receive any negative press from the prominent Chinese press.
Also, there was no signs of the QUAD group holding any meeting despite Australia's presence at the meeting because China has always viewed this group suspiciously and believes that this groups interest is to contain them. India showed respect to China by not bringing this group together at Buenos Aires.
Next, India participated in the RIC meeting with Russia and China. This was the 2nd time that this group met in 12 years. This showed the seamless balance India has achieved in interacting with America in JAI and the Eurasian giants in the RIC meeting. Modi comfortably raised the issues of rising volatility in fuel prices in this meeting without any derailing voices it usually faces from Pakistan in the SCO meetings where theses three countries usually meet on such issues. The RIC meeting was necessary because unlike at JAI, over here Modi was able to highlight the necessity to reform multilateral institutions which have been unable to meet the expectations of the international community.
There was a BRICS meeting held on the sidelines of the summit too which was attended by heads of the four governments. They exchanged views on continued terrorist attacks and urged all nations to take a comprehensive approach on tackling terrorism including all the elements identified in the Johannesburg Declaration.
The G-20 declaration echoed a lot of pressing issues that were reiterated by Mr. Modi throughout the two days at various fora. His points on tackling international economic offenders; countering terrorism; tackling climate change; reformation of multilateral institutions; benefits of digitization; need for technological innovation in finance; sustainable food future; gender empowerment found its way in some form or the other into the declaration.
The Indian Diplomacy was at one of its finest hours and also its high points that it has never exhibited so far. In a matter of those 2 days, India showed that it has gained global salience. Whether it is the world's most advanced democracies; world's most progressive economies or world's most powerful militaries—everyone today wants great relations with India. Modi was able to show that NAM is a relic in the Indian diplomatic archives and that we are able to work in contradicting and contrasting groups and yet maintain seamless balance in achieving our strategic interests and promote peaceful relations with all nations alike.
India is now gearing up for the G-20 summit in 2022 which it will host in the 75th year of its independence. India owes its gratitude to Italy which has forfeited its opportunity to host in 2022. Mr. Modi has sounded the bugle that we will be a New India in 2022. Although India may not have the indigenous military prowess or economic dominance like China or the United States, it has always used the good will it has achieved through its soft power to bring the world together. Mr. Modi and his diplomatic entourage deserve a salute for keeping this G-20 summit together.