Of Fake news, lynchings and mobocracy in India
India is the country of people belonging to varied regions, religions, sects, communities, castes; etc. From the past times till date, the multiculturalism and plural ethos of this country has set a strong precedent to the world about this land of diversity. This country is the country of its natives, be it hindus, muslims, sikhs, christians, parsis, buddhists, etc. No one can escape its identity at the same time. This belongs to as much to one and sundry.
Gone are the days when there was narrow communication in the world due to a number of varied factors and barriers. However, it was the medium of communication which brought to fore the exchanges between the masses down the human history. Down the phases of passing times, communication surged to a remarkable extent and with the arrival of new scientific inventions and discoveries and paraphernalia, day in and day out, the channels of communication widened the world over and narrowed the communication gap with a renewed sway after the inroads of media in the world nation states. Media is considered to be the third eye and fourth pillar of a democracy. The recent century has seen a surge in the ascendency of media in general and social media in Particular, like, facebook, whatsapp, instagram, orkut, etc.Today, there are millions of users of the social networking sites in the world and in India too.
Today, the news in buzz becomes rapidly rampant and circulates at the skyrocket speed due to increased delivery over mass media platforms. News that originates in one part of the globe spreads like wild fire and it is the common man who is the sole player in the whole process. The post-truth era has even added a new framework of the news analysis. However, one cannot blindly believe in what one reads, hears or has a say about. Reality check is must for the same. Nowadays, the increase in the news platforms has seen such an upswing that it becomes a problematic affair for the common man to differentiate between reality and virtuality that is, real news and fake news. Single fake news generated and forwarded by a single foe of humanity destroys the whole fabric of the society and leads to ultimate social disorder and chaos.
Fake news is the new buzzword of the current times which has created an unhealthy atmosphere and given impetus to the anti-democratic forces and anti-human forces to run amuck and create fake and false narratives on the social networking sites or thereto so on and so forth about the people, which cause ultimately lynching of the people under the guise of wrong information and mere suspicion in India. This has wreaked havoc in India and snatched the precious lives of the innocent persons who have become victims of these unruly mobs.
This problem of lynch mobs is not only a law and order problem of the current times, but a major challenge to  the democratic credentials of rule of law which has brought disrepute to India ,the world over in general and constitutional provisions in particular. Article 21 guarantees right to life to every tom, dick and harry of India. To snatch the life of a common Indian citizen through the vehicle of mobocracy is not only the violation of the democracy, but also tantamount to the murder of democracy.
India which claims to be the largest democracy in the world is unfortunately metamorphosing into the mobocracy. The recent killing of the innocent victims at the behest of lynching mobs through brutal beating of rods, sticks and bricks is a tragic phase of our democratic slump. It was the tool of messenger which created the fake news and a wrong narrative of child-lifters in one part of the country, leading to the bloodbath of the innocent victims and added a bad and an unholy chapter to the historical chronicles of the times in India. Muslims are also the soft targets of these goons under the facade of beef mania. The overt and covert attempts of the cow vigilantes have already snatched the life of a number of Muslims, be it Ikhlaq of Dadri, or someone else. The recent lynching of Akbar Khan a Muslim in Alwar, Rajasthan by cow vigilantes is a next gory chapter of brutalism in the name of vigilantism, which invited ire of congress leader Rahul Gandhi. The near lynching attempt of a Muslim man under the wrong information of slaughter is a blot for our composite culture-laden Jammu and Kashmir, particularly those who have no regard of the old aged persons and cannot differentiate between cattle herders and slaughterers. Meanwhile, U.P. Chief Minister has recently in an interview to a national channel said that there must be respect for the religious sentiments so far as faith is concerned.
The weird mob mentality of people and wrong and fake narratives about the people adds fuel to the fire. In India,a single encounter of the people with a Kashmiri person ,be  it a student, researcher, job aspirant, intellectual, tourist, patient, etc. adds a taunt of Pakistani narrative and militant name from the people of mainland India about the same fellow. Who has given the people the right to call the names of Kashmiri's with such utterances? It is the media with a biased attitude that has constructed such very fake-cum-false narratives about the people of Kashmir and engulfed the psyche of the people who are seen with a needle of suspicion everywhere and elsewhere they go. Last year, when a video over social media appeared, wherein an old man of district Anantnag perhaps was seen saying that he along with another Kashmiri fellow were hurled invectives and abuses upon while travelling in some part of the country and people had called them as Atankwadi (terrorists) being Kashmiris. Not only this, People of North-East are also taunted everywhere, even in Delhi metros, with names. The attack on Kashmiri students last year in Haryana who were studying in Haryana's central university by goons has time and again raised question about the safety and security of the valley students studying in different parts of the country. Even, People from Bihar are seen with a narrow and a different perspective. How sad and pathetic? While travelling in a DTC bus in New Delhi way back in 2011, a woman hurled invectives on a person, calling him Bihari with ensuing taunts, who remained as a mute spectator at the scene. This can be called as the oral lynching of the people's conscience of other parts of the country.
Cutting long story short, the problem of lynching has to cease, once for all in India. The role of government is mandatory and primary and people's secondary. Without the intervention of strong law or making of a strong ordinance, the problem will continue to persist and loom largely in the land of Sufis, sages, saints, seculars of India and what not and haunt the memories of people in the days to come.
Government needs to rope in a strong law to neutralize the menace of mobocracy and lynching's in India. Also, social networking sites need to introspect and doubly-verify the news, before they forward it to the users. If the same situation persists in near future, India will be under the shade of complete mobocracy with ruling mobs without any fear of law and justice, where rule of law will be sidelined to the margins of the written confines of the document of Indian constitution, without any practicability of the same.
Answering the CPEC Challenges
China-Pakistan Economic Corridor will help sustain the economic growth of China and will highlight the strategic importance of Pakistan. It will offer Pakistan with a chance to broaden the horizon of its economy and enlarge its foreign reserves. However, whilst venturing towards industrialization and Foreign Direct Investment (FDI), CPEC in Pakistan faces certain challenges that have so far impeded the industries in realizing their full growth potential. Principal obstructions to investment in this regard are various security and political factors as well as the non-availability of infrastructure and power crises.
The answer to these challenges is that the FDI is very much necessary for raising the value of capital. Eventually, once the high capital value is achieved it will helps in developing infrastructure and for initiating large industries. Thus through Foreign Direct Investment (FDI) the dearth of capital will be lessened to greater extent. In order to set up competitive industries in the globalized world one of the priorities is the accessibility to the productive and high tech transportation for maneuvering of raw materials and finished goods. This is an understood observation that, economic expansion strengthens infrastructure advancement and vis a vis.
The second most important aspect is how far CPEC is beneficial for the Pakistani labors and how the industrial advancement will be creating Jobs through CPEC for Pakistani people? The youth surge is often named as asset and it should be chief concern of the State, because this strength has turned into burden owing to unemployment. In this regard CPEC could offer appropriate interference in the course of employment creation to take in hand the grievances of unemployed youth. The electricity shortage and network of infrastructure further minimizes the on hand base of small industries in Pakistan. The first phase of energy projects in early harvest program of CPEC will be effective in reducing the electricity shortfall. The inexpensive and unremitting power availability is indispensable for stimulating Pakistan's manufacturing sector. This will increase the economic activities, create jobs and catch the attention of foreign investors to invest in trade zone of Pakistan. Eventually all the project which are part of CPEC, whether they are electricity production projects or infrastructural advancement projects need man power -engineers; civil mechanical, electrical. Along with disciplines of engineering technicians: masons, welders, carpenters, surveyors, steel fixer, machine operators, etc are also required. Moreover not only the labor and technical workforce, there is also a need of professional economists, finance, accounting, management HR and interpreters of Chinese language who will monitor and manage these projects. Thus to sum up the answer to the question that how far CPEC is effective in creating jobs, one can say that  according to the resources and as the above mentioned, CPEC will be generating around two million jobs implicitly or explicitly till 2030.
Moreover, this is also worth noting that if the Pakistan stakeholders are making their living and paying high tax regardless of the Chinese who are investing and they are exempt from taxes. Under such conditions how CPEC will be profitable for Pakistani investors and local industrialists if Chinese are tax exempt and local industries are not? In that case CPEC Special Economic Zones (SEZs) will be a fruitful strategy for promoting trade, employment and economic growth. Consequently to upgrade the industries, through SEZs, one of the intended objectives of the CPEC is to best serve the private sector of Pakistan to strengthen local industries through Free Trade Agreements (FTA). The proclaimed incentives which CPEC promises to offer the local enterprises include the promotion of Pakistan's industries from accumulating imported parts and components to localized production of parts by utilizing the available resources, offering employment opportunities to the people and encourage bilateral connectivity between various Chinese and Pakistani enterprises. It will also expand trade volume and logistics, business-to-business (B2B) links, two-pronged trade arrangement, regional connectivity and encourage evenhanded trade maturity. Subsequently in order to facilitate the local business sector, Board of Investment (BoI) established "CPEC-SEZ Cell" in February 2017 in order to address the concerns of the stakeholders on the matters related to the CPEC and Special Economic Zones. The prime function of this support cell is to attract, facilitate and promote both local and foreign investment in the country as per Special Economic Zones (Amendment) Act, 2016 of Pakistan.
Furthermore in line with changing global economic structure CPEC will bring trade openness. For that Pakistan has prioritized the establishment of SEZs. So far 41 sites have been identified for SEZs and the Board of Investment (BoI) has mapped out nine exclusive Industrial Zones to be built under the larger umbrella of CPEC. It is also pertinent to mention that the CPEC project is not merely a route that connects Gwadar port with Kashgar but an opportunity for both China and Pakistan to enjoy the fruits of trade openness with Europe, Middle East, South and Central Asia as well. Thus the establishment of SEZs  promises to bring  Trade Openness through a massive socio-economic development  in the country specifically in the areas of energy, trade, agricultural, infrastructural development, connectivity, industries, poverty alleviation, tourism, cooperation between financial institutions and markets, and financial cooperation between Free Trade Zones (FTZs).
Last but not the least the difficulty of capital and capacity insufficiency can be alleviated through joint ventures between Chinese and Pakistani business community under CPEC. It is necessary to enlarge the stakes of domestic industry and protect their interests under CPEC. Pakistani entrepreneurs should be given incentives similar to Chinese investors for investment in the CPEC projects.
Whether Pakistan's membership in the IAEA Board of Governors is a major diplomatic achievement?
Pakistan has once again been elected a member of the IAEA Board of Governors (BoG) for the next two years on September 20, 2018. The Board of Governors of the IAEA is one of its policy making organs. The BoG not only examines the financial statements, it also makes recommendations for the IAEA budget. It finalizes the membership applications, accepts safeguard agreements and contributes in the safety standard publications. The approval of Director General of the IAEA with the approval of General Conference is also the responsibility of the Board. Pakistan has been chosen 19 times to the Board in the past and has played an important role in the formulation of the agency's policies and programmes. It also has the honor of chairing the Board thrice in 1962, 1986 and 2010.
A prominent Pakistani nuclear expert Dr. Naeem Salikin his book "Nuclear Pakistan Seeking Security and Stability" writes that Pakistan's cooperation with the agency has been reciprocal. In other words it not only benefitted from the agency but also Pakistan's nuclear expertise and its human resources proved to be invaluable contribution to the agency. Pakistani scientists and engineers have contributed to the IAEA work in numerous fields including in the area of nuclear safety and security. It also hosted nuclear safety and security workshops with the cooperation of IAEA on the regional level. Pakistan has been beneficiary of the IAEA assistance and its nuclear establishment is fully committed to increasing this cooperation in various fields ranging from nuclear power development to that of agriculture, medicine and livestock. Pakistan's Country Program Framework (CPF) 2014-2019 provides assistance in the wide range of areas as nuclear safety and security, nuclear power development, industrial application, human health under the technical cooperation program of the IAEA.
Since the inception of Pakistan's nuclear weapons it has faced allegations and hostilities which have not been faced by any other nuclear state in the world. Although, the formation of the NSG in 1974 was the result of Indian violation of peaceful use of nuclear material for military purposes but the irony is that now the founders of NSG are advocating India for the membership of NSG. China is the only state which understands that India is not the only country but Pakistan is also capable of producing highly enriched uranium and plutonium for civil and military purposes and it can easily assist developing states in advancing their nuclear infrastructures and technology. All nuclear power plants of Pakistan are under the IAEA safeguards while the US is extending exceptional treatment to India by letting it keep its eight reactors out of IAEA safeguards that are producing fissile material in large quantities, and intentionally ignoring this.
In this regard, Pakistan advocates a non-discriminatory approach towards the non-NPT nuclear weapons states for their entry into the NSG. Nevertheless, it is the prime time for Pakistan to fight its case through the IAEA as it is going to formulate policies of IAEA for future. It should also try to introduce the policies which treat all nuclear states equally because discriminatory behaviors and policies undermine the credibility of the non-proliferation regimes.
In a nutshell, Pakistan has been facing enormous amount of propaganda regarding its nuclear safety and security and the amount of literature projecting Pakistan's perspective is inadequate and small. Therefore, it's imperative that Pakistan projects its perspective concerning its nuclear safety and security. Pakistan has been in full compliance with the agency regime for over fifty years now. Pakistan's cooperative and positive behavior towards the promotion of peaceful uses of nuclear technology and non-proliferation regimes requires equal treatment. Keeping in view the stringent nuclear safety and security record of Pakistan and its advanced nuclear fuel cycle capability, it should be considered eligible to be provided the nuclear fuel cycle services under the IAEA safeguards. Pakistan can make its membership in BOG a major diplomatic achievement by advocating its perspective with full determination.
Can India Balance Between Beijing and Washington?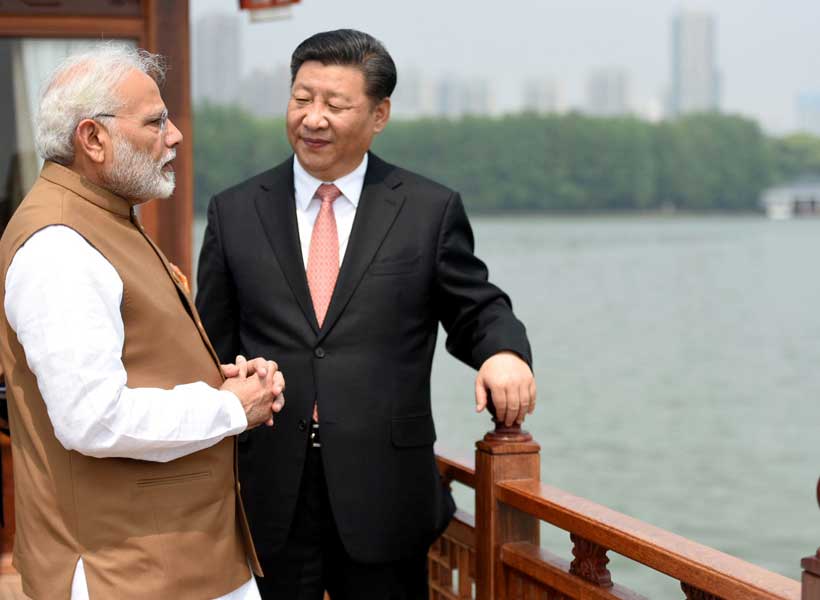 On October 10, 2018, a Senior Chinese Diplomat in India underscored the need for New Delhi and Beijing to work jointly, in order to counter the policy of trade protectionism, being promoted by US President, Donald Trump.
It would be pertinent to point out, that US  had imposed tariffs estimated at 200 Billion USD in September 2018, Beijing imposed tariffs on 60 Billion USD of US imports as a retaliatory measure, and US threatened to impose further tariffs. Interestingly, US trade deficit vis-à-vis China reached 34.1 Billion USD for the month of September (in August 2018, it was 31 Billion USD). Critics of Trump point to this increasing trade deficit vis-à-vis China as a reiteration of the fact, that Trump's economic policies are not working.
Ji Rong, Spokesperson of the Chinese Embassy in India said that tariffs will be detrimental for both India and China and given the fact that both are engines of economic growth it is important for both to work together.
The Chinese diplomat's statement came at an interesting time. US President, Donald Trump on October 2, also referred to India as 'tariff king'. Even though the India-US strategic relationship has witnessed a significant upswing, yet the US President has repeatedly referred to India imposing high tariffs on US exports to India (specifically Harley Davidson motorcyles).
It also came days after, after India signed a deal with Russia (October 5, 2018) for the purchase of 5 S-400 Air Defence system, during the visit of Russian President Vladimir Putin. The Chinese envoy's statement also came days before India attended the China dominated Shanghai Cooperation Organization (SCO). Significantly, India and China also began a joint training programme for Afghan Diplomats on October 15, 2018 (which would last till October 26, 2018).
Trilateral cooperation between India, China and Afghanistan was one of the main thrust areas of the Wuhan Summit, between Chinese President, Xi Jinping, and Indian PM, Narendra Modi, and this is one of the key initiatives in this direction.
There are a number of factors, which have resulted in New Delhi and Beijing seeking to reset their relationship. The first is difference between New Delhi and Washington on economic ties between the former and Iran and Russia. Washington has given mixed signals with regard to granting India exemptions from Countering America Through Sanctions Act (CAATSA).
US ambiguity on providing waivers to India
While sections of the US establishment, especially Jim Mattis, Defence Secretary and Secretary of State, Michael Pompeo have been fervently backing a waiver to India, there are those who oppose any sort of waiver even to India. NSA John Bolton has been warning US allies like India, that there will be no exemption or waiver from US sanctions targeting Iran's oil sector. On October 4th, Bolton while briefing the press said:
"This is not the Obama administration … is my message to them (the importers),
Trump himself has not been clear on providing India a waiver, when asked about this issue, he said India would  know soon about the US decision (Trump has the authority to provide a Presidential waiver to India from the deal with Russia). A State Department Spokesperson also stated, that the US was carefully watching S-400 agreement with Russia, as well as India's decision to import oil from Iran, and such steps were 'not helpful'. With the US President being excessively transactionalist, it is tough to predict his final decision, and with growing differences between him and Mattis, one of the ardent advocates of waivers for India, it remains to be seen as to which camp will prevail.
US protectionism and New Delhi's discomfort
Differences between Washington and New Delhi don't end on the latter's economic ties with Tehran and Moscow. India has on numerous occasions stated, that while strengthening strategic ties with the US, it was concerned about the Trump administration's economic policies. This was clearly evident from the Indian Foreign Minister Sushma Swaraj's speech at the SCO Meet (October 12, 2018) held at Dushanbe, Tajikistan where she pitched for an open global trading order. Said Swaraj:
"We have all benefited from globalization. We must further develop our trade and investment cooperation. We support an open, stable international trade regime based on centrality of the World Trade Organization,"
Even if one to look beyond Trump's unpredictability, there is scope for synergies between New Delhi and Beijing in terms of economic sphere and some crucial connectivity projects.
Economic Opportunities
For long, trade has been skewed in favour of China, and this is a growing concern for India. Trade deficit between India and China has risen from 51.1 Billion USD in 2016-2017 to 62.9 Billion in 2017-2018 (a rise of over 20 percent).
The imposition of US tariffs has opened up opportunities for China importing certain commodities from India. This includes commodities like soybeans and rapeseed meal. In a seminar held at the Indian embassy in Beijing in September 2018, this issue was discussed and one on one meetings between potential importers (China) and sellers (India) was held. India urged China to remove the ban which had imposed on the import of rape meal seeds in 2011.
Connectivity and Afghanistan
Another area where there is immense scope for cooperation between India and China is big ticket connectivity projects. During his India visit, Uzbekistan President, Shavkat Mirziyoyev invited India to participate in a rail project connecting Uzbekistan and Afghanistan.
Afghanistan has welcomed this proposal, saying that this would strengthen cooperation between China and India in Afghanistan. India-China cooperation on this project is very much in sync with the China-India Plus Model proposed by China at the BRICS Summit in July 2018.
India and China can also work jointly for capacity building in Afghanistan. New Delhi has already been involved in providing assistance to Afghanistan in institution building and disaster management, and if Beijing and New Delhi join hands this could make for a fruitful partnership. The India-China joint training program for Afghan diplomats is a significant move in this direction. India and China can also look at joint scholarships to Afghan students where they can spend part of their time in China and the remaining time in India.
Both India and New Delhi for any meaningful cooperation in Afghanistan can not be risk averse, and will have to shed their hesitation. Beijing for instance has opted for a very limited 'capacity building' , where it will work with India in Afghanistan. While Kabul had expected that both sides will invest in a significant infrastructure project, Beijing with an eye on its ally Islamabad's sensitivities opted for a low profile project.
Conclusion
New Delhi should not be too predictable in it's dealings with Washington DC, and has to do a fine balancing act between Beijing and Washington DC. While on certain strategic issues are synergies between India and the US, on crucial economic and geo-political issues, there are serious differences, and India's ties with Beijing are crucial in this context. New Delhi and Beijing should seek to expand economic ties, and the latter should give more market access to Indian goods. Apart from this, both countries should work closely on connectivity projects. If both sides build trust, the sky is the limit but it will require pragmatism from both sides. Beijing should not allow the Pakistani deep state to dictate it's links with India (especially in the context of cooperation in Afghanistan). New Delhi on its part, should not make any one issue a sticking point in its complex but very important relationship with Beijing.