Significance of Pakistan's Tactical Nuclear Weapons
A Tactical Nuclear Weapon (TNW) is a nuclear weapon, smaller in its explosive power, which is developed to be used in the military situation on a battlefield. A TNW is a non-strategic weapon. It is the product of Cold war. The US considered it convenient to deploy TNWs on the territory of its North Atlantic Treaty allies to save them from the Soviet largest conventional force. The TNWs became part of the US policy to enhance deterrence to prevent Soviet aggression in Europe. Pakistan also developed NASR to thwart India from launching military offensive in the form of the Cold Start Doctrine (CSD).Pakistan's desire to become a nuclear- armed state is rooted in a belief to secure itself from India which has supremacy in conventional force along with nuclear arsenals. Nuclear weapons hence play crucial role in Pakistan's overall military strategy. NASR missile system is the short range missile system for tactical level operations. In fact, NASR is a rapid response weapon developed to support "full spectrum deterrence" by thwarting India's growing conventional strength advantages. The NASR is reported to have 60 kilometer range along terminal guidance system. Tactical weapons such as NASR are designed with the limited range to be  used against an opponent who has supremacy in conventional force over Pakistan. According to the former head of the Strategic Plan Division (SPD) Lt General Kidwai, the nuclear weapons would be only used "if the very existence of Pakistan as a state is at stake." The sole aim of the nuclear weapons is to deter Indian aggression. He also stated that Indian CSD is an offensive limited war strategy designed to seize Pakistan's territory swiftly, hence, the developments of TNWs have sufficiently blocked the avenues for serious military operation from the Indian military side.
The NASR has been designed to "consolidate Pakistan's strategic capabilities at all levels of the threat spectrum". In 2011, Pakistan conducted the test of tactical nuclear weapons. In July 2011, India also tested its TNWs (Prahaar).They compared it with the American TNWs with claim that development of these TNWs took Defense Research and Development Organization (DRDO) two years. The Prahaar has many similarities with NASR for example it can be deployed rapidly within a  few minutes. It can be fired from a road mobile launcher. The second test of TNWs was conducted in 2013. A year later another test of TNWs was conducted. According to SPD the effects of this missile are strategic in nature and they would increase the existing deterrence capability.
In fact, NASR is well timed and necessary to address the problem of conventional asymmetry between Pakistan and India. Pakistan is not interested in symmetry with India but it wants to maintain the strategic stability in South Asia. While, Indian Cold Start Doctrine, its conventional military modernization and its deals in civil nuclear field with superpower generated the need for Pakistan to design TNWs. Because, Indian conventional force modernization render the Pakistan nuclear massive retaliation inevitable. Zafar Nawaz Jaspal states that the NASR is a cost-effective way (due to Pakistan's resource constraints), to alleviate the rapidly growing conventional asymmetries between India and Pakistan and to counter the threat of limited war. Because, India has been the world's largest arms importer since 2009. The development of short range missile is part of Pakistan's security policy because India has supremacy in conventional force and it spends more money than Pakistan on its military force modernization. While, Pakistan also can spend more money on its conventional force, but, it believes in minimum credible nuclear deterrence within its limited financial resources. The purpose of the development of TNWs is defensive not offensive because Pakistan would use it to fortifying it borders. NASR has been criticized by the international community and India by arguing that it would increase arm race in the region, but, the purpose of this development is just to overcome the growing threats from the Indian hawkish doctrines. CSD forces Pakistan to increase its dependence on nuclear weapons.
The dilemma is that if India violates any international law nobody says anything. But if Pakistan takes any step to deter Indian aggression and secure its border, international community criticizes Pakistan. Great powers are interested to change the rules of international non-proliferation regimes for India, but, their attitude towards Pakistan is very discriminatory. International community should understand that Pakistan does not do anything independently, but, it follows India. India's hawkish policies force Pakistan to convert its nuclear doctrine from "minimum" to "full" deterrence while Pakistan believes in minimum credible nuclear deterrence.
India's Probable Move toward Space Weaponization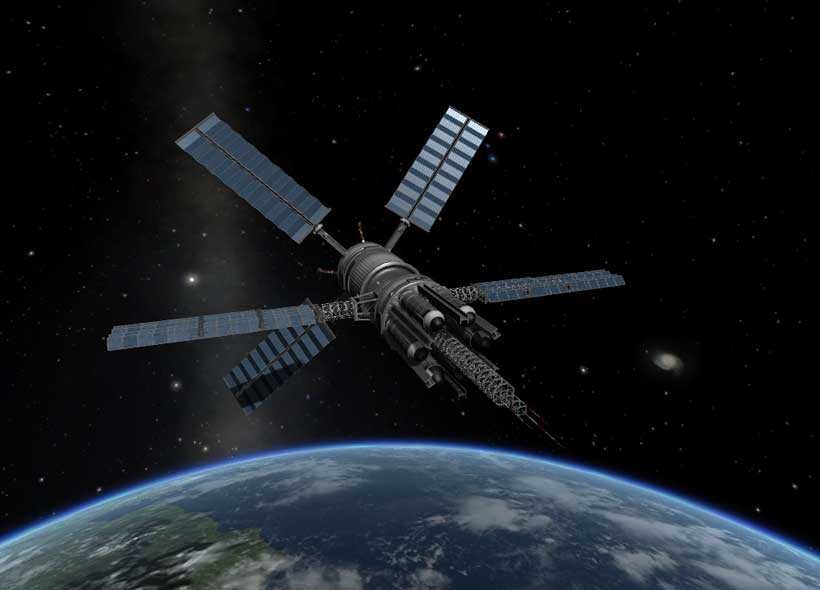 The term Space Weaponization tends to raise alarm as it implies deployment of weapons in the outer space or on heavenly bodies like Sun and Moon or sending weapon from earth to the outer space to destroy satellite capabilities of other states. Thus, space weaponization refers to the actions taken by a state to use outer space as an actual battlefield.
Space militarization on the other hand is a rather less offensive term which stands for utilization of space for intelligence gathering, surveillance and reconnaissance missions through satellites to support forces on ground in the battle field. Space militarization is already in practice by many states. In South Asia, India is utilizing its upper hand in space technology for space militarization. However, recent concern in this regard is India's attempts to weaponize space, which offers a bleak situation for regional peace and stability. Moreover, if India went further with this ambitiousness when Pakistan is also sending its own satellites in space, security situation will only deteriorate due to existing security dilemma between both regional counterparts.
Threats of space weaponization arise from the Indian side owing to its rapid developments in Ballistic Missile Defenses (BMDs) and Inter-Continental Ballistic Missiles (ICBM). Both of these technologies, BMDs and ICBMs, hand in hand, could be used to destroy space based assets. In theory, after slight changes in algorithms, BMDs are capable of detecting, tracking and homing in on a satellite and ICBM could be used to target the satellites for intelligence, surveillance and reconnaissance.
Many international scholars agree on the point that BMD systems have not yet acquired sophistication to give hundred percent results in destroying all the incoming ballistic missile, but they sure have the capability to work as anti-satellite systems. The reason behind the BMD being an effective anti-sat system is that it is easier to locate, track and target the satellites because they are not convoyed with decoys unlike missiles which create confusions for the locating and tracking systems.
India possesses both of the above-mentioned technologies and its Defense Research and Development Organization has shown the intention to build anti-satellite weaponry. In 2012, India's then head of DRDO categorically said that India needs an arsenal in its system that could track the movement of enemy's satellite before destroying it, thus what India is aiming at is the credible deterrence capability.
One thing that comes in lime light after analyzing the statement is that India is in fact aiming for weaponizing the space. With the recent launch of its indigenous satellites through its own launch vehicle not only for domestic use but also for commercial use, India is becoming confident enough in its capabilities of space program. This confidence is also making India more ambitious in space program. It is true that treaties regarding outer space only stop states from putting weapons of mass destruction in outer space. But, destruction of satellites will create debris in outer space that could cause destruction for other satellites in the outer space.
On top of it all the reality cannot be ignored that both Pakistan and India cannot turn every other arena into battlefield. Rivalry between both states has already turned glaciers and ocean into war zones, resultantly affecting the natural habitat of the region. By going for ballistic missile defences and intercontinental ballistic missiles India has not only developed missile technology but also has made significant contribution in anti-sat weaponry, which is alarming, as due to security dilemma, Pakistan will now be ever more compelled to develop capabilities for the security of its satellites. So far both states are confined till space militarization to enhance the capabilities of their forces, but if that force multiplier in space goes under threat, Pakistan will resort to capability to counter Indian aggression in space as well, which will be the classic action-reaction paradigm. Thus, it is pertinent that India as front runner in space technology develop policy of restrain to control the new arms race in the region which has potential to change the skies and space as we know them.
Pakistan's Nuclear Policy: Impact on Strategic Stability in South Asia
Most significant incident happened when India tested its nuclear device on18 May, 1974.After India's nuclear test, Pakistan obtained the nuclear technology, expertise and pursued a nuclear program to counter India which has more conventional force than Pakistan. Pakistan obtained nuclear program because of India, it has not done anything independently but followed India. Pakistan just wanted to secure its borders and deter Indian aggression. It was not and is not interested in any arms race in the region. It is not signatory of the Non-Proliferation Treaty (NPT) and Comprehensive Test-Ban-Treaty (CTBT). Pakistan has not signed NPT and CTBT because India has not signed it. Since acquiring the nuclear weapons, it has rejected to declare No First Use (NFU) in case of war to counter India's conventional supremacy.
The basic purpose of its nuclear weapons is to deter any aggression against its territorial integrity. Riffat Hussain while discussing Pakistan's nuclear doctrine argues that it cannot disobey the policy of NFU due to Indian superiority in conventional force and it makes India enable to fight conventional war with full impunity. Pakistan's nuclear posture is based on minimum credible nuclear deterrence which means that its nuclear weapons have no other role except to counter the aggression from its adversary.  It is evident that Pakistan's nuclear program is Indiacentric.. Owing to the Indian superiority in conventional forces Pakistan nuclear weapons balance the conventional force power percentage between the two states. In November 1999, Pakistan's Foreign Minister Abdul Sattar stated that 'more is unnecessary while little is enough'.
The National Command Authority (NCA), comprising the Employment Control Committee, Development Control Committee and Strategic Plans Division, is the center point of all decision-making regarding the nuclear issue.According to the security experts first use option involves many serious challenges because it needs robust military intelligence and very effective early warning system. However, Pakistan's nuclear establishment is  concerned about nuclear security of weapons for which it has laid out stringent nuclear security system. Pakistan made a rational decision by conducting five nuclear tests in 1998 to restore the strategic stability in South Asia, otherwise it was not able to counter the threat of India's superior conventional force.
The NCA of Pakistan (nuclear program policy making body) announced on September 9, 2015 the nation's resolve to maintain a full spectrum deterrence capability in line with the dictates of 'credible minimum deterrence' to deter all forms of aggression, adhering to the policy of avoiding an arms race."It was the response of Indian offensive Cold Start Doctrine which is about the movement of Indian military forces closer to Pakistan's border with all vehicles. Pakistan wants to maintain strategic stability in the region and its seeks conflict resolution and peace, but India's hawkish policies towards Pakistan force it to take more steps to secure its border. Pakistan's nuclear establishment is very vigorously implementing rational countermeasures to respond to India's aggression by transforming its nuclear doctrine. It has developed tactical nuclear weapons (short range nuclear missiles) that can be used in the battle field.
Pakistan's former Prime Minister Nawaz Sharif said in 2013 that Pakistan would continue to obey the policy of minimum credible nuclear deterrence to avoid the arms race in the region. However, it would not remain unaware of the changing security situation in the region and would maintain the capability of full spectrum nuclear deterrence to counter any aggression in the region. Dr. Zafar Jaspal argues in his research that Full credible deterrence does not imply it is a quantitative change in Pakistan's minimum credible nuclear deterrence, but it is a qualitative response to emerging challenges posed in the region. This proves that Islamabad is not interested in the arms race in the region, but India's constant military buildup forces Pakistan to convert its nuclear doctrine from minimum to full credible nuclear deterrence.
India's offensive policies alarm the strategic stability of the region and international community considers that Pakistan's transformation in nuclear policies would be risky for international security. They have recommended a few suggestions to Pakistan's nuclear policy making body, but the NCA rejected those mainly because Pakistan is confronting dangerous threats from India and its offensive policies such as the cold start doctrine. Hence no suggestion conflicting with this purpose is acceptable to Pakistan. This is to be made clear at the all national, regional and international platforms that Pakistan is striving hard to maintain the strategic stability while India is only contributing toward instigating the regional arms race.
NATO is worried about Trump
In recent days, Western analysts have analyzed and evaluated various aspects of the tensions and challenges among NATO members. The majority of NATO members are European countries.
Countries that are furious about the behavior of the White House due to issues such as the imposition of tariffs on imported steel and aluminum, and the withdrawal of Trump from a nuclear deal with Iran.
However, some Western media believe the US-EU security relationship remains strong. Relations that have a meaningful, more meaningful meaning in the North Atlantic Treaty Organization. The concerns of the European leaders about the recent meeting between Putin and Tramp and the possibility of security bouts between the two US and Russian presidents is another issue that has been addressed in this regard. POLITICO, in a paper by Thomas Voltask, examines the relationship between the US, Russia and the European members of NATO.
As Politico reported, So far, the defense-centered core of the Western alliance has proven strikingly sturdy, even as US-European collaboration has collapsed on other issues, such as climate change, trade and Iran. The Trump administration pleasantly surprised many across the Atlantic by nearly doubling the Obama-era program to fund US military presence in Europe. Almost 1,000 Americans in uniform are now deployed in Poland. By most accounts, the alliance's ability to discourage Moscow from testing NATO's resolve has never been better.
But not all is well. For the past decade, US officials have been warning the Europeans to start spending more on their own defense. The US now spends $3 for each $1 that the remaining 28 European members plus Canada spend together. This prompted the former American secretary of defense, Robert Gates, to warn back in 2011 that when Congress wakes up to that reality, NATO will face a "dim if not dismal future."
This crisis, however, was on its way to a resolution of sorts in recent years. Europe is now the region with the fastest growing real-term defense spending, according to the International Institute for Strategic Studies in London. The countries of Central and Northern Europe in particular were spooked by Russia's aggression into raising budgets as much as 40 percent year-on-year. Not all allies will be spending 2 percent of their GDP on defense, as agreed in 2014, but then again all governments have a habit of making promises they do not intend to keep. This one has actually proven more consequential than other such "commitments" made in the past — most notably on development aid and climate change.
Of course, none of this is guaranteed to make a difference to the White House. Trump brings two new uncertainties into NATO politics. He doesn't appear to share Europe's sense of urgency on keeping Russia in check through a significant allied military presence. And even if he did, it's unlikely that he would consider it to be America's problem.
The president has said on a number of occasions that he considers all alliances a burden on the United States — it's a position he's held unaltered for decades. That raises the possibility that the debate on defense spending is a red herring. In the end, it may not matter whether the allies carry their weight in NATO or not. That would put Europe in somewhat of a lose-lose situation.
The Polish government, probably suspecting as much, has floated an interesting proposal: In addition to spending 2 percent on defense, which it already does, it has offered to pay as much as $2 billion to cover the cost of stationing US forces there. In effect, they have turned the tables on the US president, taking the thorny issue of money out of the equation and testing Trump's commitment to European stability itself.
The reality is that the crises facing the United States and NATO members will not end soon. At least until the arrival of Trump at the White House, these concerns will remain. On the other hand, the foreseeable future of the president of the United States will face Western actors with serious dilemmas.
First published in our partner MNA