Huawei: ICT Technologies as a Key Enabler of Global Sustainable Development
Huawei released its 2017 Sustainability Report demonstrating the initiatives undertaken in the year across four areas: Bridging the Digital Divide; Supporting Network Stability and Security and Protecting Privacy; Promoting Environmental Protection; and Building a Healthy Ecosystem. Over the past year, Huawei has actively benchmarked its operations against the United Nations Sustainable Development Goals to achieve its strategic goals in sustainability.
"At Huawei we wish to leverage our expertise to build a sustainable, fully connected, and intelligent world. We see a future where every person, home and organization enjoys the benefits of innovation and connection," said Huawei Chairman Dr. Howard Liang. "As we encourage more inclusive and sustainable global economic growth, we sincerely hope to contribute more to our world and the future."
ICT technologies have become a key enabler of global sustainability. As part of Huawei's contribution to sustainable development, it continues to increase its R&D investment, innovate in ICT, and bring the fruits of this innovation to more people.
In 2017, Huawei's innovative WTTx solution helped resolve last-mile access issues in both densely populated cities and sparsely populated rural areas. This solution reduces connectivity costs by 75% and makes network roll-out 90% faster. The company also deployed RuralStar 2.0, a solution for rural networks, for 12 carriers in eight countries, including Thailand, Ghana, and Mexico. This solution helps increase network coverage in rural areas, allowing more people, especially those in under-developed regions, to access the online world. Huawei's Mobile Money solution enables carriers and banks to deliver innovative, reliable mobile banking services without adding too much to their asset base. It has been deployed in 19 countries and serves over 152 million users. This solution makes financial services simpler and more accessible, driving financial inclusion.
"We actively benchmark our operations against best industry practices to keep ourselves up-to-date. We now intend to set more aggressive goals and pursue innovation in sustainability practices, as this can help improve the sustainability of the whole industry," said Kevin Tao, Board Member and Chairman of Huawei's Sustainable Development Committee, when discussing Huawei's future plans for sustainability.
"The road to sustainability must be one of openness and growth for the whole ecosystem. Only in this way can businesses generate commercial value sustainably and share success with other industry players," Tao said.
The report by Huawei was prepared in accordance with the Global Reporting Initiative (GRI) Sustainability Reporting Guidelines. Huawei engaged Bureau Veritas, an external assurance provider, to verify the reliability, fairness, and transparency of the report.
We need to lead technology, not let technology lead us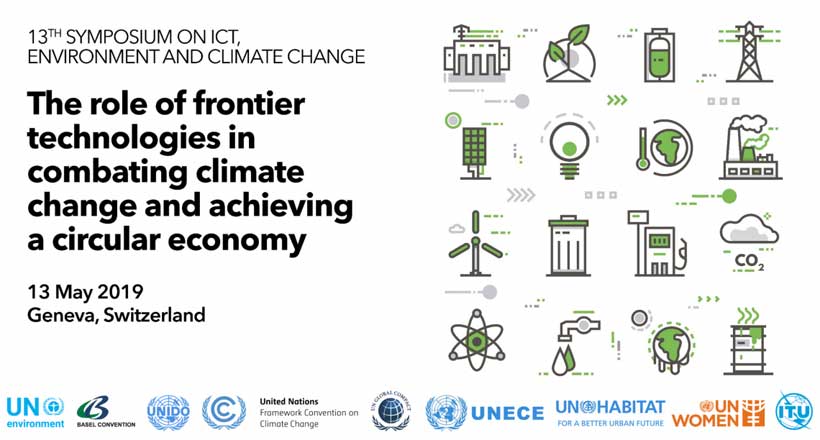 Industry experts, policymakers, and representatives from the ICT sector, international organizations and academia, have come together to discuss the role of frontier technologies, such as artificial intelligence (AI) and the Internet of Things, in combating climate change and achieving a circular economy.
The 13th Symposium on ICT, Environment and Climate Change was co-organized by a number of UN agencies, including the UN Industrial Development Organization (UNIDO), and was hosted by the International Telecommunication Union (ITU) at their Geneva headquarters.
The potential of frontier technologies to help to lower carbon emissions, boost climate resilience and support the transition to a circular economy represents a significant opportunity for stakeholders to progress with the goals of the 2030 Agenda for Sustainable Development, including Sustainable Development Goal (SDG) 9 on industry, innovation and infrastructure.
The event was opened by ITU's Deputy Secretary-General, Malcolm Johnson, who emphasized the importance of the three C's – collaboration, cooperation and coordination. "We need innovative solutions to the way we produce goods and services," he affirmed in his opening remarks.
The importance of partnerships was prominent throughout the day's discussions, during which participants learnt about how frontier technologies are helping to boost climate actions, from satellite data to support farmers with harvesting to tropical weather forecasts.
The need for bold leadership, and "a strong vision and guts to execute the plan" was highlighted by Piyush Verma, Senior Energy Market Analyst at the International Energy Research Centre. Participants were united in the belief that "we need to lead technology, not let technology lead us." This notion was echoed throughout the three sessions with Ericsson's Master Researcher, Pernilla Bergmark, affirming that ICT could be an "enabler of exponential climate action".
The role of data in combating climate change and achieving a circular economy was also discussed, with numerous examples given of ways in which Big Data and augmented realities are being used to power decisions to improve the lives of people across the world from Dubai to Norway. In a pilot project in the Norwegian town of Ålesund, traffic data has been used to help to halve emergency service response times, while in Dubai the implementation of circular ICT services and infrastructure has resulted in significant economic savings for over 50 entities.
During the final session on the "Impacts of E-waste on Climate Change and Moving to a Circular Economy", experts provided updates on various international efforts to improve e-waste management. This included an overview of the international standards developed by ITU-T Study Group 5: "Environment, Climate Change and Circular Economy", and an update on the UNIDO GEF Project that assists 13 countries in Latin America both technically and financially, advising on e-waste policies and regulations, suitable management technologies, business models, capacity building and awareness-raising, in collaboration with ITU and other UN agencies.
Cutting-edge technologies against floods, fires and extreme weather events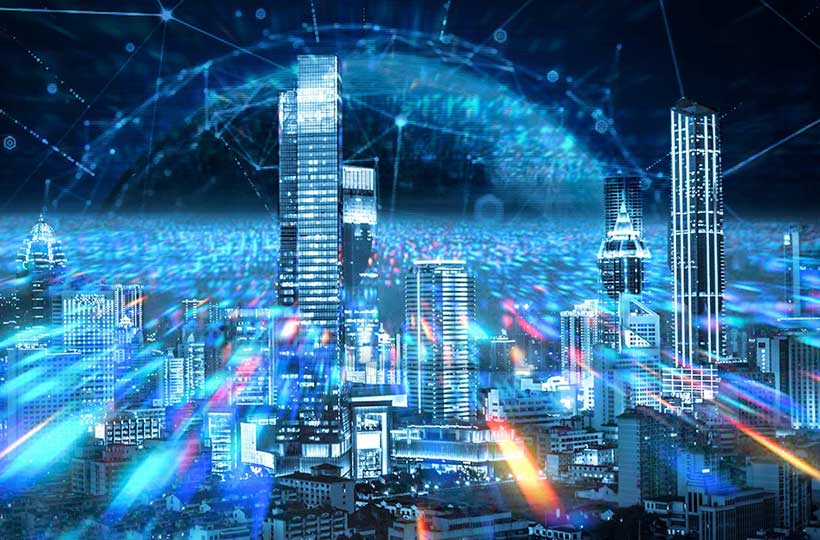 Big Data to process information in real-time during disasters, Artificial Intelligence applied to language filtering and a mobile app to alert citizens are some of the technologies presented. On 9- 10 May 2019, experts in floods, fires and extreme weather management from around Europe will meet in Venice to introduce and employ the tools developed by the H2020 project "I-REACT". The solutions developed in 3-year of intensive work and their core technology will be released as a free, open-source software for a larger adoption and use.
A new cross-platform mobile application to improve the monitoring and the real-time reporting. Wearables that locate and monitor the status of first responders. Updated and actionable satellite information to better assess how a fire, a flood or heavy rains may evolve. Accurate forecasts to predict the onset of weather extremes.
These are some of technologies that emergency responders will now be able to use, thanks to the Big Data platform developed by I-REACT.
The results of this project, funded by the European Union, will be shared in a workshop that will take place on 9-10 May, at the premises of UNESCO Regional Bureau for Science and Culture in Europe in Venice.
Among the attendees of the workshop will be representatives of Specialised Programme of the United Nations, European Commission and Civil Protection agencies and emergency management experts from around Europe.
The I-REACT solutions will be tested first-hand, through an in-field simulation – including flood and wildfire scenarios – thanks to the cooperation with the staff of the Civil Protection Department of Venice and its professional volunteers. They will be managed through the main technology of the project: a centralized, modular and interoperable Big Data platform. It combines data from multiple information sources such as weather prediction at different scales, models for climate projections and early warning forecasts for flood, fires and extreme weather events. The platform also incorporates a social media engine that uses natural language processing and machine learning to filter information from Twitter, providing real-time insights of the situation.
"Big Data and Artificial Intelligence are the main strengths of the project, as they allow us to transform raw data into useful information", explains Fabrizio Dominici, head of the Mobile Solution research area at the LINKS Foundation of Turin and coordinator of the I-REACT project. "This is extremely helpful nowadays, since Social Media has turned each citizen into a source of information. In addition, the project also features a mobile app that enables citizens to share geolocalised photos and information on disasters. "
"UNESCO contributes to Disaster Risk Reduction and technological solutions for improving prediction and management of disasters.", explains Ana Luiza Massot Thompson-Flores, Director of the UNESCO Regional Bureau for Science and Culture in Europe. "The I-REACT project is an important component of our Regional Bureau's efforts in line with the Sendai Framework for Disaster Risk Reduction 2015-2030 that stresses the importance of using appropriate communications, geospatial and space-based technologies to support our member states in coping with climate change risks."
This event represents an excellent opportunity to show the results of more than 3 years of hard work and close collaboration among 20 European partners. All the technologies are now available for Civil Protection Agencies, emergency managers and insurance companies. Our tools are modular, easily integrated with the existing services, and enable a multi-agency, cross-border disaster management.
The 2-day workshop will be a turning point, marking the end of the implementation of the research and innovation activities of the EU-funded I-REACT project and inaugurating the breakthrough of its resulting cutting-edge technologies.
100 organizations to accelerate blockchain deployment with World Economic Forum
Leaders from the global supply chain and logistics industry, the world's largest ports, blockchain start-ups, importers/exporters and civil society have teamed up with the World Economic Forum, the International Organization for Public-Private Cooperation, and over 20 governments to accelerate blockchain deployment across supply chains.
Currently, the supply chain industry is fragmented, with parties adopting a siloed approach. Blockchain and distributed ledger technology (DLT) could bring standardization and transparency, but this nascent technology is prone to hype. The Forum's Redesigning Trust with Blockchain in the Supply Chain project is a new initiative to help supply chain decision-makers cut through the blockchain hype and ensure that the technology is deployed in an interoperable, responsible and inclusive way.
Over 100 organizations and experts are on the team, representing large shippers, supply chain providers and governments. They include Maersk, Hitachi, Mercy Corps, Korea Customs Service, Llamasoft and Ports of Los Angeles, Oakland, Valencia and Rotterdam. The multistakeholder group will co-design an open-source roadmap or toolkit to guide supply chain decision-makers towards blockchain deployment. It will highlight technical and non-technical drivers of success, risks and recommendations as well as requirements.
"As blockchain technology is so new, supply chain decision-makers need clear guidelines, tools and frameworks to help them maximize the benefits and minimize the risks of this technology," said Nadia Hewett, project lead, Blockchain and Distributed Ledger Technology, World Economic Forum. "This toolkit will be built by the industry and piloted, so we can see what works and what does not. We are going to piece together the puzzle, so others don't have to start from scratch."
"The project has created a broad and diverse community of stakeholders to share experiences and develop a toolkit for innovators and decision-makers to navigate the complex policy, technical and commercial issues that arise from digital transformation of the supply chain," said David Libatique, Deputy Executive Director, Port of Los Angeles.
Bernhard Kowatsch, Head, Innovation Accelerator, World Food Programme, said: "A big part of WFP's core operations revolve around logistics and supply chain, distributing food and other life-saving items to more than 90 million people in 83 countries around the world. Becoming a part of the Forum's Redesigning Trust: Blockchain for Supply Chain community has provided us with the opportunity to share real-world challenges and use cases, making invaluable connections between the private and public sectors to assist us in the development of our own innovative blockchain for supply chain projects."
"We believe that blockchain is a promising technology for several industry verticals, including the financial sector, distribution and logistics, among others," said Norihiro Suzuki, Ph.D., Vice President and Executive Officer, Chief Technology Officer, and General Manager of the Research & Development Group, Hitachi, Ltd. "Hitachi is actively contributing to the development of platforms through open source software communities. We are looking forward to working with the World Economic Forum to bring together these communities to explore the future of supply chains and data flow economy."
The World Economic Forum will be releasing monthly white papers on the findings from the community. The recommendations will include guidelines on data privacy, security, creation and use of data, public versus private platforms, interoperability, digital identity and signatures. Supporting an approach that considers the entire ecosystem promises to ensure an inclusive perspective and result that will benefit all stakeholders.
Industry ready for sea change
Analysis in the first white paper points to a mindset shift in business from protective and silo-thinking towards a willingness to try new collaborative models. Competing ports have started to share data to optimize calls of shipping liners in the North Europe area. The ports also expressed willingness to expand their model to other ports. Similarly, and beyond the shipping industry, the world's four largest agriculture companies have partnered to digitize international grain trading.
"As digital technologies such as blockchain increasingly encourage higher levels of trust among supply chain partners, they will have effects on processes in the physical world as well," Hewett said. "As a result, fragmentation within and across industries could diminish, the occurrence of errors and exceptions could decline, and operators could require fewer resources to complete the same tasks."