ADB Launches Strategy 2030 to Respond to Changing Needs of Asia and Pacific
The Asian Development Bank's (ADB) Board of Directors has approved a new long-term corporate strategy, Strategy 2030, that sets out the institution's broad vision and strategic response to the evolving needs of Asia and the Pacific.
"Asia and the Pacific has made great progress over the last half century in poverty reduction and economic growth, but there are unfinished development agendas," said ADB President Mr. Takehiko Nakao. "Under Strategy 2030, we will combine finance, knowledge, and partnerships to sustain our efforts to eradicate extreme poverty and expand our vision towards a prosperous, inclusive, resilient, and sustainable region."
ADB's aspirations are aligned with major global commitments such as the Sustainable Development Goals, the Financing for Development agenda, the Paris Agreement on climate change, and the Sendai Framework for Disaster Risk Reduction. Given the size of Asia and the Pacific, achieving such commitments will depend critically on the region's success.
Strategy 2030 recognizes that the ambitious global development agenda must be tailored to specific local circumstances.  ADB will strengthen its country-focused approach, promote the use of innovative technologies, and deliver integrated interventions that combine expertise across a range of sectors and themes and through a mix of public and private sector operations.
ADB will continue to prioritize support for the region's poorest and most vulnerable countries. It will apply differentiated approaches to meet the diverse needs of various groups of countries: fragile and conflict-affected situations, small island developing states, low-income and lower middle-income countries, and upper middle-income countries. Across these country groups, ADB will also prioritize support for lagging areas and pockets of poverty and fragility.
Infrastructure investments—particularly those that are green, sustainable, inclusive, and resilient—will remain a key priority. At the same time, ADB will expand operations in social sectors, such as education, health, and social protection.
ADB's support will focus on seven operational priorities: (i) addressing remaining poverty and reducing inequalities; (ii) accelerating progress in gender equality; (iii) tackling climate change, building climate and disaster resilience, and enhancing environmental sustainability; (iv) making cities more livable; (v) promoting rural development and food security; (vi) strengthening governance and institutional capacity; and (vii) fostering regional cooperation and integration.
At least 75% of the number of ADB's committed operations (on a 3-year rolling average, including sovereign and nonsovereign operations) will promote gender equality by 2030. ADB will ensure that 75% of the number of its committed operations (on a 3-year rolling average, including sovereign and nonsovereign operations) will be supporting climate change mitigation and adaptation by 2030. Climate finance from ADB's own resources will reach $80 billion for the period 2019 to 2030. A new corporate results framework—expected to be ready in mid-2019—will include more targets for ADB's other operational priorities.
To support the seven operational priorities under Strategy 2030, ADB will expand and diversify its private sector operations to reach one third of ADB operations in number by 2024. "We will expand our private sector operations in new and frontier markets, such as fragile and conflict-affected situations and small island developing states. We will also support more public-private partnerships," said Mr. Nakao.
ADB's private sector operations will help improve environmental, social, and governance standards; provide financing that is not available from the market at reasonable terms; improve project design and development outcomes; and mitigate perceived risks.  In addition to innovative infrastructure, they will increase support for agribusiness, and support social sectors such as health and education through private ventures.
ADB will continue to be a reliable financier and catalyzer of finance. "A key measure of our success will be the volume and quality of additional resources we mobilize on top of our own financing," Mr. Nakao added. ADB targets a substantial increase in long-term cofinancing by 2030, with every $1 in financing for its private sector operations matched by $2.50 in long-term cofinancing.
The institution will also work closely with its developing member countries to produce the most relevant knowledge products and services. It will proactively engage in research, provide high-quality policy advice, strengthen countries' institutional capacity, and expand knowledge partnerships.
As it strives to be stronger, better, and faster, ADB will pursue a dramatic modernization of its business processes by taking advantage of available technology. It will expand its products and instruments, strengthen human resources, and accelerate its digital transformation. ADB is committed to diversity in the workforce, including promoting gender balance and a respectful work environment for all. ADB will institute a "One ADB" approach, bringing together knowledge and expertise across the organization. It will collaborate with civil society organizations in designing, implementing, and monitoring projects.
In preparing Strategy 2030, extensive consultations were carried out with a wide and representative group of stakeholders across ADB's membership, leading development experts, and civil society organizations.
ADB is committed to achieving a prosperous, inclusive, resilient, and sustainable Asia and the Pacific, while sustaining its efforts to eradicate extreme poverty. Established in 1966, it is owned by 67 members—48 from the region. In 2017, ADB operations totaled $32.2 billion, including $11.9 billion in cofinancing.
China will aim to plant and conserve 70 billion trees by 2030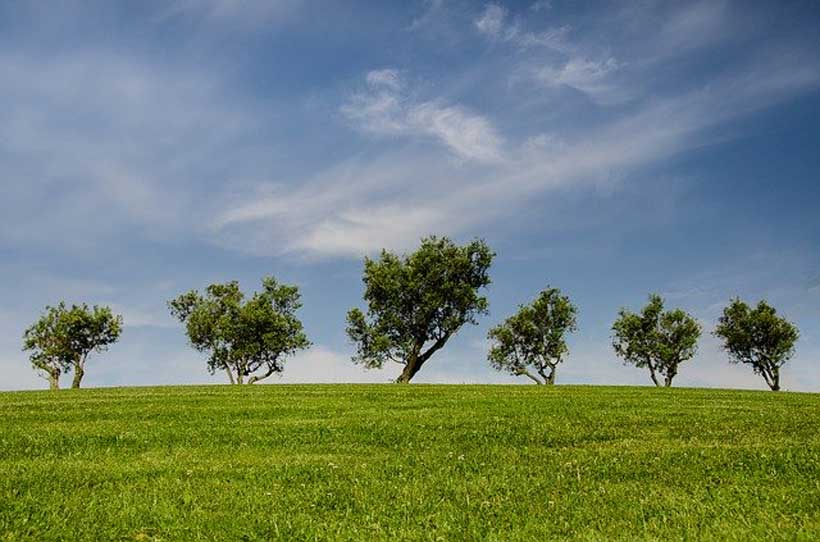 Xie Zhenhua, China's Special Envoy for Climate Change announced the country's active response to the World Economic Forum's 1t.org initiative, the platform supporting the UN Decade on Ecosystem Restoration. The World Economic Forum and China Green Foundation will actively echo and support the contribution to be implemented in China. This initiative will encourage society-wide stakeholders, including enterprises, individuals, and local governments at all levels to commit with actions to plant, conserve, restore and manage 70 billion trees in China by 2030.
1t.org was launched at the World Economic Forum's Annual Meeting two years ago to support the growing momentum around nature-based solutions by mobilizing the private sector, facilitating regional multi-stakeholder partnerships, and supporting innovation and ecopreneurship on the ground.
During his speech at the Forum's 2022 Annual Meeting in Davos, Xie Zhenhua said: 'China's forest cover and forest stock volume have been growing in the last 30 years, and China accounts for more than 25% of the world's new green areas. China responds actively to contribute to the 1t.org initiative from the World Economic Forum, and I am announcing here that China aims to plant and conserve 70 billion trees within 10 years to green our planet, combat climate change, and increase forest carbon sinks.'
In support of this bold contribution, Chairman Klaus Schwab of the World Economic Forum said:
'We appreciate China's effort in supporting the 1t.org initiative of the World Economic Forum and relevant UN initiatives, we highly appreciate China's practices upholding relative international commitment such as the Paris Agreement and Biodiversity target through Nature-Based Solutions.'
China's Bold Action
In the past decade, China has regrown more than 70 million hectares of forest cover. The country has benefited greatly from solutions in biodiversity conservation, sustainable usage and climate governance, resulting in wetland and forest restoration that also combats desertification.
China's 14th "Five Year Plan" has a stated target of increasing forest coverage to 24.1% by 2025, and forest stock volume up to 19 billion cubic meters. Science-based greening efforts and inter-ministerial cooperation have provided the key vehicle for forest ecosystem restoration.
China's contribution will encourage the 1t.org initiative to collaborate more closely in the local context to fulfill this contribution and will stimulate collective community actions at large scales and empower Chinese organizations and individuals to make contributions. China's active response to 1t.org displays the nation's capacity and strong commitment to safeguard the Paris Agreement and post-2020 Global Biodiversity Framework.
How Trees Can Play Their Part
China's land restoration and afforestation projects provide fundamental support to the country's poverty reduction targets of elevating 20 million people out of poverty, with the lives of 3 million people already improved through increased household income. Healthy and resilient forests are also part of people's expectations for better living qualities according to China's strategy. During the period of China's13th Five year plan, the Chinese forest tourism industry grew substantially with an annual average of 1.5 billion tourists visiting national forests.
Mobilize Society-wide Action, Plant Future Trees of Hopes
China's active response to the 1t.org initiative encourages all stakeholders to promote solutions and activities to meet climate and nature targets. These include emission reduction policies for committed companies and individuals; guiding local governments to promote climate adaptation activities such as afforestation and ecological restoration, engaging scientific organizations, think-tanks, and civil societies to promote accountable and credible tools and evaluation frameworks; creating digital environments and crowd funding opportunities for innovation solutions; and adding afforestation and carbon storage incentives.
Global CEOs Commit to Collective Action on Cyber Resilience
For the first time, leading oil and gas stakeholders are calling for industry to come together to stop harmful cyberattacks.
The action is in response to major security breaches in the past two years that have highlighted the vulnerability of critical infrastructure. At the World Economic Forum Annual Meeting 2022, 18 companies have come together to take a Cyber Resilience Pledge, in recognition of the fact that much more collective preparedness is needed.
The pledge aims to mobilize global commitment towards strengthening cyber resilience across industry ecosystems. Organizations endorsing the pledge commit to collaborating and taking collective action on cyber resilience. Launched with the support of organizations engaged in the World Economic Forum's Cyber Resilience in Oil and Gas initiative, the pledge seeks to empower organizations to take concrete steps to enhance cyber resilience across their industry.
The organizations that have taken the pledge are: Aker ASA, Aker BP, Aramco, Check Point Software Technologies, Claroty, Cognite, Dragos, Ecopetrol, Eni, EnQuest, Galp, Global Resilience Federation, Maire Tecnimont, Occidental Petroleum, OT-ISAC, Petronas, Repsol and Suncor.
"First endorsed by key CEOs in the oil and gas value chain, the Cyber Resilience Pledge is a landmark step as it signals recognition of the complexities of building a cyber-resilient industry ecosystem and a commitment towards collective action to achieve it," said Alexander Klimburg, Head, Centre for Cybersecurity, World Economic Forum. "The World Economic Forum Centre for Cybersecurity is proud to have led this effort in conjunction with our partners. We look forward to scaling the pledge to other industries in the future."
The pledge promotes a shift towards a resilience-by-design culture, ecosystem-wide, cyber-resilience plans and greater collaboration between players.
"As the world deepens its digital footprint, cyber threats are becoming more sophisticated," said Amin H. Nasser, CEO of Saudi Aramco. "But one company, working alone, is effectively like locking the front gate while leaving the back door wide open." Companies must work together if they want to truly protect the critical energy infrastructure that billions of people around the world depend on.
Cyberattacks on the Colonial Pipeline in the United States in May 2021 and on European oil facilities in February 2022 forced the facilities to operate at limited capacity, causing huge economy and society-wide disruptions.
Common, industry-wide, cyber-resilience practices are essential, said Robert M. Lee, CEO and Co-Founder of Dragos. "As our world becomes more digitally connected it is imperative, especially for our industrial and operational technology, to ensure our infrastructure's secure and safe operation."
"The oil and gas industry is going through a digital revolution that has been a catalyst to the energy transition and sustainability. Cyber resilience is key in this revolution, as staying ahead of vulnerabilities is fundamental to our business. The pledge is a step further by developing a collective effort to embed cyber-resilience and a cyber-risk aware culture across the energy industry," said Felipe Bayón, CEO of Ecopetrol.
"The pledge advances Galp's commitment to joint action on managing cyber risks and protecting cybersecurity of critical energy infrastructure, by creating awareness and a unified stance on cyber resilience in the global energy sector," said Andy Brown, CEO of Galp.
"Petronas upholds the safety of its people, assets and the environment as our utmost priority, including reinforcing better cyber security and safety practices. Petronas is committed to and fully supports the World Economic Forum's Cyber Resilience Pledge and its principles in safeguarding our ability to deliver energy responsibly and securely," said Tengku Muhammad Taufik, CEO of Petronas. "In this respect, we believe that addressing the risks and enhancing cyber resilience is critical as the oil and gas industry embraces greater digitalization to capture valuable opportunities in this digital era."
The Forum will continue to promote the pledge across multiple industry ecosystems with the objective of facilitating the implementation of the cyber resilience principles.
New Initiative to Strengthen Cross-Border Investment in the Digital Economy
A pioneering effort to facilitate cross-border investment in the digital economy was launched this week at the World Economic Forum Annual Meeting 2022.
The new initiative on digital foreign direct investment, the Digital FDI initiative, will implement projects in several countries to help grow Digital FDI, as the reforms to attract such investment must take place at a country level. The first digital FDI project will take place in Nigeria.
Over the past few years, the Forum has worked to find the right partners to guide the work, develop principles published in the white paper launched in 2020 and share the potential for cooperation at the G20 and other platforms of corporation.
Attracting Digital FDI requires creating digital-friendly investment climates through targeted and country-specific policies, regulations and measures. These investments involve new business models, often based on data and technology, and platform economies, as well as using non-traditional assets. The Digital FDI initiative will aim to identify and implement enabling reforms through public-private projects in emerging markets and developing countries.
"Global FDI is rebounding, following the COVID-19 pandemic, and investment in the digital economy could not come at a better time. These country projects will help grow FDI into the digital economy, which is key for long-term growth, competitiveness and sustainable development", said Børge Brende, President, World Economic Forum.
The Digital FDI initiative will be delivered as a joint effort between the World Economic Forum and the Digital Cooperation Organization (DCO), a new international organization that seeks to enable digital prosperity for all.
"As the first and only global multilateral focused on enabling digital prosperity for all, the DCO is partnering with the Forum on a Digital Foreign Direct Investment initiative to help countries develop digital FDI-friendly investment climates. We invite digital innovators with a commitment to economic development and inclusion to join us," said Deemah Al Yahya, Secretary-General, DCO.