Abused, trafficked, unwanted: A view on the U.S. migration policy development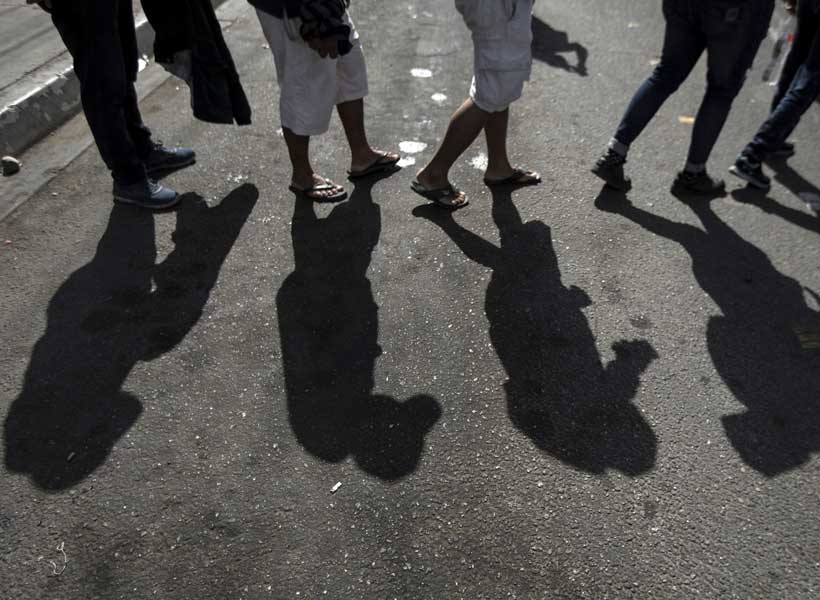 The US Department of State's Trafficking In Persons (TIP) Report was started in 2001 as a diplomatic means for the United States to communicate with other foreign governments on goals towards eliminating human trafficking. TIP is meant to facilitate dialogue with nations for anti-trafficking initiatives, as well as find resources on prevention, prosecution, and protection programs of human trafficking, highlighting the United States as a global leader in human rights and law enforcement. The TIP Report ranks countries based on a Tiers model ("2017 Trafficking in Persons Report"). The policy outputs and policy outcomes of TIP have been continuously debated within government, advocacy groups, and law enforcement (Kraft 6).
There are various critiques on the given Tiers system the Department of State's Trafficking in Persons Report (TIP) has used in the previous years. In the "Accountability Over Politics: Scrutinizing the Trafficking in Persons Report" hearing before the Subcommittee on Africa Global Health, Global Human Rights, and International Organizations of the Committee of Foreign Affairs through the House of Representatives during the 114th Congress, David Abramowitz, the Managing Director of Policy and Government Relations of Humanity United Action, has expressed concern on the Tiers model. Abramowitz believes Malaysia is exemplary of a nation praised for the betterment of the human trafficking when undoubtedly there is no accountability for the mass graves incident of 2015, where 130 dead bodies were found (United States 32). Ineffective measures of the tiers in the TIP Report reduce the diplomatic effectiveness of the mechanism, as embodied in both Thailand and Malaysia. Increased effort towards reform of Malaysia and Thailand's legal framework is needed. This could be achieved through the State Department, more specifically the embassies in Bangkok and Kuala Lampur and the Department's East Asia and Pacific Bureau. Congressional action could assist in the reform as well (United States 33).
In the Committee on Foreign Affairs' "Nomination of Rex Tillerson To Be Secretary of State," one of the commentaries to the Secretary of State included the notion that the current administration allowed political consideration to manipulate expert recommendations of the State Department's human rights and trafficking professionals, which contributed to the 'politically-driven' upgrade of countries like that of Cuba and Malaysia from the Tier 3 category to the Tier 2 Watch List (United States). According to the Honorable Susan Coppedge, Ambassador-at-Large for the Office to Monitor Trafficking in Persons of the US Department of State, as stated during the Committee on Foreign Relation's hearing for Review of the 2017 Trafficking in Persons Report, law enforcement services should be provided to human trafficking victims. Government involvement tends to instill fear in victims. In defense of Malaysia status change from Tier 2 watch to Tier 2, as prompted by Mr. Cardin, Coppedge states Malaysia has had quadrupled trafficking investigations increases from 158 to 581, as well as improvements in law enforcement measures on trafficking. Additionally, Senator Robert Menendez had been successful in uncovering the waiver report for Malaysia as well as other countries that are not allowed for disclosure by the Department of State. The Honorable John J. Sullivan, Deputy Secretary of State for the US Department of State, noted Ukraine's improvement to Tier 2 status as well as China's ineffectiveness to end slavery and trafficking downgraded it to Tier 3 (United States). Previous concerns and criticism regarding TIP from the "Demanding Accountability: Evaluating the 2015 Trafficking in Persons Report", House of Representatives hearing include concern on grade inflation and favoritism for certain countries through the Department of State tier ranking of the TIP.
To further elaborate upon the TIP Tier model, Tier 1 would include nations that meet the minimum standards to combat human trafficking, Tier 2 would include those making noticeable efforts towards the minimum standards, and Tier 3 would include those not making minimum standards and in danger of receiving sanctions, respectively (United States 2). Cuba had been noted as Tier 2 status for 2015, even with the legal permission for prostitution of 16 year old girls, being a top destination in the Western Hemisphere for child sex tourism, and not criminalizing labor trafficking (United States 3). Uzbekistan's government incites forced labor in the cotton industry on a daily basis, making it rather undeserving of Tier 2 status (United States 4). India as a Tier 2 is undeserving of its ranking as well, since it had been preventing trafficking victims and families whom had obtained T-visas to leave India (United States 27-28).
As professor Anis H. Bajrektarevic rightfully observed in his revealing work on the Justice-Home Affairs diplomacy, a very corruption (public sector of) is an elementary part of any THB business. "It is a (hidden and) seemingly victimless tradeoff between influence and gain" – as professor brilliantly defines corruption, that 'runs the engine'.
Hence, as founded by the United States Government Accountability Office (GAO), from the representation of the Trafficking Victims in Persons Act of 2000, federal agencies have inspected allegations of trafficking crimes, provided training and executed state and local initiatives to support investigations and prosecutions, and established organizational structures, agency-level goals, plans, or strategies. For instance, agencies have trained both new and current staff on investigating and prosecuting trafficking in persons crimes through their agency training academies and centers, provided Web-based training, and developed and disseminated guidance on case pursuance. Agencies have also made training initiatives at the state and local law enforcement levels, nongovernmental organizations, and the general public through a toll-free complaint line, newsletters, national conferences, and model legislation. Some agencies have established special units for continuing their antitrafficking duties. Federal agencies coordinate across agencies' investigations and prosecutions of trafficking crimes on a case-by-case basis, premised on individual needs per case, and established relationships among law enforcement officials across agencies.
The Department of Justice and Department of Health Services officials recognize the need to increase United States efforts to combat trafficking through more practical and cooperative strategies to identify trafficking victims. Previous GAO efforts on interagency relationship prove a strategic framework with shared goals, mutually reinforcing approaches, and compatible policies and actions to function across agency boundaries helps improve and sustain relationships among federal agencies dealing with national and cross agency jurisdiction issues ("Human Trafficking: A Strategic Framework Could Help Enhance the Interagency Collaboration Needed to Effectively Combat Trafficking Crimes."). Based on 2016 data collection from the GAO, it is questionable as to whether provisions are being fully effective.
"For 91 provisions, all responsible federal entities reported taking action to implement this provision. For 11 provisions, all responsible federal entities reported that they had not taken action to implement the provision. For 2 provisions, at least one of the responsible federal entities reported that they had not taken action to implement the provision or they did not provide a response. For 1 provision, none of the responsible federal entities provided a response ("Human Trafficking: Implementation of Related Statutory Provisions, Law Enforcement Efforts, and Grant Funding")."
The above provisions covered topics address human trafficking and related affairs, inclusive of victim services, management and information sharing, and procedural training. Agency officials gave various explanations for why there were no arrangements to implement provisions for which they were chosen as the lead or co-lead. To be rather frank, in three cases, officials cited funding was not appropriated for the activity. Federal, state, and local law enforcement officials and prosecutors interviewed by the GAO reported properly investigating and prosecuting human trafficking cases is challenging for many reasons, including lack of victim collaboration, limited available services for victims, and the problematic nature of identifying human trafficking victims. According to these representatives, victim service programs, such as those that offer mental health and substance abuse services, have helped improve victim cooperation.
The availability of services is limited. Federal, state, and local agencies have taken or are taking actions to address these challenges, such as increasing the obtain ability of victim services through grants and executing both training and public awareness initiatives. GAO identified 42 grant programs with awards made in 2014 and 2015 that may be used to combat human trafficking or to assist victims of human trafficking, 15 of which are planned for these purposes only. Although there are similarities among human trafficking grant programs, federal agencies have recognized processes to help avert unnecessary duplication. For instance, in response to endorsements in a previous GAO report, the Department of Justice requires grant candidates to expose any federal grants they are currently operating under as well as federal grants for which they have applied. Additionally, agencies participating in the grant making committee of the Senior Policy Operating Group (SPOG), an entity through which federal agencies unify their efforts to combat human trafficking, share grant solicitations as well as information on proposed grant awards. The SPOG effort allows other agencies to remark on proposed grant awards and determine whether they plan to award funding to the same organization ("Human Trafficking: Implementation of Related Statutory Provisions, Law Enforcement Efforts, and Grant Funding").
On the issue of child soldiers, The House Committee on Foreign Affairs 2017 hearing, "Winning the Fight Against Human Trafficking: The Frederick Douglas Reauthorization Act," affirms that child soldiers are largely affected by the human trafficking industry. The United States has been involved in helping curtail the use of child soldiers. The United States had ratified the United Nations treaty of 2002 which banned the use of children in conflicts. By mandate of ratification, all armed services branched implemented rules to not have underage soldiers in combat. United States' action on this matter was exemplary for other militaries to follow suite. In 2008, Congress had adopted the Child Soldiers Prevention Act as part of the Trafficking Victims Protection Reauthorization Act of 2008. Nevertheless, within the United States there is still a prevalence of sex trafficking of girls. The Federal Bureau of Investigation (FBI) had reported 60 percent nationwide range of trafficked girls were either from foster care or group homes. More transparency will be required for the allocation of funds towards improving efforts on the issue of child soldiers. The Frederick Douglass Trafficking Victims Prevention and Protection Reauthorization Act authorizes $130 million over four years to prevent human trafficking, protect victims, and better prosecution in the United States and overseas. The act limits the time a nation could be on the Tier 2 watchlist (United States).
In the "Child Soldier Prevention Act of 2017, H.R. 1191", sponsored by Representative Christopher Smith in the 115th Congress, it was mentioned that Congress' Victims of Trafficking and Violence Protections Act of 2000 would probably be the pivotal achievement on the issue of child soldiers. With the Trafficking Victims Protection Act (TVPA) of 2000, Congress made the Child Soldiers Prevention Act (CSPA) of 2008 part of the TVPA. Regulations included the TIP Report to have a listing of foreign governments which recruit and utilize child soldiers in their militias or government funded armed groups. The 2017 TIP Report identifies the Democratic Republic of the Congo, Mali, Nigeria, Somalia, South Sudan, Sudan, Syria, and Yemen as nations on the CSPA list ("Child Soldier Prevention Act of 2017" 7). TVPA restrictions on grants to nations began with TIP Report 2003 ("Child Soldier Prevention Act of 2017" 14).
Nations whom have used child soldiers as listed in the most recent TIP report are prohibited from receiving various forms of security assistance, including defense articles, global military education and training, peacekeeping operations programs, military financing, and the issuing of licenses for direct commercial sales of military equipment for child soldier recruitment purposes ("Child Soldier Prevention Act of 2017" 18-19). Relevant legislation oversight on the TIP Report includes closed hearings on the topic of human trafficking, commonly held by the Committee on Foreign Relations, in anticipation of the TIP's yearly release as well as commentaries post-publication in public hearings.
The House Foreign Affairs Committee, specifically its Subcommittee on Africa, Global Health, Global Human Rights, and International Organizations, has also hosted hearings on the TIP Report ("Child Soldier Prevention Act of 2017" 31). A bill from the 115th Congress to further modify requirements associated with the TIP Report, include H.R. 2200, the Frederick Douglass Trafficking Victims Prevention and Protection Reauthorization Act of 2017, which passed the House on July 12, 2017, and contains several changes to the TIP Report's country ranking process. Other bills introduced in the 115th Congress that, if passed, would modify requirements associated with the TIP Report include H.R. 436, the Human Trafficking Prioritization Act, S. 377, the Trafficking in Persons Report Integrity Act, H.R. 1191, the Child Soldier Prevention Act of 2017 and H.R. 2219 and S. 952, the End Banking for Human Traffickers Act of 2017 ("Child Soldier Prevention Act of 2017" 31).
In a statement at the 114th Congress, at a House of Representatives hearing entitled "Get It Right This Time: A Victims-Centered Trafficking in Persons Report," the following is established:
" While democracy does not guarantee the absence of slavery, and some struggling democracies and even democratic regimes have effectively fought trafficking, autocracy and weak or 'emerging' democracies are less equipped to tackle this horrific human rights challenge. Respecting the human rights, fundamental freedoms, and dignity in full of women, people in prostitution, and migrants, holding traffickers fully to account, and expunging corruption as the catalyst of human trafficking, are matters of governing justly. In particular, an independent judiciary, the rule of law, and a dynamic civil society are the markings of governments that are governing justly, and central to the success of modern day abolition efforts (United States 2)."
Witness protection under the Ministry of Justice had been found to be favorable, however there were still unaccounted for occurrences in Thailand. In 2015, Thailand did not allow traffickers' ships on land, allowing criminals to escape via ocean routes. There were also unaccounted for Rohingya passengers refused entry. A 'push-back' policy does not assist with combating human trafficking (United States 21). As the Myanmar elections were not free nor fair, political circumstances only escalate the higher risks of the Rohingya for human trafficking (United States 28-29).
Referencing the 114th Congress House of Representatives Committee on Foreign Affairs hearing "Accountability Over Politics: Scrutinizing the Trafficking In Persons Report", a statement released by Secretary of State John Kerry focused on the three P's of the TIP report: prosecuting traffickers, protecting and empowering victims, and preventing future trafficking crimes. The honorable Susan Coppedge, Ambassador-at-Large to the Department of State, voiced concern for the protection of domestic workers as well as 'corrupt or complicit officials' whom benefit from trafficking (United States 5). TIP staff members work in conjunction with individuals at embassies, posts abroad, and the US Department of State regional offices (United States 7). Coppedge asserts housing for girls rescued from trafficking should be provided by the United States (United States 20). There is only a small amount of prosecutions and convictions on foreign labor trafficking in the United States, which needs to be reformed. More to protect unaccompanied undocumented children, as well as further address roots of the problem, need to be made feasible (United States 30).
Bills relevant to TIP include the Frederick Douglass Trafficking Victims Prevention and Protection Reauthorization Act of 2017, H.R. 2200 ("Frederick Douglass Trafficking Victims Prevention and Protection Reauthorization Act of 2017"), The Trafficking in Persons Report Integrity Act, S. 377 ("Trafficking in Persons Report Integrity Act"), The Child Soldier Prevention Act of 2017, H.R. 1191 ("Child Soldier Prevention Act of 2017"), the End Banking for Human Traffickers Act of 2017, H.R. 2219 ("End Banking for Human Traffickers Act of 2017"), and the End Banking for Human Traffickers Act of 2017, S. 952 ("End Banking for Human Traffickers Act of 2017").
The Frederick Douglass Trafficking Victims Prevention and Protection Reauthorization Act of 2017, H.R. 2200, sponsored by Christopher Smith April 2017, had twenty-nine cosponsors from House of Representatives, which ensured approval through the House of Representatives. The twenty-nine cosponsors were Representatives Karen Bass, Edward R. Royce, Sheila Jackson Lee, Susan W. Brooks, Lois Frankel, Ann Wagner, Tony Cardenas, Ted Poe, Ryan A. Costello, David N. Cicilline, Brad Sherman, Daniel M. Donovan, Jr., Patrick Meehan, Lynn Jenkins, Susan A. Davis, Salud O. Carbajal, Gwen Moore, Dwight Evans, Denny Heck, James P. McGovern, Tulsi Gabbard, Alcee L. Hastings, Raul M. Grijalva, Kristi L. Noem, Barbara Comstock, Luke Messer, David Young, Erik Paulsen, and Carolyn B. Maloney. This bill states that instead of only the President, the Secretary of Health and Human Services has the authority to award grants to local education agencies, in partnership with nonprofit agencies for awareness services. H.R. 2200 further ensures priority funding for lodging and accommodation purposes that lack policies on child sexual exploitation, and calls for making certain the United States does not fund human trafficking. H.R. 2200 calls upon credible evidence on nations' human trafficking reform progress. Additionally, airport personnel should identify and report human trafficking victims ("Frederick Douglass Trafficking Victims Prevention and Protection Reauthorization Act of 2017").
The Trafficking in Persons Report Integrity Act, S.377, was introduced in 2017 by Senator Robert Menendez, and cosponsored by five Senators, including Marco Rubio, Tim Kaine, Cory Gardner, Rob Portman, and Christopher Coons. The bill aims to amend the Trafficking Victims Protection Act of 2000 to clarify standards upon which countries are held accountable for the TIP Report tier ranking model, as well as other purposes related to concrete measures taken towards ending human trafficking. The S.377 amendment includes identifying 'concrete actions' and 'credible evidence' towards improving the epidemic of human trafficking. Additionally, reports on the amounts of loans towards Tier 2 and Tier 3 countries are to be submitted to the Chairman and Ranking Member of the Committee of Foreign Relations sections in the Senate as well as the House of Representatives, to be distributed by the Secretary of the Treasury ("Trafficking in Persons Report Integrity Act").
The Child Soldier Prevention Act of 2017, H.R. 1191, was sponsored by Representative Christopher Smith, and cosponsored by Representatives Frederica Wilson, Randy Hultgren, James P. McGovern, and Randy K. Weber, Sr. The purpose of this bill would be to ensure operative enactment of the Child Soldier Prevention Act of 2008 and hold régimes responsible for having children part of armed conflict, whether that may be as soldiers, servants, or sex slaves. H.R. 1191 also prohibits the selling of armament to nations that look favorably upon the utilization of child soldiers ("Child Soldier Prevention Act of 2017").
The End Banking for Human Traffickers Act of 2017, H.R. 2219, was sponsored by Representative Edward Royce, and cosponsored by Representatives William Keating, Carolyn Maloney, Mia Love, Patrick Meehan, Brian Fitzpatrick, and Kyrsten Sinema. H.R. 2219 aims for including the financial industry to assist with combating human trafficking. The purpose would be to resolve and ensure financial accountability of funding towards human trafficking through means such as the Interagency Task Force to Monitor and Combat Human Trafficking ("End Banking for Human Traffickers Act of 2017"). H.R. 2219 is not to be confused with S.952, which is of the same bill title. The End Banking for Human Traffickers Act of 2017, S. 952, was sponsored by Senator Elizabeth Warren, and cosponsored by Senators James Lankford and Marco Rubio. S. 952 is an amendment to the Victims of Trafficking and Violence Protection Act of 2000 to include the Secretary of the Treasury within the President's Interagency Task Force to Monitor and Combat Trafficking. This task force is responsible to submitting recommendations to Congress for revising anti-money laundering programs to target money washing found in the human trafficking industry. The Federal Financial Institutions Examinations Council examines processes to improve anti-money laundering programs to combat human trafficking actions and referrals for potential human trafficking cases to the appropriate law enforcement agencies. S. 952 also establishes that the Department of Justice must report both efforts to eliminate money laundering on to human trafficking, and the quantity of formal examinations, custodies, allegations, and criminal offenses in money washing cases related to human trafficking ("End Banking for Human Traffickers Act of 2017").
Overall, the TIP Report of 2017 of the Department of State has shown improvement from previous report versions, but is still in need of amendments to address misdemeanors found within the Tier ranking system of nations as well as preferential agreements on the issue of allocation of funding. In defense of efforts made by the Department of State, on September 14, 2017, the Department awarded $25 million to the Global Fund to End Modern Slavery, through the Office to Combat and Monitor Trafficking of Persons. The Global Fund to End Modern Slavery is a non-profit organization focused on developing public-private partnerships to decrease modern slavery (Tillerson). However, a true dedication to the cause of human trafficking, although wanted by many advocacy member groups as well as Congressional members, is a decision today mainly influenced by the executive branch's priorities. As Secretary of State Rex Tillerson stated in his nomination hearing, "Nomination of Rex Tillerson To Be Secretary of State", his commitment to end human trafficking is only to the extent that is compliant with the policies and law preferences of President-elect Donald Trump. This response was given various times throughout the report, inclusive of a specific interlude question on the seafood industry, raising numbers of illegal, unreported and unregulated fishing, the need for transparency measures in the fishing industry, and human trafficking (United States). More information on United States' legislation on the TIP Report could be found if there were public accessibility to Closed Hearings' materials as well as other confidential material Congressional staffers have access to, such as that of the "CLOSED: Preparing for the Trafficking in Persons Report" of June 2017 (United States).
South China Sea Dialogue 2019
Centre for Security Studies, O P Jindal Global University organized (November 29) an international conference on the topic 'The South China Sea: Current Challenges and Future Perspective' at India International Centre (IIC), New Delhi. During the conference presentations were made by 14 eminent scholars from different think tanks and universities of India and attended by more than 50 scholars, academics, media persons, and students.
While giving the introductory remarks Dr. Pankaj Jha, coordinator of the conference and Centre for Security Studies said that the purpose is to highlight the evolving dynamics in the South China / East Vietnam sea, and how it would have an impact on great power politics as well as the faith on the international maritime order. He clearly said that the time has come for the international community to take note of the developments in SCS and work out a feasible solution protecting interest of smaller nations. In his opening address Professor Sreeram Chaulia, Dean of Jindal School of International Affairs said that the policy of US president while referring to his newly released book 'Trumped' talked about post US international order and gave a detailed description about how the Beijing led order would be a problem for the international community. He exhorted the scholars and academics to raise the issue in every forum to highlight the problems and cautioned that US has to commit itself to international responsibilities rather than asking for a raise for the costs of stationing US troops in Korea and Japan. He said the all UNSC permanent members should take cognizance of the developments and call a meeting of UNSC to highlight the need to take precautionary measures.
The draft COC need to be finalized without compromising on the rights of smaller nations such as Vietnam. Professor Brahma Chellaney said that Vietnam's response to Chinese activities in Vanguard bank need to be noted and lauded. He said that despite dismal and minimum support from international community, Vietnam saw to it that its EEZ and its maritime interests are not hampered and put up a strong resistance to China. He said that the global community needs more action, and commitment to the cause otherwise the world will witness that the South China Sea might turn into a Beijing lake. He said that China has created a reclaimed area equivalent to Washington DC in the SCS region, and it would take lot of ammunition to flatten the reclaimed land. For a free Indo-Pacific Vision, South China Sea is the critical connector. The attention that should be given to the region should be more from India also as the effect would be effect in Indian Ocean also. The military activities and also demarcation of illegal maritime zones by China means that it would become completely under Chinese control. He said that Exxon Mobil a US company is planning to withdraw from South China Sea, and it means that US influence is incrementally eroding. The withdrawal of Exxon Mobil would mean that the company is not sure of US support for its exploration activities.
In the first session of the conference, Dr. Rajaram panda, the Governing Council member ofICWA of Ministry of External Affairs supported think tank said that the time has come to limit Chinese assertive postures and undertake deep thinking so that the increasing Chinese activities can be curbed, and China must comply with international rules and regulations. He said that the ASEAN Treaty of Amity and Cooperation (TAC) to which China is a signatory need to be revised and amended so that threat or use of force should be seen as an act of aggression by any dialogue partner. He said that there are a number of issues involved in the strategic sea lanes and it needs ASEAN activism to address these issues so that the ASEAN multilateral organization stay relevant for its members.
Dr Vijay Sakhuja said that while maritime domain awareness and standard operating procedures need to be framed in the context of South China Sea, the challenge is to create marine domain awareness also which is more about undersea minerals, and other valuable resources. Unfortunately, the debate is about maritime zones not the huge resources which exists and for which China has started exploration and research activities taking non-contentious zones as its domain. Oliver Gonsalves of NMF, an Indian Navy think tank said that the oil exploration activities and legitimate research activities has been thwarted by Chinese naval activities and many nations have withdrawn from the EEZ of the claimant states with the exception of China. Chinese dominance in strategic sea lanes have an impact on international trade and commerce and also marine life as well as fishing activities. Dr Faisal Ahmed, said that there are economic aspects of Chinese activities and proposed that the coastal countries and other partner countries can engage in joint exploration, knowledge sharing, and mutual capacity building in this area.
Moreover, fisheries in SCS accounts for an estimated 12 per cent of the global fish catch. It is however likely to witness a decline owing to the damaging coral reefs caused due to artificial islands and installations. The marine ecosystem is becoming gradually vulnerable, which is a serious cause of concern. Dr. Nguyen Ba Cuong, from Scientific Research Institute of Sea & Islands, Vietnam, highlighted Vietnam's Perspective on Developments in the SCS and said that China has dispatched a ship for a months-long seismic survey, together with armed escorts, into Tu Chinh–Vung May Basin along with its continued harassments with Vietnam's longstanding oil and gas activities in Nam Con Son Basin since June, whichever is all well within Vietnam's exclusive economic zone. These and other developments underscored the increasing violations of China on its neighbors' EEZ and continental shelves and just how critical managing and resolving tensions in the South China Sea are, for Vietnam and for region. He said that the international community needs to take note of Chinese expansionism, the power of international law in securing the rule-based international system, and the effective balance of power which is essential for maintaining the law and order in the Indo-Pacific region.
Chairing the second session, Brigadier (Dr.) Vinod Anand, Research Director, Vivekananda International Foundation said that the resolution of SCS is important for the safety and security of the maritime trade and commerce and in case it is not resolved under certain international guidelines then the situation would become grim and alarming. Navy Captain(Dr.) Sarabjeet Parmar, Executive Director, National Maritime Foundation opined that the South China Sea is host to multiple case studies revolving round power dynamics, rules-based order, sovereignty of islands, and the interpretation, respect, and adherence to international law. The tribunal ruling on the Philippines-China case can be viewed as a landmark judgment, which unfortunately cannot be enforced as UNCLOS works on the principle of global acceptability. He underlined and analyzed critical aspects that are germane to sovereignty, international laws and related aspects vis-à-vis the South China Sea.
Ms. Sana Hashmi, ex- consultant MEA said that over the years, China has strived to enhance its naval capabilities in the region, and a major objective behind this naval expansion is to reinforce its sovereignty claims on the South China Sea. The Chinese claims, based on arguably dubious historical precedents, are challenged by a number of countries in the region. So far, some of the claimants involved have maintained strong uncompromising positions. It has internal political dynamics involved in its international posturing. Dr. Udai Bhanu Singh from IDSA said major powers reacted to the South China Sea developments differently. As pointed out by a Chatham House study, while the leadership of Australia, India and Japan, respectively, do not have common views on China, they agree that China must be managed. Neither India, nor indeed Japan or Australia would like to see the relationship with China as a zero sum game. The U.S. takes no position on competing sovereignty claims in the South China Sea, and has not signed UNCLOS. But the US does encourage all countries to uphold international law, including the
Law of the Sea as reflected in the Law of the Sea Convention, and to respect unimpeded lawful commerce, freedom of navigation and over flight, and peaceful dispute resolution.
DrXuan Vinh Vo from Vietnam opined that ASEAN Ministerial Meeting in 2012 failed to release the communique due to the disagreement over the South China Sea dispute. After the release of a separate statement on the current developments in the South China Sea in the wake of China's illegal deployment of oil rig in Vietnam's Exclusive Economic Zone and continental shelf in 2014, ASEAN's cooperative spirit has continued to decrease. Although expressing the grouping's position, phrases such as 'some leaders', and 'some ministers' have appeared in chairman's statements and joint communiques in recently instead of 'leaders' or 'ministers' as it used to be. The process of COC negotiation process has heavily effected by Chinese approach, especially close economic relations between China and some ASEAN member states. It is difficult for ASEAN and China to reach a legally binding COC in 2021 as scheduled.
Presiding over the last session of the Conference Dr.Jyoti MPathania, Senior Fellow of Centre for Land Warfare Studies (CLAWS) an Indian Army think tank, said that there is a need to look for possible solutions of this problem and the international community will have to undertake the task of bringing order in the region. General Shashi Asthana from United Service Institution (USI) said that while much has been said about Quad in strategic circles but SCS is the possible theater where the utility of this grouping can be explored. However, it has its limitations. It can be put to tests through group sail and joint exercises. Undertaking surveillance activities and enforcing order through military means should be an option. There are chances of flare up but then the Quad members will have to activate their international standing to force China to comply with international maritime order.
Rudroneel Ghosh, Assistant Editor, Times of India said the South China Sea (SCS) has been in media limelight in recent years due to China's aggressive activities in the region. Beijing has been building artificial islands and militarizing some of them to bolster its claims over the entire SCS area. This, despite the fact that its so-called Nine-Dash Line cartographical claim was rejected in 2016 by the Permanent Court of Arbitration in a case brought by the Philippines. He cautioned that there is also a tendency to view the SCS issue exclusively through the prism of China and a matter between China and Southeast Asian nations. And this can be counterproductive to sustaining international media attention on the SCS, which is necessary to evolve a consensus-based architecture in line with international law.
Dr.Sripathi Narayanan said the Maritime Silk Road (MSR) and Indo-Pacific region symbolises the shift in the global centre of gravity from the Euro-centric Atlantic order to the Asian landmass. The prevailing contestation is not only confined to hegemony and power politics but also scripting the discourse on the global order. While the MSR, as a subset of the BRI is a political articulation stemming out of infrastructure projects, the Indo-Pacific is a reverse, wherein the political posturing is yet to fructify in any visible form.
In his concluding remarks Dr. Pankaj Jha said China's assertive postures and threatening tactics that it has adopted with India's oil exploration initiatives and also Indian naval ships have been intimidated through radio messages in the past. Given the fact that South China Sea, Sunda, Lombok and Makassar straits are areas of secondary maritime interest from India but Chinese actions to demarcate the non-contentious area also as disputed zones would add to India's problems. The Chinese dominance in South China Sea would trickle down in Indian Ocean also and therefore India will have to make tactical and strategic choices to constrain Chinese actions in the region.He said that there is a need for dialogue partners dialogue on the subject while keeping ASEAN in the loop. There is a need for elevating East Asia Summit for more proactive role in the region.
The rapporteurs to the conference presented the findings and the summary report of the presentations by Srimal Fernando
The clash of interests upon Intellectual Property Rights between Japan and Russia: The Kuril Islands case
The Kuril Islands, Russia's Kurilskiy Ostrova, Japan's Chishima-Retto, an archipelago in the Sakhalin region, far east of Russia, encompassing 750 miles from the southern end of the Kamchatka Peninsula (Russia) to the northeast corner of Hokkaido Island, Japan (750 km) from the Pacific Ocean with 56 small islands which cover 6,000 square miles (15,600 sq km). The archipelago was inhabited by Ainu, and currently, are settled by Russians and Japanese.
The Kuril Islands are strategically important for both Japan and Russia. Conflict over the islands has continued throughout history. Even in these areas, there is still some misunderstanding regarding the production and fishing of islands on the island. It is an obvious fact that Russia has a number of military bases on the islands and is trying to secure safe access to the Pacific Ocean. Russia has even begun several social and economic development programs that have been allocating about 70 billion rubles(around $ 1.1 billion) in the federal budget for the development of these regions since 2014 to provide its security in the region.
According to the Ministry of Economic Development of the Sakhalin region, in 2015, Russia has launched out a new federal target program "Socio-Economic Development of the Kuril Islands (Sakhalin Oblast) for 2016-2025 years" with total funding of 68.9 billion rubles. The main priority was given to the development of the transport system, infrastructure, and improvement of living conditions. Although the development plans seemed to be decisive, locals always complain that the program did not have yet an effect on unemployment, low wages and lack of roads in the region.Local residents say that while the salaries are low, living costs are high and they have to do some work to finish their jobs.
Gydrostroy is one of the main employers on the Kuril islands. Locals built a hospital, a kindergarten, and an airport in Kurilsk several years ago. However, most locals point out that finding a job is difficult, salaries are not competitive, and most of their jobs are taken by migrant workers in the region. The island is rich in terms of natural resources, including the unique rhenium resources of the Kudryavyi volcano, but the main income comes from the fishing industry and the production of fish rye. The fish products of the island exported to Russia is quite popular in the country.
The Kuril Islands were annexed by the Soviet Union following the landing operation in the Kuril Islands at the end of World War II. The territorial dispute prevents Russia and Japan from signing an official peace treaty. Japan claims four islands: Habomai, Shikotan, Kunashir, and Iturup. According to the report given by the Russian leader Vladimir Putin to Bloomberg, Russia does not want to have trade-in territories. Many policy analysts do believe that Russia will never abandon the island in exchange for greater economic cooperation. Based on the opinion of Tamerlan Abdikeev, the founder of Tokyo-based INVERO Advisors, there are several problematic issues with the deployment of whether Russian or U.S military bases in Japan if Japan acquires one of the islands, which would not necessarily be accepted by the Russian side. He also added that economic cooperation between Japan and Russia will not be boosted upwithout taking clear-cut decisions concerning the resolution of the Kuril Islands. Therefore, it is difficult to expect mutual trust without signing an effective peace contract between the two countries.Even keeping the "status quo" between the two countries means there is little chance of change in the region. The "status quo" condition does not mean that the two parties could achieve something significant in this matter.Russia in the example of Kuril islands does not have the mind to give up the islands, as it wants those islands as the main trade and geostrategic zone of the country.
In the coming future, Russia is planning to place additional missile systems from the Hokkaido region to the two islands north of the Kuril Islands chain to strengthen its defense capabilities in the region. This plan shows Russia's strategic importance to the Kuril Islands for the protection of the Achat Sea and nuclear forces against the United States. Russia opposes the deployment of US missile forces in the Asia-Pacific region. As the Japanese government official pointed out, while Russia has strongly criticized the United States for building a missile defense network, but they are steadily strengthening their own defense systems in the region.
In November 2016, Japanese Prime Minister Shinzo Abe for the first time hosted Vladimir Putin during his first official visit to G-7 country concerning achieving breakthrough over the territory of Japan's northern coast. Since Russia's annexation of Crimea in 2014.The four islands are known as the South Kurils in Russia and the Northern Territories in Japan and have been controversial for more than seventy years. According to the Ministry of Foreign Affairs of Japan, the Northern Territory consists of four islands on the northeast coast of the Hokkaido and Nemuro peninsula. These are Habomai, Shikotan, Kunashiri, and Etorofu. The northern territory is not included in the Kuril Islands.
The consistent position of Japan in this conflict is that the Northern Territories, Takeshima, and Senkaku islands are the inherent part of Japan-based on historical facts and international law that illegally annexed by Russia. (See Annexes 30 and 31 below)
In conclusion, it should be noted that Russia prefers political principles rather than legal principles in resolving territorial disputes with Japan. Russia does think that if one of those islands is handed over to Japan, the security of Russia on the American side may be in doubt. Japan, on the other hand, believes that it is more important for him to ensure territorial integrity and to work in accordance with the legal principles than political issues. Whenever the parties come together for a peace agreement, the issue remains stable and no small change is apparent. Thus, the outcome of the negotiations between the parties remains numb.
Religious Hatred & International Law
Racism has climbed the political agenda at national, and international levels. Reports from national and international non-governmental organisations (NGO's) and inter-governmental organisations have focused considerable attention on racism and xenophobia and document an increase in racism, xenophobia, anti-Semitism and race-related activities. Hate speech is one form of racism which is directed to the victim. The current challenges posed by hate speech across the globe have prompted the need to better understand the evolution of the right to be free from the harm of hate speech as codified within Article 20(2) of the International Covenant on Civil and Political Rights.Martin Luther King once purported that, 'like an unchecked cancer, hate corrodes the personality and eats away its vital unity. Hate destroys a man's sense of values and his objectivity'.
The contribution that is made by international law to religion is in the form of universalistic norms protecting religious diversity. Such rules are to be found in early modern treaties such as Westphalia ending the Thirty Years War in 1648 and Vienna ending the Napoleonic Wars in 1815, however, the modern period of international guarantees, often violated, of religious freedom was guaranteed by Article 22 of the League of Nations Covenant after the First World War.
The European Court of HumanRights (ECtHR)
The European Court of Human Rights (ECtHR) serves as the regional human rights enforcement mechanism for the 47 signatories to the European Convention on Human Rights (ECHR).Article 10 Section 1 of the ECHR guarantees the freedom of expression―without interference by public authority, in contrary Section 2 of the same article states that this freedom is ―subject to such formalities, conditions, restrictions or penalties as are prescribed by law and are necessary in a democratic society . . . Although The US . Constitution considers freedom of speech as a paramount right, on the contrary, the European model considers it merely as one right that must be weighed against other democratic rights.
The decisions of the European Court that came into force in April 2010 are binding on the member states in judgments to which they are parties. This new protocol strengthened the enforcement abilities of the European Court. Several decisions have come out of the European Court concerning the intersection of freedom of speech and incitement to racial and religious hatred, including two cases which illuminate the boundary between what is acceptable and unacceptable speech, as determined by the ECHR.
Applying Article 10 to Quran burning, the European Court is likely to find that a state is within its rights to restrict such an act. Quran burning is proscribed in the domestic laws of many member states. Those laws comport with the goals listed in Article 10 Section 2 because, arguably, they protect ―the interests of national security by limiting violence against nationals, both in country and in military theaters, like Iraq and Afghanistan. They protect ―the rights of other by limiting violent demonstrations aimed squarely at one sector of society: Muslims. Furthermore, like in Giniewski, Quran burning is likely to be considered violence, so the European Court should broadly construe its responsibility to intervene.
The International Convention on Civil and PoliticalRights (ICCPR)
ICCPR, is an international agreement that names all civil and political rights enjoyed by the citizens of its member states, including freedoms of speech. It is unique because no single designated court adjudicates this convention.Article19oftheICCPRguarantees freedom of expression in general, but Article 20 proscribes war propaganda and ―any advocacy of national, racial or religious hatred that constitutes incitement to discrimination, hostility or violence. Under Art 19(3) of the ICCPR, restrictions on free speech must satisfy three criteria: they must be provided by law; they must be based on permissible grounds (including the protection of rights or reputation of others and the protection of public order); and must be necessary to achieve a legitimate aim (which involves a proportionality analysis).
The ICCPR clearly illustrates the difference in the American and European approaches to the issue of speech protection. Essentially, European law declines to subscribe to the principle of content neutrality, the idea that speech cannot be restricted based on the substance of a message. By qualifying speech freedom so dramatically in Article 20, the drafters of the ICCPR weaken the ―value judgment in Article 19 that freedom of speech is an important individual right that should be protected, thereby declaring that some ideas are so harmful that they should not be protected.
Moreover , Article 4 of The Committee on the Elimination of Racial Discrimination (CERD) provides that measures designed to suppress hate speech need to be implemented with 'due regard to the principles embodied in the Universal Declaration of Human Rights and the rights expressly set forth in article 5 of this Convention'.It is generally accepted that no area of human rights is so distant from a meaningful international consensus as the right to religious diversity, despite the fact that the rights to religious freedoms enshrined in these important international instruments. Furthermore, virtually there is no effective universal supervision of international rights to religious diversity. There is, however, a regional exception in European human rights law. For example, Article 9 of the 1950 European Convention on Human Rights and Fundamental Freedoms guarantees the right to freedom of thought, conscience, and religion. Despite the fact that Article – 9 contain the right and freed of religion, however , Article 9 has been applied, albeit less often and less forcefully , by the European Court of Human Rights in Strasbourg compared to the other parts of European convention .
Therefore , it can be concluded that there are mechanism to bring the perpetrator of hate speech to justice but it all depends on the willingness and the racial conscious of the state . The quran burning is a regular occurrence but is being neglected by the European nations .