SIPRI Annual Report: Flawed Analysis of Pakistan's Nuclear Forces
Since its inception Pakistan's nuclear program became a victim of nuclear apartheid, even though the acquisition of nuclear technology for not only peaceful purposes but for security purposes is the inalienable right of states.It's worth mentioning that Pakistan in its attempt to acquire mastery in nuclear fuel cycle never violated any bilateral or international agreement/treaty, unlike its regional nuclear counterpart, India.  Even then Pakistan's nuclear program has always been termed as stereotyped, as 'Islamic Bomb' or 'fastest growing nuclear weapons program'.
Recently Stockholm International Peace Research Institute (SIPRI) launched its annual year book with estimates of world nuclear forces. By staying true to its years old traditions, SIPRI this time again added 10 more weapons to the nuclear weapon stockpiles of Pakistan. If SIPRI estimates of the past few years regarding Pakistan's nuclear weapons are analysed with a little bit of sanity, one crystal clear fact is that every year 10 weapons are added into the nuclear weapon stockpiles of Pakistan. In year 2010, it was estimated that Pakistan has approx. 90 weapons, then in 2011 the figure was 100 nuclear weapons, in 2012 figured hick to the 110 nuclear weapons, in 2013 estimates showed 120 weapons in possession of Pakistan. From 2013 onwards nuclear weapons estimates remained static till the year 2017.
Now, according to the most recent estimates of SIPRI Pakistan have almost 140-150 nuclear weapons in its inventory. On the basis of such estimates, Pakistan is categorized as the fastest growing nuclear arsenal in the world. Hence, it is important to analyze the statistics on the basis of which these facts by SIPRI and similar institutes are made.
There is no denying the fact that to maintain deterrence against growing Indian conventional asymmetry and military modernization, Pakistan is relying on nuclear weapons. However, the estimates made by the SIPRI and Bulletin of Atomic Scientists are nothing but speculations and assumptions because neither India nor Pakistan has ever declared publicly that how many nuclear warheads are there in their respective inventories. Moreover, it is also not known that how much fissile material both countries have and without knowing the actual amount, it is just the castle in the air, which these organizations are building regarding the actual number of nuclear weapons in possession of Pakistan and India.
It is pertinent to mention India's case because according to estimates of 2016 it possesses around 600-800 kg of weapon grade plutonium and 4.0 tons of HEU. On the other hand, in the same estimates it is stated that Pakistan has approx. 210-280 kg of weapon grade plutonium and 3.0 tons of HEU. These statistics are not given by the respective governments, but it clearly shows that India possesses more fissile material than Pakistan, resultantly it has the capacity to produce more weapons than Pakistan. But, reports by the SIPRI always show Pakistan with more weapons than India.
Another significant factor which these reputable international organizations miss is that nuclear reactors do not work on their 100% capacity around the whole year.  Thus, estimates may vary from actual statistics.
Moreover, how much fissile material is used in one weapon can also vary from one state to another state and also in the sophistication of weapon designs. Thus, how much fissile material is being used in a warhead change the estimated arsenal size of a country. Another big flaw in these estimates is on the potential use of HEU by both countries. In India's case it is assumed that all the reserves of HEU will be used in naval reactors even though the reserves are much more than requirement of naval nuclear reactors. On the other hand, in Pakistan's case speculative estimates of HEU are all considered for weaponization and future needs for naval nuclear reactors/propulsion is ignored completely.
Thus, these false estimates lead to biased conclusions and damage a state interest in the international arena. Moreover, due to the serious shortcomings in the existing calculations/estimates, no one can actually predict the actual number of nuclear weapons or fissile material that Pakistan possesses. So, declaring a county 'fastest growing' in making nuclear weapons is nothing but a propaganda that is damaging strategic stability in South Asia.
Insecurity of India's Nuclear Weapons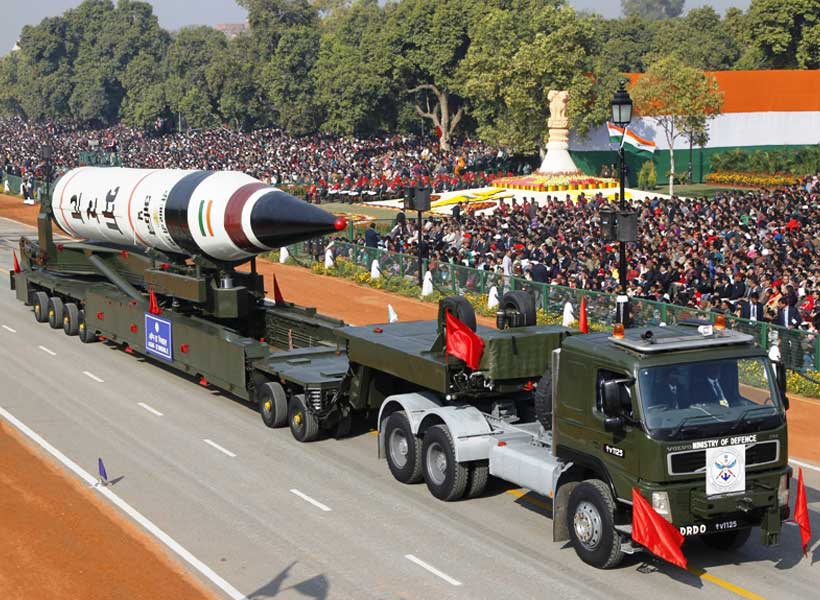 After 1945, it came into the knowledge that nuclear weapons are the most destructive, lethal and powerful weapon on the planet earth, which can wipe out hundreds of thousands of people in short span of time. That's why global community, particularly the U.S. and Former Soviet Union agreed on formulation of stringent globally accepted principles to secure these destructive weapons. India is the first country that brought nuclear weapons in South Asia by detonating nuclear device back in 1974 and yet again in 1998.However, since than safety and security of these weapons under the control of violent Hindutva regime has considerably attracted much of the scholars' attraction.
Terrorism has become an increasing concern within international society but so far there has been less focus on one particular aspect of the problem that is nuclear terrorism. Yet, within the context of South Asia this is of special significance, given the number of insurgencies and freedom struggles with transnational linkages, and the nuclearisation of this region since 1998. Of all the South Asian states, India's nuclear facilities are perhaps the most vulnerable to nuclear terrorism, given India's expansive nuclear programme, much of it not subject to IAEA safeguards. In addition, the vulnerability of India's nuclear facilities is further aggravated by its thriving underworld and more than a dozen insurgencies going on within the Indian states, as well as the freedom struggle in Indian Occupied Kashmir.
India's nuclear programme has developed at an exceptionally fast pace. However, because a few of such facilities are under international safeguards, there is little knowledge about the levels of safety of the various nuclear facilities. Of the ten operational power plants, only four are under IAEA safeguards. According to an Indian parliamentary report, 147 mishaps or safety-related unusual occurrences were reported between the years 1995-1998 in Indian atomic energy plants. Of these, 28 were of an acute nature and 9 of these 28 occurred in the nuclear power installations. Thus, the state of Indian nuclear facilities raises serious concerns as they seem to be vulnerable to a high probability of terrorist attacks, thefts and accidents. The scale of the programme aggravates the problems, as there are plans for the building of pressurized heavy water reactors, fast breeder reactors and thorium reactors on a commercial scale.
Apart from the risk of falling of nuclear weapons and related technology in the hands of terrorists, if one looks at the leadership of India and try to analyse the factor of rationality in the decision making of use of nuclear weapon it clearly suggests that the current leadership i.e. BJP is not only hawkish in its nature but equally believes in use of force for political gains, which further leads us to the assumption that the nuclear decision making is equally occupied by the Hindu hardliners.
During the recent Pulwama Crisis, it has been learnt that BJP's irresponsible behaviour should suffice for all Indians to understand that India will remain hyphenated with Pakistan for foreseeable time. India planned to use Brahmos missile that could carry nuclear warhead. India's behaviour clearly shows that nuclear weapons are in wrong hands. Because the yield and potential related to the nuclear weapons are absolutely detrimental and possession of such weapons in wrong, less responsible and extremist hands is a threat for the entire world.
The only purpose of nuclear weapons is to acquire deterrence in order to avoid the possibility of war. But, India is showing the attitude that it will use these weapons for the purposes of war fighting, which is unacceptable to international community.
The track record of India in the field of nuclear weapons and related technology is much muddier. India initiated arms race in the region, and, it is leaving no stone unturned e.g. advancements in sea-based nuclear capabilities and militarisation of space. Most importantly the recent ASAT test, which is in fact a compelling factor for neighbouring states to think in the same way in order to acquire comparable technologies for equalizing the defence capabilities. These alarming acts of India can bring the entire region at the verge of instability, which in fact could prove dire for the peace of the entire globe keeping in view the economic, natural resources, political and security factors of the region.
The time has come for the international community to break its silence and stop their patronage for India and take serious note and steps regarding the possession of nuclear weapons by India in relation to its aggressive and immature behaviour and mind-set of its leadership, which can lead entire globe to the unacceptable disaster. Since, Kashmir is flash point between both nuclear armed states it is only India which is triggering it by its continuous atrocities in Kashmir. Most importantly existence of ISIS in India is also a foremost point of concern especially keeping in view the nuclear program of India, according to the recent development ISIS claimed for the first time that it has established a "province" in India, after a clash between militants and security forces in the contested Kashmir region killed a militant with alleged ties to the group. This is not only the matter, which solely related to the stability and security of South Asia. This time instability is knocking the door of entire globe in the form of India. The continuous negligence of international community with respect to Indian nuclear weapons will definitely disturb the stability as well as peace of the entire globe.
Why the U.S. is silent about military exercises in the Baltic States
The Baltic States are in the anticipation of the annual large scale military exercise Saber Strike.

The well-known annual international exercise held since 2010 by the United States Army Europe (USAREUR) is focused on the Baltic States. These countries consider this event as a key element of participants' training on command and control as well as interoperability with regional partners. The Saber Strike exercise aims to facilitate cooperation amongst the U.S., Estonia, Latvia, Lithuania, Poland and allied and partner nations.

Usually these maneuvers take place in June. Thus, it is logical to assume that the time of the military exercise is coming, but this year event is never mentioned.

There are two ways of situation development. The first one is – Saber Strike 2019 will not be held at all. The second one is the information about Saber Strike 2019 is classified.

The first assumption is unlikely taking into account the U.S. and NATO desire to strengthen the position in the region. This assumption is also contradicted by the increasing number and scale of international and national military exercises in the Baltic region.
So, the second assumption is most likely. But the question arises about the aim of hiding the information or its content. It is widely proclaimed that NATO and the U.S. put transparency about the exercises in the head. This principle is either one of the key priorities of all international organizations including UN and OSCE. Transparency of activity helps to build international peace and trust.
It is especially surprising after NATO expressed concern about transparency of Russian and Russia-Belarus military drills which were held near the Baltic State's borders. Unlike allies, opponents give preliminary information about planned exercises. By the way, some facts can be find on Internet about joint exercise Union Shield 2019 that will take place in autumn in Russia.
BulgarianMilitary.com quoted Russian Minister of Defence Sergei Shoigu who stated in 2018 that "Union Shield 2019" exercise would be only defensive and emphasized: "First and foremost, and I would like everyone to hear that, our drills are solely of defensive nature. We do not plan any offensive actions as compared to the [NATO] military exercises. We, undoubtedly, are doing this not as a response to some drills but as a response to the threats which exist today and which, to our big regret, grow every year."

From time to time we can read about the preparations for Russian-Belarusian exercise "Union Shield 2019". Thus on March 12-14, the Belarusian-Russian command-staff training on working out the interaction of military authorities, formations and military units in the framework of the regional grouping of troops (RGT) was carried out jointly, as well as improving the RGT control system.

"The general staffs have embarked on the preparation of the Union Shield 2019 exercise, which will be the main event of joint training of the military command and troops in 2019 and which will further improve the system of military security of the Union State," Belarusian Minister of Defense Andrei Ravkov noted. According to him, such events help check the quality and level of combat readiness of the regional group of troops, to see the real capabilities of weapons and the ability to carry out combat tasks.
True or not, but information is available. It is not very detailed but at least it is provided in advance. At least they name it as defensive.
As far as Saber Strike is concerned, everything is vaguely and therefore scary. What is the aim of it? Does it have defensive or offensive nature? When and who will come to the Baltic States? The approach "no comments" is not the best one in this case. The Baltics want and should know. Our opponents should be aware either. Otherwise their respond could be unexpected and even destroying. Uncertainty causes panic and rejection among local population.
Libya Crisis: Role of Regional Players
Libya remains in a chaotic state after the fall of Muammar Gadhafi. The United Nations-backed government struggles to exercise control over territory held by rival factions, escalating geographical and political divisions between the East, West, and South. But it's political and security crisis continues as the two authorities compete for legitimacy and territorial control and have left scores of thousands displaced inside Libya and interrupted access to basic services to the Libyans.
At present, a hazardous military conflict is ongoing in Libya between east-based forces loyal to Field Marshal Haftar and armed groups allied to the UN-backed government in Tripoli. The WHO has given higher estimates of casualties where 392 people have been killed and about 2,000 wounded in the ongoing armed clashes south of Tripoli. Recently, Khalifa Haftar's bid to tumble the UN-recognized government has displaced 50,000 people and urged his forces to "teach the enemy a greater and bigger lesson than the previous ones" during Ramadan, saying the holy month had not been a reason to stop previous battles in the eastern cities of Benghazi and Derna.
The armed militias and terrorist groups are using the nation as a base for radicalization and organized crime, further adding fuel to the fire and posing a threat to the region and beyond. The civilians are harassed and victimized by the militias and armed groups, but nothing has been done so far as the international involvement has remained too apprehensive to avert an all-out fight for the capital. The Courts, on the other hand, are semi-functional, and various impediments obstruct access to fair trials. Hence, there is a threat of proxy war between regional powers if this full-fledged conflict will remain unchecked. The UN is required to play an integral role by encouraging the parties to return to the negotiating table and proposing a new three-track strategy addressing the core political, military and financial concerns of both sides. If external actors are serious in their calls, now is the time to act to stop this full-fledged war.
The conflict escalates further when Libyan National Army (LNA) under Haftar's command launched an attack, named 'Flood of Dignity', with the specified aim of capturing the capital, despite repeated warnings by Libya's international partners. LNA began to advance on Tripoli after Haftar returned from Riyadh, believing that the international supporters, i.e., the UAE, Egypt, Saudi Arabia, France and Russia would stand by them. Although the US had warned him verbally not to move into western Libya, where the UN-backed government is based and has tried to influence Haftar to accept a political deal with Faiez Serraj, the head of the Tripoli-based government, to unify Libya's divided institutions, including the military, making Haftar the head of the armed forces, but he disagreed arguing that the presence of militias in Tripoli would increase the security issue and frustrate the ordinary Libyans.
The military strength and external support of LNA is evident but its victory in Tripoli cannot be predicted. As for now, this conflict could spread to other parts of Libya, as Misratan forces have openly stated that they aim to cut-off LNA supply lines in central Libya which will eventually worsen the conflict. To avoid this catastrophic intensification in Tripoli involving regional powers, Libya's partners should take serious actions. The regional powers should abstain from supporting the offensive militarily, and endorse their support for UN-led negotiations. Moreover, the UN Security Council should demand for an instant culmination of hostilities, and impose sanctions on military commanders and political leaders escalating confrontations.
Furthermore, the UN should introduce a three-pronged strategy including a political track, which should not only be restricted to a deal between Haftar and Serraj rather should also include political representatives from rival parties to ensure an equal and practical solution. Second, a military track should be presented, involving senior military commanders from both sides, along the lines of the Egypt-led military dialogue to agree on new security arrangements for the capital; and in the last place, a financial track, to bridge the gap of the financial institutions which emerged in 2014 as a result of political disturbances, by bringing together representatives from Libya's divided Central Bank.
In conclusion, Libya has witnessed frequent setbacks and external interference over the past eight years which have facilitated the non-state actors such as ISIS to gain a foothold. Keeping in view the present scenario, the menace of terrorism could become a self-fulfilling prophecy as new jihadists are joining the conflict. What will happen in the fight for Tripoli is now largely reliant on how the UN and international players of the region will respond to it. Although the external powers, including the US, UK, France, Italy, the UAE, Egypt and Russia, have condemned the escalation, but none of them included the threat of sanctions and made any explicit mention to support the UN-backed Government of National Accord in Tripoli. Therefore, it can be assumed that the external powers are providing assistance to Haftar in his ambition to seize the capital and power.