A double-edged sword: China and Pakistan link up with fibreoptic cable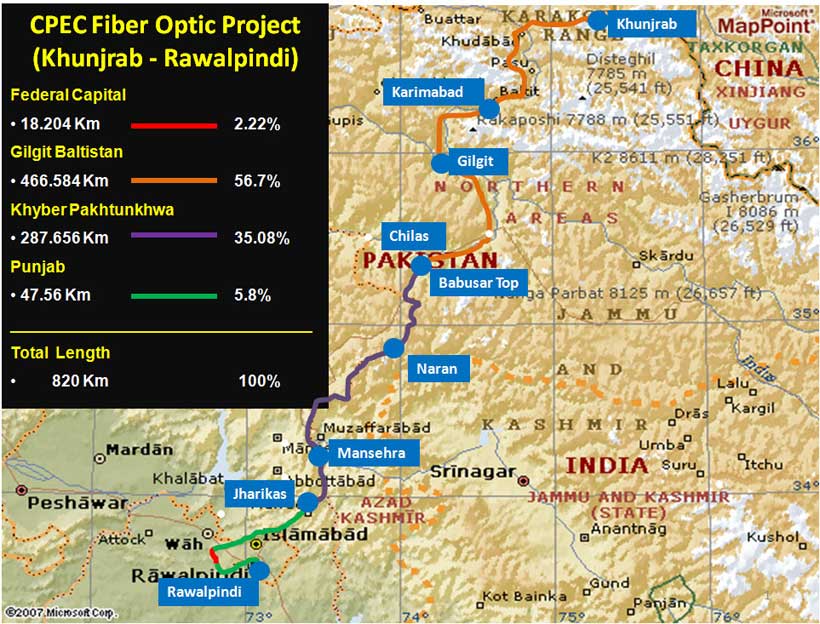 This month's inauguration of a fibreoptic cable linking Pakistan with China could prove to be a double-edged sword. Constructed by Chinese conglomerate Huawei Technologies Co., Ltd, the cable is likely to enhance both Pakistan's information communication technology infrastructure as well as the influence of Chinese authoritarianism at a moment that basic freedoms in Pakistan are on the defensive.
The $44 million, 820-kilometre underground Pak-China Fibre Optic Cable links Rawalpindi with the Chinese border at Khunjerab Pass and is backed up by a 172-kilometre aerial cable. A second phase of the project is likely to connect to the port of Gwadar in Balochistan, a key node in China's US$ 50 billion plus infrastructure-driven investment in the South Asian state, dubbed the China Pakistan Economic Corridor (CPEC).
The cable is expected to provide terrestrial links to Iran and Pakistan and serve as a conduit to the Middle East, Europe and Africa through hook ups with submarine cables.
The inauguration of the cable came days after China launched two satellites for Pakistan from the Jiuquan Space Center in Inner Mongolia, to provide remote sensing data for CPEC.
The satellites are expected to monitor natural resources, environmental protection, disaster management and emergency response, crop yield estimation, urban planning and provide CPEC-related remote sensing information.
The prominence of Pakistani military officers, including General Qamar Bajwa, Pakistan's top military commander and Major General Amir Azeem Bajwa, the head of the Special Communications Organisation (SCO), at the inauguration underlined the cable's strategic and potentially political importance.
Pakistan's military sees the cable as a way of ensuring that the country's in and outbound traffic does not traverse India. Major General Bajwa told lawmakers last year that the current "network which brings internet traffic into Pakistan through submarine cables has been developed by a consortium that has Indian companies either as partners or shareholders, which is a serious security concern."
The key to the cable's potential political significance lies buried in the Chinese-Pakistani vision that underlines CPEC against the backdrop of Chinese concern about the messiness of Pakistani politics and the People's Republic's support of what it sees as the behind-the-scenes stabilizing role of the country's powerful military.
A leaked draft outline of the vision identified as risks to CPEC "Pakistani politics, such as competing parties, religion, tribes, terrorists, and Western intervention" as well as security. "The security situation is the worst in recent years," the outline said.
The vision appears to suggest addressing security primarily through stepped up surveillance  based on the model of a 21st century Orwellian surveillance state in parts, if not all of China, rather than policies targeting root causes and appears to question the vibrancy of a system in which competition between parties and interest groups is the name of the game.
The draft linked the fibreoptic cable to the terrestrial distribution of broadcast media that would cooperate with their Chinese counterparts in the "dissemination of Chinese culture." The plan described the backbone as a "cultural transmission carrier" that would serve to "further enhance mutual understanding between the two peoples and the traditional friendship between the two countries."
Pakistan's Ministry for Planning, Development, and Reform said at the time that the draft "delineates the aspirations of both parties"
The cable's facilitation of aspects of the Chinese surveillance state and soft power strategy occurs in a country in which feudal and patronage politics dominate the countryside and the military has sought to severely curb media coverage in the run-up to elections scheduled for July 25.
"Democracy has become a terrifying business in the villages of Pakistan. Elections might change the federal and state governments, but the feudal and punitive power structures in the countryside don't change. The feudal lords offer allegiance to the new ruler and continue to oppress the poor villagers," said Ali Akbar Natiq, a scholar, poet and novelist who returns every two weeks to his home district of Okara in Punjab, in an article in The New York Times.
The media crackdown involves censorship of TV channels, newspapers and social media, including preventing the distribution of Dawn. An English-language newspaper, Dawn was established by Pakistan's founder Mohammed Ali Jinnah before the 1947 partition of British India, as a way for Muslims to communicate with the colonial power.
Cable operators were advised to take Dawn's TV channel off air, advertisers were warned to shy away from the paper while its journalists were harassed. Other journalists and media personalities have been kidnapped or detained by masked men believed to be linked to military intelligence.
Columnist and scholar S. Akbar Zaid said last month that he was advised by Dawn that the paper could no longer publish his column "because of censorship problems that they are facing with regard to the military and its agencies. They say that the threats are very serious," Mr. Zaid said.
Daily Times journalist Marvi Sirmed reported that her home was burgled and ransacked last month. The intruders took her computers, smartphone, and her passport as well as those of members of her family but left valuables such as jewellery untouched.
Pakistan's military has denied cracking down on the media although it conceded that it was monitoring social media.
Bloggers, including well-known journalist Gul Bukhari, are among those who have been detained and released in some cases only weeks later.
A guard in a detention centre where five bloggers were held last year for three weeks, alongside ultra-conservative militants, told his captives:, according to one of the detainees: "You are more dangerous than these terrorists. They kill 50 or 100 people in a single blast, you kill 600,000 people a day," a reference to the 600,000 clicks on the bloggers' Facebook page on peak days.
In an editorial published after months of harassment Dawn charged that "It appears that elements within or sections of the state do not believe they have a duty to uphold the Constitution and the freedoms it guarantees. Article 19 of the Constitution is explicit: 'Every citizen shall have the right to freedom of speech and expression, and there shall be freedom of the press.' The 'reasonable restrictions' that Article 19 permits are well understood by a free and responsible media and have been consistently interpreted by the superior judiciary."
The paper went on to say that Dawn "considers itself accountable to its readers and fully submits itself to the law and Constitution. It welcomes dialogue with all state institutions. But it cannot be expected to abandon its commitment to practising free and fair journalism. Nor can Dawn accept its staff being exposed to threats of physical harm."
At the bottom line, Pakistan's new fibreoptic cable promises to significantly enhance the country's connectivity. The risk is that visions of Chinese-Pakistani cooperation in the absence of proper democratic checks and balances threaten in Pakistan's current political environment to undermine the conditions that would allow it to properly capitalize on what constitutes a strategic opportunity.
Genocide: Terrible and scaring ground situation in India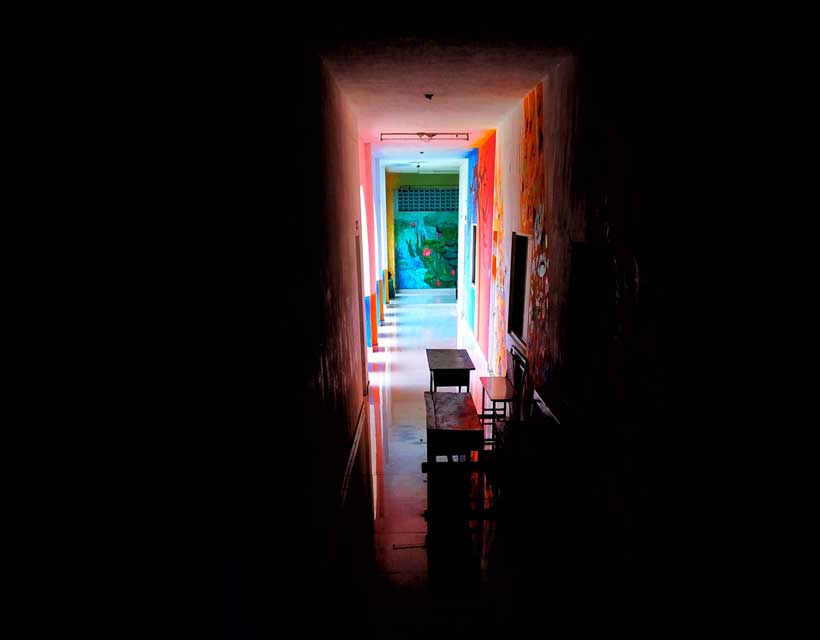 Washington D.C: Dr. Gregory Stanton, founder of Genocide Watch, addressed an audience of Congressional and Government officials at a briefing titled Ground Reports on Kashmir and NRC in Washington D.C on December 12 where he said, "Preparation for a genocide is definitely under way in India." He said that persecution of Muslims in Assam and Kashmir "is the stage just before genocide, "adding, "The next stage is extermination — that's what we call a genocide.""
The ground reports from India are terrible and it is heading toward genocide. The international community's attention is withdrawn for immediate steps to be taken to avert any big disaster.
Dr. Stanton created the world-famous "Ten Stages of Genocide" as a presentation to the U.S. Department of State when he worked there in 1996. According to Dr. Stanton, the ten stages of genocide are as follows:
•The first stage was "classification" of "us versus them".
RSS is an extremist organization, established in 1920, under the influence of Hitler with the same ideology of Nazism. But since they came into power and formed their Government in India in April 2019. They have created hate and classified "us" and "them".
•The second stage, "symbolization", named the victims as "foreigner".
With the legislation under Citizenship Act 2019, India has proved that Muslim Minorities as "Foreigners".
•The third stage, "discrimination", "classified [the victims] out of the group accepted for citizenship" so that they had no "human rights or civil rights of citizens" and were "discriminated against legally".
India has already established this stage under the amended law.
•The fourth stage, dehumanization, "is when the genocidal spiral begins to go downwards. You classify the others as somehow worse than you. You give them names like 'terrorists', or even names of animals, start referring to them as cancer in the body politic, you talk about them as a disease that must be somehow dealt with."
According to RSS ideology, all non-Hindus are not Indian and they must go back to Europe if they are Christians and go back to Middle-East if they are Muslims. Muslims are labeled as "Terrorists".
•The fifth stage was creating an "organization" to commit the genocide: the role played by the "Indian army in Kashmir and the census takers in Assam".
RSS is a well-organized, well-equipped and well-trained, well-funded organization, with the full backing by state. RSS is empowered to execute the genocide of Muslims.
•The sixth stage was "polarization", which is achieved by propaganda.
Unholy media, controlled by Government, is playing its dirty role to polarize the society.
•The seventh stage was "preparation"
India has established concentration camps and all imposed curfew in Kashmir. Kashmir is completely cut-off from the rest of the world. Mobile and Internet Services have been suspended. No journalist can travel to Kashmir without Government permission. Freedom of Speech or expression is halted. No foreigner is allowed to travel to Kashmir. 900,000 troops have been deployed already. Similarly, In Assam and another part of India is also isolated and cut-off internet and mobile services. The Media has been limited to report the ground realities and facts. India has almost completed all preparations for the execution stage.
•The eighth "persecution", where Assam and Kashmir currently were.
India is almost ready for execution and can move forward at any moment.
•The ninth stage is "extermination" and;
Almost entered into this stage
•The tenth stage is "denial".
As usual, India kept on denying all its acts in this direction and still denying as nothing happened.
Dr. Stanton also drafted UN Security Council resolutions that created the International Criminal Tribunal on Rwanda and the Burundi Commission of Inquiry, two places where genocides had occurred. A former President of the International Association of Genocide Scholars, his research on genocides in Cambodia and Rwanda, and of the Rohingyas, is recognized worldwide.
It is appealed to the International community to break silence and helplessness. Under the UN charter, peacekeeping force may be deployed in India to avert the expected disaster. UN Charter must be respected and implemented. This appeal is to everyone nation and individual who believes in "humanity".
Kashmir: India's services chief confesses blinding protesters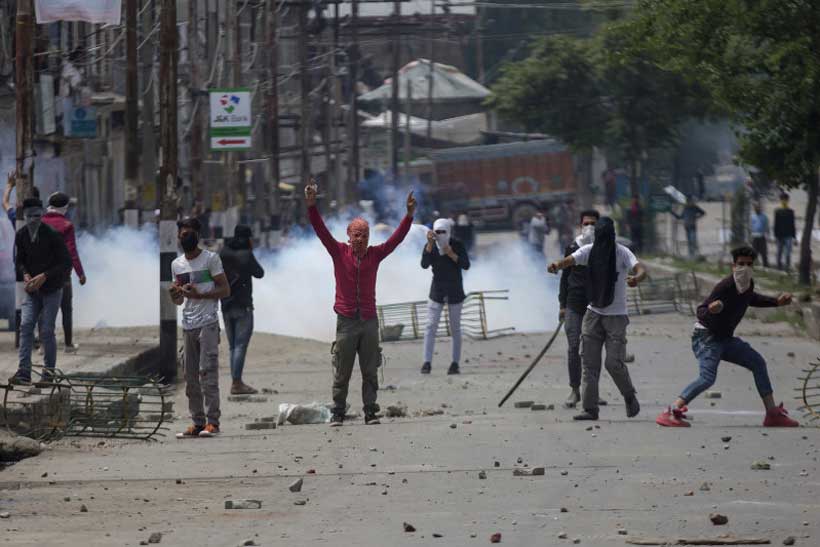 Through a host of draconian measures, India has gagged digital and voice protests in disputed Kashmir. It has barred local and foreign journalists from visiting Kashmir. Indian forces fire pellets (called `birdshots') with pump-action shot-guns against unarmed protesters or stone throwers, even women, and children five to eight years' old.
India cheated Kashmiris. Indian forces fire pellets (called `birdshots') with pump-action shot-guns against unarmed protesters or stone throwers, even women, and children five to eight years' old. A New York Time report portrays a gruesome picture ("An Epidemic of 'Dead Eyes' in Kashmir as India Uses Pellet Guns on Protesters", New York Times, August 28, 2016`) It says` the patients have mutilated retinas, severed optic nerves, irises seeping out like puddles of ink'. Doctors call them `dead eyes'. A similar report in Washington Post (December 12, 2017) is no less poignant.
Let India realise it can't stifle Kashmiris' dissent. To stifle the Kashmiri's fighting spirit, the dogra (1846-1947) punished even Kashmiri children who played with fork-slings (ghulail in Urdu) and stones (Muhammad Yousaf Saraf, Kashmiris Fight for Freedom, vol. 1, p. 50). Struggle for freedom goes on despite Indian forces' reign of terror (abductions, custodial deaths, rapes, arson, and pellet shelling). `The Security Council should make clear that it opposes Mr. Modi's brutal tightening of India's control on Kashmir. While Mr. Modi may think he can control this volatile conflict on his own, he almost certainly cannot' (The U.N. Can't Ignore Kashmir Anymore, New York Times, October 2, 2019).
Defence services chief's ergonomic confession: Irked by international-media censures, Bipen Rawat, India's ex-army chief, now Chief of Defence Services has tendered a funny explanation.
He says, ` Most of the eye injuries are caused because those pelting stones bend to the ground to pick up stones and because pellet guns are fired at the legs they get hit them in the eyes (Indian Express, January 17, 2020). Indian opposition took him to task for explaining how Kashmiris were being "radicalized". They advised him to desist from dabbling in politics. Asaduddin Owaisi asked him, `Who'll deradicalise lynchers and their political masters? `Yogi (UP chief minister] and "Pakistan jao" Meerut SP?
An unending struggle: An immutable lesson of history is that Kashmiris never reconciled with foreign rule. If they could no longer fight an invader with arms, they pelted stones on invaders (Moghal). The stone throwers were called dilawars, and the Moghal, were addressed as shikas mogle. This Kashmiri-language expression, akin to French C'est dommage (it's too bad), is spoken when something is lost. The Moghal were Muslim. Yet, the Kashmiri hated them. Shikas mogle affords a peek into the Kashmiri heart and mind. They cursed foreigners, be they be Muslim.
Kashmiris hate cheating and consider Akbar `the Great' an epitome of treachery. Akbar invited Kashmir ruler Yusuf Chak (1579 – 1586) for talks. But, he treacherously imprisoned and killed him in Bihar state. Be it noted that Akbar had failed to subjugate Kashmir in his earlier two expeditions. After take-over, the Moghal lived in a walled nagri (city), later called Sri nagar. The helpless Kashmir used to throw stones at walled city to express their anguish. The general feeling of hatred, kashmiriat, was akin to what Ibn-e-Khuldoon calls asabiya (national cohesion). It ran across all sects (shia-sunni), religions, castes and creed.
Let India realise it can't stifle Kashmiris' dissent. To stifle the Kashmiri's fighting spirit, the dogra (1846-1947) punished even Kashmiri children who played with fork-slings (ghulail in Urdu) and stones (Muhammad Yousaf Saraf, Kashmiris Fight for Freedom, vol. 1, p. 50). Struggle for freedom goes on despite Indian forces' reign of terror (abductions, custodial deaths, rapes, arson, and pellet shelling). `The Security Council should make clear that it opposes Mr. Modi's brutal tightening of India's control on Kashmir. While Mr. Modi may think he can control this volatile conflict on his own, he almost certainly cannot' (The U.N. Can't Ignore Kashmir Anymore, New York Times, October 2, 2019).
RSS's role in persecuting minorities: The present-day anti-minority India caricatures Mahatma Gandhi's and Ambedkar's vision of India. They both envisioned India as a modern country with due place for minorities. Gandhi did not care a fig for Rashtrya Swayem Sevak Sangh leaders in his life-time. So was the case with Ambedkar also. Yet, tragically RSS-BJP conglomerate and their offshoots are trying to portray Gandhi-Ambedkar as Hindu communalists. They are v trying to co-opt Gandhi and pitch him against the Congress.
What a wonder it is hard to find RSSs' founding father, Hedgewar's mention in the 21 volumes of the writings and speeches of Ambedkar. Hedgewar thought of Hindu raj, rule by Hindu Rashtra. Chiplunkar, Tilak and their disciple Hedgewar abhorred Gandhi `a Bania leading the freedom movement'. After Tilak's death, Hedgewar left the Congress-led freedom struggle and began struggle to regain past glory of Aryavarta. Ambedkar explicitly rejected idea of the Hindu Rashtra. He stressed, ` No matter what the Hindus say, Hinduism is a menace to liberty, equality and fraternity. On that account it is incompatible with democracy. Hindu Raj must be prevented at any cost.' Renowned lawyer AG Noorani rightly said `their [RSS's] bible is V.D. Savarkar's essay 'Hindutva' published in 1925. He called Muslims `hissing Yavana snakes' (Dawn, October 5, 2019).
RSS is a terrorist organisation: Terrorism Research Centre, an American think-tank based in East Virginia, enlisted RSS among the world's leading terrorist organisations. It is significant to note that the Indian media is heavily tilted towards the RSS. In fact the RSS has of late become the unofficial spokesman of the Indian government. Even the enlightened Hindu and the military writers believe that India's prosperity during various periods of history, for example during the Maurya and the Gupta periods, rose or fell pari passu with rise or fall of military leadership (Major General Rajendra Nath, Military Leadership in India: Vedic Period to Indo-Pak Wars.1990.Lancers Books).
Upsurge in Hindutva: Hindutva ideology is being pupularised in India to persecute minorities, particularly Musims in Kashmir and other Indian states. It is controversially defined in Vinayak Damodar Savarkar in his book Hindutva, and adopted by Hedgewar as the basis of his ideology (An Indian parliamentary committee resurrected him as a hero by allowing his portrait to be hung in Indian parliament). The RSS's aims are a mix of cultural, religious and political objectives – To serve Hindu dharma (religion), sanskriti (culture) and rashtra (nation). Sarvarkar distinguishes 'Hinduism' from 'Hindutva'. He clarified that the `Hinduism' was concerned with `relevance of life after death, the concept of God and the Universe'. 'Hindutva', on the other hand, was 'Hindus being a nation, bound by a common culture, a common history, a common language, a common country and a common religion'. Koota yuddha is an article of faith with the Rashtriya Swayemsewak Sangha. All its recruits, 10 years' old and above, are obliged to take the following pratigya (oath): In the name of God and my ancestors. I hereby become a member of the Rashtriya Swayamsewak Sangh for the all-round progress of Bharatvarsh (ancient name of India) by strengthening the holy Hindu dharma (religion). Hindu sanskiti (culture and Hindu society). I shall do the Sangha work with all my heart to the best of my ability and that I shall be bound by this oath for the whole of my life. Bharat Mata Ki Jai ! (Glory to Mother India!).
Minority Lynching: Beef eating people are lynched in public. A Christian priest was murdered right in front of his son. The RSS's genocidal role is a caricature of Preamble to The Constitution of India which states: "WE THE PEOPLE OF INDIA, having solemnly resolved to constitute India into a [SOVEREIGN SOCIALIST SECULAR DEMOCATIC REPUBLIC] …" Besides, Article 15 of the Constitution prohibits discrimination on the grounds of religion, race, caste, sex or place of birth.
Not only the RSS, but also Vishwa Hindu Parishad, and Indian political parties tacitly believe in koota yuddha. Reason: The minorities together are not more than one third of the Hindu population (read Brihaspati's udyog parva principle justifying 2,800 years back merciless attack when one is numerically three times superior). Illustrations of koota yuddha are Gujarat carnage under prime minister Narendra Modi, then chief minister, burning of Christians' alive, attack on Golden Temple, anti-sikh riots of 1984, killing of beef-eating minorities by cow guards (gao rakhshak), persecution of Kashmiri students in Indian states, and so on. A crystal-clear manifestation of this mentality was ruling-BJP-supported then Gujarat chief minister Narendra Modi's 11-phase gaurav or papadshahiyatra (pride parade) in July 2002. Earlier, in June 2002, Bal Thackray had said, 'Muslims can never be trusted. They are like snakes'.
Wake-up call for Pakistan: History tells that only countries with a stable equilibrium between its centrifugal and centripetal forces stay afloat in comity of nations. At the time of Partition, it was predicted that both India and Pakistan would break up into 'congeries of states'. The basis of this prediction was inability of the new republics to deal with myriad centrifugal forces gnawing into the body politic. In post-independence period, India was fortunate to have visionary leaders who tactfully muzzled centrifugal forces like insurgencies in East Punjab and eastern states, besides the Dravidian and Naxal Bari movements. Indian Union bowed to insurgents' demands for creation of new states. And, insurgency leaders became chief ministers! India forgot yester years when they burnt to ashes copies of Indian constitution, uprooted rail tracks, immobilizing everyday life. Tamil Nadu, Andhra Pradesh, Nagaland and the East Punjab appeared to secede from the Union. India stayed united because of its resilience, we disintegrated.
Pakistan learnt nothing from East-Pakistan debacle (Asghar Khan, We've learnt nothing from history). India is now engaged against Pakistan in what Kautliya calls maya yuddha (war of tricks) or koota yuddha (all-out warfare). She is out to isolate Pakistan, get it dubbed as a terrorist state, and corner it by presence in Chahbahar and some Central Asian airbases (Aeini or Farkhor airbases in Tajikistan). Ibn-e-Khaldun says that it is asabia (nationalism) that enables a country to withstand challenges. Toynbee's Challenge and Response Theory also reminds that if challenges are too heavy, a nation becomes apathetic to environment. Apathy leads to mental degradation, decay and extinction.
Pakistani leaders, including prime-ministers-weres and prime-ministers-to-be should take off their blinkers and try to understand how India, through koota yuddha, hands in glove with likeminded countries, is trying to wreck their economy and country.
Inference: History tells that ebbs and flows of Kashmiris' resistance never ceased. Palliatives failed to stifle the struggle. A lasting solution is to allow Kashmiris to determine their own fate. It's no use harping integral-part (atoot ang) mantra any longer. In marked contrast to India's colonizing policy, Pakistan gives an iron-clad constitutional assurance to Kashmiris to re-craft their relation with Pakistan under Article 257 of its Constitution. It states: `when the people of the State of Jammu and Kashmir decide to accede to Pakistan, the relationship between Pakistan and that State shall be determined in accordance with the wishes of the people of that State'.
Justifying a Pakistani Response to India's Hybrid Warfare Campaign
Hybrid warfare has irreversibly changed the dynamics of war in the contemporary era. In a way, it can be perceived as forming a 'new normal' that has also transformed the nature of warfare in South Asia, one of the most volatile regions of the world. There is no doubt in claiming that Pakistan has been a victim of 'hybrid warfare' widely perceived to be launched and sponsored by India. This has remained evident even in the region's history where the situation in East Pakistan in 1971 involving the promotion of Mujib's six-point plan, and the training and support offered to the Mukti Bahini's violent separatist movement were all led by India. In the same vein, the current extent of hybrid warfare against Pakistan can also be analyzed from the fact that India is still waging a Low-Intensity Conflict (LIC), through the employment of its proxies in the region. These are further bolstered by its Anti-Pakistan psychological operations, mainstream and social media campaigns, information operations, false flag operations, and undermining Pakistani interests economically, politically and diplomatically at various international forums. As a result, Pakistan is being forced to counter this hybrid warfare campaign through greater preparedness and a concerted strategy as this 'new normal continues to threaten Pakistan's national security.
These hybrid threats to the national security of Pakistan have resultantly become a major concern for its politico-strategic outlook. In view of this, the unrest in Baluchistan, which is all the more pertinent because of CPEC, is not acceptable to Indian interests at the present. Hence, this forms one of the primary reasons behind its sustained campaign against Pakistan. This is evident for instance in how Kulbhushan Jadhav, a serving Indian military officer was convicted for spying inside Pakistan and supporting terrorism in Baluchistan. Furthermore, the Balochistan Liberation Army (BLA), a terrorist group that has been known for decades as being backed by India was also reportedly involved in an attack on the Chinese Consulate in Karachi back in November 2018. Similarly, the Pashtun Tahafuz Movement (PTM) movement which is evidently involved in anti-state activities is also widely understood as being sponsored by India's Research and Analysis Wing (RAW) and Afghanistan's National Directorate for Security (NDS). has All the above have thus carried all the hallmarks of both the NDS's and RAW's past activities and nefarious motives with regard to destabilizing Pakistan.
In addition to this, Pakistan has been the target of multiple Indian sponsored 'hybrid' campaigns at the international diplomatic level specifically when it comes to Pakistan's nuclear program. In this regard, India has been working for quite some time to project Pakistan as a country involved in nuclear proliferation. As a result, significant lobbying at various multilateral forums has been carried out by India to paint Pakistan as an irresponsible or even 'rogue' nuclear weapons state. Whereas, in fact, the irony is that it is Mr. Modi's BJP led Hindu Nationalist and Extremist government that is willfully acting the role of the irresponsible near unhinged nuclear weapons state through his consistent and deliberate negative nuclear signaling against Pakistan. Thus, it is instead India which coupled with its sustained hybrid warfare campaign against Pakistan manifests a very real danger in terms of the present situation escalating towards the nuclear realm. This, for instance, is further evident in how Mr. Modi has repeatedly threatened Pakistan with the use of nuclear weapons – such as thermonuclear weapons – solely for the sake of political and electoral goals. As such, India has actively aimed to portray Pakistan's nuclear posture and doctrines as a 'Nuclear Bluff', blaming Pakistan for 'Nuclear Blackmailing'. All while the Indian Nuclear Arsenal, which unfortunately still remains under the control of Hindu Extremists, and presents a more pressing and immediate danger.
The fact, however, remains that within the current scenario in India; conditions are ripe for Pakistan to wage its own campaign to bolster its stance at the international as well as the domestic level within India by launching its own hybrid warfare campaign. For instance, the Indian government's unilateral revocation of the special status of the Kashmir region that had been previously granted under Articles 370 and 35(A) of the Indian constitution has played a key role in bringing to surface deep-seeded and pre-existing communal tensions. In the same way, the discriminatory decision by the Indian Supreme Court regarding the demolition of the Babri Mosque which the court has ironically based on preserving the balance between Hindus and Muslims has also inflamed tensions even further. Similarly, the recent controversy surrounding the 'Citizen Amendment Bill' (CAB)has also come to represent India's failed attempts at justifying its Anti-Muslim agenda. In view of all these challenges being posed to Indian Muslims, Pakistan can opt for a more offensive stance in helping further accelerate the widely foreseen demise of the ruling BJP government, which in itself is primarily of its own making. At the very least Pakistan can provide moral and logistical support to some of India's most marginalized groups to help lay bare the injustices and wickedness of the ruling BJP. Thus, appealing to a more principled stance aimed at a domestic Indian as well as a wider international audience.
Hence while Pakistan is facing a variety of threats from India, it has not yet undertaken a similar campaign of its own to counter and respond to such threats in kind. Despite the Indian government's continued atrocities, the fact remains that Pakistan still holds a highly principled stance vis-à-vis the tactics currently being employed byIndia. The difference remains that based on this scenario, any action taken by Pakistan would be based on championing a purely more inclusive and pluralist approach promoting human rights in the face of a violent extremist ideology. The recent opening of the Kartarpur Corridor stands as a valid case in point. As such Pakistan's stance remains miles apart from India's deliberate, deep-seeded and destabilizing divisions fueled by hate and indifference. In essence, championing 'A New Normal' that is worth fighting for.