Explaining Gendered Wartime Violence: Rohingya Ethnic Cleansing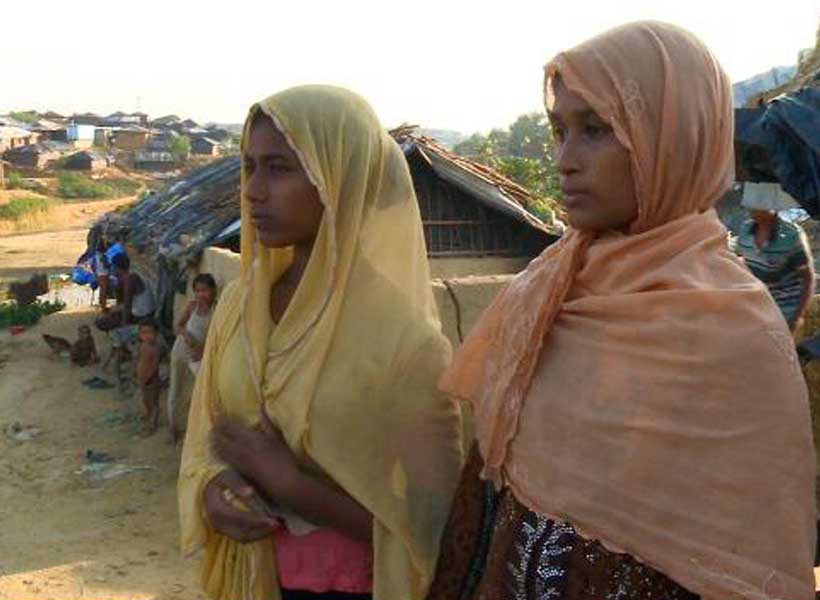 The United Nations described Rohingyas as 'amongst the most persecuted minority groups in the world.' News reports and refugee testimonies have confirmed that the plight of Muslims in Rakhine State of Myanmar is atrocious. The humanitarian crisis taking place in the Rakhine state has led to the death of an appalling number of Rohingya's Muslims. It has been reported, that nearly 500,000 people have fled destruction of their livelihood and, are currently living in refugee camps in Bangladesh. The UN reports suggest that Rohingyas have faced "killings, torture, rape and arson", by Burmese troops. It has been categorised as a 'textbook case of ethnic cleansing' of Muslims in Myanmar.
Rohingya Muslims represent the largest percentage of Muslims in Myanmar, and the majority lived in Rakhine state before the violence broke out. Myanmar is predominantly a Buddhist country which has for decades denied Muslims citizenship, they have been subjected to brutal government and police violence, and their identity has been decreased to that of an 'illegal immigrant.' On the 25th of August, 2017 the Rohingya militant army launched a deadly attack on the Muslims which has culminated into a systematic case of ethnic violence, turning into ethnic cleansing. They have slowly, but successfully forced majority of the Muslims to flee the country, resulting in one of the deadliest case of violence in the 21st century.
Within this Muslim minority exists another kind of minority, 'Rohingya Women' who have been subjected to sexual violence and rape by the army militants. It has been reported that tens of thousands of young girls and women of the Muslim community have been sexually violated and raped by the army militants In the report prepared for the UN Commission on Human Rights, Gay J. McDougall defined wartime rape as "a deliberate and strategic decision on the part of combatants to intimidate and destroy 'the enemy' as a whole by raping and enslaving women who are identified as members of the opposition group." However, wartime rape is not a new phenomenon. Many historical and anthropological researchers have provided us with evidence that rape during war can be traced back to earlier wars. It was reported that during the Second World War, the city of Berlin witnessed extremely high levels of rape and sexual violence against women by the Soviet forces. It has been estimated that around 900,000 women were raped and violated during the war.The infamous 'Rape of Nanking' is another case where Japanese soldiers reportedly raped an estimated 20,000 to 80,000 women in the city of Nanjing, China in 1937.
According to the Human Rights Watch report titled 'All of My Body was in Pain: Sexual Violence against Rohingya Women and Girls in Burma', women and girls are brutally being raped and sexually violated, humiliated, beaten up and even killed by the Burmese militants. They also suffer from the ordeal of seeing their children, parents or partners being murdered in front of them. The Burmese militant army is using systematic rape as a weapon of war in the massacre of the Rohingyas – using women to be the easy target, and thereby making the Rohingya crisis a grave gender concern. Priyanka Motaparthy, a senior researcher in the Emergencies division of the Human Rights Watch, mentions in a Human Rights Watch report, "These horrific attacks on Rohingya women and girls by security forces add a new and brutal chapter to the Burmese military's long and sickening history of sexual violence against women."
It is believed that sexual violence and rape is systematically used against women during wartime due multiple reasons. In addition to women being 'easy targets', they are subjected to this ordeal in order to break down the reproductive cycle of an ethnicity, which thereby can result in eliminating that ethnic population altogether. It is also used to decrease or break down the morale of their enemy population, who are responsible for securing their women and girls, thus weakening their opponents. Therefore, the connecting factor between 'gender based violence' and 'wartime' are the underlying patriarchal values that persists in societies and dictates their culture. Within this structure, it is often assumed that a woman's honor resides in her reproductive system, violating her reproductive system is seen as a way of stripping her honor, subjecting her to humiliation and furthermore gaining 'power.' It is a way of systematically destroying a community as a whole.
This is not the first time the world is witnessing gender based violence. However, the silence on the issue and lack of action by international authorities such as the United Nations is alarming. Urgent and crucial steps need to be taken by the Burmese government along with other International Organizations to bring relief to these women and girls. There is also an urgent need to implement stringent policies and necessary actions must be taken against people who use of sexual violence during wartime. However, the most urgent need of the hour is to overthrow patriarchal values from societies all across the world. Even though this is optimistic, it is important to instill a sense of equality between men and women, which in turn could help in eliminating the use of sexual violence as a weapon of war.
A struggle for rule of law: Detained Bahraini footballer catapults Thailand to centre stage
Mounting pressure on Thailand to release from detention soccer player Hakeem al-Araibi has not only refocussed international attention on alleged abuse of human rights and due course of law in Bahrain but also the apparent continued ability of autocratic and authoritarian regimes to enlist global police organization Interpol in efforts to silence critics.
The arrest by Thai authorities of Mr. Al-Araibi, acting on an Interpol red notice arrest warrant issued despite the fact that he had been granted political asylum in Australia, raises questions about the effectiveness of Interpol safeguards against exploitation of its powers.
It is also a reflection of a far broader global battle for continued rule of law that is being challenged by autocrats, authoritarians, populists and nationalists on multiple fronts.
"It's really emblematic of this breakdown of multilateral institutions, particularly those premised on western liberal democratic values which in the wake of the cold war we saw come into ascendance. These institutions were not built with the internal safeguards and mechanisms to protect them against bad faith actors. Once you let them inside the gates, nothing prevents them from poisoning the well," said Jonathan Reich, an attorney who has worked with Russian business people and anti-corruption dissidents targeted by Russia via Interpol.
Mr Al-Araibi's case further highlights the incestuous and inextricable relationship between sports and politics that international sports associations strenuously deny.
Nowhere is that relationship increasingly more evident than in the Gulf with Mr. Al-Araibi's arrest; the politicization of the Asian Cup as a result of the rift between Qatar and its boycotting detractors, Bahrain, the United Arab Emirates and Saudi Arabia; Saudi and UAE efforts to substantially increase their influence in global soccer governance, and the Saudi-Qatar dispute over broadcasting rights.
Qatar's winning of the Asian Cup on Friday was as much a sports achievement as it was a political statement of the country's resilience and ability to host the 2022 World Cup that had been called into question from day one and was targeted by its Gulf detractors since they declared a diplomatic and economic boycott of the Gulf state 18 months ago.
Mr. Al-Araibi has been kept in prison to allow Bahrain to formally request his extradition even though Interpol withdrew the non-binding red notice a week after issuing it. He was on Friday remanded for another 60 days in prison as a Thai court held hearings on the request.
The focus on Interpol safeguards as a result of Mr. Al-Araibi's continued detention and the organization's inability to ensure that its mistakes can be corrected was bolstered this week by documents leaked by dissident Turkish journalists in Europe that allege abuse of Interpol procedures by Turkish law enforcement and intelligence.
The documents allege that Turkey has obtained through Interpol information about dissidents in Belgium, Germany and Poland on the basis of purported false charges that nonetheless failed to result in the issuance of a red notice warrant.
Mr. Al-Araibi's detention since November when he arrived with his wife in Bangkok for their honeymoon and the Turkish leak are but the two latest incidents that point fingers at Interpol procedures.
Fair Trials, an international criminal justice watchdog, has documented numerous cases of abuse of Interpol procedures, applauded the organization for efforts to avoid abuse, and called on it to introduce further safeguards.
In one prominent case, Interpol was put in an embarrassing position in October when its then president, Meng Hongwei, was arrested on a visit to his native China after the police organization had accepted a resignation letter purportedly signed by Mr Meng and tendered by the Chinese government, which said he was being probed over suspected corruption. Interpol said it had no choice but to comply with the request.
Mr. Al-Araibi's case bolsters the call for further safeguards and focuses attention on the need for mechanisms to counter the fallout of abuse.
A player for Bahrain's national team, Mr. Al-Araibi was arrested in November 2012 while walking to a cafe in Bahrain to watch a Real Madrid-Barcelona game and beaten in detention. He was accused of vandalizing a police station at a time when he had been playing in a match that had been aired on live television.
Mr Al-Araibi spent three months in detention and was sentenced to ten years in prison but managed to flee to Australia before the verdict was issued by a judge, who like Asian Football Confederation (AFC) president and world soccer body FIFA vice president, Sheikh Salman bin Ebrahim Al Khalifa, is a member of Bahrain's ruling family.
Mr. Al-Araibi's case erupted as Sheikh Salman is running for another term in AFC elections scheduled for April.
Mr. Al-Araibi asserted that Sheikh Salman, who at the time of his arrest in the Gulf state was head of the Bahrain Football Association (BFA) and has long been accused of involvement in the arrest and abuse during mass anti-government protests in 2011 of some 150 Bahraini athletes and sports executives, had failed to respond to requests for help from the player's family and lawyers.
Sheikh Salman has said he had not received a request for assistance. Sheikh Salman has consistently denied any association with the 2011 events despite the fact that Bahrain's state-run news agency linked him to the arrests in several reports at the time.
Conspicuously, Sheikh Salman has remained silent about Mr. Al-Araibi's case while the AFC only this week called for the first time for his return to Australia in a statement by its vice president, Praful Patel.
The AFC this week said Mr. Patel rather than Sheikh Salman was responsible for Middle Eastern affairs. It said Sheikh Salman had been recused from overseeing the region because of potential conflicts of interest. It was the first time that the AFC disclosed the recusal.
FIFA secretary general Fatma Samoura and International Olympic Committee president Thomas Bach have been calling for Mr. Al-Araibi's release for several weeks.
For Bahraini exiles like S. Yousif Almuhafdah, a Berlin-based human rights activist, Mr. Al-Araibi's case is one way of focusing attention on Bahrain and trying to ensure that others are spared the soccer player's fate in a world in which the cards are stacked against them.
Says Mr. Almuhafdah, who was detained in the same cell as Mr. Al-Araibi before both men left Bahrain: "Nothing will change any time soon. But we have a responsibility to those who stayed behind and remain behind bars."
The geographical location of Laos, a small landlocked state surrounded by China, Thailand, Myanmar, Vietnam and Cambodia, has made it imperative for this country to pursue a well-balanced multi-faceted foreign policy that hinges on the development of a mobile system of economic and political counterbalances.
Regional integration is key to the economic development of Laos. A major integration mechanism is ASEAN, of which Laos has been a member since 1997. 99% of Laos' residents believe that their country's membership in this organization yields tangible economic benefits; 92.5% say it has improved their personal financial standing.
As a member of ASEAN, Laos is committed to developing relations with China, Thailand and Vietnam but pursues a preferential policy as regards each of them.
China remains number one investor in the Laotian economy ($ 8.5 billion) with the bulk of the finances channeled into the mining, transport infrastructure and energy sectors. In 2016, trade turnover between the two countries reached $ 2 billion , a significant amount for Laos with its less than 7 million population. The largest Chinese-Lao project is the railway from Kunming Province (PRC) to Laotian capital, Vientiane. China is ready to inject more than $ 6 billion in the project
Meanwhile, Laos has been stepping up cooperation with Vietnam, which maintains a wait and see position in relation to China. Laos views Vietnam as a political and ideological counterweight to China. Cultural ties with Vietnam serve as an additional means of preventing the transformation of Beijing's economic influence into the ideological one. Members of the ruling People's Revolutionary Party of Laos receive training in Vietnam.
With a view to diversify foreign economic and foreign policy relations, Laos is developing contacts with France, whose colony it used to be in the past. Paris is seen as a remote neighbor of Laos, a partner in the economic and cultural spheres. Since 1991 Laos has been a member of the international organization for the cooperation of the francophone states "Francophone". According to the French Embassy in Vientiane, the number of Laotians who speak French amounts to 3% and has been increasing over the past 12 years.
Laos is home to two branches of the Institut Francais du Laos (IFL) – an organization that promotes the French language and culture abroad; the French language is on the curriculum of three of the country's five universities. In March 2018, Laos was visited by leaders of "Francophone", and in May 2018 – by representatives of the Francophone University Agency. The official mission of the latter is to create a new French-language communication and educational space. The visits resulted in the signing of agreements on further cooperation with both organizations.
The period that saw a catastrophic fall in the demand for the French language in Laos since the mid-1970s is coming to an end. Nevertheless, the Lao Ministry of Education has designated English as a compulsory subject in schools for the 2019 academic year. The decision was prompted by the currently prevailing position of English worldwide and Vientiane's intention to develop economic ties not only with the Francophone, but also with the Anglosphere.
Along with the cultural influence, France is trying to build up its economic presence in Laos. In May 2018, a French delegation led by French Ambassador Claudine Ledo visited a special economic zone in the province of Savannakhet to examine the prospects for French investment. For Laos, France is the ninth largest trading partner accounting for only 0.2% of the Lao market but it holds top position among non-Asian countries in the volume of investment.
Trade turnover between Laos and France has been fluctuating in recent years between $ 34 and $73 billion. France is prepared to invest in the Lao economy but the volume of investment is determined by the extent of Vientiane's openness to foreign investment flows and the ability of the Lao economy to 'digest' them.
The year 2019 will mark greater cooperation within ASEAN for Laos. Last year, economic issues within ASEAN prevailed over political ones in connection with trade conflicts between the United States, the European Union and the People's Republic of China. ASEAN countries are planning to launch the Regional Comprehensive Economic Partnership program (RCEP).
If the program is fulfilled, it will become the largest trade agreement in the world. The cumulative GDP of the countries participating in it makes up 25% of the global GDP, the population accounts for 45%, and the trade turnover amounts to 30% (5). Australia, New Zealand, Japan, South Korea may all be attracted to the program. This will provide Vientiane with more opportunities to diversify foreign economic relations amid China's growing financial presence in Southeast Asia.
France was the first European country to sign a partnership agreement with ASEAN. Paris regards this organization as key to its policy in the Indo-Pacific region and a major economic partner. The volume of French investments in the ASEAN economy in 2017 reached € 16 billion. France's share in the ASEAN market is 1.6%. This figure has not changed for ten years.
Paris aims to give cooperation with ASEAN a new impetus, which will impart more momentum to French-Lao relations.
First published in our partner International Affairs
On Refugees… And Myanmar: It's Not Just The Rohingya
… And my life's cold winter that knew no spring; Of my mind so weary and sick and wild,  Of my heart too sad to sing.  — Paul Laurence Dunbar
The world now has more refugees than at any time since after WW2, more than the population of Britain.  They are often the consequence of wars usually instigated by great powers directly or through proxies.  Civil strife accompanied by the demonization of minorities, killing and expulsion is another reason.  Such is the story of the Rohingya in Burma, or Myanmar as it now likes to be known.
It is a country with the river Irrawaddy as a central artery.  Bordering it is the heartland, peopled by the Bamar who make up 68 percent of the population and are Buddhist.  The Rohingya are Muslim, look different and have lived in Rakhine state for at least five centuries.  During WW2 they supported the British while the Buddhist Burmese supported the Japanese, their coreligionists.  It brought lasting enmity.  After years of propaganda and vilification, the Rohingya were stripped of citizenship.  Not unlike Nazi Germany targeting Jewish people, new restrictive laws curtailed liberties, marriage rights, even children — limited to two.  The vilification turned most neighboring Buddhist villages against the Rohingya, and those attacking and burning their villages were often these neighbors when not the military.
In this latest violence, 90 percent of the Rohingyas were driven out and about three-quarters of a million sought refuge across the border in Bangladesh.  The story does not end with the Rohingya for there are other threatened minorities in Burma occupying the periphery in the north and south:
In northern Shan state, a simmering conflict with the Taang National Liberation Army dating back to 1963 has displaced 300,000.  The army emboldened by the relatively meek response to the assault on the Rohingyas have intensified their efforts also against the ethnic Kokang's  Myanmar National Democratic Alliance Army.  The consequence is an addition to the tens of thousands that had streamed from earlier conflicts over the border into China.  Also in the north the largely Christian Kachin minority formed the Kachin Independence Army to defend their villages.   The ongoing conflict has displaced more than 135,000 internally.  And in the south the conflict with the Karen (Buddhist, Animist and 15 percent Christian) resulted in over 100,000 refugees … this time in Thailand, plus a 100,000 diaspora to the rest of the world including some 65,000 in the US.  Myanmar's perverse antipathy towards all its minorities makes a mockery of the Nobel Peace Prize awarded to Aung San Suu Kyi, its leader.  Is meaningful censure an answer, or is innate tribalism an unconquerable primitive amygdala response?
The top five refugee hosting countries might also come as a surprise.  Amid all the news of Angela Merkel's generous offer to accept everyone entering her country, Germany is not one of them.  Shortly thereafter her party lost by-elections and she is departing.  The actual figures are Turkey (3.5 million), Pakistan (1.4 million), Uganda (1.4 million), Lebanon (1 million) and Iran (0.98 million).  The chaos in countries adjoining them (think of Afghanistan, Iraq, Syria and Somalia) explains why, and the great power with a finger in each pie, when not actually baking it, is also not difficult to discern.
Imagine being forced to flee with just the clothes on your back or just a bag.  A word here also for the people who had to do just that to escape wildfires.  They all have our heartfelt sympathy, often taking a concrete form through donations to help.  A happy new year to everyone and a better one for the unfortunate among us.  We can try to make it so.