Saudi Arabia, UAE footprint in Eritrea- Ethiopia rapprochement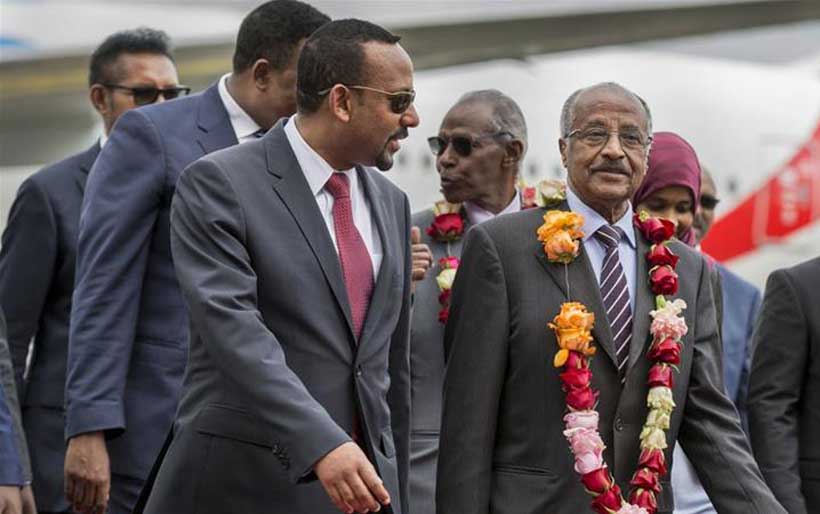 In a landmark visit, Ethiopia's Prime Minister Abiy Ahmed landed in the Eritrean capital, Asmara, on Sunday, for a bilateral summit, aimed at repairing relations between the two countries. Eritrean President Isaias Afwerki warmly greeted Abiy at the airport, Eritrea's state television showed.
The visit comes a month after Abiy surprised people by fully accepting a peace deal that ended a two-year border war between the two countries. The meeting sparkled hope for the halt of one of the most difficult African crises.
Eritrea became independent in 1993 after three years of war, but again the conflict between Asmara and Ethiopia in 1998 arose over disagreement on border delineation, primarily at Badme, and that was the end of diplomatic relations between the two states. However, Eritrea has a permanent delegation in Addis Ababa, representing the African Union.
Then the conflict flared into armed clashes. Although Badme was being administered by Ethiopia, with an MP and an administration, Eritrea said maps clearly showed the territory to be Eritrean and in May sent in troops to occupy the area.
From 1998 to 2000, the border wars claimed some 80,000 lives from both sides, but the Algiers Agreement ended the conflict.  However, the president of Eritrea broke international law and triggered the war by invading Ethiopia, abusing the Ethiopian opposition to the verdict on the borders, taking repressive measures such as imprisoning dissidents and refraining from implementing law and adopting strict military rules.
Eritrea, Ethiopia economic interests in resolving the conflicts
Some analysts have argued that, the border conflicts had halted Eritrean affairs over the past 20 years, and all the issues were overshadowed by these clashes. The Ethiopian prime minister took the first step in resolving the conflict in June, announcing that his troops would withdraw from the Badme region and other border areas.
A high-level Eritrean delegation led by Foreign Minister Osman Saleh had earlier visited the Ethiopian capital, Addis Ababa, last month for peace talks, a meeting that was followed by a news conference.
Eritrea and Ethiopia are among the least developed countries in the Horn of Africa. Although the Ethiopian economy has grown significantly in recent years, the Eritrean economy was suffering and had dropped to a record low. Analysts believe that although realization of peace between the two states is in the interest of both, Eritrea's economy will enjoy a greater benefit of the rapprochement.
In addition, the peace talks can attract foreign investors to Eritrea. The end of "state of war" will help Ethiopia solve its problem of not having a sea passage, because after the independence of Eritrea overlooking the Red Sea in 1993, the issue aroused for Ethiopia.
The war between the two countries has caused much difficulty for Ethiopian trade through the ports of Eritrea and the Red Sea, and this peace will help rebuild economic activities to the time prior to conflicts.
At first glance, it seems as if the two countries realized the necessity of bilateral relations, but the fact is there was involvement of foreign countries in the peace talks. Some believe that Washington, an ally of Ethiopia, does not require the country to adhere to the border agreement.
Perhaps the U.S. has come to the conclusion that it is time to make a new alliance as Djibouti, located in the vicinity of Ethiopia and Eritrea, has allowed China to build a military base on its territory. So, given the geopolitical developments in the Red Sea and the Chinese military presence in the United Arab Emirates, America sees its interest in improving relations with Eritrea.
Saudis and Emiratis footprint in African conflicts
In general, the African continent is of great importance to Saudi Arabia and the United Arab Emirates, and these two countries have set their strategic interests on the continent. In many cases, Riyadh and Abu Dhabi have benefited from the support of their African allies in regional conflicts. For example, they have called on African countries, to cut off relations with Iran and Qatar or to engage in military aggression in Yemen in their support.
The poor African states, relying highly on Saudi and Emirati donations, bow down to the two Arab states' demands. Out of fear of losing alliance and leaving a positive image on the world, Riyadh and Abu Dhabi acted as a mediators in the built up tensions among African states, namely Eritrea and Ethiopia. That would also fulfill their objective of preventing the African states side with Iran or Qatar.
In recent years, Eritrea has improved relations with Saudi Arabia and the UAE has too set up a military base in southern harbor of Eritrea.
Riyadh and Abu Dhabi, both Ethiopia's allies, played an active role in Ethiopian prime minister's decision to negotiate with Eritrea with their financial sponsorship.
The unprecedented and controversial trip of Abu Dhabi's crown prince to Ethiopia last month, in the light of the agreement between the two African states, as they poured in $3 billion was a proof of the UAE push in the two states peace talks.
In any case, it appears that the Arab states of the Persian Gulf and, above all, the UAE and Saudi Arabia are making attempts to establish a new regional system based on which the security of the Persian Gulf region is tied to the security of the Horn of Africa region, and for the same reason strengthening their foothold on the African continent and, in appearance, pursuing peace and reconciliation among its political and economic allies.
First published in our partner MNA
Fuelling peace through dialogue over natural resources in Sudan's West Kordofan
Niematian village in Al-Muglad area of West Kordofan State shares many similarities with other neighbouring villages and towns in the province, where crop-farming, grazing and small-scale trade are the mainstays of the local economy.
Pastoralists of West Kordofan were greatly affected by the 2011 secession of South Sudan, which hindered them from crossing the border as they had done previously in search of pasture and water for their herds.
This has led to concentration of livestock in the already fragile grazing areas in the state, overgrazing around permanent water points and potential conflict with farmers, spread of diseases and livestock death.
Niematian has also experienced a considerable population increase, arising mainly from displaced communities from the Hamar tribe, in the state's North Babanusa area, and Dinka refugees from South Sudan and the disputed region of Abyei.
This rapid population growth, coupled with failing environmental governance structures, has fuelled environmental degradation. It has also spurred tensions and conflict over land, which on many occasions have resulted in violence.
Between June 2015 and August 2018, UN Environment, with funding from the European Union, implemented the Promoting Peace Over Natural Resources in Darfur and Kordofan project. The project aimed to improve the capacity to resolve resource-based conflicts and to manage natural resources more sustainably and equitably.
The 39-month project was implemented across five areas in West Darfur (Kerenik and Mornie), Central Darfur (Azum) and West Kordofan (Muglad and Babanusa). It was delivered in partnership with two national non-governmental organizations: the Darfur Development and Reconstruction Agency (DDRA) in West and Central Darfur, and SOS Sahel Sudan (SOS Sahel) in West Kordofan.
In 2016, there was an unprecedented situation in Niematian village after farmers expanded their agricultural fields and encroached agreed migratory routes, thus denying pastoralists access to water for themselves and their livestock.
However, thanks to a local reconciliation committee, the dispute was managed and the tension diffused in a thoughtful and reliable way.
"To prevent similar conflicts in future, a peace forum was held in Niematian village January 2017 with the support of SOS Sahel. Community and tribal leaders briefed communities on the forum's objective and invited five members from each of the 18 sub-villages along the central migratory route to participate in the peace forum," says Atila Uras, UN Environment's Sudan Country Programme Manager.
The local administration brought together leaders of the tribes in conflict to not only jointly identify violations but to also explore ways to strengthen relations between them.
The Niematian reconciliation committee, which comprised local leaders from the Dinka, Hamar and Misseriya tribes, continues to resolve conflicts over land use in accordance with customary law.
Furthermore, through a seasonal agricultural committee, which is activated during the rainy season, the tribal leaders in Niematian have been implementing the taleg, traditional rules and customs, to allow free access to crop residue by pastoralists after the collection of harvest by farmers.
"As a result of the forum, and the consequent dialogue, we witnessed a 60 per cent reduction in conflict," says Bashtanah Mohamed Salim, a local leader from the Misseriya tribe who played a key role in establishing the Niematian peace forum in 2017.
Thanks to the project, conflict resolution training was provided to both local government officials and tribal leaders in all the three states.
In West Kordofan State, the training was delivered in collaboration with the Peace and Development Studies Centre in the state capital Al Fula. It provided tailored guidance on conflict analysis, carrying out risk assessments to intervene prior to conflict, and communications and mediations skills.
In 2008, cognizant of the need to make resource scarcity and competition a platform for cooperation rather than conflict, UN Environment established its Environmental Cooperation for Peacebuilding programme. The initiative seeks to address critical knowledge gaps on the role of natural resources in identifying conflict risks and peacebuilding opportunities.
Between 2009 and 2015, the programme co-generated 150 original peer-reviewed case studies by 225 experts and practitioners, covering 12 natural resource sectors across 60 conflict-affected countries. It also provided technical analysis and environmental diplomacy support to Western Sahara, Haiti, the Dominican Republic, Papua New Guinea, the Sahel region, Sudan and Nigeria to address ongoing or potential resource disputes. In February 2015, the United Nations Department of Political Affairs and UN Environment jointly published Natural Resources and Conflict: A guide for mediation practitioners.
UN Environment has also, in collaboration with the Environmental Law Institute, the Earth Institute at Columbia University, Duke University and the University of California at Irvine, developed a groundbreaking massive open online course on environmental security and sustaining peace.
Russia wants to bolster economic ties with Lesotho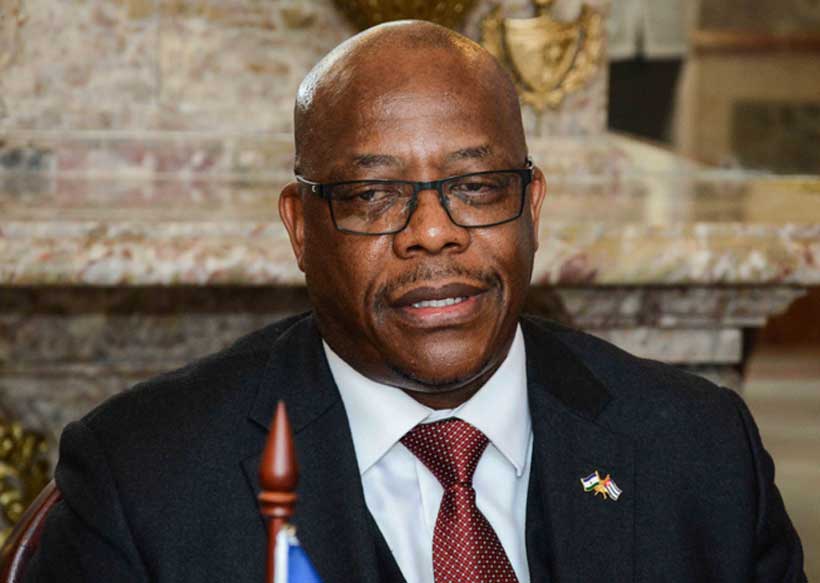 In southern Russian city Sochi, Russian Foreign Minister, Sergey Lavrov, and the Minister of Foreign Affairs and International Relations of the Kingdom of Lesotho, Lesego Makgothi, held wide-ranging diplomatic talks mid-February to understand deeply how to continue to build upon relations in numerous areas especially economic cooperation.
Makgothi, who has been Minister since 2017, made his first official trip to Moscow.
According to the official media release, Lavrov and Makgothi exchanged views on important global and regional issues, including Russia's participation in international efforts to resolve conflicts and crises in Africa and some ways to ensure sustainable socioeconomic development of the continent.
They noted a desire to expand these relations in all areas, beginning with the political dialogue and then cooperation within international organizations, as well as in trade and economic, cultural and humanitarian areas.
During the discussion, both noted geological prospecting, mining and the energy industry as promising areas. The economy is based on agriculture, livestock, manufacturing and mining. Water and diamonds are its significant natural resources.
Both ministers also focused on cooperation in education exchanges. Russia has expanded the quota by five times for students from Lesotho. This will make it possible to meet the interests of Lesotho and to train specialists in healthcare, meteorology and mining starting next academic year, 2019/20.
There was also the possibility of sending law enforcement officers to study in advanced training courses at the educational institutions under the Russian Interior Ministry.
Lavrov informed that an inter-parliamentary Russian-African conference has been scheduled to take place later this year, and Russia would host a general meeting of the African Export-Import Bank's shareholders.
Lavrov and Makgothi believed that this would make it possible to considerably raise the level of cooperation and to chart specific ways of further enriching Russia's relations with Africa. He invited Makgothi to attend the St. Petersburg International Economic Forum scheduled for June.
In general, Lavrov and Makgothi advocated for greater cooperation between Russia and the African countries in all areas, primarily within the context of a proposal put forward by President of the Russian Federation, Vladimir Putin, at the BRICS summit in July 2018 in Johannesburg, South Africa.
Lesotho's geographic location, the southernmost landlocked country in the world and is entirely surrounded by South Africa, makes it extremely vulnerable to political and economic developments in South Africa.
Relations between the two countries were established soon after Lesotho gained independence in 1966. Lesotho, with about 2.5 million population, is a member of the Southern African Development Community (SADC).
'Endemic' sexual violence surging in South Sudan
A surge in sexual violence in South Sudan's Unity state targeting victims as young as eight years old, has prompted a call from the UN human rights office, OHCHR, for urgent Government measures to protect victims, and bring perpetrators to justice.
Despite the signing of a peace deal between belligerents last September, UN investigators found that at least 175 women and girls have been raped or suffered other sexual and physical violence between September and December 2018.
The actual level of violence is likely to be considerably higher, OHCHR spokesperson Rupert Colville told journalists in Geneva on Friday.
"Obviously (it is) not the whole picture, but they found 175, women and girls who had been either raped, gang-raped or sexually assaulted or physically harmed in other ways," he said. "And 49 of those girls who were raped, were children."
According to a joint report by OHCHR and the UN Mission in South Sudan (UNMISS), attacks against women have decreased significantly since the peace accord was signed on 12 September.
Nonetheless, it warns that such incidents are "endemic" in northern Unity state, on the border with Sudan, creating a sense among communities that it is normal to be a victim of sexual violence.
Victim's testimony recalls recurring attacks
Citing the testimony of one victim, Mr. Colville explained that many women are raped while fetching firewood, food or water – often more than once – as they lack any protection.
"She said, 'If we go by the main road we are raped, if we go by the bush, we are raped. I was raped among others in the same area repeatedly on three separate occasions."
The surge in conflict-related sexual violence is attributed to many factors including the breakdown in the rule of law, the destruction of livelihoods, forced displacement and food insecurity, after years of civil war.
Large numbers of armed young men, a 'toxic mix'
But one of the main reasons is the large number of fighters in the area, who have yet to be reintegrated into the national army, according to the peace deal.
Most of the attacks are reported to have been carried out by youth militia groups and elements of the pro-Taban Deng Sudan People's Liberation Army in Opposition, SPLA-IO (TD), as well as South Sudan People's Defence Forces (SSPDF).
In a few cases, attacks were perpetrated by members of the group affiliated with reinstated Vice President and peace deal participant, Riek Machar, Sudan People's Liberation Army in Opposition (SPLA-IO (RM), the UN report says.
"Particularly in this area, there are essentially three main groups who…are involved in these rapes, including the National Government force," said Mr. Colville. "And a lot of these young men who are heavily armed, are just waiting around…This is a very toxic mix, and there are also youth militia which some of these official groups ally with and you don't know exactly who they are; they've been heavily involved as well."
Rule of law 'just not applied'
A key challenge is tackling the prevailing impunity throughout Unity state, which is linked to the volatility of the situation across the country, OHCHR maintains.
"There's been very little accountability in South Sudan for what is chronic, endemic problem of sexual violence against women and girls," Mr. Colville said. "Virtually complete impunity over the years, as a result, very little disincentive for these men not to do what they're doing. The rule of law has just not been applied."
Mobile courts provide glimmer of hope for victims
Among the practical measures taken to a bid to help vulnerable communities in Unity state, UNMISS has cleared roadsides to prevent attackers from hiding from potential victims.
A mobile court system is also operational in towns, including Bentiu, which has had "some success" in bringing perpetrators to trial, OHCHR's Mr. Colville said, noting nonetheless that "this is just a drop in the ocean".
"There are thousands and thousands of perpetrators, there are officers involved, there are commanders who've got command responsibility who instead of being investigated and brought to book…have been promoted, and are still in charge of groups operating in this area who are still raping women," he concluded.