Dilemma of Strengthening Democracy in Pakistan
No country can achieve political stability without the active coordination of different state institutions working within their own specified parameters. For a nation to keep moving smoothly on the road to prosperity and maintaining national cohesion, consensus among political forces and other stakeholders is mandatory. History of developed and successful democratic nations is evidence of such instances in which political stability came out as a result of collective national wisdom.
Talking about Pakistan's political dilemma, a few things become very clear that certain impediments had always been there right from the emergence of Pakistan as an independent state. Due to the internal politics in the power corridors, Pakistan was unable to formulate its constitution till 1956. Soon after that, in 1958, as a consequence of a long spell of endless political differences of the politicians in power and related lack of efficiency in handling the government affairs, the very first Martial Law was imposed. As a result the country was ruled by the military General Ayub Khan, although in that period Pakistan was able to achieve high economic growth progress. Since then, Pakistan has faced four martial laws till date.
Apart from these military takeovers and running of the governments by the military leaders for almost thirty years at different times, the elected civilian governments have also ruled the country for about 40 years. It is a popular perception among the majority of masses that the politicians adopt malpractices like nepotism, aristocratic behavior, change of loyalties etc and do not run the government affairs efficiently, which motivates the military leaders to take over the affairs of the country. However, whatever the reason may be, there is no justification to not allow the democracy to strengthen its roots, as according to Pakistan's founding fathers, Pakistan's future lies only in the democracy.
Although not likeable, but perceivably different military leaders took over the governments based on certain grounds, propagated mainly due to the inability of the civilian leaders to govern the country efficiently and their attitude of encouraging corruption, thus, undermining Pakistan's socioeconomic development and its foreign and defence policy objectives. For instance, in 1958, the politicians' inability to govern the diverse two part country inevitably invited Ayub Khan to take over. Similarly, in 1969 when Ayub's presidential democracy failed on some accounts he had to hand over the power to General Yahya Khan.
Again in 1977, when the opposition parties failed to admit the election results and Bhutto was unable to bring the opposing politicians to negotiation tables,  Zia-UL-Haq was motivated to take over, as some politicians, including late Air Marshall (R) Asghar Khan had advised General Zia to take over reins of the government. In 1999, when the then PM Nawaz Sharif sacked General Pervez while he was on the flight from Sri Lanka, back from his visit, in reaction, General Pervez Musharraf ordered a military takeover by alleging PM Nawaz Sharif that he had tried to hijack the PIA plane carrying General Pervez Mushrraf and many other passengers, by ordering that plane to land somewhere else instead of Karachi airport.
Although, elected civilian were governing the country since 2008, in view of various apprehensions the political atmosphere remained ripe with the news stories of the civil-military divide and possibilities of the military take over being there. This situation was there because on most of the national issues and defence and foreign matters both civilian and the military leadership did not seem to be on the same page. However, apprehensions about military's alleged role in the politics are still there, despite the current Chief of the Army Staff's negation stating that the military supports democracy in the country.
Broadly seeing through the efficiency of the civilian political leadership in strengthening democracy by cooperative politics and working on national issues with consensus, the civilian leaders are still not working as per the people's aspirations. Many of our politicians are involved in corrupt practices. Those who declare themselves Mr. clean have not much reliable past. So far, they have not been able to prove through their efficiency that politicians can provide Pakistan with the best form of the government that can make Pakistan a welfare state providing equal opportunities to everybody. Although, it is not an excuse for military powers to intervene in politics. Hence the problem is that how this desired sustainable and durable system will come into Pakistan, because inefficiency and corrupt practices of the politicians still offer chances to the military leaders to take over the government in Pakistan.
It is also a historical fact that Pakistan, because of its ideological mythology and geographical proximity has always been a security state. It has yet to achieve the objective of a welfare state, which is a way to address the present internal and external issues of Pakistan.  Furthermore, the public perception of military institution is as a disciplined, honest and purely nationalistic institution, which majority of our politicians' lack. The supremacy of civil institutions is alright, but to achieve it the political pundits in Pakistan has to prove themselves loyal, honest and men of words and actions. Also, both sides have to recognize each other's constitutional role in true letter and spirit.
Neither military nor political leadership can handle the prevailing issues of Pakistan single handedly. The need of the hour is to cooperate with each other on domestic, defence and foreign policy issues. Since, the foreign policy of any country is the outcome of its internal strength, domestic peace, prosperity and national cohesion leads to a strong and effective foreign policy. This fact needs to be understood by all stakeholders. Hence every institution should remain in its own domain to strengthen government hands to serve the county in all areas, particularly in carrying out socioeconomic development of the country and running of strong foreign and defence policies. In this context, democracy will be only sustained and strengthened if all national institutions work in their own domains and mutually cooperate to maintain a good atmosphere for development of the country.
To avoid future military takeovers, sustain democracy and develop economically, we can also learn from our friendly country, Turkey. Turkey has also suffered such political upheavals in their history, but now they have managed to restrict the influence of each institution to its own sphere. Though, Pakistan's scenario is somewhat different, but things are not as bad as  perceived by some people in Pakistan. As a student of international politics, my personal opinion about the future of Pakistan seems very bright if our politicians follow the guidelines of our founding fathers and military establishment concentrates on its own responsibilities and always gives a helping hand to the civilian governments.
"Haqeeqi Azaadi" or "Political Invasion"?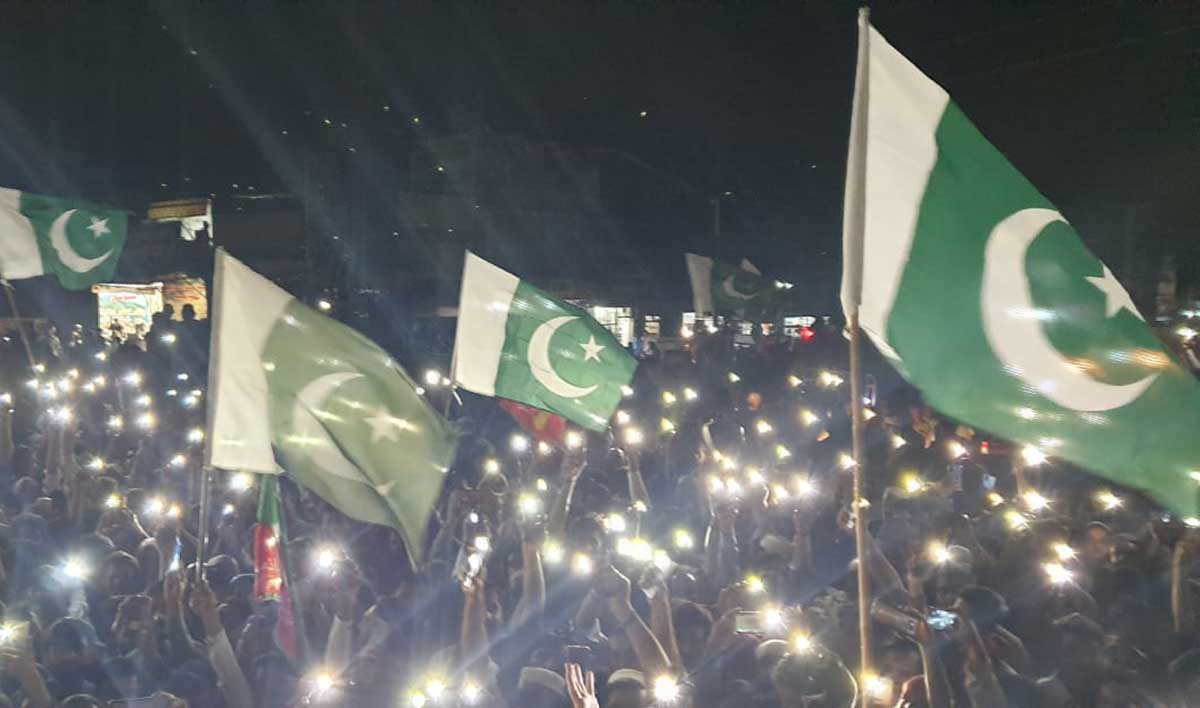 You call it a "Long March" or an "Azaadi March" or a "Haqeeqi Azaadi March" and lastly according to some people "Political invasion of the capital"; whatever attempt it may be, the impact of this "Long March" will not be "Short" at all. Seems like history is repeating. Yesterday, it was PTI, later it was TLP, then JUIF, PDM & now again PTI. This reminds us about a Supreme Court's historic judgment on Faizabad Sit in by Supreme Court, which is quite relevant again in these crucial times. The historic judgment of Supreme Court on Suo moto quotes that "The leaders of the dharna intimidated, hurled threats, abused, provoked and promoted hatred. The media provided unabated coverage. Inflammatory speeches were delivered by irresponsible politicians. Some unscrupulous talk-show hosts incited and provoked citizens." Isn't the situation once again similar? Doesn't it seem like history is repeating? Few analysts consider it to be a worst kind of situation.
Supreme Court writes in its judgment that "the freedom of speech and expression and of the press are fundamental right. However, these rights cannot be used to denigrate or undermine the glory of Islam, security or defence of Pakistan, friendly relations with foreign States, public order, decency or morality or in relation to contempt of court, or commission of or incitement to an offence. He categorically mentions that "PEMRA Ordinance mirrors the restrictions as set out in Article 19 of the Constitution and further prohibits broadcasts which are, "likely to create hatred among the people or is prejudicial to the maintenance of law and order or is likely to disturb public peace and tranquility." So, Supreme Court has already given clear instructions that if some event is likely to disrupt peace and tranquility, media broadcasts can be prohibited.
Insiders say that we are in a dead end and this is the most crucial time of history for Pakistan, especially when the economic fate has to be decided by IMF on 25th May when Imran khan marches on Islamabad. So let's playout the possible upcoming scenarios which political stakeholders may have to consider;
Marching towards Islamabad with huge crowds is one thing but forcing a government to dissolve assemblies with this crowd is another thing. Imran Khan very well knows this is a do or die situation for his political career as well. He knows his March will only succeed if he can force an early election.
Bringing larger mobs to Islamabad will only be fruitful if there is some kind of disruption by the present government or by the PTI itself. IK knows that a prolonged sit in without happenings in the red zone won't be impactful.
PTI leaders have been repeatedly convincing people including government employees, Army officers and police to bring their families in their Haqeeqi Azaadi March. The question which arises is that "Why IK doesn't bring own family members to join the "Jihad" or "Haqeeqi Azaadi"?
IMF has to take crucial decision on Pakistan's economic fate. Without an IMF Package, a Srilanka type scenario may arise. The decision will come on the same date as of long march, on 25th May. This is a do or die situation for Pakistan's economy. So the leaders of this March should definitely come with a futuristic economic plan and tell the masses how will they get rid of this dire economic situation.
While Srinagar Highway will be full of Marchers led by the so-called Ambassador of Kashmir, a big decision is expected to come from Srinagar about Yasin Malik. Unfortunately, it is expected that his sentencing maybe announced on 25th May as well.
The government also has limited options. They are arresting leaders of PTI. They are raiding houses in their own panic mode which will further incite the situation. The removal of fuel subsidiary has become inevitable and when it happens it will be the most unpopular decision. Rising, Inflation will cut purchasing power. Finalization of IMF program has brought them to a dead end.
The dread is in the air. 25th May is around the corner. It is Crucial. It is Do or Die for Pakistan. We must fear!!
When Politics turns Personal; The Toxic Allegations & Accusations become a Norm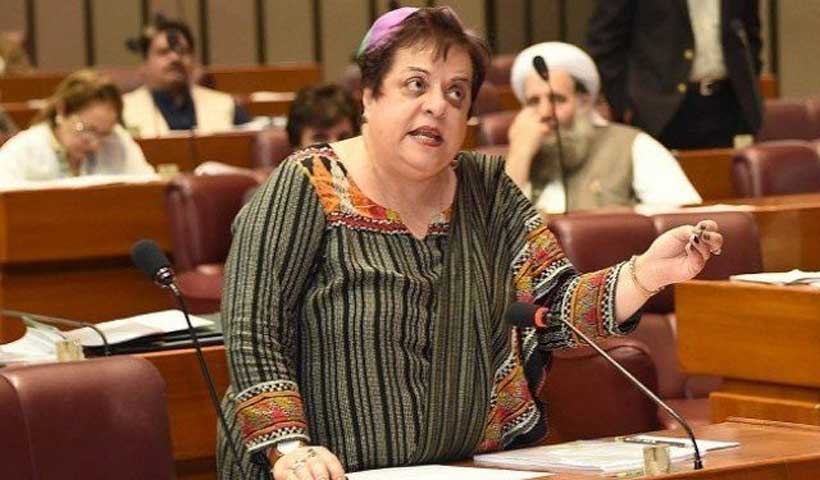 There is something happening beneath this political turmoil which is NOT looking good!!
Whenever Political landscape turns into a Personal battleground, defeats become unacceptable. These past few days are a perfect case study to see that how Political elite in Pakistan has done whatever it took it to stay in power. In this power grab scenario, there could be numerous losses including the integrity of institutions. We have unfortunately entered into a very dangerous phase, where some political stakeholders have put all stakes at risk, where they have stretched their limits beyond a constitutional limit, all to gather mass support, all to stay in power and avoid defeat. Is it a threat of losing power? Is it a double game? Is it a practical hybrid war we are fighting? Whatever it is, it doesn't seem to be good. All is at stake, all is at risk and all is toxic.
As if the political temperature was not noxious enough, Shireen Mazari Saga took place. Once again, accusations, allegations and assumptions started pouring in against the state institutions. Soon after her arrest, her daughter, a lawyer herself Imaan Zainab Mazari alleged that her mother was beaten by male police officers during the arrest. But few minutes later, a video clip surfaced that showed clearly that her mother was arrested by Female Police officers in broad daylight and as per the law. Lie number 1 of the daughter stood exposed. Within moments, without any cogent evidence the lady, known for many controversies in the past targeted state institution for such an act, although the anti-corruption already had taken responsibility of her arrest.
Abuse of power can never be tolerated, regardless of who it targets or from where it emanates. This mantra is true and everyone has an equal belief on it but let's take a deep dive to see that how politics turned dirty in this case, how blame game took place and how this entire episode was used as a tool to churn propaganda against Army leadership and Armed Forces.
1. The anti-corruption police had arrested Shireen Mazari and she herself accepted that Prime Minister and Interior minister were responsible for my arrest. But the mother daughter nexus brazenly started blaming institutions without any solid evidence. Shouldn't there be an inquiry on this too?
2. PTI was always of the opinion that why courts were opened mid night to send IK packing while he wasn't listening to anyone however when same court gave a verdict in favor of PTI ex minister, late night, it was celebrated and much appreciated by Shireen Mazari & IK who have been spearheading anti judicial tirade until recently. Isn't it blatant hypocrisy? Judicial inquiry has been ordered by the Court which is a positive sign, but the serious allegations which Mazari nexus have raised must also be inquired during this newly formed judicial inquiry. Should the Judiciary not question them on hurling these baseless allegations?
3. The present government, whose Police itself arrested Shireen Mazari disowned this attempt. Attorney General displayed his ignorance about the matter in front of the court. So, somehow the government created this impression in the public eye that they are not to be blamed for the arrest of Shireen Mazari. Was it a double game? Or a deliberate effort to discredit institutions?
Pakistan is already facing serious economic downfall, political uncertainty and civil strife. PTI has also announced Long March to Islamabad on 25th May which is likely to further exacerbate already fragile political and economic instability. It has become quite evident now for achieving petty political ends, our political elite has no serious resolve to address the crisis confronting the country. Country is being deliberately pushed to limits of economic and political dead end. The political immaturity and lack of vision to handle the crisis situation is also hurting the repute of institutions amidst internal political wrangling. If political leadership doesn't come to grips of the critical situation prevailing which is likely to aggravate further in coming days, people of Pakistan in particular and the country in general are likely to suffer unprecedented damage. Political elite must put its acts together and steer the country out of prevalent political and economic crisis by showing sagacity and political wisdom until it's too late.
Accusations to Acknowledgement: The Battle of Article 63 A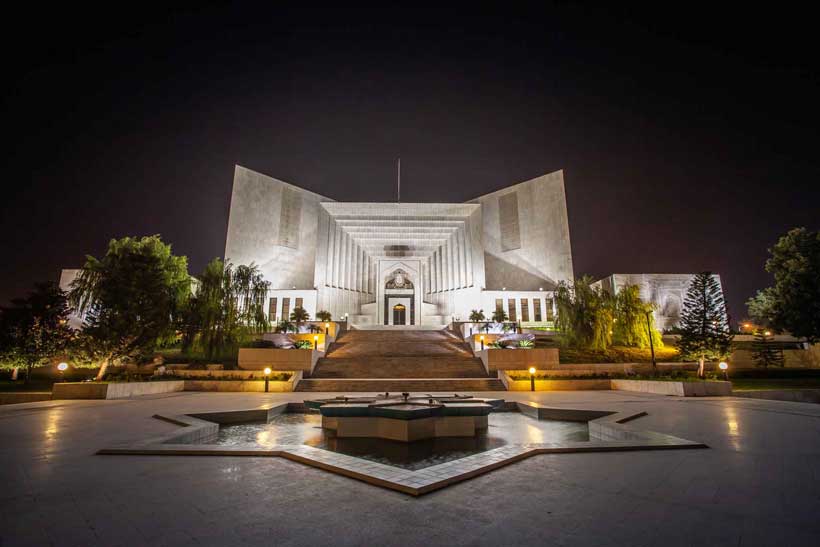 The weather is heating up. As the May is ending, Political temperatures are soaring. The fate regarding the country's political and economic stability will be measured in the upcoming days. Earlier, PDM built momentum by taking on institutions. Maryam Nawaz raised the temperature by targeting key personalities and institutions. Allegations were bursting against the institutions in all dimensions. Today, we witness reversal of roles. Accusations have been outflowing in every Jalsa by PTI. But now suddenly, the "accusations" turned into "acknowledgment". "Complaints" started transforming into "Compliments". Is it the change of narrative? Is it another U-turn? Or is it the restoration of confidence in the institutions? Where will this chaos end?
The Supreme Court's "decision" or as they say "opinion" or "binding" on Article 63 A has raised some pertinent questions on the status of CM Punjab election? In the interpretation of Article 63 A of the constitution, the Supreme court categorically condemns the practice of horse trading by calling it "a cancer afflicting the body politic". Supreme Court in its decision of 3-2 rejected the vote count of these dissident members against the party directives. So the future of the Chief Executive of Punjab is now under threat because it is contrary to what happened in National Assembly. The political instability continues and the situation is messy.
In light of this verdict, Hamza has a support of 172 MPAs in Punjab assembly but at the same time, he also has 4 dissenting members which draws the figure to 168. Now further moving ahead, PTI and alliance also has a collective figure of 168 votes minus 21 dissenting members. The situation here in Punjab is way too complex now. A support of 186 members is required for a clear majority in Punjab assembly to formulate a government. This current Punjab government can either fall through a governor led vote of no confidence or a Supreme court order. The governor even has a right to dissolve the assembly with his discretionary powers according to Article 112 (2) of the constitution. Supreme Court has already made its decision on cross voting against Party fiat. Now legal experts are interpreting the decision in their own dictionaries. What will happen in Punjab? What will happen on the federal level? Will there be an election call? If so, what will be the care taker setup? Will there be a fresh mandate? Who will make the hard economic decisions? Lot needs to be answered in these crucial times.
From "My judges disappointed me" to "Thankyou Supreme Court", a lot has happened and a lot is ready to take place. Islamabad is full of gossips, interpretations, whispers and predictions these days. There is something seething under this political turmoil. The Red zone is under a lot of pressure whether politically or economically. Pre – Elections, Elections and then Post elections, we have a lot of consequences of a lot of hard decisions. But hard decisions need to be taken. Question is who is ready to make the hard choices? Be Afraid!!