How ICT is transforming and making our societies more resilient
Together with the International Telecommunication Union (ITU) and other partners, the United Nations Industrial Development Organization (UNIDO) has organized a side event at the UN High-level Political Forum on Sustainable Development (HLPF) to explore how information and communication technology (ICT) is transforming and making our societies more resilient.
The HLPF, which runs through to 18 July, brings together more than a thousand government, business and civil society leaders. The Forum, which meets annually under the auspices of ECOSOC, is a platform for the exchange of experiences in the implementation of the Sustainable Development Goals (SDGs), identifying gaps and lessons learned.
A selected multi-stakeholder panel at the side event, "ICT enabling the transformation towards sustainable and resilient societies", included government, business and the UN. Participants discussed how digital technologies are improving productivity and competitiveness, pointing out that recent studies confirm that digitalization has immense potential that could deliver around $100 trillion in value to business and society over the next decade. It was also noted that digital solutions have the potential to enhance resource optimization and efficiency in water and energy consumption.
Providing a UN perspective, UNIDO's Takeshi Nagasawa said, "The sustainable energy transition and Industry 4.0 share important characteristics that can be interconnected to pursue a sustainable energy transition. Such integrated approaches could be guided by the SDGs, which provide important target setting for energy, climate change and industry," adding that UNIDO has "the capability and relevant portfolio to foster Industry 4.0 across all stages of industrial development."
ICTP to Inaugurate New Quantum Technologies Institute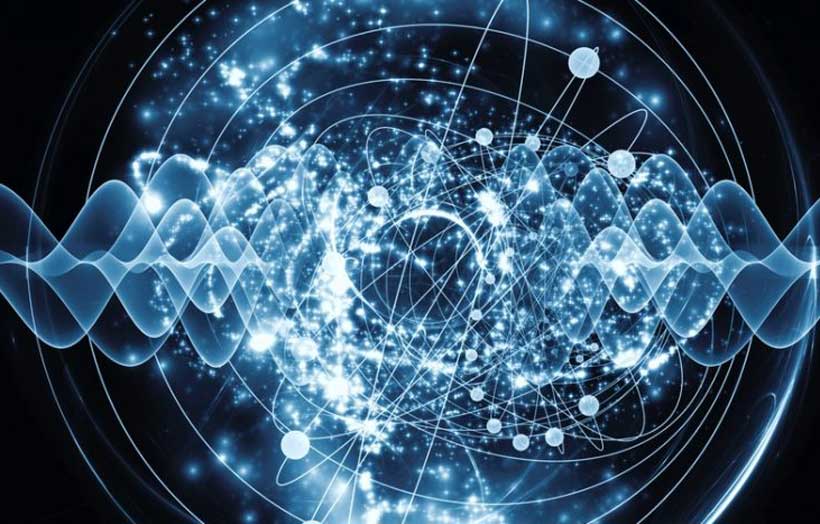 On 25 March, UNESCO's Abdus Salam International Centre for Theoretical Physics (ICTP) will launch a new institute dedicated to the study of quantum technologies. The Trieste Institute for Theoretical Quantum Technologies (TQT) is a joint initiative with the University of Trieste and the International School for Advanced Studies (SISSA). The new centre will provide a hub for the partners' research and training activities on this topic.
The creation of the institute comes as the ICTP builds on a series of recent successes in the field of quantum technologies. On 9 November 2018, Marcello Dalmonte from ICTP's Condensed Matter and Statistical Physics Section learned that he was among the recipients of a research grant offered by a major European initiative to develop quantum technology called the Quantum Flagship.
The European Commission has endowed the Quantum Flagship with €1 billion over the next 10 years. For the first three-year phase, Marcello Dalmonte will be acting as co-principal investigator of a research project that will focus on quantum simulation, one of the Flagship's five research themes. Quantum simulators study quantum systems, such as the atomic make-up of materials or chemical reactions, performing tasks that are too complex for the most powerful, transistor-based classical computers.
In early 2017, ICTP researcher Antonello Scardicchio was awarded a Google Faculty Research Award for work related to quantum computing. The US$72,000 in seed funding will be used to support graduate students and postdoctoral associates working in his group.
'Researchers in computer science and physics see quantum computation as being the next frontier. Quantum computing promises a future of unprecedented computing speed,' says Scardicchio, before adding that 'this is slowly becoming a reality, with IBM and Google already producing quantum computing chips that will someday drive a quantum machine. The creation of the first quantum computer will certainly have an impact on artificial intelligence (AI) by enabling us to solve more complex problems.'
The TQT will provide a hub for the study of the future of AI on quantum devices, offering in parallel a convenient link to private actors such as Google and IBM.
The ICTP first identified AI and data science as being critical areas for research and training in 2010, while brainstorming on the contours of its new multiyear strategic plan. The ICTP is currently recruiting a staff scientist in AI and data science.
The TQT will complement these activities, while providing a valuable venue for imparting cutting-edge knowledge to the thousands of scientists from developing countries who travel to the ICTP each year for education and training opportunities.
The Centre already has several conferences on quantum technology lined up for 2019. These include the Advanced School and Workshop on Ubiquitous Quantum Physics: the New Quantum Revolution from 18 to 22 February and the School on Advances in Condensed Matter Physics: New Trends and Materials in Quantum Technologies, which will run from 7 to 15 May.
How can artificial intelligence enhance education?
The transformative power of Artificial Intelligence (AI) in education cuts across all economic and social sectors, including education.
"Education will be profoundly transformed by AI," says UNESCO Director-General Audrey Azoulay. "Teaching tools, ways of learning, access to knowledge, and teacher training will be revolutionized."
AI has the potential to accelerate the process of achieving the global education goals through reducing barriers to access learning, automating management processes, and optimizing methods in order to improve learning outcomes.
This is why UNESCO's upcoming Mobile Learning Week (4-8 March 2019) will focus on AI and its implications for sustainable development. Held annually at UNESCO Headquarters in Paris, the 5-day event offers an exciting mix of high-level plenaries, workshops and hands-on demonstrations. Some 1200 participants have already registered for the event that provides the educational community, governments and other stakeholders a unique opportunity to discuss the opportunities and threats of AI in the area of education.
The discussions will evolve around four key issues:
Ensure inclusive and equitable use of AI in education – including actions on how to address inequalities related to socio-economic status, gender, ethnicity and geographic location; identify successful projects or proved-effective AI solutions to break through barriers for vulnerable groups to access quality education.
Leverage AI to enhance education and learning – improve education management systems, AI-boosted learning management systems or other AI in education applications, and identify new forms of personalized learning that can support teachers and tackle education challenges.
Promote skills development for jobs and life in the AI era – support the design of local, regional and international strategies and policies, consider the readiness of policymakers and other education leaders and stakeholders; and explore how AI-powered mobile technology tools can support skills development and innovation.
Safeguard transparent and auditable use of education data – analyze how to mitigate the risks and perils of AI in education; identify and promote sound evidence for policy formulation guaranteeing accountability, and adopt algorithms that are transparent and explainable to education stakeholders.
During Mobile Learning Week, UNESCO is organizing a Global Conference on AI (Monday 4 March) to raise awareness and promote reflection on the opportunities and challenges that AI and its correlated technologies pose, notably in the area of transparency and accountability. The conference, entitled "AI with Human Values for Sustainable Development" will also explore the potential of AI in relation to the SDGs.
3 Ways Samsung's 2019 Smart TVs Will Change How You Interact with Your TV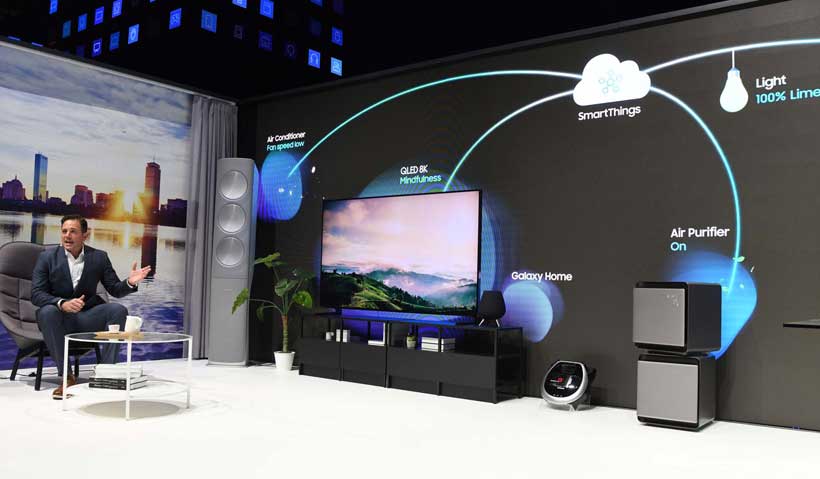 Showcased at CES 2019, Samsung's 2019 Smart TVs signify the next stage in the evolution of intelligent displays, as the screen becomes a hub for content and device connectivity in the home. This year's lineup builds on the innovations of previous years, including the Universal Guide and the One Remote Control, to bring an enriched experience to the home. Equipped with the new Bixby, a voice-powered AI assistant, not only do the 2019 Smart TVs enhance your content experience, but they also widen the reach of connected living.
Below are three key developments for Samsung's 2019 Smart TVs that will change the way you think about content and connectivity at home.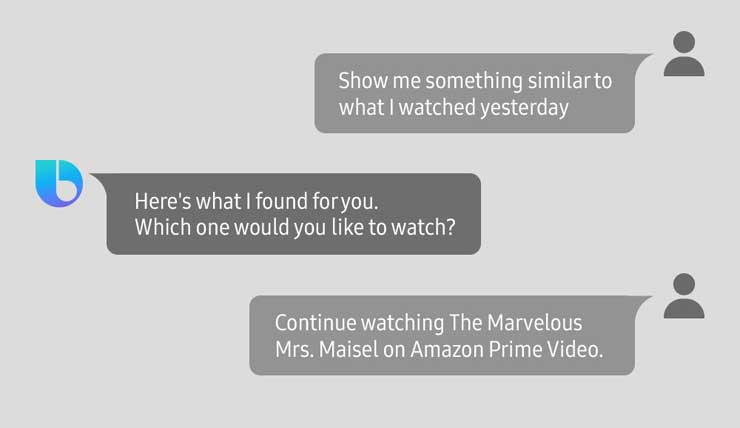 Stronger Partnerships, Even More Content
Samsung has expanded its partnerships to provide a greater variety of content to viewers in 2019. From Over The Top (OTT) and live TV streaming, to free channels and lifestyle media, a large range of content and services are now available to choose from.
What's more, Samsung announced it will offer iTunes Movies and TV Shows and Apple AirPlay 2 support on 2019 Samsung Smart TV models beginning this spring. In an industry first, a new iTunes Movies and TV Shows app will debut only on Samsung Smart TVs in more than 100 countries. AirPlay 2 support will be available on Samsung Smart TVs in 190 countries worldwide.
A More Intelligent Search for Content
With such a vast library of content, sometimes you need a little help finding just what you want to watch, when you want to watch it. The 2019 Smart TVs are equipped with an advanced Universal Guide that analyzes a user's preferences and viewing patterns to provide personalized content suggestions.
Bixby is an AI platform that asks intuitive questions, encouraging sequential conversations to better understand what users have in mind. Just like how people get to know each other better through each conversation they have, Bixby learns more about a user's preferences from each interaction, so the AI platform can make informed suggestions about what to watch.
Users also have more options than ever to quickly and easily find and control their favorite content with just their voice by using new Bixby and the AI Remote
Seamless Connectivity throughout the Home
Samsung 2019 Smart TVs will allow you to control devices around the home with the integrated Smart Thingsdashboard.
SmartThings seamlessly connects and controls smart home devices, delivering an unparalleled connected living experience. Using a SmartThings Hub and Works With SmartThings products from leading smart home brands, users can create automations that control devices or run scenes whenever certain conditions – such as the time of day, device status or the arrival and departure of family members – are met. For example, set the lights to turn on when you arrive home using SmartThings sensors or when your smartphone is nearby using location awareness.
Thanks to the open ecosystem, Samsung's 2019 Smart TV lineup is also capable of seamless interaction with Amazon's Alexa and the Google Assistant. Users can navigate a range of simple operations such as turning the power on/off, controlling the volume, changing channels and launching apps all with their voice assistant of choice.
Whether it's by expanding content partnerships, enhancing AI capabilities or strengthening device connectivity, Samsung is committed to providing users with individual personalization and tailored services for its Smart TVs in 2019. Stay tuned in the coming weeks for more details on Samsung's 2019 Smart TV lineup.