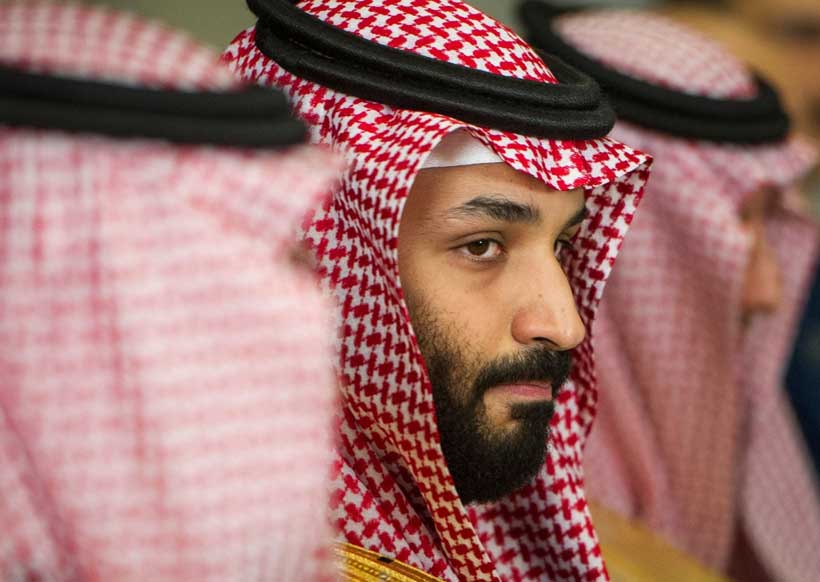 Saudi Crown Prince Mohammed bin Salman could well dash expectations that he is gunning for a break with Sunni Muslim ultra-conservatism rather than a shaving off of the rough edges of Wahhabi ideology that has been woven into the kingdom's fabric since its founding more than eighty years ago.
Prince Mohammed has fuelled expectations by fostering Islamic scholars who advocate a revision of Wahhabism as well as by lifting a ban on women's driving and creating space for entertainment, including music, theatre, film, and, for conservatives, controversial sports events like wrestling.
The expectations were reinforced by the fact that King Salman and Prince Mohammed have called into question the degree to which the rule of the Al Sauds remains dependent on religious legitimization following the crown prince's power grab that moved the kingdom from consensual family to two-man rule in which the monarch and his son's legitimacy are anchored in their image as reformers.
To cement his power, Prince Mohammed has in the past year marginalized establishment religious scholars, detained critics and neutralized members of the elite by arresting relatives, prominent businessmen, and officials and stripping them of much of their assets.
In doing so, Prince Mohammed has subjugated the kingdom's ultra-conservative religious leaders through a combination of intimidation, coercion and exploitation of religious dogma particular to a Saudi strain of ultra-conservatism that stipulates that Muslims should obey their ruler even if he is unjust. Islam "dictates that we should obey and hear the ruler," Prince Mohammed said.
In an optimistic projection of Prince Mohammed's changes, Saudi researcher Eman Alhussein argued that the crown prince's embrace of more free-thinking scholars has encouraged the emergence of more "enlightened sheikhs," allowed some ultra-conservatives to rethink their positions, enabled a greater diversity of opinion, and fundamentally altered the standing of members of the religious establishment.
"The conflicting and different opinions presented by these scholars helps demolish the aura of 'holiness' some of them enjoyed for years… The supposed holiness of religious scholars has elevated them beyond the point where they can be questioned or criticized. Ending this immunity will allow the population to regain trust in their own reasoning, refrain from being fully reliant on scholarly justifications, and bring scholars back to Earth," Ms. Alhussein said.
The crown prince's approach also involves a combination of rewriting the kingdom's religious-political history rather than owning up to responsibility and suppression of religious and secular voices who link religious and social change to political reform.
Some Saudi scholars argue that the degree of change in the kingdom will depend on the range of opinion among religious scholars. They suggest that change will occur when scholars are divided and stall when they speak with one voice. The wide range of opinion among Islamic scholars coupled with Prince Mohammed's autocratic approach would appear, according to the argument of these scholars, to largely give him a free hand. Reality, however, suggests there may be other limits.
"Prince Mohammed is unlikely to pull off a break with the Wahhabi religious establishment because the clerics have proved to be resilient and have displayed a great capacity to adapt to transitions and vagaries of power… The crown prince's public denunciations of extremist ideas and promises to promote moderate Islam have been interpreted as a renewed desire to break with Wahhabism. A closer reading shows that Prince Mohammed primarily condemns the Muslim Brotherhood and jihadists and exonerates Wahhabism," said Nabil Mouline, a historian of Saudi religious scholars and the monarchy.
Mr. Mouline went on to say that "the historical pact between the monarchy and the religious establishment has never been seriously challenged. It has been reinterpreted and redesigned during times of transition or crisis to better reflect changing power relations and enable partners to deal with challenges efficiently."
Predicting that Wahhabism would likely remain a pillar of the kingdom in the medium term, Mr. Mouline cautioned that "any confrontation between the children of Saud and the heirs of Ibn Abd al-Wahhab will be destructive for both."
Prince Mohammed has indeed in word and deed indicated that his reforms may not entail a clean break with Wahhabism and has been ambiguous about the degree of social change that he envisions.
He has yet to say a clear word about lifting Saudi Arabia's system of male guardianship that gives male relatives control of women's lives. Asked about guardianship, Prince Mohammed noted that "we want to move on it and figure out a way to treat this that doesn't harm families and doesn't harm the culture."
Similarly, there is no indication that gender segregation in restaurants and other public places will be formally lifted any time soon. "Today, Saudi women still have not received their full rights. There are rights stipulated in Islam that they still don't have. We have come a very long way and have a short way to go," Prince Mohammed said.
Multiple incidents that illustrate contradictory attitudes in government policy as well as among the public suggest that liberalization and the restructuring of the elite's relationship to Wahhabism could be a process that has only just begun. The incidents, moreover, suggest that Prince Mohammed's top-down approach may rest on shaky ground.
Prince Mohammed last month sacked Ahmad al-Khatib, the head of the entertainment authority he had established after a controversial Russian circus performance in Riyadh, which included women wearing "indecent clothes," sparked online protests.
Complaints of creeping immorality have in the last year returned the religious police, who have been barred by Prince Mohammed from making arrests or questioning people, to caution unrelated men and women from mixing.
The police, officially known as the Commission for the Promotion of Virtue and the Prevention of Vice, said in a statement in 2017 that it was starting "to develop and strengthen fieldwork." It said its officers would have a greater presence on "occasions that require it," such as school holidays.
Saudi sports authorities in April shut down a female fitness centre in Riyadh over a contentious promotional video that appeared to show a woman in figure-hugging workout attire. "We are not going to tolerate this," Saudi sports authority chief Turki al-Sheikh tweeted as he ordered that the centre's license be withdrawn.
A Saudi beauty queen withdrew last December from a Miss Arab World contest after being attacked and threatened online.
Holders of tickets for a concert in Jeddah by Egyptian pop sensation Tamer Hosny were surprised to receive vouchers that warned that "no dancing or swaying" would be allowed at the event. "No dancing or swaying in a concert! It's like putting ice under the sun and asking it not to melt," quipped a critic on Twitter.
Shireen al-Rifaie, a female television, was believed to have fled the kingdom in June after the General Commission for Audio-visual Media said she was being investigated for wearing "indecent" clothes during a report on the lifting of the driving ban for women. Ms. Al-Rifaie's abaya, the garment that fully cloaks a woman's body, was blown open as she was filming on a street a report on what the lifting of the ban meant for women.
While women celebrated last month's lifting of the ban, many appeared apprehensive after activists who had campaign for an end to the ban were arrested calling into question Mohammed's concept of liberalization. Many said they would stay off the streets and monitor reactions.
Police in Mecca said barely two weeks after the lifting of the ban that they were hunting for arsonists who had torched a woman's car. Salma al-Sherif, a 31-year-old cashier, said the men were "opposed to women drivers."
Ms. Al-Sherif said she faced abuse from men in her neighbourhood soon after she began driving in a bid to ease her financial pressures. "From the first day of driving I was subjected to insults from men," she said. Ms. Al-Sherif was showered with messages of support on social media once the incident became public.
"While the lack of concerted resistance thus far towards women driving may in part speak to a more progressive and younger Saudi society, it would be remiss to assume that those opposing such policies have disappeared from view altogether," cautioned Sara Masry, a Middle East analyst who attracted attention in 2015 for her blog detailing her experience as a Saudi woman living in Iran.
In adding speed and drama to the Al Saud and the government's gradual restructuring of its relationship to Wahhabism, Prince Mohammed was building on a process that had been started in 2003 by then Crown Prince Abdullah.
At the time, Prince Abdullah organized the kingdom's first national dialogue conference that brought together 30 religious scholars representing Wahhabi and non-Wahhabi Sunnis, Sufis, Ismaili, and Shiites.
Remarkably, the Wahhabi representatives did not include prominent members of the kingdom's official religious establishment. Moreover, the presence of non-Wahhabis challenged Wahhabism's principle of takfir or excommunication of those deemed to be apostates or non-Muslims that they often apply to Sufis and Shiites.
The conference adopted a charter that countered Wahhabi exclusivity by recognizing the kingdom's intellectual and religious diversity and countering the principle of sadd al-dharai (the blocking of the means),a pillar of Wahhabism that stipulates that actions that could lead to the committing of a sin should be prohibited. Sadd al-dharai served as a justification for the ban on women's driving.
Saudi Arabia scholar Stephane Lacroix sounded at the time a cautionary note that remains valid today.
"It…seems that part of the ruling elite now acknowledges the necessity for a revision of Wahhabism. It has indeed become clear that only such a move would permit the creation of a true Saudi nation, based on the modern and inclusive value of citizenship—a reality still missing and much needed in times of crisis. However, the sticking point is that this ideological shift must go hand in hand with a radical reformulation of old political alliances both at home and abroad. And therein lies the problem," Mr. Lacroix said.
Justice delayed is justice denied. I lost my family to Iran Regime's barbarity
On May 4, over 1,100 families of the victims of the 1988 massacre in Iran wrote a letter to the international community. We called on the United Nations and European and American governments to take immediate action in preventing the regime from further destruction of their loved ones' graves.
I was one of the signatories. I have lost six of my relatives to the regime's cruelty. I was seven years old when my parents were arrested for their democratic ideals and activism.
My father, Dr. Morteza Shafaei, was a well-respected and popular physician in Isfahan. He was admired by people because he was extremely compassionate and giving to others. He was brutally executed by the regime in 1981 simply because he sought a democratic future for his family and his compatriots. The mullahs also killed my mother, two brothers, Majid (only 16) and Javad, and one of my sisters, Maryam, along with her husband.
By the age of 8, I had lost my entire family, save for one sister, as a result of the regime's executions and crimes against humanity.
The 1988 massacre stands as one of the most horrendous crimes against humanity after World War II. In the summer of that year, based on a religious decree issued by Khomeini, then-Supreme Leader of the theocratic regime in Iran, tens of thousands of political prisoners were liquidated. Most of the victims belonged to the principal democratic opposition movement Mujahedin-e Khalq (MEK).
It is believed that the regime massacred at least 30,000 political dissidents that year in the span of a few months. This much was confirmed by the designated heir to the regime's Supreme Leader Ayatollah Hossein-Ali Montazeri both in his published memoires and leaked audiotape in 2016, in which he condemned the ongoing crime against humanity in August 1988 during a meeting with high-ranking regime officials.
Those officials continue to serve the regime today in high-ranking positions. Ebrahim Raisi, for example, who was a member of the "death committees" in charge of rounding up and killing the political prisoners, is currently occupying the highly sensitive post of the Judiciary Chief. He is expected to announce his candidacy to run for President during the June election. After the June 2009 uprising, he said, "Moharebeh (waging war on God) is sometimes an organization, like the hypocrites (MEK). Anyone who helps the MEK in any way and under any circumstances, because it is an organized movement, the title of Moharebeh applies." According the Islamic Punishment Act, the punishment for Moharebeh is death.
For years, the clerical regime has been systematically and gradually destroying the graves of the victims of the 1988 massacre in Tehran and other cities. As the world learns more about the killings and the international outrage grows, Tehran's mullahs are scrambling to clear all traces of their crimes against humanity.
Most of us have forgotten where exactly our loved ones are buried, many of them in mass graves. The campaign for justice for victims of 1988 has gained greater prominence and broader scope. International human rights organizations and experts have described the massacre as a crime against humanity and called for holding the perpetrators of this heinous crime to account.
Paranoid of the repercussions of international scrutiny into this horrific atrocity, the Iranian regime has embarked on erasing the traces of the evidence on the massacre by destroying the mass graves where they are buried. The regime has tried to destroy the mass graves of massacred political prisoners in Tehran's Khavaran Cemetery in the latest attempt. Previously, it destroyed or damaged the mass graves of the 1988 victims in Ahvaz, Tabriz, Mashhad, and elsewhere.
These actions constitute the collective torture of thousands of survivors and families of martyrs. It is another manifest case of crime against humanity.
The UN and international human rights organizations must prevent the regime from destroying the mass graves, eliminating the evidence of their crime, and inflicting psychological torture upon thousands of families of the victims throughout Iran.
Moreover, the Iranian public and all human rights defenders expect the United Nations, particularly the UN High Commissioner for Human Rights Michele Bachelet, to launch an international commission of inquiry to investigate the massacre of political prisoners and summon the perpetrators of this heinous crime before the International Court of Justice.
Can Biden Bring Peace to the Middle East?
As the fierce fighting between Israel and the Palestinians rages on, the Biden administration's Middle East policy has been criticized for its relatively aloof, "stand back" approach that has resulted in the absence of any pressure on Israel to re-think its harsh mistreatment of the Palestinians, vividly demonstrated in the recent police attack at al-Aqsa mosque and the attempted eviction of Palestinians from their homes in East Jerusalem, viewed by the Palestinians as part of Israel's "ethnic cleansing."
Consequently, a UN Security Council draft resolution on the crisis has been reportedly held up by US, which has prioritized the familiar narrative of "Israel's right to self-defense" ad nauseam, without the benefit any nuances that would reveal any fresh thinking on the problem on the part of the Biden administration.  As in the past, the new crisis in Israel-Palestinian relations has sharpened the loyalties and alliances, in effect binding the US government closer to its Middle East ally under the rainstorm of Palestinian rocket attacks, highlighting Israel's security vulnerabilities in today's missile age.  Determined to crush the Palestinian resistance, the mighty Israeli army has been pulverizing Gaza while, simultaneously, declaring state of emergency in the Arab sections of Israel, as if there is a military solution to an inherently political problem.  What Israel may gain from its current military campaign is, by all indications, bound to be elusive of a perpetual peace and will likely sow the seed of the next chapter in the 'intractable' conflict in the future.  
Both sides are in violation of the international humanitarian laws that forbid the indiscriminate targeting of civilian population and, no matter how justified the Palestinian grievances, they too need to abide by international law and consider the alternative Gandhian path of non-violent resistance, notwithstanding the colossal power of Israeli army.
As the editors of Israel's liberal paper, Haaretz, have rightly pointed out, the problem is the Prime Minister Benjamin Netanyahu, who is highly unpopular, unable to form a government, afflicted with a corruption case, and who has been appeasing the extremist elements in Israeli politics who have no qualm about the illegal expropriation of Palestinian lands. Israeli politics for its own sake needs to move to the center, otherwise the Israeli society as a whole will suffer, as more and more educated Israelis will leave the country, Israel's recent gains through the Abrahams accord with the conservative Arab states will be essentially wiped out, as these states will need to cater to the rising tide of anti-Israel sentiments at home or face serious legitimation problems, and Israel's regional rivals led by Iran will continue to harvest from the present crisis.
Unfortunately, there does not seem to be any political will in Washington to spur a political shift in Israel that would secure better results in terms of the elusive Middle East peace and both President Biden and the Democratic Party establishment are concerned that their Republican opponents will seize on any tangible US pressure applied on Israel. In other words, domestic US priorities will continue for the foreseeable future to hamper a much-needed corrective Washington influence on an ally that receives 4 billion dollar military aid annually and, yet, is unwilling to allow the White House to have any input on its handling of the Palestinians at home and the West Bank and Gaza.
But, assuming for a moment that the Biden administration would somehow muster the will to stand up to Netanyahu and pressure him to cease its massive attacks on Gaza, then such a bold move would need to be coordinated with a deep Arab outreach that would, simultaneously, persuade the Palestinian groups led by Hamas and Islamic Jihad to go along with a US-initiated cease-fire, followed by related efforts at UN and regional level to bring about the groundwork for a more enduring peace, such as by holding a new international peace conference, similar to the Oslo process.
At the moment, of course, this is wishful thinking and the protagonists of both sides in this terrible conflict are more focused on scoring against each other than to partake in a meaningful peace process. In other words, an important prerequisite for peace, that is the inclination for peaceful resolution of the conflict instead of resorting to arms, is clearly missing and can and should be brought about by, first and foremost, a capable US leadership, sadly hitherto missing.
Israel-Palestine Conflict Enters into Dangerous Zone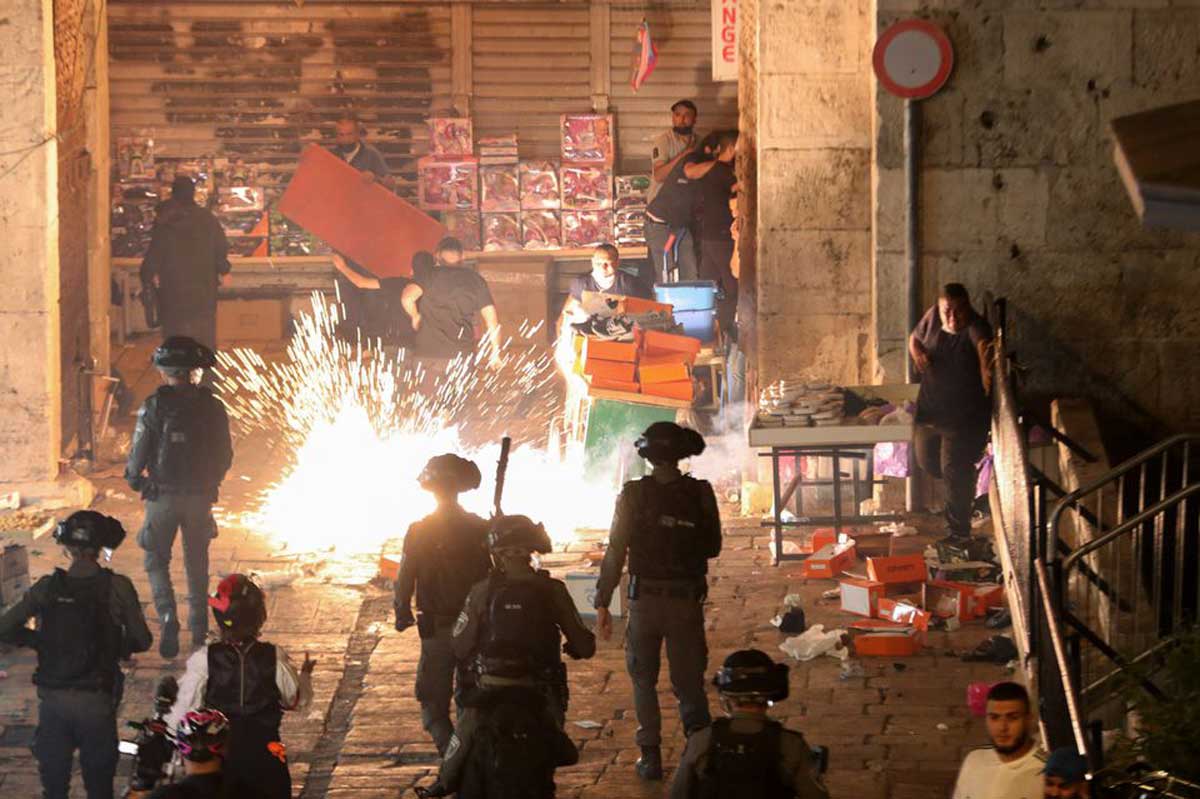 Since the start of the Muslim holy month of Ramadan in mid-April 2021, tension has escalated, with frequent clashes between police and Palestinians. The threatened eviction of some Palestinian families in East Jerusalem has also caused rising anger. But when Israeli security forces entered and attacked the unarmed Muslim worshipers, damaged the property, and humiliated the families, the situation turned into conflict.
Since the irrational and illogical creation of the Jewish State in the middle of the Muslim World, the tension started and emerged into few full-fledged armed conflicts and wars like; 1948–49, 1956, 1967, 1973, 1982, and 2006 wars/ conflicts. Tensions are often high between Israel and Palestinians living in East Jerusalem, Gaza, and the West Bank. Gaza is ruled by a Palestinian group called Hamas, which has fought Israel many times. Palestinians in Gaza and the West Bank complain that they're suffering because of Zionists' expansionist actions. Israel's severe violations of human rights and extreme atrocities against Palestinians left Palestinians with no option other than protest and agitate. But Israel suppresses them and uses all dirty tricks to keep them silent.
It is worth mentioning that the United Nations Security Council has passed several resolutions to settle the Israel-Palestine issue peacefully. But Israel has not implemented either of them and kept using force to push them out and settle Jews in their land.
The State of Israel has been enjoying undue supported by the US, irrespective of who is president, but all of them support Israel unconditionally. Israel is the most favored nation of the US and the largest beneficiary of American aid, assistance, and support.
Ex-President Donald Trump helped Israel establish diplomatic relations with the United Arab Emirates, Bahrain, Sudan, and Morocco. Donald Trump favored Netanyahu, dramatically moved the US embassy from Tel Aviv to Jerusalem. His daughter and son-in-law were the facilitators for his support to Israel.
Till last news, at least 56 Palestinians have died under an array of aerial bombardments of the Gaza Strip. Five Israelis were killed too. Rockets, bullets, and rocks are flying around Israel and the Palestinian territories with catastrophic intensity in the latest wave of violence that periodically marks the Palestinian-Israeli conflict. Palestinian protesters run for cover from tear gas fired by Israeli security forces amid clashes at Jerusalem's Al-Aqsa mosque compound on May 10, 2021, ahead of a planned march to commemorate Israel's takeover of Jerusalem in 1967 Six-Day War. Security forces have set on fire the centuries-old holy Mosque. Serious communal violence has broken out within Israel between Arab citizens and Jews. Fires were lit, a synagogue burned, a Muslim cemetery trashed, police cars set aflame, and an Arab-Israeli man killed. The mayor of Lod termed it a "civil war."
The ferocity of the fast-escalating conflict might be extremely dangerous as Israel uses hi-tech, advanced, lethal weapons. A week ago, Israeli Prime Minister Benjamin Netanyahu seemed close to losing power after the climax of four inconclusive elections. The outbreak of hostilities has allowed him the opportunity to make his latest appearance as a tough guy and ended coalition talks by rival politicians. He might politicize the conflict in his favor.
There is a severe danger of spreading this conflict to a large-scale war, which might engulf the regional countries. There already exists tension among Israel and few regional powers. The recent Israeli attacks on Russian bases in Syrian may also widen the conflict.
Any war in the middle-East will have dire consequences globally. It is appealed to the UN and all peace-loving nations and individuals to speed up all-out efforts to stop the conflict at this initial stage and avert further bloodshed. It is demanded that the Israel-Palestine issue must be settled according to the resolutions passed by UNSC. Wish immediate peace, sustainable peace, and permanent peace in the Middle East and globally.