Making Social Protection Systems in Africa More Responsive to Crisis
The Ministry of Gender, Labour and Social Development together with UNICEF and the World Bank, are holding a 5-day conference to discuss how social protection programmes can be better tailored to provide timely and effective support to the poor and vulnerable in crisis situations.
The five-day gathering will bring together the Community of Practice (CoP) on Cash Transfers which includes close to 100 practitioners from Government, development partners, local and international NGOs, private sector, academia and researchers to share experiences and learn from each other on issues related to social cash transfer programs and social protection. As such programmes continue to expand across Africa, the meeting will focus on how to make social protection systems in the region more responsive to shocks.
"The call for social protection programmes is not only based on human rights or moral grounds, but on the belief and fact that social protection is an important instrument for economic growth. It is an investment in human capital development which is no less important than investments in physical infrastructure," said Hon Janat Mukwaya, Minister of Gender, Labour and Social Development.
Countries in Africa have common characteristics of high poverty, high unemployment, high dependency ratios, natural and man-made disasters, and high disease burden. All these require substantial investments in social protection interventions and yet today most of the countries are performing at less than 2 per cent of GDP investment in social protection.
Social security is a human right and a social and economic necessity. It is a core function of development policy emphasized by the Sustainable Development Goals / Agenda 2030. While safeguarding the right to social protection is an obligation of the State, it remains a shared responsibility with partners and citizens.
The Government of Uganda has adopted the National Social Protection Policy, and Intergrated it in its National Development Plan (NDPII), underscoring the importance of social protection in addressing risks and vulnerabilities. Efforts are underway to build a comprehensive national social protection system, including adoption of the policy implementation roadmap, putting in place the national coordination architecture, and a single registry.
Several social protection interventions currently under implementation have demonstrated strong evidence of the positive impact on communities, notably:
Direct income support interventions such as the Social Assistance Grants for Empowerment (SAGE) now in 47 districts of Uganda reaching 153,700 beneficiaries. Under this program, the number of households eating fewer than two meals per day fell more than twice, attendance rates in primary and secondary schools rose nearly three times, while employment increased by 50 percent.
Disaster Risk Financing in Karamoja region of Uganda reaching 33,000 beneficiaries.
Labour intensive public works under phase three of the Northern Uganda Social Action Fund in Eastern and Northern Uganda reaching 31,386 beneficiaries.
Others include pensions for public servants and NSSF for contributory social security.
"Social protection programmes help households and communities to recover from crisis or disaster. Working through government systems and strengthening local capacity to respond effectively can prevent families from falling into poverty," said Christina Malmberg Calvo, Country Manager World Bank in Uganda
In the Africa region and beyond, there is evidence to show that social protection programmes targeting lifecycle risks and vulnerabilities that people face at different stages in life have an impact on health and well-being of recipients.
"With over 56 per cent of the population below 18 years of age Uganda's vision to become a middle-income country by 2040 remains highly contingent on the Government's ability to safeguard children's rights." said Dr. Doreen Mulenga, UNICEF Representative in Uganda.
Given the drive to ensure social protection systems in the region are more shock-responsive, this meeting of the Community of Practice (COP) represents an invaluable tool for learning and knowledge exchange, and will contribute to the adoption of innovative approaches to alleviate the burden of emerging global challenges on vulnerable populations.
BACKGROUND
Social protection in Uganda
The National Social Protection Policy (NSPP) and Programme Plan of Interventions were approved by the Cabinet in November 2015. The Government of Uganda under the Ministry of Gender, Labour and Social Development (MoGLSD) has been implementing the Expanding Social Protection Programme since June 2010 and has undertaken the rollout of the Senior Citizens Grant to all districts beginning with 55 by 2020. The core of the Ugandan social protection system includes direct income support programmes, which provide small but regular transfers to targeted individuals and households and guarantee a minimum level of income security.
Community of Practice (CoP) of Cash Transfers in Africa
The CoP was launched in December 2011 with the purpose to share lessons and experiences between countries in Africa operating social cash transfer programs. To date, the Anglophone CoP has 35-member countries grouped into Anglophone and Francophone groups. The member countries of the Anglophone group are: Angola, Botswana, Ethiopia, Eritrea, Ghana, Gambia, Kenya, Lesotho, Liberia, Malawi, Mozambique, Nigeria, Seychelles, Sierra Leone, South Sudan, South Africa, Sudan, Swaziland, Tanzania, Uganda, Zambia and Zimbabwe.
UNIDO supports Budapest Appeal to prevent and manage looming water crises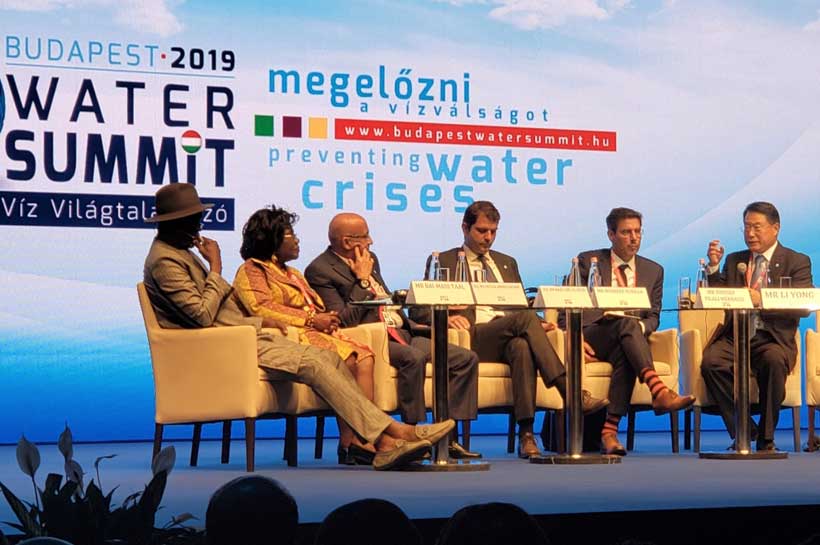 LI Yong, the Director General of the United Nations Industrial Development Organization (UNIDO) acted as a panelist during the opening session of Budapest Water Summit 2019, which was convened under the motto 'Preventing Water Crises' and which aimed at promoting solutions to tackle the emerging water crises.
"Industries can be instrumental to prevent any kind of water crisis: in situations where water is scarce, the application of resource efficient and cleaner production allows industries to drastically reduce their own water consumption", said LI Yong. "In situations where water is too polluted, green industries can offer solutions for the cost and energy effective treatment of municipal, agricultural and industrial waste water. Even in situations where abundant water results in floods, industries can engage as water stewards and drive the collaborative process of restoring water regulating eco-system services".
The UNIDO Director General further emphasized the need for pro-active cooperation, dedicated and well-concerted efforts as well as considerable resources. At the same time, and given the importance of water for sustainable development, Li urged not to underestimate the importance of these efforts.
"The United Nations Industrial Development Organization will continue its efforts to support industries to become environmentally friendly", said LI Yong. "In this way, industries will play an active role to prevent water crises, in terms of water becoming too little, too much or too polluted".
During the closing session of the Summit, the Budapest Appeal was presented that formulates messages and guidelines for the international community to prevent and manage the looming water crises. In addition, the Appeal provides a comprehensive summary of findings and recommendations from the Summit and introduces the preliminary online consultation process.
The Summit gathered over 2,200 participants from 117 countries in Budapest, including Hungarian President János Áder and Cambodian Prime Minister Samdech Techo Hun Sen as well as numerous ministers, secretaries of state, representatives of United Nations organizations and heads of multilateral financial institutions.
OECD and European Commission join forces to further support structural reforms in European countries
The OECD and the European Commission's Structural Reform Support Service (SRSS) sealed a new agreement today in Paris that will see the OECD provide wide-ranging policy support to advance structural reforms in European countries.
OECD Chief of Staff, Gabriela Ramos, and Director General of the SRSS, Maarten Verwey, concluded an agreement on 34 reform projects, to be conducted over the next 12 to 18 months, in 18 EU countries under the umbrella of the Structural Reform Support Programme of the European Commission.
The OECD SRSS agreement comes at a time of a slowdown in global growth, rising inequalities and higher environmental degradation, which threaten people's well-being. The OECD, with its extensive knowledge base and expertise, is supporting governments to tackle these issues head on and considers the cooperation with the SRSS to be an excellent opportunity to further leverage its expertise to deliver better policies for better lives.
The action will see the OECD working closely with the SRSS to provide policy advice and working directly with governments to advance structural reform in various policy areas, including education, labour markets, tax, governance, environment and transport infrastructure. These projects respond to the reform priorities identified by the respective EU Member States and will for example help governments develop sustainable development strategies, establish frameworks for circular economies, improve housing affordability in cities, or improve the provision of labour market services. The OECD will capitalize on the digital transformation and also deliver on skills strategies. In a nutshell, it will redouble efforts to support European countries, Members and Partners, in their goal to build strong, inclusive and sustainable economies.
The Structural Reform Support Service offers tailor-made support to all EU Member States for the preparation, design and implementation of growth-enhancing reforms. The support is provided on the request of EU Member States, requires no co-financing and mobilises experts from all over Europe and beyond, from both the public and the private sector.
The new OECD – SRSS agreement allows the SRSS to leverage OECD's expertise on best policy practices and structural reforms in the EU Member States. Such co-operation will deliver value added impact, carried out with efficiency, for the benefit of all countries.
Guterres: We must do everything possible to avoid global 'fracture' caused by US-China tensions
Tensions around global trade and technology continue to rise and the international community needs to "do everything possible" to prevent the world being split into two competing spheres, led by the United States and China.
That was the message from UN Secretary-General António Guterres on Saturday, speaking during the World Bank Group and International Monetary Fund (IMF) Annual Meetings in Washington DC.
In remarks to the International Monetary and Financial Committee, the UN chief said that "during tense and testing times" he continued to "fear the possiblity of a Great Fracture – with the two largest economies splitting the globe in two – each with its own dominant currency, trade and financial rules, its own internet and artificial intelligence capacities and its own zero-sum geopolitical and military strategies."
A trade war between the two economic giants is threatening to wipe out gains across the global economy, which could shrink global GDP next year "equivalent to the whole economy of Switzerland" said the new head of the IMF, Kristina Georgieva, just a few days ago.
Mr. Guterres told world financiers that "it is not too late to avoid" the division, but "we must do everything possible to avert this…and maintain a universal economy with universal respect for international law; a multipolar world with strong multilateral institutions, such as the World Bank and IMF."
He noted three main areas where fiscal policy and investment in the future would be pivotal. First, make tax systems "smarter, greener, and more aligned behind the sustainable development and climate action agendas", he urged.
Secondly align the whole financial system behind the 17 SDGs, or Sustainable Development Goals, incentivizing longterm public and private finance, and "revisiting financial regulations that may inadvertently encourage short-termism in financial markets."
Third, "it is time to break the cycle of excessive debt build-up followed by painful debt crises", meaning taking a systemic approach to lend and borrow more responsibly.
And we must keep a focus on countries particularly vulnerable to the impacts of the climate crisis, namely Small Island Developing States. I fully support proposals to convert debt to investment in resilience such as through the Debt for Climate Adaptation Swap initiative", noted the UN chief. "We should move this from idea to reality.
Together, let us raise ambition for development finance, climate finance, and finance that is inclusive and enables markets to grow, businesses to thrive and people to live in dignity."
'Great opportunities' ahead, for climate action
Speaking at a meeting of the Coalition of Finance Ministers for Climate Action, Mr. Guterres said that the 44-member group launched just six months ago, was "a vital part of our response to the climate emergency".
The Climate Action Summit last month in New York had shown "the world is waking up to the crisis", with "great opportunities" ahead to reduce air pollution, save billions of dollars on disasters fueled by global warming, and unlock the true benefits of the green economy.
Despite a "glaring gap in ambition and finance" finance ministers can turn the tide: "You come to the table with a mix of tools, including tax policy, controlled spending and climate budgeting…And you can end counter-productive subsidies for fossil fuels and pave the way for what I would like to see as a major trend: shifting taxation from income, to carbon."
Sweden and Colombia are already using carbon taxes; Uganda is implementing a Climate Change Budget Tagging System; and the island of Dominica has used fiscal policy to improve preparedness for climate shocks, following a devastating hurricane.
"Your Coalition is taking the 'whole of government' approach we need for systemic change. We need to have in place by COP26, country-level road maps and fiscal policies for economic, technological and energy transitions".