China's trash ban lifts lid on global recycling woes but also offers opportunity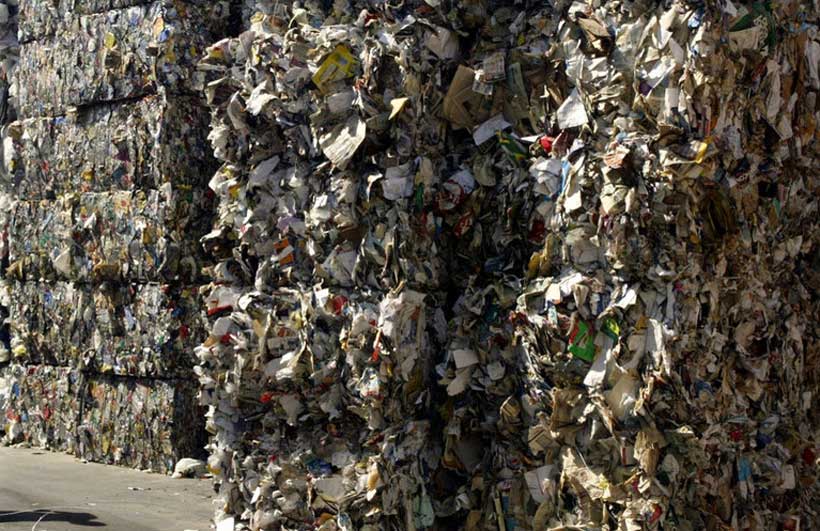 China's decision to ban imports of foreign waste, including some plastics, has reverberated around the world, with recycling operations in other countries struggling to deal with the new reality. But is this an opportunity wrapped in a crisis?
Some experts argue that developed nations will, at last, have to face up to the true cost of their plastic addiction instead of shipping the problem to China, which has taken nearly half the world's waste since 1992.
This could spur much-needed investment in domestic recycling facilities as well as innovation in plastic manufacturing to make products more suited to repurposing. It could also invigorate the vociferous public campaign to change our throwaway culture.
Last year, China decided to ban imports of 24 categories of solid waste, including certain types of plastics, paper and textiles, citing environmental and health concerns. Essentially, it is seeking to upgrade its economy and deal more effectively with its own growing mounds of trash. The material it was importing added 10-13 per cent to its overall waste levels.
Another problem was the poor quality of waste imports, which made them more difficult to recycle and consequently hit profits for the Chinese companies involved.
The ban came into force in January and the effects are now being tallied.
In a new study, published in June in Science Advances, scientists from the University of Georgia (UGA) found that 111 million metric tons of plastic waste will be displaced by China's new policy by 2030. All that rubbish will have to go somewhere else.
The ban is already beginning to bite. The Washington Post says states such as Massachusetts and Oregon are lifting restrictions on pouring recyclable material into landfills.
AFP has reported that significant stockpiles of recyclables are piling up in the US, with some municipalities saying they will no longer collect certain materials or send them to landfills, while some recycling facilities are storing the extra waste outside or in parking lots.
"Our team has been and will be closely monitoring reports and impacts from the ban and have certainly heard that waste is accumulating within the borders of countries that have long depended on China or other countries to import their plastic waste," said Amy Brooks, a doctoral student at UGA's College of Engineering and lead author of the plastic waste study.
The ban has also exposed systemic weaknesses in recycling processes in the United States. The National Recycling Coalition (NRC) said in May that the ban exposed the problems caused by dirty recyclables. The introduction of single-stream recycling in the United States, which mixes paper, metal, glass and plastics — means recyclables are less pure and less valuable.
"The good news and bad news is that customer enthusiasm for recycling is strong. The public wants to recycle, but they express that enthusiasm by recycling materials that are not eligible.  A combination of 'wishful recycling' and insufficient enforcement of quality is proving very damaging to the industry – abysmal and volatile markets, a dirty product that is not a reliable 'commodity', closed plants, and programs that are hurting economically," Marjorie Griek, the NRC's executive director, said in a statement.
"We cannot continue to act and behave as if business as usual will offer a solution to today's issues. We must fundamentally shift how we speak to the public, how we collect and process our recyclables, and what our end markets accept and utilize to truly recycle," Griek said.
Such changes will, of course, take time. As will new investment in recycling facilities to fill the gap left by China, which imported around 7 million tonnes of waste in 2016. This is even more concerning when one realises that, to date, only 9 per cent of waste has been recycled globally, with most of it ending up in landfills or in the environment, including in our seas.
Some developed countries reacted to the ban by sending their waste to other Southeast Asian countries, such as Thailand and Malaysia, and some Chinese recyclers have opened factories in nearby countries to cash in on this new business.
However, experts point out that some of these countries do not have the capacity to deal with the waste influx and are already considering imposing restrictions of their own. Another concern is that Asia is already home to five of the world's top marine plastic polluters and sending more trash to countries that are ill-equipped to deal with it will simply exacerbate that problem.
Since the Chinese ban, Britain's waste exports to Malaysia have tripled, the Financial Times has reported, with the domestic recycling industry seen to be languishing and underfunded.
Peter Skelton of the sustainability organisation WRAP, believes the government, waste management firms and local authorities can rise to the challenge.
"We've been reliant on export markets for a lot of our recycling and that's got to change. In some ways, it's a forced decision," Skelton said. "There's been a great response from the waste and recycling organisations … because they see the landscape has shifted," he said.
Governments also have a role to play by investing in recycling and waste management, he added. The British government is due to publish a Waste and Resources strategy later this year.
UGA's Brooks agrees that governments must step up by educating people about recycling and encouraging innovation.
China's ban has also shone a spotlight on the parlous state of international regulation about plastic waste.
The UGA study argues that the International Basel Convention, which governs the export of hazardous and other waste, could be applied to plastic waste if the latter was characterized as "waste requiring special consideration". It could then be regulated while knowledge could be shared and standards harmonised.
One potentially positive side-effect of China's ban has been to focus attention on the need for a more sustainable circular economy, where resources like plastics will be kept in use for as long as possible. However, with oil prices relatively low, virgin plastic is cheaper than recycled plastic — a financial obstacle that must be surmounted.
"This is definitely a complex situation financially and socially," Brooks said. "I prefer to remain optimistic that our relationship with plastic can be improved, despite some of the financial barriers. Every person plays a role in our global use of plastic and the circular economy can be embedded in that relationship so that waste is more valuable and less likely to end up in the environment."
European authorities appear to have recognised the value inherent in plastics. The European Commission's Plastics Strategy, which was unveiled in January, says its drive to make all plastic packaging recyclable or reusable by 2030 could create 200,000 jobs but only if recycling capacity is multiplied fourfold.
For Brooks, and her co-author Jenna Jambek, an associate professor at UGA's College of Engineering, China's ban should serve as a wake-up call and an opportunity to improve domestic management of plastic waste and invest in technology and new initiatives.
"The bottom line is that our solutions going forward need to incorporate all stakeholders, citizens, governments and industry, both locally and internationally," said Brooks.
Does the Latest IPCC Report Offer Hope For Earth
Hurricanes and storms on both sides of the Atlantic appeared to encore the Inter-Governmental Panel on Climate Change.  It had just concluded the finalization of a special report on the impact of a 1.5 degree Celsius global warming above preindustrial levels.  Meeting in Incheon, South Korea (October 1-5), its three working groups of experts and government officials have huddled and jousted to strike a consensus on what will be necessary to restrict warming to 1.5 degrees Celsius when the globe is already up one degree.  What will earth be like with this level of warmth and what will happen if we fail?
Two earlier versions (January and June 2018) of the report were depressing to frightening.  They were made available for about a month for comment by experts and interested parties.  The real problem is a narrow window because human activity in the world emits 40 billion tons of CO2 per year — about 90 times the emission from volcanoes.  At some point, there will be enough in the atmosphere where the 1.5 degree rise will be a foregone conclusion.  While guesswork to some extent, it appears we have about 12 years before we exhaust the 'carbon budget'; if we accept a 2C rise the date is 2045.
The tone may have been softened in the second report, but there is 'substantial' certainty the 2 degrees C target of the 2015 Paris Agreement, once considered safe, would be dangerous for humanity.  As the agreement also required governments to pursue efforts to limit temperature rise to 1.5 degrees C, the remit to IPCC was to prepare a report comparing the consequences of the two alternatives as well as the feasibility and effort required to limit the rise to the lower figure.  The final report released on Oct 8, 2018 reviews 30,000 publications.
The fact that parts of the earth are already warmer than the 2 degree C figure and the results are observable should be a driver for governments.  In the Arctic, for example, where temperatures have risen up to 3 degrees C, the effort has seen chunks of icebergs breaking off and polar bears having difficulty in catching seals because of fewer blowholes — where they normally wait in ambush.  Current temperatures are higher than they ever have been in the past two millennia.
For low-lying Pacific Islands the 1.5C goal is critical for many there would lose habitat and some islands are expected to disappear under the 2C target.  The Maldives in the Indian ocean are partly under water, and some Pacific islands have already disappeared as average world sea levels rise by 3 mm a year.  Yet Tuvalu has become an exception and its land area, studied from 1971 to 2014, is growing.  Eight of its nine atolls are found to be still rising, increasing the "area by 29 percent, even though sea levels in the country rose by twice the global average."
Even so the consequences of the earth already being 1 degree C higher than preindustrial times are apparent in the  proliferation of extreme weather events.  Unduly powerful hurricanes as in Puerto Rico or Houston, record-breaking forest fires in the U.S. and Australia, monsoons in South India this year that in Kerala have been the worst in this century, and the record temperatures in northern Europe are a few examples.  Last week the 155 mph Category 5 Hurricane Michael, 5 mph short of Category 6, devastated the Florida panhandle and continued its destruction onward into Georgia and beyond.  It was the strongest to hit this part of Florida since records began in 1881.  On the other side of the Atlantic within a week, storms and hurricanes battered Europe:  Hurricane Leslie in Portugal, storm Callum in Britain and heavy rains in France causing flash floods in the Aude region of south-west France.  All of which can be expected to worsen as the earth's mean temperature rises, increasing in both frequency and intensity.
The IPCC report presents four pathways (p.19 Executive Summary) each with net zero CO2 emissions within the next quarter century.  The least interventionist scenario utilizes only afforestation to remove CO2.  The report is optimistic in demonstrating synergies (p.27) with sustainable development goals.  That CO2 removal technologies known as direct air capture (DAC) are also being developed successfully adds to the optimism.
At the same time the warnings are clear.  All the options require a rapid decarbonization of the fuel s:upply i.e. no fossil fuels — coal just about gone by 2050 and three-quarters of the energy from renewables (p.19 after four pathways graphs).  The risks for fisheries and coral reefs will remain high (p.13) even with the 1.5C scenario and coastal populations and farming will be worse off than now.  Severe weather consequences can be expected to worsen.  But all that is the world to be.  Hence the argument for the most interventionist scenarios where the atmospheric CO2 is eventually reduced.
For all this the need to act now is clear in the facts and numbers.
Author's Note:  An earlier version of this article appeared on counterpunch.org.

Air pollution linked to "huge" reduction in intelligence
Air pollution can have a "huge" negative effect on cognitive intelligence – especially amongst older men – according to a study released this past August.
The research is one of the first of its kind to focus on the links between air pollution and cognition in older people. It was undertaken by scientists at Peking University in Beijing, China and Yale University in the U.S. and was published in the Proceedings of the National Academy of Sciences journal. In particular, it found that long-term exposure to air pollution may impede overall cognitive performance.
The researchers' sample set included a panel of over 25,000 people across 162 randomly chosen counties in China. The study was also based on daily readings for three atmospheric pollutants, namely sulphur dioxide (SO2), nitrogen dioxide (NO2) and particulate matter smaller than 10 micrometers (PM10) where the participants lived.
The research found that that accumulative exposure to air pollution impedes cognitive performance in verbal and math tests. It found that as people age, the negative effect becomes particularly pronounced on verbal scores, especially for men while, "the gender gap is particularly large for the less educated." One of the reasons why the researchers suggest that older men with less education were worst affected by chronic exposure to air pollution is because those subjects often work in outdoor, manual jobs.
The scientists concluded that, "The damage on the aging brain by air pollution likely imposes substantial health and economic costs, considering that cognitive functioning is critical for the elderly for both running daily errands and making high-stake decisions." Given this damaging effect of air pollution on cognition, particularly on the aging brain, "the study implies that the indirect effect on social welfare could be much larger than previously thought."
"Polluted air can cause everyone to reduce their level of education by one year, which is huge," Yale School of Public Health's Professor Xi Chen, one of the report's authors, said in an interview published in The Guardian.
The study also suggests that air pollution increases the risk of degenerative diseases such as Alzheimer's and other forms of dementia.
"Air pollution is a significant threat to public health and this study highlights the negative effect that such pollution may have on the ageing brain," said Soraya Smaoun, Air Quality Coordinator at UN Environment. "A better understanding of the critical links between air pollution and health for policies and investments supporting cleaner transport and power generation, as well as energy-efficient housing and municipal waste management can reduce key sources of outdoor air pollution."
According to the World Health Organization, seven million people die each year from exposure to polluted air, both indoor and outdoor. The three biggest killers which are associated to air pollution are stroke (2.2 million deaths), heart disease (2.0 million) and lung disease and cancer (1.7 million deaths).
The World Health Organization's air quality database shows that that 97 per cent of cities in low- and middle-income countries with more than 100,000 inhabitants do not meet air quality guidelines presently. However, the percentage is much lower in higher income countries – 40 per cent.
What is being done about air pollution?
A worldwide movement to address air pollution is gradually taking shape and growing. Breathe Life – a global campaign headed by the Climate and Clean Air Coalition, the World Health Organization and UN Environment – is supporting a range of cleaner air initiatives that cover 39 cities, regions and countries, reaching over 80 million people.
Most major cities are still struggling to keep air pollution within acceptable levels as set out by the World Health Organization guidelines. However, by instituting policies and programmes to reduce transport and energy emissions, and by encouraging the use of clean energy, cities are leading change and improving the lives of a large number of people.
In 2018, the World Health Organization found that more than 57 per cent of cities in the Americas and more than 61 per cent of cities in Europe had seen a fall in both PM10 and PM2.5 particulate matter between 2010 and 2016.
The rise of renewable energy is also ideally positioned to make a big difference, with investment in new renewable sources outstripping fossil fuel investments every year.
IPCC Report: On Our global Jihad against Cognitive mind
A major new report from the Intergovernmental Panel on Climate Change (IPCC), was just released in Korea on October 8 (2018). Although it is nearly 800 pages long and includes more than 6,000 scientific references, it can be summarized in few sentences:
The average global temperature is now 1.0°C above its pre-industrial levels.That increase is already causing more extreme weather, rising sea levels and diminishing Arctic sea ice, and is damaging untold number of land and sea ecosystems.
A 1.5°C increase, likely by 2040, will make things worse. A 2.0°C increase will be far worse than that. Only radical socio-economic and politico-diplomatic change can stop catastrophe. The world's leading climate scientists have warned there is only a dozen years left for global warming to be kept to a maximum of 1.5C. Beyond that an irreversibility effect would be set in motion: even half a degree will significantly worsen the risks of drought, floods, extreme heat and poverty for hundreds of millions of people. To avoid the most serious damage requires transforming the world economy within just a few years, said the authors, who estimate that the damage would come at a cost of a fantastic $54 trillion. This transformation goes – of course – beyond what we usually label as 'economy'. It requires a change of entire human dynamics; moods and preference of how we extract, manufacture, distribute, consume, spend, live, travel, power all that, think of and teach about it.
Reactions are folding: "Limiting global warming to 1.5 °C above pre-industrial levels would be a herculean task, involving rapid, dramatic changes in the way that governments, industries and societies function" – says the Nature magazine. Science Daily predicts: "Limiting global warming to 1.5°C would require rapid, far-reaching and unprecedented changes in all aspects of society … With clear benefits to people and natural ecosystems, limiting global warming to 1.5°C compared to 2°C could go hand in hand with ensuring a more sustainable and equitable society".
Ecological Footprint of 'Here-Us-Now' civilisation
However, for the informed and willing ones all was clear already with the Rio summit. Back then, I was quick to react: it was me being one of the very first to concept and introduce (and set as obligatory) the subject of SD (along with Environment Ethics) in the universities of Europe. Thus, for the past two decades I've been teaching my students that: "Currently, the amount of crops, animals and other bio matter we all extract from the earth each year exceeds what such a small planet can replace by an estimated 20% – meaning it takes almost 14,4 months to replenish what we use perannum – in consecutive 12 months – deficit spending of the worst kind."
Lecture after lecture, generation after generation, I educated my students that: "Through pollution and global warming are legacies of products, processes and systems designed without thought to the environmental consequences, cohesion of international community along with rapid introduction of new international policies and strategies in a form of clean practices and technologies holds the solutions (e.g. promoting greater coherence between energy, research and environmental policies). Since the environmental degradation (incl. the accelerated speed of extinction of living species – loss of biodiversity) knows no borders – the SD (Sustainable Development) is a matrix of truly global dimensions."
In the meantime, the Climate Change nihilists and paid lobbyists dominated media by accusing this sort of constructivism and predictive education as an environmental alarmism and scientific sensationalism. This is how we lost almost three decades from Rio over Johannesburg, Copenhagen, Kyoto and Paris to come to our current draw: an abyss of "only 12 years left" diagnosis.
How shall we now tackle our past optimism about the possibilities and the current pessimism about the probabilities? How to register our future claims rapidly and effectively on preservation of overall human vertical when we systematically ridiculed and dismissed every science short of quick profit (or defensive modernization), when we pauperized and disfranchised so many people of this planet  in past few decades like never before in history?
Hence, the rapid, far-reaching changes to almost every facet of society are needed to avoid catastrophic climate change, reforms far beyond anything governments are currently either doing or planning to do. Additionally, it requires complete reversion of our life styles and socio-economic fashions, passions and drives – e.g. elimination of "here-us-now" over-consumerism of everything tangible and non-tangible.
Social fractured Planet devastated by anti-intellectualism
Are we are able to mobilise our socially fractured, and anti-intellectualised globe that fast and that solid?
The world must invest $2.4 trillion in clean energy every year through 2035 and cut the use of coal-fired power to almost nothing by 2050 to avoid catastrophic damage from climate change, according to scientists convened by the United Nations. That of course includes an elimination of oil and gas from our Primary Energy Mix (PEM) as well as total eradication of the ICE-powered cars (of both diesel and petrol/ benzin). All that is required within the following decade.
What changes this new "Cambrian explosion" will cause on adaptive and non-adaptive inorganic clusters and systems of our biota, and its group dynamics? Notably, what impact it will have on the traditionally automotive-industry leaning regions, and what on aviation industry – which, at least when comes to continental Europe, could have been grounded decades ago – since even at our current technological level, the rail transportation would be cheaper faster safer than using planes? What implication does it bring to the extremely crude-exporting dependent Middle East, which is situated in a center of our planet but at the periphery of human progress? This is to name but few of numerous implications and unanswered dilemmas yet even unasked question[1].
No doubt, our crisis is real, but neither sudden nor recent. Our environmental, financial and politico-economic policies and practices have created the global stress for us and untold number of other species. Simply, our much-celebrated globalisation deprived from environmental and social concerns, as well as from a mutual and fair cooperation(instead of induced confrontation and perpetuated exclusion) caged us into the ecological globalistan and political terroristan. (Acidifying of oceans and brutalization of our human interactions are just two sides of a same coin. What is the social sphere for society that is the biosphere for the very life on earth, since what what we euphemistically call anthropogenic Climate Change is actually a brutal war against nature.)
The world based on agreed principles that – besides businesses and governments – involves all other societal stakeholders, re-captured global cohesion and commonly willing actions is not a better place. It is the only way for the human race to survive.
Deep and structural, this must be a crisis of our cognitivity. Therefore, the latest Climate Change (CC) Report is only seemingly on Climate; it is actually a behavioristic study on (the dead end of) our other 'CC' – competition and confrontation, instead of cooperation and (all-included) consensus. Simply, it is the Report on our continued global Jihad against cognitive mind.
[1] Still today, sustainability is lacking an operational definition: There is a controversy whether to consider a human-made capital combined with a natural capital (weak sustainability) or separately (strong sustainability). The central to this question is to which extend a human capital or rather technology can substitute the loss of natural resources.