Has the U.S. Government Been Lying About Syria & About Ukraine?
From the moment it took power in the U.S. in 2009, the Barack Obama Administration was angling to overthrow Syria's President, Bashar al-Assad. And then, by the time of December of 2012, Obama's team were relying mainly on Al Qaeda's Syrian branch to lead the tens of thousands of the U.S.-Saudi alliance's boots-on-the ground 'moderate rebels' in this overthrow-Assad war, fighters who have actually been fundamentalist Sunnis recruited from all over the world to come to Syria in order to replace the secular President of Syria, the Alawite Shiite, Assad. Propaganda in the U.S. portrays U.S. Government policy as being driven by a concern for the welfare of the Syrian people: to 'protect their human rights' — not to overthrow a government that refuses to cooperate with U.S. oil companies and other corporate interests in the U.S.
But even with the anti-Obama Donald Trump in the White House, there has been nothing really new about any of this U.S. Government scam, any of this attempted-but-never-publicly-acknowledged conquest against the Syrian people. The U.S. Government — along with the U.S.-aristocracy-allied fundamentalist Sunni Saud family, the world's wealthiest family, who own Saudi Arabia, and who finance the fundamentalist-Sunni Al Qaeda and similar Sunni jihadist organizations — has been trying ever since 1949 to control Syria, and still tries. The main difference between now and 1949 is that the Saud family have become more brazen about conquest than they were, back in 1949, when they had wanted merely that the Syrian Government approve an American-built pipeline for their oil to go into Europe. In the present day, the Sauds are openly at war against Shiites everywhere, even inside Saudi Arabia itself, and are bombing the hell out of the Shiite (Houthi) areas of Yemen, basically trying to take over the entire Middle East, and to destroy Iran, which is the leading Shiite country. The U.S. is allied with the Sauds in all of this.
On 30 March 1949, the CIA, in a coup planned by James Hugh Keeley Jr. and Miles Copeland Jr., replaced the democratically elected Syrian President Shukri al-Quwatli, replaced him with France's stooge, General Husni al-Za'im, who displeased King Saud of Saudi Arabia, and so got overthrown and killed on 14 August 1949, by a different France-stooge General, Sami al-Hinnawi. Za'im had left his mark on Syria, however: "The pro-Western Za'im remained in power for three months — long enough to grant [the Saudi-American] Aramco's Tapline concession to pipe Saudi oil to the Mediterranean."
But Hinnawi pleased the CIA and Sauds even more than Za'im did, so got the Presidency, and Za'im simply got killed. (The CIA and the Saud family are very demanding of their stooges.)
In December 1949, the CIA, in a coup planned by Miles Copeland (Syria's third and final coup that year), carried out the desire of King Saud, and installed as Syria's leader, Adib Shishakli. "The Kingdom of Saudi Arabia implemented a new policy towards Syria by giving financial support amounting to six million dollars."
Shishakli's barbarism was so great that four years later, Syria's generals formed the secular Ba'ath Party and on 6 September 1955, restored to power Syria's democratically elected President, Quwatli, who in 1958 joined Syria into the United Arab Republic, which lasted till 1971. However, while Quwatli was still Syria's President, the CIA, yet again, in 1957, tried to oust him via a coup, but that coup-attempt had to be called-off.
A permanent result of that brazen attempt in 1957 was to cause Syria to sever relations with the U.S.; so, from that time forward, the U.S. regime works in Syria mainly by its agents and allies, such as King Saud who owns Saudi Arabia, and Emir Thani who owns Qatar. Both families are fundamentalist Sunni Arabs — the Saud family being Al Qaeda's main financial backer, and the Thani family being the Muslim Brotherhood's main financial backer. (Both Al Qaeda and Muslim Brotherhood are fundamentalist Sunni organizations, whereas Syria, at least after 1957, is strongly secular, anti-sectarian.) But now that King Saud wants to overthrow Emir Thani and take Qatar, and is trying to blockade Qatar, the U.S. regime has stayed with King Saud, but not to such an extent as to jeopardize Emir Thani's willingness to host in Qatar America's biggest Middle Eastern military base, Al Udeid Air Base, which the Thanis see as essential to their staying in power. So: the U.S., under Donald Trump, is mildly supportive of King Saud's aggressions against Qatar, but not to such an extent as to withdraw from Al Udeid.
As a result of the Sunni Sauds' attacks against the Sunni Thanis, the Thanis have turned away from the Sauds, who hate Iran and all Shiites. Thus, the Thanis now are non-partisan in the Sauds' longstanding efforts to conquer Iran and other Shiite-majority areas; the Thanis have become more pan-Arabic than when they were allied with the Sauds; they're no longer dedicated to war against Shia. They are no longer allies of the Sauds against Shia.
The U.N. 'peace' talks on Syria are between Syria's Government and Saudi Arabia's Government, not between Syria's Government and any authentically representative native Syrians versus the Syrian Government. The Saud family selected the "High Negotiations Committee" who are negotiating against Syria's Government there, as  'representatives' of 'the opposition'.
Even the U.S. subscription-only GlobalSecurity.org site admits "The High Negotiations Committee is a Saudi-backed coalition of Syrian opposition groups. The High Negotiations Committee (HNC) was created in Saudi Arabia in December 2015."
Non-sectarian — even secular — Syria is the odd-man-out, insisting on its own national sovereignty, and secularism, no matter what, and willing to do whatever they must in order to maintain their independence. And the majority of the Syrian people thus support Assad (55% did, even at the very height of the 'Arab Spring' uprisings throughout the Arab world), and 82% of Syrians blame the U.S. Government for the presence of ISIS and other jihadists in their country.
This is history. What can the U.S. regime credibly present to the world as being justification for continuing its decades-long effort to conquer Syria? The U.S. regime condemns Syria's non-sectarian Government for 'humanitaian violations' fighting against the U.S.-Saudi imported terrorists who are trying to overthrow and replace Syria's Government. The U.S. has thousands of its own troops in their invasion and military occupation of Syria, and condemns Assad for leading the fight against that invasion-occupation.
As regards Ukraine, you can either see this terrific video-compilation documenting how Obama perpetrated a bloody coup which in February 2014 overthrew and replaced Ukraine's democratically elected Government
, or you can read my "Are Michael Isikoff And David Corn CIA Agents?" which documents the lies by those two 'investigative journalists', who spread the falsehoods about Ukraine that the U.S. aristocracy want to be spread against Russia, and which lies go against the realities that that video shows.
Incidentally, on 10 February 2017, in the video shown here, Isikoff interviewed Bashar al-Assad, who took his stenographed transmission of quite possibly fabricated 'evidence' against Assad, and turned it instead against the regime whose agent Isikoff so clearly does represent.
Obama's coup destroyed Ukraine. The World Happiness Reports, from the U.N. and Columbia University, have been published for 2013, 2015, 2017, and 2018. Each year's report covers, generally speaking, the surveys that were done worldwide during the preceding year. The American coup in Ukraine occurred in February 2014. So, the only pre-coup survey done was the 2013 publication, which covered the year 2012. As internationally ranked for happiness by the World Happiness Report, Ukraine went from #87 out of 156 nations, or 87/156 (the bottom 45%) in 2013, to 111/138 (the bottom 20%) in 2015, to 123/157 (the bottom 22%) in 2016, to 132/155 (the bottom 15%) in 2017, to 138/155 (the bottom 12%) in 2018. So: before the coup, Ukraine was in the worst 45%, but by 2018 it reached the worst 12%. That's an enormous plunge. Barack Obama wanted the coup, he got it, and it destroyed Ukraine. The U.S. claims to be trying to save Ukraine from Russia, but the reality is the exact opposite: that the U.S. destroyed Ukraine in order to become enabled to bring Ukraine into NATO and position U.S. nuclear missiles less than ten minutes flight-time from Moscow. Ukrainians have every reason to hate the U.S. Government, for what it did to them. Like what it did to Afghans, and Iraqis, and Yemenese, and Hondurans — and Chileans, and Guatemalans, and so forth. And like what it's doing to anyone who wants to avoid World War III — including the American people, who nominally (but not really) are represented by this rapacious Government, controlled by this rapacious aristocracy.
So: the documentation is unequivocally clear, that the U.S. Government lies shamelessly about both Syria and Ukraine — and Russia, and Iran, and much else.
Delusions of U.S. Hegemony In A Multi-Polar World: Trump Visits Europe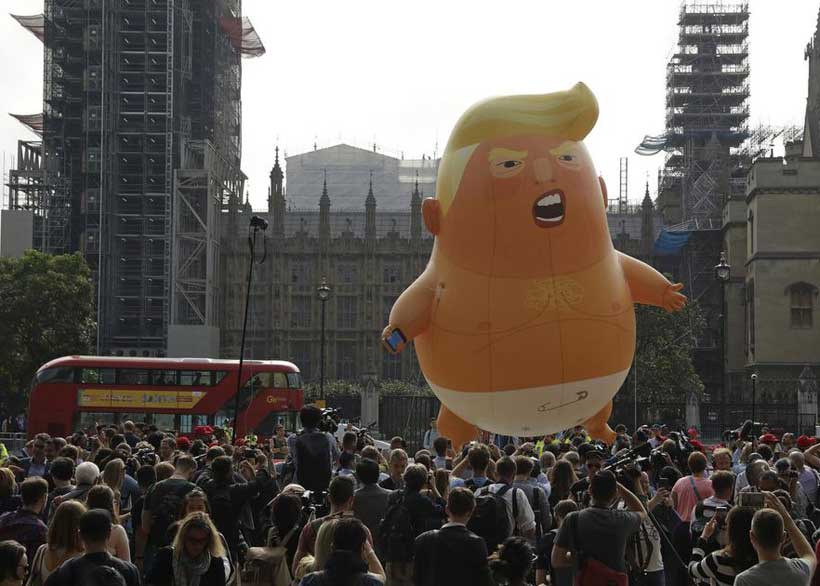 To say that US foreign policy is delusional is not an exaggeration.  It seeks political hegemony and a relationship with China and Russia akin to what it has had with Japan and Germany, that is, go ahead and develop in the economic sphere but don't try to flex political or military muscle.
There are at least two problems with this scenario:  China is now the world's largest economy on a purchasing power parity basis, and the Russians have the nuclear capacity to make a wasteland out of the US.  Russian weapons systems can also be superior.
Take the S-400 in comparison with the US Patriot missile defense system — the purpose of these surface-to-air systems is to shoot down incoming missiles or aircraft.  The S-400 has a more powerful radar, double the range, is faster (Mach 6 vs Mach 5), takes five minutes to set up against one hour for the Patriot, and is cheaper.  China has just bought 32 launchers and is expected to buy more, thereby challenging Japan, Taiwan (which it claims) and other neighbors for control of the skies, as it is doing over the seas bordering itself.  NATO member Turkey has recently signed a purchase deal, and Iran wants to, as does Qatar after its recent spat with Saudi Arabia.  If Russia supplies Iran, any attack planned by the US or Israel would prove to be very costly and politically infeasible.
In our world of instant and continuous news feeds, one can imagine a bemused Vladimir Putin listening to Trump exhorting NATO members to increase contributions to NATO — an organization designed to counter the Russian threat — specifically castigating Germany's Angela Merkel for being beholden to Russia with her country's reliance on Russian natural gas.
Early next week he meets Mr. Putin in Helsinki, fresh from his soft power World Cup triumph as the world beat a path to Russia.  What does Mr. Trump tell the leader of the world's largest country covering eleven time zones?  US political hegemony is a non-starter.
Europeans clearly want access to China, its labor, its markets, even finance, and with it comes Russia and their numerous initiatives together including the Asian Infrastructure Investment Bank (AIIE) their answer to the US-sponsored World Bank.  That Britain joined AIIB contrary to US wishes is a clear sign of China rising as the US declines comparatively;  Britain, having faced up to the US, was followed by a rush of European countries.
Russia wants sanctions lifted.  What does the US want?  Crimea is a non-starter.  Help with Iran?  For the Russians, it has become an important ally both with regard to Syria and as a Mideast power in its own right.  Mr. Trump's instincts are right.  But what he achieves is another matter.  Childish petulance accompanied by a different story for different leaders would leave an observer with little optimism.
Meanwhile, Mr. Trump manufactures and markets his own reality; this time on his popularity ('I think they like me a lot in the UK') despite avoiding roads and traveling by helicopter when possible during his pared down UK visit.  Hordes of demonstrators undeterred have a giant parade balloon several stories high of a bloated child with the trademark blonde hair.  It is one the largest demonstrations ever outside the US against a sitting president.
This 70-year-old program prepares young women for leadership
A record number of women are running for public office this year. In the near future, we can expect more female public servants representing the American people — from local chambers to Capitol Hill. In light of this exciting trend, it is important to highlight programs that help develop young women to become the next generation of female leaders. One such program? American Legion Auxiliary (ALA) Girls Nation.
ALA Girls Nation is a weeklong mock experiential learning program, one that positions high-potential teens for a lifetime of public service to our country. This summer, 100 female high school seniors — two from each of our 50 states — will convene in Washington, D.C., for the 72nd Annual ALA Girls Nation. Each teenage girl represents her state as a "senator" — mirroring the structure of government at the federal level. During this transformative weeklong program, these senators form a fictitious nation, become "Nationalists" and "Federalists," enthusiastically campaign to hold office, and — perhaps most important — accept and celebrate the outcome of these elections and come together to serve for the good of the nation.
ALA is a nonpartisan organization committed to advocating for veterans' issues, promoting patriotism, mentoring America's youth and proudly presenting ALA Girls Nation for over 70 years. The ALA Girls State and ALA Girls Nation are privately-funded and presented by members of the organization. The world's largest women's patriotic service organization, ALA was chartered in 1919 to support the mission of The American Legion.
More than 6,500 young women have attended ALA Girls Nation since its inception in 1947. Each participant leaves the program informed about the fundamentals of U.S. government — and the rights, privileges and responsibilities of citizens. It lasts for one short week. Yet the seven-day experience — one that champions the legislative process and serious collaboration — has laid the foundation for thousands of bright futures.
Many alumnae have chosen careers in public service, putting their ALA Girls State and ALA Girls Nation experience into action to serve the people. The lessons learned about teamwork, resilience and the democratic principles that guide the republic in which we live are applied in real life by many alums who have gone on to serve at the local, state and national level — including high-ranking members of the judiciary.
Justice Lorie S. Gildea began her tenure as chief justice of the Minnesota Supreme Court in 2010. She participated in the state-level version of ALA Girls Nation, known as ALA Girls State in 1979 — and the program, Gildea said, "empowered her to embark upon a lifetime of service and leadership."
"At ALA Girls State, we learn that every voice has value and that every woman needs to use her voice," said Gildea. "We also learn that we need to be courageous and confident enough to take life up on the opportunities that present themselves to us."
"An informed citizenry is essential to the success of our democracy. ALA Girls State [and ALA Girls Nation] plays a vital role in informing and educating our future leaders," Gildea said. "It is a wonderful opportunity to learn about and see firsthand how the three branches of our government work. I am so grateful to the American Legion Auxiliary for presenting ALA Girls State and teaching me and thousands of Minnesota's young women about the value of participation and the possibility of leadership."
Other alumnae have gone on to hold leadership roles in industries spanning government, military, media, education and law. Notable alumnae include Jane Pauley, national media personality; Stephanie Herseth Sandlin, president of Augustana University and former South Dakota U.S. representative; Susan Bysiewicz, former Connecticut Secretary of State; Lt. Gen. Michelle D. Johnson, superintendent of the U.S. Air Force Academy and former Air Force aide to the president; Ann Richards, former governor of Texas; and Susan Porter-Rose, former chief of staff to First Lady Barbara Bush — among countless others.
For some girls, it is their first opportunity to connect with peers with common interests. For others, it is the first time they encounter students whose perspectives differ from their own. For all, it is a moment in time when a select few teenage girls from all over the country come together to discover and celebrate the honor and importance of participating in our democracy. To learn more, visit www.ALAforVeterans.org.
Colombia-Venezuela: A Conflict with US Participation
The victory of right-wing candidate Ivan Duque in the Colombian presidential elections is not the best news for Venezuelan President Nicolas Maduro. The newly elected president has already refused to recognize Maduro's victory in the recent elections in Venezuela and announced that he would not send an ambassador to Caracas.
It is believed that Ivan Duque is the successor of the political line of the Colombian ex-president Alvaro Uribe (in power from 2000 to 2008) who was notorious first of all for fighting the left radical insurgent FARC group and accusing Hugo Chavez who was the Venezuelan President at that time, of harboring the FARC rebels in Venezuelan territory.
Troubled Sister Countries
There is no need to recall that Maduro owes his entire political career to the late Chavez.  Maduro was not only a long-time associate of Chavez but was perceived in society as the heir to Venezuela's legendary leftist leader. Maduro also inherited from Chavez a course toward friendship with Russia (Russia made large investments in Venezuela), as well as a diplomatic confrontation with the USA and its main ally in northern Latin America – Colombia. At one time Chavez made a point calling Colombia, intertwined with Venezuela by a 1,300 km-long common border, "Latin American Israel, hinting at the military and economic support provided by Washington to the Colombian leadership. In 2010 Chavez broke off any of his country's relations with Colombia.
Despite the fact that Colombian President Juan Manuel Santos, who succeeded Uribe, signed a peace agreement with the FARC in 2016, the relationship between Caracas and Bogota during Santos' rule has not improved. In his recent speech President Maduro accused Santos of interfering in Venezuela's internal affairs, to which Santos responded with speeches lamenting the lack of freedom in the "leftist" Venezuela.
Hatred against "Chavism"
Optimists expected relations to improve if the left candidate – Bogotá Mayor Gustav Petro would have won the elections in Colombia. In fact now Juan Manuel Santos finishes his second term as a "lame duck" after Duque's victory, and his dislike for Maduro can no longer have a negative impact on relations. But Petro lost, although he received 42 percent of the vote. And the very course of the presidential campaign showed that this is not about personal antipathies, but about strong ideological differences between the leaders of Venezuela and Colombia. During the election campaign, Duque's supporters declared the slogan: "Vote for our candidate, so that Colombia does not become another Venezuela." The former Colombian President Uribe does not conceal his hatred for "Castro-Chavism," and the victory of his candidate (Uribe created the Democratic Party that supported Duque) does not promise Maduro or any other "chavist" relations improvement.
Russia's Stance
Russia takes an emphatically distant position in relation to the political standoff of the two neighboring Latin American countries, and this approach seems reasonable in this situation. Russia does not make a secret of the fact that Venezuela is experiencing enormous economic difficulties. The Institute of Latin American Studies of the Russian Academy of Sciences acknowledged that there is hyperinflation in the country and that its GDP reduced by 12 % in 2017.
Russian political analysts are aware of the US interest in the "early collapse of the Chavist regime", but nevertheless, they do not veil the fact that Venezuela's leadership is primarily to blame for the country's economic problems. Experts of the Council for Foreign and Defense Policy (CFDP) also came to this conclusion, pointing out the inability of the Venezuelan leadership to convert petrodollars of 2000s into diversification of domestic economy. So the Russian approach to both Venezuelan and Colombian issues can be seen as lacking ideology: Russian companies responded to Venezuela's business proposals, but this response was based on mutually beneficial cooperation, not on a desire to support a left or right ideology.
Violence as Tradition
As for the continuing ideological struggle between the "left" Venezuela and the "right" Colombia, its result is far from a foregone conclusion. The success or failure of  the ruling elites in Venezuela, and especially in Colombia, people estimate not only by economic indicators, but also by the safety of life.  And in Colombia, this is even worse than in Venezuela: the leftist insurgent movement FARC (the "Revolutionary Armed Forces of Colombia") has waged a civil war in Colombia since 1964. And FARC seized the baton of violence from the so-called liberals: the conflict between the Colombian government and the FARC grew out of the war between supporters of the Liberal and Conservative parties of Colombia that continued for a decade (!) in 1948-1958, (it is this violence, which claimed about 200,000 lives, was reflected in Gabriel Garcia Marquez's novel "One Hundred Years of Solitude").
In 2016, the outgoing President Juan Manuel signed a peace agreement with the FARC, but the majority of the country's population refused to approve the agreement in a referendum. Violence and fear did not stop although the FARC became a formally legal political party and changed the meaning of the abbreviation of its name (Fuerza Alternativa Revolucionariadel Comun – The Common Alternative Revolutionary Force).
The fact is that the violence in Colombia in recent decades has come not so much from the left, but from the right side of the political spectrum. Even the traditionally anti-communist British BBC reports that in the political sector Colombia has a radical, sometimes violent, right-wing tradition.
The BBC admits that this tradition in Colombia is linked, among other things, to the murders of leftist politicians and cultural figures. The members of the so-called "The United Self-Defenders of Colombia" (Autodefensas Unidas de Columbia – AUC) especially often resorted to violence. For many years they proclaimed their task to wage armed struggle against the FARC rebels.  But in 1997-2006. under the pretext of  fighting the Colombian "chavistas," the AUC forces killed thousands of people; in 2006 the AUC was officially declared a terrorist organization and dissolved. Before that, this ultra-right group was reported to be involved in drug trafficking as well as in hostage-taking for ransom – the two types of criminal activity traditionally associated with the FARC. As for the level of violence, the AUC and their successors leave far behind Venezuela's government forces who have killed several dozen protesters in recent months.
Maduro Accuses
In his propaganda war with President Santos, which is likely to soon turn into a propaganda war with the new Colombian President – Duque, Maduro and his supporters emphasize the ties between the Colombian government and the USA and the US intelligence services. There is nothing unexpected in this accusation: Uribe as well as Santos closely collaborated with the "advisers" from Washington and even invited the American armed forces into the country.
But now, when the chair beneath him staggers, Maduro considers Colombia as a "strike force" of US intervention directed at him. Recently  Maduro directly accused Colombia of trying to provoke an armed conflict with Venezuela and overthrow the "chavist" authority.
This Maduro's accusation against Bogota is worth listening to. In this situation Russia will have many allies among Latin American countries: after all, even cautious Brazil and Argentina turned against the Colombian President Santos, when in early 2010s Colombia started talking about deploying American bases on its territory. However, later the same countries which are part of the Organization of American States excluded Venezuela from their ranks for the deficit of democracy. Somewhat strange contradiction.  From this one can assume that the countries of the southern continent want democracy, but without American "supervision".
First published in our partner International Affairs