Act Now for a More Prosperous and Livable Dhaka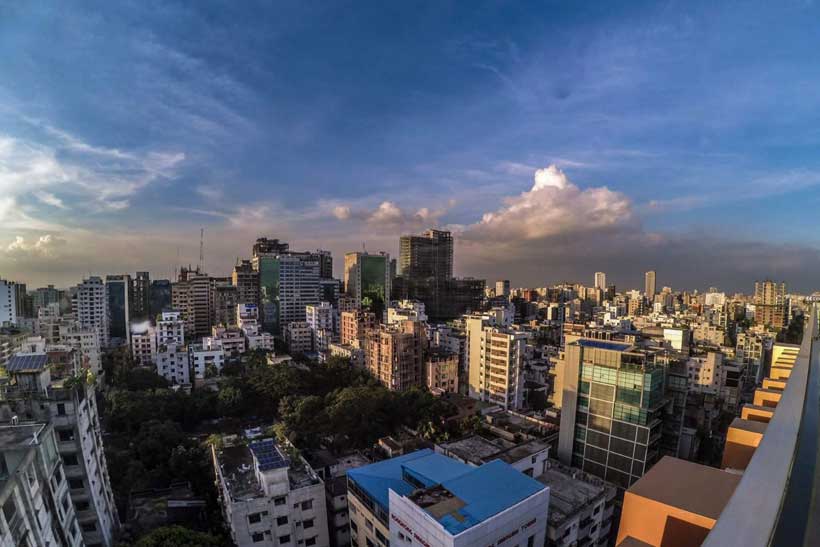 Through swift measures to develop East Dhaka, Bangladesh has a unique opportunity to relieve the flooding, congestion, and messiness that are clogging the capital's growth and affecting the quality of life of its people, says a new World Bank report released today.
The report, Toward Great Dhaka: A New Urban Development Paradigm Eastward, lays out a strategic vision for the city to unlock its development potential. Inspired by the success of Pudong, Shanghai, but based on localized economic modeling and simulations, the report recommends three critical interventions to develop East Dhaka. This area is mainly rural at present, but it is located within a few kilometers of the most valuable parts of the city.
The three interventions are: building the eastern embankment along the Balu River to mitigate flooding; developing transport links and public transit to ease congestion; and creating a world-class business district with sound policies to attract firms and residents eastward.
The report analyzes how these interventions could propel Dhaka toward becoming a global city and a stronger economic powerhouse for Bangladesh. If adopted, average income per capita in Dhaka could reach $9,200 by 2035 compared to less than $8,000 on current trends.
"Dhaka's residents currently face many difficulties, as the city's infrastructure development has not kept pace with the substantial growth of its population and traffic" said Martin Rama, the World Bank's Chief Economist for South Asia. "Developing East Dhaka with a strategic approach will result in a more prosperous and livable city. But action must be taken now, to avoid replicating the messy urban development of the past, and to mitigate environmental and social risks. Fixing East Dhaka in the future will be much more expensive and difficult."
Dhaka's population has increased from 3 million in 1980 to more than 18 million today, with 3.5 million residents currently living in slums that lack basic services. Average driving speed has slowed from 21km/h to less than 7km/h, and 3.2 million working hours are wasted everyday due to congestion. Social costs will worsen without a different approach to urban development, as Greater Dhaka will be home to 25 million people by 2035 on current trends.
 "Because of its vast size and proximity to the city center, East Dhaka represents a golden opportunity that few megacities in the world have. But seizing this opportunity requires a clear mandate by authorities, good collaboration between agencies, and concerted implementation" said Qimiao Fan, the World Bank's Country Director for Bangladesh. "As a long-term development partner, the World Bank stands ready to work with the government and the people of Bangladesh to transform the dream of a great Dhaka into a reality." 
The three interventions proposed in the report could enable Dhaka to comfortably host an extra 5 million inhabitants, and to create 1.8 million additional jobs, compared to a continuation of business as usual. The interventions would cost about $15 billion, but they could lead to $53 billion in increased economic activity per year by 2035. They would also result in an improved quality of life for Dhaka's inhabitants, and alleviate many of the challenges the city currently faces.
Why public transit is a key economic issue for growing cities
We'd love to take our daily commute for granted. Except, we can't. It is essential that we continue to make public transportation as efficient as possible for commuters.
Over the decades, as a nation we have put investing in our transportation infrastructure, particularly our bus and rail systems, on the back burner. The result: Today's public transit backlog sits at $90 billion, according to the U.S. Department of Transportation. This is a missed opportunity to make our public transportation systems more efficient and our cities more productive, and it has serious economic implications.
For instance, a lack of investment in our public transportation infrastructure costs the U.S. economy $340 billion in revenue over a six-year period, according to the study, "The Economic Cost of Failing to Modernize Public Transportation." The study was conducted by the Economic Development Research Group Inc. for APTA.
"Our failure as a nation to address America's public transit modernization needs has wide-ranging negative effects," says APTA president and CEO Paul P. Skoutelas, "because lost time in travel makes a region's economy less productive."
Failing to meet growing public transit needs
As the number of U.S. workers continues to rise, so do the pressures on all areas of our infrastructure.
Since 1995, the U.S. has seen a 42 percent rise in public transit miles traveled. Despite that, needed improvements to our bus and rail assets have not kept pace with growth, the study concludes. Furthermore, the study shows how, as the U.S. fails to invest in the upkeep and maintenance in the nation's public transit assets, it leads to service interruptions and lost time, which leads to lost wages.
Dorval R. Carter Jr., president of the Chicago Transit Authority, oversees a legacy rail system that's more than 100 years old, and faces the challenge of fixing or replacing aging infrastructure.
"Parts of our rail system date back to the late 1800s," Carter says, "we are facing an unmet — and growing — capital need of nearly $13 billion and meeting it has become even more challenging given funding constraints not only at the federal level, but especially at the state and local levels."
The impact of public transit on local economies
Service interruptions and delays because America has not kept up with transit investments have a direct and immediate effect on the economy. If workers can't get to work on time, it affects their productivity.
When an aging road and rail system adds time and delays to commutes, that puts the brakes on economic output.
"Based on recent surveys of our riders in Central Ohio, we know 70 percent of our customers rely on our service to reach work," says Joanna Pinkerton, president and CEO of the Central Ohio Transit Authority. "This is just one example of why it is vital to continue investment in public transportation infrastructure to support residents and the economy."
Pinkerton adds that over the next 30 years, Central Ohio's public transit system will have to evolve to prepare for 1 million additional residents and 600,000 jobs.
The quality of a city's public transportation system is an important factor for companies that are looking to expand or relocate. For example, in 2014, Atlanta's public transportation system played a role in State Farm Insurance's bid to locate 8,000 new jobs there. One year ago, when Amazon asked cities to create proposals for its second headquarters, the online retailer indicated that it wanted to hear from cities with access to public transit.
The good news is, Congress has allocated a spending increase for the 2018 fiscal year budget for public transit.
"While this is a positive step forward in helping to address the nation's aging public transit infrastructure," Skoutelas says, "this momentum must be maintained by providing similar funding levels for 2019."
ADB-Funded High-Tech, Low Emission Buses Rolled Out in Kathmandu
A fleet of 17 new high-tech, low-emission buses to help reduce congestion and pollution in the capital city of Kathmandu has been rolled out as part of a project funded by the Asian Development Bank (ADB).
The 25-seater buses will be used on a pilot route called S5—from Gongabu to Sinamangal—replacing the aging 26 microbuses and 35 tempos or three wheelers that ply the route.
The initiative is part of the ADB Kathmandu Sustainable Urban Transport Project, which is promoting the use of low-emission vehicles and helping improve mass transport in the Kathmandu Valley. Population growth, rapid urbanization, and the increasing number of vehicles in the Kathmandu Valley have led to traffic congestion, road accidents, environmental degradation, and poor public transport operation and services in recent years.
"ADB is pleased to work closely with the Department of Transport Management on this project to provide the city with a more efficient urban transport system," said ADB Country Director for Nepal Mr. Mukhtor Khamudkhanov. "What is really commendable is that the effort to improve the urban transport system is being led by a public-private partnership, and this partnership will be the key to the system's sustainability in the long run."
The owners of the microbuses and the tempos came together to form a private limited company that now runs the bus service. The capital for this initiative was provided by the government-managed Town Development Fund financed by ADB, grants from the Global Environment Facility, and equity financing from the company itself.
"The incentive for the owners who had to shut down the aging microbus and tempo service in the designated routes and operate the newer and cleaner buses is that they are now shareholders of the new company and will get regular dividends," said Project Director Mr. Ananta Acharya. "So, it's a win-win for transport operators, passengers, and most importantly, for the environment."
The new buses use Euro-4 emission standard engines that reduce the levels of harmful exhaust emissions such as carbon monoxide. They also use a Global Positioning System (GPS) enabling passengers to track the buses in real time. Passengers can also use card to pay their fare, while the buses themselves are disabled-friendly.
The project is helping to improve traffic management in the city center and making it more walkable through pedestrianization of heritage routes and supporting the Department of Transport Management to build up knowledge and skills in urban transport management.
The total cost of the project is $22.37 million, with the Government of Nepal contributing $7.9 million. The total cost of the implementation of the bus service operation in the pilot route, including the facilities of e-ticketing, GPS tracking, and other communication equipment, is $900,000.
Latin America and the Caribbean hop into electric mobility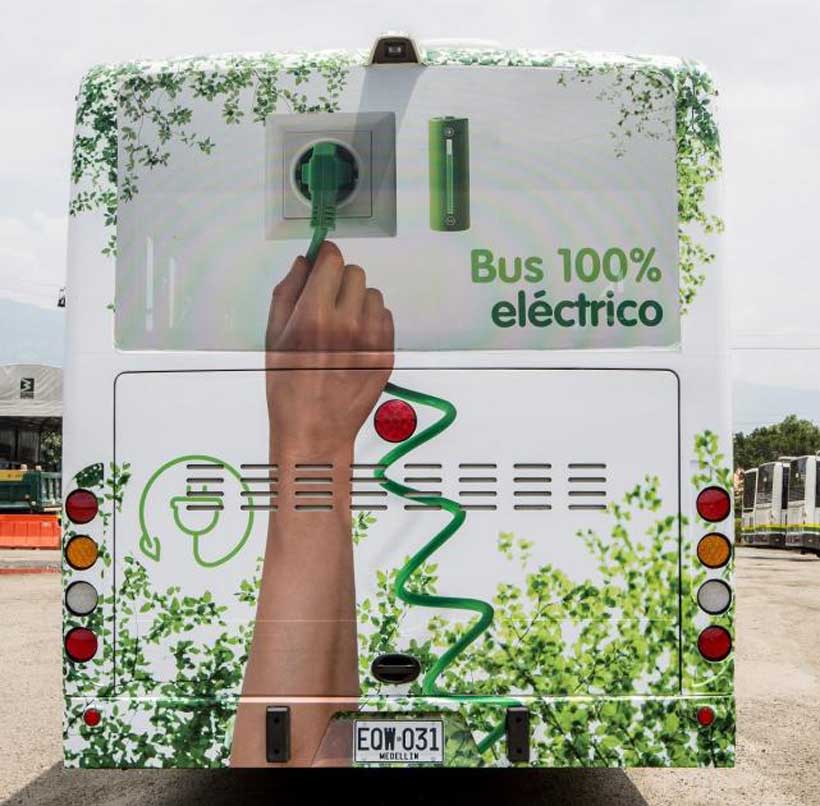 Air pollution kills nearly 7 million people every year around the world. The situation could worsen in the coming years in Latin America and the Caribbean, where transport – a rapidly growing sector – is the main source of greenhouse emissions.
The region's vehicle fleet is expanding faster than any other in ​​the world and could triple over the next 25 years. This would result in a collapse of the cities' road infrastructures and in a proportional increase of pollutants.
To avoid this dramatic scenario, several countries in the region are implementing innovative laws and projects to promote electric mobility and introducing clean vehicles into their public transport.
If the current fleet of buses and taxis of 22 Latin American cities were replaced with electric vehicles right now, the region could save almost US$64 billion in fuel by 2030, avoid the emission of 300 million tons of carbon dioxide equivalent, and save 36,500 people from premature death, revealed a UN Environment and International Automobile Federation (FIA Region IV) study, supported by the Spanish Agency for International Development Cooperation (AECID) and the European Union.
UN Environment, through its MOVE platform and with the support of Euroclima+ project, is assisting Argentina, Colombia and Panama with their national electric mobility strategies, and is also helping Chile and Costa Rica in their plans to expand the use of electric buses.
Costa Rica is one of the regional leaders of the transition. The Central American country wants to be the first "decarbonized" nation in the world, as its President, Carlos Alvarado, announced last May during his inauguration.
The country already has an energy matrix that is almost a 100 per cent clean, which helped to reach an important record in 2017: more than 330 continued days consuming electricity only from renewable sources. But transport still depends on fossil fuels and is responsible of 68 per cent of energy sector emissions. The public sector is therefore paying greater attention to electric mobility.
Earlier this year, Costa Rica adopted a groundbreaking law in the region to encourage electric vehicles. The law creates economic incentives to the public and private sectors and introduces benefits, like better access to loans. Additionally, three electric buses will travel across the country as part of a pilot plan.
In the southern part of the continent, Chile is working to have the second largest electric buses fleet in the world, right after China, which currently has 150,000 units. The Chilean government approved a plan last year to gradually introduce 200 electric buses into the transport system of Santiago, Transantiago, and is aiming to exceed 2,000 buses by 2025.
Gianni López, a civil mechanic engineer at the Mario Molina Development and Research Center, says, at this stage, electromobility in Latin America and the Caribbean is mostly competitive in cargo and public transport vehicles.
"In the short term, the region will not have a transition like Norway's, the world leader. The difference in prices between conventional and electric cars in our countries are still huge and can only be amortized through intensive uses," such as buses, taxis, company fleets or cargo transport, explains López.
Gonzalo Pacheco, General Manager of the Chilean company Movener, says Chile and the rest of the region need to improve after-sales and maintenance processes, as there are only a few experts in the region and the local universities still do not offer this kind of training.
However, the charging infrastructure is seen as the great challenge of Latin America and the Caribbean.
"Although electric cars can be charged at home, users suffer from the so-called 'anxiety range'. They are afraid the car will run out of energy before reaching the destination," says Gastón Turturro, Engineering Professor at the University of Buenos Aires.
Gustavo Mañez, UN Environment Climate Change Coordinator in Latin America and the Caribbean, believes this is far from the truth. "Everyone in the region has electricity outlets at home or at work, and considering that vehicles are parked more than 90 per cent of the time during the day, they could be charged virtually anywhere at a cost almost 10 times lower than that of fossil fuels," he explains.
Uruguay has recently taken important steps in this field: the country has built electric charging stations in 300 km of its main touristic roads, now the first 'electrified' route in the region. The South American country intends to cover 20 per cent of the 9,000 km of its national roadways by 2020. In addition, it has exempted commercial electric vehicles from import taxes.
Argentina has also shown determination. The Government has recently approved a decree that reduces duties on the import of electric cars from 35 to 2 per cent and has presented a law in the National Congress to encourage electric mobility, "very similar to that of Costa Rica and which will mark a precedent in the region," says Turturro.
The country will also release a dozen of electric buses in Buenos Aires by the end of the year: "If we electrify the capital bus fleet, we could even have a 25 per cent reduction in emissions," adds the expert.
In Colombia, Medellín prepares the deployment of 1,500 electric taxis by 2020, 500 of which will operate this year. While in Mexico – one of the world's largest automotive producers –, two large companies, Zacua and Giant Motors, lead projects to manufacture 100 per cent national electric cars.
"Latin America has the greenest electricity matrix in the world, the fastest growing emissions of the transport sector and the highest use per capita of public transport globally. The region is uniquely positioned to take advantage of electric mobility", adds Mañez.
The transition to electric mobility will help Latin American countries reduce emissions and fulfill their commitments under the Paris Agreement. The pact, signed in 2015 by nearly 200 countries, aims to keep the global temperature rise well below 2 degrees Celsius above pre-industrial levels by the end of the century and to pursue efforts to limit the temperature increase even further to 1.5 degrees Celsius.
UN Environment Office in Latin America and the Caribbean launched the MOVE platform in 2016 to accelerate the transition to electric mobility in the region. Since its creation, MOVE has positioned itself as a flagship community of practice in the provision of technical assistance, resource mobilization, capacity building and knowledge creation on electric mobility in the region.