Youth, Women Hold the Key to Sri Lanka's Prosperity
In 2017, Sri Lanka had an estimated 497,000 job vacancies. Critical skills mismatches between the qualifications job seekers possess, and the expectations of employers, have left key industries like tourism feeling the pinch. With the country currently reporting high rates of youth unemployment, the figures underlined the importance of the reform agenda in Sri Lanka.
In a discussion held to mark the launch of the World Bank's latest edition of the Sri Lanka Development Update [SLDU], panellists noted that when it came to job creation, the island was grappling with complex and interlinked challenges that spanned the spectrum from education to legislation. As technology forced rapid evolution in the world of work, youth would drive change.
"We need youths to be at the forefront of creating jobs…We need them to push policy makers, the private sector and the public sector to lift hurdles in their way so they can get on with being tomorrow's employers and innovators," said Dr. Idah Z. Pswarayi-Riddihough, World Bank Country Director for Sri Lanka and the Maldives.
As Sri Lanka strove to increase its exports, the island's workforce would be thrown into competition with global players. Ralph Van Doorn, senior economist and one of the author's of the SLDU said: "We think that the job agenda is the competitiveness agenda – if you become more competitive, you will create more and better jobs."
Below are highlights from the hour-long panel discussion, moderated by economist Kithmina Hewage.
Realising the potential of women and youth
The SLDU notes that Sri Lanka needs to create jobs opportunities appropriate for its labor force, in particular for youth and women. In 2017, the unemployment rate for those between 15 – 24 years old stood at 18.5 percent – as compared to just 0.9 percent for those aged 40 and over. Among all age groups, women were more at risk of unemployment than men.
"The way our tertiary system is structured now, it cannot react to fast enough to changes in the markets. We need to figure out models which can help us produce graduates demanded by the market," said Dr. Nisha Arunatilake, Director of Research at the Institute for Policy Studies, sharing her conviction that finding a role for the private sector would inject resources and drive innovation in the education system. She emphasized that this must be done while ensuring equity and access to education for all.
Prof. Dayantha Wijesekera, former Vice Chancellor of Open University and University of Moratuwa, suggested that by reintroducing once popular apprenticeship schemes and making course admission criteria more flexible, universities could better support students willing to add new skills and knowledge to their resumes. "We should have more and innovative methods of attracting youth to the already adequate facilities for vocational training, rather than spending more money on infrastructure," he added.
While such reforms would help young people across the board, more needed to be done to ensure women joined the workforce. The expansion of quality subsidised or community-funded childcare is critical, said Ganeshan Wignaraja, Chair of the Global Economy Programme at the Lakshman Kadirgamar Centre. He added that the level of harassment women faced on public transport and in the workplace was shocking and called for a strong, well-considered response from the state and from employers.
Addressing the legal and policy constraints creating bottlenecks
Critical to creating confidence in foreign investors and improving Sri Lanka's business environment will be updating Sri Lanka's labour laws. "Reform to the labour law is essential," Ayomi Fernando, Industrial Relations Advisor for the Employers Federation of Ceylon noted, adding that efforts have long been underway to update and simplify the relevant laws, some of which date back to 1950s.
"Quite a few of them pose huge restrictions to employment generation, to people moving jobs," she said, explaining that investors naturally baulked.
The laws also weren't made with the modern market in mind – for instance, many local offices must now consider the working hours of colleagues in other timezones, for which no allowances are made. The rising numbers of freelance and part-time workers, and those wishing to work from home were also not addressed, creating challenges for employers and employees both.
Meanwhile, SMEs in Sri Lanka's large informal sector needed incentives to formalize said Ralph, pointing out this would in turn give them access to institutional support, market linkages and financial backing that could help them grow. Studies estimate that 60 percent of all employed people work in informal work arrangements. Here, reforms could pave the way for extending the protection of labor laws to such employees.
Designing protections for the most vulnerable
One of the fastest ageing countries in the world, Sri Lanka faces a demographic transition that will leave the country with fewer earners and a larger proportion of dependents. Highlighting that pensions were one of the key deciders for job seekers, Ganeshan pointed out that there was a pressing need to create viable alternatives for the private sector, perhaps by allowing reputed private pension providers to set up shop in Sri Lanka. Ralph added that it was important to gradually expand pension coverage and to increase portability of pension schemes to reduce the bias to public sector employment and protect informal sector workers.
The panel agreed that Sri Lanka's existing social protection programs lack adequate coverage, and need to be better targeted. Currently, upon retirement private sector employees receive inadequate pension benefits, a lump sum payment at retirement or no pension at all. "Pension reform, as we age, will become the number one issue, otherwise I fear the country will face a crisis of old age poverty…" said Ganeshan.
Ayomi cautioned that the gender aspect of the issue should not be ignored: "One real problem that we have with pensions in Sri Lanka is that they are linked to employment, and what we are seeing is that 50 percent of females never work and they are the ones who live longer – they live eight years longer than men – and they are ones who don't have access to pensions. So pension reforms should delink pensions from employment."
In the end, the panel agreed that neither the public sector nor the private sector could rescue the economy alone. "We need to build financial literacy and encourage people to plan for their old age," said Wignaraja. "The state cannot do everything, not in the macroeconomic situation where we are. I think it's time that people woke up to this reality."
A double-edged sword: China and Pakistan link up with fibreoptic cable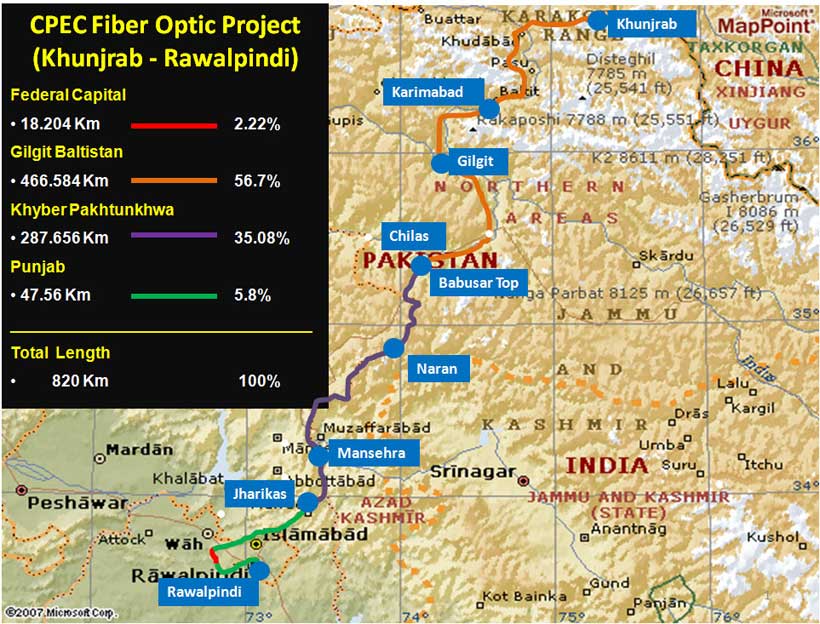 This month's inauguration of a fibreoptic cable linking Pakistan with China could prove to be a double-edged sword. Constructed by Chinese conglomerate Huawei Technologies Co., Ltd, the cable is likely to enhance both Pakistan's information communication technology infrastructure as well as the influence of Chinese authoritarianism at a moment that basic freedoms in Pakistan are on the defensive.
The $44 million, 820-kilometre underground Pak-China Fibre Optic Cable links Rawalpindi with the Chinese border at Khunjerab Pass and is backed up by a 172-kilometre aerial cable. A second phase of the project is likely to connect to the port of Gwadar in Balochistan, a key node in China's US$ 50 billion plus infrastructure-driven investment in the South Asian state, dubbed the China Pakistan Economic Corridor (CPEC).
The cable is expected to provide terrestrial links to Iran and Pakistan and serve as a conduit to the Middle East, Europe and Africa through hook ups with submarine cables.
The inauguration of the cable came days after China launched two satellites for Pakistan from the Jiuquan Space Center in Inner Mongolia, to provide remote sensing data for CPEC.
The satellites are expected to monitor natural resources, environmental protection, disaster management and emergency response, crop yield estimation, urban planning and provide CPEC-related remote sensing information.
The prominence of Pakistani military officers, including General Qamar Bajwa, Pakistan's top military commander and Major General Amir Azeem Bajwa, the head of the Special Communications Organisation (SCO), at the inauguration underlined the cable's strategic and potentially political importance.
Pakistan's military sees the cable as a way of ensuring that the country's in and outbound traffic does not traverse India. Major General Bajwa told lawmakers last year that the current "network which brings internet traffic into Pakistan through submarine cables has been developed by a consortium that has Indian companies either as partners or shareholders, which is a serious security concern."
The key to the cable's potential political significance lies buried in the Chinese-Pakistani vision that underlines CPEC against the backdrop of Chinese concern about the messiness of Pakistani politics and the People's Republic's support of what it sees as the behind-the-scenes stabilizing role of the country's powerful military.
A leaked draft outline of the vision identified as risks to CPEC "Pakistani politics, such as competing parties, religion, tribes, terrorists, and Western intervention" as well as security. "The security situation is the worst in recent years," the outline said.
The vision appears to suggest addressing security primarily through stepped up surveillance  based on the model of a 21st century Orwellian surveillance state in parts, if not all of China, rather than policies targeting root causes and appears to question the vibrancy of a system in which competition between parties and interest groups is the name of the game.
The draft linked the fibreoptic cable to the terrestrial distribution of broadcast media that would cooperate with their Chinese counterparts in the "dissemination of Chinese culture." The plan described the backbone as a "cultural transmission carrier" that would serve to "further enhance mutual understanding between the two peoples and the traditional friendship between the two countries."
Pakistan's Ministry for Planning, Development, and Reform said at the time that the draft "delineates the aspirations of both parties"
The cable's facilitation of aspects of the Chinese surveillance state and soft power strategy occurs in a country in which feudal and patronage politics dominate the countryside and the military has sought to severely curb media coverage in the run-up to elections scheduled for July 25.
"Democracy has become a terrifying business in the villages of Pakistan. Elections might change the federal and state governments, but the feudal and punitive power structures in the countryside don't change. The feudal lords offer allegiance to the new ruler and continue to oppress the poor villagers," said Ali Akbar Natiq, a scholar, poet and novelist who returns every two weeks to his home district of Okara in Punjab, in an article in The New York Times.
The media crackdown involves censorship of TV channels, newspapers and social media, including preventing the distribution of Dawn. An English-language newspaper, Dawn was established by Pakistan's founder Mohammed Ali Jinnah before the 1947 partition of British India, as a way for Muslims to communicate with the colonial power.
Cable operators were advised to take Dawn's TV channel off air, advertisers were warned to shy away from the paper while its journalists were harassed. Other journalists and media personalities have been kidnapped or detained by masked men believed to be linked to military intelligence.
Columnist and scholar S. Akbar Zaid said last month that he was advised by Dawn that the paper could no longer publish his column "because of censorship problems that they are facing with regard to the military and its agencies. They say that the threats are very serious," Mr. Zaid said.
Daily Times journalist Marvi Sirmed reported that her home was burgled and ransacked last month. The intruders took her computers, smartphone, and her passport as well as those of members of her family but left valuables such as jewellery untouched.
Pakistan's military has denied cracking down on the media although it conceded that it was monitoring social media.
Bloggers, including well-known journalist Gul Bukhari, are among those who have been detained and released in some cases only weeks later.
A guard in a detention centre where five bloggers were held last year for three weeks, alongside ultra-conservative militants, told his captives:, according to one of the detainees: "You are more dangerous than these terrorists. They kill 50 or 100 people in a single blast, you kill 600,000 people a day," a reference to the 600,000 clicks on the bloggers' Facebook page on peak days.
In an editorial published after months of harassment Dawn charged that "It appears that elements within or sections of the state do not believe they have a duty to uphold the Constitution and the freedoms it guarantees. Article 19 of the Constitution is explicit: 'Every citizen shall have the right to freedom of speech and expression, and there shall be freedom of the press.' The 'reasonable restrictions' that Article 19 permits are well understood by a free and responsible media and have been consistently interpreted by the superior judiciary."
The paper went on to say that Dawn "considers itself accountable to its readers and fully submits itself to the law and Constitution. It welcomes dialogue with all state institutions. But it cannot be expected to abandon its commitment to practising free and fair journalism. Nor can Dawn accept its staff being exposed to threats of physical harm."
At the bottom line, Pakistan's new fibreoptic cable promises to significantly enhance the country's connectivity. The risk is that visions of Chinese-Pakistani cooperation in the absence of proper democratic checks and balances threaten in Pakistan's current political environment to undermine the conditions that would allow it to properly capitalize on what constitutes a strategic opportunity.
India Ranked at Top as the Most Dangerous Country for Women
Thomson Reuters Foundation in its recent survey released on June 26, 2018 ranked India as the most dangerous country in the world for women.
More than 500 global experts on women's issues took part in a survey covering areas such as healthcare, discrimination, cultural traditions, sexual and non-sexual violence and human trafficking. Not enough was being done to tackle the dangers women faced, they said. India was ranked fourth in a similar study conducted in 2011.
Afghanistan and Syria were ranked second and third in the study, followed by Somalia and Saudi Arabia. The only western nation in the top ten was the USA. The foundation said that this was directly related to the #MeToo movement
According to government data gathered in the study, crimes against women in India rose by more than 80 per cent between 2007 and 2016. Nearly 40,000 rapes were reported in 2016, despite a greater focus on women's safety after the fatal gang rape of a student in Delhi in 2012 that prompted nationwide protests and led to tougher laws against sexual abuse being introduced.
India recorded 539 cases of sexual harassment in the workplace in 2016, 170 per cent from 2006, a report from last year suggested. However, campaigners have said that those figures are only the tip of the iceberg; a 2017 survey by India's National Bar Association found that nearly 70 per cent of victims did not report sexual harassment.
Manjunath Gangadhara, an official at the Karnataka state government, said: "India has shown utter disregard and disrespect for women. Rape, marital rapes, sexual assault and harassment, female infanticide has gone unabated. The fastest-growing ecnomy and leader in space and technology, is shamed for violence committed  against women."
Some observers pointed out that the study, while it took in wider streams of figures, was primarily based on opinion.
Upasana  Mahanta, of Jindal Global University in Delhi, told The Times: "I'm not sure that India is any more dangerous now than it was six years ago. In terms of progress, having only legal provisions  will not make the difference. Most studies show that women in India are mostly victims of violence from their partners or family members. Which shows they are hurt because they are women, regardless of cultural, economic or social factors. Women are basically being put in their place through violence."
In the past year several prominent rape and murder cases involving children have led to the introduction of the death penalty for those convicted and speedier trial process for violence against females.
The Ministry of Women and Child Development declined to comment on the survey results, said the Thomson Reuters Foundation, the news network's philanthropic arm.
Pakistan: A New Space Era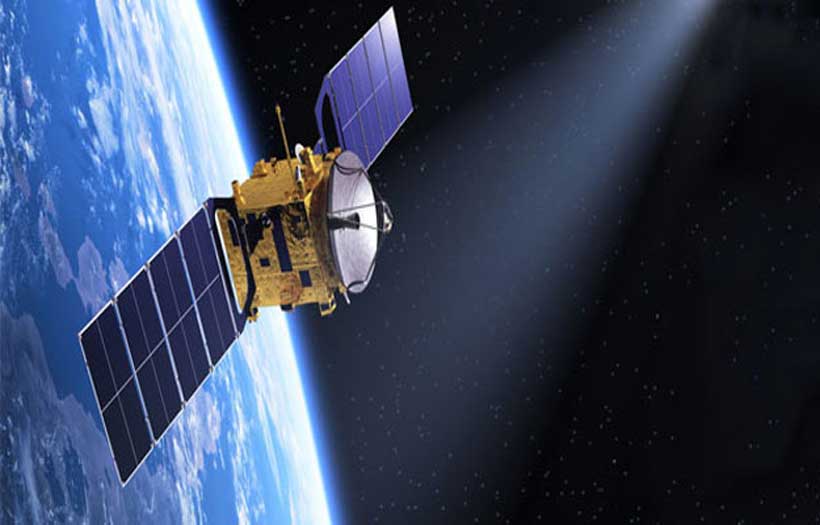 Pakistan's fragile economy and resource restraints are the main hurdles in the way of technological development, especially in space affairs. Therefore, it is so obvious that Pakistan governments' priorities were off the beam in term of emphasis on space technology. Notwithstanding, Pakistan has taken a small step by launching two indigenously manufactured satellites, Remote Sensing Satellite-1 (PRSS-1) and Pakistan Technology Evaluation Satellite-1A (PakTES-1A) into orbit using a Chinese launch vehicle.
PRSS-1 is an earth observational and optical satellite, which will allow SUPARCO to analyze its imagery requirements in terms of land mapping, agriculture classification and assessment, urban and rural planning, environmental monitoring, natural disaster management and water resource management for the socio-economic development of the country. After the launch, Pakistan has joined the elite club to have its own remote sensing satellite in orbit.
Pakistan is an active participant of international cooperation of Asia Pacific Space Cooperation Organization (APSCO). The APSCO is an inter-governmental institute functioned as a non-profit independent body with full international legal status. Its Members include space agencies from Bangladesh, China, Iran, Mongolia, Pakistan, Peru, Thailand, Indonesia and Turkey. The recent launch of satellites by Pakistan is an extension of support given by APSCO. Therefore, it is the conceding fact that after the successful launches of PRSS-1 and PakTES-1A projects, the space collaboration between Pakistan and China with respect to APSCO will be further strengthened.
The launch of two new satellites will facilitate SUPARCO in developing indigenous capabilities in space technology and promote space applications for socio-economic uplift of the country. Recently, an international conference on the Use of Space Technology for Water Management was hosted by the SUPARCO in March 2018. The United Nations Office for Outer Space Affairs (UNOOSA), the Government of the Islamic Republic of Pakistan and the Prince Sultan Bin Abdulaziz International Prize for Water (PSIPW) – were jointly organizing the Conference. The conclusion of the conference was that there mote sensing satellite technology i.e. PRSS-1, have validated established competences in terms of water resource management.
Pakistan is rapidly becoming a water-stressed country and according to some estimates, it could face mass droughts by 2025. In this scenario, a remote sensing satellite will be very beneficial in accumulating the data for future plans to fight against this evolving threat. PRSS-1 will use remote sensing techniques to outline the surface water bodies, assess meteorological variables like temperature and precipitation, estimate hydrological state variables like soil moisture and land surface characteristics, and fluxes such as evapotranspiration will be compiled by scientific methods.
Pakistan along with other South Asian states is the most vulnerable countries to climate change. Satellite remote sensing is a useful scientific tool in understanding the climate system and its changes. The technologies and information related to space contribute a fundamental role in climate knowledge, science, monitoring and early warning. Space-based information can subsidize to calculations of the vulnerability of societies to climate change and can help monitor the efficiency of adaptation strategies.
Agriculture holds a great significance for Pakistan and being an agrarian economy, all institutions should be playing a positive role for consolidation in the agriculture sector. The professions related to agriculture i.e. farmers, agronomists, food manufacturers and agricultural policymakers can concurrently augment production and profitability by using space-based technology. The best apparatus to monitor and enhance agriculture development is a remote sensing satellite, which provides key data for monitoring soil, snow cover, drought and crop development. Remote sensing satellite can assess and record precipitation for farmers to assist them in scheduling the timing and amount of irrigation they will need for their crops. Precise data and examination can also benefit in forecasting a region's agricultural output well in advance and can be critical in anticipating and mitigating the effects of food shortages and famines.
In this era of technological advancement, the Global community today faces a series of non-tradition threats such as climate change and the management of depleting natural resources. In the backdrop of emerging requirements of societal and economic development, geospatial technology is evolving as a top technological domain in the 21st century. The technologies related to earth observation and remote sensing techniques are getting growing interest from the academia, scientists, governments and industries. Pakistan is increasing its efforts in managing natural resources, enhance sustainable urban and territorial development initiatives, facilitate the conservation of forests and valuable biodiversity habitats. Space technologies must benefit all countries; therefore, the international community must support Pakistan to ensure the peaceful application of its space programme.