Reforms in Lithuania are reinforcing economic growth but boosting productivity is still a challenge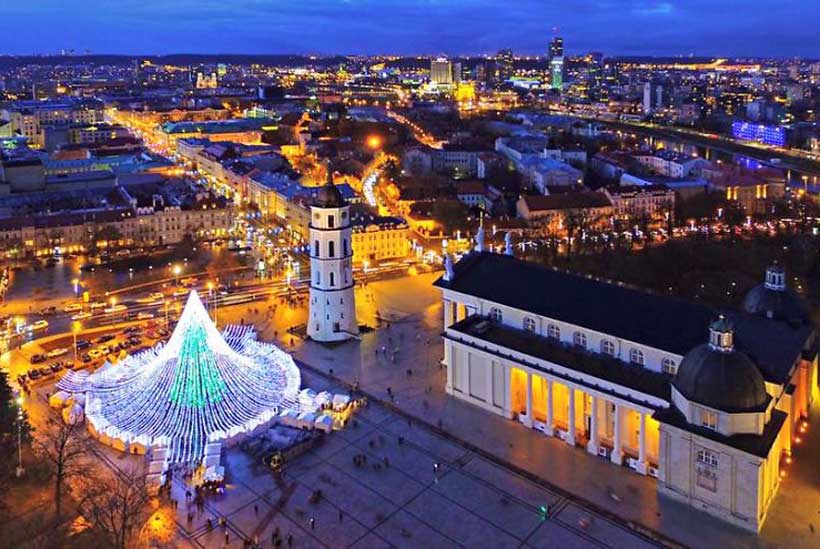 Lithuania's economy has grown faster than most other OECD economies over the past 10 years, unemployment continues to fall and public finances have stabilised after a long period of deficits and rising debt.
In a new report, however, the OECD says productivity has remained subdued, slowing down the convergence process as income remains at around two thirds of the OECD average. Income inequality is high and an ageing and declining population is putting pressure on the pension system.
The OECD Economic Survey of Lithuania praises the wide-reaching New Social Model reforms, implemented in 2017. It says they are expected to help reinvigorate inclusive growth, strengthen the social safety net and reinforce the sustainability of public finances.
Presenting the survey in Vilnius alongside Lithuanian Prime Minister Saulius Skvernelis and Finance Minister Vilius Šapoka, OECD Secretary-General Angel Gurría said: "The New Social Model showcases how an ambitious reform agenda can be brought through the political process. It is an impressive achievement. But big challenges still remain. Among them is population ageing, which is being intensified by many young Lithuanians leaving the country. Addressing emigration is a long-term endeavour which requires improving well-being and opportunities across the population".
The release of the survey took place the day Lithuania officially became the OECD's 36th Member with the depositing in Paris of its Instrument of Accession to the OECD Convention. Lithuanian President Dalia Grybauskaitė signed an Accession Agreement with the OECD on 30 May 2018.
The survey says Lithuania needs to boost its relatively low productivity. The rate of productivity growth has fallen in recent years and there is a considerable mismatch between the skills of workers and the needs of businesses. It recommends strengthening work-based learning and to better adapt education to required skill levels.
To improve innovation, better coordination between business and research sectors is needed. Collaborative research should be privileged when allocating funds to public institutions.
Recent pension reforms, which form part of the New Social Model, have made the system more sustainable but the OECD says further steps are needed such as a rise in minimum pensions to reduce old-age poverty. Payments into pension funds should be made compulsory.
The survey also shows that Lithuania's overall tax burden is below the OECD average and leans strongly toward labour and consumption while income and property are taxed relatively lightly. High labour taxes, especially for the low paid, are increasing informality. The tax mix could be made more inclusive by reducing social security contributions, particularly for the low paid. The base for property taxes should be broadened, and exemptions provided for low income households.
Conflict and mass displacement increase child labour
A new multi-organizational report finds that conflict and war over the past decade has coincided with an increase in child labour among refugee children, the internally displaced and other populations across the region.

Commissioned by the League of Arab States (LAS) and the Arab Council for Childhood Development (ACCD), the "Child Labour in the Arab Region: A Quantitative and Qualitative Analysis " report is the first to provide an overview of the profile and trends of child labour in the League's 22 member states. "Over the past ten years, during which the region has witnessed high levels of armed conflict resulting in the mass displacement of populations – both within and between countries – the situation has certainly worsened," the report states.

A dearth of systematically and comprehensively-collected regional data from previous years means that exact figures on the recent rise of child labour among different population groups are difficult to assess, explained Frank Hagemann, Deputy Regional Director for Arab States from the International Labour Organization (ILO). The ILO is the lead UN agency that oversaw production of the study, in partnership with the Food and Agriculture Organization of the United Nations (FAO).

"Yet the report makes clear that the effects of recent economic shocks, political turmoil, conflict and war have worsened pre-existing levels of child labour, and have also reversed much of the progress Arab countries made in combatting child labour through policy development and practical measures," Hagemann said. "As is the case across the globe, conflict has hit women and children disproportionately hard in the region. In consequence, child labour has emerged as perhaps the most critical child-protection issue in the region, requiring our urgent attention and action," Hagemann said.
Worst forms of child labour
The study reports that children in parts of the Arab region "have been increasingly drawn into the worst forms of child labour and face serious and worrying exploitation, abuse and violation of their rights."

"Refugee and displaced children work in different sectors of activity, with a notable rise in street work, bonded labour, early marriages, and commercial sexual exploitation. Child labour among refugee and displaced children is mainly a coping mechanism for their families who face extreme poverty or where adults are unemployed," the study states.
The case of hazardous work in agriculture
"The worst forms of child labour include the kinds of hazardous work found in the agriculture sector, in which most children in the Arab region work in both paid and unpaid labour," said Abdessalam Ould Ahmed, FAO assistant Director-General and Regional Representative for the Near East and North Africa. "Such labour takes place mostly in rural areas, and represents a cheap workforce for small-scale farming – mostly non-mechanized labour-intensive methods of production involving high risks."

Conflicts and mass displacement had a toll on agriculture and food security. Building resilient rural livelihoods is essential to child labour reduction in this sector, which generally involve high level of work related fatalities, non-fatal accidents and occupational diseases.

"Agriculture accounts for more than half of children in employment in countries such as Yemen, Sudan and Egypt. The predominance of agriculture calls for special attention since this sector is characterized by early entry into work compared to other sectors," Ould Ahmed added.
Mass displacement and armed conflict
The worst forms of child labour are also found in services and industry, and includes the multiple dangers associated with working on the streets.

They also include direct and indirect involvement in armed conflict and in situations associated with armed conflict.

The study reports that over half of Arab countries are currently affected by conflicts or inflows of refugees and internally displaced persons (IDPs). These include Iraq, Jordan, Lebanon, Libya, Somalia, Sudan, Syria, Tunisia, the Palestinian West Bank and Gaza Strip, and Yemen.

The study reports a rise in the recruitment and use of children by armed groups, both among local and refugee populations, especially in Yemen, Syria and Iraq.

"The majority of recruited children are generally boys. However, there is an emerging tendency to recruit more girls and children below the age of 15. Hundreds of children across the Arab region are also held in detention and even tortured on grounds of being involved in armed groups," the report states.

Children in parts of the region are being forced into new types of activities relating to situations of armed conflict, such as smuggling goods across the border or between fighting zones, collecting oil waste, performing funerary work (collecting body parts for burial), as well as fetching water or collecting food from fields and landfills littered with explosive remnants of war, the report adds.

Children's involvement in employment varies substantially across the Arab region, with Sudan and Yemen showing the highest rates of child employment (19.2 per cent and 34.8 per cent respectively.)
Child employment rates are higher among boys. The report cautions, however, "surveys might fail to capture hidden forms of child labour among girls, such as domestic work and unpaid household services, which merit further research and enquiry." Unpaid work is also higher amongst the younger age group, and in rural areas.
Endorsement and recommendations
The report was presented to LAS member states, who had previously endorsed the report, at the League's headquarters in Cairo on 7 March. LAS commissioned the report to provide an understanding of the main trends of child employment as a first step towards designing better-targeted policies and interventions to address the problem of child labour. The commission was based on a recommendation of the 20th Session of the Arab Childhood Committee (ACC) of November 2014.

The report stresses, "There is an urgent and immediate need to safeguard children in the Arab region, whether their serious exploitation is a result of pure economic issues or in combination with conflict and displacement. Arab countries need to realize that child labour poses immediate and future challenges not only to the children themselves, but also to their nations and communities, as well as the broader economy."
"It is now urgent to address both the root causes and repercussions of child labour, and to ultimately eliminate it, especially in its worst forms," the report states.

The study concludes with recommendations to the 22 LAS member states to improve their governance frameworks, especially by aligning national legislation with international legal standards, and ensuring the effective enforcement of child labour laws and regulations.

It recommends, secondly, protecting children from economic and social vulnerability by improving the socio-economic circumstances of families so that they do not resort to child labour to generate income for households where adults suffer from poverty and unemployment. Achieving this requires improved labour market policies, social protection, access to basic services including education, and awareness-raising programmes.

The study recommends, thirdly, protecting children from the impact of armed conflict through humanitarian programmes and aid for refugees and the displaced, protecting children from recruitment and use in armed conflict, and rehabilitating and reintegrating children used in armed conflicts.
Portugal's pension system needs to prepare for rapid population ageing
Portugal needs to reform its pensions system to address the challenges of a fast-shrinking workforce and high levels of old-age inequality, according to a new OECD report.
The OECD Reviews of Pension Systems: Portugal says the country's rapidly ageing population, a result of low fertility and rising life expectancy, is putting pressure on pension finances. The total population recently started to shrink and is projected to fall below 9 million by 2050 from a peak of 10.7 million in 2009, due to a sharp decrease in the number of young people and working-age adults.
The working-age population decline will be among the steepest among OECD countries, with the number of 20-64 year-olds set to fall by 30% by 2050 compared with an average drop of 5% on average in the OECD area. There will be 7 people older than 65 years for 10 people of working-age in 2050, against slightly more than 1 in 3 now and 1 in 5 in 1975. This could have a major impact on the labour market, economic growth and pension finances, according to the report.
"Portugal has profoundly reformed its pension system over the past decades and made it more financially sustainable," said Stefano Scarpetta, OECD Director for Employment, Labour and Social Affairs, launching the report in Lisbon with Portugal's Minister of Labour, Solidarity and Social Security, José António Vieira da Silva. "Now the focus should be on strengthening the incentives and ability of older people to stay longer in the labour market, simplifying the old-age safety-net and pension system, and improving its design to better cope with longer lives."
Recent major pension reforms in Portugal have included aligning the retirement age between women and men; linking the retirement age to life expectancy; increasing the period to calculate the reference wage; and gradually integrating the scheme for civil servants with the general regime. However, the current pension system can still be improved.
Income inequality among older people is high in Portugal, even though safety-net provisions reduce the risk of old-age poverty, which is below the OECD average. However, access to these provisions is not always straightforward. Administrative complexity generates costs and contributes to long waiting times, and some people may be discouraged to apply for benefits. At the same time, non-contributory benefits should be simplified to avoid the multiplication of instruments with similar objectives. In particular, the old-age social pension, the complement (CES), and the top-up (CSI) should be merged while the CSI's means testing to children's income should be removed.
The current link between the statutory retirement age and changes in life expectancy is needed to ensure the financial sustainability of pension systems. That link should be extended to the minimum age of early retirement. Moreover, while longer working lives should be encouraged, the sustainability factor, which was reformed in 2014, only generates a very large penalty in case of early retirement. While appropriate financial penalties for early retirement are needed, the sustainability factor should rather be used to adjust pension benefits across the board as an ultimate instrument to ensure financial sustainability.
Incentives to contribute to voluntary pension schemes should also be improved and occupational plans promoted to increase coverage. Pension fund regulation should be enhanced.
More efforts needed to accelerate improvements in fuel economy
Improvements in the fuel economy of cars have slowed according to a new report by the Global Fuel Economy Initiative (GFEI) in cooperation with the IEA. The report, "Fuel Economy in Major Car Markets: Technology and policy drivers 2005-2017" reviews developments in fuel economy and highlights recent changes.
While global fuel economy improved by an average of 1.7% per year over the past 12 years, the rate of improvement slowed between 2015 and 2017. Improvements in fuel consumption slowed in advanced economies to an average of just 0.2% per year between 2015 and 2017. A total of 27 countries – including Sweden, Canada and the United Kingdom – saw the fuel economy of their fleets stagnate or worsen from 2015 to 2017.
A significant barrier to fuel economy improvements has been the growing market share of sport‐utility vehicles (SUVs) and pick‐ups – SUVs now represent nearly 40% of the global car market. North America and Australia have a particularly high market share of SUVs, reaching almost 60% in 2017.
In contrast to advanced economies, the improvement of fuel use per kilometre in emerging economies accelerated to 2.3%. China saw new car registrations increase 17% per year from 2005 to 2017 while India saw an increase of 9% and Indonesia 7%. Car sales in these economies have tripled since 2005 with the largest rise in China, where sales were seven times higher in 2017 than in 2005.
"The recent slowdown in average vehicle fuel efficiency improvement of light-duty vehicles is cause for alarm," said Dr Fatih Birol, the IEA's Executive Director. "Improving vehicle fuel efficiency saves money, cuts carbon emissions while also reducing harmful air pollution and boosting energy security. Much more effort will be needed to reverse the slowdown and put the world on track to meeting its energy security and sustainability objectives. The IEA, as a founding member of the Global Fuel Economy Initiative (GFEI), stands ready to help drive this process."
To achieve the level of CO2 emissions reductions needed to curtail rising global temperatures, and realize the aims of the Paris Agreement, significant improvements in fuel are necessary. GFEI has set a target to double fuel economy of LDVs by 2030, which is mirrored by the UN's Sustainable Development Goal 7.3.
To achieve these targets would require an average fuel economy improvement of 3.7% across the global fleet, a rate more than triple what was seen between 2016 and 2017. Policies will play a key role in accelerating improvements, as countries with policies to encourage fuel economy through a mix of regulation and purchase incentives saw 60% faster improvements than those without.
This year's report includes for the first time an online, interactive country data browser. The report was authored by the IEA, in collaboration with International Council on Clean Transportation (ICCT), and was funded by the FIA Foundation, through GFEI.