Talking about Sexual Attitudes and Behaviors: A cultural and Social Taboo in Afghanistan
In June 2018, Afghan Institute for Strategic Studies (2018) published its latest survey entitled "Transition to Adulthood; Sexual Attitudes and Behaviors of Youth in Afghanistan."The survey has been conducted in a conversation with 1,350 people aged 15 to 34 in 10 largest provinces of Afghanistan. Sediqa Bakhtiari, one of the researchers (2018), articulates that in the survey, the attitude and sexual behavior of youth and adolescents after childhood have been examined.This study echoes that most Afghan youths do not have information about the healthy sexual relationship.In this survey, 36% of the interviewees had no information about AIDS, and only 20% were familiar with safe and healthy relationships. And, 90 percent of those interviewed in this study said that there is a pressing need for sex education in Afghanistan.
The research shows that ignoring the debate on sexual issues has led Afghan young people to go to other sources for obtaining information about sexual matters that do not provide the right information to them. For example, according to this study, 60 percent of Afghan youths use sexy content such as movies and photos that address their sexual instinct. The researchers of this survey argue that using such objects for tackling the sexual needs can have personal and social damage. Its personal damage includes imitation of patterns of misconception, depression, and frustration, mental disorders, and addiction to such content and social damages are encouraging the youth toward committing rape, violence, street harassment and, in some cases, avoidance of marriage (Afghan Institute for Strategic Studies, 2018)
Studies project that widespread rape, honor killings, sexual violence, and child abuse in Afghanistan are the malicious results of lack of information and public awareness about sexual attitudes and behaviors. According to Ruhollah Amin, a psychologist in Afghanistan (BBC, June 29, 2018), talking about sexual needs and issues has a very negative connotation in Afghan society. He argues that even among couples, talking about a sexual relationship is interpreted as bad, embarrassing, and heinous and should be kept secret. In his opinion, this social and cultural censorship has become a self-censorship that causes disorders for a person, and finally, the consequences of such self-censorship rise in other ways that are inconsistent with the cultural and social norms of the society. For instance, jokes and poems that have sexual content and violence are indicative of such cultural censorship in the society (BBC, June 30, 2018). He emphasizes the need for a social and cultural campaign in Afghanistan regarding sexual attitudes and behaviors so that individuals can become aware of their sexual needs legally as a human.
Lack of Sex Education at Afghan Schools
Afghanistan is a traditional country and its people are religious who strongly believe in the traditional Islamic and religious principles. The contents and subjects of school curriculum in Afghanistan are also designed based on these Islamic principles and traditional values of the people(Compilation & Translation, 2003). In 2016, the city of Kabul witnessed a public campaign that broke many of the taboos and traditions in the country.This campaign was specifically talking about sexual attitudes and behaviors of youths and the problems and inadequacies surrounding them in Afghanistan (Horizon News Agency, Oct. 23, 2017).Holding such public awareness programs are very pivotal and vital in this regard but not adequate. Because, first, such campaigns only take place out of schools by private organizations in Afghanistan. Second, these kinds of social and cultural public awareness programs occur in big cities of Afghanistan where far-reaching provinces are not witnessing such campaigns. Third, schools that are considered to be the main training centers for children don't have any clear and specific programs regarding educating the students about their sexual attitudes and behaviors, unfortunately.
Afghanistan's Independent Human Rights Commission's annual report (2017) shows that violence against women in Afghanistan has increased by 8.6%. The report states that 5575 cases of violence had been registered in 2017. This figure was 5132 in 2016. Of the total recorded violence, more than 1,500 cases of physical violence, more than 360 cases of sexual violence, more than 1,800 verbal and psychological violence, more than 1,100 cases of economic violence and remaining violence have been reported in response to behaviors that are traditionally are disgraceful. In the reported physical violence section, more than 1,200 cases of beatings, 10 incidents, 57 injuries, 45 forced labor and 234 deaths were included. The Independent Human Rights Commission argues that the statistics do not show the full reality due to the extent of this problem, and many cases of violence against women are likely to remain hidden for reasons of custom and lack of security.
Given the above reasons, it is argued that one of the key factors of violence against women increase in Afghanistan is the shortage of sex education at Afghanistan's schools. For example, several studies echo that presenting guidance by the teachers about sexual attitudes and behaviors of students at schools will reduce the occurrence of sexual assaults and gender violence in the society. Because girls and boys as teenagers will learn about their sexual attitudes at schools. In other words, sex education will help students how to tackle their sexual problems appropriately, how to respect their opposite sex's sexual characteristics and not to look at their opposite sex as a physical and biological object but as a human being(Raphael, 2015).
Since there is not any formal education about sexual attitudes and behaviors at schools in Afghanistan, most of the Afghan teenagers and youths obtain information about sexual issues secretly via internet or friends. The Afghan Institute for Strategic Studies survey(2018) projects that this kind of approach toward knowing about sexual matters leads to watching porn movies that eventually result into porn addiction.Moreover, researchers believe that the lack of education at schools and the lack of proper education of parents regarding sexual attitudes and behaviors of youths may create serious cultural and social problems for the health of the entire society. They argue that embedding the topic of sex education in school curriculum can acquaint the children from the stage of childhood to sexual issues. When they grow up, they don't feel shy talking about their sexual problems and needs in families, among their friends, or referring to a doctor because of their sexual problems. Furthermore, addressing sex education in an integrated education system may provide information for children and adolescents that won't provoke them toward inappropriate solving their sexual needs. Additionally, providing sex education through schools can help students not to look for other misleading channels for obtaining information about their sexual attitudes and behaviors.
Afghan Society and the Taboo of Sex Conversation
Traditional values that may restrict access to knowledge about sexual attitudes and behaviors might be the main barriers on debating regarding sexual issues among the families and youths in traditional societies(Heinemann, Atallah, & Rosenbaum, 2016).In Afghanistan, there are many reasons that why parents don't educate their children about sexual issues. First,only 31.741 percent of Afghan adults aged 15 and above are literate that is why most of the parents are not aware of sexual issues due to not being able to read regarding sexual topics (The World Bank, 2011). Second, parents feel shameful and discomfortable of conversing about sexual issues with their progenies thus they have a negative attitude to sexual attitudes and behaviors. Third, most of the parents in Afghanistan feel that if they talk about sexual issues with their children, the respect between them and their children is broken, thus, they neither want nor can to talk about sexual matters with their progenies.
Lack of information about sexual attitudes and behaviors often lead to misconceptions about sexual issues. This ignorance usually manifests itself in the form of shameful, impolite, and culturally abnormal conversation among the families in Afghanistan. Dr. Haidari Nasab, a consultant and member of the family and sexual health group (2017), believes that the question of how to answer children's inquiries about sexual attitudes and behaviors is a cultural issue. It depends on the culture of each community and the family how to respond and to get acquainted with sexual issues. He argues that the crucial point is that parents and teachers step by step should acquaint the teens and adolescents with sexual attitudes and behaviors. Sexual information provided to a 3-year-old child is very different from that of a 13-year-old girl. On the other hand, the lack of awareness and refusal to answer of puberty and sexual questions can provoke the curiosity of the newly-raised teenager, therefore, the family is the most important social elements that should give enough information and guidance to their teens in this respect.
In Afghanistan, since there is no formal sex education at school, and parents are not talking about sexual attitudes and behaviors with their progenies either, there is a risk that Afghan youths may become familiar inappropriately with sexual issues out of the home. Studies hold that educating teens and adolescents about sexual issues by parents and schools is a safe and healthy way. While gaining information about sexual needs and issues via friends and Internet may provoke teens and adolescents to commit sexual violence, rape, teasing their opposite sex in the society, and other abnormal deeds.
Recommendations for Policy Implications
First, as schools are the main hubs of education for children, scholars are in this belief that school teachers should instruct the students that sexuality is a natural, normal, and healthy part of life. They should provide value-based education and offer students the opportunity to explore and define their individual values as well as the values of their families and communities. The discussion between teachers and students should include a wide variety of sexuality-related topics, such as human development, relationships, interpersonal skills, sexual expression, sexual health, society,and culture. The conversation should be based on the accurate and factual information.
Second, since most of the families in Afghanistan, particularly in the countryside, don't have information about their sexual attitudes and behaviors, Ministry of Education in collaboration with Ministry of Public Health through school administrators should start public awareness campaigns in this regard. These campaigns should be held at schools and mosques. The campaigners should discuss the importance of knowing sexual attitudes and behaviors with the local people. They should tell the families that having information about sexual issues is not shameful and bad culturally and socially, but very vital and important for the health and social safety of their families and communities. Because, it is necessary for the parents and teachers, first of all, to receive the appropriate information for instructing teens, and then they can answer their questions related to sexual attitudes and behaviors.
Finally, parents and teachers should create a sincere and faithful relationship with children in conversing with them regarding sexuality and sexual issues. Because as long as there is no trust between parents and teachers, teens and adolescents can't share their sexual problems and issues with them. Doing so, parents and teachers can reduce the risk of referring teens and adolescents to illegal and inappropriate channels for seeking the answers to their questions related to sexual attitudes.
Finally diagnosed with Bipolar and understanding God's purpose for my life
I've outlasted a lot of things. I'm over 35. I am nearing 40 years of age. I've made mistakes and lived with regret but I don't anymore. And I'm finally able to make peace with the mistakes I've made in my past.
I can forgive someone who brought me pain. The suicidal thoughts that I've manages to overcome. I think of our happy my parents were in my childhood. I think of every childhood experience as happy except the memories brought back to me of apartheid. I don't have to tell myself anymore, you can make it. By the grace and mercy of God, I've survived. And it is God that has outlasted my storms.
So for the millions of people out there who have been diagnosed with a mental illness or have a loved one living with a mental illness, be brave. You are going to get through this storm. You're a fighter.
You're going to make it and when you come out on the other side, talk about it, or write about your survival, tell someone about it, become a storyteller, or give your testimony. You might save a life in the same way yours was saved.
As I write this I think of Robert Lowell, Anne Sexton, Sylvia Plath and being fake-happy. Pretending to love being alone and not being the proper example of a good daughter. You want someone to love you until the end of time. I want someone to love until the end of time. I want people to love me. To remember me. In some way I want to belong to the world. I grew up with a narcissistic mother who passed this trait to her only son and middle daughter. That and beauty. That and arrogance.
But beauty fades like fast cars. It's just tears I tell myself.
Tomorrow I'd have forgotten about them. Anticipating waves or the vibrations of depression does nothing for the way you look on the outside. It is all for you. I do it, I write it for you. I don't know who you are. I just know that you accept me for who I am. I'm growing older and in the blue-dark I can't see that I am growing older. All I do, the poetry, the writing is for you. I'm selfish that way, I guess.
I don't want happiness. I just want a brave personality. That and the writing is what gets me through the hours, the day, the night. And sometimes I try very hard through the tears not to even think of going there. Of letting go. Sometimes I think I love this world too much. I love you, the Reader. I do love you. Perhaps in the end you're the only thing that's keeping the chemicals from balancing me the right way up. It's all for you the Reader. Everything that I've ever written. You're the assignment. Perhaps you're the mission.
I was finally diagnosed with bipolar mood disorder after Tara. I spent
6 months in a mental institution in Johannesburg. Mental illness stamped on my forehead for all to see, alongside a stigma, a family (and paternal and maternal family) that saw to it that I quickly became an outcast, felt like an interloper when spoken to. I was ignored, and sat quietly by myself at family functions. It was as if I was in high school again. I never cried about it, but I don't think that made me brave.
I was half-mute like Princess Diana, and Maya Angelou as a child.
Something had happened to me. Somehow I had been transformed intrinsically in childhood (it was because of my mother's mental, verbal, and emotional abuse), but was it the environment that changed, no, no. It was human nature. All the humans around me. Bright children, no matter how bright they might seem even if adult words come out of their mouths, all children are still innocent. And all children want is the mother-love, and I felt the lack of mother-love acutely with an acumen and focus beyond my years.
I was called insubordinate by a male teacher once. Years later when we met at a prayer meeting, he spontaneously embraced me. In that moment, I forgave him. For the corporal punishment he had meted out to me for letting someone else, a popular girl, copy out my answers in a test. I thought I would be liked. But I wasn't. I was still a goody two shoes.
I still sometimes would spend break in a bathroom stall.
As a moony-moody teenager I would read. I was mostly withdrawn, serious, never smiling (I never smiled once at Collegiate, it hurt too much to smile, my mother would go on rampages then, hurling mental abuse at me in the morning for breakfast, afternoon tea, and supper which my sister made for us. My mother was depressed too in a sinister and deceptive way). Now let me get back to never smiling, and never playing team sports.
Let me talk about the (good) old days. Collegiate High School for Girls in Port Elizabeth (a Model C school). That year, 1995, I was of course a perfectionist. A bipolar perfectionist who only ever understood the world of achievement, achievement. It had nothing and everything to do with having a Khoi-ego, Khoi-identity, Khoi-personality. But I would only understand the knowledge of Khoi-anything later on.
In those days I relaxed my hair. My hair was so straight it made no curls or waves, and I wore it in a ballerina bun. I was skinny, not voluptuous or buxom like the other girls. Late to bloom, as the saying goes. At 17 years old, or 16, I forget, all I could think of was my shame. My shame that I was not White. The shame of not having straight hair. The mortifying shame of not being athletic, not being able to play sports, not being able to be singled out first for a game during P.E. period I did not play hockey, or tennis (my mother got her Transvaal colours for tennis in high school).
I did not have blonde hair, and freckles on my face, forehead, knees, and the rest of my body. I did not have freckles in secret places.
But I learned quick, and I also learned very slowly that people don't easily forgive, and forget if you live with a mental illness. This made me withdraw even more into my mute-self. For most of my life I lived like this with a mute voice inside of me until one day I began to write. I was 8 years old.
In later years cousins on both sides of the family despised me (because I was mentally ill). I could see it there in there eyes, as they did not meet my gaze whenever I spoke. Family despised me (because I was mentally ill). I was not invited to weddings, or kitchen teas. Women-fold women-folk kind of things. They despise you (this I told myself) because society despises lunatics, and for a long time I was happy encompassing whatever this word meant. Lunatic. It was me who was more in touch with reality than the ones who thought I was mad, I have come to accept this now. I have other much more important, and significant things on my mind, and I am about to begin to write my first novel. This is what moves me to write this for other people suffering in silence, people who are being told to pull their socks up (or that they 're beginning to be too big for their britches). Don't live a half-life. Don't live a half-lie.
Thoughts after reading Kiran Desai's "The Inheritance of Loss"
You will experience happiness, I was the one who told myself this. No one else. The museum has invited me again to one of their lectures, but I never go. They will stop inviting, like they my father, one of these fine days, and then where will that leave me, and the fine museum built with my father's hands. The South End Museum in Port Elizabeth, at the cusp of the Eastern Cape where in 1820 the English arrived. Sir Rufane Donkin who was to be the governor of the Cape (did he plunder, steal, rape, colonialise I thought to myself or was it kismet, fate, destiny written in the stars. Sir Donkin came with a mad wife in tow. Was she a Mrs Rochester, like me, like me, like me.
Bipolar, mosaic, atlas that it is, well for me it did the impossible with its overpowering (aplomb), uplifting gift that it gave me.
Sometimes the day itself is perfumed with good thoughts of T.S. Eliot, Hemingway, Fitzgerald, Pound, Nabokov, the Russian writers, the Russian poets, the Russian masters, Isobel Dixon, Ingrid Jonker, Plath and Sexton. To me the women had superpowers, and the men, intelligence seeping through their every pore, I wanted them to talk to me, pull me into their arms and hug all my sadness, grief, loss, loneliness, frustration away from the secret chasms of my heart. I wanted them to lull and pull the self-pity that looped itself like cobwebs about my self-worth. Beautiful people, the beautiful women, that beautiful lady that was my mother that smelled just like Yves Saint Laurent's Algeria, the beautiful men, seemed on the surface tension of things to get everything. They were rewarded. I was not.
I have this imperfect list of thoughts when I was reading Kiran Desai.
Oh, how I hope to be a respected and wonderful writer as she and Anuradha Roy is. Arundhati Roy, the writer of "The God of Small Things". Sometimes I feel like a guardian, or rather a guardian angel when I write. I am hidden subtly, but also at the same time beyond opinion, and I also find that I am beyond caring for the approval of others. And by that of course I mean my sly and beautiful mother. Hair attractive as it falls about her face, hairpins/hair scarf/hair band loosened by her movements during the day and I try not to think of her telling me to make up my bed, or how they laugh at me, and look at me with this infuriating smile on their faces as if they know better.
Sometimes I think to myself who is the enemy now. Is it me, is it me who has to every year be put away for a week for my own good, to recover from ill health
I was sixteen years old when my mother dragged me to the Indian-looking psychiatrist who had studied in Vienna. And as I think back to that year I think of my identity coined now. That "term" on the inhale, and exhale of every breath that I take. That of a Khoi-female identity. Khoi-writer of prose, and poetry.
Young women learn government fundamentals in nationwide leadership program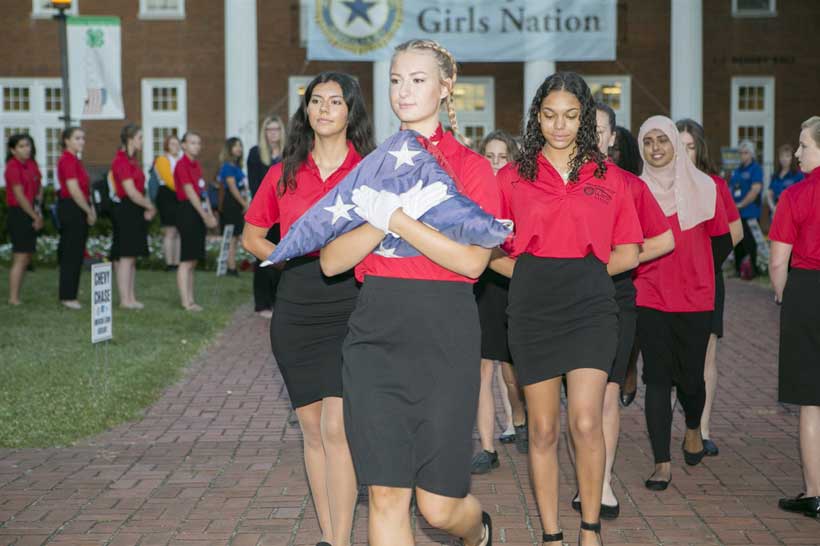 This July, two teenage girls from every state in the country met in Washington, D.C., for the 73rd annual American Legion Auxiliary Girls Nation. This one-week government-in-action leadership development program is designed to educate future leaders on U.S. government fundamentals and the rights, privileges and responsibilities of citizens.
The girls selected to go to ALA Girls Nation are chosen from week-long ALA Girls State programs in each state. The young women become "senators" for a week and participate in mock political campaigns and debates, visit historical sites, and meet their real-life counterparts on Capitol Hill. For a number of the participants, the program's impact extends beyond the weeklong event: Many go on to serve in the military and credit ALA Girls Nation as their source of inspiration.
New ALA member and U.S. Army Capt. Virginia Clark, stationed at Fort Benning in Georgia, is an ALA Girls Nation alumna. Though she says she has always been patriotic, her experiences at ALA Girls State and ALA Girls Nation helped her realize she wanted to serve her country. "Being around really motivated people made me realize I wanted to be around people who were spending their time doing things rather than looking for the next great party," Clark said.
Reflecting on where she has been and where she is going, Clark says she owes it all to the American Legion Auxiliary. "I wouldn't have gotten into West Point without ALA Girls State and ALA Girls Nation … I 100 percent owe, I think, my current life and my career — I met my husband at West Point — to the fact that I went to ALA Girls State and ALA Girls Nation."
For some girls, the Washington, D.C., leadership program is their first opportunity to connect with peers with common interests. For others, it is the first time they encounter students whose perspective differs from their own. For all, it is a moment in time where similarities and differences come together to symbolize strength, democracy and freedom.
Former ALA Girls State and ALA Girls Nation attendee Allyson Snelling, who is attending the U.S. Military Academy at West Point, chose a career in the military because she "loves everything it represents." She adds, "The values and lessons I've learned during my short time at West Point have made me a better person and leader." Snelling said the program taught her the power of one voice and the importance of communicating with others. "Being able to communicate with someone you may completely disagree with is becoming a lost art," she said. "ALA Girls Nation taught me that it doesn't matter if you agree; it matters that you understand."
ALA Girls Nation alumnae have gone on to hold leadership roles in industries spanning government, media, education and law, and many have become high-ranking members of the military.
Notable alumnae include Jane Pauley, national media personality; Susan Bysiewicz, lieutenant governor of Connecticut; retired Lt. Gen. Michelle D. Johnson, former superintendent of the U.S. Air Force Academy and former Air Force aide to the President; Ann Richards, former governor of Texas; and Susan Porter-Rose, former chief of staff to First Lady Barbara Bush, among many others. ALA Girls Nation is proud to be a foundation of support to the future strong women of this great nation.
The American Legion Auxiliary (ALA) is a nonpartisan organization committed to advocating for veterans' issues, mentoring America's youth and promoting patriotism. They advance the mission of The American Legion, incorporated by Congress in 1919 as a patriotic veterans organization founded on four pillars: Veterans Affairs & Rehabilitation, National Security, Americanism and Children & Youth.