Talking about Sexual Attitudes and Behaviors: A cultural and Social Taboo in Afghanistan
In June 2018, Afghan Institute for Strategic Studies (2018) published its latest survey entitled "Transition to Adulthood; Sexual Attitudes and Behaviors of Youth in Afghanistan."The survey has been conducted in a conversation with 1,350 people aged 15 to 34 in 10 largest provinces of Afghanistan. Sediqa Bakhtiari, one of the researchers (2018), articulates that in the survey, the attitude and sexual behavior of youth and adolescents after childhood have been examined.This study echoes that most Afghan youths do not have information about the healthy sexual relationship.In this survey, 36% of the interviewees had no information about AIDS, and only 20% were familiar with safe and healthy relationships. And, 90 percent of those interviewed in this study said that there is a pressing need for sex education in Afghanistan.
The research shows that ignoring the debate on sexual issues has led Afghan young people to go to other sources for obtaining information about sexual matters that do not provide the right information to them. For example, according to this study, 60 percent of Afghan youths use sexy content such as movies and photos that address their sexual instinct. The researchers of this survey argue that using such objects for tackling the sexual needs can have personal and social damage. Its personal damage includes imitation of patterns of misconception, depression, and frustration, mental disorders, and addiction to such content and social damages are encouraging the youth toward committing rape, violence, street harassment and, in some cases, avoidance of marriage (Afghan Institute for Strategic Studies, 2018)
Studies project that widespread rape, honor killings, sexual violence, and child abuse in Afghanistan are the malicious results of lack of information and public awareness about sexual attitudes and behaviors. According to Ruhollah Amin, a psychologist in Afghanistan (BBC, June 29, 2018), talking about sexual needs and issues has a very negative connotation in Afghan society. He argues that even among couples, talking about a sexual relationship is interpreted as bad, embarrassing, and heinous and should be kept secret. In his opinion, this social and cultural censorship has become a self-censorship that causes disorders for a person, and finally, the consequences of such self-censorship rise in other ways that are inconsistent with the cultural and social norms of the society. For instance, jokes and poems that have sexual content and violence are indicative of such cultural censorship in the society (BBC, June 30, 2018). He emphasizes the need for a social and cultural campaign in Afghanistan regarding sexual attitudes and behaviors so that individuals can become aware of their sexual needs legally as a human.
Lack of Sex Education at Afghan Schools
Afghanistan is a traditional country and its people are religious who strongly believe in the traditional Islamic and religious principles. The contents and subjects of school curriculum in Afghanistan are also designed based on these Islamic principles and traditional values of the people(Compilation & Translation, 2003). In 2016, the city of Kabul witnessed a public campaign that broke many of the taboos and traditions in the country.This campaign was specifically talking about sexual attitudes and behaviors of youths and the problems and inadequacies surrounding them in Afghanistan (Horizon News Agency, Oct. 23, 2017).Holding such public awareness programs are very pivotal and vital in this regard but not adequate. Because, first, such campaigns only take place out of schools by private organizations in Afghanistan. Second, these kinds of social and cultural public awareness programs occur in big cities of Afghanistan where far-reaching provinces are not witnessing such campaigns. Third, schools that are considered to be the main training centers for children don't have any clear and specific programs regarding educating the students about their sexual attitudes and behaviors, unfortunately.
Afghanistan's Independent Human Rights Commission's annual report (2017) shows that violence against women in Afghanistan has increased by 8.6%. The report states that 5575 cases of violence had been registered in 2017. This figure was 5132 in 2016. Of the total recorded violence, more than 1,500 cases of physical violence, more than 360 cases of sexual violence, more than 1,800 verbal and psychological violence, more than 1,100 cases of economic violence and remaining violence have been reported in response to behaviors that are traditionally are disgraceful. In the reported physical violence section, more than 1,200 cases of beatings, 10 incidents, 57 injuries, 45 forced labor and 234 deaths were included. The Independent Human Rights Commission argues that the statistics do not show the full reality due to the extent of this problem, and many cases of violence against women are likely to remain hidden for reasons of custom and lack of security.
Given the above reasons, it is argued that one of the key factors of violence against women increase in Afghanistan is the shortage of sex education at Afghanistan's schools. For example, several studies echo that presenting guidance by the teachers about sexual attitudes and behaviors of students at schools will reduce the occurrence of sexual assaults and gender violence in the society. Because girls and boys as teenagers will learn about their sexual attitudes at schools. In other words, sex education will help students how to tackle their sexual problems appropriately, how to respect their opposite sex's sexual characteristics and not to look at their opposite sex as a physical and biological object but as a human being(Raphael, 2015).
Since there is not any formal education about sexual attitudes and behaviors at schools in Afghanistan, most of the Afghan teenagers and youths obtain information about sexual issues secretly via internet or friends. The Afghan Institute for Strategic Studies survey(2018) projects that this kind of approach toward knowing about sexual matters leads to watching porn movies that eventually result into porn addiction.Moreover, researchers believe that the lack of education at schools and the lack of proper education of parents regarding sexual attitudes and behaviors of youths may create serious cultural and social problems for the health of the entire society. They argue that embedding the topic of sex education in school curriculum can acquaint the children from the stage of childhood to sexual issues. When they grow up, they don't feel shy talking about their sexual problems and needs in families, among their friends, or referring to a doctor because of their sexual problems. Furthermore, addressing sex education in an integrated education system may provide information for children and adolescents that won't provoke them toward inappropriate solving their sexual needs. Additionally, providing sex education through schools can help students not to look for other misleading channels for obtaining information about their sexual attitudes and behaviors.
Afghan Society and the Taboo of Sex Conversation
Traditional values that may restrict access to knowledge about sexual attitudes and behaviors might be the main barriers on debating regarding sexual issues among the families and youths in traditional societies(Heinemann, Atallah, & Rosenbaum, 2016).In Afghanistan, there are many reasons that why parents don't educate their children about sexual issues. First,only 31.741 percent of Afghan adults aged 15 and above are literate that is why most of the parents are not aware of sexual issues due to not being able to read regarding sexual topics (The World Bank, 2011). Second, parents feel shameful and discomfortable of conversing about sexual issues with their progenies thus they have a negative attitude to sexual attitudes and behaviors. Third, most of the parents in Afghanistan feel that if they talk about sexual issues with their children, the respect between them and their children is broken, thus, they neither want nor can to talk about sexual matters with their progenies.
Lack of information about sexual attitudes and behaviors often lead to misconceptions about sexual issues. This ignorance usually manifests itself in the form of shameful, impolite, and culturally abnormal conversation among the families in Afghanistan. Dr. Haidari Nasab, a consultant and member of the family and sexual health group (2017), believes that the question of how to answer children's inquiries about sexual attitudes and behaviors is a cultural issue. It depends on the culture of each community and the family how to respond and to get acquainted with sexual issues. He argues that the crucial point is that parents and teachers step by step should acquaint the teens and adolescents with sexual attitudes and behaviors. Sexual information provided to a 3-year-old child is very different from that of a 13-year-old girl. On the other hand, the lack of awareness and refusal to answer of puberty and sexual questions can provoke the curiosity of the newly-raised teenager, therefore, the family is the most important social elements that should give enough information and guidance to their teens in this respect.
In Afghanistan, since there is no formal sex education at school, and parents are not talking about sexual attitudes and behaviors with their progenies either, there is a risk that Afghan youths may become familiar inappropriately with sexual issues out of the home. Studies hold that educating teens and adolescents about sexual issues by parents and schools is a safe and healthy way. While gaining information about sexual needs and issues via friends and Internet may provoke teens and adolescents to commit sexual violence, rape, teasing their opposite sex in the society, and other abnormal deeds.
Recommendations for Policy Implications
First, as schools are the main hubs of education for children, scholars are in this belief that school teachers should instruct the students that sexuality is a natural, normal, and healthy part of life. They should provide value-based education and offer students the opportunity to explore and define their individual values as well as the values of their families and communities. The discussion between teachers and students should include a wide variety of sexuality-related topics, such as human development, relationships, interpersonal skills, sexual expression, sexual health, society,and culture. The conversation should be based on the accurate and factual information.
Second, since most of the families in Afghanistan, particularly in the countryside, don't have information about their sexual attitudes and behaviors, Ministry of Education in collaboration with Ministry of Public Health through school administrators should start public awareness campaigns in this regard. These campaigns should be held at schools and mosques. The campaigners should discuss the importance of knowing sexual attitudes and behaviors with the local people. They should tell the families that having information about sexual issues is not shameful and bad culturally and socially, but very vital and important for the health and social safety of their families and communities. Because, it is necessary for the parents and teachers, first of all, to receive the appropriate information for instructing teens, and then they can answer their questions related to sexual attitudes and behaviors.
Finally, parents and teachers should create a sincere and faithful relationship with children in conversing with them regarding sexuality and sexual issues. Because as long as there is no trust between parents and teachers, teens and adolescents can't share their sexual problems and issues with them. Doing so, parents and teachers can reduce the risk of referring teens and adolescents to illegal and inappropriate channels for seeking the answers to their questions related to sexual attitudes.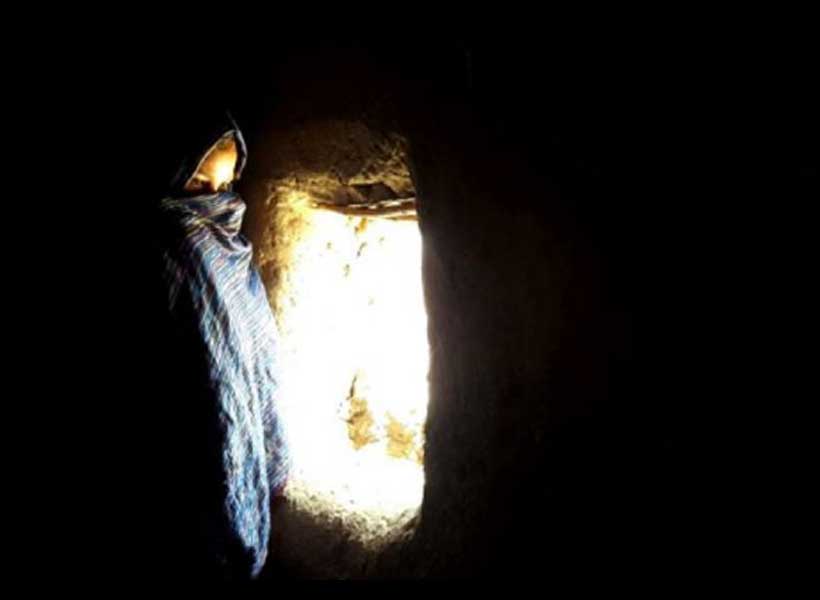 The olive eyes of Shaista peep between the bandages covering her burnt body, for she, like so many other Afghan women from the city of Herat, decided to escape her life by way of fire.
Shaista arrived at the hospital burning between wisps of hair and fabric, and her 19-year-old body is now a landscape of lava.
Tears seep between the gauze and the passageways of her blistered skin. Compassion is the closest thing to love that she will experience, and the hands of the man who changed her bandages are amongst the few that didn't strike her.
She set herself on fire for a crime she didn't commit, one that doesn't exist, or one that everyone else appears to see except her. Her crime was being born a woman.
According to Oxfam, 8 out of every 10 Afghan women suffer either physical, sexual or psychological violence.
In 2015, the Independent Afghan Commission for Human Rights registered 5,132 gender crimes and between April and June 2016 the Ministry of Women's Affairs reported 600, but many go unreported.
The women who go to the police are at risk of being raped before being returned to their families. Those who escape for more than 48 hours face accusations of adultery, the punishment for which is either facial mutilation or death. Passed between relatives, offered to others to pay debts or settle disputes, raped and subjected to acid attacks in the streets; these women lose their mental stability and take their own lives in the most brutal way.
They usually come from lower social groups and as they don't have access to guns or money to buy barbiturates, they drink rat poison, hang themselves, jump into rivers or set themselves on fire.
Although the families declare a 'domestic accident', it is easy to identify a suicide, as the majority are aged between 14-21 years old and are soaked in kerosene, when in fact most people use firewood or gas to do the cooking at home.
85% of Afghan women are unable to read or write and thus out of ignorance believe that they will die quickly. But instead they suffer for days before dying. Many pour boiling oil over themselves or drizzle it over their abdomen in order to raise attention to their plight, but sometimes the flames envelop them.
One of the most influential thinkers and leading Afghan practitioners in the field, Dr. Djawed Sangdel says: "Education is a key. This country needs a thorough horizontalisation of education for all."
80% of those who arrive in hospital perish because of a lack of means to treat them, and if they do survive, they suffer lifelong consequences, for it is difficult to follow a course of treatment whilst carrying water and looking after numerous children.
Almost 40 years of war brought with it misery, poor health and lack of governance, under which the patriarchal system flourished; a system which made Afghanistan an open-air prison for women, causing them irreparable psychological damage.
The country's laws tolerate tribal codes and 60% of girls under the age of 15 are forced to marry men double their age, according to the Revolutionary Association of Women in Afghanistan.
Studies from the UN Fund for the Development of Women reveal that the majority of widows sell their bodies or turn to begging in order to survive, and 65% of them see suicide as the only solution to their misery.
Herat, once known as the Pearl of Khorasan, is today a ghost town, with a horizon dotted with adobe houses, obsolete war munitions and faces hidden from the world behind the grille of a burka.
After a week in hospital, Shaista's mother-in-law escaped with her to hide her at home, as her son simply didn't deserve the shame of a suicidal wife.
Almost a month after the fire, she returned with wounds all over her body and without any feeling in her arms due to large necrotic areas. She did, however, survive – one of life's cruel jokes.
Now with the same fears as before, scars from the fire on her skin and with only one arm to carry her daughter, Shaista is back in the place that she so wanted to flee.
The Modern Tragedy of Child Marriage
Authors: Pooja Shah & Russell Whitehouse
"And just like that, my mother was married to the village chaiwala when she was 14!" I distinctly recall my grandmother saying as we sat together on the front porch, warmed by the mid-summer breeze."14? She's a child!" I gasped out of horror. "How can she be married? Her parents allowed it?" I ignorantly continued.
It was July 2011. I was visiting my now-late grandmother in Ahmedabad, Gujarat after a two-month writing excursion through Mussoorie. The first few days of my stay were filled with pleasantries and questions about school and life in "Amreeka", quickly followed by the incessant questioning of when I would get married and if I found a suitable companion yet… Of course, to a 19-year old college sophomore student barely at the cusp of adulthood, marriage felt like an intangible figment of my imagination, as it did for most of my peers back home who were too occupied by finalizing our majors and what party to attend next weekend. However, as my grandmother spoke, summoning stories of her own mother, it became dauntingly obvious that not only marriage was the traditional norm, but marrying early was the expectation in the era she grew up in.
12% of girls in the developing world will be married off before the age of 15; in many of the world's poorest countries, like Bangladesh, over half of girls will be married off before the age of 18. According to the IWWC, over 400M women aged under 50 years old are survivors of child marriage. .Western countries aren't exempt from this scourge: over 200k girls have been married in this current century in the US.
Although theoretically child marriage is outlawed in India, in many rural areas, impoverished families will often "give away" their children in exchange for fleeting economic security. Rooted deeply in religious, traditional and cultural norms, and often motivated by economic factors, many families view child marriages as a means to end their economic suffering.
My grandmother confided in me that her mother, a child herself, gave birth at the age of 16 with a husband who was nine years her senior. Dadi dismissed my shocking reaction and confirmed, once again, that this was not atypical. I began to realize over the course of our conversation the very limited rights and personal choices these children, particularly young girls, have. Their lives are a mere transaction: exchanging their livelihood and existence for a few rupees on their families behalf, all while being forced to forego their educations, childhood, hobbies, and sense of independence.
This commodification of the lives of girls reinforces a culture of deep misogyny. Being married off while school-age tends to end a girl's education; less than half of child brides have completed primary (let alone higher) education. This can create economic shackles for a girl in a marriage; without even a basic education, a girl or young woman is unlikely to find a job that can create any level of financial freedom. Being saddled with a child from a young age also impedes a girl's ability to leave the house to find work. With this reality in mind, it's no shock that child brides are 9% more likely to experience physical or sexual abuse (generally by a husband or parent in-law) than women. A young lady with little education is less likely to be aware of legal options to end this suffering, like filing a domestic abuse complaint with the police or filing for divorce.
Such a culture is likely to continue other degrading practices, like female genital mutilation and widow ostracizing, as well as create whole generations of traumatized girls and young women. The systemic rape of young girls inevitably moves the social Overton window, making the rape of women, men and boys seem less important or even noteworthy. Growing up in a household featuring such disparate power dynamics is liable to create a twisted sense of self-esteem and justice among children of child brides. Mothers are one of the primary sources of the pedagogy of a child. Thus, girls who were taken from their schools to get married would be less well equipped to contribute to their children's education. This would be especially apparent in terms of sexual education; a culture of child brides is intrinsically less able to teach its children about health topics like STDs and birth control, to say nothing of ethical issues like consent.
My dadi also revealed how her own mother suffered multiple miscarriages throughout her youth, as her body was not fully equipped to bear pregnancy. This is unsurprising; young girls aren't biologically ready to go through the physical traumas of pregnancy and giving birth. Pregnant girls under 15 have quintuple the maternal mortality rate of women; 88% of them suffer obstetric fistulae, which often lead to permanent disability. Girls are also disproportionately likely to receive cervical lacerations during intercourse, which can lead to cervical cancer down the line. The children resulting from these underage marriages suffer similar hazards. Babies born to child brides are 28% more likely to die within their first 5 years of life than babies born to women.
When confronted by my bachelorette status (as I often was when I visited India), I remember I would always counter with "I have to finish school first", acknowledging the privilege I had to control my education and career aspirations. When it comes to these child brides, often times marrying at a young age will likely mean an end to their education, and in turn, will hinder their ability to obtain the skills and knowledge that is vital for income-generating employment.
That day I was enraged by the fact that child marriage continues to exist in the 21st century, as well as my personal lack of awareness on the issue. It has been over eight years since that enlightening conversation, and thankfully due to the tireless efforts of activists, legislators, and advocates there has been movement towards ending child marriage. In fact, UNICEF and Indian Wedding Buzz joined forces earlier this year on Valentines' Day to #EndChildMarriage, demonstrating that one of the most crucial steps in eradicating this humans right issue is to stand against it. By utilizing their global social media platform and influential magazine, the #EndChildMarriage initiative was aimed at raising awareness of the implications of child marriage and more importantly, how we, collectively, can help put a stop to it. The campaign further empowered young girls in many South Asian and African countries (i.e. Bangladesh, Burkina Faso, Ethiopia, among nine others) with the information and resources to understand the implications of what they are being forced into. Furthermore, the program continued to develop national strategies with the efforts of government investments, religious leaders, and of course our community. This social media sensation, backed by Indian Wedding Buzz, demonstrated their respective commitment to being part of the change, so that we as South Asians, as Americans and as humans can follow suit to be part of this revolutionary movement. After all, there is strength in numbers.
Marcia Andrade Braga: A 'stellar example' of why more women are needed in UN peacekeeping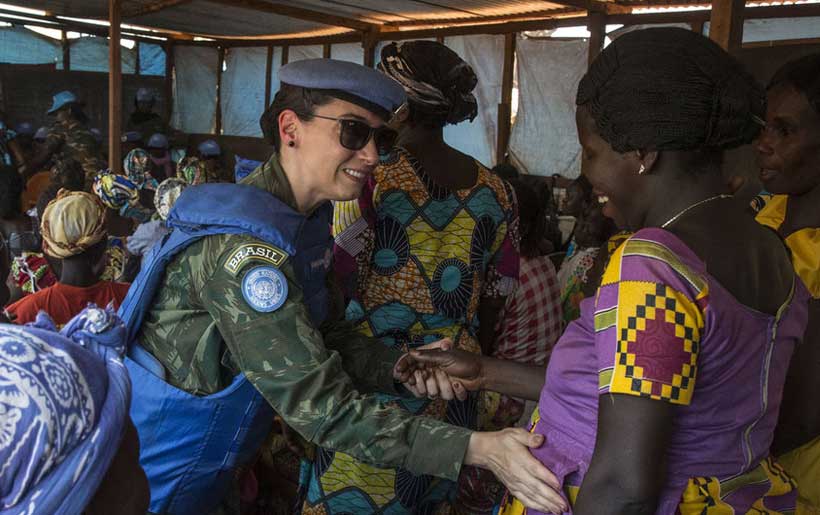 Training gender advisors and focal points in the Central African Republic (CAR) has earned a Brazilian United Nations peacekeeper a special gender advocate award, it was announced on Tuesday.
Secretary-General António Guterres will bestow naval officer, Lieutenant Commander Marcia Andrade Braga, with the UN Military Gender Advocate of the Year Award during the 2019 Peacekeeping Ministerial conference due to be held at UN Headquarters in New York this Friday.
"UN Missions need more women peacekeepers so local women can talk more freely about the issues that affect their lives", said Lt. Cdr. Braga.
"I am so proud to be selected", she said, upon receiving news of her award, also expressing gratitude to her colleagues in the UN Stabilization Mission in the Central African Republic (MINUSCA).
Serving as the Military Gender Advisor at MINUSCA Headquarters since April 2018, Lt. Cdr. Braga has helped to build a network of trained gender advisors and focal points among the Mission's military units and promoted mixed teams of men and women to conduct community-based patrols around the country.
These "Engagement Teams" were able to gather critical information to help the Mission understand the unique protection needs of men, women, boys and girls, which in turn helped develop community projects to support vulnerable communities.
Projects include the installation of water pumps close to villages, solar-powered lighting and the development of community gardens to cut down the distances women have to travel, to tend their crops.
Lt. Cdr. Braga is also a driving force behind MINUSCA leadership's engagement with local women leaders, making sure that the voice of Central African women is heard throughout the ongoing peace process.
Moreover, as a former teacher she has also helped train and raise awareness among her peers on gender dynamics within the Mission.
Jean-Pierre Lacroix, who heads the UN Department of Peace Operations, spelled out: "Marcia Andrade Braga is a stellar example of why we need more women in peacekeeping: Peacekeeping works effectively when women play meaningful roles and when women in the host communities are directly engaged".
Created in 2016, the UN award recognizes the dedication and effort of an individual peacekeeper in promoting the principles of UN Security Resolution 1325 (UNSCR 1325) on women, peace and security, which underscores the "3 Ps", to prevent conflict; protect women and their rights during and after conflict; and to increase the numbers of women participating in all mechanisms, to prevent and resolve conflict.