Talking about Sexual Attitudes and Behaviors: A cultural and Social Taboo in Afghanistan
In June 2018, Afghan Institute for Strategic Studies (2018) published its latest survey entitled "Transition to Adulthood; Sexual Attitudes and Behaviors of Youth in Afghanistan."The survey has been conducted in a conversation with 1,350 people aged 15 to 34 in 10 largest provinces of Afghanistan. Sediqa Bakhtiari, one of the researchers (2018), articulates that in the survey, the attitude and sexual behavior of youth and adolescents after childhood have been examined.This study echoes that most Afghan youths do not have information about the healthy sexual relationship.In this survey, 36% of the interviewees had no information about AIDS, and only 20% were familiar with safe and healthy relationships. And, 90 percent of those interviewed in this study said that there is a pressing need for sex education in Afghanistan.
The research shows that ignoring the debate on sexual issues has led Afghan young people to go to other sources for obtaining information about sexual matters that do not provide the right information to them. For example, according to this study, 60 percent of Afghan youths use sexy content such as movies and photos that address their sexual instinct. The researchers of this survey argue that using such objects for tackling the sexual needs can have personal and social damage. Its personal damage includes imitation of patterns of misconception, depression, and frustration, mental disorders, and addiction to such content and social damages are encouraging the youth toward committing rape, violence, street harassment and, in some cases, avoidance of marriage (Afghan Institute for Strategic Studies, 2018)
Studies project that widespread rape, honor killings, sexual violence, and child abuse in Afghanistan are the malicious results of lack of information and public awareness about sexual attitudes and behaviors. According to Ruhollah Amin, a psychologist in Afghanistan (BBC, June 29, 2018), talking about sexual needs and issues has a very negative connotation in Afghan society. He argues that even among couples, talking about a sexual relationship is interpreted as bad, embarrassing, and heinous and should be kept secret. In his opinion, this social and cultural censorship has become a self-censorship that causes disorders for a person, and finally, the consequences of such self-censorship rise in other ways that are inconsistent with the cultural and social norms of the society. For instance, jokes and poems that have sexual content and violence are indicative of such cultural censorship in the society (BBC, June 30, 2018). He emphasizes the need for a social and cultural campaign in Afghanistan regarding sexual attitudes and behaviors so that individuals can become aware of their sexual needs legally as a human.
Lack of Sex Education at Afghan Schools
Afghanistan is a traditional country and its people are religious who strongly believe in the traditional Islamic and religious principles. The contents and subjects of school curriculum in Afghanistan are also designed based on these Islamic principles and traditional values of the people(Compilation & Translation, 2003). In 2016, the city of Kabul witnessed a public campaign that broke many of the taboos and traditions in the country.This campaign was specifically talking about sexual attitudes and behaviors of youths and the problems and inadequacies surrounding them in Afghanistan (Horizon News Agency, Oct. 23, 2017).Holding such public awareness programs are very pivotal and vital in this regard but not adequate. Because, first, such campaigns only take place out of schools by private organizations in Afghanistan. Second, these kinds of social and cultural public awareness programs occur in big cities of Afghanistan where far-reaching provinces are not witnessing such campaigns. Third, schools that are considered to be the main training centers for children don't have any clear and specific programs regarding educating the students about their sexual attitudes and behaviors, unfortunately.
Afghanistan's Independent Human Rights Commission's annual report (2017) shows that violence against women in Afghanistan has increased by 8.6%. The report states that 5575 cases of violence had been registered in 2017. This figure was 5132 in 2016. Of the total recorded violence, more than 1,500 cases of physical violence, more than 360 cases of sexual violence, more than 1,800 verbal and psychological violence, more than 1,100 cases of economic violence and remaining violence have been reported in response to behaviors that are traditionally are disgraceful. In the reported physical violence section, more than 1,200 cases of beatings, 10 incidents, 57 injuries, 45 forced labor and 234 deaths were included. The Independent Human Rights Commission argues that the statistics do not show the full reality due to the extent of this problem, and many cases of violence against women are likely to remain hidden for reasons of custom and lack of security.
Given the above reasons, it is argued that one of the key factors of violence against women increase in Afghanistan is the shortage of sex education at Afghanistan's schools. For example, several studies echo that presenting guidance by the teachers about sexual attitudes and behaviors of students at schools will reduce the occurrence of sexual assaults and gender violence in the society. Because girls and boys as teenagers will learn about their sexual attitudes at schools. In other words, sex education will help students how to tackle their sexual problems appropriately, how to respect their opposite sex's sexual characteristics and not to look at their opposite sex as a physical and biological object but as a human being(Raphael, 2015).
Since there is not any formal education about sexual attitudes and behaviors at schools in Afghanistan, most of the Afghan teenagers and youths obtain information about sexual issues secretly via internet or friends. The Afghan Institute for Strategic Studies survey(2018) projects that this kind of approach toward knowing about sexual matters leads to watching porn movies that eventually result into porn addiction.Moreover, researchers believe that the lack of education at schools and the lack of proper education of parents regarding sexual attitudes and behaviors of youths may create serious cultural and social problems for the health of the entire society. They argue that embedding the topic of sex education in school curriculum can acquaint the children from the stage of childhood to sexual issues. When they grow up, they don't feel shy talking about their sexual problems and needs in families, among their friends, or referring to a doctor because of their sexual problems. Furthermore, addressing sex education in an integrated education system may provide information for children and adolescents that won't provoke them toward inappropriate solving their sexual needs. Additionally, providing sex education through schools can help students not to look for other misleading channels for obtaining information about their sexual attitudes and behaviors.
Afghan Society and the Taboo of Sex Conversation
Traditional values that may restrict access to knowledge about sexual attitudes and behaviors might be the main barriers on debating regarding sexual issues among the families and youths in traditional societies(Heinemann, Atallah, & Rosenbaum, 2016).In Afghanistan, there are many reasons that why parents don't educate their children about sexual issues. First,only 31.741 percent of Afghan adults aged 15 and above are literate that is why most of the parents are not aware of sexual issues due to not being able to read regarding sexual topics (The World Bank, 2011). Second, parents feel shameful and discomfortable of conversing about sexual issues with their progenies thus they have a negative attitude to sexual attitudes and behaviors. Third, most of the parents in Afghanistan feel that if they talk about sexual issues with their children, the respect between them and their children is broken, thus, they neither want nor can to talk about sexual matters with their progenies.
Lack of information about sexual attitudes and behaviors often lead to misconceptions about sexual issues. This ignorance usually manifests itself in the form of shameful, impolite, and culturally abnormal conversation among the families in Afghanistan. Dr. Haidari Nasab, a consultant and member of the family and sexual health group (2017), believes that the question of how to answer children's inquiries about sexual attitudes and behaviors is a cultural issue. It depends on the culture of each community and the family how to respond and to get acquainted with sexual issues. He argues that the crucial point is that parents and teachers step by step should acquaint the teens and adolescents with sexual attitudes and behaviors. Sexual information provided to a 3-year-old child is very different from that of a 13-year-old girl. On the other hand, the lack of awareness and refusal to answer of puberty and sexual questions can provoke the curiosity of the newly-raised teenager, therefore, the family is the most important social elements that should give enough information and guidance to their teens in this respect.
In Afghanistan, since there is no formal sex education at school, and parents are not talking about sexual attitudes and behaviors with their progenies either, there is a risk that Afghan youths may become familiar inappropriately with sexual issues out of the home. Studies hold that educating teens and adolescents about sexual issues by parents and schools is a safe and healthy way. While gaining information about sexual needs and issues via friends and Internet may provoke teens and adolescents to commit sexual violence, rape, teasing their opposite sex in the society, and other abnormal deeds.
Recommendations for Policy Implications
First, as schools are the main hubs of education for children, scholars are in this belief that school teachers should instruct the students that sexuality is a natural, normal, and healthy part of life. They should provide value-based education and offer students the opportunity to explore and define their individual values as well as the values of their families and communities. The discussion between teachers and students should include a wide variety of sexuality-related topics, such as human development, relationships, interpersonal skills, sexual expression, sexual health, society,and culture. The conversation should be based on the accurate and factual information.
Second, since most of the families in Afghanistan, particularly in the countryside, don't have information about their sexual attitudes and behaviors, Ministry of Education in collaboration with Ministry of Public Health through school administrators should start public awareness campaigns in this regard. These campaigns should be held at schools and mosques. The campaigners should discuss the importance of knowing sexual attitudes and behaviors with the local people. They should tell the families that having information about sexual issues is not shameful and bad culturally and socially, but very vital and important for the health and social safety of their families and communities. Because, it is necessary for the parents and teachers, first of all, to receive the appropriate information for instructing teens, and then they can answer their questions related to sexual attitudes and behaviors.
Finally, parents and teachers should create a sincere and faithful relationship with children in conversing with them regarding sexuality and sexual issues. Because as long as there is no trust between parents and teachers, teens and adolescents can't share their sexual problems and issues with them. Doing so, parents and teachers can reduce the risk of referring teens and adolescents to illegal and inappropriate channels for seeking the answers to their questions related to sexual attitudes.
Discerning the Human Element Amid the Pandemic
"We are not human beings having a spiritual experience. We are spiritual beings having a human experience." – Pierre Teilhard de Chardin
There is something about the Covid pandemic that will be remembered for decades and centuries to come. It is not even so much the economic costs or travel restrictions per se, but first and foremost the human element that came from many people across the planet in expressing support and solidarity as well as in making their contribution to fighting the crisis. The future will harshly judge the current nationalistic/individualistic excesses that persist despite the raging pandemic. It is at times like these that the global community needs to rediscover the values of the humanist legacy and humanitarian diplomacy.
A lasting sour impression from the Covid crisis is that countries most economically advanced lacked leadership and vision in the midst of the pandemic. There could have been greater cooperation between the world's largest economies and a more emphatic reaction from global institutions/organizations as well as regional arrangements. The degree of bickering and conflict observed throughout the pandemic period suggests that the lessons of the past and the legacy of the humanist thinkers have yet to be internalized into the global community's way of thinking.
At the same time, the world is set to change as a result of the Covid experience – a longer-term perspective on economic development, the importance of social bonds and support lines, the very existence of something that lies beyond the proverbial "old normal". The rise of ESG (environment, social, governance) is one of the new trends taking hold on the back of the pandemic shock. Other themes include debt relief to least developed economies as well as provision of medical equipment and vaccines for the disadvantaged groups of countries.
Indeed, what will be remembered is the human element in international diplomacy – the sending of medical equipment, vaccines, doctors and specialists. At times, such feats were performed not by the purported leaders of the world, but by small economies with scant resources of their own. The Cuban experience in this respect is particularly telling amid the Covid pandemic – not only did Cuba provide doctors and equipment to developing countries, it also created a vaccine of its own that it furnished to its regional neighbors. It is not only the strength and the advances of the national health care system but even more importantly the ability to share these advancements with the global community that counts the most during such fateful times.
And then there is also the humanitarian diplomacy and the legacy of humanism accumulated by humanity in facing dire adversities in the past. The legacy of the humanists of the past centuries such as Pierre Teilhard de Chardin, Erasmus, Thomas More, Antoine de Saint-Exupery, Vladimir Vernadskiy. Perhaps one of the best ways to summarize this legacy from the vantage point of today's crisis is to refer to Vernadskiy's words: "Humanity has a bright future ahead if it comes to realize this and does not employ its mind and efforts to destroy itself".
What does the world community need to undertake to address the weak response to the pandemic? Nearly every major crisis faced by the world in the past was followed by a reconfiguration of global architecture, with new coordination mechanisms and new international organizations being created. Perhaps this time it is not so much about the creation of new organizations, but rather the greater responsibility that is to be taken by the major powers represented in the UN Security Council.
In particular, there may be a case for a code of conduct during global pandemics and crises to be adopted by the countries endowed with a permanent UN Security Council status. Such a code of conduct may include commitment not to resort to trade and other restrictions pertaining to humanitarian assistance or trade in medical equipment, not to resort to sanctions, as well as not to engage in military conflicts. The list of such commitments may be refined of course on the basis of the experience of the world community during the current pandemic and previous episodes of global economic crises.
In terms of academic experiences during the pandemic one of the most gratifying was the T20 meetings and discussions about how to design anti-crisis measures and support the world economy. In the context of one of the working groups Valdai partnered with the King Fahd University of Petroleum and Minerals (KFUPM) from Saudi Arabia to come up with the proposal for the G20 (that was included into the T20 communique) to create a platform for the sovereign wealth funds of the G20 nations to coordinate among other measures anti-crisis stimuli for the benefit of the global economic recovery.
In the course of the pandemic I received multiple letters of support and solidarity from friends and colleagues from various think-tanks across the globe – from Italy, from China, Argentina, US, UK, and many other countries. Often these were expressions of solidarity not only with my colleagues from Valdai, but more broadly with Russia and its people.
Whatever the grand ideas and writings coming from the many think tanks around the world, it is the simple words of support and solidarity that rang most deeply in the many exchanges throughout the past year.
I have also come to know volunteers working nightshifts in Moscow city hospitals to fight the Covid pandemic during whatever time they have left from their main (and rather intensive) work. Not surprisingly, these people exhibiting self-sacrifice during the height of the pandemic also express the longing for an inter-connected world, with greater solidarity and people-to-people contacts across the globe.
It is that kind of human solidarity that generates the energy to make further strides ahead whether as an individual or as a country or a global community. The energy and the will to persevere amid adversity, to stand above the "vaccine nationalisms", protectionism, sanctions and war-mongering, to look into what is ahead and discern a better world for future generations. As Pierre Teilhard de Chardin wrote, "the future is more beautiful than all the pasts".
From our partner RIAC
Feminist perspective of the War,Peace and Politics in International Relations
India is a land where Mahatma Gandhi and his ideas of non-violence were born, but it is also the land where Mahatma Gandhi was assassin by Godse for preaching 'Feminine' 'non-violent' politics and for making Indian men less 'manly' by promoting peace. Masculinity is a social definition given to men and boys in society, it is associated with strong, powerful, brave, and macho characteristics. The understanding of security is limited for many years in International relations(IR) and hence the understanding of a secured state is associated with a leader who has masculine characteristics capable of handling security.
Politics across the world is understood in the terms of power and strength of the leader and other masculine characteristics associated with being 'manly' enough to control a state. While feminine characteristics are associated with weak, soft, and gentle behavior, even when women are elected as leaders, they are expected to hold strong manly characters to stay in politics. Indira Gandhi, the first female prime minister of India, prefer being addressed herself as 'sir' and her policies did not include a gender perspective.
In Gender, Justice and the Wars in Iraq (2006), Laura Sjoberg demonstrates that women's presumed status as innocent civilians make wars harder, not easier, for them, by defining them as protected without regard for their actual safety . On Iraq's economic sanctions, feminist insights from the study of economic sanctions as the war in international relations are not only valuable for their contribution to IR's theories of sanctions, but also for their generalizability to IR's crucial questions, such as what constitutes foreign policy, what counts as war, and how war affects people
Feminists see that war and military are often threats to women's and other vulnerable groups' security as they are competitors for scarce resources during and after a war on which women may depend more than men, instead of seeing military power as part of a state's defense against security threats from other states, it should be seen as a product of patriarchy. The large defense spending on soldiers and military weapons rather than creating a safe society for women at home or spending on climate action that could create safer lives for women is an example of a masculine approach to war.
The feminist approach in IR demonstrates how the security of individuals is related to national and international politics and how international politics impacts the security of individuals even at the local level. IR feminist theories focus on social relations through gendered lens,rather than power relations or anarchy, they see an international system constituted by socially constructed and gender hierarchies that contribute to gender subordination rather than traditional understanding of security.
In 2019 In the Lok Sabha elections of India, Narendra Modi, and his party used his 56-inch chest in the election campaign to associate his capability of handling the security of India with 'manly' characteristics. While more than 3 lakhs of children die due to starvation in India every year, the Indian prime minister wins elections by boasting about his 56-inch chest capable of defeating terrorists. Feminists believe that the social construction of masculine characteristics is reflected in politics especially in IR because political theory and practice are both dominated by men. The understanding of war and violence is also associated with men, it praises soldiers, diplomats, and leaders that promote protection from war.
Modern Enlightenment science has incorporated a belief system that equates objectivity with masculinity and a set of cultural values that simultaneously elevates what is defined as scientific and what is defined as masculine. The western liberal and realist understanding of masculinity and politics are limited and discriminatory towards women. While the world is facing nationalism wave in politics, leaders like Narendra Modi, Donald Trump and Putin promote a masculine idea of Security in the world to protect their national interest and secure nation through military expansion.
The understanding of security, war, and politics are interlinked in creating the foreign policy of a country. In a country like India, the United States, or Russia where leaders promote masculine characters through their election campaigns, where the state controls the reproductive decisions of women, or in a country like India where weapons are worshiped, the foreign policy and politics of the state are influenced by masculine characters and are valued for national security.
Rape, domestic violence, harassment against women in their own country is not subjected to war but a traditional understanding of the war in IR as feminists have pointed out is as if women require protection during war and soldiers are fighting to protect the honor of women, in reality, it is often women's protectors (men) who provide the greatest threat in everyday life. Rape, domestic violence, harassment against women in their own country is not subjected to war but a traditional understanding of the war in IR as feminists have pointed out is as if women require protection during war and soldiers are fighting to protect the honor of women, in reality, it is often women's protectors (men) who provide the greatest threat in everyday life.
For feminist scholars, a security that is global and multidimensional with political, economic, and ecological facets that are as important as its military dimensions. The security of individuals and their natural environment is considered as much as the security of the state. National security needs to be inclusive of security of all from security threats such as domestic violence, rape, poverty, gender subordination, and ecological destruction as well as war. For example, Sweden has a feminist foreign policy, which means the understanding of security is through a gendered lens, feminist foreign policy not only broadens what security means but also who is guaranteed security in the world.
While feminism is a new approach of though in IR, the case study of Sweden explains the importance of feminist foreign policy that believes in gender equality in decision making, promoting peace and does not promote masculine characteristics associated with war and use of force in foreign policy and makes secure, happier nations. While the discourse of security is dominated by masculine characteristics in IR, states can be secured with wider perspective of human security associated with gendered lens.
Debunking Magical realism through Marquez's "A Very Old Man with Enormous Wings"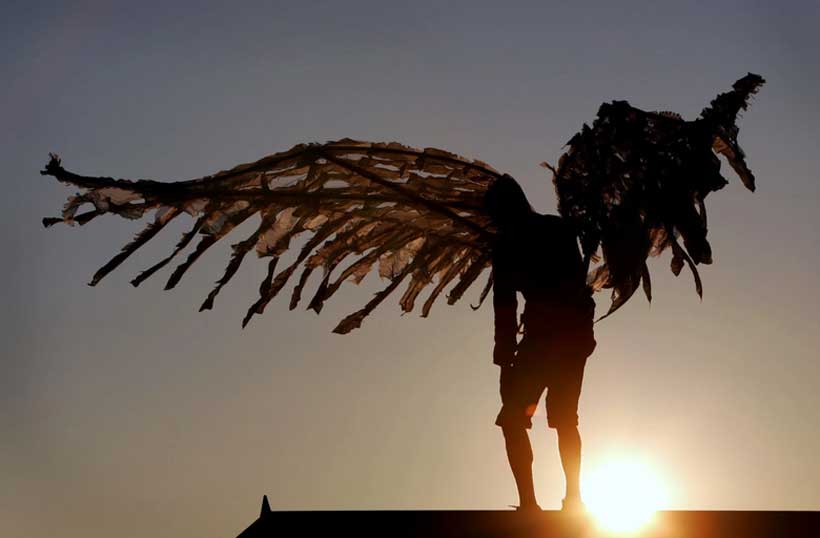 There are few names in the Latin American literature, which it comes to famous novels and short stories, Columbian writer Gabriel Gracia Marquez is one of them. Throughout Latin America, he is popular with the name Gabo and was one of the intellectual literary writers of the 20th century. For his tremendous work, he received the Neustadt International Prize for Literature in 1972 and Nobel Peace Prize for literature in 1982. During his literary journey, he has written numerous acclaimed novels such as One Hundred years of Solitude published in 1962 and Love in the Time of Cholera, which was published in 1985. His popular writing style is often known as magical realism, which later emerged as a major literary movement in Latin American literature. He has also written numerous famous short stories, and among them "A Very Old Man with Enormous Wings" is very popular in Latin American. The American Review published it in 1995 in the Spanish language. The title of the story "A Very Old Man with Enormous Wings" tells the story of a shadowy old man, who one day appears in the family courtyard. The old man was not an ordinary person, because he was having some strange characteristics such as an enormous pair of wings, which was a new thing for the people, who were living in town. Hence, with the magical depiction of old man character, the author explains the conflict the ordinary people encounters concerning their cultural belief. Moreover, the whole story is written from the context of third-person narrator.
On the other hand, the presence of an old man character with huge wings represents the Magical realism of the author. Throughout the story one of the most interesting thing about the old man character is that after his appearance in the family court people began viewing him as a normal human being. But for some, he was different from the normal man because he got the huge wings that make him look like an angel, who is dressed like a rag-picker. The major character in the story is Pelayo and Elisenda in whose yard, the mysterious old man first appears. In the story, the author describes the strangeness of this old man in these words "His huge buzzard wings, dirty and half-plucked, were forever entangled in the mud. They looked at him so long and so closely that Pelayo and Elisenda very soon overcame their surprise and in the end found him familiar". This clearly shows, though initially Pelayo and Elisenda found him a strange creature but, after the closer contact, they began viewing as a normal human being just like them. Nonetheless, the old man with mysterious wings was still a strange creature for the other people in town.
When Pelayo and Elisenda brought the old man to the physician in the town, the physician took the advantage to examine the physical uniqueness of this old man. For the physician, the old man was a new thing for him, because throughout, his carrier, the doctor has encountered something like him. As the author writes about the physician; "What surprised him most, however, was the logic of his wings. They seemed so natural on that completely human organism that he couldn't understand why other men didn't have them too". Similarly, when Pelayo and Elisenda informed their neighbor about the mysterious old man, the neighbor tells them that he is an angel. This scene in the story explains how an individual thinks and feels when he/she encounters something different, mysterious, and strange. Moreover, this also explains the limitation of the human mind and the lack of knowledge about different things. This happens, at one moment the couple decides to get rid of the old man and even planned to kill him because they thought he might be a curse. Later, they change their plan and decides to imprison him and in prison, the mysterious old man suffers severe abuse and mistreatment.
Soon after the imprisonment of the old man, the people began whispering stories about the old man. Some villagers began perceiving him as an angel, while the other considered him as evil, who is God's curse on the village. In this respect, the story The very old man with enormous wings Marquez is a mixture of compassion and sadness. Because the couple Pelayo and Elisenda wanted to get rid of him but the old man refuses to leave them until their life is transformed. As it is written in the bible "Do not be forgetful to entertain a stranger, you could be entertaining an angel". The real reason, why the old man was a stranger to the couple and villagers because he was unattractive and he was having huge wings that embarrassed them. Throughout the story, the people in the town curse him and makes fun of him, but the old man never fights back because he is compassionate and he understands the fact that he cannot speak their language. Overall the whole story demonstrates the context of bad and good human nature because seeing the beauty is one thing while ignoring a person based on the fact that he is ugly is weary.
In contrast, the central theme of Gracia Marquez's "The very old man with enormous wings Marquez" is the Coexistence of compassion and cruelty, which explains the feeble response of selfish and greedy humans towards those, who are different, strange, ugly, and weak. For instance, the major characters in the novel the couple Pelayo and Elisenda imprison the old man and abuse him, and even they planned to kill him because he was ugly and weak. But once they thought, they could benefit from the old man by showcasing him in the village, they decide to keep him to accomplish their appetite for money. In a nutshell, the moral of the story was religious has always been a shallow set of beliefs, which ignore the principles of morality. Hence, the treatment of the old man in the town after his appearance in the family yard clearly shows that people in the story are faithless having inconsistent faith.