Customs Union: The world's largest trading block turns 50
The Customs Union is unique in the world. It is a foundation of the European Union and essential for the proper functioning of the Single Market.The Customs Union is a single trading area where all goods circulate freely, whether they're made in the EU or imported from beyond its borders. This means that there are no customs duties at the borders between EU countries. Duty on goods from outside the EU is generally paid when they first enter the EU. From then on, there's nothing more to pay and no more checks. National customs services in all EU countries work together as one to manage the day-to-day operations of the Customs Union. Member countries share one single system for handling the import, export and transit of goods.
The Customs Union comprises the 28 Member States of the EU, Monaco and British territories. Over 114,000 customs officers work around the clock at airports, border crossings, ports, inland customs offices or customs laboratories. The EU's customs administrations need to work closely to facilitate trade and protect the health and safety of all EU citizens.
How does the EU's Custom Union help to protect and keep us safe?
The aim of the Customs Union is to protect society at large while making sure that legitimate trade can flow easily. The Customs Union defends against international trafficking and smuggling, protects consumers against illegal and dangerous goods, and preserves the environment and European cultural heritage as well as the financial interests of the EU and the Member States. In the EU, there are 90 state-of-the-art customs laboratories to carry out this job. Some labs specialise in certain types of analysis – for example, toy safety. When human senses are not enough to detect certain types of illegal goods, customs officers partner up with sniffer dogs which specialise in detecting illegal drugs, suspicious food, explosives or even large amounts of cash. 
HOW THE CUSTOMS UNION PROTECTS  
 DRUGS AND CIGARETTES

In 2016, EU customs seized almost 4.6 billion illegal cigarette and 298.9 tonnes of drugs in the EU.
In Spain, for instance, law enforcement dismantled an organisation producing contraband tobacco products. In three of these operations, 15 persons were detained and more than 275 tonnes of tobacco products, valued at more than €20 million, were seized. Two types of machines were confiscated: for the manufacturing of the tobacco products and for drying the tobacco. Additionally, numerous sacks containing chemical substances used to fabricate the final product were also seized.
In Poland, a tobacco sniffer-dog discovered 10.5 million cigarettes inside a sea-container at the container terminal of the Gdynia sea-port.
On the west coast of France, 19 tonnes of cannabis resin were seized in a sailing ship. Three tonnes of cocaine were found in a maritime container. In addition, 120 000 doses of diazepam were seized.
In Spain, a customs boat supported by a customs helicopter intercepted a sailing ship loaded with almost nine tonnes of hashish.
In Belgium, customs seized 2 275 kilos of drugs which were smuggled through passenger traffic (by air) and 476kg by express consignments.

WEAPONS

Some 6,256 firearms were seized in the EU in 2016, along with more than 1 million pieces of ammunition and 1 520 pieces of explosives.
Customs officials in Belgium were able to stop 126 pieces of weapons/ ammunition/ explosives from entering the EU. These weapons were being smuggled into the EU through air traffic or post.
In Spain, 737 assault rifles and 72 grenade launchers, including chargers and instruction books were seized.

FAKE AND DANGEROUS GOODS

EU customs intercepted products suspected of violating intellectual property rights on more than 63 000 occasions. In 2016, more than 41 million articles were detained with an estimated value of nearly €672 million.
Estonian customs seized almost 34,000 pieces of fake "Diesel" jeans in Muuga Port.
Greek customs seized more than 1.3 million batteries, 537,000 packs of cigarettes and 24,300 wallets.
There were almost 14 000 cases of goods presenting a risk for consumers in terms of health (sanitary, phyto-sanitary and veterinary technical standards). More than 37 million items were identified as unsafe or uncompliant in terms of product safety.
GOODS VIOLATING ENVIRONMENTAL RULES

3,500 infringements of regulations for endangered species (CITES) were detected. In 96 cases, exports were detected which did not respect the rules on exports of cultural goods.
Estonian customs seized almost 66,000 tubes of face cream which contained caviar.
In France, 110,000 cosmetic products with caviar and protected plants were seized, as well as 46 square meters of alligator skin and 20 tonnes of wood from the exotic "Dalbergia retusa" species.
In the United Kingdom, 300 map turtles (Graptemys spp), 5 live giant salamanders, 6 kg of caviar, 300 leather items made from python skin, 760 kg of traditional medicines containing protected plant species and 18 kg of ivory tusks were seized.

UNDECLARED CASH

Travelers entering or leaving the EU are obliged to declare amounts of cash valued at €10,000 or more (or its equivalent in other currencies or bearer negotiable instruments) to customs authorities. In 2016, there were 571 significant cases, where seizures of undeclared cash amounted to more than €50,000.
Each year, more than 100,000 cash declarations are submitted to customs, amounting to more than €62 billion. Each year, more than 10,000 cases of undeclared cash or incorrectly completed cash declarations are recorded
As part of the EU's Action Plan against Terrorism financing, recently-agreed new rules will extend the rules to cover cash sent in postal parcels or freight shipments, to prepaid cards and to precious commodities.
How does the EU's Custom Union help to facilitate trade?
The EU is one of the largest trading blocks in the world. In 2015, the EU accounted for almost 15% of world trade in goods, worth €3.5 trillion. Managing this volume of international trade requires handling millions of customs declarations per year in a fast and efficient manner. The Union Customs Code removed the need for hundreds of different customs forms and now allows the use of electronic transport manifests for customs purposes and the moving of goods under temporary storage without lodging a transit declaration. It also introduced centralised clearance, and is more straight-forward for businesses, providing uniform and harmonised rules on guarantees. Finally, it also reduces the administrative burden on compliant and trustworthy economic operators (AEOs) by allowing a number of simplifications of customs procedures, and of the use of guarantees, and by allowing self-assessment of customs debts under certain conditions.
What has the Commission proposed to support customs operations as part of the new EU budget?
As part of the plans for the next EU budget, the Commission has now proposed a continued financial commitment of €950 million for the EU's customs programme, representing just 0.07% of the entire budget. The programme supports the essential cooperation between customs authorities across the EU and protects the financial and economic interests of the European Union and its Member States. It has helped to build a modern and innovative Customs Union that ensures the safety and security of all EU citizens, while at the same time facilitating growing global trade. It allows the joint development and operation of major, pan-European IT systems and establishes networks, bringing together national officials from across Europe.
The new proposed Customs Programme [LINK] will build on this success, helping customs administrations to deal with increasing trade flows and emerging trends and technologies, such as e-commerce and blockchain. It will also support customs authorities through enhanced cooperation on the ground and more training. The programme will help to provide better risk management to protect the EU's financial interests and to respond to security threats and cross-border crime. A new Customs equipment instrument worth €1.3 billion is also being created to allow the purchase, maintenance and replacement of innovative customs equipment by Member States.
CUSTOMS UNION – TIMELINE AND KEY STEPS 
1 July 1968 

 

All customs duties and restrictions lifted between the six member countries of the European Economic Community (EEC). A common customs tariff replaces national customs duties on products from the rest of the world. Trade between the countries multiplies and investment and economic growth increases.
1987 
One Single Administrative Document replaces hundreds of national customs declaration forms. At the same time, the common transit system is created.
1992 
EU adopts the Community Customs Code, creating a common rulebook for customs legislation. This milestone leads to much simpler guidance for traders and customs alike.
1993 

 

Free movement of goods become a reality: no more customs formalities at internal borders of the EU and no more long queues for lorries filled with goods to be checked at border crossings. For the first time, uniform customs legislation becomes directly applicable in all Member States of the EU.
1994 
Launch of the integrated tariff of the European Union in digital format (TARIC) with daily transmissions to the EU Member States. It replaced the first TARIC database with weekly transmissions since 1987.
1996
EU-Turkey Customs Union enters into force.
2003 
A new computerised transit system becomes operational. It is the first European customs system that uses electronic declaration and processing.
2004 
10 new countries join the EU and the EU Customs Union, marking the largest expansion of the EU Customs Union in its history.
2005

 

 

EU launches the Customs Risk Management system that connects more than 800 customs offices and provides a digital platform to exchange information about risks and irregularities. New security legislation is introduced providing for advance cargo information, risk-based controls and measures aimed at end-to-end supply chain security, including through use of technology.
2008 

 

 

EU introduces the Authorised Economic Operator (AEO) status: an internationally-recognised quality mark indicating that a company's role in the international supply chain is secure, and that customs controls and procedures are efficient and compliant. It is voluntary and enables simplified customs procedures and in some cases the right to 'fast-track' shipments through some customs and safety and security procedures.
2011 
Customs becomes a major actor for increased security in the EU. Common risk criteria for security and safety start to apply to all goods crossing the EU borders, ensuring equal protection of all EU citizens and member states.
2016 

 

 

The Union Customs Code takes effect, further modernising and streamlining customs procedures throughout the EU. It also introduces a number of IT systems to support harmonised customs rules and to reduce the administrative burden for trade. Full implementation of IT systems is foreseen in steps, with the majority of systems being available by 31 December 2020, with further upgrades during the period up to 2025.
2018
The EU Customs Union celebrates 50 years of operation.
Europe tells Biden "no way" to Cold War with China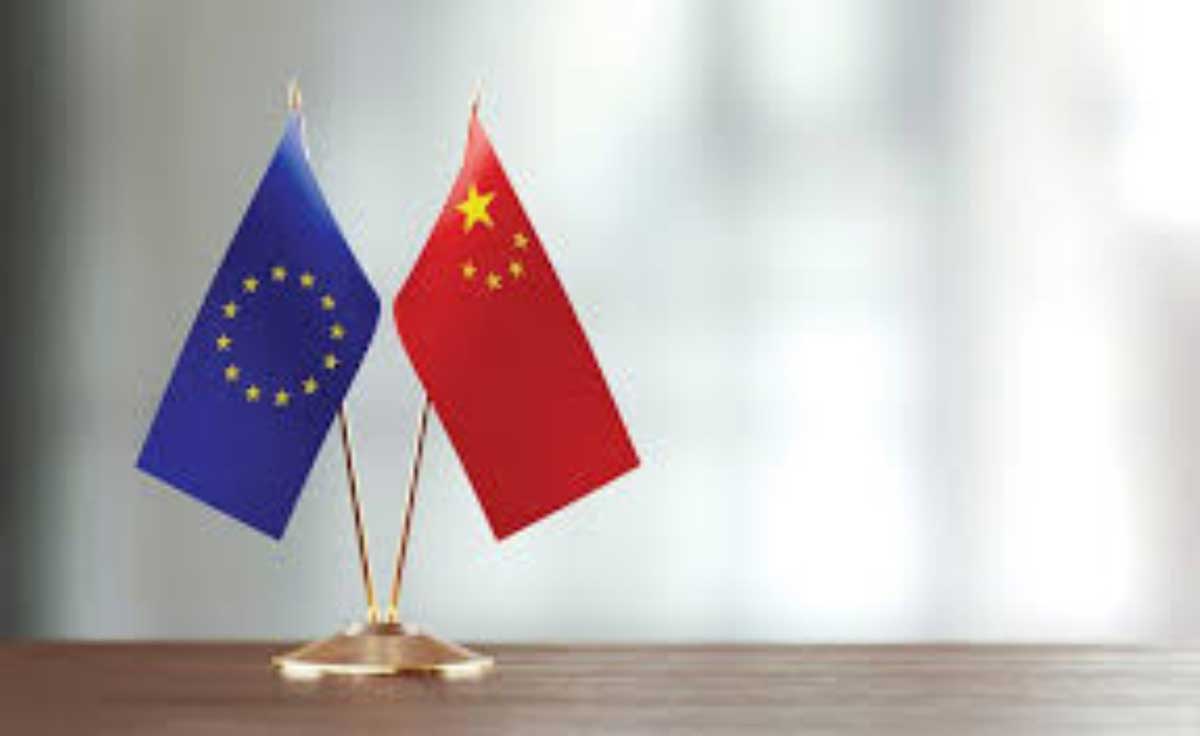 Amidst the first big transatlantic tensions for the Biden Administration, a new poll shows that the majority of Europeans see a new Cold War happening between the United States and China, but they don't see themselves as a part of it.
Overwhelmingly, 62% of Europeans believe that the US is engaged in a new Cold War against China, a new poll just released by the European Council on Foreign Relations found. Just yesterday US President Joe Biden claimed before the UN General Assembly that there is no such thing and the US is not engaging in a new Cold War. So, Europeans see Biden's bluff and call him on it.
The study was released on Wednesday by Mark Leonard and Ivan Krastev at the European Council on Foreign Relations and found that Europeans don't see themselves as direct participants in the US-China Cold War. This viewpoint is most pronounced in Bulgaria, Hungary, Austria, Portugal and Italy, according to the study. The prevailing view, in each of the 12 surveyed EU member states, is one of irrelevance – with respondents in Hungary (91%), Bulgaria (80%), Portugal (79%), and Austria (78%) saying that their country is not in a conflict with Beijing.
Only 15% of Europeans believe that the EU is engaged in a Cold War against China. The percentage is so low that one wonders if there should even be such a question. It is not only not a priority, it is not even a question on the agenda for Europeans. Even at the highest point of EU "hawkishness", only 33% of Swedes hold the view that their country is currently in a Cold War with China. Leonard and Krastev warn that if Washington and Brussels are preparing for an all-in generational struggle against China, this runs against the grain of opinion in Europe, and leaders in Washington and Brussels will quickly discover that they "do not have a societal consensus behind them".
"The European public thinks there is a new cold war – but they don't want to have anything to do with it. Our polling reveals that a "cold war" framing risks alienating European voters", Mark Leonard said.
The EU doesn't have the backing of its citizens to follow the US in its new Cold War pursuit. But unlike the views of the authors of the study, my view is that this is not a transatlantic rift that we actually have to be trying to fix. Biden's China policy won't be Europe's China policy, and that's that, despite US efforts to persuade Europe to follow, as I've argued months ago for the Brussels Report and in Modern Diplomacy.
In March this year, Gallup released a poll that showed that 45% of Americans see China as the greatest US enemy. The poll did not frame the question as Cold War but it can be argued that Joe Biden has some mandate derived from the opinion of American people. That is not the case for Europe at all, to the extent that most of us don't see "China as an enemy" even as a relevant question.
The US's China pursuit is already giving horrible for the US results in Europe, as French President Macron withdrew the French Ambassador to the US. The US made a deal already in June, as a part of the trilateral partnership with the UK and Australia, and stabbed France in the back months ago to Macron's last-minute surprise last week. Max Boot at the Council on Foreign Relations argues that it is Macron that is actually arrogant to expect that commitments and deals should mean something: "Back in February, Macron rejected the idea of a U.S.-E.U. common front against China. Now he complains when America pursues its own strategy against China. What's French for chutzpah?" What Boot does get right is that indeed, there won't be a joint US-EU front on China, and European citizens also don't want this, as the recent poll has made clear.
The US saying Europe should follow the US into a Cold War with China over human rights is the same thing as China saying that Europe should start a Cold War with the US over the bad US human rights record. It's not going to happen. You have to understand that this is how ridiculous the proposition sounds to us, Europeans. Leonard and Krastev urge the EU leadership to "make the case for more assertive policies" towards China around European and national interests rather than a Cold War logic, so that they can sell a strong, united, and compelling case for the future of the Atlantic alliance to European citizens.
I am not sure that I agree, as "more assertive policies" and "cold war" is probably the same thing in the mind of most Europeans and I don't think that the nuance helps here or matters at all. Leaders like Biden argue anyway that the US is not really pursuing a Cold War. The authors caution EU leaders against adopting a "cold war" framing. You say "framing", I say "spin". Should we be in engaging in spins at all to sell unnecessary conflict to EU citizens only to please the US?
"Unlike during the first cold war, [Europeans] do not see an immediate, existential threat", Leonard clarified. European politicians can no longer rely on tensions with China to convince the electorate of the value of transatlantic relations. "Instead, they need to make the case from European interests, showing how a rebalanced alliance can empower and restore sovereignty to European citizens in a dangerous world", Mark Leonard added. The study shows that there is a growing "disconnect" between the policy ambitions of those in Brussels and how Europeans think. EU citizens should stick to their sentiments and not be convinced to look for conflict where it doesn't exist, or change what they see and hear with their own eyes and ears in favor of elusive things like the transatlantic partnership, which the US itself doesn't believe in anyways. And the last thing that should be done is to scare Europeans by convincing them they live in a "dangerous world" and China is the biggest threat or concern.
What the study makes clear is that a Cold War framing against China is likely to repel more EU voters than it attracts, and if there is one thing that politicians know it is that you have to listen to the polls in what your people are telling you instead of engaging in spins. Those that don't listen in advance get the signs eventually. At the end of the day it's not important what Biden wants.
Germany and its Neo-imperial quest
In January 2021, eight months ago, when rumours about the possibility of appointment of Christian Schmidt as the High Representative in Bosnia occurred for the first time, I published the text under the title 'Has Germany Lost Its NATO Compass?'. In this text I announced that Schmidt was appointed to help Dragan Čović, the leader of the Croatian HDZ party, to disrupt the constitutional structure of Bosnia-Herzegovina and create precoditions for secession of the Serb- and Croatian-held territories in Bosnia and the country's final dissolution. I can hardly add anything new to it, except for the fact that Schmidt's recent statements at the conference of Deutsche Atlantische Gesellschaft have fully confirmed my claims that his role in Bosnia is to act as Čović's ally in the latter's attempts to carve up the Bosnian Constitution.
Schmidt is a person with a heavy burden, the burden of a man who has continuously been promoting Croatian interests, for which the Croatian state decorated him with the medal of "Ante Starčević", which, in his own words, he "proudly wears" and shares with several Croatian convicted war criminals who participated in the 1992-1995 aggression on Bosnia, whom Schmidt obviously perceives as his ideological brethren. The question is, then, why Germany appointed him as the High Representative in Bosnia?
Germany's policy towards Bosnia, exercised mostly through the institutions of the European Union, has continuously been based on the concept of Bosnia's ethnic partition. The phrases that we can occassionaly hear from the EU, on inviolability of state boundaries in the Balkans, is just a rhetoric adapted to the demands by the United States to keep these boundaries intact. So far, these boundaries have remained intact mainly due to the US efforts to preserve them. However, from the notorious Lisbon Conference in February 1992 to the present day, the European Union has always officially stood behind the idea that Bosnia-Herzegovina should be partitioned along ethnic lines. At the Lisbon Conference, Lord Carrington and Jose Cutileiro, the official representatives of the then European Community, which has in the meantime been rebranded as the European Union, drew the maps with lines of ethnic partition of Bosnia-Herzegovina, along which the ethnic cleansing was committed, with 100.000 killed and 1,000.000 expelled, so as to make its territory compatible with their maps. Neither Germany nor the European Union have ever distanced themselves from the idea they promoted and imposed at the Lisbon Conference as 'the only possible solution' for Bosnia, despite the grave consequences that followed. Nor has this idea ever stopped being a must within their foreign policy circles, as it has recently been demonstrated by the so-called Janša Non-Paper, launched a couple of months ago, which also advocates the final partition and dissolution of Bosnia-Herzegovina. Such a plan is probably a product of the powerful right-wing circles in the European institutions, such as Schmidt's CSU, rather than a homework of Janez Janša, the current Prime Minister of Slovenia, whose party is a part of these circles, albeit a minor one. To be sure, Germany is not the original author of the idea of Bosnia's partition, this author is Great Britain, which launched it directly through Lord Carrington at the Lisbon Conference. Yet, Germany has never shown a will to distance itself from this idea, nor has it done the European Union. Moreover, the appointment of Schmidt, as a member of those political circles which promote ethnic partition as the only solution for multiethnic countries, testifies to the fact that Germany has decided to fully apply this idea and act as its chief promoter.
In this process, the neighbouring countries, Serbia and Croatia, with their extreme nationalist policies, can only act as the EU's proxies, in charge for the physical implemenation of Bosnia's pre-meditated disappearance. All the crimes that Serbia and Croatia committed on the Bosnian soil – from the military aggression, over war crimes, ethnic cleansing and genocide, up to the 30 year-long efforts to undermine Bosnia's sovereignty and territorial integrity – have always had a direct approval and absolute support of the leading EU countries. During the war and in its aftermath, Great Britain and France were the leaders of the initiatives to impose ethnic partition on the citizens of Bosnia-Herzegovina, and now Germany has taken up their role. In such a context, the increasing aggressiveness of Serbia and Croatia can only be interpreted as a consequence of the EU's intention to finish with Bosnia for good, and Schmidt has arrived to Bosnia to facilitate that process. Therefore, it is high time for the citizens of Bosnia-Herzegovina to abandon any ilussions about the true intentions of the European Union and reject its Trojan Horse in the form of the current High Representative.
Should there be an age limit to be President?
The presidential elections in Bulgaria are nearing in November 2021 and I would like to run for President of Bulgaria, but the issue is the age limit.
To run for President in Bulgaria a candidate needs to be at least 40 years old and I am 37. I am not the first to raise the question: should there be an age limit to run for President, and generally for office, and isn't an age limit actually age discrimination?
Under the international human rights law standard, putting an age limit is allowed in the context of political participation under the right to vote and the right to run to be elected. Human Rights Committee General Comment No.25 interpreting the International Covenant on Civil and Political Rights states that an age limit has to be based on objective and reasonable criteria, adding that it is reasonable to have a higher age requirement for certain offices. As it stands, the law says that having an age limit for president is not age discrimination, but is 40 actually a reasonable cut-off? National legislations can change. We need to lower the age limit and rethink what's a reasonable age for President, and not do away with all age limits.
We have seen strong leaders emerge as heads of state and government who are below 40 years of age. Sanna Marin, Prime Minister of Finland, became Prime Minister at 34. Sebastrian Kurz, the Prime Minister of Austria, was elected at 31. Jacinda Ardern, Prime Minister of New Zealand, assumed her position at 37. So perhaps it is time to rethink age limits for the highest offices.
The US has plenty of examples where elected Senators and Congressmen actually beat the age limit and made it despite the convention. The age limit for Senator in the US is 30 years old. Rush Holt was elected to the US Senate at 29. In South Carolina, two State Senators were elected at 24 years old and they were seated anyways. The age limit for US president is 35 years old.
In Argentina, the age cut-off is 30. In India, it is 35. In Pakistan, it is 45 years old. In Turkey, it is 40 years old. Iceland says 35 years old. In France, it is 18.
Generally, democracies set lower age limits. More conservative countries set the age limit higher in line with stereotypes rather than any real world evidence that a 45 year-old or 55 year-old person would be more effective and better suited to the job. Liberal countries tend to set lower age limits.
40 years old to be a President of Bulgaria seems to be an arbitrary line drawn. And while it is legal to have some age limits, 40 years old seems to be last century. Changing the age limit for president of Bulgaria could be a task for the next Bulgarian Parliament for which Bulgarians will also vote on the same date as they vote for President.