WEF Teams up with Cities in Michigan and Ontario for Seamless Integrated Mobility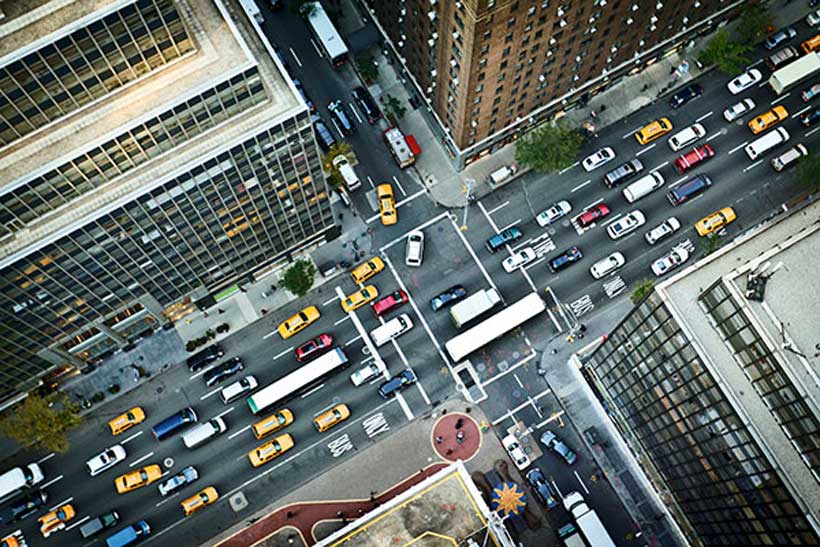 The World Economic Forum in partnership with Deloitte announced today a collaboration with the cities of Detroit and Ann Arbor in Michigan, USA, and Windsor, Ontario, Canada, to pilot seamless integrated mobility solutions in the region. Following a call for applications in April 2018, the three cities were selected as the primary partner out of 13 applicants from across the globe to participate in a year-long engagement. To support the innovation led by the SIMSystem partner geography, the Forum will build a community of public- and private-sector leaders to interact and exchange leading practices via a digital collaboration tool and a series of workshops.
"We are thrilled to collaborate with the cities of Detroit, Ann Arbor and Windsor – a corridor so deeply connected to the history of 20th-century mobility and commerce," said Christoph Wolff, Head of the Mobility Industries and System Initiative and Member of the Executive Committee at the World Economic Forum. "Each city is taking big steps to improve its community's livability through transportation: Detroit is investing in its public transit by increasing routes and service times; Ann Arbor is fostering what will be the world's largest real-world deployment of connected vehicles and connected infrastructure; and Windsor is developing an active transportation master plan with focus on multi-modal transportation. As SIMSystem partners, the regional sister cities will cohesively embrace the integration and innovation possibilities of 21st-century mobility," he added.
The pilot, part of the Forum's SIMSystem: Designing Seamless Integrated Mobility project, is the continuation of a year-long dialogue between leading private- and public-sector partners. In January 2018, the project launched the SIMSystem Manifesto proposing 10 principles for public-private collaboration. The SIMSystem Manifesto also examines how mobility providers and their regulators can integrate multiple transport modes into a seamless integrated mobility system, or SIMSystem. A SIMSystem will connect city buses, ride shares and autonomous vehicles to enhance the overall efficiency of the transport network and enable faster, safer, cleaner and more affordable mobility of people and goods.
To demonstrate the principles of the SIMSystem Manifesto, the Forum called on government leaders to improve people-and-goods mobility and launched a request for proposals in April 2018.The 13 applications – representing cities, groups of cities, regions and nations from 10 countries – were reviewed by the SIMSystem Working Group during a workshop in New York in May.
"The pool of applicants was very competitive and diverse, from small to large geographies, all in very varied states of development. They demonstrate how rapidly the future of mobility is evolving globally," said Scott Corwin, Managing Director and Deloitte Consulting LLP's Future of Mobility Practice Leader, Deloitte, USA. "The application from Detroit, Ann Arbor and Windsor was well received by the working group for the strong collective leadership commitment to generate measurable progress and create a global showcase for demonstrating the far-reaching impact a SIMSystem can have on the movement of people and goods." He added: "The Deloitte Future of Mobility team supporting the Forum and Deloitte's Detroit office working closely with leaders in Michigan are excited about what lies ahead."
Partners from the region say they look forward to applying the SIMSystem principles to their ongoing efforts.
"Making it easier to get around will not just improve the quality of life for our residents, but also tremendously accelerate the economic growth that our city and region are currently experiencing," said Mike Duggan, Mayor of Detroit. "We are excited to work with our partners and the experts from the World Economic Forum to better leverage the investments we are making in all aspects of mobility."
"The City of Ann Arbor attracts an increasing number of residents and businesses. However, we are constrained to accommodate growth and deliver an exceptional mobility experience due to parking and congestion issues. The city is also trying to find ways to best address the mobility and accessibility needs of its vulnerable populations such as senior citizens," said Ann Arbor's Mayor Christopher M. Taylor. "Ann Arbor is an ideal environment to test the key principles of a SIMSystem. The city includes a diverse set of transportation modes, a highly progressive community, one of the top research universities in the world, and a heritage of transportation innovation."
"In collaboration with our United States colleagues in Detroit and Ann Arbor, Michigan, we see a significant opportunity to enhance transportation integration and better connect the region to promote economic growth and enhance quality of life," said Drew Dilkens, Mayor of Windsor, Canada. "With its history of cross-border trade and collaboration, the Detroit-Ann Arbor-Windsor region is uniquely positioned to lead the world in developing the next-generation mobility system."
Throughout 2018, the geographies will collaborate to address significant mobility challenges such as the lack of connectivity between transport modes, increased congestion and evolving mobility needs of underserved populations. Some residents are without reliable transport to jobs or are unable to take advantage of new mobility options due to a lack of access to reliable internet. As the cities of Detroit, Ann Arbor and Windsor build regional cohesion to tackle their mobility opportunities, the World Economic Forum will provide support through several design workshops that will connect the cities to the SIMSystem Working Group. The SIMSystem Working Group comprises senior executives from diverse industries (such as automotive, supply chain, mobility-on-demand and technology), academics and government officials.
Insights from this pilot will be documented throughout the year and shared publicly so all cities can learn from the experiences of Detroit, Ann Arbor and Windsor and apply practices to their own municipality.
Small and sustainable: "Tiny houses" could be solution to world's housing problems
They're small, self-sustaining – and they could revolutionize the way we think about housing around the world, as building materials become scarcer.
Measuring just about 22-square-meters, or some 200-square-feet, a demonstration unit for the eco-friendly and affordable housing, debuted on the UN Plaza in New York this week.
This structure is a type of "tiny house" which is traditionally comprised of one room with a loft or pull-out bed, complete with hidden storage, and condensed amenities, such as a kitchen, that maximize the space available to live in.
The design, created by UN Environment and the Center for Ecosystems in Architecture at Yale University in the United States, in collaboration with UN-Habitat, is meant to get people thinking about decent, affordable housing that limits the overuse of natural resources and helps the battle against destructive climate change.
The design is created specifically to be compatible with New York's seasonal climate of cold winters, and hot summers. New designs have also been drawn up to suit the climate in Quito, Ecuador, and another major world capital, Nairobi, in Kenya.
The design was created in collaboration with Gray Organschi Architecture.
UN forum spotlights cities, where struggle for sustainability 'will be won or lost'
Although cities are often characterized by stark socioeconomic inequalities and poor environmental conditions, they also offer growth and development potential – making them central to the 2030 Agenda for Sustainable Development and a main focus of the third day of the United Nations High-Level Political Forum (HLPF) on Wednesday.
Through the inherently integrated nature of urban development, the 11th Sustainable Development Goal (SDG) impacts a wide range of 2030 Agenda issues from sustainable consumption and production to affordable and clean energy along with health, sustainable transportation, clean water and sanitation. Basically, life on land.
According to the UN, cities are where the struggle for global sustainability "will either be won or lost."
"Urbanization is one of the most important issues when it comes to sustainable development," Maimunah Mohd Sharif, Executive Director of UN-Habitat, told journalists at UN Headquarters in New York.
"We must make sure we do it right if we are to achieve the SDGs and move towards a world where we see an end to poverty, the protection of our planet and everyone enjoying peace and prosperity," she added.
While SDG 11 pledges to make cities and human settlements safe, inclusive, resilient and sustainable by 2030, local and national authorities are making uneven progress towards achieving that goal, according to the UN.
A new report by UN-Habitat and partners tracking SDG progress since their 2015 adoption coincides with the first review of SDG 11 at the HLPF.
At the current rate of expansion, over 700 cities will have populations of more than one million by 2030.
While cities can be powerhouses of economic growth and development, without proper planning and regulation, they could, among other things, suffer soaring levels of poverty, crime and pollution, says UN-Habitat.
"Cities are the spaces where all SDGs can be integrated to provide holistic solutions to the challenges of poverty, exclusion, climate change and risks," affirmed Ms. Sharif.
Leilani Farha, UN Special Rapporteur on adequate housing, told the HLPF that although there are no global homeless statistics, "housing conditions are fraught."
She underscored that some six billion people are inadequately housed worldwide and that close to 900 million people are living in informal settlements and encampments in both the global North and South.
"If we do not find housing solutions, no State will be able to meet their Agenda 2030 commitments because without access to adequate, secure and affordable housing there is no equality, there is no end to poverty, to health and well-being, to sustained access to education, to employment," she added.
Established in 2012, the HLPF meets annually under the auspices of the Economic and Social Council (ECOSOC). It is the main United Nations platform on sustainable development and it has a central role in the follow-up and review of the 2030 Agenda and the SDGs at the global level. The Agenda with its 17 Global Goals were adopted in 2015 by UN Member States and aim to protect the planet and ensure that all people enjoy peace and prosperity.
Historic Step
Meanwhile in the afternoon, New York City took the distinction of becoming the first city in the world to report directly to the international community on its efforts to reach global benchmarks in addressing poverty, inequality and climate change by 2030.
Among other accomplishments, its Voluntary Local Review (VLR) showcased significant achievements in cleaner air and water, record job and wage growth, and tripling the number of children in free pre-Kindergarten.
"We encourage cities and communities to join the urgent discussion about what is working on the local level, and how we can address the shared challenges that remain on the way to reaching the Global Goals," said Penny Abeywardena, NY Commissioner for International Affairs.
Moreover, Mayor Bill de Blasio declared Wednesday, 11 July 2018, as Global Goals Day in New York City, to welcome HLPF participants and express local solidarity with efforts worldwide to achieve the goals.
Applauding the Mayor's leadership and New York on the SDGs, Secretary-General António Guterres noted that the UN recently launched the Local2030 platform for cities and local governments to pursue new pathways for low-emission growth and climate action, poverty alleviation and inclusion of the most vulnerable residents.
"This Voluntary Local Review is a first step towards such progress and I urge other cities and local governments to follow suit," he said.
New financial instrument to make Brazilian cities more energy efficient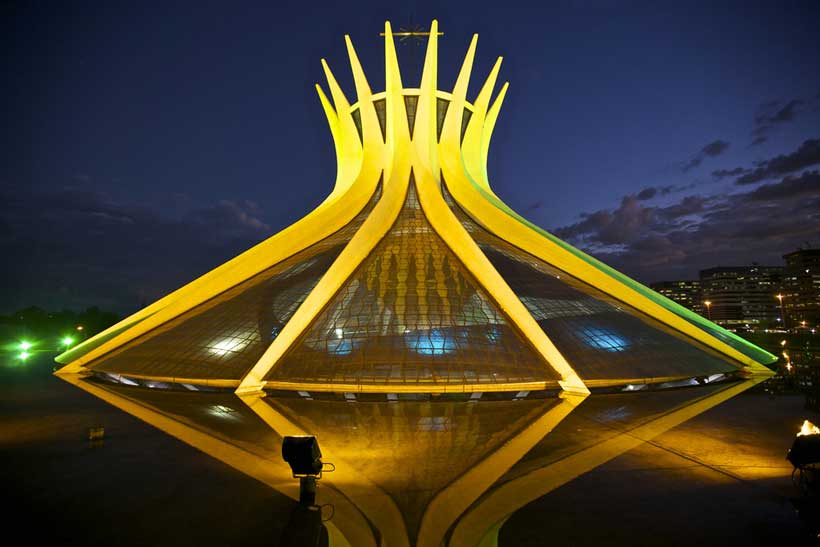 A new financial instrument will allow Brazil to increase its investment in urban infrastructure and make the country more energy efficient. The Financial Instruments for Brazil Energy Efficient Cities – FinBRAZEEC will catalyze resources from the private sector and climate funds to create new markets in the areas of efficient street lighting and industrial energy efficiency.
"With this project, CAIXA has the opportunity to develop innovative financing mechanisms that will attract  new investors," said Antonio Gil Padilha Bernardes Silveira, executive director of sanitation and infrastructure at Caixa. "We will work to support the development, implementation and financing of projects for public lighting in Brazilian municipalities and industrial energy efficiency."
Brazil's public sector funding declined in 2015 and 2016, exacerbating the gap in infrastructure financing and highlighting the urgency of bringing private funds into the financing equation. The country's high urbanization rates (86% in 2018) make investments in urban energy efficiency crucial to address the 2030 SDG's Energy Efficiency and National Determined Commitments (NDC) goals.
FinBRAZEEC will help Brazil increase investments in urban energy efficiency and meet the goal of improving energy efficiency in the electricity sector by 10% by 2030, set as part of its Nationally Determined Contribution under the Paris Agreement on climate change.
"The FinBRAZEEC project offers one of the first genuine project financing structures in the Brazilian market", said Martin Raiser, the World Bank Director for Brazil.  "Its innovative financing model will help us unlock investment potential in the street lighting and industrial energy efficiency sectors, which had previously been identified as particularly promising for market based solutions. But we hope the example will encourage similar approaches also in other areas".
Under the project, which includes a US$ 200 million project IBRD loan combined with Green Climate Fund (GCF) and Clean Technology Fund (CTF) resources, the World Bank will partner with Caixa Econômica Federal (CEF), the second largest state-owned financial institution in Latin America and the fourth largest bank in Brazil, as the financial intermediary and borrower of IBRD and climate funds. CEF will lead the syndication of commercial lenders and will establish a Guarantee Facility that will provide partial credit guarantees to the commercial lenders participating in the syndication.
"The creative approach of FinBrazeec's new financial instruments galvanizes the experience of the World Bank in strengthening a truly domestic, modern and de-risked infrastructure asset-class market for investors," according to Antonio Barbalho, Practice Manager for Energy, Latin America and the Caribbean. "The World Bank developed a cutting-edge financial and risk mitigation product, opening new windows of opportunity for supporting infrastructure investments," adds Barbalho. The instrument encompasses best practices in infrastructure project preparation and provides flexible features to mobilize private finance while managing and mitigating risks.
FinBRAZEEC is expected to mobilize more than US$ 1.1 billion for urban energy efficiency investments in Brazil. In addition to the US$200 million IBRD loan, it will count on US$180 million of counterpart funds, as well as US$195 million in climate funds from the GCF and US$25 million in climate funds from CTF. The Project's goal is to leverage US$ 730 million in commercial debt and equity, making it an excellent example of the World Bank's strategy of Maximizing Financing for Development.
The Project will also benefit from a strong technical assistance program, supported by a US$ 4 million GCF grant, as well as nearly US$1 million in Bank-executed funds from the Energy Sector Management Assistance Program (ESMAP) and the Global Infrastructure Facility (GIF). These funds will be used to increase CEF's capacity to implement the innovative financial products and support sub-project pipeline development.