How Artificial Intelligence Uses Social Media Data to Machine Humanity
In the process of artificial intelligence development, AI+ all big data seems to be able to increase efficiency and get a good result. As a matter of course, the combination of social media data and AI will have a negative impact.
We are used to expressing emotions, expressing interests and hobbies in social media, and even inadvertently revealing our personal information. As an ordinary person, even if you know that this is an open space, you will not have the impression of data leakage. After all, most of the information display weights of social media are based on the popularity of information, and individual users' ordinary speeches are difficult to be unfamiliar. People deliberately see.
But with the super power and data analysis capabilities that AI brings, everything becomes different. After crawling data, AI+ social media data can see more than just one person's reaction, emotion and expression to things, but can see information about a whole group or even a whole ethnic group. The previous series of information disclosures that almost ran through Facebook's doorway revealed how much of the scattered personal information that AI might have had.
However, social media data is not only dark, but there are already many neurological and psychological studies that have begun to use AI and social media data to use machines to deal with human nature.
"Twitter big data tells you that people around the world are the same"
Recently, the University of Bristol used machine learning to analyze 800 million tweets in 57 cities in the UK within four years and reached a conclusion that we have long pondered about. Humans generally have high emotions in the morning and low emotions in the night.
The whole analysis process is like this. The research team sampled through the Twitter search API and collected 800 million tweets. All the # topics, emojis, holiday greetings, etc. are washed away, and the words are tagged according to the psychometric method.
For example: emotional positive emotions and negative emotions; time-oriented attention now, attention to the past, attention to the future; personal attention to work, family, money, society, religion, and so on.
With this strictly machine-learning model based on the dimensions of psychological research, the research on social media data will be more specialized, rather than simply relying on NLP to analyze the emotions in the language.
The conclusion of the final study is: In the 24 hours of the day, human emotions will not only change, thinking patterns will also change.
From the 5-6 pm of the day, people began to enter the peak period of expression in social media, and at this time people's emotional expression is more positive, and the focus is also more on the individual status. As time goes by from 7-9, people's emotions tend to be biased towards anger, but if it is on non-working days, this positive and enjoyable state will continue.
At this time, people's thinking patterns tend to be class-thinking, thinking is more clear and direct, logical, and stereotyped tendencies appear.
At night, people's emotional expression will turn negative, and the focus will shift from individuals to society. As time goes on, the closer to the next day's 3-4 a.m., the more people focus their attention on religion. In this period of time, people's thinking patterns tend to be existentialism, which reflects the state of confusion, anxiety, irrationality, and willingness to participate and share.
In plain words, one's general state is to rise in the morning with enthusiasm and self-confidence, to plan his own life in the blood of chickens, and to wait until the evening when he starts to fall into a state of whimper, paying attention to every corner of the world. People who are sad or touched, if they can't sleep at night, begin to seek religious salvation. Look, is this process the same for Chinese foreigners?
When social media becomes a research assistant in psychology, can it be diagnosed from a selfie?
In fact, the time-cycle changes in human emotions have long been confirmed. Because of the physiological causes of nerve fatigue, melatonin secretion, etc., our emotions will show different states during the day.
Although this study of social media big data just confirmed this change again and did not uncover more reasons for emotional change, it is the first time that the relationship between mood cycles and thinking patterns has changed. In fact, there are many researches on social media data and psychology, and many interesting information have been discovered.
For example, last year, the University of Pittsburgh conducted a survey to investigate the social media use of depression patients. The results showed that the average duration of social media usage for depression patients was much higher than that of ordinary people.
Harvard University research shows that people with depression prefer to use cool, faded, or black-and-white filters when they publish photos on social media.
Unbreakable Ethics Levels
At present, the role of social media data for psychology seems to remain in academic research. Can we see the psychological application of social media data in our lifetime?
At present, social media data has at least the following applications for psychology:
1.As an aid to the measurement of mental state
In addition to those mental illnesses that directly lead to hallucinations, insomnia, and other direct manifestations, there are many types or degrees of mental illness that are difficult to objectively feel. Most of the time, it is necessary to rely on the face-to-face consultation or to fill in the psychological state measurement table to confirm, but the patient may not be able to directly show his or her true state when he or she fills out independently. At this time, information undoubtedly revealed in social media can be used as a support.
2.The psychological status of the group
Compared with the individual's psychological problems, the more complicated situation is experienced by an entire group. For example: changes in mental state that can occur when disasters or accidents occur.
For example, employee/student suicide occurs in a company or school, or an entire region suffers serious natural disasters such as earthquakes and typhoons. At this time, we often do not have the energy to do psychological counseling for everyone, and there is no way to assess the psychological status of the group as a whole. At most, the group conducts psychological counseling in the form of group lessons.
At this time, using machine learning to research social media data, you can clearly see the group's psychological response to events. Even the long-term psychological status tracking of the crowd, and selective, targeted psychological counseling.
HIT has proposed a method to identify college students' social media data by establishing classifiers to identify the risk of depression.
In fact, the application methods mentioned above are hardly technically difficult to achieve. Although the results obtained may not always be absolutely accurate, the value that can be provided for psychology, a labor-intensive industry, is very small.
But the biggest issue is whether it is ethical. Should publicly released social media data be considered personal privacy? The information extracted from it is not considered personal privacy? Even if it is a patient with mental illness, citizens should have the right not to disclose their prevalence, and to discover the citizens' mental health status through social media data. Is this a serious violation of this power? In particular, if this technology is applied to colleges and universities, will anyone be so concerned that the teachers and classmates around them have learned their psychological state and have made their mental condition worse?
In fact, to a certain extent, we sometimes deliberately choose some ineffective solutions to problems, but we can exchange security and freedom for the soul.
Rachel Lyons: Shaping the future of humanity in space
Rachel Lyons is the executive director at Space for Humanity. Space for Humanity is a non profit organisation in the US which is cultivating a movement to expand access to space for all humanity. Rachel is working towards making space exploration more inclusive and accessible to people worldwide. Space for Humanity is advocating space inclusivity in the US and is working with space experts, astronauts and other prominent people in the space sector to bring about change. In this conversation with Modern Diplomacy, Rachel discusses more about her experience working in the space advocacy sector.
What role is Space for Humanity playing in the future of the world?
This is a big question. If you think about our world, and the systems that we have in place – the types of people they favor, the types of activities that get prioritized, it becomes clear that these systems were built with foundational values of money and power being the highest priorities. If our values shift to things like the preservation of life, love, and wellbeing of humans and our planet — and this is what S4H is working to fundamentally address — the structures that are built on top of it will also begin to shift. This is what we are working to address. A shift in perspective that will ultimately cause behavior, relationships, and systems to change accordingly.
Why is advocacy important in the space exploration sector? What are some things you want to change about how we explore space?
Advocacy is important because it influences public opinion and policy. Very often, when I share the importance of space exploration, people question why we are going to space when we face so many challenges on our own planet. The reality is, the technological advancements in space have impacted the lives of people globally in positive ways, and culturally the impacts have been massive (for example, the EarthRise Image of our planet from a distance from the Apollo era is said to have sparked the modern environmental movement). It is important for people to know, we go to space not because we choose it over earth, but because we love earth.
How can countries increase collaboration for space exploration?
This is a big question – I can talk about it from the individual's perspective. If you are a young person, and you're interested in space, by joining and supporting organizations like Students for the Exploration and Development of Space and the Space Generation Advisory Council, you can meet like minded people that are just beginning their career. Starting off early, networking, learning about what people are working on can open up collaborative opportunities exponentially for your entire career, no matter where that takes people.
Will all countries get an equal opportunity to. Go to space first when Space for Humanity's citizen flights start?
Yes – that is our mission. And, there are some restrictions that we need to be realistic about. For example, countries that have more access to the internet are more likely to hear about S4H's mission. Additionally, because of guidelines and safely with the flight providers, people must speak english in order to fly, so that limits access to others. And, it is extremely important to us for our mission to be as accessible as possible.
Why do you think it's necessary for people to go to space and see Earth from above?
The perspective shift. Seeing the earth from above — the beauty, fragility, and interconnectedness of everything on it, can change a person for the reason of their lives. This cognitive shift is called the Overview Effect and it has been widely studied. Many astronauts return to earth with a new care for our planet and new care for people. They see how special and finite our existence is. They see the miraculousness and meaninglessness of it all at once. This perspective is essential, given the global nature of our greatest challenges, and what we are currently facing.
How is Space for Humanity planning to increase operations and advocacy across the globe?
Keep sharing our mission! The majority of our online content is totally free. We have people from 100+ countries that have applied to our program, follow us on social media, and attend our events. We are working to bring more and more people from all over onto our leadership board as well. We are so excited to keep expanding, and having efforts across the globe is an essential part of our mission.
How do you plan to share Space for Humanity's vision with the world?
So many ways. We're already done it via social media, launch parties, webinars, in person events, at conferences, public events, and more. We will continue doing this – sharing our mission IS our mission. Creating a perspective shift, on earth or off of it, IS our mission. In future years, when we sponsor astronauts to go to space, they will return to earth and commit themselves to sharing our mission. This is how we will continue amplifying the message.
Do you see other organisations like Space for Humanity starting worldwide? With a similar model?
There are similar organizations, like the Space Generation Advisory Council, that is a global network of space professionals.
Then there's the Space Frontier foundation, that hosts a yearly conference and is a space advocacy organization.
The Planetary Society does a really great job of sharing space globally as well.
Virgin Galactic is a commercial space flight organization, where people will soon be able to purchase tickets to go to space.
These all exist and are doing great work, and there is no other organization like Space for Humanity. There is no organization that is working to start a movement using the spaceflight perspective, by sponsoring people from all over the world to go to space.
Antivirals, Spaceflights, EdTech, and Hyperloops: 20 Markets That Will Transform Economies
As the world grapples with the socio-economic consequences of the COVID-19 pandemic, there is increasing demand to shape a new economy that addresses broader societal and environmental challenges while generating economic growth. To achieve this, the world needs to set an ambitious agenda of technological and socio-institutional innovations to pilot new markets that can help solve these challenges.
The World Economic Forum highlights 20 markets that could transform our economies. Some will rely particularly on advances in technology (e.g. broad-spectrum antivirals, spaceflights), while others will require radically new social and institutional set-ups (e.g. skills capital, water rights, quality credits). Others will emerge from a combination of both elements (e.g. data, genes and DNA sequences). Each of these markets has potential benefits in multiple dimensions. For example, they could help societies to protect and empower people (e.g. precision medicines and orphan drugs, EdTech and reskilling services), advance knowledge and understanding (e.g. artificial intelligence, spaceflights, satellite services), or protect the environment (e.g. greenhouse gas allowances, reforestation services, hydrogen).
"While protecting people remains the priority at present, now is also the time to plan a post-pandemic transformation of our economies. We must ensure that new economic activities do not only generate growth but also provide solutions to the problems that our societies are facing, said" says Saadia Zahidi, Managing Director, World Economic Forum. "The future of our economies, societies and the planet depend on developing these new, inclusive and sustainable markets."
Creating these markets will require close collaboration between the public and the private sectors to:
Invent new products that can be sustainably produced
Nurture a set of companies to produce new products and bring them to market
Foster enough demand to sustain a commercially viable market
Establish clear standards that all actors can rely on and the market can converge on
Create alignment within society on how to value the new product
Develop the legal frameworks to identify, hold and exchange the new product
Build the necessary infrastructure to exchange, distribute and store the new product
Coalitions of actors at country and global level can come together to pursue the establishment of these conditions. For optimal societal outcomes, these markets should be designed around fairer and more sustainable ways of producing and distributing value. Examples include more collaboration between the public and the private sectors, innovative models to finance research and development, and designing the public sector's risk-taking into the new ventures. Public institutions have a key role to play in catalysing public-private collaborations and create the systemic conditions for selected markets to emerge.
A preliminary mapping of countries' potential for breakthrough technological and socio-institutional innovation indicates that those with advanced technological capabilities, strong social capital and future-oriented institutions are likely to succeed in developing a broader set of new markets. In particular, the Netherlands, Luxembourg, Denmark, Germany and Norway have the highest potential for socio-institutional innovation, while Japan, Germany, the United States, the Republic of Korea and France have the highest potential to generate breakthrough technological development.
Most advanced economies also score highly across both these dimensions. A number of high-income economies from the Middle East (Bahrain, Saudi Arabia, United Arab Emirates) and East Asia (Indonesia, Malaysia) as well as a few small island states (Barbados, Cyprus, Malta, Mauritius, Seychelles) and emerging African countries (Kenya and Namibia) can rely on significant levels of social capital and future orientation of policy-makers but do not yet have a mature technological system. A smaller group of advanced economies (Czech Republic, Israel, Italy, Japan, Spain) as well as the BRICs and other emerging economies (Hungary, Poland) present solid technological systems but need development in the social and institutional fabric to deliver these markets.
The disruptions brought by the COVID-19 pandemic provide an opportunity to pilot breakthrough technological and socio-institutional innovations that can grow into entire new markets. Success will ultimately depend on how well multistakeholder actors work together to create the necessary conditions for a number of key new markets to emerge that will help make economies more inclusive and sustainable. Existing market structures are not neutral; high levels of concentration and market power in adjacent industries to the new markets might slow down or even curb the establishment of such new markets.
Light at the end of the tunnel: New technologies to fight the COVID-19 on transport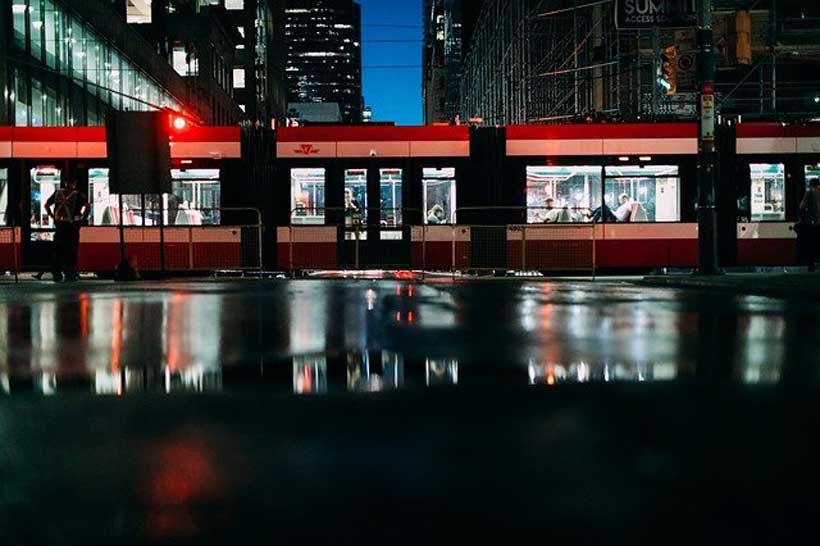 Disinfection robots, thermometer robots, smart tunnels, automatic passenger counting, powerful ultraviolet lamps and other examples of how new technologies reshaped public transport amid the COVID-19 outbreak.
The coronavirus pandemic has led to significant changes in many areas of life in just a few months. As the coronavirus continued to spread around the world, governments in several countries took measures to restrict movement, and people themselves tried to avoid traveling on public transport. The demand for the services of transport operators has dropped drastically. So, according to the Moovit Public Transit Index, passenger traffic in public transport on April 15, 2020 decreased in Israel by 92.1%, in Rome – by 89.2%, in Madrid – by 88.1%, in New York-by 74.8% and has not yet recovered. City residents are afraid to use public transport actively again, and their fears are fully justified. High daily passenger traffic and high frequency of contact between passengers make public transport an ideal environment for the spread of infections. The problem of fighting the spread of infections while maintaining normal life activity is particularly acute for large cities, such as Moscow or Beijing, where daily passenger traffic reaches 19.4 and 12.3 million passengers respectively. The average density of passengers on a bus or in a traincar at the same time ranges from 2 to 5 people per square meter, while, according to World Health Organization (WHO) recommendations, in order to comply with safety standards, passengers must maintain a social distance of 1.5 meters. Furthermore, virus particles can remain for a long time on public surfaces inside a bus or a traincar. Handrails on public transport are usually made of plastic, on which the coronavirus can remain up to 3 days, according to the New England Journal of Medicine. By touching them passengers increase the risk of contagion.
The key task for transport operators is to make the usage of public transport safe. To help them solve this problem came technology -all kinds of robots are widely used among innovations. With their help, it is possible to carry out disinfection effectively and safely without the involvement of staff. The Hong Kong Metro, also known as the Mass Transit Railway (MTR), together with the biotechnology company Avalon Biomedical Management Limited, has developed a disinfection robot that can disinfect even the most inaccessible places of traincars and stations. In addition to disinfection, robots can cope with more complex tasks. So, in Ningbo Lishe International Airport was tested a 5G-supporting robot-thermometer, which can measure temperature at a distance of 5 meters up to 10 people simultaneously and also identify those who are not wearing a face mask. Another innovation in many transport operators is the sanitary gate. According to Giulio Barbieri, one of the manufacturers, this is a "a tested, safe, and effective method to sanitize people and objects in just 5 seconds, killing up to 99% of any pathogenic microbes on the surfaces, including COVID-19"For example, the technology was tested in the Moscow and Dubai metros. In Moscow the clothes of the employees entering the depot were processed using a disinfection tunnel; at the same time, the territory was manually disinfected, so that the entire depot was safer for the staff.
The process of digitalization of ticket systems, which began long before the pandemic, also had a positive effect. Thanks to the competent actions of transport operators, the number of contactless payments in public transport around the world increased by 187% in the period from April to June, as evidenced by a report from Visa. Following WHO recommendations, many transport operators have made it mandatory to wear masks and maintain social distance on public transport. A number of digital technologies have been developed to comply with these rules. In the Beijing metro, compliance with a mask regime is controlled by cameras with a facial recognition system that can identify people. In addition, in the Panama Metro, observance of social distance is monitored by sensors which determine the degree of capacity of train cars. The technology called Mastria, which aggregates information from train weight sensors, ticket machines, signalling, management systems, CCTV and mobile networks for the Panama metro was developed by Alstom (a french manufacturer specializing in the production of infrastructure for rail transport) and installed almost a year ago. In just three months, thanks to artificial neural networks, it was possible to reduce average waiting times at stations by 12%. This development became particularly relevant during the pandemic. The Moscow metro is planning to introduce a similar technology. To maintain the social distance digital displays with colored indicators that reflect the level of capacity of subway cars will be installed. In the Moscow metro a new generation of traincars with an automatic air disinfection system built into climate control systems helped to reduce the risk of infection. It makes it possible to disinfect the air without disrupting the train schedule and attracting employees. The Moscow metro rolling stock consists of more than 50% of train cars with built-in UV lamps, and this percentage is constantly growing. After evaluating the effectiveness of using UV lamps to disinfect public transport, the transport operator MTA New York City Transit, together with Columbia University, launched a pilot project worth 1 million dollars on the use of disinfecting lamps. During the first phase of the project, 150 autonomous lamps were purchased and installed to decontaminate wagons, stations and buses in New York, during the second phase it is planned to install equipment in commuter rails. To carry out disinfection measures, the New York City Subway took unprecedented measures – the closure of the subway from 1 to 5 a.m. daily.
The use of robots, disinfection tunnels, digital technologies, ultraviolet lamps, and intensive work of staff – all this helped to reduce the risk of the spread of coronavirus in public transport and made a significant contribution to fighting the global problem. According to the coronavirus distribution model, developed by Imperial College London at the beginning of the pandemic, if no action had been taken by mid-March there would have been over 500,000 deaths from COVID in the UK and over 2.2 million in the USA. At the moment, in the middle of October, there are about 43,000 deaths in the UK and about 214,000 in the USA. Of course, these are high rates, but they could have been much higher if the necessary measures were not taken in time. Technological innovations already available today will continue to be used, which will make the stay of passengers on public transport more comfortable and safer, reducing the risk of the spread of any infectious disease, especially during the flu and cold seasons.