Nuclear Power beyond Electricity: Towards Greater Efficiency in Energy Production and Water Management
Non-electric applications powered by nuclear energy offer increased energy efficiency and represent sustainable solutions for a number of energy challenges current and future generations will have to face. There is growing interest in increasing nuclear energy efficiency by using heat and other forms of energy generated by nuclear power plants as a by-product for seawater desalination, hydrogen production, district heating and various industrial applications. At a meeting at the IAEA last week, experts reviewed the status of harnessing this energy that would otherwise go to waste and dissipate as heat.
"Cogeneration could increase the overall thermal efficiency of a nuclear power plant by more than 30% by reusing waste heat and could decrease the environmental impact of heating and transport by up to 35%," said IAEA Senior Nuclear Engineer Ibrahim Khamis.
Nuclear power plants produce a large amount of both electricity and heat. Cogeneration merges the production of usable heat and electricity into a single process that can substantially reduce carbon emissions and energy costs. It is a more efficient use of fuel because otherwise wasted heat from electricity generation is put to productive use in district heating, desalination or hydrogen production.
Currently there are more than 70 nuclear power plants operating in cogeneration mode and the potential for applying this technology more widely appears promising, Khamis said.
Cogeneration benefits include:
Efficiency: Cogeneration requires less fuel than separate heat and power generation, to produce a given energy output. Cogeneration also avoids transmission and distribution loses that occur when electricity travels over power lines from central generating units.
Reliability: Cogeneration can provide high-quality electricity and thermal energy to a site regardless of what might occur on the power grid, decreasing the impact of outages and improving power quality for sensitive equipment.
Environmental impact: Because less fuel is burned to produce each unit of energy output, cogeneration reduces emissions of greenhouse gases and other air pollutants.
Economic benefits: Cogeneration can save facilities considerable money on their energy bills due to its high efficiency, and it can provide a hedge against unstable energy costs.
Water management
For more than two decades, the support for seawater desalination using nuclear energy has been repeatedly stressed at the IAEA General Conference and supported by many Member States. Nuclear desalination has been demonstrated to be a viable option to meet the growing demand for drinking water around the globe, including areas in arid and semi-arid zones that face acute water shortages, Khamis said.
Reactors in Japan, India and Kazakhstan have gathered over 200 reactor years of experience in desalination, and have demonstrated it as a viable option.
Better water management not only means introducing nuclear desalination applications, but also more efficient practices in the use of the water supply needed to run power plants.
"Economizing water and the efficient use of water resources in Jordan is a challenge for the success of the Jordanian nuclear power plant project," said Sameh Melhem, engineer at the Jordan Atomic Energy Commission. "The proposed site for the plant is located far away from any sea or river. Therefore, it is important for us to discuss technical, economic, and environmental aspects of water management, in forums such as IAEA technical meetings."
In support of the SDGs
"The technological advances and interest in non-electric applications not only fulfil our IAEA mandate but such activities are in line with United Nations Sustainable Development Goals (SDGs)," said Mikhail Chudakov, IAEA Deputy Director General and Head of the Department of Nuclear Energy. Cogeneration is relevant for the following SDGs:
SDG 6: Ensuring access to water and sanitation for all
SDG 7: Ensuring access to affordable, reliable, sustainable and modern energy for all
SDG 13: Taking urgent action to combat climate change
SDG 14: Conserving and sustainably using the oceans, seas and marine resources for sustainable development
Source: IAEA
CPEC and Pakistan's energy crises
An adequate amount of electricity is primarily a way towards the industrial growth, transportation, infrastructural improvement, sustainable development, education, agricultural advancement, research and development and almost all aspects of a developed and advanced economy. It also facilitates the provision of jobs and hence better living standards. But unfortunately for the past couple of years Pakistan finds itself stuck in the web of electricity shortfalls and energy crises.
In Pakistan the electricity and power generation is one of the most imminent challenges in the way of economic uplift and Industrial advancement. During2017 the electricity production declined to 7976 Gigawatt-hours in December, from the higher rate of 8052 Gigawatt-hours in November. Considering the electricity production in the past 4-5 years the average production of electricity is 7877.29 Gigawatt-hour from 2003 until 2017. It attained a high level of production of 14419 Gigawatt-hours in August, 2017 from much lesser production of 4195Gigawatt-hours in December of 2010.
The national power policy 2013 describes three major policy plans of energy production-short term plan, midterm plan and long term plan for acquiring the sustainable energy.   As far as the short term policy objectives are concerned one of the constraints is how to improve the faulty recovery system and how to effectively control the transmission losses of electricity.   The recovery was94.40 % in July and March of the FY-2017, the highest for the past 10 years. |However, the rate of the transmission and distribution damages were equal to 16.3%.
The electricity shortfall hampers the economic and industrial growth of the country.  Therefore, in order to enhance the industrialization and economic growth, for which provision of sufficient electricity is very important. Hence, since CPEC includes the construction of many power production projects, the agreement signed with China to construct the CPEC will bring many dividends to Pakistan. The construction of CPEC related power projects in Pakistan is getting priority because electricity is also required for the construction of the CPEC. The electricity, thus produced will also help in addressing energy shortfalls in the country as energy will be used to achieve the vital policy objectives of economic advancement and poverty alleviation.
To overcome the electricity shortfall the government of Pakistan and Peoples Republic of China joined hands in 2013 to formulate the first committee for joint cooperation -Joint Cooperation Committee (JCC) of China Pakistan Economic Corridor (CPEC). The committee stated its apprehension on the prevailing energy crises and shortfall of electricity. Therefore, in order to address the above mentioned energy challenges the early harvest program of CPEC specially focuses on the energy sector development to maximize the production power of electricity. Out of 21 early harvests energy projects of 10,400 MWs, nine are coal power plants, seven wind power plants, 3 hydropower,   and remaining two are HVDC Transmission Line Projects.
Most of the early harvest energy projects are to be completed by 2018-19. Some of the projects which have touched their final phase or have been completed also include two Port Qasim Coal-fired Power Plants with the production power of 660 MW each. These coal power plants are commercially operating since April, 2018. The Sahiwal Coal-Fired Power Plants of 1320 MW each have been completed and both of the units have been inaugurated on May 25, 2017.  The Dadu 50MW wind power plant has attained its commercial status on April 5th, 2017. While 100MW Jhimpir Wind Farm and 50MW Sachal Wind Farm started commercially operating since 16thJune, 2017 and  11thApril, 2017 respectively. There are other energy projects which are under construction and soon will start operating commercially thus playing a vital role in achieving the sustainable growth in the energy sector.
Eventually, these energy projects under CPEC will produce almost 10, 000 MW of electricity between 2018 and 2020. However, these projects are largely based on coal power plants. Although it is a good step in this regard, but there is a need to focus on other means of renewable energy projects also. As discussed above the CPEC early harvest energy projects contain only three hydropower projects and 1 solar energy power projects. Like the wind power projects CPEC should also include more Hydro power projects because they are cheaper and more sustainable.
Hydroelectric power plants produced the energy through natural means by using water resources, thus it requires each state to produce their own energy without being dependent on the international fuel resource. Moreover, they provide a clean and non-pollutant energy sources.  However, for taking the advantage of hydropower the country must have dams and huge water reserves. Moreover, keeping in mind the effects of climate change and the issue of water scarcity dams is becoming more necessary for electricity production. Also, solar energy plants are a good option for the renewable energy projects with no environmental degradation and carbon emission.
In view of the above mentioned details , it can be concluded that signing of the CPEC agreement with China by Pakistan is a good decision as the project will help Pakistan in ending its energy crises and thus help it in increasing industrialization, and achieving high growth rates that will bring prosperity to Pakistan and its people.
Global energy investment in 2017 fails to keep up with energy security and sustainability goals
The electricity sector attracted the largest share of energy investments in 2017, sustained by robust spending on grids, exceeding the oil and gas industry for the second year in row, as the energy sector moves toward greater electrification, according to the International Energy Agency's latest review of global energy spending.
Global energy investment totalled USD 1.8 trillion in 2017, a 2% decline in real terms from the previous year, according to the World Energy Investment 2018 report. More than USD 750 billion went to the electricity sector while USD 715 billion was spent on oil and gas supply globally.
State-backed investments are accounting for a rising share of global energy investment, as state-owned enterprises have remained more resilient in oil and gas and thermal power compared with private actors. The share of global energy investment driven by state-owned enterprises increased over the past five years to over 40% in 2017.
Meanwhile, government policies are playing a growing role in driving private spending. Across all power sector investments, more than 95% of investment is now based on regulation or contracts for remuneration, with a dwindling role for new projects based solely on revenues from variable pricing in competitive wholesale markets. Investment in energy efficiency is particularly linked to government policy, often through energy performance standards.
The report also finds that after several years of growth, combined global investment in renewables and energy efficiency declined by 3% in 2017 and there is a risk that it will slow further this year. For instance, investment in renewable power, which accounted for two-thirds of power generation spending, dropped 7% in 2017. Recent policy changes in China linked to support for the deployment of solar PV raise the risk of a slowdown in investment this year.
As China accounts for more than 40% of global investment in solar PV, its policy changes have global implications. This confirms past IEA reports that have highlighted the critical importance of policies in driving investment in renewable energy.
While energy efficiency showed some of the strongest expansion in 2017, it was not enough to offset the decline in renewables. Moreover, efficiency investment growth has weakened in the past year as policy activity showed signs of slowing down.
"Such a decline in global investment for renewables and energy efficiency combined is worrying," said Dr Fatih Birol, the IEA's Executive Director. "This could threaten the expansion of clean energy needed to meet energy security, climate and clean-air goals. While we would need this investment to go up rapidly, it is disappointing to find that it might be falling this year."
The share of fossil fuels in energy supply investment rose last year for the first time since 2014, as spending in oil and gas increased modestly. Meanwhile, retirements of nuclear power plants exceeded new construction starts as investment in the sector declined to its lowest level in five years in 2017.
The share of national oil companies in total oil and gas upstream investment remained near record highs, a trend expected to persist in 2018. Though still a small part of the market, electric vehicles now account for much of the growth in global passenger vehicle sales, spurred by government purchase incentives. For electric cars, nearly one quarter of the global value of EV sales in 2017 came from the budgets of governments, who are allocating more capital to support the sector each year.
Final investment decisions for coal power plants to be built in the coming years declined for a second straight year, reaching a third of their 2010 level. However, despite declining global capacity additions, and an elevated level of retirements of existing plants, the global coal fleet continued to expand in 2017, mostly due to markets in Asia. And while there was a shift towards more efficient plants, 60% of currently operating capacity uses inefficient subcritical technology.
The report finds that the prospects of the US shale industry are improving. Between 2010 and 2014, companies spent up to USD 1.8 for each dollar of revenue. However, the industry has almost halved its breakeven price, providing a more sustainable basis for future expansion. This underpins a record increase in US light tight oil production of 1.3 million barrels a day in 2018.
"The United States shale industry is at turning point after a long period of operating on a fragile financial basis," said Dr Birol. "The industry appears on track to achieve positive free cash flow for the first time ever this year, turning into a more mature and financially solid industry while production is growing at its fastest pace ever."
The improved prospects for the US shale sector contrast with the rest of the upstream oil and gas industry. Investment in conventional oil projects, which are responsible for the bulk of global supply, remains subdued. Investment in new conventional capacity is set to plunge in 2018 to about one-third of the total, a multi-year low raising concerns about the long-term adequacy of supply.
This edition of World Energy Investment, which is being released for free this year, provides a wealth of data and analysis for decision making by governments, the energy industry and financial institutions to set policy frameworks, implement business strategies, finance new projects and develop new technologies.
Off-grid Renewables are Growing, Bringing Socio-economic Benefits to Millions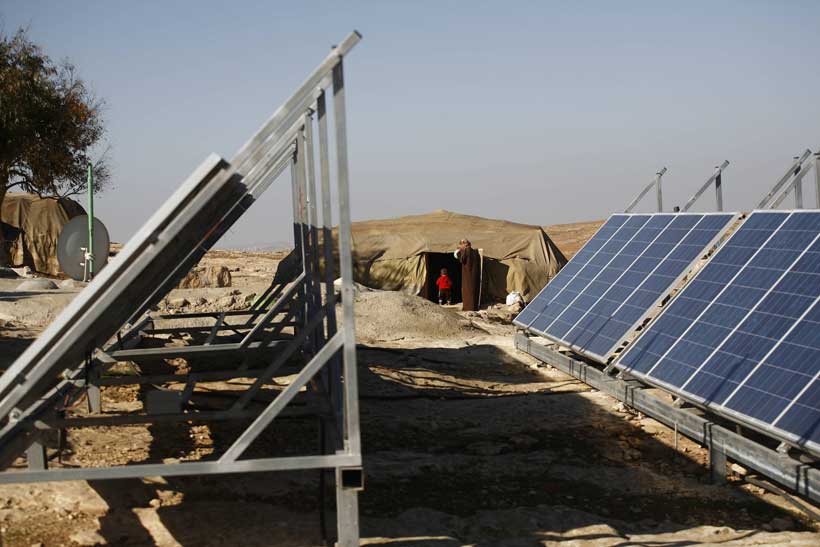 Off-grid renewable energy has witnessed spectacular growth over the last decade. Since 2008 capacity has trebled and the number of people in rural communities served by the technology has witnessed six-fold growth. Today, up to 133 million people are receiving life-changing access to low-cost, secure renewable energy and benefit from the socioeconomic impact access delivers. Global off-grid investments in 2017 reached USD 284 million.
These findings feature in a new IRENA brief launched during the UN High-Level Political Forum in New York. The paper, entitled: Off-grid Renewable Energy Solutions, Global and Regional Status and Trends, builds on IRENA's statistical analysis to offer a global picture of the sector's trajectory and impact. The data highlights the extent to which off-grid renewables are emerging as a mainstream solution to the expansion of electricity services all over the world, contributing to sustainable development goal 7 (SDG 7) by broadening the reach of electricity beyond existing grid infrastructure.
"Off-grid renewable energy is an important contributor to energy access across the developing world having witnessed widespread, rapid growth in deployment over the last few years," said Dr. Rabia Ferroukhi, Deputy Director of the Knowledge, Policy and Finance at IRENA.  "Our analysis captures this momentum whilst shedding light on the need to step-up efforts towards 2030 Sustainable Development Goals."
Africa has emerged as a dynamic, fast-moving hub for off-grid renewables. The development of solar lighting solutions and innovations in deployment and financing models, such as pay as you go options and mobile payment platforms have contributed to Africa's rapid advances. The continent's off-grid industry now serves around 53 million people – the equivalent of the entire population of South Africa – up from just over two million in 2011.
The brief identifies Asia as a global leader in off-grid renewables capacity deployment. Today, up to 76 million people across the continent may now benefit from such power sources.
South America, home to some of the highest rates of electricity access in the developing world, has also witnessed off-grid renewable growth the brief suggests, where the technology is considered key to 'last mile' electricity access.
Off-grid renewable energy solutions are being deployed to provide electricity services for a wide range of end-uses, including for powering agriculture, telecommunication infrastructure, healthcare centres, schools, and rural enterprises. The paper emphasises that linking delivery of off-grid solutions to energy service delivery can unlock substantial socio-economic benefits, contributing to multiple SDGs.
While dramatic cost reductions have been the primary driver of this acceleration, it is the multifaceted socioeconomic benefits that provide the greatest incentives for its deployment. Renewable energy's centrality to the SDG 7 goal on universal access to clean, reliable and affordable energy against a backdrop of a billion people who still live without it, is unquestionable. However, beyond energy itself renewables are a key contributor to sustainable development, generating jobs, stimulating growth, ensuring resource security and improving health.
The paper notes that in Bangladesh, around 133 000 jobs have been created through a Solar Home System programme and an off-grid renewables initiative in Rwanda aims to generate 7 000 jobs whilst delivering energy access to almost 80 000 people. Similarly, incomes in rural households benefit from lower cost solar lanterns, and remote health and educational facilities are enhanced through consistent availability of power.
"Renewables are a central pillar of SDG 7 and represent one of the most effective and economicmeans available in the pursuit of universal energy access," said Rabia Ferroukhi, Deputy-Director of Knowledge Policy and Finance at IRENA. "Yet beyond this, we are now beginning to truly understand the way in which distributed renewable electricity is transforming the lives of those receiving from it, bringing stability and opportunity to millions of people around the world."
Read the brief on the Off-grid Renewable Energy Solutions and the six case studies developed to showcase the socioeconomic impact of off-grid renewables in South East Asia.