Did the U.S. Supreme Court Just Nullify the U.S. Constitution?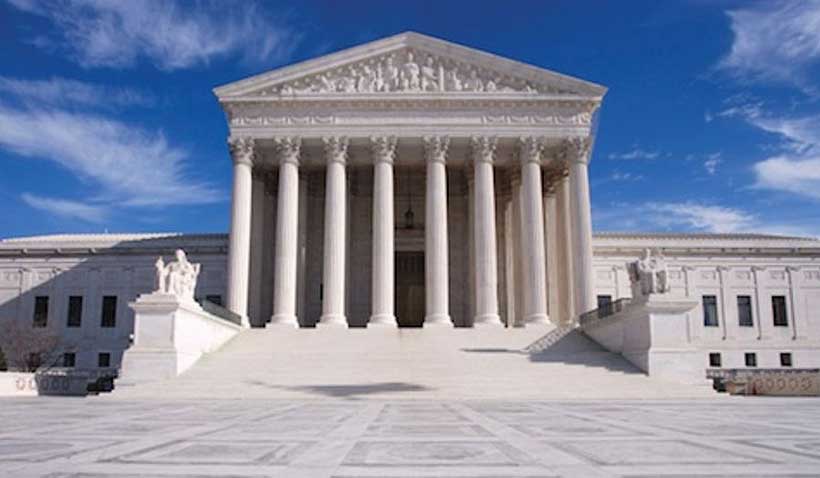 On June 26th, the U.S. Supreme Court issued its 5-4 majority decision in the landmark case of "Trump v. Hawaii", about President Trump's commonly misnamed 'Muslim ban'. This decision probably established a new precedent: that national security is an interest that overrides the First Amendment to the U.S. Constitution. Here is how it does this outrageous thing, which is so shocking for such persons — who are oath-bound to uphold the U.S. Constitution — to do:
The First Amendment to the U.S. Constitution says, in full:"Congress shall make no law respecting an establishment of religion, or prohibiting the free exercise thereof; or abridging the freedom of speech, or of the press; or the right of the people peaceably to assemble, and to petition the Government for a redress of grievances."
The traditionally-called "Establishment Clause" is the part of the First Amendment that says: "Congress shall make no law respecting an establishment of religion, or prohibiting the free exercise thereof."
On the opening page of its 92-page decision, the Supreme Court says, "We now decide whether the President had authority under the Act to issue the Proclamation, and whether the entry policy violates the Establishment Clause of the First Amendment." On the 7th page, it says, "Plaintiffs [the 'Hawaii' side in the case of 'Trump v. Hawaii'] further claimed that the Proclamation violates the Establishment Clause of the First Amendment, because it was motivated not by concerns pertaining to national security but by animus toward Islam." Page 26 says, "The First Amendment provides, in part, that 'Congress shall make no law respecting an establishment of religion, or prohibiting the free exercise thereof.' Our cases recognize that '[t]he clearest command of the Establishment Clause is that one religious denomination cannot be officially preferred over another'."
The Court's decision asserts, first, that Trump's Muslim ban, of any immigrants from any of the five nations of Iran, Syria, Yemen, Somalia, and Libya — all of which 5 nations have Muslim majorities — is not discriminatory on the basis of religion; and that therefore no religious denomination is being officially preferred over another, in that ban or "Proclamation."
Second, here is how the decision asserts — at least provisionally, and (as will be shown) likely permanently — that national security overrides the Establishment Clause (and therefore overrides the Constitution itself): On page 29, it says, "plaintiffs seek to invalidate a national security directive. … Their claim accordingly raises a number of delicate issues regarding the scope of the constitutional right [right to "the free exercise thereof"] and the manner of proof. The Proclamation, moreover, is facially neutral toward religion. Plaintiffs therefore ask the Court to probe the sincerity of the stated justifications for the policy."
The Court's decision then entirely ignores — and never even so much as touches upon — the "sincerity" matter, at all, or in any form. Therefore, the majority decision is implicitly asserting that the sincerity of the rationale that Trump gave for his "Proclamation" (his so-called 'Muslim ban') is immaterial to this case, not relevant to determining whether or not the Proclamation "officially" prefers any religion over any other. The 5-member majority are, in effect, asserting that, by the term "officially," is meant "explicitly," or publicly admitted. For example (in another hotly-debated historical instance): If Adolf Hitler did not publicly admit that his intention was to exterminate every Jew on Earth, then (according to this reasoning from those five jurists) he was not responsible for the Holocaust (the attempt by his followers to exterminate Jews, within each of those officials' own sphere of authority, as granted to them by Hitler). Those five jurists are saying that, since Trump never publicly admitted that he was a bigoted person and never explicitly asserted that religion had anything to do with his Proclamation, Trump's Proclamation simply did not violate the Establishment Clause. That's the end of the story — Hawaii's assertion that Trump's publicly declared reason needs to be challenged on the basis of its sincerity is simply, and peremptorily, rejected — to "ask the Court to probe the sincerity of the stated justifications for the policy" is placed, by them, simply out-of-bounds.
However, prosecution for any crime requires any court to consider what the motivations of any possible defendant for that crime were in the given matter. To obtain a criminal conviction, the prosecution must establish the presence of two elements at the time of the alleged crime — namely, actus reus ("guilty act") and mens rea ("guilty mind"); but these five members of the U.S. Supreme Court effectively rule out-of-bounds the very possibility that a U.S. President (or, specifically, this U.S. President) might, on any occasion (but specifically, this occasion), have been "insincere" (or had "a guilty mind" — guilty of actually having violated the First Amendment, in this case). So: these five jurists proved their own guilty minds — and they thereby impose upon the entire nation this nullification of our nation's Constitution, simply casting aside both executive accountability and the Constitution's supreme legal authority in our land. Is that treasonous? It certainly violates their oaths-of-office. But is it treasonous?
It is, in any event, the way that these 5 judges dismissed any consideration of Trump's motive for his 'Muslim ban' — this particular "entry policy" issued by the Proclamation. However, what about the question itself, of "whether the entry policy violates the Establishment Clause of the First Amendment." Well, if you aren't being allowed to question what its motive was, then you aren't being allowed to question the Constitutionality of the ban, either.
The Court's mega-scandalous decision closes: The Government has set forth a sufficient national security justification to survive rational basis review. We express no view on the soundness of the policy. We simply hold today that plaintiffs have not demonstrated a likelihood of success on the merits of their constitutional claim. 
[Section] V 
Because plaintiffs have not shown that they are likely to succeed on the merits of their claims, we reverse the grant of the preliminary injunction as an abuse of discretion. Winter v. Natural Resources Defense Council, Inc., 555  U. S. 7, 32 (2008). The case now returns to the lower courts for such further proceedings as may be appropriate. 
They declare (but are they sincere about this?) that "We express no view on the soundness of the policy." They bounce the matter back down to "the lower courts," without even so much as having considered the mens rea issue — which was central to the case before them. The President's having avoided admitting the fact that bigotry was involved in his Proclamation, has been accepted as final on the matter, for these five jurists. But would it be final if Hawaii were to continue in "the lower courts" to challenge the Proclamation? According to CNBC's news-report about the decision: "Neal Katyal, attorney for the challengers, said in a statement. 'Now that the Court has upheld it, it is up to Congress to do its job and reverse President Trump's unilateral and unwise travel ban'." Obviously, Ketyal won't take the matter back down to the lower court in the case. Perhaps his challenge to the ban had actually been only political, to embarrass Republicans, in order that the Democratic Party can continue to holier-than-thou moralize their supposed superiority above the bigotry and/or sheer stupidity, of the President's (and Republican-supported) "ban."
Here is the actual type of "establishment of religion" that I believe that Trump is here imposing (and which the five far-right jurists today are trying to help him to impose upon the nation) — it's more against Shiite Muslims than against Sunnis — who constitute the vast majority of Muslims and virtually the entirety of the ones who have perpetrated terrorism anywhere other than in Israel (and this President is not supposed to be the President of Israel):
This case is not, as Hawaii (Ketyal) was asserting, a Trumpian bigotry against Islam. Only five nations were included in the ban, and so it applies to only a small percentage of the world's Muslims. Though the Court accepted the President's flimsy assertion that these, and only these, nations pose such a national-security threat to the United States as to warrant a total immigration-ban, the actual evidence regarding Islamic terrorism in the United States has been overwhelming that virtually only fundamentalist Sunnis have perpetrated it; no Shiites have
. With the lone exception of Somalia, none of these five banned nations is Sunni majority and Sunni controlled — they're all either Shiite majority or Shiite-dominated, or (in the case of Libya) failed states without any nationwide government because of the U.S.-and-allied invasion in 2011. (And so, Trump is banning refugees from that country which his Democratic predecessor Obama had destroyed — let them escape to Europe instead!) The U.S. Deep State has been trying since 1949 to overthrow Syria's Government and replace it with one that would be controlled by the fundamentalist-Sunni Saud family who own Saudi Arabia and are allied with the U.S. aristocracy (America's "Deep State"). Yemen right now is being bombed to smithereens by the U.S.-Saudi-UAE alliance, and this operation is supporting, instead of opposing, fundamentalist Sunnis (such as ISIS in Yemen, and Al Qaeda in Yemen, neither of which group of jihadists is in the Shiite region of Yemen, which we're bombing and destroying, while we're claiming that this is 'anti-terrorist'). The actual facts indicate that any "Muslim ban" should be focused against Saudi Arabia — and this ban would be authentically to protect against terrorism, not to disadvantage any particular religion — but Trump instead sold the Sauds $350 billion of U.S.-made weapons. That global all-time-record high U.S. military sale to the Sauds gives them far more clout over the U.S. Government than the U.S. Government has over them. No wonder why the U.S. Government protects them for 9/11, etc.
Regarding Somalia, the only article online about "Somalia-United States Relations" is at Wikipedia and doesn't indicate any terrorist incidents in the U.S. as having been at all Somali. Furthermore, Wikipedia's article "Foreign Relations of Somalia" goes country-by-country, but doesn't indicate anywhere any link to terrorism, against any country, at all.
However, notwithstanding the actual facts in this case, these five far-right jurists just trashed the U.S. Constitution, and thereby allowed this President's bigoted and/or stupid Proclamation, which possesses no authentic national-security justification whatsoever, to become imposed, regardless even of whether it is sincere, or comports with the Establishment Clause. The precedent here is carte-blanche to this President and to any of his successors. A U.S. President's will, supersedes the U.S. Constitution, if a 'national security' excuse — no matter how flimsy or even counterfactual — is being asserted. His/her sincerity — and even the facts as opposed to the mere allegations from a President — cannot be challenged in U.S. courts.
Hawaii's (Ketyal's) challenge, under the Establishment Clause, was sloppy, presuming as it did, that Trump is "anti-Musim" instead of anti-Shiite, which seems to be more like the reality. But, in any event, both the challenge, and the way that the U.S. Supreme Court handled it, were incompetent, at best. This pathetic Court decision establishes not only the precedent for banning consideration in U.S. courts of whether a sitting President may effectively be challenged as to his sincerity on a given matter, but also precedent for treating "national security" as being more important than the U.S. Constitution itself. If Trump had intelligently formulated his ban on the basis of the relevant data, then maybe these five jurists could have put together some sort of intelligent case to uphold his ban. But, instead, those jurists made a mess of everything, and a zero of the U.S. Constitution that they are duty-bound to uphold.
No lower court can make good on the harm that those jurists — Roberts, Alito, Thomas, Gorsuch, and Kennedy — did and do. Mark Joseph Stern's article at Slate opened with an accurate summary of it: On Tuesday, the Supreme Court affirmed and expanded the president's power to exclude entire classes of immigrants from the country. Its 5–4 decision in Trump v. Hawaii is a historic triumph for Donald Trump and a crushing blow to immigration activists, who had hoped the courts might rein in the president's sweeping order. Justice Neil Gorsuch, Trump's appointee to the court, cast the decisive fifth vote to uphold the ban. While Chief Justice John Roberts' opinion for the court strives to rise above politics, Hawaii will almost certainly be remembered as a deeply partisan opinion in which five Republican appointees willfully ignored the flagrant bigotry of a Republican president.
The Butina Case: The Americans Send a Signal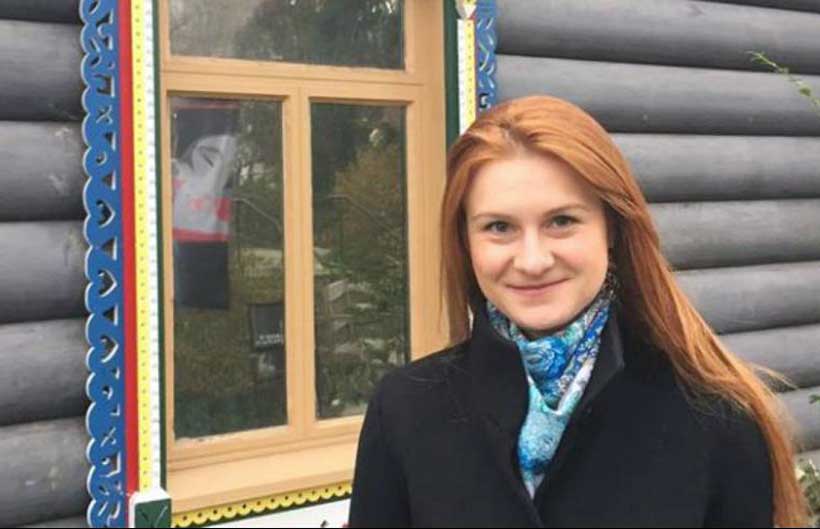 The arrest of Russian national Maria Butina in Washington is a significant blow for Russia–U.S. relations. It goes well beyond official diplomacy. The Americans are sending a signal to Russia that any Russian citizen dealing with the United States may very well end up behind bars, that their email and social media posts may be used against them, and that they should be quiet, avoid meetings and basically sit tight. Especially when gentlemen from the upper echelons are having an argument.
For both countries, this latest development is worse than the most severe political crises. After all, the fabric of relations in the ultra-mobile and transparent world of today is woven at the grassroots level and goes way beyond official diplomacy. This has been the spirit of Russia–U.S. relations for the past 25 years. On both sides, scientists, celebrities, businesspeople, students and public figures have communicated quite freely with government officials and members of political parties and movements. It was a useful, honest and interesting dialogue that allowed everyone to better understand and get to know each other, to go beyond stereotypes, propaganda, myths, clichés and, at times, outright lies. The dialogue itself may not have involved a great number of people, but it was a living process that gave people the opportunity to discuss common problems openly and in a creative manner. Diplomats can hardly afford such a luxury. This is why the activities of the expert and civilian track have been a vital boost for the official diplomatic courses pursued by both Russia and the United States.
The arrest of Maria Butina is a huge step backwards. It razes to the ground Russia–U.S. relations, killing off any good soil limiting them to clichéd official narrative. The American initiative is sure to be echoed in Russia, and with great pleasure. The groundwork is already done. This will probably facilitate the job for the intelligence services, making it easier to keep an eye on the officials. Everything is clear and understandable. But this further exacerbates relations between the two countries, which were already at their lowest ebb. The enthusiastic few who are still trying to do something for the Russia–U.S. dialogue, those who have become black sheep against the background of the throngs of Russophobes and Americaphobes or who are simply indifferent on both sides of the ocean, and those who need to be supported and kept by any means can easily end up behind bars to scare the rest.
It is quite easy to do this. They are exposed and vulnerable. And it is easy to carve out a career on the back of them. It is funny that the official document accusing Maria Butina of espionage contains excerpts from emails. I find it hard to believe that a special agent would coordinate actions with his or her "handler" in a non-encrypted format, testify voluntarily before Congress, offer to testify before the Special Counsel Investigation (headed by Robert Mueller's team) and fail to hide their gadgets. These are the kind of "special agents" that the terrible and bloody Russian regime recruits!
From a formal standpoint, there is certain logic to the methods used by the American investigator. U.S. legislation contains provisions on lobbying activities which need to be observed just like any other law. It is high time that Russians formalized their activities in the United States, made them more professional and put them on a clear and formal track. Americans in Russia should do the same. Deviations from these norms are possible, but they do not require excessive repression. It is enough to explain the "rules of the game" to people, rather than drag them to prison. Especially if there is no malicious intent in their activities.
The issue of malicious intent is key to the case of Maria Butina. The investigator claims that Maria's activities were directed against the United States, although this is not clear from the messages that have been submitted as evidence. The investigator's arguments boil down to his extensive experience and a deep understanding of the case. And, of course, to the fact that Russia is an enemy of the United States and a threat to the national security. This means that any contact with officials is nothing short of evil. The media has happily jumped on the bandwagon, hyping against the backdrop of the meeting between Putin and Trump. Serious damage has been caused to Maria Butina's reputation as a result. The least she can do is file a counterclaim. The final decision must be made by a U.S. court which at least appears to maintain a modicum of independence and impartiality.
First published in our partner RIAC
The 'Reverse Nixon' and New Nero: Where to Focus After the Trump-Putin Summit
It would be too easy to simply jump on all of the stereotypical bandwagoning going on across most of the world's media (especially the American) coming out of the Trump-Putin summit that took place this week briefly in Helsinki. It was most certainly NOT a bravura performance by the American president, but honestly that really is low-hanging fruit to focus any commentary on. Instead, let us consider some more subtle but nevertheless crucially important takeaways as we move on from Helsinki and are still left to consider what's next for the incredibly poor Russian-American relationship.
1.Trump has unfortunately become the 'reverse Nixon'
While most millennials may not recall or understand the importance of this historical reference, it bears repeating: Nixon, as Vice-President to Eisenhower, was an adamant opponent of establishing relations with China. Flash forward 15 years or so to his own presidency and suddenly Nixon himself was going over to China and opening up a new world of diplomatic contact and relations. "Only Nixon could go to China" was the refrain, meaning it was exactly because of his historical animosity toward the country that the American people would trust him making new maneuvers toward China. With Trump, alas, it is the exact reverse: even if he had an important policy innovation or sound diplomatic strategy for creating new relations with Russia, it wouldn't matter. If only Nixon could go to China, then today literally ANYONE can go to Russia except Trump.
2.The 'Putin smirk' lives!!!!
Putin has a long-established and well-deserved reputation for teasing and even somewhat bullying/lecturing Western media, especially when American/British journalists think they have damning information or uncomfortable questions for him. There are few world leaders today who relish the opportunity to go toe-to-toe with foreign journalists as much as Putin. This is simply unquestionable fact. He also loves having the upper hand or at least giving the impression that he does on the world stage. Make no mistake: while he has steadfastly denied any direct Russian meddling in the American elections of 2016, he has absolutely LOVED every single minute of hand-wringing and treason-talking that has taken place in America because of the possibility. The Helsinki Summit proved this beyond measure. It is quite possible this was one of the quietest summit performances ever given by Putin. The reason for it was embarrassingly simple: all he really needed to do was sit there and look bemused 80% of the time while Trump mangled his own native English language trying to do verbal acrobatics around awkward questions about election interference. If Putin is famous for his 'I know something you don't know' smirk, then the Helsinki Summit gave us all one of the most permanent exhibitions of said trademark in recent memory.
3.The regression of President Trump's relationship with his own Intelligence Community will continue
Trump's uncomfortable declaration that Putin gave him a very strong and powerful denial of election meddling (and therefore that should be good enough for all present to believe) had one very significant but little identified post-summit domestic consequence: it was yet another example of the Commander-in-Chief basically throwing his own Intelligence Community and the analysis of all 17 of its member agencies under the bus in favor of a foreign leader's opinion who had every reason to not tell the truth. Trump's relationship with the IC has been complicated even before his presidency began but has only become more antagonistic and unfriendly in his first year in the Oval Office. The Helsinki Summit did nothing to repair that relationship or even give anyone reason to search for a kernel of hope that a new more positive foundation could be established. If the IC in general felt the President of the United States was not in its corner before the summit, then it had no doubt of that impression walking away from it.
4.The summit only deepened Trump's political Catch-22
Most media and pundit circles in America are flabbergasted by Trump's refusal to believe the obvious when it concerns an attempt by Russian intelligence to hack/influence the 2016 election. But for Trump it is not so simple as admitting to the obvious: he clearly has made his own mental connection whereby admitting that Russia meddled leads to a semi-confession that he may not have legitimately won the election. Many Americans, if not most, on the liberal side also want to believe in this connection. Unfortunately, that connection is most likely NOT true. It is entirely plausible (even likely) that Russia to some degree attempted to meddle in the election AND Trump legitimately won the electoral college that gave him the presidency. Current American media seem to be treating the two as if they cannot be mutually exclusive when in all likelihood they are just that: Russia meddled; Trump won the electoral college. If we could get into a time machine, go back in time, and zap Russia with a special 'removal of meddling' laser beam it would not mean we would be analyzing the foreign policy of President Hillary Clinton today. It would most likely still be President Trump's foreign policy. But Trump, despite his constant lamentations of so-called fake news and trying to make all mainstream media appear like sycophants of the Democratic Party, has clearly given in to the overall media impression that the admission of one sin (Russian meddling) results in the confession of another (he did not legitimately win the presidency). Consequently, stuck in this Catch-22, he continues to side with the ridiculous statement of 'not having enough facts' to know what really happened and it seems like it should be ok for him to just believe Putin at his word.
5.Is Putin the new Nero?
Remember the old adage, "Nero fiddled while Rome burned?" After the Helsinki Summit it seems at least plausible to ask if Putin is the new Nero, fiddling away happily oblivious while the American media burns. If the original point of Russian election meddling was not to actually sway the results of the election (no one in the Russian Intelligence Community really believes they could engineer that much power over the American electorate) but to just cause general chaos, havoc, and discontent within American society, then it is hard to imagine a more successful disinformation intelligence campaign than this one. American media is in a tizzy and the louder the cacophony of discontent rings after the Helsinki Summit, the crazier social media becomes in the never-ending battle between liberals and conservatives over what to do about it. Facebook alone has blown up since the Helsinki meeting with memes about treason, only to be countered by photographs of prominent Democratic congressmen/women smiling and laughing happily in the past during their own meetings with Putin. The discord and disconnect only grows. The anger and counter-anger only gets more intense and indignant. And all the while, in a lush suite of opulence deep inside the Kremlin, Vladimir Vladimirovich sits at his desk, smirking, fiddle in hand.
Shooting the Messenger: Corruption and Peace
It is the most natural of behaviors for the guilty to lay the blame elsewhere and to make the most noise.  The Democratic Party leadership did the meddling — not the Russians — when it conspired with Hillary Clinton to deny Bernie Sanders the Democratic nomination.  Thus Hillary was an illegitimate candidate to begin with.
Then there was the question of emails.  Hillary refused to use the secure State Department server preferring a personal one.  Why?  Because she would then be selective in the emails that became public record.  And an accurate historic picture of her tenure as Secretary of State is debatable if 33,000 emails were not surrendered.  She said these were personal and not work related but the FBI later recovered about 17,000 and many of these were work related  (para 7 from end of ABC report).
How did the Clintons become so rich?  First, if you give commercial banks a license to gamble with depositors' money, they ought to be grateful.  Speaking fees are one answer, and heaven knows what else.  That gambling can also lead to ruin proved true.  Bankrupted, the banks sought help, and were rescued through the public purse.  Turning losses public while bonuses and profits remained private emerged as a new capitalism for the very rich.  The banks crooked schemes included certain risky mortgage-backed securities sold as safe that caused huge state pension funds losses, destroying state finances in some cases.  People in those states are still suffering.  Any surprise then if Donald Trump's pejorative "crooked Hillary" resonates to this day.
Second, during Hillary Clinton's tenure as Secretary of State, there was talk of her either using the position, or of the position itself leading to favor seekers donating to the Clinton Foundation.  During the 2016 election campaign, Trump said Hillary Clinton received tens of millions by countries that 'treat women horribly … and countries that kill gays'.  Politifact says the claim is half-true.  He also asked that she return the $25 million Saudi Arabia gave to the foundation.
The Democrats continue to blame the Russians for the election loss despite their own meddling — nothing like shooting the messenger — and other issues like emails erupting just before the election.  Hence the uproar over the Helsinki summit.  Add the Ukraine and Crimea issue and assorted lobbies, and soon Republicans joined in.  But anger and hysteria are their own catharsis, and after Trump had been accused of treason and called a traitor, there was little else except to cool off.
When Trump placed the blame for poor relations with  Russia on 'many years of US foolishness and stupidity,' he was being mild.  Others might have said worse.  Look at the record.  Years of recruiting Eastern bloc countries into NATO after promising not to; after all, Russia accepted peace and disbanded the Warsaw Pact.  Then the blatant interference in Ukraine, toppling an elected government and dismembering the country leaving a trail of blood.
The fact is, one either supports peace or one does not.  In the US unfortunately, there are plenty of supporters for war.  Otherwise, why would we get Libya, Somalia, Yemen, Iraq, Syria, Afghanistan (17 years and continuing), etc., etc., etc.  And the Nobel Peace Laureate Barack Obama delivering the 2018 Nelson Mandela Annual Lecture.  A supreme irony because the old man himself refused to meet Obama after what he had done to his friend Gaddafi.  One has to be reminded, Gaddafi provide financial support to the ANC independence movement when no one else cared or dared.  At the time in the West, Mandela was a terrorist.  Gaddafi also helped the IRA.  And what do we have in Libya now?  A descent from a secular country supporting women's rights and leading Africa in the Human Development Index to a disaster spawning fundamentalist extremists as far south as Nigeria.  How soon the world forgets?
One may criticize Trump for much of his agenda — and I do often enough — but he has kept us mostly out of war.  With Hillary the Hawk, we would have been mired in Syria up to our necks, in serious danger of a major conflagration with Russia.
Let's support peace irrespective of who nurtures that gentle dove.