Circular economy creates global environmental benefits
On the margins of the 6th GEF Assembly, the United Nations Industrial Development Organization (UNIDO) brought together public and private stakeholders to discuss how circular economy approaches can create global environmental benefits by developing green industries.
"UNIDO promotes circular economy practices and delivers services that address the complete cycle of making and using products, and of disposing of used products – from raw materials extraction to production, distribution, use, waste management and final disposal – so that resources are used over and over as a result of innovative practices," said Stephan Sicars, Director of UNIDO's Department of Environment.
Professor Ricardo Barra, Member of the Global Environment Facility (GEF) Scientific and Technical Advisory Panel and Dean of the Faculty of Environmental Sciences at Chile's University of Concepción, concurred: "the linear model of take-make-use-dispose is a primary driver of natural resource depletion, waste, environmental degradation and climate change. It has adverse human health effects and significant global environmental benefits could be gained, for instance, by applying circular approaches for production, use and disposal of plastics."
Panelists and commentators from the audience mentioned that circular economy is directly linked to a number of interventions currently supported by the GEF, such as green chemistry, eco-industrial parks, industrial symbiosis and resource efficiency, and sustainable cities. Joint Secretary for International Cooperation of the Indian Ministry of Environment, Forest and Climate Change Nikunja K. Sundaray said: "India's National Action Plan on Climate Change incorporates circular approaches for green industry development, environmental protection, and the Green India Mission that focuses on multiple ecosystem services, especially, biodiversity, water, biomass, preserving mangroves, wetlands, critical habitats, etc. along with carbon sequestration as a co-benefit as well as job creation."
Le Thi Ngoc My, Heineken Viet Nam's Head of Sustainability, said: "In 2017, 99% of Heineken Viet Nam's inputs were re-used or recycled, with only about 1% lost or sent to landfill – diverting more than 235,473 tons of waste. Moreover, the company bought over 52,800 tons of rice husk – valued at approximately VND 42.2 billion – to power its operations, generating 100% thermal energy for four of our six breweries."
Alejandro Nario Carvalho, Uruguay's National Director of Environment, Ministry of Housing, Land Planning and Environment, and GEF Operational Focal Point, said: "The Circular Opportunities Programme focusing on food, tanneries, plastics, viticulture and the construction sector was launched in collaboration with UNIDO in April 2018. I appreciate UNIDO's leadership and its role in promoting circular economy approaches in Uruguay, and globally."
Similarly, circular economy approaches can be a driving force that contributes to a great number of SDGs, including goals 2, 6, 7, 8, 9, 11, 12, 13, 14, and 15. In addition, circularity is already a priority in the global agenda as illustrated by the considerable interest expressed by international institutions, such as the EU with its Action Plan for the Circular Economy, or the G20 Circular Economy Task Force.
UN Security Council discusses Kashmir- China urges India and Pakistan to ease tensions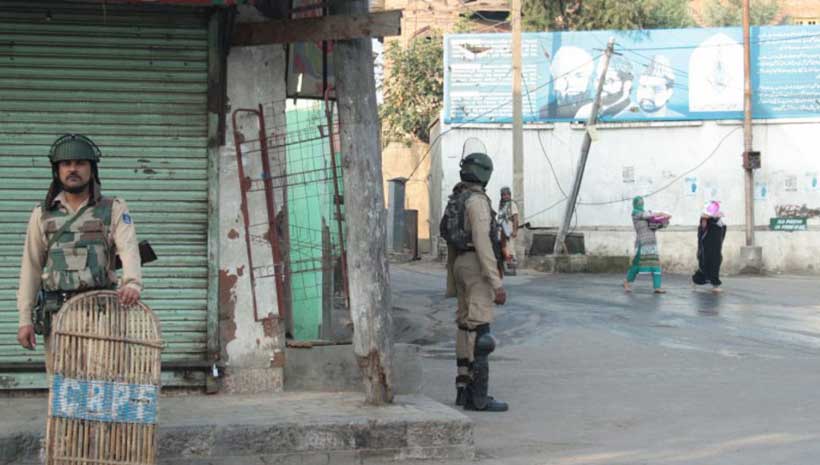 The Security Council considered the volatile situation surrounding Kashmir on Friday, addressing the issue in a meeting focused solely on the dispute, within the UN body dedicated to resolving matters of international peace and security, for the first time since 1965.
Although the meeting took place behind closed doors in New York, the Chinese Ambassador, Zhang Jun, spoke to reporters outside the chamber following deliberations, urging both India and Pakistan to "refrain from taking any unilateral action which might further aggravate" what was an already "tense and very dangerous" situation.
The Indian-administered part of the majority-Muslim region, known as Jammu and Kashmir had its special status within the constitution revoked by the Indian Government on 5 August, placing it under tighter central control. Pakistan has argued that the move violates international law.
The UN has long maintained an institutional presence in the contested area, which both countries claim in its entirety, with the areas under separate administration, divided by a so-called Line of Control. The UN Military Observer Group in Indian and Pakistan (UNMOGIP) observes and reports on any ceasefire violations.
In a statement issued on 8 August, UN Secretary-General António Guterres said he had been following the situation in Jammu and Kashmir "with concern", making an appeal for "maximum restraint".
"The position of the United Nations on this region is governed by the Charter…and applicable Security Council resolutions", said the statement. "The Secretary-General also recalls the 1972 Agreement on bilateral relations between India and Pakistan also known as the Simla Agreement, which states that the final status of Jammu and Kashmir is to be settled by peaceful means", in accordance with the UN Charter.
Ambassador Zhang said Council members had "expressed their serious concern" concerning the current situation in Jammu and Kashmir…The Kashmir issue should be resolved properly through peaceful means, in accordance with the UN Charter, the relevant Security Council resolutions and bilateral agreements."
Pakistan requested the Security Council meeting on 13 August, and it was subsequently called for by Permament Member, China.
Speaking to reporters outside the chamber, Pakistan's Ambassador, Maleeha Lodhi said the meeting had allowed "the voice of the people of the occupied Kashmir" to be heard "in the highest diplomatic forum of the world." She argued that "the fact that this meeting took place, is testimony to the fact that this is an international dispute."
She said that "as far as my country is concerned, we stand ready for a peaceful settlement of the state of Jammu and Kashmir. I think today's meeting nullifies India's claim that Jammu and Kashmir is an internal matter for India. Today the whole world is discussing the occupied state and the situation there."
Speaking a few minutes later, India's Ambassador, Syed Akbaruddin, said that "our national position was, and remains, that matters related to Article 370 of the Indian Constitution, are entirely an internal matter of India…The recent decisions taken by the Government of India and our legislative bodies are intended to ensure that good governance is promoted, socio-economic development is enhanced for our people in Jammu and Kashmir and Ladakh."
He said that the Chief Secretary of Jammu and Kashmir had announced measures which would return the region towards a state of "normalcy"
"India remains committed to ensure that the situation there remains calm and peaceful. We are committed to all the agreements that we have signed on this issue."
But without naming names, he stated that "of particular concern is that one state is using terminology of jihad against and promoting violence in India, including by their leaders", adding that India was committed to the principle "that all issues between India and Pakistan, as well as India and any other country, will be resolved bilaterally, peacefully, and in a manner that behooves normal inter-state relations between countries."
ADB to Help Drive Modernization in First Loan for Sri Lanka's Railway Sector
The Asian Development Bank (ADB) has approved a $160 million loan to modernize the operations and improve the efficiency of Sri Lanka Railways, the country's railway operator, by upgrading its infrastructure and technical capacity. This is ADB's first loan in Sri Lanka's railway sector.
"There is a need to improve public transportation in Sri Lanka to serve a growing population, expected to reach 25 million by 2050," said ADB Transport Specialist Mr. Johan Georget. "An improved railway system will help promote the development of services and industries across Sri Lanka, as well as put the railway as a viable transportation mode of choice for the people. This is particularly the case in suburban Colombo, where the impacts of traffic congestion are strongly felt by all road commuters as vehicle numbers have doubled between 2008 and 2018, while rail commuters often face overcrowded trains."
Sri Lanka Railways moves 136.7 million passengers and 2 million tons of goods annually. However, the market share of the railway sector has progressively declined over the years, while the country's railway infrastructure is overdue for significant upgrades and modernization. The network's signaling and telecommunication systems are outdated, and the paper tickets are manually printed for all ticket classes and station pairs. Sri Lanka Railways owns 250 diesel locomotives and multiple units, but only about three-quarters of them are operational and half of the fleet is more than 30 years old.
The Railway Efficiency Improvement Project will finance the modernization of the country's railway system in several aspects to improve the operations, maintenance, safety, skills development, and technical capacity of Sri Lanka Railways. The project will provide a modern multichannel—paper, mobile, and smart card—ticketing system, and will also install a state-of-the-art telecommunications system, which will replace the original system installed in 1985, and allow for two-way communications with train drivers and reduce train delays. The project will also finance a new operations headquarters and train control center, provide infrastructure and equipment for the maintenance of track and rolling stock, and improve railway safety. The technical training center of Sri Lanka Railways will be upgraded and new courses will be developed to provide future graduates with knowledge of modern railway technologies.
The project will also strengthen the capacity and readiness for future railway projects. This will include a detailed study for the Kandy suburban railway network; a study on transit-oriented development and land value capture; the preparation of a railway asset inventory and a land management strategy; and the modernization of the information technology and maintenance capacity of Sri Lanka Railways.
The total cost of the project is $192 million, with the Government of Sri Lanka providing $32 million. The expected project completion date is the end of 2024.
World Bank Issues Second Tranche of Blockchain Bond Via Bond-i
The World Bank (International Bank for Reconstruction and Development, IBRD rated Aaa/AAA) has raised an additional AUD 50 million for its Kangaroo bond due August 2020 – the first bond created, allocated, transferred and managed through its life-cycle using distributed ledger (blockchain) technology.
The successful tap expands market participation with the Bond-i platform combining three joint lead managers, Commonwealth Bank of Australia (CBA), RBC Capital Markets (RBC) and TD Securities (TD), and brings together new market participants, including an offshore investor, and the exisiting investor community including ongoing support and input from TCorp (NSW Treasury Coporation).
In August 2018, CBA was mandated by the World Bank as arranger for the bond and following a two-week consultation period with the market, the two-year bond raised A$110 million. In May 2019, CBA and the World Bank, with TD acting as market maker, added additional capability to the platform by enabling Secondary Bond Trading recorded on Blockchain making this the first bond whose issuance and trading are recorded using distributed ledger technologies.
The subsequent issuance builds on the success of the platform and further enables capital markets to leverage distributed ledger technologies for faster, more efficient, and more secure transactions.
Bond-i is part of a broader strategic focus of the World Bank to harness the potential of disruptive technologies for development to benefit the World Bank's clients. The World Bank's blockchain innovation lab was established in 2017 as an innovation hub for poverty reduction projects across the world and includes developing opportunities to use blockchain and other disruptive technologies in areas such as land administration, supply chain management, health, education, cross-border payments, and carbon market trading.
"We are happy to see the continued, strong support and collaboration from investors and partners. The World Bank's innovation and experience in the capital markets is key to working with our member countries to increase digitization to boost productivity in their economies and accelerate progress towards the Sustainable Development Goals," said Andrea Dore, World Bank Head of Funding.
"The tap is an important milestone in demonstrating the full lifecycle management of an issuer's capital markets needs. It is also a significant step for the platform bringing on additional participants and demonstrating the broader potential of Bond-i as a capital markets platform," said James Wall, Executive General Manager International at Commonwealth Bank.
Debt capital markets today comprise numerous interconnected intermediaries and agents undertaking intersecting roles for markets to function. Blockchain has the potential to streamline processes for raising capital and trading securities, improve operational efficiencies, as well as enhance regulatory oversight.
"CBA now has tangible evidence from our first bond offering using blockchain technology and subsequent bond management, secondary trading and tap issue via the same platform, that blockchain technology can deliver a new level of efficiency, transparency and risk management capability versus the existing market infrastructure. Next we intend to deliver additional functionality to deliver greater efficiencies in settlement, custody and regulatory compliance," said Sophie Gilder, Head of Blockchain & AI, Commonwealth Bank of Australia.
CBA, RBC, and TD have been lead managers for a number of IBRD bond issuances in the Australian and New Zealand capital markets. This issuance built on the longstanding partnership between four organisations, bringing together World Bank's 70-year track record of innovation in the capital markets, CBA's globally recognised Blockchain Centre of Excellence, and TD and RBC's significant global franchises in debt capital markets.
"An increase to the line is a natural evolution for the trade providing a great opportunity for both new and existing investors to get involved. As a market maker on the platform, TD is very excited to have partnered up with World Bank and CBA again and be part of the next step in the platform's development," said Yuriy Popovych, Director TD Securities.
"RBC is very pleased to be involved in the next stage of evolution of World Bank's bond-i issue, the most advanced practical application of blockchain technology to the debt capital markets to-date," says Jigme Shingsar, Managing Director, Debt Capital Markets at RBC. "Though the technology is still in its early stages, we believe blockchain networks have the potential to transform financial services, offering a leap forward in the transparency and efficiency of our market."
The blockchain platform was designed and developed by the CBA Innovation Lab's Blockchain Centre of Excellence.
Important information
· An independent review of the CBA blockchain platform's architecture, security and resilience was conducted by Microsoft.
· The law firm of King & Wood Mallesons acted as deal counsel on the bond issue and advised on the legal architecture for its implementation.