Nuclear Deterrence and Action-Reaction Paradigm in the Indian Ocean
South Asian security architecture is complex and comprises of traditional and non-traditional threats. However, traditional security threats which are of strategic nature hold the center stage within the overall regional security and threat matrix.
Destructive power of nuclear weapons gives them the psychological edge over the enemy and if these weapons are possessed by both sides, the mutual vulnerability keeps enemies at bay due to the fear of unacceptable damages/ loss. Deterrence is not the use of nuclear weapon rather it is the ability and capability to use the weapon if one's vital interests are threatened. However, deterrence pessimist believes that as it is an established fact that the deterrence is psychological, it is greatly dependent on validation of deterrence capability from time to time through finite actions.  Hence, states either needs to develop new technologies or show their resolve to use nuclear weapons to keep up the credibility of nuclear weapons.
However, one aspect to make nuclear deterrence work effectively is the realization of the fact that once nuclear weapons are acquired, the states mostly try to maintain the deterrence acquired either by hook or crook. Thus, it is futile effort if one party or parties in the conflict try to overcome it. Pakistan is an example that is maintaining nuclear deterrence with its limited resources to counter the enemy which is larger, stronger and is greatly accepted by international community. Reason behind Pakistan's strong resolve is its fear that without nuclear weapons its core national interests and survival would be at stake. Thus, international pressure is of no importance because nuclear deterrence is ensuring the existence of a state. Darker side of nuclear deterrence is that in order to keep its credibility against one's rival, states invest in weaponization, which leads to the arms race that stimulates security dilemma between nuclear rivals.
In the South Asian context, India, by the virtue of its larger economy and geography wants to have stronger position in the region, which is constantly challenged by Pakistan. However, to curb Pakistan and prove its worth, India develops new technologies and explores new horizons in arms race. One such horizon in this regard is the Indian Ocean which is becoming the new victim of this decade's old South Asian rivalry. Recently India made its second SSBN and also operationalized its submarine launch K-15 missile. Moreover, Indian navy is building indigenously built SSBNs, SSNs and ship launch cruise/ballistic missiles to have maximum control over Indian Ocean, which is falsely believed by India as its backyard.
These actions by India gave it quite credible second-strike capability which negated the established deterrence equation between both South Asian nuclear neighbors. Resultantly, to maintain nuclear deterrence through minimum but credible efforts, Pakistan resorts to developing its own second-strike capability. At the moment Pakistan has successfully tested its sea launched cruise missile Babur-3 from submerged platform, moreover it is also up-grading its Augusta 90 B series submarine with air propulsion. Moreover, Pakistan is also buying conventional submarines and frigates from China to counter Indian SSN and SSBN fleets. In addition to this Pakistan recently tested its ship launch cruise missile Harba, which is quite a significant development because cruise missile capable of carrying nuclear weapon is already tested and with successful test of Harba capability to fire cruise missile from ship is also acquired. Thus, to counter growing offense by full spectrum deterrence, option of converting ship launch cruise missile into ship launch nuclear cruise missile can be acquired by Pakistan.
Thus, disrespect of strategic deterrence by India is catalyzing arms race in the region. Saddening aspect in this regard is when rest of the world is using oceans for regional integration, the South Asia nuclear neighbors are converting their economic opportunity into war zone. Thus, militarizing and nuclearizing the common goods such as ocean. On top of all this, major powers are also using Indian Ocean to display their power either through actual presence of naval powers through the support of their respective allies. Fact to reckon here is that the deterrence acquired in South Asia is here to stay. Nuclearizing new arenas will not make either party more secure rather it will give birth to security dilemma, which will result in more and more arms build-up. So, to stop arms race and action-reaction chain, it is necessary that fear of unacceptable loss/damage must be respected.
President Trump, NATO and the trade war with China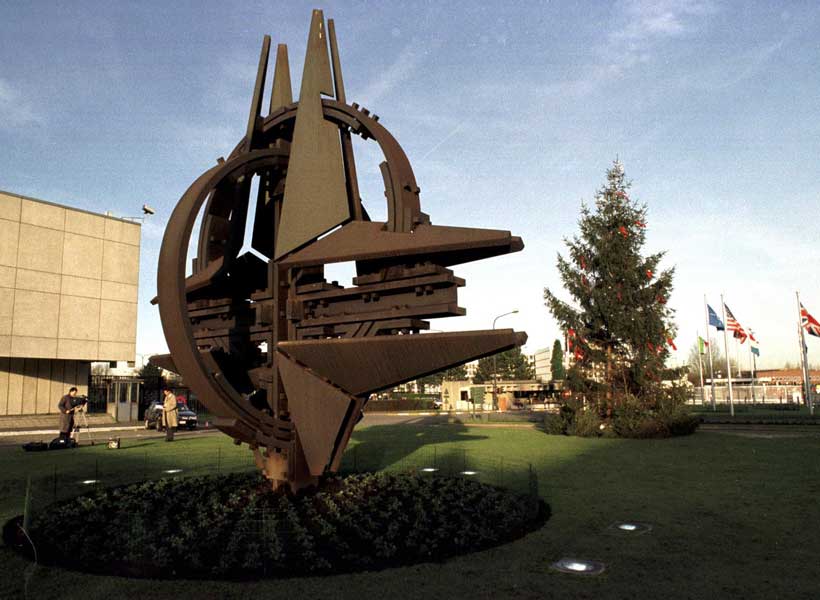 The last Summit of the Atlantic Alliance saw, at least initially, a clear divergence between the United States and NATO's European allies.
For President Trump, who is above all a businessman, budgets and investments count, rather than strategic doctrines, about which there was very little talk.
The US President, who arrived at the Summit with premeditated and carefully-considered delay, polemicized especially with Germany, saying that its low spending for defence makes it "prisoner" of Russia.
President Trump cannot get over and deal with the NORDSTREAM pipeline, headed by Mathias Warnig, former director of STASI in Dresden where,at the time, Vladimir Putin worked for the KGB, the intelligence service that was the "master" of STASI.
He wants Europeans to buy the North American shale gas and oil – but it is a very difficult goal to reach.
Europe is disputed by two energy oligopolists.
Furthermore, President Trump ignored the long and irrelevant discussions about Afghanistan and Georgia, where the EU counts less than nothing, and warned   NATO's European members that if they did not increase their defence budget up to 2% of the GDP as from January 1, 2019, the USA would do on its own, by actually walking out of the Atlantic Alliance.
After some initial disconcertment, the NATO Secretary General organized a confidential meeting between the European members of the Atlantic Alliance, which made no concessions to the US requests.
Let us analyse, however, the data on defence spending within NATO.
As to the USA, by far the largest contributor to the Atlantic Alliance, the 2017 defence budget was equal to 686 billion US dollars, equivalent to 3.6% of GDP.
Again in 2017 the total defence spending of all the other NATO members amounted to 271 billion US dollars.
Only nine members of the Atlantic Alliance, except for the United States, spend over 10 billion US dollars per year, namely Great Britain, France, Germany, Italy, Canada, Turkey, Spain, Poland and the Netherlands.
Moreover, the United States must control other regions, such as the Pacific and South America, which are of no interest to NATO's European members.
Currently three European countries already exceed the 2% target, namely Great Britain, Greece and Estonia.
Romania, Lithuania and Latvia are very close to this 2% target and miss it by just 0.3%.
Hence if all the Atlantic Alliance's members spent 2% of their GDP in defence, we would have additional 114 billion US dollars available.
However, how much would be needed to make the European Armed Forces really efficient?
As to Germany, the very recent Bartels report informs us that – after years of budget cuts and total neglect on the part of politicians -the German soldiers have no sufficient protective devices, winter clothes, tents, etc.
In late 2017 for the German Armed Forces there were no submarines available for operations and none of the 14 large transport aircraft was ready for flight, considering that the entire sea and air fleet was under repair.
Lack of spare parts and technological backwardness are widespread in the German Army, both for jets and ships, as well as for tanks.
21,000 posts of German officers are vacant – with obvious effects and repercussions on soldiers.
In fact, in 2017 Germany spent just 1.2% of GDP in defence and the results and consequences are before us to be seen.
There is still the complex of the defeated country. If all goes well, it will take decades to go back to the situation when the German General and military theorist, Erwin Rommel, wanted to engrave on a basalt plate in the Tunisian desert the following sentence: "The German soldier amazed the world, the Italian soldier amazed the German soldier".
The German Armed Forces (but this holds true also for the Italian ones) were designed for the first clash with the Warsaw Pact, so as to later give way to the nuclear attack, and still bear the brunt of the old strategy not permitting any defence of the now global German international interest.
As to France, its military system is much more efficient than the German one.
But the recent vote in favour of Article 14, which enables the Minister for Economy and Finance to veto the spending proposed by the Minister for Defence, as well as to impose a ceiling on all State spending for the current year (106 billion euros),undermines the necessary renewal of the French military system.
The veto permitted under Article 14 comes just when France has become a member of the Permanent Structured Cooperation, i.e. the group of 25 European countries that is organizing an integrated and autonomous EU defence.
To replace NATO? To have an autonomous foreign policy from the USA? And what would be the current European foreign policy?
Italy, the third European Armed Force, has an almost perfect system of projection outside borders, not only in terms of empty peacekeeping, but a military system that is probably inadequate to defend the whole Italian territory from external attacks. And this applies to all European countries' Armed Forces.
The Italian Armed Forces, however, are better trained and equipped than those of many other NATO's European allies/competitors.
The Carabinieri Special Forces known as GIS  trained the Navy Seals, the Sayeret 13 of the Israeli Army and the Japanese SAT.
Hence President Trump's requests are made against the background of a largely obsolete European military system that is the primary victim of the various government's "budget cuts". Certainly the US President has got a point there.
Nevertheless without good defence, there is no political and strategic credibility and probably not even commercial credibility.
Moreover, in private meetings, President Trump asked the European allies to rise not only to 2%, but even to 4% as a new ceiling.
In this case, the US defence spending would amount to  762 billion dollars and all the other NATO European countries should spend 735 billion dollars.
For President Trump, however, it all hangs and fits together from the fiscal and economic viewpoints: while travelling back from Brussels, he said that the European allies spend too little – hence, in his mind, there is an obvious connection with the issue of EU's trade surplus. Europeans spend too little because they behave like pirates in international trade.
The core of the issue is mainly the German surplus which, coincidentally, is combined with an almost ridiculous military spending.
Meanwhile, China has decided to increase its military spending by 8.1% in 2019, which is – in volume – slightly lower than the US one.
It amounted to 151 billion US dollars in 2017. Nevertheless the Chinese budget must be studied carefully.
Many resources of Ministries such as the Transport, Education and Communications Ministries are closely connected with the People's Liberation Army.
Moreover President Xi Jinping has recently established a new "Central Commission for Integrated Military and Civilian Development" – a clear sign of the strong permeation and interpenetration between these two sectors.
This will probably be the policy line that will enable  NATO's European countries to spend what is needed for defence, even with a significant impact on "civilian" spending.
The Russian Federation is spending 1.35 billion US dollars for the current year, with an 8% increase compared to the previous forecasts for the same year.
The 2% target of desirable military spending by NATO's European countries dates back to long time ago. It was first discussed at the NATO Summit held in Prague in 2002, but it was only a gentleman's agreement.
At the meeting of NATO's Defence Ministers held in 2006, mention was still made of the "willingness" to spend "at least" 2% of the State's yearly budget. But it was only lip service. Just hollow words, as usual.
At the NATO Summit held in Wales in 2014 the Heads of State and Government raised again the issue of spending at least 2% of public budgets for defence.
As already noted, only four Western countries spend 2%, namely USA, Greece, Great Britain and Estonia. Greece, however, spends most of its military budget on salaries and pensions.
Ukraine is the only country exceeding 2% and reaching a "US-style" rate of 3.57%, while Georgia and Poland are just below the 2% level.
With specific reference to equipment, NATO's "policy line" requires at least 20% of defence budget spending. Currently we are at a much lower level.
Within the Atlantic Alliance, only 3.11 of the 28 NATO members do spend 20% on equipment. Germany, the country that in 2019 should lead the Very High Readiness Joint Task Force, invests only 14% of its defence budget in materials and equipment.
Conversely, three nations of the former Warsaw Pact spend according to the target set by NATO's policy line, namely Romania, Lithuania and Bulgaria.
Slovenia and Belgium are at the bottom of the list, with only 4-5% of spending on equipment.
Russia, however, has already increased its defence budget for  2018 by 95 trillion roubles, equivalent to 51.53 billion US dollars, while its military spending, as share of Russian GDP,is slowly decreasing, according to the plans adopted by President Putin in 2015. If the GDP increases, everything will work well.
Obviously the problem raised by President Trump is only quantitative and not qualitative.
In fact, so far NATO has carried out many peacekeeping operations – a sort of strategic refrigerator that preserves  regional tensions for  long time – or has supported the weak and fragile democracies resulting from Eastern Europe and the former Warsaw Pact.
Moreover Europeans cannot afford to arm and train the Rapid Reaction Force led by the EU – initially by France and Great Britain with 60,000 soldiers – which will be hard to put together, but always for peacekeeping and peace enforcement purposes and for humanitarian missions.
Currently Eurofor is composed of forces from France, Italy, Spain and Portugal. According to plans, there are  60,000 soldiers available, but readiness is to be verified.
So far it has carried out operations in Albania, Macedonia, Chad and the Central African Republic.
Eurofor has also an intelligence service provided only by the United States.
The EU battlegroups, military units that each EU country provides, are financed only with ATHENA funds – a pool of funds already allocated by European countries. Will they be enough?
What happens, however, if – with specific reference to the use and deployment of Eurofor and EU battlegroups – there are differences between EU countries on foreign policy?
Furthermore, President Trump's request to European countries for more defence investment actually means only one thing.
According to the United States, currently European countries are too heavy a burden to bear. The EU -initially supported by the United States during the Cold War – has become a troublesome economic competitor and, with its Euro, a dangerous rival for the dollar.
If the United States reaches a sort of "cold peace" with  Putin's Russia – which wants to rebalance power in  peripheral regions, but also in Europe – the EU will have no longer meaning for the USA.
Indeed, the European Union could become a competitor or even an enemy.
It would be possibly better to share it out with Russia and put an end to NATO as a collective security organization.
President Trump thinks that, if they wish so, Europeans can continue their wars of the buttons in the Balkans or in countries that apparently need the cosmetic exercise called peacekeeping.
In the future, however, without the NATO umbrella mostly paid by the United States.
If the agreement with the Russian Federation goes on, President Trump will claim for the United States not just a part of the EU, but a political stake in all EU countries, i.e. by buying a traditionally Atlantic political region which is currently vaguely and vocally pro-European.
President Putin will take possession and control of the so-called "anti-establishment" or "nationalist" parties, which will undermine the EU mechanisms. The United States will enjoy the spoils, without having to bear any longer the huge cost for NATO defence to the benefit of economic competitors, as well as for very harsh European tariffs and duties, and finally for the Euro.
SIPRI Annual Report: Flawed Analysis of Pakistan's Nuclear Forces
Since its inception Pakistan's nuclear program became a victim of nuclear apartheid, even though the acquisition of nuclear technology for not only peaceful purposes but for security purposes is the inalienable right of states.It's worth mentioning that Pakistan in its attempt to acquire mastery in nuclear fuel cycle never violated any bilateral or international agreement/treaty, unlike its regional nuclear counterpart, India.  Even then Pakistan's nuclear program has always been termed as stereotyped, as 'Islamic Bomb' or 'fastest growing nuclear weapons program'.
Recently Stockholm International Peace Research Institute (SIPRI) launched its annual year book with estimates of world nuclear forces. By staying true to its years old traditions, SIPRI this time again added 10 more weapons to the nuclear weapon stockpiles of Pakistan. If SIPRI estimates of the past few years regarding Pakistan's nuclear weapons are analysed with a little bit of sanity, one crystal clear fact is that every year 10 weapons are added into the nuclear weapon stockpiles of Pakistan. In year 2010, it was estimated that Pakistan has approx. 90 weapons, then in 2011 the figure was 100 nuclear weapons, in 2012 figured hick to the 110 nuclear weapons, in 2013 estimates showed 120 weapons in possession of Pakistan. From 2013 onwards nuclear weapons estimates remained static till the year 2017.
Now, according to the most recent estimates of SIPRI Pakistan have almost 140-150 nuclear weapons in its inventory. On the basis of such estimates, Pakistan is categorized as the fastest growing nuclear arsenal in the world. Hence, it is important to analyze the statistics on the basis of which these facts by SIPRI and similar institutes are made.
There is no denying the fact that to maintain deterrence against growing Indian conventional asymmetry and military modernization, Pakistan is relying on nuclear weapons. However, the estimates made by the SIPRI and Bulletin of Atomic Scientists are nothing but speculations and assumptions because neither India nor Pakistan has ever declared publicly that how many nuclear warheads are there in their respective inventories. Moreover, it is also not known that how much fissile material both countries have and without knowing the actual amount, it is just the castle in the air, which these organizations are building regarding the actual number of nuclear weapons in possession of Pakistan and India.
It is pertinent to mention India's case because according to estimates of 2016 it possesses around 600-800 kg of weapon grade plutonium and 4.0 tons of HEU. On the other hand, in the same estimates it is stated that Pakistan has approx. 210-280 kg of weapon grade plutonium and 3.0 tons of HEU. These statistics are not given by the respective governments, but it clearly shows that India possesses more fissile material than Pakistan, resultantly it has the capacity to produce more weapons than Pakistan. But, reports by the SIPRI always show Pakistan with more weapons than India.
Another significant factor which these reputable international organizations miss is that nuclear reactors do not work on their 100% capacity around the whole year.  Thus, estimates may vary from actual statistics.
Moreover, how much fissile material is used in one weapon can also vary from one state to another state and also in the sophistication of weapon designs. Thus, how much fissile material is being used in a warhead change the estimated arsenal size of a country. Another big flaw in these estimates is on the potential use of HEU by both countries. In India's case it is assumed that all the reserves of HEU will be used in naval reactors even though the reserves are much more than requirement of naval nuclear reactors. On the other hand, in Pakistan's case speculative estimates of HEU are all considered for weaponization and future needs for naval nuclear reactors/propulsion is ignored completely.
Thus, these false estimates lead to biased conclusions and damage a state interest in the international arena. Moreover, due to the serious shortcomings in the existing calculations/estimates, no one can actually predict the actual number of nuclear weapons or fissile material that Pakistan possesses. So, declaring a county 'fastest growing' in making nuclear weapons is nothing but a propaganda that is damaging strategic stability in South Asia.
Agni-V Canister Launch: Facts and Implications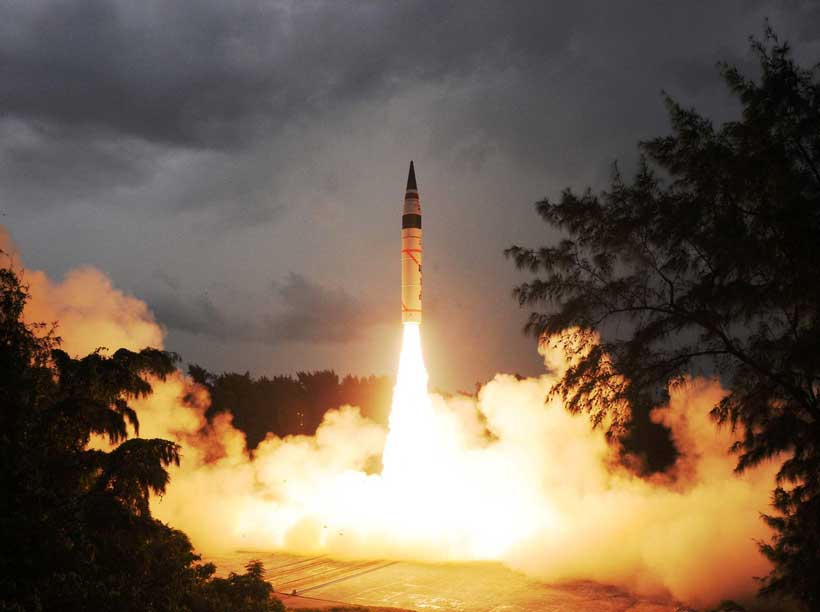 Three main nuclear players of Asia: China, India and Pakistan have established "triangular" dilemma due to their security concerns. This is manifested through the development of advanced  conventional and nuclear weapon forces.  China is pursuing military modernization program to counter US in Asia-Pacific region, whereas India's development of sophisticated strategic forces is aimed towards China and Pakistan.  India's acquisition and development of such deterrent of conventional and nuclear forces is a matter of concern for Pakistan and Chinese security planners. In response, it is inevitable for Pakistan to take measures for its security and safety.
Such dynamics has established multifaceted security trilemma between three Asian nuclear weapon states due to which induction and introduction of any technology in conventional and strategic forces of one state is matter of security concern for other state. This is expressed through the India's offensive policies and strategies in pursuit of global power projection, and such dynamics has ability to disturb the deterrence equilibrium and strategic stability of the region. In this regard, recent launch test of Agni V demonstrates that India aims to establish credible strategic forces against China, which would not justify its claim of remaining "minimum' against Pakistan.
Trends in India's missile testing and acquisition in nuclear technologies demonstrates that India is largely supported in its quest of strategic forces modernization by the states including United States, France, Russia and other European states.  In SIPRI report of 2018, India is ranked as largest arms importer of the world and its technological transfer and foreign acquisitions are running in parallel with its motivation to increase the range, payload, reliability and accuracy of missiles, ICBMs, MIRVs, SLBMs and development of space program.
The United States is supporting the India's military developments for its own strategic, economic, political and military goals in strategic landscape of Asia. Since US is supporting the India as a Great power in South Asia, the India has been attempting to prove its conventional and nuclear credentials. Therefore, such aspirations demand from India to obtain more resilient and disastrous military muscles. Therefore India's missile inventory especially canister launch of Indian ICBM Agni-V has played key role in soothing the India's self-image of a regional power and strategic objective of US.  Moreover, its operational launch has ability to increase security dilemma in South Asia as well as in the whole region as its range makes its capable to hit neighboring states Pakistan, China, and whole continent of Asia: and also parts of other continents such as Europe and Africa.
On January 18, 2018 first "Pre-induction" successful test of Agni-V was conducted.  Agni V is three stages, solid fueled, intercontinental ballistic missile (ICBM). The range of the Agni V is 5,500-5,800 KM, it is capable to carry warhead of 1,500 Kg.  Later in June 2018, canister-launch test of Agni V was carried out.  The canister-launch version of the missile enables the quick transport of the missile and provides the capability to launch it anywhere. Canister launch of the Agni-V will lower the nuclear threshold in the region and increase the crisis instability. Consequently, according to the report, India is working to incorporate MIRVs technology with Agni V for its credible second-strike capability.
The objective of first three nuclear missiles (Agni-I, Agni II, Agni III) was to counter Pakistan, whereas the other missiles of the series (Agni-IV, Agni-V) are capable to hit the China due to the longer ranges. The successful canister launch test of Agni V demonstrates that the soon nuclear capable missile will be inducted into Indian Strategic nuclear command. The Canister-launch of the Agni-V will reduce the launch time and pairing it with MIRV technology will have destabilizing effect on the deterrence and strategic balance of Asia. The induction and introduction of operation ready Agni-V will have serious repercussions for geostrategic landscape of region.
India's latest developments and missile proliferation indicates the India's shift to acquire more offensive capabilities. Presently, India's focus to increase the range of its missiles and shift from liquid to solid fueled missiles to enhance the level of readiness  and tri-service operation of nuclear-tipped missile. These developments are providing pre-emptive capabilities to the India that is inconsistent with the India's nuclear posture of "Credible Minimum Deterrence".  India's offensive conventional and missile capabilities deterrence stability negatively influence the security architecture of region. Therefore, canister launch of Agni-V; marked by advance range, accuracy, payload and higher level of readiness has not only increased the security dilemma and instability in the region but it is also threatening its' neighboring states with its military buildup.