Stronger Sanctions Won't Solve the Venezuelan Problem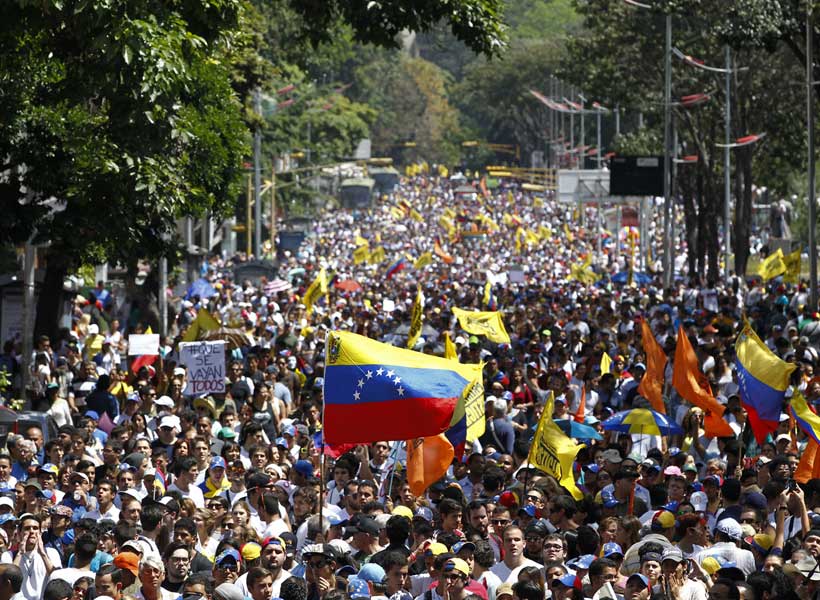 The outcome of recent elections on May 20th has triggered renewed sanctions against the Venezuelan regime. After banning 'Petro,' Venezuela's government-issued cryptocurrency, and financially limiting 62 individuals and 15 Venezuelan businesses in the US, the Trump administration issued a new Executive Order. This new measure prohibits all transactions by a US person or within the US regarding the purchase of any debt owed to the Venezuelan Government. The sanction includes the prohibition to buy any government-owned assets such as state bonds and state-owned company stocks like those of the oil company Petroleos de Venezuela S.A (PDVSA). For a country where oil revenues account for about 95 percent of export earnings, this measure is a strong hit to its economy.
In the past years, sanctions have been reinforced by US allies such as Canada, the EU, Switzerland,and Panama, by targeting personal finances and international travel capability of elite public servants, politicians (including Maduro), and members of the military. The ban on the sale of weapons and technological equipment to the Venezuelan Army has also been used as a means to provoke military uprisings against Maduro's government and to stop civilian casualties, which reached 125 over protests last year. The strategy is to weaken the political elite behind the socio-economic and regional catastrophe that Venezuela has become, avoiding the direct impact on Venezuela's population at large.
The Ineffectiveness of Sanctions
After several studies and examples throughout recent history, sanctions have proven fruitless and more detrimental to the local population regarding Human Rights violations and access to basic goods and services. The few cases where sanctions have been more or less successful are the cases where a negotiation with the, so called, rogue regime is established, in which an offer is made in exchange for the implementation of a given sanction. The Iranian case and the nuclear program is one example. On the other hand, Iraq and the starvation of its population in the 1990's, is a clear example of a failed sanction-based policy designed by the White House.
Since 2014 over 1.5 million Venezuelans have mass migrated into neighboring countries such as Peru, Chile, Colombia, Brazil and Ecuador, including the US, Italy,and Spain as their main destinations. Trump's administration issued a travel ban for Venezuelan citizens in 2017, avoiding mass migration from that country into the US. Severe border controls in the main Latin American destinations are being carried out. Furthermore, The inflation rate in Venezuela stands at 13,379 percent as per April 2018, making it the worst case in the globe. The number of acute malnutrition cases in the country has doubled between 2015 and 2017 mainly due to severe shortages in food supplies and low purchasing power of the currency.
The imposed sanctions have only worsened the situation for the civilian population in Venezuela. Despite targeting only the political elite and the military, sanctions have caused to isolate the country financially in the international system due to a corrupt and tight relationship between the political elite and the state's assets. Having partial access to the most important financial markets leaves the government impaired when strategizing on the best way forward, affecting the population's livelihoods and security. Oil production is directly impacted by ever-tighter sanctions, leaving one of the world's biggest oil producers out of the big player's list in the international market. Some of Venezuela's Middle Eastern counterparts will have to step in to cover for its reduced oil production. In that regard, the US holds a lever by being the primary consumer for Venezuelan oil, which at the same time results in a threatening situation for the US fuel market. Rising gasoline prices would be further affected in the US if the sanction that blocks oil imports from Venezuela is finally issued.
As Francisco Rodriguez stresses, foreign policymakers behind sanctions against Venezuela are ill-informed. Maduro's regime is considered to be authoritarian but is not a dictatorship quite yet. The regime has an electoral stronghold of 25 percent, making it enough to somewhat legitimize the regime within the country, despite the hardships it has put Venezuelan's through. Sanctions are a tool of foreign policy, not a policy in itself, which makes it necessary to have and know the policy being pursued by any sanction. After the 180-degree change in foreign policy in the White House, shifting from strategic patience to a pressure-based foreign policy, the State Department should deeper analyze the Venezuelan case in order to pursue effective and less threatening policies for the region and for the US itself. Paradoxes like the unfriendly migration policy imposed on Venezuelan citizens contrasted with sanctions against the country are a clear sign that there is a lack of in-depth analysis coming from the State Department. There should be a basic understanding that sanctions will cause more economic instability, thus migration towards economically more stable countries like the US. Migration policies should take the basic results of sanctions into account and foresee an elevated number in asylum applications and an increase in economic immigrants. Legal, analytic and policy skills should be combined with the diplomatic skills of an administration, in order to come up with foreign policy and to determine how much political capital to spend on sanctions. Sanctions cannot make a much better Venezuela, but they are best aimed towards pushing a regime to the negotiating table. In the Venezuelan case, an offer to sit at that table is lacking.
The 'Reverse Nixon' and New Nero: Where to Focus After the Trump-Putin Summit
It would be too easy to simply jump on all of the stereotypical bandwagoning going on across most of the world's media (especially the American) coming out of the Trump-Putin summit that took place this week briefly in Helsinki. It was most certainly NOT a bravura performance by the American president, but honestly that really is low-hanging fruit to focus any commentary on. Instead, let us consider some more subtle but nevertheless crucially important takeaways as we move on from Helsinki and are still left to consider what's next for the incredibly poor Russian-American relationship.
1.Trump has unfortunately become the 'reverse Nixon'
While most millennials may not recall or understand the importance of this historical reference, it bears repeating: Nixon, as Vice-President to Eisenhower, was an adamant opponent of establishing relations with China. Flash forward 15 years or so to his own presidency and suddenly Nixon himself was going over to China and opening up a new world of diplomatic contact and relations. "Only Nixon could go to China" was the refrain, meaning it was exactly because of his historical animosity toward the country that the American people would trust him making new maneuvers toward China. With Trump, alas, it is the exact reverse: even if he had an important policy innovation or sound diplomatic strategy for creating new relations with Russia, it wouldn't matter. If only Nixon could go to China, then today literally ANYONE can go to Russia except Trump.
2.The 'Putin smirk' lives!!!!
Putin has a long-established and well-deserved reputation for teasing and even somewhat bullying/lecturing Western media, especially when American/British journalists think they have damning information or uncomfortable questions for him. There are few world leaders today who relish the opportunity to go toe-to-toe with foreign journalists as much as Putin. This is simply unquestionable fact. He also loves having the upper hand or at least giving the impression that he does on the world stage. Make no mistake: while he has steadfastly denied any direct Russian meddling in the American elections of 2016, he has absolutely LOVED every single minute of hand-wringing and treason-talking that has taken place in America because of the possibility. The Helsinki Summit proved this beyond measure. It is quite possible this was one of the quietest summit performances ever given by Putin. The reason for it was embarrassingly simple: all he really needed to do was sit there and look bemused 80% of the time while Trump mangled his own native English language trying to do verbal acrobatics around awkward questions about election interference. If Putin is famous for his 'I know something you don't know' smirk, then the Helsinki Summit gave us all one of the most permanent exhibitions of said trademark in recent memory.
3.The regression of President Trump's relationship with his own Intelligence Community will continue
Trump's uncomfortable declaration that Putin gave him a very strong and powerful denial of election meddling (and therefore that should be good enough for all present to believe) had one very significant but little identified post-summit domestic consequence: it was yet another example of the Commander-in-Chief basically throwing his own Intelligence Community and the analysis of all 17 of its member agencies under the bus in favor of a foreign leader's opinion who had every reason to not tell the truth. Trump's relationship with the IC has been complicated even before his presidency began but has only become more antagonistic and unfriendly in his first year in the Oval Office. The Helsinki Summit did nothing to repair that relationship or even give anyone reason to search for a kernel of hope that a new more positive foundation could be established. If the IC in general felt the President of the United States was not in its corner before the summit, then it had no doubt of that impression walking away from it.
4.The summit only deepened Trump's political Catch-22
Most media and pundit circles in America are flabbergasted by Trump's refusal to believe the obvious when it concerns an attempt by Russian intelligence to hack/influence the 2016 election. But for Trump it is not so simple as admitting to the obvious: he clearly has made his own mental connection whereby admitting that Russia meddled leads to a semi-confession that he may not have legitimately won the election. Many Americans, if not most, on the liberal side also want to believe in this connection. Unfortunately, that connection is most likely NOT true. It is entirely plausible (even likely) that Russia to some degree attempted to meddle in the election AND Trump legitimately won the electoral college that gave him the presidency. Current American media seem to be treating the two as if they cannot be mutually exclusive when in all likelihood they are just that: Russia meddled; Trump won the electoral college. If we could get into a time machine, go back in time, and zap Russia with a special 'removal of meddling' laser beam it would not mean we would be analyzing the foreign policy of President Hillary Clinton today. It would most likely still be President Trump's foreign policy. But Trump, despite his constant lamentations of so-called fake news and trying to make all mainstream media appear like sycophants of the Democratic Party, has clearly given in to the overall media impression that the admission of one sin (Russian meddling) results in the confession of another (he did not legitimately win the presidency). Consequently, stuck in this Catch-22, he continues to side with the ridiculous statement of 'not having enough facts' to know what really happened and it seems like it should be ok for him to just believe Putin at his word.
5.Is Putin the new Nero?
Remember the old adage, "Nero fiddled while Rome burned?" After the Helsinki Summit it seems at least plausible to ask if Putin is the new Nero, fiddling away happily oblivious while the American media burns. If the original point of Russian election meddling was not to actually sway the results of the election (no one in the Russian Intelligence Community really believes they could engineer that much power over the American electorate) but to just cause general chaos, havoc, and discontent within American society, then it is hard to imagine a more successful disinformation intelligence campaign than this one. American media is in a tizzy and the louder the cacophony of discontent rings after the Helsinki Summit, the crazier social media becomes in the never-ending battle between liberals and conservatives over what to do about it. Facebook alone has blown up since the Helsinki meeting with memes about treason, only to be countered by photographs of prominent Democratic congressmen/women smiling and laughing happily in the past during their own meetings with Putin. The discord and disconnect only grows. The anger and counter-anger only gets more intense and indignant. And all the while, in a lush suite of opulence deep inside the Kremlin, Vladimir Vladimirovich sits at his desk, smirking, fiddle in hand.
Shooting the Messenger: Corruption and Peace
It is the most natural of behaviors for the guilty to lay the blame elsewhere and to make the most noise.  The Democratic Party leadership did the meddling — not the Russians — when it conspired with Hillary Clinton to deny Bernie Sanders the Democratic nomination.  Thus Hillary was an illegitimate candidate to begin with.
Then there was the question of emails.  Hillary refused to use the secure State Department server preferring a personal one.  Why?  Because she would then be selective in the emails that became public record.  And an accurate historic picture of her tenure as Secretary of State is debatable if 33,000 emails were not surrendered.  She said these were personal and not work related but the FBI later recovered about 17,000 and many of these were work related  (para 7 from end of ABC report).
How did the Clintons become so rich?  First, if you give commercial banks a license to gamble with depositors' money, they ought to be grateful.  Speaking fees are one answer, and heaven knows what else.  That gambling can also lead to ruin proved true.  Bankrupted, the banks sought help, and were rescued through the public purse.  Turning losses public while bonuses and profits remained private emerged as a new capitalism for the very rich.  The banks crooked schemes included certain risky mortgage-backed securities sold as safe that caused huge state pension funds losses, destroying state finances in some cases.  People in those states are still suffering.  Any surprise then if Donald Trump's pejorative "crooked Hillary" resonates to this day.
Second, during Hillary Clinton's tenure as Secretary of State, there was talk of her either using the position, or of the position itself leading to favor seekers donating to the Clinton Foundation.  During the 2016 election campaign, Trump said Hillary Clinton received tens of millions by countries that 'treat women horribly … and countries that kill gays'.  Politifact says the claim is half-true.  He also asked that she return the $25 million Saudi Arabia gave to the foundation.
The Democrats continue to blame the Russians for the election loss despite their own meddling — nothing like shooting the messenger — and other issues like emails erupting just before the election.  Hence the uproar over the Helsinki summit.  Add the Ukraine and Crimea issue and assorted lobbies, and soon Republicans joined in.  But anger and hysteria are their own catharsis, and after Trump had been accused of treason and called a traitor, there was little else except to cool off.
When Trump placed the blame for poor relations with  Russia on 'many years of US foolishness and stupidity,' he was being mild.  Others might have said worse.  Look at the record.  Years of recruiting Eastern bloc countries into NATO after promising not to; after all, Russia accepted peace and disbanded the Warsaw Pact.  Then the blatant interference in Ukraine, toppling an elected government and dismembering the country leaving a trail of blood.
The fact is, one either supports peace or one does not.  In the US unfortunately, there are plenty of supporters for war.  Otherwise, why would we get Libya, Somalia, Yemen, Iraq, Syria, Afghanistan (17 years and continuing), etc., etc., etc.  And the Nobel Peace Laureate Barack Obama delivering the 2018 Nelson Mandela Annual Lecture.  A supreme irony because the old man himself refused to meet Obama after what he had done to his friend Gaddafi.  One has to be reminded, Gaddafi provide financial support to the ANC independence movement when no one else cared or dared.  At the time in the West, Mandela was a terrorist.  Gaddafi also helped the IRA.  And what do we have in Libya now?  A descent from a secular country supporting women's rights and leading Africa in the Human Development Index to a disaster spawning fundamentalist extremists as far south as Nigeria.  How soon the world forgets?
One may criticize Trump for much of his agenda — and I do often enough — but he has kept us mostly out of war.  With Hillary the Hawk, we would have been mired in Syria up to our necks, in serious danger of a major conflagration with Russia.
Let's support peace irrespective of who nurtures that gentle dove.
Flip-Flops and Foreign Policy: How American Tourist Behavior Hinders U.S. National Security
Dear American tourist,
When you are in great European cathedrals, palaces, and important historical sites, would it be possible for you to leave your flip-flops at home? Your shorts and T-shirts could stay as well. If you can afford to bring you and your family to a European palace, I am assuming you could also afford close-toed shoes and proper pants. I do not expect you to be fluent in German, or French. However, it is not too much to ask for you learn how to say 'please' and 'thank you' in the native language. You are not at home: please reflect that you are in a different country, attempt to assimilate, and show a modicum of respect for where you are – it is in your national interest to do so.
Recently, in Vienna, Austria – one of the global centers of high culture, music, and art – I dined at the famous Belvedere Palace's bistro. During the middle of my meal, a family sat down at the table next to me, with the telltale signs of coming from the United States. All four were wearing flip-flops, they spoke two decibels higher than anyone else at the restaurant, and all were wearing shorts and a T-shirt. Not used to Viennese cuisine, at one point the mother exclaimed loudly, "I believe this gazpacho has turned!" I am guessing many readers have had a similar experience while traveling abroad, as this is sadly not a unique encounter with American tourists. This overall attitude can easily make locals feel annoyed and insulted. While seemingly harmless, these types of interactions can leave a lasting impression about the United States and hurt U.S. diplomacy.
It is important for tourists to realize that they do not come as individuals. Rather, they are seen as "Americans." As a former American diplomat, it is exhausting and hard to explain the unmeasurable time-consuming task public diplomacy programs spend in combating negative stereotypes of the United States[1]. Beyond showing respect for other nations in places such as Europe, these programs aim to explain to predominately Muslim nations that Americans do not hate Muslims, that our streets are not lined with gold, and that Americans value ethnic and cultural diversity. These efforts in diplomacy work to strengthen ties with would-be skeptical trade partners, and enable carrying out critical U.S. security interests. A nation must build trust to create allies. Currently, the U.S. is in an existential crisis regarding our national values. As tourists are informal representatives of our nation, they can help, or jeopardize, the complex project of American diplomacy in communicating who we are as a people.
When one is dressed properly, as I always do while traveling, one earns respect from locals. I take great pride when I am asked for directions, or locals start conversations with me in German, Swedish, or French, etc. It is a small victory when they realize that I too am an American, but present myself differently than the cafe neighbors I referenced above. It does not matter what you look like, your heritage, or ethnicity. It matters how you present yourself while traveling abroad. There is a universal quality that results in responding back positively when one feels respected. No matter the country, I work hard to give a different impression: that of an American who values local customs and mores. When American tourists show blatant disregard for the country they are visiting, at best it leads to annoyance, at worst, anger and a lasting ill-impression of whom we are as a people.
I recognize that this is a negative generalization of American tourists. Different, but similarly harmful norms can be seen from Australian, English, or German tourists, to name a few examples. Their behavior abroad can also hurt their counties' national image. Also, it is important to recognize the many tourists – from America and beyond – that come to foreign countries and assimilate beautifully. Thus, tourists are like a toupee; you only see the bad ones.
Scholars such as Jonathan Mercer demonstrate how important reputation is for international relations[2]. Mercer and others argue that countries sign trade agreements, enter into peace deals, and trust the lasting impact of an international negotiation, largely based upon a countries' reputation. While I recognize that it is not the foreign minister or secretary of state one is interacting with in a café, but rather likely a nice family from Florida, California, or North Carolina. Still, it is not necessarily high level people who carry out the lion-share of trade deals between the United States and foreign countries. It is small and large business partnerships on either side of the Atlantic. These interactions matter: they impact how, and to what extent, foreigners are willing to negotiate, trade, and make security partnerships with the United States.
While encounters like this are frustratingly common in tourist sites across Europe, many do not realize how much it hurts American public diplomacy. Diplomats spend years learning languages. Beyond language, they immerse themselves in local customs. There is a reason for this: understanding other cultures and languages importantly enables foreigners to understand us. It is a way to bridge cultures, discard stereotypes, and defeat ignorance about the fascinating and important peoples that are beyond our borders. When Americans show disregard for host nations and peoples, it makes our diplomatic efforts to build long-lasting bridges and permanent connections – whether for business, security, values, or broader international relations – monumentally more complex and difficult.
When traveling abroad, why not show locals great things about American culture? For example, our strong value of customer service, world class technology, or our ability to make connections and meet strangers openly? There is a plethora of wonderful things about American society that becomes hidden behind distracting Hawaiian shirts and flip-flops. Therefore, leaving your cut-offs at home and learning a few words of the native language is in your country's national interest. It will help foreigners you meet feel respected and valued. It is in all of our interests to communicate attitudes that inspire people to want to create partnerships with us across the Atlantic.
Danke et Merci!
[1] U.S. Department of State. Under Secretary for Public Diplomacy and Public Affairs https://www.state.gov/r/ Accessed on July 3, 2018.
[2] Mercer, Jonathan 1997.Reputation And International Politics. Cornell University Press | Cornell Studies in Security Affairs, New York.