Who are the 'Willing' in Central Europe – Axis of the 1930s coming back ?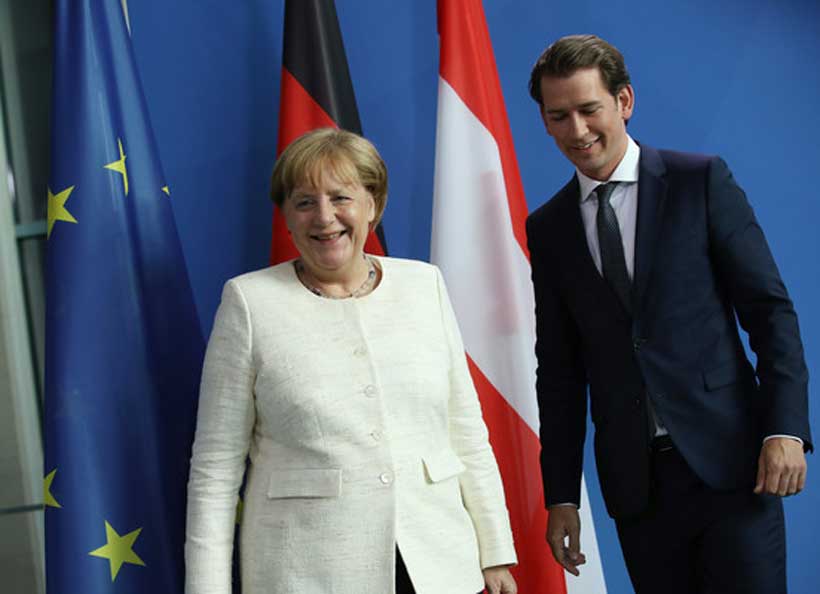 The idea of an "axis of the willing against illegal migration" between Italy, Germany and Austria has been proposed by Sebastian Kurz, Austria's right populist leader. He spoke about it with German Interior Minister Horst Seehofer, a Bavarian conservative who shares the Austrian chancellor's views on tighter border control. Kurz said fighting illegal immigration will be a top priority for Vienna's EU presidency from July 2018. Kurz and Seehofer met on the same day as Merkel's "integration summit," leading to media reports about serious political clashes between Germany's coalition parties.
"We shouldn't wait until we have a catastrophe, like in 2015," Kurz said, referring to the refugee crisis when German Chancellor Angela Merkel opened her country's borders to hundreds of thousands of migrants. "Instead it is important to act on time."
Kurz's meeting with Seehofer means the German minister was unable to attend Merkel's "integration summit" happening the same day in Berlin. Referring to media reports that this was meant as a snub to the German leader, Seehofer said his reason for not attending was the presence of a journalist, Ferda Ataman, who opposed German deep state and has compared his policies on migration to the Nazis.
"I cannot be part of an integration summit where there is one participant who in an article compared my strategy on homeland to the homeland understanding of the Nazis," Seehofer told reporters.
Seehofer takes a much harder line than Merkel on immigration and was expected to present a "migration master plan" this week. That has been postponed, but Merkel's Christian Democrats (CDU) and Seehofer's Christian Social Union (CSU) hope to find a compromise on the plan this week, Seehofer said.
"From my point of view, it would be ideal to secure the external borders of the European Union," Seehofer said after the meeting with Kurz. Dismissing voices about the brewing putch within the German ruling coalition, he continued: "I promised Chancellor Kurz that on the question of strengthening the external borders he has my full support as interior minister."
Seehofer, after talks with yet another government that of Italy, notably with a populist Interior Minister Matteo Salvini, said the new government in Rome is also keen to build a partnership with Vienna and Berlin on security, counterterrorism and migration. Seehofer and Salvini are in 'full agreement' on how to secure the EU's external borders, the German minister said.
Concluding, youngish and hawkish chancellor Kurz said: "In our opinion we need an axis of the willing in the fight against illegal migration."
This choice of words raised a few eyebrows, as a previous "Axis" between those three countries carries much darker historical undertones, as does former US President George W. Bush's "coalition of the willing" in Iraq. But the Austrian chancellor didn't seem to care.
Home troubles
An "axis of the willing" would inevitably be seen as an anti-Merkel alliance. Even further, "perhaps the end of the grand rapprochement between the Atlantic and Central Europe" – says prof. Anis H. Bajrektarevic whose long standing claim is that one EU turns into five Europes in times of crisis and externally induced stress.
Mr. Salvini, who heads the far-right League, attacked Ms. Merkel during Italy's recent election campaign and demonstrated his harsh stance on immigration by refusing to let a rescue boat with more than 600 migrants dock in the country. He stands for pretty much everything Ms. Merkel opposes: unilateral national action and a merciless approach to asylum-seekers. "The good life is over for the illegals, they're going to have to pack their bags," he said recently.
And on top of a new cross-border alliance against her, Ms. Merkel is facing enough domestic troubles as defiant conservatives are pressuring her into toughening her immigration policy by means fair and foul.
Mr. Seehofer, whose right-wing Christian Social Union is trying to woo sympathizers of the anti-immigrant Alternative for Germany (AfD) ahead of a regional election in the CSU's home state of Bavaria in October, has drafted a package of measures to curb the number of asylum-seekers coming to Germany.
They include turning away refugees at the border if they have already registered in another EU country — a step that Ms. Merkel rejected on Monday because it would amount to a reversal of her open-border policy and undermine her efforts to find a pan-European agreement on how to deal with refugees. The chancellor's veto was the spark that reignited the simmering asylum dispute with her Bavarian ally.
Über-muttisummoned
The two held late-night crisis talks on Wednesday with Markus Söder, Mr. Seehofer's successor as Bavarian premier, and with Hesse state premier Volker Bouffier, a senior figure of Ms. Merkel's Christian Democratic Union who is running for re-election in the fall.
However, the two-and-a-half-hour talks failed to deliver a breakthrough. Ms. Merkel did compromise with the CSU's plan to turn away asylum seekers at the border, but she also proposed this to be first agreed bilaterally with other European countries during the upcoming EU summit later this month, in order to avoid unilateral decisions from Berlin that could further jeopardize the EU's shaken unity. "It makes sense to wait two more weeks until the summit to find solutions jointly with partner countries," she said.
For the Bavarians, however, that offer wasn't enough. Mr. Söder said on Thursday that hoping to reach bilateral deals so soon was unrealistic. "We don't believe that in two weeks it will be possible to achieve something that has been impossible for three years," he said. The hawkish Bavarian leader added that instead, creating a fait accompli as soon as possible might force the rest of the EU to adopt a common solution at last.
Rescue plan
An unbending CSU is instead looking into ways to strong-arm Ms. Merkel's CDU into adopting its proposed immigration plan in the days ahead. The Bavarians are mulling submitting it to a vote within the CDU/CSU parliamentary group in the Bundestag on Friday, as they believe a majority of Ms. Merkel's CDU lawmakers would side with them. They were probably looking at a survey tabloid Bild published on Thursday. The country's most-read daily asked all 246 conservative lawmakers in the Bundestag whether they sided with Ms. Merkel or with the Bavarians. Of the 70 who answered, just three backed the chancellor. But that was before she made her compromise on Wednesday night.
On Thursday, CDU lawmakers abruptly interrupted a parliamentary session to hold a group meeting on Ms. Merkel's latest offer. It turns out that, after Bundestag President Schäuble, who long served as Ms. Merkel's finance minister, gave a "moving" speech on the future of Europe, the Christian Democrats overwhelmingly endorsed their leader's proposal after all.
The Bavarians are still digging in their heels, though. The CSU announced that it will make its next move known after an internal summit scheduled for Monday. Some are saying that Mr. Seehofer could disobey the chancellor, his boss, and enforce his plan. The Bavarian party could also break with its sister party, the CDU, as a last resort — but this highly unusual move in Germany's post-war history could topple the chancellor and plunge the country into a political crisis.
Or Mr. Seehofer still has his axis with Mr. Kurz and Mr. Salvini to fall back on. In the long run, the trio may indeed find a way to defeat a weakened Ms. Merkel and march the EU into unknown.
Time to Tackle the Stigma Behind Wartime Rape
The youngest capital city in Europe, Pristina, is the ultimate hybrid of old and new: Ottoman-era architecture stands amongst communist paraphernalia, while Kosovars who lived through the bloodshed of the 20th century share family dinners with a generation of young people with their sights set on EU accession.
This month, the capital's Kosovo Museum welcomed a new force for change; Colours of Our Soul, an exhibition of artwork from women who survived the sexual violence of the Yugoslav Wars, showcases the world as these women "wished it to be."
Colours of Our Soul isn't the first art installation to shine a light on the brutal sexual violence thousands of Kosovar victims suffered throughout the turmoil of the conflict which raged from 1988 to 1999. In 2015, Kosovo-born conceptual artist Alketa Xhafa-Mripa transformed a local football pitch into a giant installation, draping 5,000 dresses over washing lines to commemorate survivors of sexual violence whose voices otherwise tend to go unheard. "I started questioning the silence, how we could not hear their voices during and after the war and thought about how to portray the women in contemporary art," said Xhafa-Mripa at the time.
Victims, and their children, pressed into silence
The silence Xhafa-Mripa speaks of is the very real social stigma faced by survivors of sexual violence in the wake of brutal conflict. "I would go to communities, but everyone would say, 'Nobody was raped here – why are you talking about it?'", remarked Feride Rushiti, founder of the Kosovo Rehabilitation Centre for Torture Victims (KRCT).
Today, KRCT has more than 400 clients— barely a scratch on the surface given that rape was used in Kosovo as an "instrument of war" as recently as two decades ago. Some 20,000 women and girls are thought to have been assaulted during the bloody conflict; the fact that the artists whose work is featured in the Colours of our Soul exhibition did not sign their work or openly attend the installation's grand opening is a sign of how pervasive the stigma is which haunts Kosovar society to this day.
As acute as this stigma is for the women who were assaulted, it is far worse for the children born from rape, who have thus far been excluded from reparation measures and instead dismissed as "the enemy's children." In 2014, the Kosovar parliament passed a law recognising the victim status of survivors, entitling them to a pension of up to 220 euros per month. Their children, however, many of whom were murdered or abandoned in the face of community pressure, are barely acknowledged in Kosovar society and have become a generation of young adults who have inherited the bulk of their country's dark burden.
A global problem
It's a brutal stigma which affects children born of wartime rape all over the world. The Lai Dai Han, born to Vietnamese mothers raped by South Korean soldiers, have struggled for years to find acceptance in the face of a society that views them as dirty reminders of a war it would rather forget. The South Korean government has yet to heed any calls for formal recognition of sexual violence at the hands of Korean troops, let alone issue a public— and long-awaited— apology to the Lai Dai Han or their mothers.
In many cases, as in the case of Bangladesh's struggle for independence, the very existence of children born from rape has often been used as a brutal weapon by government forces and militants alike. Official estimates indicate that a mammoth 200,000 to 400,000 women were raped by the Pakistani military and the supporting Bihari, Bengali Razakar and al-Badr militias in the early 1970s. The children fathered, at gunpoint, by Pakistani men were intended to help eliminate Bengali nationhood.
Their surviving mothers are now known as "Birangana", or "brave female soldier," though the accolade means little in the face of a lifetime of ostracization and alienation. "I was married when the soldiers took me to their tents to rape me for several days and would drop me back home. This happened several times," one so-called Birangana explained, "So, my husband left me with my son and we just managed to exist."
No end in sight
Unfortunately, this barbaric tactic of rape and forced impregnation is one that is still being used in genocides to this day. The subjugation of the Rohingya people, for example, which culminated in a murderous crackdown last year by Myanmar's military, means an estimated 48,000 women will give birth in refugee camps this year alone. Barring a major societal shift, the children they bear will suffer ostracization similar to that seen in Kosovo, Vietnam and Bangladesh.
Initiatives like the Colours of Our Soul installation in Pristina are not only central in helping wartime rape survivors to heal, but also play a vital role in cutting through the destructive stigma for violated women and their children. Even so, if the number of women who submitted their paintings anonymously is anything to go by, true rehabilitation is a long way ahead.
EU–South Africa Summit: Strengthening the strategic partnership
At the 7th European Union–South Africa Summit held in Brussels Leaders agreed on a number of steps to reinforce bilateral and regional relations, focusing on the implementation of the EU-South Africa Strategic Partnership. This includes economic and trade cooperation and pursuing the improvement of business climate and opportunities for investment and job creation which are of mutual interest.
Leaders also discussed common global challenges, such as climate change, migration, human rights, committing to pursue close cooperation both at bilateral level and on the global stage. A number of foreign and security policy issues, including building and consolidating peace, security and democracy in the African continent and at multilateral level were also raised. Leaders finally committed to work towards a prompt resolution of trade impediments affecting smooth trade flows.
Jean-Claude Juncker, President of the European Commission and Donald Tusk, President of the European Council, represented the European Union at the Summit. South Africa was represented by its President, Cyril Ramaphosa. EU High Representative for Foreign Affairs and Security Policy/Vice-President of the European Commission, Federica Mogherini, Vice-President for Jobs, Growth, Investment and Competitiveness Jyrki Katainen and Commissioner for trade Cecilia Malmström also participated, alongside several Ministers from South Africa.
President Juncker said: "The European Union, for the South African nation, is a very important trade partner. We are convinced that as a result of today's meeting we will find a common understanding on the open trade issues. South Africa and Africa are very important partners for the European Union when it comes to climate change, when it comes to multilateralism. It is in the interest of the two parties – South Africa and the European Union – to invest more. It will be done." A Joint Summit Statement issued by the Leaders outlines amongst others commitment to:
Advance multilateralism and rules based governance
Leaders recommitted to work together to support multilateralism, democracy and the rules-based global order, in particular at the United Nations and global trade fora. South Africa's upcoming term as an elected member of the United Nations Security Council in 2019-2020 was recognised as an opportunity to enhance cooperation on peace and security. As part of their commitment to stronger global governance, Leaders stressed their support to the process of UN reform, including efforts on the comprehensive reform of the UN Security Council and the revitalisation of the work of the General Assembly. Leaders reiterated their determination to promote free, fair and inclusive trade and the rules-based multilateral trading system with the World Trade Organisation at its core and serving the interest of all its Members.
Bilateral cooperation
Leaders agreed to step up collaboration in key areas such as climate change, natural resources, science and technology, research and innovation, employment, education and training including digital skills, health, energy, macro-economic policies, human rights and peace and security. The EU and South Africa will, amongst others, explore the opportunities provided by the External Investment Plan. Linked to this, Leaders committed to exploring opportunities for investment, technical assistance including project preparation, and the improvement of business and investment climates to promote sustainable development. Leaders welcomed the conclusion and provisional implementation in 2016 of the EU-Southern African Development Community (SADC) – Economic Partnership Agreement (EPA).
Leaders also committed to find mutually acceptable solutions to impediments to trade in agriculture, agri-food and manufactured goods. They agreed to work towards a prompt resolution of these impediments.
Regional cooperation
Leaders welcomed the new Africa-Europe Alliance for Sustainable Investment and Jobs put forward by the European Commission. They exchanged views on foreign and security policy issues, addressed a number of pressing situations in the neighbourhoods of both the EU and South Africa, and welcomed each other's contribution to fostering peace and security in their respective regions. Leaders agreed to explore opportunities to enhance cooperation on peace and security, conflict prevention and mediation.
Leaders confirmed common resolve to reform the future relationship between the EU and the countries of the African, Caribbean and Pacific Group of States. To this end they are looking forward to the successful conclusion of negotiations for a post-Cotonou Partnership Agreement, that will contribute to attaining the goals of both the United Nations 2030 Agenda on Sustainable Development and the long-term vision for African continent – Agenda 2063.
Macron so far has augmented French isolation
French President Emmanuel Macron has recently criticized the unilateral pullout of the US from the Joint Comprehensive Plan of Action (JCPOA) but at the same time expressed pleasure that Washington has allowed France and the other JCPOA signatories to stay in the Iran nuclear deal.
In an exclusive interview with the CNN, Macron said that he has "a very direct relationship" with Trump. "Trump is a person who has tried to fulfill his electoral promises, as I also try to fulfill my promises, and I respect the action that Trump made in this regard. But I think we can follow things better, due to our personal relationship and talks. For instance, Trump has decided to withdraw from the Iran pact, but at the end, he showed respect for the signatories' decision to remain in the JCPOA."
There are some key points in Macron's remarks:
First, in 2017, the French were the first of the European signatories to try to change the JCPOA. They tried to force Iran to accept the following conditions: Inspection of military sites, application of the overtime limitation on nuclear activities, limiting regional activities, including missile capabilities within the framework of the JCPOA.
Macron had already made commitments to President Trump and Israel's Prime Minister Benjamin Netanyahu to push Iran to accept the additional protocols to the deal, and he pushed to make it happen before Trump left the JCPOA.
Second, after the US withdrawal from the Iran nuclear deal, although France expressed regret, they had secret negotiations with US Secretary of State Mike Pompeo over the JCPOA.
The result of the undisclosed talks was deliberate delay on the part of the European authorities in providing a final package to keep the Iran deal alive. In other words, after the US unilaterally left the JCPOA, the French have been sloppy and maybe somewhat insincere about making the practical moves to ensure it would be saved.
Third, France has emphasized the need to strengthen their multilateralism in the international system and has become one of the pieces of the puzzle that completes the strategic posture of the Trump Administration in the West Asia region.
Obviously, French double standards have irritated European politicians, many of whom have disagreed with the contradictory games of French authorities towards the US and issues of multilateralism in the international community. Also, France's isolation and its strategic leverage in the political arena has grown since the days of Sarkozy and Hollande. Some analysts thought that Macron and fresh policies would stop this trend, but it has not occurred.
First published in our partner MNA