Spoiled Latvia's image in the international arena
Latvia is actively preparing for one of the most important political event of the year. Parliamentary elections will take place in October 6, 2018. Submissions of the lists of candidates for the 13th Saeima elections will take place very soon – from July 18 to August 7, 2018. But the elections campaign as well as all political life in the country faces some problems which require additional attention from the authorities. And these problems spoil the image of Latvia as a democratic state which might respect the rights of its people.
This is a well-known fact, that the image of the state is composed of several components: it heavily depends on its foreign and domestic policy directions. The more so, internal events very often influence its foreign policy and vice versa.
Latvia considers itself a democratic state and tries to prove it by all possible means. But all attempts fail because of a serious unsolved problem – violation of human rights in Latvia.
It is not a secret that about one third of Latvians are ethnic Russians. Their right to speak and be educated in their native language is constantly violated. This problem is in the centre of attention of such international organizations as OSCE and EU. This fact makes Latvian authorities, which conducts anti Russia's policy, extremely nervous.
Thus, the Latvian parliament recently passed in the final reading amendments to the Education Law and the Law on General Education under which schools of ethnic minorities will have to start gradual transition to Latvian-only secondary education in the 2019/2020 academic year. It is planned that, starting from 2021/2022 school year, all general education subjects in high school (grades 10-12) will be taught only in the Latvian language, while children of ethnic minorities will continue learning their native language, literature and subjects related to culture and history in the respective minority language. This caused
Hundreds joined a march in the centre of Riga in June to support Russian-language schools in Latvia. The event was held under the slogan: "For Russian schools, for the right to learn in native language," as the government wants to switch the language of the education system to Latvian.
The European Parliament deputies called for support of Russian education in Latvia. 115 people have signed the joint declaration that will be forwarded to the Latvian Sejm and government. The declaration is signed by representatives of 28 EU countries, and almost all parliamentary factions. Every 7th deputy supported the necessity of the Russian school education in Latvia. The document authors marked that this is unprecedented expression of solidarity towards the national minorities, especially Russian residents of the EU. Authors of the letter sharply criticize the education reform that takes away from children of national minorities the right to study in their native language.
On the other hand the parliament contradicts itself by rejecting a bill allowing election campaigning only in Latvian.
The matter is in parliamentary election will take part not only Latvians, speaking Lantvian, but Latvians, who speak Russian. Their voices are of great importance either. The authorities had to recognize this and tempered justice with mercy.
After years of oppressing Russian speaking population and violating their rights Saeima committee this month rejected a bill allowing election campaigning only in Latvian.
It turned out that politicians need ethnic Russians to achieve their political goals. They suddenly remembered that Campaigning Law should not promote discrimination because publicly active people should not have problems using the state language.
"Wise" deputies understand that Russian speaking children are not going to participate in the elections while Russian speaking adults can seriously damage political plans. Only this can explain the controversy in the Parliament's decisions.
In Russia Riga's decision to transfer the schools of national minorities to the Latvian language of teaching considers as unacceptable and could cause introduction of special economic measures against Latvia as well as condemnation by the international community.
So, Latvia's on-going war against its residents also could become a reason for deterioration in attitudes not only with Russia but with EU and OSCE that will have unpleasant economic and political and even security consequences for Latvia. It is absolutely clear that making unfriendly steps towards own citizens and neighboring states, Latvia can not expect a normal attitude in return.
Strategic Black Sea falls by the wayside in impeachment controversy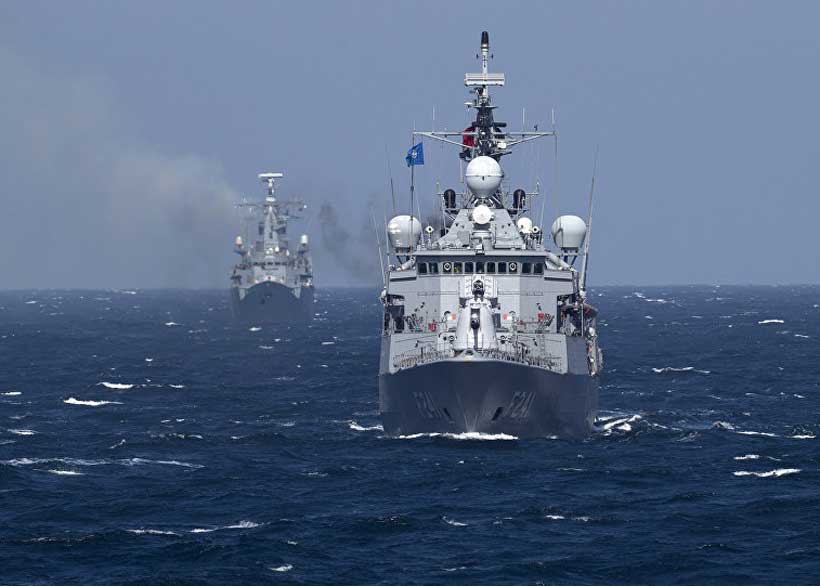 Presidents Donald J. Trump and Recep Tayyip Erdogan had a plateful of thorny issues on their agenda when they met in the White House this week.
None of the issues, including Turkey's recent invasion of northern Syria, its acquisition of a Russian anti-missile system and its close ties to Russia and Iran, appear to have been resolved during the meeting between the two men in which five Republican senators critical of Turkey participated.
The failure to narrow differences didn't stop Mr. Trump from declaring that "we've been friends for a long time, almost from day-one. We understand each other's country. We understand where we are coming from."
Mr. Trump's display of empathy for an illiberal leader was however not the only tell-tale sign of the president's instincts. So was what was not on the two men's agenda: security in the Black Sea that lies at the crossroads of Russia, Eastern Europe, the Caucasus and NATO member Turkey.
The Black Sea is a flashpoint in multiple disputes involving Russia and its civilizationalist definition of a Russian world that stretches far beyond the country's internationally recognized borders and justifies its interventions in Black Sea littoral states like Ukraine and Georgia.
The significance of the absence of the Black Sea on the White House agenda is magnified by the disclosure days earlier that Mr. Trump had initially cancelled a US freedom of navigation naval mission in the Black Sea after CNN had portrayed it as American pushback in the region.
The disclosure came in a transcript of closed-door testimony in the US House of Representatives' impeachment inquiry of Mr. Trump's policy towards Ukraine by Christopher Anderson, a former advisor to Kurt Volker, the US special representative to Ukraine until he resigned in September.
Mr. Anderson testified that Mr. Trump phoned his then national security advisor, John Bolton, at home to complain about the CNN story. He said the story prompted the president to cancel the routine operation of which Turkey had already been notified.
The cancellation occurred at a moment that reports were circulating in the State Department about an effort to review US assistance to Ukraine.
"We met with Ambassador Bolton and discussed this, and he made it clear that the president had called him to complain about that news report… I can't speculate as to why…but that…operation was cancelled, but then we were able to get a second one for later in February. And we had an Arleigh-class destroyer arrive in Odessa on the fifth anniversary of the Crimea invasion," Mr. Anderson said.
The operation was cancelled weeks after the Russian coast guard fired on Ukrainian vessels transiting the Strait of Kerch that connects the Black Sea to the Sea of Azov and separates Russian-annexed Crimea from Russian mainland. 'This was a dramatic escalation," Mr. Anderson said.
Mr. Trump at the time put a temporary hold on a condemnatory statement similar to ones that had been issued by America's European allies. Ultimately, statements were issued by US Secretary of State Mike Pompeo and the United Nations ambassador Nikki Haley but not by the White House.
The Black Sea's absence in Mr. Trump's talks with the Turkish leader coupled with the initial cancellation of the freedom of navigation operation, the initially meek US response to the Strait of Kerch incident, and the fallout of the impeachment inquiry do little to inspire confidence in US policy in key Black Sea countries that include not only Turkey, Ukraine and Georgia, a strategic gateway to Central Asia, but also NATO members Bulgaria and Romania.
In Georgia, protesters gathered this week outside of parliament after lawmakers failed to pass a constitutional amendment that would have introduced a proportional election system in advance of elections scheduled for next year.
The amendment was one demand of protesters that have taken to the streets in Georgia since June in demonstrations that at times included anti-Russian slogans.
Russia and Georgia fought a brief war in 2008 and Russia has since recognized the self-declared independence of two Georgian regions, Abkhazia and South Ossetia.
Some 1500 US troops participated in June in annual joint exercises with the Georgian military that were originally initiated to prepare Georgian units for service in Afghanistan and Iraq.
The absence of the Black Sea in Mr. Trump's talks with Mr. Erdogan raises the spectre that the region could become a victim of the partisan divide in Washington and/or Mr. Trump's political priorities.
The Republican-dominated US Senate has yet to consider a bipartisan Georgia Support Act that was last month passed by the House of Representatives. The act would significantly strengthen US defense, economic, and cyber security ties with Georgia.
A Chinese delegation that included representatives of several Chinese-led business associations as well as mobile operator China Unicom visited the breakaway republic of Abkhazia this week to discuss the creation of a special trade zone to manufacture cell phones as well as electric cars.
The Black Sea is one region where the United States cannot afford to sow doubt. The damage, however, may already have been done.
Warned Black Sea security scholar Iulia-Sabina Joja in a recent study: "The region is (already) inhospitable for Western countries as they struggle to provide security… The primary cause of this insecurity is the Russian Federation… Today, Russia uses its enhanced Black Sea capabilities not only to destabilize the region militarily, politically, and economically, but also to move borders, acquire territory, and project power into the Mediterranean."
Ms. Joja went on to suggest that "a common threat assessment of NATO members and partners is the key to a stable Black Sea. Only by exploring common ground and working towards shared deterrence can they enhance regional security."
The Black Sea of Economic Cooperation
Since the Ukraine crisis of 2014 the security situation in the Black Sea region has significantly deteriorated. The annexation of Crimea by Russia as well as the latter's military moves around the Kerch Strait and in the Azov Sea destabilized the shaky status quo which had been in place since the end of the Cold War.
To back up the current state of affairs in the Black Sea, many an analysis as well as entire books dedicated to the Ukraine crisis mention various Russian-Turkish wars of 18th-19th centuries, underlying the notion that the Black Sea has always been a space of competition and intermittent confrontation among several powers.
Wars indeed were waged and at least two powers were always competing with each other for influence across the sea. This narrative, however, portrays the Black Sea as a sea of insecurity. In reality, though, seen from a centuries-wide perspective, wars between Russia and Turkey in the Black Sea lasted for a small fraction of time in comparison with the periods of peace in the 18th-19th centuries.
Moreover, the Black Sea, though always surrounded by rival powers, was nevertheless a space of economic exchange. Trade flourished, which contributed to close contacts between coastal states. Take, for example, the period of Greek colonization in the 8th c. BC. Colonies in what is nowadays western Georgia and in the Crimean Peninsula enabled the exchange of goods in the region. During the Roman and Byzantine periods (up to the 7th-8th cc. AD, the coastline of modern western Georgia was closely integrated with great cities in Asia Minor and Crimea.
Under the unified Georgian monarchy (late 10th-15th cc.), despite patchy information in historical sources, there was a wide range of economic activity which connected western Georgia to Byzantium, Crimea and later to the Ottoman Empire. Moreover, this period saw such a large economic interconnection that Georgian traders even visited Constantinople, Thessaloniki and from the late 13th c. onwards, were in close contact with Italian merchants who operated ships and had colonies in Crimea and in Georgian cities – Sokhumi, Poti and Batumi.
Even the period of great empires from the early 18th c. around the Black Sea cannot be considered solely as a time of continuous confrontation. In fact, the Black Sea served as a good merging point for connecting different economic systems represented by Russia and the Muslim world (namely the Ottoman Empire). By the early 20th century, just before the outbreak of World War I, there was much economic activity seeing Russia sending most of its coal and grain through the Bosporus and Dardanelles to different parts of the world. Georgia, too, was connected to the rest of the world by the early 20th century when Batumi operated as a main conduit.
Surprisingly the Soviet period too can be characterized as a period of economic cooperation. Ukraine, Georgia and Russia's ports transported oil, coal and other natural resources through the straits to the Mediterranean.
Thus, despite the wars we know in history, there have been even longer periods of much deeper economic cooperation which the countries (or empires) around the Black Sea have enjoyed over several centuries.
Back to the current deterioration of the security situation in the Black Sea, it could potentially diminish overall economic activity as the flow of foreign investment may be curbed or diverted elsewhere. In a way, the geopolitical situation in the Black Sea today is more chaotic and unpredictable than it was in the 19th century. A certain order was still in place when the Russian and Ottoman Empires fought each other, whereas in 2019 there is much unpredictability in Russian and NATO behavior. Nevertheless, it is still possible to say that economic cooperation among the countries living around the Black Sea will continue. The sea will again play a role not of a divisive, but rather a unifying character.
Lithuania strongly condemns France for drift to think of itself
Since the restoration of independence, new politicians have come to power in Lithuania. For the most part they are active and pro-democracy politicians. Most of them make their best to take Lithuania to a new level of development.
The only problem with some of them is lack of self reliance in decision making and as a consequence – dependence on other political forces from abroad. Lack of own political will leads to constant need for advice and counseling. This is especially noticeable in the military field.
Military scientific and technical potential is not developing in Lithuania.
Thus, all plans to reform national security system and national armed forces are not really national. Before each innovation Lithuanian politicians went to Washington to ask for advice or help. Almost everything about updating military equipment comes down to foreign purchases. Lithuanian military science as well as national technical developments in military sphere are not a priority any more. But Lithuania has no future as a modern society without national science especially in such important field. It will always be dependent on others' military strength without developing national resources.
Thus, on November 4 Vice Minister of National Defence Eimutis Misiūnas met with the Commanding General of the U.S. Army Security Assistance Command (USASAC) Maj Gen Jeff Drushal.
Eimutis Misiūnas did not even hide the country's complete dependence on military cooperation with the United States.
"The defence cooperation of Lithuania and the U.S. has never been as intense as it is at present, and I hope that the intensity will only grow in the future," Vice Minister of National Defence E. Misiūnas said at the meeting.
It is well-known that the United States has made significant investments into military training ranges and other infrastructure, military training, etc., in Lithuania as part of numerous security assistance programs.
Vice Minister and U.S. General also discussed two main Lithuania's procurement projects underway. 200 units of the Joint Light Tactical Vehicle (JLTV) will be bought from the U.S. Government to strengthen the Lithuanian Armed Forces' capabilities and ensure mobility. The Ministry of National Defence and the U.S. Department of Defence are planned to sign the contract as soon as this month.
The other major project is the planned acquisition of 6 units of the UH-60M Black Hawk utility helicopter from the U.S. Government. The negotiations will open in the nearest while looking to sign the Letter of Offer and Acceptance by the end of 2020. The first UH-60M helicopters would be delivered to Lithuania in later 2024.
Lithuania refuses to develop its own military resources, adopting foreign military vehicles and equipment. The question remains what Lithuania can offer the U.S. in exchange for such a scale of assistance. In fact, Lithuania can offer only manpower, but is such exchange fair?
Some European leaders also support the idea of such self reliance. French president Emmanuel Macron, for example, declared in an interview with The Economist, that "Europe stands on "the edge of a precipice", and needs to start thinking of itself strategically as a geopolitical power; otherwise we will "no longer be in control of our destiny." Lithuanian President Gitanas Nausėda in his turn has criticized French President Emmanuel Macron's statement. He probably understands that Lithuania has done nothing for being self-reliant.