Greening Vietnam's tea industry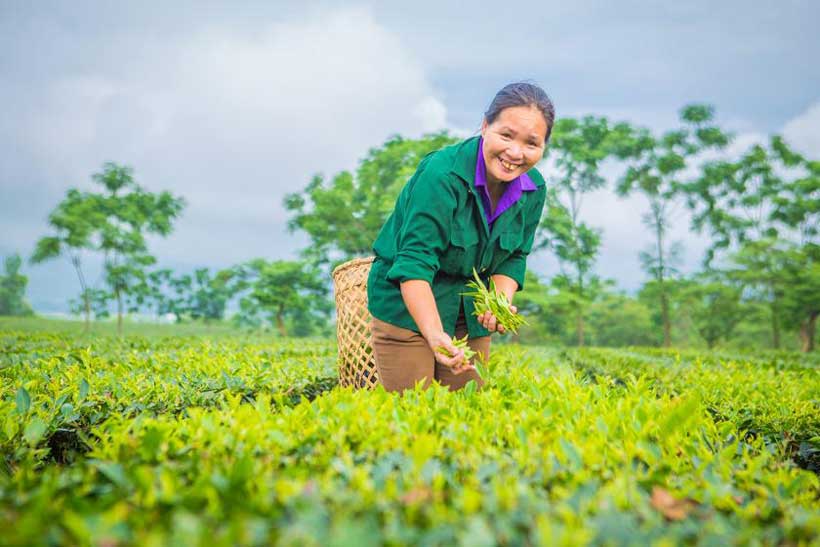 How sustainable farming is turning the tables for Vietnamese tea growers
The act of drinking tea is a key part of many of Vietnam's social rituals and interactions. As a commodity, tea is also one of the country's most important exports. But in recent years, unpredictable, heavy downpours and overuse of agrochemicals have led to poor quality crops, low yields and a decline in the reputation of Vietnamese tea within the global export market.
But now, with the help of UN Environment and partners, Vietnamese tea growers have begun to turn the situation around, resulting in an impressive adoption of sustainable farming techniques and a 30 percent increase in average income in only two years.
Thanh has been growing tea since 1983. Her two children grew up among the tea bushes. Tea has always been Thanh's primary income source and the six cyclical harvests she reaps throughout the year have become integral to the rhythms of family life. Standing amidst the perfectly straight rows of tea plants covering her two-hectare plantation, she explains the devastating effects of heavy rainfall on her smallholding in past years.
Climate change has led to increased heavy rainfall and flooding in this region of northern Vietnam; those farmers who are unlucky enough to grow on steep gradients without sufficient tree cover have had to cope with frequent landslides and severe crop damage due to soil erosion. Like most other tea farmers in her commune, Thanh's previous reliance on herbicides and pesticides meant her crops fell short of international trading standards.Her heavy chemical use was also damaging the  soil  she and her family depend on – killing off beneficial organisms along with pests, resulting in reduced organic matter and poor soil drainage capacity. These poor natural resource management techniques contributed to the widespread water contamination threatening livelihoods throughout Vietnam's Central and Northern Highlands.
The scale of this land degradation challenge and its impact on tea farmers around Asia prompted UN Environment to collaborate with The Rainforest Alliance to establish the Sustainable Tea Production Landscapes project. Since 2014, the Global Environment Facility-funded initiative has been working across five of Asia's best-known tea-producing regions – Darjeeling and Assam (India), Yunnan (China), lowland Sri Lanka and Vietnam – educating smallholder farmers and large estate tea growers on the dangers of land degradation and training them in sustainable farming and land management techniques.
While the project's environmental aims are to protect and restore soil fertility, enhance carbon sequestration and conserve the biodiversity found in tea production landscapes, it also aims to secure farmers' livelihoods by reducing their vulnerability to climate-related crop failure – an aim that is already bearing fruit.
Since she began implementing sustainable farming techniques after receiving training from the project, Thanh's family income has doubled, and the nearby tea factory is willing to pay more for her crops due to their improved quality.
"We've stopped using herbicides completely," she says, explaining how she now uses organic methods to control pests and boost the soil's nutrients. "I've learnt to apply mulch and grow hedges, so that natural ecosystems can work against pests; we also intercrop tea with legumes, which replenish and fix the nitrogen into the soil."
Thanh's enthusiasm has also made her an excellent peer educator, and she has trained around 70 other tea growers in sustainable farming techniques to date. According to Rikolto, the project's implementing partner in Vietnam, over 3,000 stakeholders from tea-producing communities, grower cooperatives and local government in Yen Bai, Lai Chau and Thai Nguyen provinces have been trained in alternatives to agrochemicals and effective soil management. Rikolto have used the Farmer Field School methodology, which focuses on learning through experience, capitalising on local knowledge and empowering growers to take ownership of land and soil issues. The curriculum also emphasises the importance of using compost and green manure, and of planting shade trees to keep temperature and moisture levels constant.
Today, Thanh's fields are a lush, rich green. But it wasn't always this way.
"Before I joined the project. The tea plants were small and red in colour due to malnutrition. Now, they look healthy because they are under the shade and getting what they need," she says with a grin. "My yield has doubled!"
Rails, Roads And Emissions
It is common knowledge that emissions affecting climate are least for rail travel in comparison with airplanes or road vehicles. Consequently the $80 billion allocated to rail in an otherwise laudable budget appears paltry.
Why is the US not investing in rail? The usual reason given is that distances are so vast that it's a no-brainer for business travellers to rely on commercial airlines. But the way the technology is advancing, and as Europeans (and the Chinese) have demonstrated, a network of high-speed rail can offer a greener alternative.
Trains are getting faster and new innovations like tilting trains lower the cost of replacement tracks. If 200 mph is being breached more often, then 250 mph should be in our sights. And Elon Musk has proposed vacuum tubes to remove wind resistance and reach even higher speeds.
Yet a 250 mph rail network with average speeds in excess of 200 mph would revolutionize the concept of travel. New York to Chicago in five hours and east to west coast overnight with the possibility of visiting neglected areas out of reach with expressways and airplanes would bring new growth and dynamism where it is needed.
A point to note is prevailing interest rates. They are so low historically that railroad bonds at a competitive interest rate would be snapped up especially if they were guaranteed by the government.
While one can agree with the aims and compassion clearly evident in the president's proposals, the process to achieve them is less clear. In particular on climate change the goal of net zero emissions within a decade is laudable. But a speedy switchover to electric vehicles raises questions: Simply, how?
The system is geared to internal combustion engines. Mechanics train for years to become proficient. Aside from that, has anyone wondered what happens to all those large electric car batteries when they have to be replaced? Since lithium used in them is a finite resource, it would have to be recovered or the 80 million tons estimated to be the world's store would eventually be depleted.
Another issue is the electricity used to charge the batteries. If it comes from a coal-fired plant, are we back to square one? Currently about a quarter of the electricity generated in the US comes from coal. Of course dealing with pollution at the source (like a coal plant) is easier.
The number of Americans living paycheck to paycheck (roughly half) is just one more reason the changeover to electric vehicles might take a while; they just don't have the funds. Add to these numbers the elderly living on fixed incomes or the ranks of the unemployed and one can understand the scale of the problem.
One can laud the US president's goals but we need to see some action (even proposals) to facilitate them.
Global Environmental Governance and Biden's Administration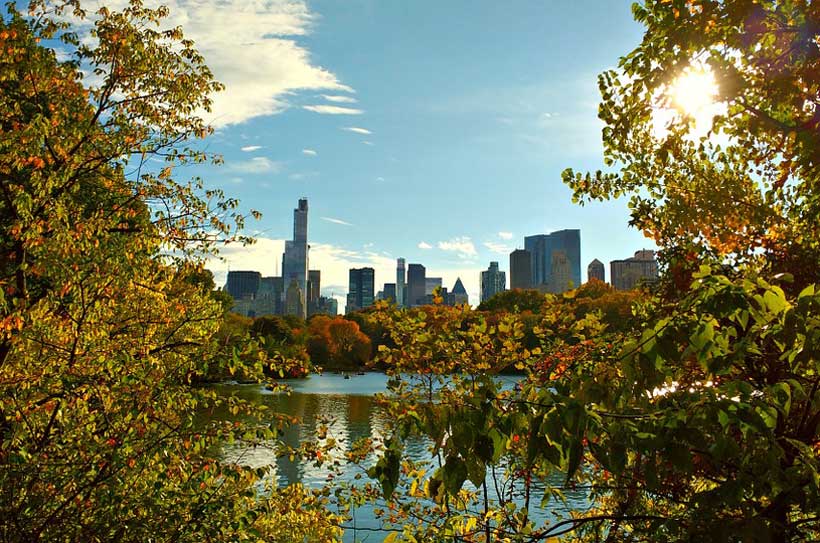 Being the largest emitter of greenhouse gas in the world, it is the responsibility of U.S to contribute expeditiously to manage the environmental issues at domestic and international level but the previous government, under the leadership of Trump, took back seat and reversed all the decisions of Ex-president Barack Obama to combat the climate change. Unlike this, New Elected President, Joe Biden, who is very enthusiastic and firm to fulfill all the promises regarding climate change which were done during the general election's campaign. Moreover, he views climate change a thwart to national security. One of the biggest achievements associated with Biden' administration regarding environmental issues is to bring U.S back into Paris Climate Accord and brought executive order'' Protecting Public Health and the Environment and Restoring science to tackle the climate crisis'' on the surface.
A flurry of changes to U.S environment policy is going to play a constructive role in global environmental governance under Biden administration. Even before elections, climate change was one of the top priorities and aimed to put the U.S on a path which leads towards '' Zero Net'' greenhouse gas emission. In the very early of His office days, He is very committed to deal with the climate change as they hosted '' Climate Day'' to introduce government climate centric approach to emphasize on the climate change. Biden administration also ordered to revoke a permanent issued for Keystone XL oil pipeline which trump issued for extraction of oil and energy which is dangerous to national ecosystem. In addition to this, they are also very active to promote US role to tackle the climate change at domestic and abroad. At domestic level, Biden's actions are speaking louder than the words as he has ascribed the climate crisis with a national emergency. At the time of his inauguration, Biden said: '' A cry for survival comes from the planet itself, a cry that can't be any more desperate or any clearer''. He also directed his cabinet to work on the policy of '' social carbon cost'' to measure the cost of actions and how costs will impact the climate change. He endeavors to control the climate change by keeping a strict eye on the big project's reviewing process before working under the National Environmental Policy Act which calculates the social costs of greenhouse gas emissions.
On international level, Biden has been striving to improve the spoil image shaped by the previous government regarding global environmental governance as he has declared to rejoin the Paris Climate accord which would help to reduce the greenhouse gas emission. In the result of this action, Biden was welcomed by the General Secretary of the United Nations and French Prime Minister Emmanuel Macron by saying '' Welcome Back to the Paris Agreement''. Moreover, Biden Administration is very determined to convene a global climate summit on the earth day to encourage leaders to align themselves with scientist to alleviate the impacts of climate change. On international forums, US need to cooperate and compel the economic trade partner to take actions to combat with climate crisis. One of the essential steps taken by the Biden administration is to manage the climate refugees which aim to make strategies to compensate the climate affected migrants.
The thin majority of democratic in the senate does not only limit the possibility for Biden to achieve climate change reforms along strong anti-climate lobbyist business group who are inimical to the reforms particularly relevant to vehicle, power plants and oil and gas drilling industries. Without new climate legislation from congress, it would be not an easy task to implement the climate agenda across the borders. The vocal resistance comes from the coal production sectors which result in burning of fossil fuels and caused of greenhouse gas emissions. Whereas, few sectors are opposing the agenda there are also companies specially electrical vehicles are exclusively offering assistance to Biden for the sustainable development. Undoubtedly, environmental organizations and scientists community applauded the Biden decisions but few business groups have also filed a lawsuit against Biden to not stop the new permit for oil and gas drilling. There are also concerned raised by the community that climate actions will delete many jobs and cause of upsurge in unemployment percentage across the federation.
It is very evident from the ambitions of Biden's action regarding climate crisis that he is very interesting to mitigate and curb the climate change but it will require highly comprehensive strategy aims to manage the reforms in laws while taking congressmen in confidence because most of them are not in favor of climate actions due to clash of interests. On the other hand, there is need to work on renewable energy resources at domestic and international level and for this US should compensate the companies to compete with the old capitalized firms which do not want safe and peaceful planet. Moreover, there is need to bring reforms in existing environmental treaties and their compliance process which should be strictly followed by the harsh actions against the violators. The process of financing the agendas which are very environment friendly and transforming the resources to the periphery states should be done swiftly to improve the environment across the globe. The aims of achieving sustainable development should be promoted and supported by the US across the world.
EU-Asian Partnerships are necessary to prevent the next pandemic
COVID-19 has demonstrated the vulnerability of global supply chains and revealed the ever-increasing ecological dangers of industrial expansion, which has amplified the risks of diseases migrating from animals to humans. This is demonstrated in a new report launched by UN Secretary-General Antonio Guterres which argues that to prevent future pandemics the world must cooperate to addresses interlinked challenges presented by biodiversity, pollution and the climate crises. The UN chief encouraged everyone to use the report to "re-evaluate and reset our relationship with nature".
This is precisely the time for countries in the European Union (EU) to re-evaluate their trade relations with producer nations in order to protect local environment and prevent deforestation.
The relationship between deforestation and public health and cannot be denied. Unfortunately, in recent years the EU's economic model has not paid sufficient attention to sustainability, trade and global forest management. So far, the EU's approach to trade has ended up alienating the most important areas of biodiversity in Asia, while emboldening some of the biggest despoilers of biodiversity and polluters in the Americas.
The Konrad Adenauer Foundation, the leading think-tank of Germany's ruling political party, has published its own report on how EU policies have unfairly targeted Asian commodities by fostering protectionist market dynamics which harm the environment.
In one case in point, the EU initiated a ban on the import of palm oil from 2030, as a means to reduce deforestation in Asia. However, scientific evidence actually indicates that sustainably cultivated palm oil is far better than other seed oil alternatives – rapeseed, coconut, soy and sunflower. Those commodities need up to ten times more land to produce the same amount of oil. Therefore, instead of halting deforestation, the ban simply transfers the effects of ecological degradation elsewhere – namely within the EU on the back of domestically produced commodities.
Meanwhile the EU continues to import beef and soy, the top two contributors to deforestation globally. In fact, beef production requires more than double the forest land than for the production of soy, palm oil, and wood products combined. Land clearing for beef and soy production in the Amazon has reached a 12 year high, leading scientists to warn of an irreversible 'tipping point' that could mean huge drought, forest death, and release of great amounts of stored carbon to the atmosphere.
As the Konrad report indicates, the move to ban palm oil while maintaining beef and soy imports is a double standard that has created a trust gap between the EU and ASEAN nations. This has inhibited collaborative efforts to combat deforestation as EU policies exclude ASEAN nations from important sustainability debates. Moreover, the EU ban does nothing to cease palm oil production. Producer nations will continue to produce without adhering to EU environmental standards and regulations. This will spell disaster, not only for the diverse wildlife found in Asia's tropical forests, but for humanity's public health – a correlation which cannot be divorced from the economy.
If the EU sought out a trade deal with ASEAN then it could integrate mandatory sustainable standards and enforce regulations to produce sustainable palm oil and limit deforestation. The EU could also work with existing schemes like the Malaysian Sustainable Palm Oil (MSPO) standard, which purportedly meets the EU's key sustainability criteria and is the standard against which almost 90% of Malaysian palm oil is now produced.
This is an example of how the EU has overlooked Asian success stories in creating adaptable blueprints through strict and proactive measures which have largely kept the virus at bay and allowed their economies to stay afloat. While Europe's economy is only expected to grow by 3.7% in 2021, ASEAN nations are predicted to rebound over 6%.
That means we could have the best of both worlds; trade that opens up two powerhouse regions to a new era of economic vitality and cooperation – underpinned by ecological conservation through an unfailing commitment to protect pristine ecosystems, exotic wildlife and precious forests.
The EU should use the lessons of the pandemic to capitalize on its environmental goals, working with producer nations to ensure they are participating in ethical markets and enforcing sustainable practices which maintain biodiversity.
If the EU can build a global coalition with Asia, which prioritises trade and sustainability, they can underpin a bold new era in the fight for thriving, Covid-free economies.
Such cooperation would empower the European Union to encourage environmental consciousness across Asian economies—by incentivising compliance with laudable environmental goals and dis-incentivising noncompliance. There would be significant economic benefits to EU consumers as well like access to efficient and affordable edible oils from rapidly growing emerging markets. While in turn the producer would have access to the EU's uniquely large market.
These are clearly more than enough reasons to compel the EU to act. Let's hope they start soon.