Modernization of nuclear weapons continues- number of peacekeepers declines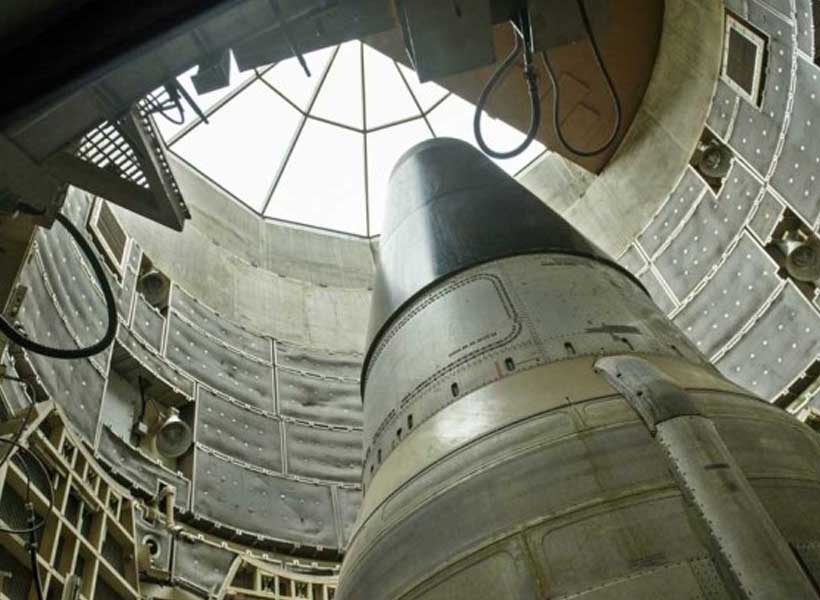 The Stockholm International Peace Research Institute (SIPRI) launched the findings of SIPRI Yearbook 2018, which assesses the current state of armaments, disarmament and international security. Key findings include the following: all the nuclear weapon-possessing states are developing new nuclear weapon systems and modernizing their existing systems; and the number of personnel deployed with peace operations worldwide continues to fall while the demand is increasing.
​​​​​​World nuclear forces: reductions remain slow as modernization continues
At the start of 2018 nine states—the United States, Russia, the United Kingdom, France, China, India, Pakistan, Israel and the Democratic People's Republic of Korea (North Korea)—possessed approximately 14 465 nuclear weapons. This marked a decrease from the approximately 14 935 nuclear weapons that SIPRI estimated these states possessed at the beginning of 2017.
The decrease in the overall number of nuclear weapons in the world is due mainly to Russia and the USA—which together still account for nearly 92 per cent of all nuclear weapons—further reducing their strategic nuclear forces pursuant to the implementation of the 2010 Treaty on Measures for the Further Reduction and Limitation of Strategic Offensive Arms (New START).
Despite making limited reductions to their nuclear forces, both Russia and the USA have long-term programmes under way to replace and modernize their nuclear warheads, missile and aircraft delivery systems, and nuclear weapon production facilities. The USA's most recent Nuclear Posture Review (NPR), published in February 2018, reaffirmed the modernization programmes and approved the development of new nuclear weapons. The NPR also emphasized expanding nuclear options to deter and, if necessary, defeat both nuclear and 'non-nuclear strategic attacks'.
'The renewed focus on the strategic importance of nuclear deterrence and capacity is a very worrying trend,' says Ambassador Jan Eliasson, Chair of the SIPRI Governing Board. 'The world needs a clear commitment from the nuclear weapon states to an effective, legally binding process towards nuclear disarmament.'
The nuclear arsenals of the other nuclear-armed states are considerably smaller, but all are either developing or deploying new nuclear weapon systems or have announced their intention to do so. India and Pakistan are both expanding their nuclear weapon stockpiles as well as developing new land-, sea- and air-based missile delivery systems. China continues to modernize its nuclear weapon delivery systems and is slowly increasing the size of its nuclear arsenal.
In 2017 North Korea continued to make technical progress in developing its nuclear weapon capabilities, including the test of—what was claimed to be—a thermonuclear weapon, in September. North Korea also demonstrated unexpected rapid progress in the testing of two new types of long-range ballistic missile delivery systems.
'Despite the clear international interest in nuclear disarmament reflected in the conclusion in 2017 of the Treaty on the Prohibition of Nuclear Weapons, the modernization programmes under way in the nuclear weapon-possessing states indicate that genuine progress towards nuclear disarmament will remain a distant goal,' says Shannon Kile, Senior Researcher with the SIPRI Disarmament, Arms Control and Non-proliferation Programme.
* 'Deployed warheads' refers to warheads placed on missiles or located on bases with operational forces. ** 'Other warheads' refers to stored or reserve warheads and retired warheads awaiting dismantlement.
Total figures include the highest estimate when a range is given. Figures for North Korea are uncertain and are not included in total figures. All estimates are approximate.
Number of peacekeepers falls globally, despite increasing demand
There were 63 multilateral peace operations active during 2017 (one more than in 2016): 25 operations were deployed in Africa, 18 in Europe, 9 in the Middle East, 6 in Asia and Oceania, and 5 in the Americas.
The total number of personnel deployed in multilateral peace operations decreased by 4.5 per cent during 2017, from 152 822 to 145 911. Nearly three-quarters of all personnel were based in Africa. The decrease in the number of personnel is explained by the fall, by 7.6 per cent, in deployments by the United Nations, whereas the number of personnel in non-UN operations increased by 2.3 per cent to 47 557.
Although the UN clearly remains the principal actor in peace operations, African actors are claiming an increasing role in African peace and security matters. This is reflected in the establishment in February 2017 of the Group of Five for the Sahel (G5 Sahel) Joint Force (Force Conjointe des Etats du G5 Sahel, FC-G5S).
UN peacekeeping reform remained high on the international agenda in 2017. However, these discussions were overshadowed by two other significant developments during the year: the greater insecurity of personnel deployed in UN peace operations; and the efforts—particularly by the US administration—to drastically reduce the UN peacekeeping budget.
In 2017, UN missions witnessed a dramatic escalation in fatalities linked to hostile acts—in both absolute terms (from 34 in 2016 to 61 in 2017) and as a ratio of the number of uniformed personnel deployed (from 0.31 to 0.61 per 1000 uniformed personnel). Whereas in preceding years most fatalities occurred in the UN mission in Mali, in 2017 the UN operations in the Central African Republic and the Democratic Republic of the Congo also faced substantial losses.
'An independent review into the security of peacekeepers released in 2017 (2017 Cruz Report), suggested that UN peacekeeping operations should adopt a more robust and less risk-averse force posture,' says Timo Smit, Researcher with the SIPRI Peace Operations and Conflict Management Programme. 'However, this raises the question, which was not addressed by the Cruz Report, as to how the UN should generate sufficient forces that are both willing and capable of adopting such a posture.'
In 2017, UN peace operations—like African peace operations—could no longer be certain of predictable and sustainable funding. The budget cuts and related troop reductions meant that the UN had to rethink its strategy in many operations. 'Is it realistic to expect the UN to continue to do more with less, and is it worth taking the risk?' says Dr Jair van der Lijn, Director of SIPRI's Peace Operations and Conflict Management Programme.
'A number of finance-contributing countries hoped that budget cuts might be used pragmatically to strengthen peacekeeping reform. However, the actual effects of resource reduction on some operations might put peacekeepers at further risk and leave populations more vulnerable,' says Van der Lijn.
Urgency of Reviewing India-Pakistan's CBMs & Risk Reduction Measures
In an unprecedented event on March 9, 2022, India launched a missile, reportedly identified as the BrahMos supersonic cruise missile, which landed in Pakistan. After crossing the international border, the missile travelled 124 kilometres at an altitude of 40,000 feet into Pakistani airspace before impacting near the city of Mian Channu, Khanewal District. Following the incident, India started issuing clarification statements only after Pakistan reported the matter. In its first statement, India noted that the missile was accidently launched owing to a technical malfunction. Later, the Indian government changed its statement and termed it a human error, involving 'possible lapses on part a Group Captain and a few others.' Around six months later, India terminated the services of three Indian Air Force (IAF) officers, after a Court of Inquiry found 'deviation from the Standard Operating Procedures (SOPs)' by the officers and held them responsible for misfiring the missile.
Pakistan has rejected the purported closure of the incident and called the findings of the Court of Inquiry unsatisfactory and inadequate. While reiterating its call for a joint probe, Pakistan not only termed Indian clarifications 'simplistic' but also criticised the country for failing to immediately inform when the missile was launched. India's failure to communicate the incident violated the 1991 agreement with Pakistan on preventing air space violations. Under the agreement, both India and Pakistan have to inform and investigate inadvertent violations of airspace promptly. Meanwhile, India also failed to activate the high-level military hotline to inform Pakistan. Both the countries maintain mechanisms of hotline contact between their Director Generals of Military Operations (DGMOs) to resolve misunderstandings.
Fortunately, the missile was unarmed and no lives were lost. Pakistan also responded towards the situation with restraint. However, the incident marks an alarmist event. Whether the incident was an accidental launch, an unauthorised launch, or a simulated exercise, it suggests not only shortcomings in India's technical and procedural system but also shows its irresponsible behaviour as a nuclear weapon state. The incident also raises numerous questions about the country's safety protocols, Command and Control (C2) of nuclear weapons and missiles, and communication mechanisms. The situation would have escalated if the accident had led to destruction or loss of lives, since there were several indications that Pakistani authorities had considered retaliation. Second, if the incident had taken place during a crisis, it could have led to inadvertent military escalation owing to miscalculations.
In this regard, there is a great urgency that both India and Pakistan collaborate on Confidence Building Measures (CBMs) to ensure that such accidents or unauthorised launches do not take place in the future. Even if they do, the two countries should be able to inform each other before any military response.
First, India and Pakistan need to review their joint 2005 Agreement on the Pre-Notification of Flight Testing of Ballistic Missiles. The agreement covers surface-to-surface ballistic missiles only, and each country provides at least three days' notice for a test launch. Both countries are obligated to not situate test launch sites within 40 kilometres of their shared border nor land a weapon closer than 70 kilometres from the border. However, the agreement has its limitations as it does not cover cruise missiles. In 2005, New Delhi declined to accept Islamabad's proposal to include launch of cruise missiles in their joint agreement on pre-notification of ballistic missile launches. Currently, Pakistan and India have multiple and diverse types cruise missiles in their arsenal with high ranges. There is an urgency of expanding the pre-notification regime to include cruise missiles, including surface, air or sea-launched versions to avoid misunderstanding. Second, in order to avoid accidents in case of routine maintenance or inspection, India should efficiently and professionally ensure safety precautions regarding its missiles.
Additionally, India and Pakistan could also consider devising new Risk Reduction Measures (RRMs). For example, missiles that are scheduled to be inspected, both countries need to configure their weapons' guidance systems to unoccupied places such as oceans or deserts where they pose minimum dangers. Moreover, the weapons' pre-fed adversary target locations need to be removed while used for inspection, training, or simulated exercises. The maintenance of actual coordinates of adversary targets could lead to unintended escalation in accidental launches. These measures would not only help avoid accidents, they could also serve as an added layer of protocol to minimise the possibility of unauthorised launch.
However, accidents happen despite best safety protocols as there are limits of safety procedures. In such a possibility, there is a need of haste to communicate accidental launches. India needs to make use of existing channels of communication to avoid miscalculations in times of crises. The BrahMos missile incident indicates that crisis could erupt quite quickly between India and Pakistan. Unless the two countries adhere to their existing CBMs and establish new measures, mitigating such incidents and preventing risk of escalation could become a Gordian knot.
Why Parties to Russia Ukraine War Prolonging it?
Russia Ukraine War seems to be entering a deadly phase after seven months, witnessing significant twist in the form of Kremlin's declaring victory in hasty referendum in four regions of occupied territory to join Russia, poising itself for complete annexation of occupied areas, having announced partial mobilization calling up 3,00,000 reservists for frontline duties. The recent successes of Ukrainian counteroffensive, as the cumulative military aid over $60 billion poured into Ukraine from US led NATO, seems to have emboldened Zelensky to talk of defeating Russia and getting back his entire territory. Angered NATO, left out of battle by nuclear threat, calling out sham referendum, is looking to table new resolution against it, knowing fully well that it will be vetoed by Russia.
Why No Party to the war is thinking of conflict termination?
This prolonged war is making everyone in the world vulnerable to inflationary pressures, triggering an unprecedented energy crisis and acute food shortages. In view of that, diplomacy and talks for conflict termination should have been the logical option long back, but no party to the war seems to be thinking about it due to own strategic interest, wanting to make more gains before getting back to negotiation table. All parties know that they can't be outright winners in this war, but all are prolonging their agony to avoid being an outright loser.
Russian Stakes
Russia is yet to achieve its strategic aim of liberating complete Donbass Region and remaining southern Ukraine to landlock it, to join up with Transnistria. It has suffered heavy casualties and reverses in many regions like Kharkiv. It has received no worthwhile military material support from anyone in the prolonged war; hence consolidating its gains, redeployment of troops in Russian friendly areas by pulling back from unfriendly ones, along with regrouping and rejig in military hierarchy is a sensible option from military perspective.
The awkward thinly veiled threat by President Putin to use nuclear weapons in Ukraine, if Russian "territorial integrity" is threatened has put NATO on notice as to how it would respond. The expected annexation post referendum complicates the nuclear threat, as attack on annexed territory may invite nuclear response as per Russian nuclear policy.
Putin may not be encouraged with meek support from China, its 'strategic partner with no limit' seemingly responding within careful limits, and comments like 'Not an era of war' from otherwise impartial India. Russia might end up with extension of direct land border with NATO by over 1000 Km in terms of Finland joining it. It also continues to suffer standoff attacks from Ukraine's recently acquired long range capabilities including drones and clandestine raids of special forces and non-state actors like blasts in Crimea.
Russia is aware of its limitations in the areas of economic, diplomatic, information warfare, and political warfare. Russia's much-criticised partial mobilisation and call for reservists is comparable to Ukraine's, which carried it out while under Martial Law, seven months ago and was praised by Western media, highlighting information war against Russia. As a result, it will be prone to hold onto its existing territorial gains and prolong the conflict into the winter, which could favor a new offensive to accomplish remaining military objectives to give itself a stronger negotiating position to have the sanctions lifted.
Ukrainian Stakes
Having accepted so much of political, strategic and military investment of NATO in his country and tasted some success in his counteroffensives, President Zelensky, posing to be fighting on behalf of US led NATO to weaken Russia, is not in a position to back out from prolonging the war.
Ukraine cannot overlook the fact that it has lost 15% of its original land since being independent, is left with over 10 million refugees, devastated towns, suffered significant casualties, and its hyped democracy is struggling under martial law and referendum. While US-led NATO's military assistance and arsenal can increase its combat power to launch standoff attacks, regaining lost ground from the Russians will be very difficult because they will use built-up areas for defending their gains in a manner similar to how Ukrainian troops did, more so under nuclear hangover.
NATO's military support to pursue war will not bring Ukraine any closer to peace; nevertheless, it may result in long-term changes to its territorial configuration, unending proxy war, and enhance long term Russian threat. President Zelensky is aware that the western narrative and information war that portrays him as a hero and clear victor is unsustainable, yet he will prolong the conflict in order to safeguard his political survival and continued aid.
NATO's Stakes
NATO may be encouraged by successes of Ukrainian counter-offensives, and its own gains in non-kinetic, non-contact, undeclared war against Russia in economic, information, diplomatic and political domains, but concerned that it can't take Putin's nuclear threat lightly, because a tactical nuclear strike from cornered Russia is within the realms of possibility, if Russia declares newly acquired territory as its integral part, post successful referendum and applies the policy of escalate to de-escalate.
The United States may benefit from sales of arms, energy, and post-conflict construction contracts in Ukraine, and it may justify recent increases in aid in order to pursue its goal of weakening Russia in order to fend off potential rivals in Europe, but its biggest strategic loss is bringing Russia, China, and Iran closer than ever before in a strategic partnership. It may be beginning of adoption of alternate global/localised financial systems, undermining its grip on current global financial system.
NATO, encouraged by soft Russian response to the bid of Finland and Sweden to join NATO, is keen to add both with strong militaries, to secure its northern flank for better collective security posture in the long run. It also makes sense in context of Sino-Russian footprints in Arctic region and North Atlantic Ocean.
NATO will continue to urge Russia to end the conflict while supporting Ukraine in its proxy war until last Ukrainian remains because holding negotiations when a sizable portion of the land is in Russian hands will be viewed as NATO's weakness. With millions of refugees mixed in with activated mercenaries and a longer border with belligerent Russia, which will reorganise itself after learning from its mistakes, the war is undoubtedly not making Europe more peaceful. It has signaled its willingness to sacrifice its energy and economic interests in order to achieve that goal. To effectively combat unfriendly Russia in the long run, the EU will need to increase its defence spending while holding some sovereign decisions hostage to the USA.
Way Ahead
Despite the narrative and rhetoric of the west, Ukraine may not recapture a sizable amount of territory, but standoff strikes, proxy war, clandestine operations, and some ground operations to cause Russian fatalities will continue in the coming days, inviting an equal or stronger Russian reaction.
In the Big powers' contestation in Ukraine, the global need is that this war should end, but the negotiations are unlikely, because Russia has not yet achieved its strategic objectives on the ground, which is essential to persuade NATO to lift sanctions. On the other side, US led NATO doesn't have any leverage to restrain Putin, so it finds weakening Russia by ongoing proxy war, without sharing any burden of body bags, as the most convenient option. This is especially true when Zelensky is prepared to take this move because he understands that without US support, he will lose his position of power.
In current phase of offensive, Russia seemed to have reached its culmination point before seizing center of gravity of Ukrainian forces, a situation which is uncomfortable for any attacker in military campaign. The referendum and nuclear threat by Russia have pushed the war into next phase, with NATO yet to work out its responses.
India overreacted to the US $450 million deal with Pakistan
India registered a strong protest with the US last week over the latter's decision to approve a $ 450 million sustainment package for Pakistan's aging F-16 Fleet. The US Defense Security Cooperation Agency DSCA said in a statement that the sustainment program would assist Pakistan in its campaign against terrorism with a rider that it will not affect the status quo in the region. The Biden administration has ignored the "strong objections" raised by India over the proposed foreign military sale of $450 million to Pakistan in order to sustain the Pakistan Air Force's F-16 program.
Pakistan's arch-rival India has voiced "serious objections" to the US plan for Foreign Military Sales (FMS) worth $450 million for hardware, software, and spares for the F-16 fighter jet during official meetings with US Assistant Secretary of State Donald Lu in Delhi.
In widely published comments, Indian External Affairs Minister S Jaishankar said last week that the US was not "fooling anybody" by claiming the equipment was for counterterrorism operations. Recently Indian foreign Minister cut short his trip to the US, and without attending his pre-scheduled meetings and returned back to India in protest. His behavior was unprecedented in the diplomacy world and considered an overreaction.
Prime Minister Modi is upset too and sources close to his are guessing a severe reaction from him. Unconfirmed, but a possible reaction may include cancellation of defense agreements with the US, and exclusion from "Quad" – an anti-China alliance with the US, Japan, and Australia. The Indian ideology of intolerance, extremism, and nationalism is the real threat to the region.
As a matter of fact, India has been hijacked by extremists and any extreme reaction is expected at any moment. There was a time in history when India was known democratic and secular state. But, now, under the leadership of Prime Minister Modi, all extremist political parties and groups under the umbrella of the BJP are ruling India.
The extremist and fanatics are implementing their agenda of eliminating minorities and transforming India into a "Pure Hindu State". Especially with Pakistan, a traditional rivalry exists and they cannot see any improvement in Pakistan.
Pakistan was in the American club for almost Seven Decades and enjoyed very cordial relations with the Western world. Whereas India was a close ally with the former USSR. Although Pakistan was a close ally of the West, yet was facing the toughest sanctions too. However, there is a realization in Washington and a visible policy shit was witnessed recently. Pakistan always welcomes and desires the restoration of traditional friendship between the West and Pakistan.
The US claims the proposed sale to Pakistan does not include any new capabilities, weapons, or munitions, but it would be hard for New Delhi to digest such claims and remain complacent. Interestingly, the fleet of F-16s has been part of the Pakistan Air Force since the early 1980s. Pakistan has always used the US-supplied defense systems in its defense only. The F-16s in their arsenals have been no exception. In February 2019, after the Indian Air Force launched its air strike on Balakot, Pakistan came to deploy its F-16s to target Indian military bases close to the Line of Control.
Apart from Pakistan, the US has sold F-16s in many countries like Bahrain, Belgium, Egypt, Taiwan, Denmark, Netherlands, Poland, Portugal, Thailand, Turkey, etc. However, South Asia remains a highly volatile region. The US has been sitting on the sale of F-16s to Turkey based on security concerns in the Mediterranean region, which makes the Pakistan agreement all the more intriguing.
Department of State spokesperson Ned Price has said the relationship Washington had with Pakistan "stands on its own," responding to criticism from India over a proposed US sale of F-16 aircraft sustainment and related equipment to Islamabad.
Answering a question about Jaishankar's comments, the state department spokesperson said on Monday Washington did not view its relations with India or Pakistan "in relation to one another." "These are both partners of ours with different points of emphasis in each, and we look to both as partners because we do have in many cases shared values, we do have in many cases shared interests," Price told a briefing. "And the relationship we have with India stands on its own; the relationship we have with Pakistan stands on its own."
There are positive signals and it seems the traditional relations between the US and Pakistan will be restored soon. Our relations are not any threat to India or any other nation, but, for promoting regional peace, stability and development. We are partners in peace, development, and the total welfare of humankind.