America's Public Are Foie-Gras Ducks- American Billionaires Farm This Public
Any animal farm needs to feed, to its livestock, food that the farmer has selected, so as to fatten the animals in the way that the farmer wants, in order for him to serve his selected market — serve them what that market wants.
Foie-gras ducks (and geese) are fed in order to produce foie gras — sickly enlarged bird-livers — which aristocrats traditionally have craved to eat. Many rich people eat this almost tasteless "delicacy", as a status-symbol. By French law, foie gras is defined as the liver of a duck or goose fattened by force-feeding corn with a feeding tube. The final weeks of the bird's life consist of nothing but these force-feedings, as the animal's only supply of food. That's the way to produce those highly valued, sickly enlarged, bird-livers.
In the following video, the actress Kate Winslet explains and shows how this force-feeding is done (it's showing there a bird-analogue of what's done to America's voters)
Those ducks and geese need to be force-fed this food because the birds don't actually want to eat it — they're forced to 'eat' it; it's simply forced into their stomachs. That's not really eating of food, for nutriment or for health, and especially not for pleasure, like real eating is. It is, instead, just the farmer's forcing corn into the bird's stomach, regardless of what that victim wants, or needs, or can even tolerate. It's something that's done to the bird, not by the bird. So, although it's feeding, it's not actually eating.
This is the way that American elections increasingly are, for Americans — elections are increasingly something that's done to them, and less and less what they themselves do.
America's Democratic Party voters aren't as politically disaffected as are America's Republican Party voters, but both groups are reluctant to vote for the politicians whom the aristocracy is offering to them as constituting their final general-election options. And there are now a larger number of unaffiliated or "independent" American voters than the voters of either Party — and America's independent voters are astronomically politically disaffected. This was shown on 26 October 2016, just before the U.S. election, when Britain's Guardian bannered
Most Americans do not feel represented by Democrats or Republicans – survey
Poll finds Hillary Clinton and Donald Trump continue to face historically low favourability ratings, while pessimism about the country's direction has grown
Participating in this poll had been (as shown on page 42 of the pollsters' full report) two thousand scientifically sampled American adults, 18 or older — including ones who hadn't even registered to vote (and so this was a scientific sampling of the total U.S. adult population, instead of only of registered voters, or only likely voters) and consequently the most disillusioned voters who don't vote at all were included in this political poll, which is absolutely extraordinary — and it found, as the Guardian summarized it, that: "Sixty-one per cent of survey respondents say neither political party reflects their opinions today, while 38% disagree. Nearly eight in 10 (77%) independents and a majority (54%) of Republicans took this position, while less than half (46%) of Democrats agree."
So (to clarify that incompetent writing in the Guardian): just before America's 2016 general election, 46% of Democrats were politically disaffected, 54% of Republicans were, and a whopping 77% of independents were; and 61% of all Americans were. Fewer than 39% of Americans thought that the U.S. Government represented them. Not necessarily in words, but definitely in reality: 61% of Americans thought they weren't living in a democracy — they thought that America is actually a dictatorship. A better headline for that news-report would therefore have been: "61% of Americans Think They Live in a Dictatorship." It would have been shorter, clearer, and equally as true, as the Guardian's headline.
Since Democrats are the least-displeased American voting-group, regarding the politicians that their aristocrats have selected for them and fed to them, let's focus on and consider here, in some detail, this least-displeased American voting-group, because they're the least like any resistant (or "anti-Establishment") foie gras geese and ducks are; Democratic Party voters are far more passive than other Americans are, far more willingly accepting of what's being fed to them by the aristocracy.
During the 2016 primaries-season, which are the contests within each of America's parties, one candidate stood out above all others as being by far the most-preferred one by the American general electorate: Bernie Sanders. He was Hillary Clinton's opponent in the Democratic Party primaries. Although all of the Democratic Party's billionaires were funding Ms. Clinton's campaign, the American public strongly preferred Mr. Sanders. In the numerous one-on-one polled hypothetical choices versus any of the opposite Party's contending candidates, Sanders crushed each one of them except John Kasich, who, throughout the primaries, was the second-most preferred of all of the candidates of both Parties (and who performed far better than Trump did in the hypothetical match-ups against Clinton). But Kasich received almost as little financial backing from the billionaires as did Sanders; so, like Sanders, Kasich didn't receive his Party's nomination. In the hypothetical match-ups, Sanders beat Kasich by 3.3%, whereas Kasich beat Clinton by 7.4% — that spread between +3.3% and -7.4% is 10.8%, and provides a pretty reliable indication of what the Democratic National Committee threw away when rigging the primaries and vote-counts for Hillary Clinton to win the Party's nomination. All of the DNC insiders knew that Sanders would be the stronger general-election candidate, no matter whom the Republican nominee would end up being; all of the polling showed it clearly, and they all read the polls voraciously. In all of this hypothetical polling, Sanders beat Trump by 10.4%, whereas Clinton beat Trump by only 3.2%. That spread was 7.2% in favor of Sanders over Clinton, and that's a huge spread. However, the DNC cared lots more about satisfying its mega-donors, than about winning, when they picked Clinton to be the Party's nominee. Ms. Clinton's actual victory over Mr. Trump in the final election between those two nominees turned out to be by only 2.1% — close enough a spread so as to enable Trump to win in the Electoral College (which is all that counts), which counts not individual voters but a formula that represents both the states and the voters. Sanders would have beaten Trump in a landslide — far too big a victory-margin for the Electoral College to have been able to go the opposite way, such as did happen with Clinton (who was so stupid her campaign was a mess, definitely stupider than Trump's). This fact, of Sanders's clearly trouncing Trump, was also shown here and here. That's what the DNC threw away; but discard it they did, because their billionaires were strongly opposed to Sanders (and many of them might have donated even to Trump in order to defeat Sanders).
Hillary Clinton received by far the biggest support from billionaires, of all of the 2016 candidates; Sanders received by far the least; and this is the reason why the Democratic Party, which Clinton and Barack Obama (two thoroughly billionaire-controlled politicians) effectively controlled, handed its nomination to Clinton.
The poll that had been reported by Britain's Guardian, is shown in fuller detail here, documenting how loathed both of the two Parties' Presidential nominees were:
"Both Hillary Clinton and Donald Trump continue to have historically low favorability ratings with fewer than half of the public viewing each candidate positively (41% vs. 33%, respectively). Clinton is viewed less favorably than the Democratic Party (49%), but Trump's low favorability rating is more consistent with the Republican Party's low favorability (36%)."
Of course, the Republican Party won everything, though its favorability-rating was the lowest. In no way was this outcome the result of democracy.
The real action in American politics is in the primaries, and the billionaires know this. The primaries are the process where any candidate who wants to represent the public instead of the aristocracy, gets eliminated from further competition. That's the reason why the billionaires are especially concerned to win in their respective party's primaries — the first-stage selection process — so that the general-election options will be only candidates who are acceptable to the aristocracy. Then, if a particular billionaire doesn't like what his party has nominated, he can either back that candidate if acceptable, or else might back another party's nominee, who was selected by that other party's billionaires. In either case, the billionaires' class-interest will still be served, even though the given billionaire might philosophically disagree with the other party's candidate. It'll still be the same aristocracy ruling the country, even if a different segment of it.
This means that, for the voters, the final choice doesn't include any anti-aristocratic (or pro-democratic) option: it's instead between nominees all of whom represent some faction or another within the nation's aristocracy.
That's the situation amongst Democratic Party voters — these being the voters who are the least-disillusioned about their country's 'democracy'. Apparently, no matter how much the Democratic Party lies to its voters, those voters are extremely reluctant to reject their Party's nominee. Even if their Party has stolen the nomination from them, and handed it to a nominee who ends up losing in the final contest, Democratic Party voters are still willing to back the Party that stole the nomination from them, for the weaker candidate, and that thereby handed the victory to a different party.
But America's Republican voters, and especially America's independent or non-affiliated voters, are very much in the position of reluctant, or even highly resistant, foie gras ducks and geese (the ones who squawk and squirm more). Democratic Party voters are the most accepting of what they're being force-fed. That's why most of them remain as Democrats, even after their Party's having stolen the nomination and handed it to Clinton, and even after Clinton's subsequent choice for DNC Chair — and not Sanders's choice — becoming selected in 2017 by the DNC to run the Party in the 2018 mid-term elections. The fewer-than-a-thousand people (447, to be exact) who are allowed to vote in DNC elections, are, as a group, thoroughly unrepentant, even though they had, to a large extent, made Trump President. (That last linked-to site, being mainstream, and thus necessarily controlled by the aristocracy, said that "the DNC's exact roster of current members doesn't appear to be easily available on its website", but that was a lie, because the membership-list simply wasn't at all available on its website — and it still is being kept a secret there, which fact, of the DNC's secrecy about whom those 447 DNC members are, further displays the type of 'democracy' that America is, which fact, in turn, explains the vast political disaffection in the United States, though Democratic voters especially accept this ongoing abuse of Democratic voters, by the DNC.)
America's voters are foie gras birds, but some of these birds (the Republicans and especially independents) are more resisting than some others (Democrats) are.
The way that America's billionaires farm this public is by feeding to the voters the politicians, without even considering the needs — much less the wants — of that public.
And this is the reason why the only scientific study that has ever been done of whether a given country is a democracy or instead a dictatorship, which was a study that was done about the U.S., found that America is clearly a dictatorship, no democracy at all. It found that whereas the very wealthy and well-connected do have very significant effect shaping America's laws, the public-at-large has virtually none: "The preferences of the average American appear to have only a minuscule, near-zero, statistically non-significant impact upon public policy." Such a country isn't a democracy; it's an aristocracy — a nation where only the rich and well-connected have impact upon the government. America's public are foie gras ducks.
And the situation in America is getting rapidly even worse: Amy Baker Benjamin's "The Many Faces of Secrecy", in William & Mary Policy Review, 21 November 2017, is a path-breaking study of recent expansions of U.S. Governmental secrecy, and it concludes that: "We are confronting a systemic secrecy crisis. For various reasons and under cover of conflicting rationales, large swaths of policy-making have been placed beyond the review-and-reaction authority of the American people, to the detriment of even the most humble conceptions of transparency and democracy." Dictatorship depends upon government-secrecy, because it depends upon lies, and because lies depend upon hiding the key truths. For each lie, there are key truths that must be hidden.
Two of the U.S. aristocracy's leading magazines, Foreign Policy, and the super-prestigious Foreign Affairs, both recently headlined articles "Is Democracy Dying?" and neither magazine so much as even mentioned (nor linked to, either directly or indirectly) any of the studies — nor, really, referred to any of the realities — that have been mentioned here. This information is being blocked from reaching the public, blocked as much as the aristocracy can. The public are intended to supply the votes and the labor and the markets; and the way to get all three is to hide the truth, so that the lies can more readily be accepted, so that the aristocracy will remain in control — which they are determined to do, at all costs (especiallly all costs to the public).
Globally, the most prominent example of a duck or goose who refuses to cooperate and who is willing to experience the worst possible punishments for resisting (in other words, is a person of supreme courage and integrity), is Julian Assange; and, on June 9th, the great investigative journalist John Pilger, at Consortium News, stated the ugliness and depravity of the aristocracy, as displayed (and which the aristocracy does everything possible to hide) in that specific case:
"There is a silence among many who call themselves left. The silence is Julian Assange. As every false accusation has fallen away, every bogus smear shown to be the work of political enemies, Julian stands vindicated as one who has exposed a system that threatens humanity. The Collateral Damage video, the war logs of Afghanistan and Iraq, the Cablegate revelations, the Venezuela revelations, the Podesta email revelations … these are just a few of the storms of raw truth that have blown through the capitals of rapacious power. The fakery of Russia-gate, the collusion of a corrupt media and the shame of a legal system that pursues truth-tellers, have not been able to hold back the raw truth of WikiLeaks revelations. They have not won, not yet, and they have not destroyed the man. Only the silence of good people will allow them to win. Julian Assange has never been more isolated. He needs your support and your voice. Now more than ever is the time to demand justice and free speech for Julian. Thank you."
If civilization doesn't totally end from what that international network of thugs is doing, then human history will continue beyond the present generation, and the case of that lone and very courageously resistant bird, Julian Assange, will be a prominent part of it.
Author's note: first published at strategic-culture.org
The Meaning of a Multi-Polar World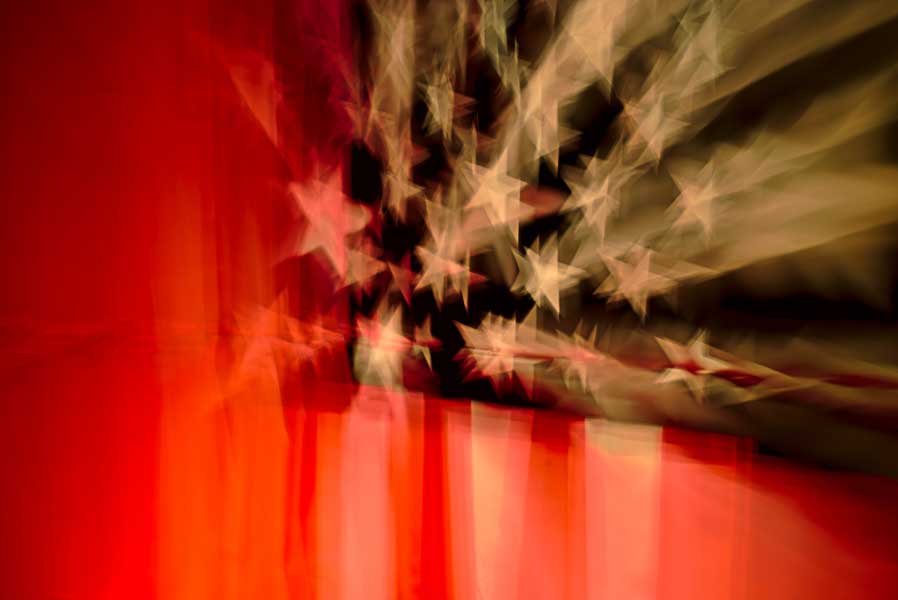 Right now, we live in a mono-polar world. Here is how U.S. President Barack Obama proudly, even imperially, described it when delivering the Commencement address to America's future generals, at West Point Military Academy, on 28 May 2014:
The United States is and remains the one indispensable nation. [Every other nation is therefore 'dispensable'; we therefore now have "Amerika, Amerika über alles, über alles in der Welt".] That has been true for the century passed and it will be true for the century to come. … America must always lead on the world stage. If we don't, no one else will. … Russia's aggression toward former Soviet states unnerves capitals in Europe, while China's economic rise and military reach worries its neighbors. From Brazil to India, rising middle classes compete with us. [He was here telling these future U.S. military leaders that they are to fight for the U.S. aristocracy, to help them defeat any nation that resists.] … In Ukraine, Russia's recent actions recall the days when Soviet tanks rolled into Eastern Europe. But this isn't the Cold War. Our ability to shape world opinion helped isolate Russia right away. [He was proud of the U.S. Government's effectiveness at propaganda, just as Hitler was proud of the German Government's propaganda-effectiveness under Joseph Goebbels.] Because of American leadership, the world immediately condemned Russian actions; Europe and the G7 joined us to impose sanctions; NATO reinforced our commitment to Eastern European allies; the IMF is helping to stabilize Ukraine's economy; OSCE monitors brought the eyes of the world to unstable parts of Ukraine.
Actually, his — Obama's — regime, had conquered Ukraine in February 2014 by a very bloody coup, and installed a racist-fascist anti-Russian Government there next door to Russia, a stooge-regime to this day, which instituted a racial-cleansing campaign to eliminate enough pro-Russia voters so as to be able to hold onto power there. It has destroyed Ukraine and so alienated the regions of Ukraine that had voted more than 75% for the democratically elected Ukrainian President whom Obama overthrew, so that those pro-Russia regions quit Ukraine. What remains of Ukraine after the U.S. conquest is a nazi mess and a destroyed nation in hock to Western taxpayers and banks.
Furthermore, Obama insisted upon (to use Bush's term about Saddam Hussein) "regime-change" in Syria. Twice in one day the Secretary General of the U.N. asserted that only the Syrian people have any right to do that, no outside nation has any right to impose it. Obama ignored him and kept on trying. Obama actually protected Al Qaeda's Syrian affiliate against bombing by Syria's Government and by Syria's ally Russia, while the U.S. bombed Syria's army, which was trying to prevent those jihadists from overthrowing the Government. Obama bombed Libya in order to "regime-change" Muammar Gaddafi, and he bombed Syria in order to "regime-change" Bashar al-Assad; and, so, while the "U.S. Drops Bombs; EU Gets Refugees & Blame. This Is Insane." And Obama's successor Trump continues Obama's policies in this regard. And, of course, the U.S. and its ally UK invaded Iraq in 2003, likewise on the basis of lies to the effect that Iraq was the aggressor. (Even Germany called Poland the aggressor when invading Poland in 1939.)
No other nation regularly invades other nations that never had invaded it. This is international aggression. It is the international crime of "War of Aggression"; and the only nations which do it nowadays are America and its allies, such as the Sauds, Israel, France, and UK, which often join in America's aggressions (or, in the case of the Sauds' invasion of Yemen, the ally initiates an invasion, which the U.S. then joins). America's generals are taught this aggression, and not only by Obama. Ever since at least George W. Bush, it has been solid U.S. policy. (Bush even kicked out the U.N.'s weapons-inspectors, so as to bomb Iraq in 2003.)
In other words: a mono-polar world is a world in which one nation stands above international law, and that nation's participation in an invasion immunizes also each of its allies who join in the invasion, protecting it too from prosecution, so that a mono-polar world is one in which the United Nations can't even possibly impose international law impartially, but can impose it only against nations that aren't allied with the mono-polar power, which in this case is the United States. Furthermore, because the U.S. regime reigns supreme over the entire world, as it does, any nations — such as Russia, China, Syria, Iran, North Korea, Venezuela, Nicaragua, Cuba, and Ecuador — that the U.S. regime (which has itself been scientifically proven to be a dictatorship) chooses to treat as an enemy, is especially disadvantaged internationally. Russia and China, however, are among the five permanent members of the U.N. Security Council and therefore possess a degree of international protection that America's other chosen enemies do not. And the people who choose which nations to identify as America's 'enemies' are America's super-rich and not the entire American population, because the U.S. Government is controlled by the super-rich and not by the public.
So, that's the existing mono-polar world: it is a world that's controlled by one nation, and this one nation is, in turn, controlled by its aristocracy, its super-rich.
If one of the five permanent members of the Security Council would present at the U.N. a proposal to eliminate the immunity that the U.S. regime has, from investigation and prosecution for any future War of Aggression that it might perpetrate, then, of course, the U.S. and any of its allies on the Security Council would veto that, but if the proposing nation would then constantly call to the international public's attention that the U.S. and its allies had blocked passage of such a crucially needed "procedure to amend the UN charter", and that this fact means that the U.S. and its allies constitute fascist regimes as was understood and applied against Germany's fascist regime, at the Nuremberg Tribunal in 1945, then possibly some members of the U.S.-led gang (of the NATO portion of it, at least) would quit that gang, and the U.S. global dictatorship might end, so that there would then become a multi-polar world, in which democracy could actually thrive.
Democracy can only shrivel in a mono-polar world, because all other nations then are simply vassal nations, which accept Obama's often-repeated dictum that all other nations are "dispensable" and that only the U.S. is not. Even the UK would actually gain in freedom, and in democracy, by breaking away from the U.S., because it would no longer be under the U.S. thumb — the thumb of the global aggressor-nation.
Only one global poll has ever been taken of the question "Which country do you think is the greatest threat to peace in the world today?" and it found that, overwhelmingly, by a three-to-one ratio above the second-most-often named country, the United States was identified as being precisely that, the top threat to world-peace. But then, a few years later, another (though less-comprehensive) poll was taken on a similar question, and it produced similar results. Apparently, despite the effectiveness of America's propagandists, people in other lands recognize quite well that today's America is a more successful and longer-reigning version of Hitler's Germany. Although modern America's propaganda-operation is far more sophisticated than Nazi Germany's was, it's not entirely successful. America's invasions are now too common, all based on lies, just like Hitler's were.
On November 9th, Russian Television headlined "'Very insulting': Trump bashes Macron's idea of European army for protection from Russia, China & US" and reported that "US President Donald Trump has unloaded on his French counterpart Emmanuel Macron, calling the French president's idea of a 'real European army,' independent from Washington, an insult." On the one hand, Trump constantly criticizes France and other European nations for allegedly not paying enough for America's NATO military alliance, but he now is denigrating France for proposing to other NATO members a decreasing reliance upon NATO, and increasing reliance, instead, upon the Permanent Structured Cooperation (or PESCO) European military alliance, which was begun on 11 December 2017, and which currently has "25 EU Member States participating: Austria, Belgium, Bulgaria, Czech Republic, Croatia, Cyprus, Estonia, Finland, France, Germany, Greece, Hungary, Italy, Ireland, Latvia, Lithuania, Luxembourg, the Netherlands, Poland, Portugal, Romania, Slovenia, Slovakia, Spain and Sweden." Those are the European nations that are now on the path to eventually quitting NATO.
Once NATO is ended, the U.S. regime will find far more difficult any invasions such as of Iraq 2003, Libya 2011, Syria 2012-, Yemen 2016-, and maybe even such as America's bloody coup that overthrew the democratically elected Government of Ukraine and installed a racist-fascist or nazi anti-Russian regime there in 2014. All of these U.S. invasions (and coup) brought to Europe millions of refugees and enormously increased burdens upon European taxpayers. Plus, America's economic sanctions against both Russia and Iran have hurt European companies (and the U.S. does almost no business with either country, so is immune to that, also). Consequently, today's America is clearly Europe's actual main enemy. The continuation of NATO is actually toxic to the peoples of Europe. Communism and the Soviet Union and its NATO-mirroring Warsaw Pact military alliance, all ended peacefully in 1991, but the U.S. regime has secretly continued the Cold War, now against Russia, and is increasingly focusing its "regime-change" propaganda against Russia's popular democratic leader, Vladimir Putin, even though this U.S. aggression against Russia could mean a world-annihilating nuclear war.
On November 11th, RT bannered "'Good for multipolar world': Putin positive on Macron's 'European army' plan bashed by Trump (VIDEO)", and opened: Europe's desire to create its own army and stop relying on Washington for defense is not only understandable, but would be "positive" for the multipolar world, Vladimir Putin said days after Donald Trump ripped into it.
"Europe is … a powerful economic union and it is only natural that they want to be independent and … sovereign in the field of defense and security," Putin told RT in Paris where world leader gathered to mark the centenary of the end of WWI.
He also described the potential creation of a European army "a positive process," adding that it would "strengthen the multipolar world." The Russian leader even expressed his support to French President Emmanuel Macron, who recently championed this idea by saying that Russia's stance on the issue "is aligned with that of France" to some extent.
Macron recently revived the ambitious plans of creating a combined EU military force by saying that it is essential for the security of Europe. He also said that the EU must become independent from its key ally on the other side of the Atlantic, provoking an angry reaction from Washington.
Once NATO has shrunk to include only the pro-aggression and outright nazi European nations, such as Ukraine (after the U.S. gang accepts Ukraine into NATO, as it almost certainly then would do), the EU will have a degree of freedom and of democracy that it can only dream of today, and there will then be a multi-polar world, in which the leaders of the U.S. will no longer enjoy the type of immunity from investigation and possible prosecution, for their invasions, that they do today. The result of this will, however, be catastrophic for the top 100 U.S. 'defense' contractors, such as Lockheed Martin, General Dynamics, and Raytheon, because then all of those firms' foreign sales except to the Sauds, Israel and a few other feudal and fascist regimes, will greatly decline. Donald Trump is doing everything he can to keep the Sauds to the agreements he reached with them back in 2017 to buy $404 billion of U.S. weaponry over the following 10 years. If, in addition, those firms lose some of their European sales, then the U.S. economic boom thus far in Trump's Presidency will be seriously endangered. So, the U.S. regime, which is run by the owners of its 'defense'-contractors, will do all it can to prevent this from happening.
However, right now, Chris Hedges reports that Ecuador is in the process of killing Julian Assange, who is a major and well-known bane of America's sellers to the U.S. 'Defense' Department. Hedges wants to keep his American aristocratic funder (the owner of Truthdig), and so he doesn't say that — nor how — the U.S. regime itself is actually forcing Ecuador's Government to do this. Hedges seems not even to care much about the ultimate perpetrator of this slow murder that he describes as being in process. Hedges instead focuses only against what Ecuador's President, Lenín Moreno, is doing, that's slowly murdering Assange. He also implicates Australian Prime Minister Scott Morrison, the U.K. government, and U.S. V.P. Mike Pence. But actually, the top decision-maker, who ordered this crime, this murder, is Donald Trump, who won the U.S. Presidency with Assange's investigative-journalism help. That's the kingpin, and all the others are merely soldiers in the U.S. President's organized crime. They all represent the U.S. aristocracy, but only Trump is the commander here. The U.S. regime — first under Obama, and now under Trump — is 100% of what's forcing Ecuador's Government to kill Julian Assange inside its London Embassy. Ecuador is doing this job, for the U.S. regime, so excruciatingly that Assange will either soon be committing suicide, or else he will die more slowly, from the ever-increasing "torture" that Ecuador's Government is applying, and which is also destroying Assange's health. Or else, he will give himself up to the American 'justice' system (which Assange's mother, Christine Ann Hawkins, explained on November 3rd would likely mean either to charge him with 'espionage', or else to apply indefinite detention at Guantanamo, without charge, trial or any access to the public). There will then be 'news'-coverage by the American propaganda-media, to demonize him. Ecuador's President wants to do his job for his U.S. masters (the U.S. aristocracy) but not to get blame for the inevitable result. All along the line, the aristocracy know how to preserve deniability, and advise their agents so as to shift blame downward, whenever they can't succeed in shifting it to the victim that they're destroying. However, the ultimate blame belongs truly to the owners of the U.S. regime. Even most 'alternative news' media might not (and they, in fact, do not) report this fact (because most of even the 'alternative' media are owned by aristocrats), but it's clearly the case. And most of the public don't care much about it, anyway, and continue to subscribe to those 'news' media, which the aristocrats are actually controlling, and to buy the products they advertise, producing yet more income for the aristocracy. The public thus helps the aristocracy to fund the aristocracy's propaganda-vehicles, to control the public, to vote for the aristocrats' candidates, and so control the government.
A multi-polar world could enable this to change. But it can't change in a mono-polar world. Julian Assange has been trapped by, and in, this fascist mono-polar world. He is its enemy, and they are murdering him; but, above all, Donald Trump is murdering him.
But this is not a partisan operation on behalf of only a faction of the U.S. aristocracy. The Hedges article links through to an important June 29th news-report in the Washington Times, titled "Mike Pence raises Julian Assange case with Ecuadorean president, White House confirms". It makes clear that Moreno is doing the bidding of the White House, and that the White House is "heeding calls from Democrats wary of Mr. Assange." America, after all, is a two-party dictatorship: both parties represent the same aristocracy, and murdering Assange is in the agenda of both of its factions, not of just one of the two parties. The U.S. aristocracy are united on this matter. And that's how this mono-polar world is being run.
Author's note: This piece first posted at The Saker
Trust: Lessons from my Brazilian driver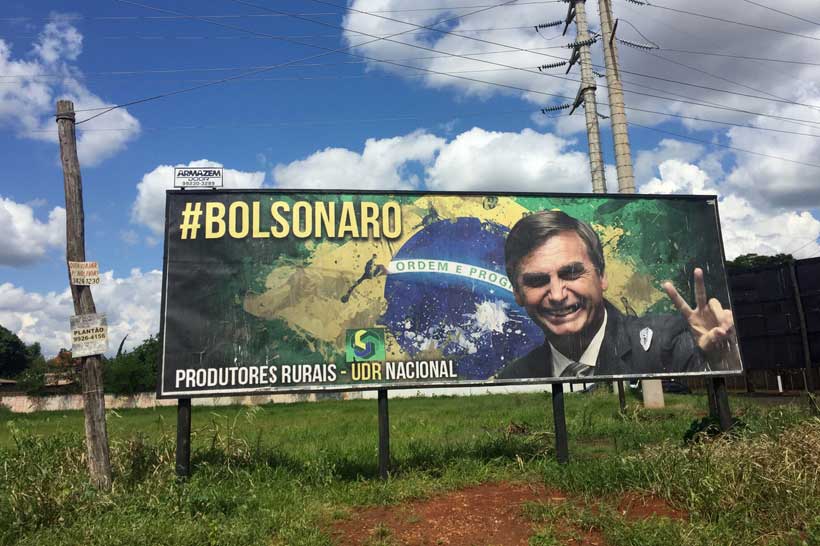 Trust takes years to build, seconds to break, and forever to repair– Anonymous
Be safe. That's what we're always told when we travel. It could be a short drive to another city or a flight to another state. Just be safe.
It's usually said with about the same emotion as, "good morning". It's almost obligatory and carries little meaning. A courtesy. It's said with a little more sincerity when you're traveling overseas. The unknown could be dangerous – pay attention, be aware…be safe.
I nod and smile, because what else do you say? What does it really mean to "be safe"? Of course, some things are obvious – don't go running down the street naked waving a flaming Molotov cocktail in your hand. Check. Keeping your clothes on in public is probably always a good idea. You're pretty much always safer with clothes.
Don't hitchhike drunk. Check. Although I did do that once with a friend in Nanjing, China and the friendly (and confused) garbage truck driver picked us up and dropped us off at the foreign student dorms, per our request in broken Chinese. But still, in general, not a good idea.
I generally stifle a giggle at the well-meaning "be safe" when I'm traveling to Asia. For sure, there are incidents against foreigners in Asia; the Abu Sayyaf terrorist incident in the Philippines was shocking. But typically, Americans are much safer in Asia than many large American cities (I'm looking at you Detroit, Chicago and New Orleans). If you accidentally leave your wallet on the table, or your cell phone in the bathroom, most likely a "good samaritan" is not going to turn it into a manager. Being safe means being aware of your belongings, not your actual being.
The urgency to "be safe" was greatly intensified when I told my family, I'm going to Brazil. Be really safe. Like, this time, I mean it.
My dad is a test pilot. When he gets nervous on a plane, I freak: not safe, not safe my brain screams. My husband is in law enforcement, with quite a bit of international experience. Contrary to what you may think, he infrequently tells me to be safe. When he worries, I pay attention. Brazil worried him.
Despite a lifetime of traveling and living abroad, namely in Asia, this is my first time to Brazil. Brazil, more than anywhere I've been, including Europe, "looks" like America. Like America, Brazil is an immigrant country. A Multicultural Mecca.
In my attempt to "be safe" I hired a car and a bilingual driver to take me around São Paulo. I hit the jackpot. Before turning 10 years old, Ricardo picked up an English dictionary and taught himself the language. And he didn't stop there. Given that his Protestant family didn't believe in TVs he became a voracious reader and spent hours in the library reading political philosophers such as John Locke and Antonio Gramsci. And so it happens that my driver was also a political philosopher of sorts, with a view from the streets (literally) of the Brazilian socio-political landscape.
Everything I learned from my Brazilian driver shed light on the challenges not only in Brazil but also in America and around the world: we have a trust deficit.
There are many similarities between Brazil and the United States, especially in their multicultural heritage, but its geography and history put it on a completely different trajectory.
Brazil's rugged terrain and lack of viable ports make economic development difficult. As a result, the development necessary to take advantage of Brazil's agriculture and commodity opportunities needs massive capital expenditures. This higher cost of development meant only the wealthy were involved in setting up towns and plantations. Low-skilled labor was imperative for working plantations, and slavery was the norm.
When slavery was abolished (Brazil was the last country in the Western Hemisphere to abolish slavery in 1888), low-skilled immigration was encouraged and flourished. Brazil's Gino Coefficient highlights the income inequality and stark division between the rich and poor that continues to define Brazilian demographics, even into the modern era. It is also visible in its high crime rate, giving Brazil the title of Murder Capital of the World. Brazil has the most cities (17) in the top 50 dangerous cities in the world.
Brazil's geography shaped its economy and in turn, its politics. The wealth disparity and need to develop the interior were components that eventually led to the rise of a military regime in the 1960s. The regime kept order and was able to command the resources for development through force, if necessary. As the interior developed, there were more opportunities for smaller landholders and a rise in the middle-class – the classic underpinnings for political liberalization.
Under these circumstances, in 1985 the military handed over control to the people in an election. In 1988 a new constitution was written. Thirty years of democratically elected governments later, and many of Brazil's problems remain. The oligarchs – the powerful and wealthy – prevail. Justice usually reflects who you know and is unevenly applied. A string of politicians, including the current President Temer and past Presidents Lula and Rousseff, among others, have recently been implicated in the huge "car wash" scandal.
People are fed up with the corruption. And now, many are looking for a political "outsider" to shake up the establishment.
In this fraught landscape emerged Jair Bolsonaro. Bolsonaro started his career in the military while the military still held power. He is neither a land-owner nor a peasant, and to many, is seen as a "vote for change", outside of the elite power structure. Sound familiar?
He is the Brazilian Trump.
His fame is growing, and people show up en masse to hear him speak. His focus is a return to law and order in a country that seems out of control. Bolsonaro's message resonates at a time when there are an increasing number of people nostalgic for the order under the former military government.
Rounding out the similarities, Bolsonaro, like Trump, has been called out for scandalous behavior, which hasn't dampened his support. In 2014 he told a Congresswoman that he wouldn't rape her because "she didn't deserve it". This is the little quip seen here in the anti-Bolsonaro propaganda picture. Note the cartoonish Hitler's tache too.
The allure of more right-wing traditionalists, nationalists and populists is a global trend in a world rapidly changing. Whether due to the growing individualism leading to the breakdown of social cohesion in the United States, the growing anti-immigrant sentiment and the resulting Brexit in England, or the ubiquitous corruption in Brazil, wistful notions of stability and order are endemic.
As these and other like forces continue to restructure the global order–politically, economically and socially – no one gets out unscathed. Perhaps the United States is best able to weather the storm, given its unique mix of geography, strong institutions and resources. The Brazilian economy, however, is largely dependent on high commodity prices and Chinese demand. As structural demand trends downward, and the Chinese face their own internal and external struggles, a variety of crises threaten multiple countries, like Brazil.
Further, a Brazilian characteristic – lack of trust – creates its own challenges. The lack of trust in American institutions is also at an all-time low, but as Ricardo reminds me, the American government was formed by the people to serve the people. In contrast, in the Brazilian system, the people are there to serve the state.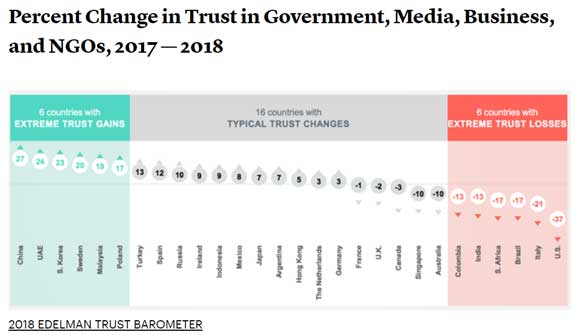 In the current climate, despite disparate trajectories, America and Brazil now share some of the same trust issues. As we explored this idea of trust and our distinct cultural experiences further, we came up with a rough theory. America's free market capitalist economy generates trust. Although there are many currently disillusioned with capitalism and growing income inequalities, which in part is what is generating momentum in the more "right-wing" camps worldwide, consider the aspect of competition. When there is competition, the markets hold corporations accountable. If a company makes a poor product, it loses market share. In an economy like Brazil, based more on elite relationships than competition for gaining market share, this built-in accountability is lost. Trust never has a chance to develop.
By contrast, trust in America did develop, but to a certain degree, has been lost. However, there is a foundation for trust. The question is, can it be regained?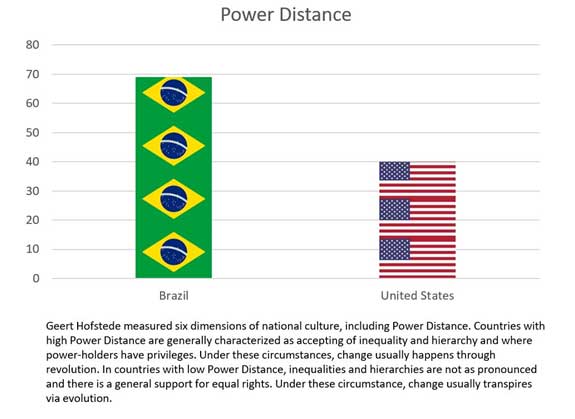 Despite many factors portending some rough patches ahead, Ricardo is hopeful. He doesn't have any affection for Bolsonaro, but believes corrective measures are necessary to address inherent corruption – after all, the pendulum must swing in the opposite direction before slowing its cadence to a more sustainable groove in the middle.
The "Trump Trend" (and its European predecessors) is not an isolated event, but rather a reaction to global disorder, similarly affecting countries with diverse geopolitical histories; it is a symptom of our trust deficit and truth decay. Further, different political parties worldwide hold their own claims on the truth, making trust more elusive. Confusing the issue, in an internet era replete with fake news, truth and trust alike have become valuable commodities. Hold onto them.
Finally, levels of trust are generally inversely correlated to crime statistics, so… be safe!
The U.S. Election and its Aftermath
The midterm elections are over, the result … a split-decision.  The Democrats will control the House, raising the possibility of an impeachment attempt.  The Senate remains under Republican control with their majority increased by one seat.  The president reminded us at a post-election press conference that while he could not help in the all too numerous House elections, he did campaign in some of the marginal Senate races with almost universal success.  The prospect of a second Trump term now looms large, especially as a Democrat star failed to emerge.
Among the winners for House seats were a record number of women, including New York's Alexandria Ocasio-Cortez, who at 29 is the youngest woman Representative ever elected.  Also two Muslim women:  Ilhan Omar, a Somali from Minnesota, who will be the first hijab-wearing woman to sit in the House, and Rashida Tlaib, a Palestinian, who does not cover her head.  It should help clarify for people that hijabs are cultural not religious and often a personal choice.  Ms. Tlaib a Detroit native has extended family on the West Bank, who were shown celebrating in some news reports.
For those who expect any serious change in social or foreign policy, a reminder.  Ten years ago, Barack Obama was elected and handed a House and Senate also under his party's control.  Did we get a decent health care-for-all bill?  Were the banks reined in after causing a world economic crisis by peddling baskets of high-risk mortgage-backed securities and gambling on derivatives?  Did we have peace?  The answer to all the questions is in effect a negative.
The Glass-Steagall Act repealed by Bill Clinton that led to the disaster, was never reintroduced.  We got an anemic version.  It had kept us safe for over six decades from the greed of bankers by separating investment banking activities from commercial banking, and therefore preventing banks from gambling with our money.
Instead of peace, Mr. Obama called Afghanistan the good war and sent another 100,000 troops there causing more loss of life and more Afghan refugees.  That was not all.  He attacked Libya and destroyed the country including a complex water system bringing water from the south to Tripoli.
Libya is in chaos and has recently abandoned any pretext of national government by canceling the December election supposed to have been agreed upon by major factions in the country.  Once a magnet for migrant African labor, Libya's major export has become refugees, its own and the Africans.  Europe is inundated as refugees stream in from all of America's wars:  Libya, Somalia, Iraq, Syria, Afghanistan and others.  It's worth noting also that the Taliban now control most of the Afghan countryside.
What will the young and newly elected do in Congress?  Not much as it takes years to have the seniority to accumulate power.  In the meantime, there is the pressure of elections every two years for a House seat, donors and lobbyists chipping away at any idealism, while the relative impotence of a freshman in this new university of intricate rules and procedures becomes apparent.
There is only one way to survive …