America's Public Are Foie-Gras Ducks- American Billionaires Farm This Public
Any animal farm needs to feed, to its livestock, food that the farmer has selected, so as to fatten the animals in the way that the farmer wants, in order for him to serve his selected market — serve them what that market wants.
Foie-gras ducks (and geese) are fed in order to produce foie gras — sickly enlarged bird-livers — which aristocrats traditionally have craved to eat. Many rich people eat this almost tasteless "delicacy", as a status-symbol. By French law, foie gras is defined as the liver of a duck or goose fattened by force-feeding corn with a feeding tube. The final weeks of the bird's life consist of nothing but these force-feedings, as the animal's only supply of food. That's the way to produce those highly valued, sickly enlarged, bird-livers.
In the following video, the actress Kate Winslet explains and shows how this force-feeding is done (it's showing there a bird-analogue of what's done to America's voters)
Those ducks and geese need to be force-fed this food because the birds don't actually want to eat it — they're forced to 'eat' it; it's simply forced into their stomachs. That's not really eating of food, for nutriment or for health, and especially not for pleasure, like real eating is. It is, instead, just the farmer's forcing corn into the bird's stomach, regardless of what that victim wants, or needs, or can even tolerate. It's something that's done to the bird, not by the bird. So, although it's feeding, it's not actually eating.
This is the way that American elections increasingly are, for Americans — elections are increasingly something that's done to them, and less and less what they themselves do.
America's Democratic Party voters aren't as politically disaffected as are America's Republican Party voters, but both groups are reluctant to vote for the politicians whom the aristocracy is offering to them as constituting their final general-election options. And there are now a larger number of unaffiliated or "independent" American voters than the voters of either Party — and America's independent voters are astronomically politically disaffected. This was shown on 26 October 2016, just before the U.S. election, when Britain's Guardian bannered
Most Americans do not feel represented by Democrats or Republicans – survey
Poll finds Hillary Clinton and Donald Trump continue to face historically low favourability ratings, while pessimism about the country's direction has grown
Participating in this poll had been (as shown on page 42 of the pollsters' full report) two thousand scientifically sampled American adults, 18 or older — including ones who hadn't even registered to vote (and so this was a scientific sampling of the total U.S. adult population, instead of only of registered voters, or only likely voters) and consequently the most disillusioned voters who don't vote at all were included in this political poll, which is absolutely extraordinary — and it found, as the Guardian summarized it, that: "Sixty-one per cent of survey respondents say neither political party reflects their opinions today, while 38% disagree. Nearly eight in 10 (77%) independents and a majority (54%) of Republicans took this position, while less than half (46%) of Democrats agree."
So (to clarify that incompetent writing in the Guardian): just before America's 2016 general election, 46% of Democrats were politically disaffected, 54% of Republicans were, and a whopping 77% of independents were; and 61% of all Americans were. Fewer than 39% of Americans thought that the U.S. Government represented them. Not necessarily in words, but definitely in reality: 61% of Americans thought they weren't living in a democracy — they thought that America is actually a dictatorship. A better headline for that news-report would therefore have been: "61% of Americans Think They Live in a Dictatorship." It would have been shorter, clearer, and equally as true, as the Guardian's headline.
Since Democrats are the least-displeased American voting-group, regarding the politicians that their aristocrats have selected for them and fed to them, let's focus on and consider here, in some detail, this least-displeased American voting-group, because they're the least like any resistant (or "anti-Establishment") foie gras geese and ducks are; Democratic Party voters are far more passive than other Americans are, far more willingly accepting of what's being fed to them by the aristocracy.
During the 2016 primaries-season, which are the contests within each of America's parties, one candidate stood out above all others as being by far the most-preferred one by the American general electorate: Bernie Sanders. He was Hillary Clinton's opponent in the Democratic Party primaries. Although all of the Democratic Party's billionaires were funding Ms. Clinton's campaign, the American public strongly preferred Mr. Sanders. In the numerous one-on-one polled hypothetical choices versus any of the opposite Party's contending candidates, Sanders crushed each one of them except John Kasich, who, throughout the primaries, was the second-most preferred of all of the candidates of both Parties (and who performed far better than Trump did in the hypothetical match-ups against Clinton). But Kasich received almost as little financial backing from the billionaires as did Sanders; so, like Sanders, Kasich didn't receive his Party's nomination. In the hypothetical match-ups, Sanders beat Kasich by 3.3%, whereas Kasich beat Clinton by 7.4% — that spread between +3.3% and -7.4% is 10.8%, and provides a pretty reliable indication of what the Democratic National Committee threw away when rigging the primaries and vote-counts for Hillary Clinton to win the Party's nomination. All of the DNC insiders knew that Sanders would be the stronger general-election candidate, no matter whom the Republican nominee would end up being; all of the polling showed it clearly, and they all read the polls voraciously. In all of this hypothetical polling, Sanders beat Trump by 10.4%, whereas Clinton beat Trump by only 3.2%. That spread was 7.2% in favor of Sanders over Clinton, and that's a huge spread. However, the DNC cared lots more about satisfying its mega-donors, than about winning, when they picked Clinton to be the Party's nominee. Ms. Clinton's actual victory over Mr. Trump in the final election between those two nominees turned out to be by only 2.1% — close enough a spread so as to enable Trump to win in the Electoral College (which is all that counts), which counts not individual voters but a formula that represents both the states and the voters. Sanders would have beaten Trump in a landslide — far too big a victory-margin for the Electoral College to have been able to go the opposite way, such as did happen with Clinton (who was so stupid her campaign was a mess, definitely stupider than Trump's). This fact, of Sanders's clearly trouncing Trump, was also shown here and here. That's what the DNC threw away; but discard it they did, because their billionaires were strongly opposed to Sanders (and many of them might have donated even to Trump in order to defeat Sanders).
Hillary Clinton received by far the biggest support from billionaires, of all of the 2016 candidates; Sanders received by far the least; and this is the reason why the Democratic Party, which Clinton and Barack Obama (two thoroughly billionaire-controlled politicians) effectively controlled, handed its nomination to Clinton.
The poll that had been reported by Britain's Guardian, is shown in fuller detail here, documenting how loathed both of the two Parties' Presidential nominees were:
"Both Hillary Clinton and Donald Trump continue to have historically low favorability ratings with fewer than half of the public viewing each candidate positively (41% vs. 33%, respectively). Clinton is viewed less favorably than the Democratic Party (49%), but Trump's low favorability rating is more consistent with the Republican Party's low favorability (36%)."
Of course, the Republican Party won everything, though its favorability-rating was the lowest. In no way was this outcome the result of democracy.
The real action in American politics is in the primaries, and the billionaires know this. The primaries are the process where any candidate who wants to represent the public instead of the aristocracy, gets eliminated from further competition. That's the reason why the billionaires are especially concerned to win in their respective party's primaries — the first-stage selection process — so that the general-election options will be only candidates who are acceptable to the aristocracy. Then, if a particular billionaire doesn't like what his party has nominated, he can either back that candidate if acceptable, or else might back another party's nominee, who was selected by that other party's billionaires. In either case, the billionaires' class-interest will still be served, even though the given billionaire might philosophically disagree with the other party's candidate. It'll still be the same aristocracy ruling the country, even if a different segment of it.
This means that, for the voters, the final choice doesn't include any anti-aristocratic (or pro-democratic) option: it's instead between nominees all of whom represent some faction or another within the nation's aristocracy.
That's the situation amongst Democratic Party voters — these being the voters who are the least-disillusioned about their country's 'democracy'. Apparently, no matter how much the Democratic Party lies to its voters, those voters are extremely reluctant to reject their Party's nominee. Even if their Party has stolen the nomination from them, and handed it to a nominee who ends up losing in the final contest, Democratic Party voters are still willing to back the Party that stole the nomination from them, for the weaker candidate, and that thereby handed the victory to a different party.
But America's Republican voters, and especially America's independent or non-affiliated voters, are very much in the position of reluctant, or even highly resistant, foie gras ducks and geese (the ones who squawk and squirm more). Democratic Party voters are the most accepting of what they're being force-fed. That's why most of them remain as Democrats, even after their Party's having stolen the nomination and handed it to Clinton, and even after Clinton's subsequent choice for DNC Chair — and not Sanders's choice — becoming selected in 2017 by the DNC to run the Party in the 2018 mid-term elections. The fewer-than-a-thousand people (447, to be exact) who are allowed to vote in DNC elections, are, as a group, thoroughly unrepentant, even though they had, to a large extent, made Trump President. (That last linked-to site, being mainstream, and thus necessarily controlled by the aristocracy, said that "the DNC's exact roster of current members doesn't appear to be easily available on its website", but that was a lie, because the membership-list simply wasn't at all available on its website — and it still is being kept a secret there, which fact, of the DNC's secrecy about whom those 447 DNC members are, further displays the type of 'democracy' that America is, which fact, in turn, explains the vast political disaffection in the United States, though Democratic voters especially accept this ongoing abuse of Democratic voters, by the DNC.)
America's voters are foie gras birds, but some of these birds (the Republicans and especially independents) are more resisting than some others (Democrats) are.
The way that America's billionaires farm this public is by feeding to the voters the politicians, without even considering the needs — much less the wants — of that public.
And this is the reason why the only scientific study that has ever been done of whether a given country is a democracy or instead a dictatorship, which was a study that was done about the U.S., found that America is clearly a dictatorship, no democracy at all. It found that whereas the very wealthy and well-connected do have very significant effect shaping America's laws, the public-at-large has virtually none: "The preferences of the average American appear to have only a minuscule, near-zero, statistically non-significant impact upon public policy." Such a country isn't a democracy; it's an aristocracy — a nation where only the rich and well-connected have impact upon the government. America's public are foie gras ducks.
And the situation in America is getting rapidly even worse: Amy Baker Benjamin's "The Many Faces of Secrecy", in William & Mary Policy Review, 21 November 2017, is a path-breaking study of recent expansions of U.S. Governmental secrecy, and it concludes that: "We are confronting a systemic secrecy crisis. For various reasons and under cover of conflicting rationales, large swaths of policy-making have been placed beyond the review-and-reaction authority of the American people, to the detriment of even the most humble conceptions of transparency and democracy." Dictatorship depends upon government-secrecy, because it depends upon lies, and because lies depend upon hiding the key truths. For each lie, there are key truths that must be hidden.
Two of the U.S. aristocracy's leading magazines, Foreign Policy, and the super-prestigious Foreign Affairs, both recently headlined articles "Is Democracy Dying?" and neither magazine so much as even mentioned (nor linked to, either directly or indirectly) any of the studies — nor, really, referred to any of the realities — that have been mentioned here. This information is being blocked from reaching the public, blocked as much as the aristocracy can. The public are intended to supply the votes and the labor and the markets; and the way to get all three is to hide the truth, so that the lies can more readily be accepted, so that the aristocracy will remain in control — which they are determined to do, at all costs (especiallly all costs to the public).
Globally, the most prominent example of a duck or goose who refuses to cooperate and who is willing to experience the worst possible punishments for resisting (in other words, is a person of supreme courage and integrity), is Julian Assange; and, on June 9th, the great investigative journalist John Pilger, at Consortium News, stated the ugliness and depravity of the aristocracy, as displayed (and which the aristocracy does everything possible to hide) in that specific case:
"There is a silence among many who call themselves left. The silence is Julian Assange. As every false accusation has fallen away, every bogus smear shown to be the work of political enemies, Julian stands vindicated as one who has exposed a system that threatens humanity. The Collateral Damage video, the war logs of Afghanistan and Iraq, the Cablegate revelations, the Venezuela revelations, the Podesta email revelations … these are just a few of the storms of raw truth that have blown through the capitals of rapacious power. The fakery of Russia-gate, the collusion of a corrupt media and the shame of a legal system that pursues truth-tellers, have not been able to hold back the raw truth of WikiLeaks revelations. They have not won, not yet, and they have not destroyed the man. Only the silence of good people will allow them to win. Julian Assange has never been more isolated. He needs your support and your voice. Now more than ever is the time to demand justice and free speech for Julian. Thank you."
If civilization doesn't totally end from what that international network of thugs is doing, then human history will continue beyond the present generation, and the case of that lone and very courageously resistant bird, Julian Assange, will be a prominent part of it.
Author's note: first published at strategic-culture.org
Delusions of U.S. Hegemony In A Multi-Polar World: Trump Visits Europe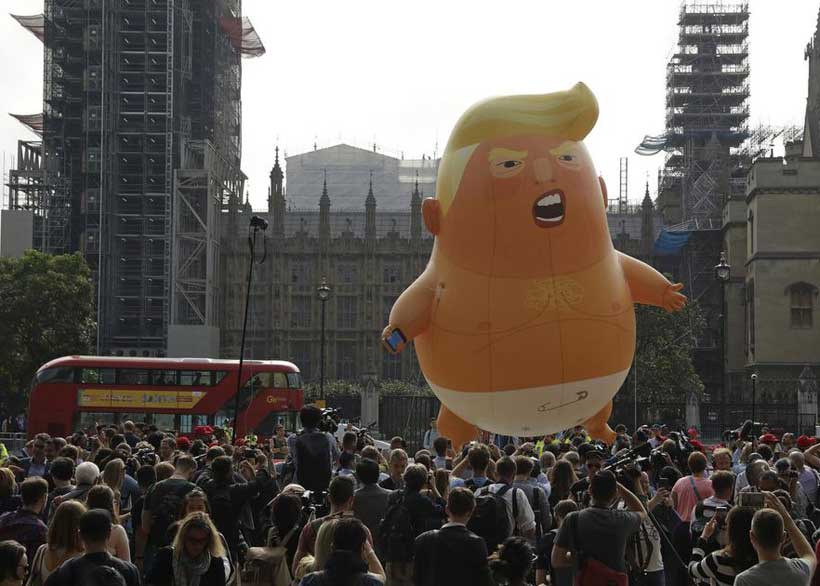 To say that US foreign policy is delusional is not an exaggeration.  It seeks political hegemony and a relationship with China and Russia akin to what it has had with Japan and Germany, that is, go ahead and develop in the economic sphere but don't try to flex political or military muscle.
There are at least two problems with this scenario:  China is now the world's largest economy on a purchasing power parity basis, and the Russians have the nuclear capacity to make a wasteland out of the US.  Russian weapons systems can also be superior.
Take the S-400 in comparison with the US Patriot missile defense system — the purpose of these surface-to-air systems is to shoot down incoming missiles or aircraft.  The S-400 has a more powerful radar, double the range, is faster (Mach 6 vs Mach 5), takes five minutes to set up against one hour for the Patriot, and is cheaper.  China has just bought 32 launchers and is expected to buy more, thereby challenging Japan, Taiwan (which it claims) and other neighbors for control of the skies, as it is doing over the seas bordering itself.  NATO member Turkey has recently signed a purchase deal, and Iran wants to, as does Qatar after its recent spat with Saudi Arabia.  If Russia supplies Iran, any attack planned by the US or Israel would prove to be very costly and politically infeasible.
In our world of instant and continuous news feeds, one can imagine a bemused Vladimir Putin listening to Trump exhorting NATO members to increase contributions to NATO — an organization designed to counter the Russian threat — specifically castigating Germany's Angela Merkel for being beholden to Russia with her country's reliance on Russian natural gas.
Early next week he meets Mr. Putin in Helsinki, fresh from his soft power World Cup triumph as the world beat a path to Russia.  What does Mr. Trump tell the leader of the world's largest country covering eleven time zones?  US political hegemony is a non-starter.
Europeans clearly want access to China, its labor, its markets, even finance, and with it comes Russia and their numerous initiatives together including the Asian Infrastructure Investment Bank (AIIE) their answer to the US-sponsored World Bank.  That Britain joined AIIB contrary to US wishes is a clear sign of China rising as the US declines comparatively;  Britain, having faced up to the US, was followed by a rush of European countries.
Russia wants sanctions lifted.  What does the US want?  Crimea is a non-starter.  Help with Iran?  For the Russians, it has become an important ally both with regard to Syria and as a Mideast power in its own right.  Mr. Trump's instincts are right.  But what he achieves is another matter.  Childish petulance accompanied by a different story for different leaders would leave an observer with little optimism.
Meanwhile, Mr. Trump manufactures and markets his own reality; this time on his popularity ('I think they like me a lot in the UK') despite avoiding roads and traveling by helicopter when possible during his pared down UK visit.  Hordes of demonstrators undeterred have a giant parade balloon several stories high of a bloated child with the trademark blonde hair.  It is one the largest demonstrations ever outside the US against a sitting president.
This 70-year-old program prepares young women for leadership
A record number of women are running for public office this year. In the near future, we can expect more female public servants representing the American people — from local chambers to Capitol Hill. In light of this exciting trend, it is important to highlight programs that help develop young women to become the next generation of female leaders. One such program? American Legion Auxiliary (ALA) Girls Nation.
ALA Girls Nation is a weeklong mock experiential learning program, one that positions high-potential teens for a lifetime of public service to our country. This summer, 100 female high school seniors — two from each of our 50 states — will convene in Washington, D.C., for the 72nd Annual ALA Girls Nation. Each teenage girl represents her state as a "senator" — mirroring the structure of government at the federal level. During this transformative weeklong program, these senators form a fictitious nation, become "Nationalists" and "Federalists," enthusiastically campaign to hold office, and — perhaps most important — accept and celebrate the outcome of these elections and come together to serve for the good of the nation.
ALA is a nonpartisan organization committed to advocating for veterans' issues, promoting patriotism, mentoring America's youth and proudly presenting ALA Girls Nation for over 70 years. The ALA Girls State and ALA Girls Nation are privately-funded and presented by members of the organization. The world's largest women's patriotic service organization, ALA was chartered in 1919 to support the mission of The American Legion.
More than 6,500 young women have attended ALA Girls Nation since its inception in 1947. Each participant leaves the program informed about the fundamentals of U.S. government — and the rights, privileges and responsibilities of citizens. It lasts for one short week. Yet the seven-day experience — one that champions the legislative process and serious collaboration — has laid the foundation for thousands of bright futures.
Many alumnae have chosen careers in public service, putting their ALA Girls State and ALA Girls Nation experience into action to serve the people. The lessons learned about teamwork, resilience and the democratic principles that guide the republic in which we live are applied in real life by many alums who have gone on to serve at the local, state and national level — including high-ranking members of the judiciary.
Justice Lorie S. Gildea began her tenure as chief justice of the Minnesota Supreme Court in 2010. She participated in the state-level version of ALA Girls Nation, known as ALA Girls State in 1979 — and the program, Gildea said, "empowered her to embark upon a lifetime of service and leadership."
"At ALA Girls State, we learn that every voice has value and that every woman needs to use her voice," said Gildea. "We also learn that we need to be courageous and confident enough to take life up on the opportunities that present themselves to us."
"An informed citizenry is essential to the success of our democracy. ALA Girls State [and ALA Girls Nation] plays a vital role in informing and educating our future leaders," Gildea said. "It is a wonderful opportunity to learn about and see firsthand how the three branches of our government work. I am so grateful to the American Legion Auxiliary for presenting ALA Girls State and teaching me and thousands of Minnesota's young women about the value of participation and the possibility of leadership."
Other alumnae have gone on to hold leadership roles in industries spanning government, military, media, education and law. Notable alumnae include Jane Pauley, national media personality; Stephanie Herseth Sandlin, president of Augustana University and former South Dakota U.S. representative; Susan Bysiewicz, former Connecticut Secretary of State; Lt. Gen. Michelle D. Johnson, superintendent of the U.S. Air Force Academy and former Air Force aide to the president; Ann Richards, former governor of Texas; and Susan Porter-Rose, former chief of staff to First Lady Barbara Bush — among countless others.
For some girls, it is their first opportunity to connect with peers with common interests. For others, it is the first time they encounter students whose perspectives differ from their own. For all, it is a moment in time when a select few teenage girls from all over the country come together to discover and celebrate the honor and importance of participating in our democracy. To learn more, visit www.ALAforVeterans.org.
Colombia-Venezuela: A Conflict with US Participation
The victory of right-wing candidate Ivan Duque in the Colombian presidential elections is not the best news for Venezuelan President Nicolas Maduro. The newly elected president has already refused to recognize Maduro's victory in the recent elections in Venezuela and announced that he would not send an ambassador to Caracas.
It is believed that Ivan Duque is the successor of the political line of the Colombian ex-president Alvaro Uribe (in power from 2000 to 2008) who was notorious first of all for fighting the left radical insurgent FARC group and accusing Hugo Chavez who was the Venezuelan President at that time, of harboring the FARC rebels in Venezuelan territory.
Troubled Sister Countries
There is no need to recall that Maduro owes his entire political career to the late Chavez.  Maduro was not only a long-time associate of Chavez but was perceived in society as the heir to Venezuela's legendary leftist leader. Maduro also inherited from Chavez a course toward friendship with Russia (Russia made large investments in Venezuela), as well as a diplomatic confrontation with the USA and its main ally in northern Latin America – Colombia. At one time Chavez made a point calling Colombia, intertwined with Venezuela by a 1,300 km-long common border, "Latin American Israel, hinting at the military and economic support provided by Washington to the Colombian leadership. In 2010 Chavez broke off any of his country's relations with Colombia.
Despite the fact that Colombian President Juan Manuel Santos, who succeeded Uribe, signed a peace agreement with the FARC in 2016, the relationship between Caracas and Bogota during Santos' rule has not improved. In his recent speech President Maduro accused Santos of interfering in Venezuela's internal affairs, to which Santos responded with speeches lamenting the lack of freedom in the "leftist" Venezuela.
Hatred against "Chavism"
Optimists expected relations to improve if the left candidate – Bogotá Mayor Gustav Petro would have won the elections in Colombia. In fact now Juan Manuel Santos finishes his second term as a "lame duck" after Duque's victory, and his dislike for Maduro can no longer have a negative impact on relations. But Petro lost, although he received 42 percent of the vote. And the very course of the presidential campaign showed that this is not about personal antipathies, but about strong ideological differences between the leaders of Venezuela and Colombia. During the election campaign, Duque's supporters declared the slogan: "Vote for our candidate, so that Colombia does not become another Venezuela." The former Colombian President Uribe does not conceal his hatred for "Castro-Chavism," and the victory of his candidate (Uribe created the Democratic Party that supported Duque) does not promise Maduro or any other "chavist" relations improvement.
Russia's Stance
Russia takes an emphatically distant position in relation to the political standoff of the two neighboring Latin American countries, and this approach seems reasonable in this situation. Russia does not make a secret of the fact that Venezuela is experiencing enormous economic difficulties. The Institute of Latin American Studies of the Russian Academy of Sciences acknowledged that there is hyperinflation in the country and that its GDP reduced by 12 % in 2017.
Russian political analysts are aware of the US interest in the "early collapse of the Chavist regime", but nevertheless, they do not veil the fact that Venezuela's leadership is primarily to blame for the country's economic problems. Experts of the Council for Foreign and Defense Policy (CFDP) also came to this conclusion, pointing out the inability of the Venezuelan leadership to convert petrodollars of 2000s into diversification of domestic economy. So the Russian approach to both Venezuelan and Colombian issues can be seen as lacking ideology: Russian companies responded to Venezuela's business proposals, but this response was based on mutually beneficial cooperation, not on a desire to support a left or right ideology.
Violence as Tradition
As for the continuing ideological struggle between the "left" Venezuela and the "right" Colombia, its result is far from a foregone conclusion. The success or failure of  the ruling elites in Venezuela, and especially in Colombia, people estimate not only by economic indicators, but also by the safety of life.  And in Colombia, this is even worse than in Venezuela: the leftist insurgent movement FARC (the "Revolutionary Armed Forces of Colombia") has waged a civil war in Colombia since 1964. And FARC seized the baton of violence from the so-called liberals: the conflict between the Colombian government and the FARC grew out of the war between supporters of the Liberal and Conservative parties of Colombia that continued for a decade (!) in 1948-1958, (it is this violence, which claimed about 200,000 lives, was reflected in Gabriel Garcia Marquez's novel "One Hundred Years of Solitude").
In 2016, the outgoing President Juan Manuel signed a peace agreement with the FARC, but the majority of the country's population refused to approve the agreement in a referendum. Violence and fear did not stop although the FARC became a formally legal political party and changed the meaning of the abbreviation of its name (Fuerza Alternativa Revolucionariadel Comun – The Common Alternative Revolutionary Force).
The fact is that the violence in Colombia in recent decades has come not so much from the left, but from the right side of the political spectrum. Even the traditionally anti-communist British BBC reports that in the political sector Colombia has a radical, sometimes violent, right-wing tradition.
The BBC admits that this tradition in Colombia is linked, among other things, to the murders of leftist politicians and cultural figures. The members of the so-called "The United Self-Defenders of Colombia" (Autodefensas Unidas de Columbia – AUC) especially often resorted to violence. For many years they proclaimed their task to wage armed struggle against the FARC rebels.  But in 1997-2006. under the pretext of  fighting the Colombian "chavistas," the AUC forces killed thousands of people; in 2006 the AUC was officially declared a terrorist organization and dissolved. Before that, this ultra-right group was reported to be involved in drug trafficking as well as in hostage-taking for ransom – the two types of criminal activity traditionally associated with the FARC. As for the level of violence, the AUC and their successors leave far behind Venezuela's government forces who have killed several dozen protesters in recent months.
Maduro Accuses
In his propaganda war with President Santos, which is likely to soon turn into a propaganda war with the new Colombian President – Duque, Maduro and his supporters emphasize the ties between the Colombian government and the USA and the US intelligence services. There is nothing unexpected in this accusation: Uribe as well as Santos closely collaborated with the "advisers" from Washington and even invited the American armed forces into the country.
But now, when the chair beneath him staggers, Maduro considers Colombia as a "strike force" of US intervention directed at him. Recently  Maduro directly accused Colombia of trying to provoke an armed conflict with Venezuela and overthrow the "chavist" authority.
This Maduro's accusation against Bogota is worth listening to. In this situation Russia will have many allies among Latin American countries: after all, even cautious Brazil and Argentina turned against the Colombian President Santos, when in early 2010s Colombia started talking about deploying American bases on its territory. However, later the same countries which are part of the Organization of American States excluded Venezuela from their ranks for the deficit of democracy. Somewhat strange contradiction.  From this one can assume that the countries of the southern continent want democracy, but without American "supervision".
First published in our partner International Affairs