Selahattin Demirtas: We are not the PKK's political wing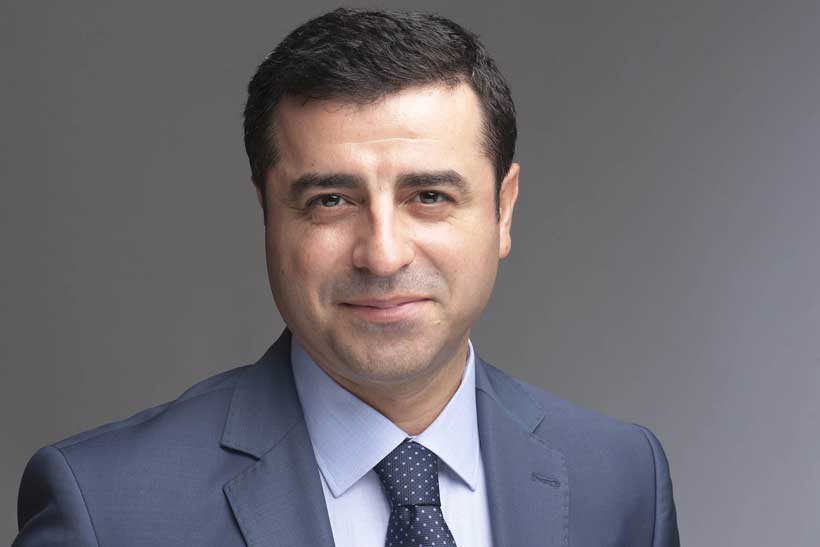 Kurdish politician Selahattin Demirtas says that the Kurdish-focused People's Democratic Party (HDP) has no relations of any kind with the PKK.
Undoubtedly, political campaign is not an easy job in Turkey's political structure and requires a lot of experience and skills. A look at the political history of the Republic of Turkey shows that only experienced politicians have had the chance to lead the country's political affairs so far.
But Selahattin Demirtas a politician of a Kurdish descent who was initially underestimated by many Turkish politicians, soon proved that they were wrong. The story of Demirtas's rise to power and fame in a country where it is not easy for Kurds to enter politics is a testimony of political transformation in Turkey.
Now, the former HDP (People's Democratic Party) co-leader is a political figure that not only represents a large number of Turkish Kurds, but also a part of the leftists in the country.
Demirtaş, who is currently jailed on different political and security charges is running his election campaign from behind the bars.
While in prison, Demirtas who is currently serving his prison sentence being convicted on different political and security charges, is running his election campaign from behind the bars answered question that were put forward by MNA Turkish Department staff member Kamran Ghaderi Azar through his lawyers.
What opportunities and difficulties have you faced during your presidential campaign from prison? Are you hoping that you will be released soon?
My imprisonment is totally illegal and politically motivated. I not only am a lawmaker, but also a presidential candidate. I have been in jail for 20 months now while my trial could have been done without me being imprisoned. Now they do not even allow me to conduct my election campaign freely, and the letters and messages that I am sending outside prison through my lawyers are the only way that my voice is being heard. Under these conditions, it has become almost impossible for me to conduct my campaign because the prison atmosphere is quite unfair to me. It is clear now that the upcoming election is not going to be fair. This is taking place while Erdogan is using all the public facilities in his campaign.
If you are elected the Turkish president, what will you do with the peace process between the Turkish government and the Kurds that was initiated by the AKP but failed very soon?
We are looking for a solution to the Kurdish question through democratic and peaceful methods. We support any means to end violence  in Turkey and any means that will lead to recognize the Kurds' legitimate rights, especially our civil rights. I am sure that we can achieve that goal in a short period of time.
Is solving the Kurdish question the only HDP's goal or it also represents non-Kurds?
The HDP is a movement that has been supported by non-Kurdish citizens as well in addition to a large number of Kurds. We represent not only the Kurds but all the beliefs and ethnicities. We do not consider ourselves to be a solely Kurdish party, but a party that insists on democracy for all ethnic groups based on multicultural beliefs. Meanwhile, I have to emphasize that in line with our democratic goals, we will courageously pursue the demands of the Kurds through political methods.
What is the relationship between the HDP and the Kurdistan Workers Party (PKK)? Is there any cooperation and coordination of any kind between the two?
Unlike PKK, which insists on violence and armed struggle, we are a party that acts legally under the Turkish constitution. We never agree with violence at all. There is a fundamental difference between us and the PKK. We are not the political wing of the PKK.
What measures have you taken to have a healthy and fair election in the Kurdish areas?
The AKP-MHP coalition's only strategy is to use the state-owned facilities to prevent us from passing the 10% electoral threshold to enter the parliament to pave the way for their own majority in the parliament. Of course, we have no doubt that we will succeed in the upcoming elections based on the public support we can see. However, factors such as electoral fraud, Erdogan's decree that the HDP must lose the elections, as well as manipulating and relocating the ballot boxes are going to hinder the democratic process of elections. Anyway, our party accompanied by the people are working together to make the elections fair and democratic as much as possible. We will do our best to protect even single vote. I think the people will protect the ballot boxes and voters will be vigilant to represent their national will.
If the election goes to a run off, will you form a coalition with other parties?
We are ready for any kind of political cooperation within based on our own principles and the history of our political activities shows that. We will announce our decision later when the time arrives.
Given the fact that populist politics and demagogy play an important part Turkish election, to what extent your party's slogans match with your actions?
Our political slogans are designed to reflect our political goals and projects the best. While I am still in jail, the slogans and the modern discourse of our party are popular with the people and we have great effect on them.
If you are elected as the Turkey's president, what approach will you take to tackle problems your country is facing in the Middle East now, and how your relations with Iran, Iraq and Syria will be?
We will have an effective dialogue with neighboring countries and the entire Middle East. We certainly will not support interventionist policies with imperial goals in Iran, Syria and Iraq. Our foreign policy will be letting alone every country solve its problems through relying on its people within the framework of democracy. We will establish friendly relations with the people of those countries in addition to their governments. We will take big steps especially in economic, cultural, sports and social fields. We believe that Turkey can have very close relations with its neighbors while seeking to join the EU. We will pursue more courageous and more friendly politics in that regard.
First published in our partner MNA
Iran at SCO: Role, achievements, and goals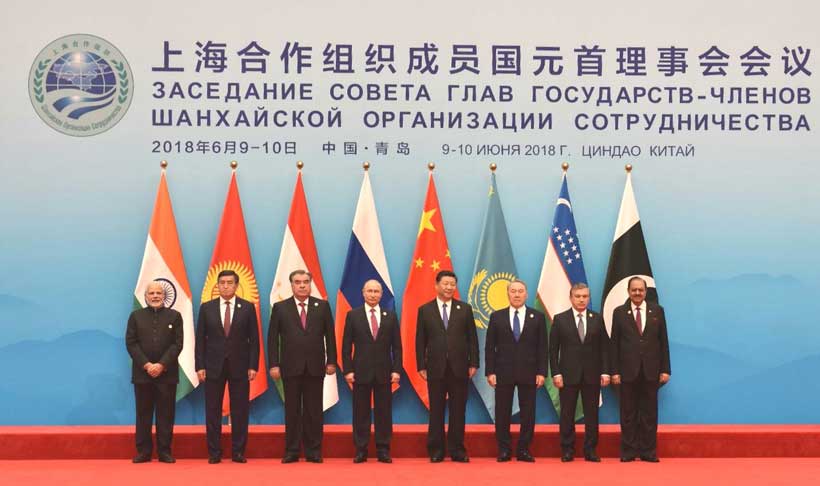 Nearly a month after the U.S. withdrawal from the Joint Comprehensive Plan of Action (JCPOA), leaders from the Shanghai Cooperation Organization (SCO) met in Qingdao, China, to set the roadmap for the future.
In his speech, Chinese President Xi Jinping, the summit host, announced that the SCO members will uphold the authority and efficacy of WTO rules, strengthen an open, inclusive, transparent, non-discriminatory and rules-based multilateral trading regime, and oppose trade protectionism of any form. "We point out that economic globalization and regional integration are the compelling trend of our times," Xi said.
"All parties will continue to work in line with the principle of mutual benefit to improve regional economic cooperation arrangements, enhance the Belt and Road cooperation and complementarity of our respective development strategies, deepen cooperation in business, investment, finance, connectivity and agriculture, advance trade and investment facilitation, and foster new prospects for integrated development of the region to deliver benefits to our people and add fresh impetus to global growth," the Global Times quoted the Chinese president as saying.
Iran, JCPOA and SCO summit
One of the major issues on the summit's agenda was the consensus that Russia, China, and India (which comprise three of the five BRICS countries) do not back sanctions against Iran announced by Trump and his secretary of state. The summitters also rejected U.S. unilateralism in global affairs in favor of a multilateral world order.
Iran, a current observer member of the SCO which has officially applied full membership, participated at the event on June 8-9 at the presidential level. Iran sought to achieve several goals in the summit. The country initially seeks saving the 2015 international nuclear deal by getting assurances from the remaining parties to the nuclear agreement. It wants its interests, which is removal of economic and financial sanctions under the agreement, are guaranteed otherwise it would resume nuclear activities at a higher speed. Developing regional and international economic cooperation as an independent and reliable partner and also expanding a comprehensive strategic partnership with China in the fields of energy and infrastructure, stand among the other major priorities of Iran for attending the summit.
President Hassan Rouhani, addressing the summit, stressed the significance of a non-political approach to energy security and legitimate international trade in both regional and global development, calling on the international community to stand up to abuse of energy.
"Without a doubt, economic, political and legal unilateralism undermine regional convergence. In this regard, the United States' attempts to impose its own policies on others is a growing danger. A recent example of the United States' unilateralism and indifference towards the opinions of the international community is its decisions to withdraw from the JCPOA. The Islamic Republic of Iran has so far lived up to all his commitments under the JCPOA and the International Atomic Energy Agency (IAEA) has so far confirmed my country's commitment to its obligations for 11 times," he said. He added, "All signatories to the JCPOA have a responsibility regarding the commitments of removing sanctions under the JCPOA, and also based on Resolution 2231 of the UN Security Council and Article 25 of the Charter of the United Nations are responsible to help full implementation of the JCOPA and prevent any move that poses an obstacle on implementation of the JCPOA."
Welcoming efforts by Russia and China in maintaining the JCPOA, Rouhani announced that "Iran has given a limited opportunity to remaining signatories to the JCPOA so that they can give the necessary guarantee in action to help implement all the agreed conditions in the JCPOA and continue being a party to this agreement."
"Definitely, the U.S. has monitored the reactions to its withdrawal from the JCPOA and considers the lack of response to its unilateral withdrawal as not being costly, which will have very bad consequences for the international community," he underlined.
Rouhani's participation at the event bore some economic fruit, ended with the signing of a cooperation document within the framework of the Belt and Road Initiative with China. Included in the document was the agreement to use national currencies in bilateral investments and trade exchanges as well as developing technical and scientific cooperation between the two countries and cooperation between stock exchanges of the two countries.
In addition, concluding the summit, the SCO unanimously issued a statement urging a "full and efficient" implementation of the nuclear deal.
"The member SCO states deem it important to consistently implement the JCPOA on the Iranian nuclear program, and call for participants to strictly observe their obligations with a view to ensuring its full and efficient implementation and promoting peace and stability in the region and globally," read a paragraph of the statement issued at the end of the summit.
It is worth noting that almost concurrent with the SCO summit in Qingdao, the leaders of the Group of Seven (G7) met in Quebec, Canada. The G7 meeting ended in failure as leaders of Canada, France, Germany, and Britain clashed with President Trump over imposition of tariffs on import of steel and aluminum from Europe and Canada. Also one of the main contentions of the other six nations in the G7 group with Trump was their support for the JCPOA.
Cooperation with SCO members is Iran's lever of power   
To have a better view about the achievements of the SCO summit, the Tehran Times conducted a phone interview with Davood Abbasi, an economic expert.
Abbasi said, "Besides China and Russia who are the major powers at United Nations Security Council, the SCO members include Central Asian countries of Kazakhstan, Kyrgyzstan, Tajikistan, Uzbekistan, and India and Pakistan, among which India can be considered as a rising economic power in the world. Iran, Afghanistan, Belarus, and Mongolia are the observer states. Armenia, Azerbaijan, Cambodia, Nepal, Sri Lanka and Turkey are the dialogue partners."
"One of the main goals of SCO 2018 was supporting China's One Belt, One Road (OBOR) project, as a giant economic project which can engage all the named SCO members," he said.
He added, "The interesting point about this project is that China discusses a type of trade cooperation pattern totally different from the one used by the capitalist Westerners."
In fact, the SCO seeks creation of a free trade zone, transition to a preferential trade regime, and facilitating trade between countries along the OBOR route in Central Asia and the Persian Gulf region.
Abbasi said, "All the countries in the region can benefit from the establish the OBOR project, accordingly." In better words, he said, the project can spur all the member states to take part for joint economic benefits.
Answering a question on Iran's participation and role in development of OBOR and the advantages of cooperating with SCO to persevere its national interests, Abbasi said, "I believe some factors, such as the simultaneity of the SCO 2018 with G7 summit and Russia's tendency in trying other formats than G8, can highlight the positive and pivotal role of Iran in OBOR project for China, while such factors could increase Iran's bargaining power in the Shanghai Cooperation Organization as well as the country's capability in convincing EU members to preserve their economic relations with the country after withdrawal of U.S. from the JCPOA."
"Iran can benefit from its participation in the regional agreement of the SCO as an alternative for replacing European countries in its economic relations with those from the region," the economic expert highlighted.
"Under the present conditions, I guess that senior European officials are focusing more than before on continuing their oil purchases from Iran, of course, without encountering any difficulties in their relation with the U.S., specifically Trump. While, China preserved its purchase of 630,000 bpd of Iranian oil in 2017 and has announced its readiness to boost oil purchases from Iran. Besides, the value of Iran-China trade surpassed $37 billion in 2017, showing a 20-percent increase from the preceding year. Therefore, in case Europeans decide to decrease the purchasing volume, Iran has an alternative to replace them with eastern customers," he said, "This improves Iran's bargaining power."
"More effectively than any political measure, Iran's reinforcement of economic ties with regional countries and China can persuade Europeans to tighten their economic ties with Iran, while Europeans cannot ignore the economic benefits they can gain from developing ties with Iran," he concluded.
Considering Iran's relations with Russia and China, Abbasi said the three countries' cooperation on reconstruction of the war-hit Syria and Iraq can additionally improve their trilateral cooperation.
"In better words, the three countries' political cooperation is incrementally being converted into economic collaboration in the region to guarantee their economic benefits."
However, the road to reach such warm ties through OBOR is not smooth.  India disagrees with the OBOR project, which cuts through the Pakistan-controlled Kashmir since it lays claim to that area.
"Here, China has the possibility to resolve the old row between India and China by defining economic benefits for both sides via implementation of the OBOR project. Regarding its firm economic ties with India and Pakistan, Iran can also have a positive impact on India-Pakistan relations as well as that between Armenia and Azerbaijan," Abbasi remarked.
"In fact, when some countries in the region such as Saudi Arabia sow unrest via spreading ideological and political disputes…, Iran is transmitting a direct message to regional countries, inviting them to peace and boosting economic cooperation to guarantee multilateral benefits of all parties," Abbasi stated.
Asked about Iran's membership in the SCO, he expressed content that "some negotiations have been held at the SCO summit to improve Iran's situation in the SCO via accepting it as a permanent member," predicting that Iran's full membership in the regional bloc would be facilitated regarding the current circumstances.
First published at our partner Tehran Times
Morocco may have lost the World Cup but could lead the way in protest
Mounting anger and discontent is simmering across the Arab world much like it did in the walk-up to the 2011 popular revolts that toppled four autocratic leaders. Yet, this time round the anger does not always explode in mass street protests as it recently did in Jordan.
To be sure, fury at tax hikes in Jordan followed the classic pattern of sustained public protests. Protesters, in contrast to the calls for regime change that dominated the 2011 revolts, targeted the government's austerity measures and efforts to broaden its revenue base.
The protesters forced the resignation of prime minister Hani Mulki and the repeal of proposals for tax hikes that were being imposed to comply with conditions of a $723 million International Monetary Fund (IMF) loan to Jordan.
Austerity measures in Egypt linked to a $12 billion IMF loan have also sparked protests in a country in which dissent is brutally repressed. Rare protests erupted last month after the government hiked Cairo's metro fares by up to 250%.
Now, with economists and analysts waiting to see how Egyptians respond to this weekend's austerity measures that include a 50 percent rise in gasoline prices, the third since Egypt floated its currency in 2016, and further hikes expected in July, Morocco may provide a more risk-free and effective model for future protest in one of the most repressive parts of the world.
An online boycott campaign fuelled by anger at increasing consumer prices that uses hashtags such as "let it curdle" and "let it rot" has spread like wildfire across Moroccan social media. A survey in late May by economic daily L'Economiste suggested that 57 percent of Moroccans were participating in the boycott of some of Morocco's foremost oligopolies that have close ties to the government.
The boycott of the likes of French dairy giant Danone, mineral water company Oulmes, and the country's leading fuel distributor, Afriquia SMDC, is proving effective and more difficult to counter. The boycott recently expanded to include the country's fish markets.
The boycott has already halved Danone's sales. The company said it would post a 150 million Moroccan dirham ($15.9m) loss for the first six months of this year, cut raw milk purchases by 30 percent and reduce its number of short-term job contracts.
Danone employees recently staged a sit-in that blamed both the boycott and the government for their predicament. Lahcen Daoudi, a Cabinet minister, resigned after participating in a sit-in organized by Danone workers.
The boycott has also impacted the performance of energy companies. Shares of Total Maroc, the only listed fuel distributor, fell by almost 10 percent since the boycott began in April.
The strength of the boycott that was launched on Facebook pages that have attracted some two million visitors lies in the fact that identifying who is driving it has been difficult because no individual or group has publicly claimed ownership.
The boycott's effectiveness is enhanced by the selectiveness of its targets described by angry consumers on social media as "thieves" and "bloodsuckers."
Anonymity and the virtual character of the protest, in what could become a model elsewhere in the Middle East and North Africa, has made it difficult for the government to crackdown on its organizers.
Yet, even if the government identified the boycott's organizers, it would be unable to impose its will on choices that consumers make daily. The boycott also levels the playing field with even the poorest being able to impact the performance of economic giants.
In doing so, the boycott strategy counters region-wide frustration with the fact that protests have either failed to produce results or led in countries like Syria, Yemen, Egypt and Libya to mayhem, increased repression, and civil war.
"While boycotts solve some of the problems of protest movements,… they also create new challenges…. Diffuse structures…limit their ability to formulate clear demands, negotiate on the basis of these demands, respond to criticism of the movement and, eventually, end the boycott. Boycotts against domestic producers are likely to face criticism that they are hurting the economy and endangering the jobs of their compatriots working in the boycotted companies," cautioned Max Gallien, a London School of Economics PhD candidate who studies the political economy of North Africa.
The Moroccan boycott grew out of months of daily protests in the country's impoverished northern Rif region that the government tried to squash with a carrot-and-stick approach that involved the arrest of hundreds of people.
Underlying the boycott is a deep-seated resentment of the government's incestuous relationship with business leading to its failure to ensure fair competition that many believe has eroded purchasing power among rural poor and the urban middle class alike.
Afriquia is part of the Akwa group owned by Aziz Akhannouch, a Moroccan billionaire ranked by Forbes, who also serves as agriculture minister, heads a political party and is one of the kingdom's most powerful politicians. Oulmes is headed by Miriem Bensalah Chekroun, the former president of Morocco's confederation of enterprises, CGEM.
"The goal of this boycott is to unite Moroccan people and speak with one voice against expensive prices, poverty, unemployment, injustice, corruption and despotism," said one Facebook page that supports the boycott.
It is a message and a methodology that could well resonate across a swath of land stretching from the Atlantic coast of Africa to the Gulf.
Israel adopts abandoned Saudi sectarian logic
Amid ever closer cooperation with Saudi Arabia, Israel's military appears to be adopting the kind of sectarian anti-Shiite rhetoric that Saudi Crown Prince Mohammed bin Salman is abandoning as part of a bid to develop a national rather than a religious ethos and promote his yet to be defined form of moderate Islam.
The Israeli rhetoric in Arabic-language video clips that target a broad audience across the Middle East and North Africa emerged against the backdrop of a growing influence of conservative religious conscripts and officers in all branches of the Israeli armed forces.
The clips featuring army spokesman Major Avichay Adraee were also designed to undermine support for Hamas, the Islamist group that controls the Gaza Strip and backed recent mass anti-Israeli protests along the border with Israel, in advance of a visit to the Middle East by US peace negotiators Jared Kushner and Jason Greenblatt.
The visit could determine when US President Donald J. Trump publishes his long-awaited 'art of the deal' proposal for a resolution of the Israeli-Palestinian conflict that despite Israeli and tacit Saudi and United Arab Emirates backing is likely to be rejected by the Palestinians as well as those Arab states that have so far refused to tow the Saudi line.
Saudi Arabia and the United Arab Emirates, in tacit cooperation with the Palestine Authority on the West Bank, have adopted a carrot-and-stick approach in an as yet failed bid to weaken Hamas' control of Gaza in advance of the announcement of Mr. Trump's plan.
Citing a saying of the Prophet Mohammed, Major Adraee, painting Hamas as an Iranian stooge, asserted that "whoever acts like a people is one of them… You (Hamas) have officially become Shiites in line with the Prophet's saying… Have you not read the works of the classical jurists, scholars…who have clearly warned you about the threat Iranian Shiism poses to you and your peoples?"
In a twist of irony, Major Adraee quoted the very scholars Prince Mohammed appears to be downplaying. They include 18th century preacher Mohammed ibn Abdul Wahhab, whose ultra-conservative anti-Shiite interpretation of Islam shaped Saudi Arabia for much of its history; Taqi ad-Din Ahmad ibn Taymiyyah, a 14th century theologist and jurist, whose worldview, like that of Wahhabism, inspires militant Islam; and  Sheikh Yusuf al-Qaradawi, the Egyptian-born, Qatar-based scholar, who was designated a terrorist by Saudi Arabia and the UAE because he is believed to be the spiritual leader of the Muslim Brotherhood.
"The enlightened Salafi scholar Imam Mohammed ibn Abdul Wahhab warned you about the threat posed by these people to the Islamic faith with the heresies that they adhere to. He says: 'Look at this atheist's words. You will see that he employs rafidah (rejectionist) terms. They (the rafidah) are more harmful to the faith than Jews or Christians….' You follow the Iranians who pose a greater danger to you than any other force," Major Adraee said referring to Shiites in derogatory language employed by ultra-conservative Sunni Muslims.
Major Adraee went on to quote Ibn Tamiyyah as saying: "I know that the best of them are hypocrites. They fabricate lies and produce corrupt ideas to undermine the Islamic faith." Hypocrites is a term often used by ultra-conservatives to describe Shiites.
Major Adraee cited Sheikh Qaradawi as asserting that "the threat of the Shiites is their attempt to penetrate Sunni society. They are able to do so with their excessive wealth."
Addressing supporters of Hamas, Major Adraee asked: "Do you still want to be allies with these corrupt people while you claim to follow Islam…and respect Islamic scholars whose teachings you proudly disregard? Don't be hypocrites." Major Adraee concluded his remarks by warning that those who guided by Iran caused disruption would "be punished in the hereafter."
Major Adraee's remarks reflected not only Israeli public diplomacy tactics but also the Israeli military's changing demography. Religious recruits accounted for 40 percent of the graduates from last year's officer training course although they have yet to graduate to the military's most prestigious command posts.
Israel Defence Forces (IDF) chief of staff Lieutenant General Gadi Eizenkot this month passed over Brigadier General Ofer Winter, the military's most prominent religiously driven officer, in the promotions to division commander, one of the IDF's most prestigious postings,
As commander of Israel's elite infantry Golani Brigade that suffered high casualties in the 2014 war against Hamas, then Colonel. Winter made headlines by declaring holy war on the Palestinians. "The Lord God of Israel, make our way successful. … We're going to war for your people, Israel, against an enemy that defames you," the general told his troops.
Military sources said Brigadier General Winter was not passed over because of his religious or political views but as result of General Eizenkot's desire to promote younger officers.
Major Adraee became the first serving Israeli military officer to be published by a Saudi publication when Elaph, a London-based, award-winning independent news portal established by Saudi-British businessman and journalist Othman Al Omeir, published an anti-Hamas article the Israeli had co-authored. Mr. Al Omeir is believed to have close ties to Prince Mohammed's branch of the Saudi ruling family.
While Israel and Saudi Arabia have found common ground in their opposition to Iran, Major Adraee's anti-Shiite rhetoric appeared to hark back to language that Prince Mohammed has recently sought to avoid in his effort to redress the kingdom's image as a stronghold of ultra-conservatism and sectarianism.
Although he accused Iran in an interview in April with The Atlantic of wanting to spread "their extremist Shiite ideology," he insisted that "we don't believe we have Wahhabism. We believe we have, in Saudi Arabia, Sunni and Shiite… You will find a Shiite in the cabinet, you will find Shiites in government, the most important university in Saudi Arabia is headed by a Shiite… We have no problem with the Shiites. We have a problem with the ideology of the Iranian regime."
Said Mohammed Husain F. Jassem, a Middle East analyst with London-based research group Integrity UK, who translated Major Adraee's clips into English: "The rhetoric used by the IDF is exactly the same as the one used by ISIS, al-Qaeda, and anti-Shia bigots in propaganda videos and print."