Central Asia bloc has important role in 'peace, stability and prosperity' beyond region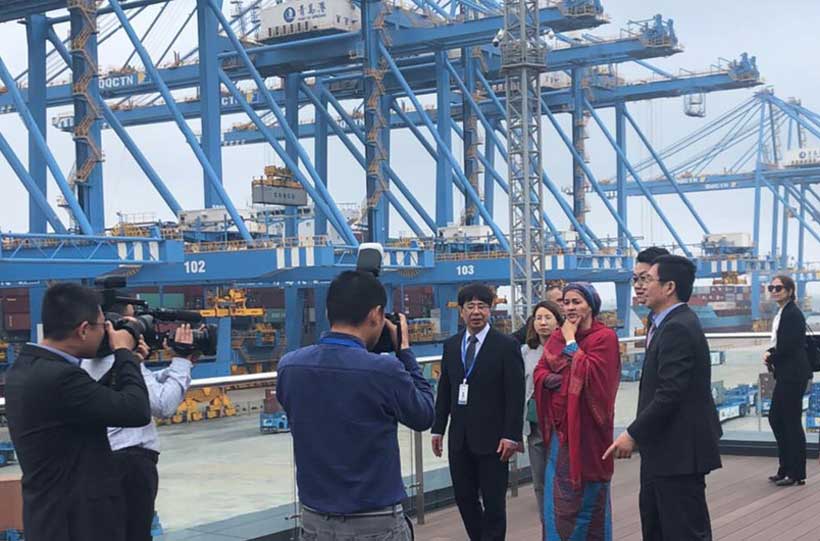 United Nations Deputy Secretary-General Amina Mohammed addressed the Heads of State summit of the Shanghai Cooperation Organisation (SCO) on Sunday, stressing that the organization's impact in the political, economic and security realm, extends well beyond the large Eurasian region that its members represent.
Noting that the SCO represents "more than half of humanity," Deputy Secretary-General Amina Mohammed said the eight-nation bloc is assuming even greater importance whose "expanded range of activities will have implications for peace, stability, and prosperity across the region and far beyond."
"You are playing a growing role in shaping the global agenda, based on cooperation and dialogue," Ms. Mohammed told the group in Qingdao, China.
The "Shanghai 5" was established in 1996 to cement peaceful cross-border relations between Kazakhstan, Kyrgyzstan, China, Russia and Tajikistan. It has since metamorphosed into the SCO, which now includes Uzbekistan, India and Pakistan.
"The world needs a recommitment to multilateralism, and we need it now," Ms. Mohammed stressed.
"Regional and international threats to security and stability, from transnational crime to climate change to violent extremism and terrorism, cannot be resolved by any one country alone," she added.
The deputy UN chief called the 2030 Agenda for Sustainable Development and the SCO's Development Strategy 2025 "our blueprints for joint action."
She flagged last year's SCO joint communique as underscoring the 2030 Agenda's implementation and as an important step toward strengthening cooperation in mutual sectors.
"Your joint commitment to support the promotion of innovative technology; to sharing experiences in the formulation and implementation of national development strategies, as well as to working together towards the creation of a favourable investment and business climate are crucial and we are here to support you in those endeavours," Ms. Mohammed said.
"To ensure a fair globalization, we must ensure nations are able to have the necessary domestic resources and capacities to steer their economies and development agendas towards our common goals as outlined by the 2030 Agenda and the Paris Agreement," she added.
The Deputy Secretary-General commended the bloc's commitment to counter regional threats and its revitalization of the SCO-Afghanistan Contact Group as a strong contribution to support the Afghan-led peace process.
Turning to cross-border cooperation, she hailed China's Belt and Road initiative as "promoting connectivity, economic prosperity and diplomatic ties across the region."
"The UN continues to support stronger collaboration between developing countries by catalyzing, brokering and facilitating South-South cooperation across many spheres," she asserted.
Ms. Mohammed noted that UN-SCO relations, based on the 2010 Joint Declaration, "provide a solid foundation for future cooperation to benefit of people of this region and the world."
"Let us take every opportunity, starting with the first-ever UN Conference of Heads of Counter-Terrorism Agencies later this month, to build and strengthen our partnership and cooperation at the global, regional and local level," she said.
New Satellite Data Reveals Progress: Global Gas Flaring Declined in 2017
New satellite data released today shows a significant decline in gas flaring at oil production sites around the world in 2017, despite a half-percent increase in global oil production. The nearly 5 percent flaring decline begins to reverse years of increases in global gas flaring that started in 2010.
The data reveals about 141 billion cubic meters (bcm) of natural gas was flared in 2017, down from nearly 148 bcm in 2016. While Russia remains the world's largest gas flaring country, it also saw the largest decline in flaring last year. Venezuela and Mexico also reduced their flaring significantly in 2017. In Iran and Libya there were notable increases in gas flaring.
The data was released by the Global Gas Flaring Reduction Partnership (GGFR), a World Bank-managed organization comprised of governments, oil companies, and international institutions working to reduce gas flaring. The U.S. National Oceanic and Atmospheric Administration (NOAA) and GGFR have developed the flaring estimates in cooperation with the University of Colorado, based on observations from advanced sensors in a satellite launched in 2012.
Gas flaring – the burning of natural gas associated with oil extraction – takes place because of technical, regulatory, and/or economic constraints. It causes more than 350 million tons of CO2 emissions every year, with serious harmful impacts from un-combusted methane and black carbon emissions. Gas flaring is also a substantial waste of energy resources the world can ill afford.
"The latest global gas flaring data is encouraging, but we will have to wait a few more years to know whether it represents a much-needed turning point," said Riccardo Puliti, the World Bank's Senior Director and head of its Energy & Extractives Global Practice. "Ending routine gas flaring is a key component of our climate change mitigation agenda, and the global flaring reduction Initiative we launched just three years ago now has 77 endorsers, covering about 60 percent of the total gas flared around the world."
In 2015, UN Secretary-General Ban Ki-moon, World Bank President Jim Yong Kim, and 25 initial endorsers launched the "Zero Routine Flaring by 2030" Initiative that commits endorsers to not routinely flare gas in new oil field developments and to seek solutions to end routine flaring at existing oil production sites as soon as possible and no later than 2030. It has now been endorsed by 27 governments, 35 oil companies, and 15 development institutions.
"The Initiative is an essential tool for ending routine flaring," said Bjorn Hamso, GGFR's Program Manager. "Going forward, it is paramount that oil field operators continue to address ongoing "legacy" flaring, and that new business models are developed that will enable more investors to participate in flaring reduction projects."
World Tourism Day Places Focus on Innovation & Digital Transformation
The importance of digital technologies in tourism, providing opportunities for innovation and preparing the sector for the future of work, is at the centre of World Tourism Day 2018, to be celebrated in Budapest, Hungary (27 September 2018).
World Tourism Day, celebrated every 27 September around the world, is a unique opportunity to raise awareness on tourism's actual and potential contribution to sustainable development.
This year's World Tourism Day (WTD) will help to put the opportunities provided to tourism, by technological advances including big data, artificial intelligence and digital platforms, on the map of sustainable development. The World Tourism Organization (UNWTO) sees digital advances and innovation as part of the solution to the challenge of marrying continued growth with a more sustainable and responsible tourism sector.
"Harnessing innovation and digital advances provides tourism with opportunities to improve inclusiveness, local community empowerment and efficient resource management, amongst other objectives within the wider sustainable development agenda", said UNWTO Secretary-General Zurab Pololikashvili.
The WTD official celebration will be held in Budapest, Hungary, a country enjoying steady growth of tourism backed by consistent policy support and a commitment to the digital future. Other celebrations will take place worldwide.
The official celebration will also see the announcement of the semi-finalists of the 1st UNWTO Tourism Startup Competition, launched by UNWTO and Globalia to give visibility to startups with innovative ideas capable of revolutionizing the way we travel and enjoy tourism.
EU and China step up cooperation on climate change and clean energy
At the China-EU Summit on 16 July in Beijing, the President of the European Commission Jean-Claude Juncker, the President of the Council, Donald Tusk, and the Chinese Prime Minister Li Keqiang adopted a "Leaders' Statement on Climate Change and Clean Energy". Commission Vice-President Jyrki Katainen and the Chinese Minister of Ecology and Environment Li Ganjie signed a Memorandum of Understanding to enhance cooperation on emissions trading between China and the EU.
In the Leaders' Statement, China and the EU underline the need to advance the implementation of the Paris Agreement under the UNFCCC process, and to get the Paris Agreement Work Programme – the rulebook for the implementation of the Paris Agreement – adopted at the next global climate conference in December 2018 in Katowice, Poland.
The Statement shows how the EU and China will intensify their political, technical, economic and scientific cooperation on climate change and clean energy to drive forward a world-wide transformation to a thriving low carbon and climate-resilient economy and society and clean energy system. It clearly shows their commitment to climate action and achieving a clean energy transition are urgent imperatives.
In the Memorandum of Understanding China and the EU acknowledge emissions trading as a cost-effective policy tool with significant potential to contribute to a low-carbon economy and the necessary innovation and deployment of low carbon technologies.
Welcoming this commitment, President Juncker said: We have underlined our joint, strong determination to fight climate change and demonstrate global leadership. It shows our commitment to multilateralism and recognises that climate change is a global challenge affecting all countries on earth. There is no time for us to sit back and watch passively. Now is the time for decisive action.
Commissioner for Climate Action and Energy Miguel Arias Cañete said: Further developing cooperation between the two largest emission trading systems of the world is not only in our mutual interest but also necessary to tackle common challenges in the mid- and longer term. The newly established policy dialogue will be instrumental in this context.
The Memorandum of Understanding on EU-China cooperation on emissions trading establishes a policy dialogue, foresees the joint organisation of seminars and workshops, as well as joint research activities.