Central Asia bloc has important role in 'peace, stability and prosperity' beyond region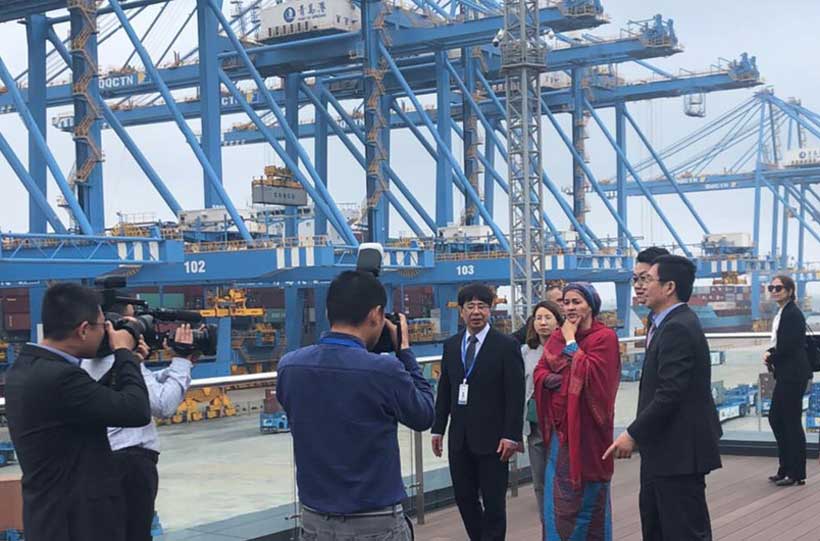 United Nations Deputy Secretary-General Amina Mohammed addressed the Heads of State summit of the Shanghai Cooperation Organisation (SCO) on Sunday, stressing that the organization's impact in the political, economic and security realm, extends well beyond the large Eurasian region that its members represent.
Noting that the SCO represents "more than half of humanity," Deputy Secretary-General Amina Mohammed said the eight-nation bloc is assuming even greater importance whose "expanded range of activities will have implications for peace, stability, and prosperity across the region and far beyond."
"You are playing a growing role in shaping the global agenda, based on cooperation and dialogue," Ms. Mohammed told the group in Qingdao, China.
The "Shanghai 5" was established in 1996 to cement peaceful cross-border relations between Kazakhstan, Kyrgyzstan, China, Russia and Tajikistan. It has since metamorphosed into the SCO, which now includes Uzbekistan, India and Pakistan.
"The world needs a recommitment to multilateralism, and we need it now," Ms. Mohammed stressed.
"Regional and international threats to security and stability, from transnational crime to climate change to violent extremism and terrorism, cannot be resolved by any one country alone," she added.
The deputy UN chief called the 2030 Agenda for Sustainable Development and the SCO's Development Strategy 2025 "our blueprints for joint action."
She flagged last year's SCO joint communique as underscoring the 2030 Agenda's implementation and as an important step toward strengthening cooperation in mutual sectors.
"Your joint commitment to support the promotion of innovative technology; to sharing experiences in the formulation and implementation of national development strategies, as well as to working together towards the creation of a favourable investment and business climate are crucial and we are here to support you in those endeavours," Ms. Mohammed said.
"To ensure a fair globalization, we must ensure nations are able to have the necessary domestic resources and capacities to steer their economies and development agendas towards our common goals as outlined by the 2030 Agenda and the Paris Agreement," she added.
The Deputy Secretary-General commended the bloc's commitment to counter regional threats and its revitalization of the SCO-Afghanistan Contact Group as a strong contribution to support the Afghan-led peace process.
Turning to cross-border cooperation, she hailed China's Belt and Road initiative as "promoting connectivity, economic prosperity and diplomatic ties across the region."
"The UN continues to support stronger collaboration between developing countries by catalyzing, brokering and facilitating South-South cooperation across many spheres," she asserted.
Ms. Mohammed noted that UN-SCO relations, based on the 2010 Joint Declaration, "provide a solid foundation for future cooperation to benefit of people of this region and the world."
"Let us take every opportunity, starting with the first-ever UN Conference of Heads of Counter-Terrorism Agencies later this month, to build and strengthen our partnership and cooperation at the global, regional and local level," she said.
The world needs to build on the growing momentum behind carbon capture
After years of slow progress, technologies to capture carbon emissions and store or reuse them are gaining momentum, a trend that will need to accelerate significantly for the world to achieve its energy and climate goals, according to a new special report released by the IEA today.
The report, CCUS in Clean Energy Transitions, is being launched at an IEA online event opened by Prime Minister Erna Solberg of Norway, whose government announced a major funding commitment this week for a new carbon capture project that can help tackle emissions from Norway and neighbouring countries.
Carbon capture, utilisation and storage (CCUS) is the only group of technologies that contributes both to reducing emissions in key sectors directly and to removing CO2 from the atmosphere to balance the emissions that are the hardest to prevent – a crucial part of reaching the net-zero emissions goals that a growing number of governments and companies have set for themselves.
Part of the IEA's Energy Technology Perspectives Series, the new IEA report is the most comprehensive global study on CCUS to date. It assesses the state of play of CCUS technologies and maps out the evolving and expanding role they will need to play to put global emissions on a sustainable trajectory. It includes a detailed analysis of CO2 emissions from power and industrial facilities in China, Europe and the United States and potential for storing them.
"The scale of the climate challenge means we need to act across a wide range of energy technologies. Carbon capture is critical for ensuring our transitions to clean energy are secure and sustainable," said Dr Fatih Birol, the IEA Executive Director.
"In order to develop and deploy carbon capture and storage as a technology for the future we need investments in solutions and facilities in many regions and countries," said Prime Minister Solberg. "CCUS will be necessary on a global scale if we are to meet the Paris Agreement. And we must start now."
"Norway has been a global leader in researching, developing and implementing carbon capture technologies, as demonstrated by its major funding commitment this week to the impressive Longship project, which can help not just Norway but other European countries reduce their emissions," Dr Birol said. "The IEA is delighted and honoured that Prime Minister Solberg is taking part in the launch of our new report that will help inform policy-making on CCUS around the world."
Plans for more than 30 commercial CCUS facilities have been announced globally in the last three years. And projects now nearing a final investment decision represent an estimated potential investment of around USD 27 billion – more than double the investment planned in 2017. This portfolio of projects is increasingly diverse and would double the amount of CO2 captured globally.
The report sets out the four main ways that CCUS technologies contribute to clean energy transitions:
Tackling emissions from existing energy infrastructure such as power and industrial plants;
Providing a solution for some of the most challenging emissions from heavy industries like cement and chemicals, as well as from aviation;
Offering a cost-effective pathway for low-carbon hydrogen production in many regions;
Removing CO2 from the atmosphere.
Although CCUS facilities have been operating for decades in certain industries like natural gas and fertilisers, they are still at an early stage of development in key sectors such as cement. These are the areas where CCUS technologies are particularly important for tackling emissions because of a lack of alternatives.
"Action from governments will be essential for establishing a sustainable and viable market for CCUS," Dr Birol said. "But industry must also embrace the opportunity. No sector will be unaffected by clean energy transitions – and for some, including heavy industry, the value of CCUS is inescapable. As our new report demonstrates, the IEA is committed to leading CCUS analysis and policy advice worldwide – and to bringing together governments, companies and other key players to work together to achieve our shared energy and climate goals."
Will Pandemic Disruption Drive More Legal Operations Transformation?
While 86% of in-house counsel surveyed said they see opportunity to modernize legal services provided to their stakeholders, Deloitte's "2020 Legal Operations Survey" found that challenges remain. Respondents described their corporate legal departments' maturity level for technology as just "foundational."
Ashley Smith, Deloitte Risk & Financial Advisory managing director, Deloitte Transactions and Business Analytics LLP said, "Organizations everywhere have undergone massive change as a result of the COVID-19 pandemic and related economic uncertainties. As business strategies shift and the corporate legal department is called on to do more to help organizations navigate through disruption, focusing on legal operations transformation could help in-house counsel and their teams to evolve beyond heavy manual, tactical work – into leveraging technology to offer more strategic insights and value."
Corporate legal departments face a number of challenges in legal transformation. Many survey respondents (71%) report that their teams spend a significant amount of time on manual tasks. In addition, the majority of respondents (74%) felt they do not have clear and accurate metrics on the work being completed by internal and external resources, and very few respondents (13%) have a process to validate that work and resource levels are properly aligned. From a process perspective, 71% of respondents do not have dedicated project management software for corporate legal department use.
Smith added, "Unfortunately, there's no 'easy button' to corporate legal department modernization. Many legal professionals want to modernize and their organizations often have good systems already within the enterprise to help them achieve it. The challenge lies in the clean-up work needed to get the right data into those systems and to get disparate systems working well together. That step into change management doesn't seem to be one most legal departments have the appetite or bandwidth to take on presently. But, as demands on the corporate legal department seem only to increase, it's a goal worth setting as the pandemic continues."
Looking forward, 62% of respondents agree that establishing better processes around their existing systems would help solve their current technology challenges.
The Great Reset: A Global Opening Moment to Turn Crisis into Opportunity
H.M. King Abdullah II ibn Al Hussein of Jordan opened the World Economic Forum's Sustainable Development Impact Summit 2020 with a call for a Great Reset, urging drastic action to address problems laid bare and exacerbated by the global COVID-19 pandemic.
"This crisis should also be seen as an opportunity for all of us – if we act decisively, and act together," he said. "We must begin by rethinking our entire global system to become more integrated, resilient and just. A globalized world cannot thrive by leaving its most vulnerable communities behind. We are all in this together. And the sooner we realize it, the better."
"The way forward must be rooted in a re-globalization that fortifies the building blocks of our international community by enabling our countries to strike a balance between self-reliance and positive-positive interdependence, enabling us all to jointly mark a holistic response to all crises facing our world," he said. "A response that strengthens our global economy but also addresses inequalities. A response that leads to technological and industrial progress but also ensures the sustainability of our shared environment."
In the summit's opening session, panellists drew attention to a wide range of issues that can and must be addressed as the world remakes itself in the wake of the pandemic. Disruptions to supply chains – including massive shortages of personal protective equipment and other medical supplies in the early months of the outbreak – highlighted not only the fragility of intricate global systems dependent on unimpeded transport but also the fact that existing supply chains were built for convenience and are not human-centred, said Grace Forrest, Founding Director of the Walk Free Foundation. "Supply chains were built to be efficient, irrespective of the cost locally," she said.
She called for more locally focused and more transparent supply chains that centre communities, commit to sustainability and remove obstacles to the full and free participation of women and girls, who make up over 70% of the victims of modern slavery. "We need to be honest that we cannot keep moving forward when so many people are being held back," she said.
Agricultural practices by the world's farmers cannot be changed through shifts in consumption alone, said Anushka Ratnayake, Founder and Chief Executive Officer of myAgro. "It's not a secret that farmers need tools to adapt to outdated agricultural practices, given climate change, and until now most of that change has been pushed by the consumer. But to truly reset this, change needs to come and start from the farmers and we can help support them to do that by deeply listening," she said.
Ratnayake warned of a looming food security crisis, "particularly in countries where we work where governments have created restrictions on travel or closed weekly markets, which is the main way that farmers earn money". She said: "During the dry season there was a lot of hesitance to spend money and make investments in their farms and so I think in the next coming six to 12 months, food security is going to be our biggest crisis – maybe even ahead of COVID."
Rebecca Masisak, Chief Executive Officer of TechSoup Global, stressed that technology can and must be part of the solution but that unequal access to technology has so far proved to be a big part of the problem, worsening societal divisions in a time when, due to the pandemic, reliance on digital connectivity has markedly increased.
"Bill Gates has talked about the wide availability of digital technology that allows sharing of information global collaboration as being a critical factor in the speed of innovation," she noted, "but digital technologies simply are not yet widely available to civil society at the grassroots level. We must invest in the necessary infrastructure for innovation. We need to support civil society workers and their communities in making all they know available to each other, to governments to business, so that the Great Reset is, in fact, a reset, and is improving both justice and opportunity for all."
Alain Bejjani, Chief Executive Officer of Majid Al Futtaim Holding, said his company has seized on the pandemic to aggressively move forward on eliminating plastics from production and packaging – a move he said that both customers and partner companies have quickly accepted.
Ivan Duque, President of Colombia, noted that although his country has faced a number of crises this year, including a massive inflow of refugees from neighbouring Venezuela, Colombia has managed to meet the challenges and substantially reopen its economy without ignoring environmental commitments.
He said that Colombia has increased its intensive care unit capacity from 5,000 to over 10,000 beds and has kept deaths and contagions per million to levels lower than those of many countries with higher per capita income. In spite of this, Duque said, "we have not left the green agenda behind; we have even accelerated it."
Colombia has pledged to plant 180 million trees by August 2022 as part of the World Economic Forum's Trillion Trees Initiative and is on track to plant 50 million this year despite the pandemic. Duque also highlighted the way that executing state priorities can actually advance sustainability goals. He cited as examples the efforts to stamp out cocoa cultivation, noting that each hectare of cocoa planted results in the destruction of three hectares of tropical jungle, as well as illegal cattle ranching and timber harvesting.
Duque also called for the creation of a credit market modelled on carbon credit markets and aimed at mobilizing global resources to protect the Amazon Basin.
"I think the Great Reset leaves us with the message that we have to find more humane solutions," he said. "We have to acknowledge that whether it's technology, whether it is with entrepreneurship, whether it's through government, we all have to put the human being at the centre and that means the human being has to be more conscious about how to reduce the individual CO2 footprint, and at the same time, how they can all participate in building everlasting sustainable solutions."
King Abdullah II captured the theme of the Sustainable Development Impact Summit well when he exhorted participants: "Instead of looking at problems to solve, I urge you to look at opportunities to seize and ways to collaborate to rebuild a truly global inclusive system that leaves no one behind."