What Do We Need To Know About Brexit: What Is Happening Now?
European Union is a political and economic partnership of 28 European countries. The idea came up soon after the World War 2 that countries which trade together are less likely to get into a war with each other and consequently their economic growth is also fostered. EU has its own parliament and defined rules of the environment, consumer rights, transport, and common currency "EURO" used by 19 of the member states.
There had been no mechanism for any country to exit EU. However, article 50 of the Treaty on European Union introduced a procedure for any member state to leave or exit the EU. It was enacted by Treaty of Lisbon, which holds the signatures of all EU countries and it became a law in 2009. In this Treaty there are five short passages stating that;a) any member state can decide to leave the EU, b)the leaving country shall notify the EU of its plans and intentions, c) there are two years to reach an agreement except if member states unanimously decide to extend this period, d) the withdrawing member cannot participate in discussion of European Council, and lastly e) a request of rejoining the EU will be entertained with subject to the article 49.
Plebiscite In Uk
There have been 11 plebiscites held in the UK since 1973 and majority of them are linked to the devaluation. In 1975, first ever plebiscite was demonstrated in the United Kingdom, but that was subjected tothe continued membership of European Union. Now,a referendum took place on June 23rd, 2016 regarding the membership of UK in European Union, when UK voted to leave EU. It was named as BREXIT, but what does the term BREXIT actually mean? To answer this, it is a shorthand axiom of UK leaving the EU by merging two terms Britain and Exit. Alike, the Greek exit from the eurozone in 2012-2015 was dubbed as GREXIT. Let's get to know the referendum breakdown across the UK: England voted to leave EU by 54pc and 46pc; Wales also voted for Brexit by 53pc in favor and 47pc against. However, in Northern Ireland 56pc of citizens backed staying in EU, the same thing happened in Scotland as turn out was 62pc.Since then, Theresa May, a former home secretary took over the prime minister office after David Cameroon resigned from the premiership.
Economy Of UK Since Brexit Vote
The senior parliamentarians and David Cameroon envisaged an immediate economic crisis if UK voted to leave EU. The value of pound slumped very next day after referendum but it regained its losses real soon. Immediate predictions of catastrophe were proven wrong as the economy of UK grew by 1.6% in 2016. It was near to Germany's 1.9pc amongst leading G7 industrialized nations. The growth rate remained stagnant in 2017. According to Office for National Statistics figures, an increase in inflation was observed after June 2016 but it eased to stand at 2.5pc. Unemployment has fallen to nearly a forty-year low of 4.3pc.
Hard And Soft Brexit Means
The terms 'hard' and 'soft' are used during debates on account of UK exit from European Union. Generally, they give a notion of the proximity ofUK's relations with EU post-Brexit, but there is no such definition of these terms. Soft Brexit is interpreted as acceptance of free movement of people in a single market. Whereas on contrary to this, hard Brexit contains no compromise of UK with respect to the free movement of people even if destined to leave single market. The question prompt up here is that what is Single Market?
The Single Market of European Union allows the free movement of money, services, and goods within the EU, as it is a single nation. People are allowed to land a job or set up their own business within EU zone. A common law-making is needed to certify that commodities are manufactured with same standards and enforce rules to certify a standard level. The idea of the single market was proposed to create employment opportunities, boost trade, and lower the prices. The advocates of the Single Market view it as an achievement. Great Britain already had a membership of free trade area in Europe prior to joining "common market."Free trade area is not a single market since member states do nor amalgamate their economies but member states can trade without paying duties.
Theresa May's Stance On Brexit
Since the referendum campaign Theresa May was against the Brexit but later she said it is what our people wish for, with her key comment "Brexit means Brexit."A process to leave EU then triggered on March 29, 2017, while plans for Transition Period have been outlined by her after Brexit in a speech in Italy. She surprised everyone by calling an election on June 8, 2017, and opined that she wants to strengthen her hands in Brexit talks with leaders of Europe.
Transition Period
The transitional period is the time span after March 29th, 2019¬¬¬ to December 31st, 2020, to permit businesses and everything in place for the moment when new rules between EU and UK will begin after post-Brexit. The features and particulars to develop new relationship would also be hammered out.EU wants to endure the free movement during the transition period. The United Kingdom will be pulling out of its own trade deals.
Negotiations
Brexit negotiations officially have begun on June 19, 2017. The first tasks in EU summits were to get an agreement after Brexit on the rights of EU and UK expatriates. They were to decide a figure that the UK will have to pay to while leaving so-called 'Divorce Bill.' A breakthrough deal in Brexit talks reached on December 8 and now the UK and EU have shifted to discuss the permanent post-Brexit relationship.
What Is Happening Now And How Long It Will Take For Britain To Exit EU
Despite few political factions striving to halt the happening of Brexit. The government of the UK and main political party in opposition stood in favor of Brexit. They are centering their eyes mainly on a post-Brexit relationship with EU. The UK's scheduled time for leaving the EU is on March 29, 2019, at 11 pm UK time. The EU and UK have conditionally consented on three issues so-called "divorce issues", how much United Kingdom owes the EU, what happens to citizens of European Union residing in the United Kingdom and vice versa, and lastly, what happens to the border of Northern Ireland. Such discussions will lead to smoother future affairs and implementation of negotiated deals after Brexit.
The neoliberal project strikes back: Upcoming regime-change in post-pandemic Bulgaria?
In the last few years, Eastern European politics has hit the headlines around the world rather often. However, commentaries on the topic have been everything but flattering — and not without reason. Usually, journalists and politicians lament the 'democratic backsliding' affecting the region and the lack of Western-minded leaders. But the fluid political situation in Bulgaria seems to offer a first chance for neo-liberal elites to strike back. Will it really happen?
The laments of the (neo)liberal media — Introduction
Since the 2010s, several commentators in the US and Europe have suddenly become experts on Eastern Europe writing bitter pieces. Usually, the region hits the headlines only due to the surreptitious regime change still undergoing in Poland and Hungary. Namely, commentators posit the likes of Orban and Kaczyński as dictators forgetting that most voters supports them (Figure 1). Meanwhile, few remind that the European Union is also to blame for the region's growing unacceptance of the 'liberal' values. For instance, the region's underrepresentation in EU institutions does "severely undermine support for the EU's institutions, values and policies". But most of these 'experts' prefer to focus on how "populist" leaderships are making Budapest and Warsaw "worse" than Brexit. Rarely do they emphasise the many "fragile spots that require further discussion on multiple levels" in Eastern Europe's post-socialist democracies.
Actually, the simple truth is that these attacks stem from a clear ideological agenda — which some reproduce unwittingly. In the end, those who demonise Eastern European leaders for their "machoistic" attitude are simply sorrow losers. In fact, they echo local neoliberal elites' lamentations for their inability to harness consensus (Chart 1).
Neoliberals' comeback — Is Hungary an exception?
However, despite non-trivial differences amongst anti-government formations, a united 'opposition' bloc in taking shape in some illiberal Eastern European democracies. Interestingly, this strategy may yield the first concrete, positive results where illiberalism is at its apogee: Hungary. As to "put an end" to Orban's rule, social-democrats, centrists and other neoliberals have agree to put their "differences aside". So much so, that this rainbow coalition including six Hungarian parties is celebrating its primary at the time of writing. As of now, they are likely to select Budapest's liberal-green mayor as their joint candidate to the prime ministership. Few people would make a starker contrast to the Orban and his strong appeal to rural constituencies. But Hungary is an almost unique case. Besides rigging the economic game in favour of its allies, Orban has rewritten the constitution making it much more 'illiberal'.
Hence, the wind of history seems to be changing direction, at least in Hungary. But illiberal leaders in the rest of Eastern Europe have had a less spectacular and more recent success than Orban. Especially in those countries that are members of the EU such as Poland, Slovenia, Czechia, and Bulgaria. For instance, many criticise the Slovenian Prime Minister for having "repeatedly and publicly attacked the country's" main public media outlets." Whilst Poland's Constitutional Tribunal face strenuous condemnations for considering EU law' subordination to the constitution and its politicisation. Whereas, the exact same things have happened in Hungary without anyone complaining about it. Thus, expectations of a weaker and slower rejoinder are only natural.
The second piece of the puzzle: Bulgaria
Against this background, the transformations of the Bulgarian centre-right acquire a completely new meaning and a much more far-reaching significance. In fact, neo-liberal elites seem intent to exploit the pandemic-induced crisis to hold on power beyond Hungary as well. Apparently, the first stepping stone in this process of 'reconquest' of the region will be Bulgaria. After all, the protracted institutional crisis the country is facing grants immense potentiality for emerging new leaders advocating for radical changes. For a while now, neoliberal forces are on the verge of allying with left-leaning parties in the upcoming election. Perhaps, this almost-cohesive coalition will manage to form a stable government after three consecutive snap elections in early 2022.
Therefore, it is worth giving more attention to what exactly is happening in Bulgarian power politics. Namely, to identify which leaders are on the rise, what agenda do the advance and what their vested interests are.
The shrinking left opposition
Since the auto-golpe of the Communist Party in the 1990s, fair and competitive elections have taken place regularly in Bulgaria. At the first few democratic election of their life, voters lent the victory to the former-communist Bulgarian Social Party (BSP). Notably, unlike the German SPD and other Western-European socialists and social-democrats, the BSP's agenda combines social conservatism and economic interventionism. Actually, since the devasting hyperinflation of winter 1996–1997, the BSP has managed to win only one lection, in 2005. Nevertheless, the party remains the main political force of the traditional left floating between 15% and 25% of the votes. Thus, the BSP and its leftmost fractions have represented the only real opposition to Prime Minister Boyko Borisov since 2009.
Or they did until April 2021, when the party ranked third in the general elections for the second time ever. Then, the party barely avoided slipping to the fourth place at the snap elections in July 2021, a colossal debacle. However, the BSP's lost votes have not migrated compactly to another leftist party. In fact, the only likeminded list on the left, ISNI, gathered just around 5% of all votes in July. Hence, the Bulgarian left of the centre has shrunk to no more than 18% of the electorate. In order to find out where did these votes go one needs to look what is happening on the right. In fact, the socially and economically liberal right of the centre seems to have been thriving during the pandemic.
The centre-right between feckless populism …
The Bulgarian centre-right has been quite effervescent ever since the end of real socialism. Not least because the anti-systemic bloc exploded in a myriad of smaller fraction earlier than elsewhere in Eastern Europe. To be exact, the anti-communist coalition called Union of Democratic Forces (UDF) lost its hegemony as early as 2001. Subsequently, the UDF won slightly less than 9% of the vote in 2005 before disappearing from the electoral maps. In less than a decade, the Bulgarian centre of the right moved beyond the UDF and its irrelevant successor parties. So Boyko Borisov, the populist mayor of Sofia, took the helm of this political segment with his personal party, GERB. From 2009 and until 2021, the party has won commanding majorities of the popular vote (Figure 3). Thus, GERB has long dominated the Bulgarian centre-right as a whole forcing smaller parties to accept its overreaching patronage.
This equilibrium tuned unstable in 2020, when Democratic Bulgaria (DB), a coalition of neoliberal parties, gained massive prominence. Thank to a mostly favourable coverage on many opposition media, DB rallied many of those Borisov's long tenure had disillusioned. Namely, at the latest election it gathered about 12% of the preferences, ranking close fourth behind the BSP. Clearly, in doing so DB became GERB's number one adversary 'officially'. But last month, DB has proved its decisivenss for the formation of any government; making it a kingmaker of sorts.
… and neoliberal elitism
But the story does not end of the story for Bulgaria's neoliberal elites. In fact, this camp has a new rising leader: Kiril Petkov, former caretaker finance minister between May and August 2021. Actually, Petkov was a complete novice in politicking before his presidential appointment to a cabinet-ranking post a few months ago. However, he has learnt rather quickly how to hide his secrets behind a thick smoke courtain or counter-allegations and dissimulation. Most recently, he has proved these new skills during the 'affaire' concerning his alleged – then ascertained – double citizenship. In fact, Bulgarian ministers cannot hold any other citizenship by law; but Petkov was a Canadian national until April 21. Still, he did not disclose the renounciation to his Canadian citizenship until some parlamentarians raised the issue publicly. Eventually, Pertkov managed to get out of the woods by steering the attention on a different topic: his new party.
In fact, Perkov and fellow caretaker economy minister Asen Vasilev, announced the plarform 'Let's Continue the Change' (Prodolzhavame promyanata, PP). By now, there can be little doubt that PP is a neoliberal party addressing mostly well-educated workers and liberal-minded youngsters. First of all, Petkov distanced himself and his project from the popular, but quite conservative President Rumen Radev immediately. Second, Bulgaria was amongst the signatories of the OECD's proposal to raise the minimum corporate-tax rate to 12.5%. Yet, PP will not support any tax increase despite the fact that Bulgaria adopting a 10% flat-rate corporate tax. Moreover, the focus of PP's programme is on the businesses environment and foreign investments rather than redistribution and social rights. Coherently, the first formations to support Petkov and Vasilev's project are 'Volt' and 'Middle European Class' — both pro-EU and neoliberal.
Neoliberals raising their heads in Eastern Europe — Conclusion
All things considered Petkov and Vasilev launched PP officially just in time to participate in the next elections in November. And PP may win at least 9% of the votes, even though the list of candidates is not available yet. Together with DB's expected 15–16%, PP may tip the parliamentarian balance in favour of the neoliberal right. Meanwhile, both the traditional and the populist left are likely to buckle visibly. Even if the BSP manages not to slip below DB, ISNI is still lingering over the 4% electoral threshold. Thus, economically progressive forces could hold no more than 48 – and probably 40 – on the 240 available seats. Meanwhile, the neoliberal centre-right could gather as many as 60 seats and no less than 50, making it decisive for any realistic majority.
In conclusion. Boyko Borisov could become the first illiberal, but democratically elected, Prime Minister of an EU country to be ousted by such an electoral bloc the EU- and US-financed opposition defeated Vladimir Mečiar in the 1999 Slovak presidential election. Eventually, Bulgarian illiberalism could be the first victim of neoliberalism's revanche in post-pandemic Eastern Europe.
Europe tells Biden "no way" to Cold War with China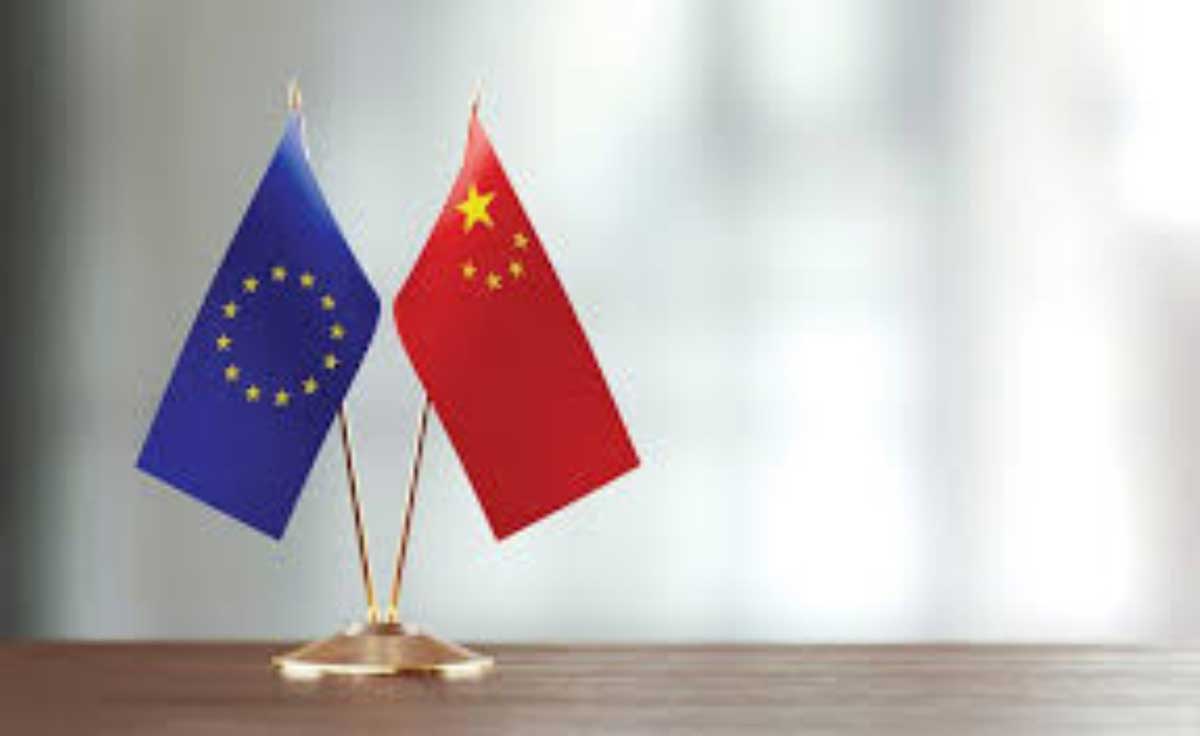 Amidst the first big transatlantic tensions for the Biden Administration, a new poll shows that the majority of Europeans see a new Cold War happening between the United States and China, but they don't see themselves as a part of it.
Overwhelmingly, 62% of Europeans believe that the US is engaged in a new Cold War against China, a new poll just released by the European Council on Foreign Relations found. Just yesterday US President Joe Biden claimed before the UN General Assembly that there is no such thing and the US is not engaging in a new Cold War. So, Europeans see Biden's bluff and call him on it.
The study was released on Wednesday by Mark Leonard and Ivan Krastev at the European Council on Foreign Relations and found that Europeans don't see themselves as direct participants in the US-China Cold War. This viewpoint is most pronounced in Bulgaria, Hungary, Austria, Portugal and Italy, according to the study. The prevailing view, in each of the 12 surveyed EU member states, is one of irrelevance – with respondents in Hungary (91%), Bulgaria (80%), Portugal (79%), and Austria (78%) saying that their country is not in a conflict with Beijing.
Only 15% of Europeans believe that the EU is engaged in a Cold War against China. The percentage is so low that one wonders if there should even be such a question. It is not only not a priority, it is not even a question on the agenda for Europeans. Even at the highest point of EU "hawkishness", only 33% of Swedes hold the view that their country is currently in a Cold War with China. Leonard and Krastev warn that if Washington and Brussels are preparing for an all-in generational struggle against China, this runs against the grain of opinion in Europe, and leaders in Washington and Brussels will quickly discover that they "do not have a societal consensus behind them".
"The European public thinks there is a new cold war – but they don't want to have anything to do with it. Our polling reveals that a "cold war" framing risks alienating European voters", Mark Leonard said.
The EU doesn't have the backing of its citizens to follow the US in its new Cold War pursuit. But unlike the views of the authors of the study, my view is that this is not a transatlantic rift that we actually have to be trying to fix. Biden's China policy won't be Europe's China policy, and that's that, despite US efforts to persuade Europe to follow, as I've argued months ago for the Brussels Report and in Modern Diplomacy.
In March this year, Gallup released a poll that showed that 45% of Americans see China as the greatest US enemy. The poll did not frame the question as Cold War but it can be argued that Joe Biden has some mandate derived from the opinion of American people. That is not the case for Europe at all, to the extent that most of us don't see "China as an enemy" even as a relevant question.
The US's China pursuit is already giving horrible for the US results in Europe, as French President Macron withdrew the French Ambassador to the US. The US made a deal already in June, as a part of the trilateral partnership with the UK and Australia, and stabbed France in the back months ago to Macron's last-minute surprise last week. Max Boot at the Council on Foreign Relations argues that it is Macron that is actually arrogant to expect that commitments and deals should mean something: "Back in February, Macron rejected the idea of a U.S.-E.U. common front against China. Now he complains when America pursues its own strategy against China. What's French for chutzpah?" What Boot does get right is that indeed, there won't be a joint US-EU front on China, and European citizens also don't want this, as the recent poll has made clear.
The US saying Europe should follow the US into a Cold War with China over human rights is the same thing as China saying that Europe should start a Cold War with the US over the bad US human rights record. It's not going to happen. You have to understand that this is how ridiculous the proposition sounds to us, Europeans. Leonard and Krastev urge the EU leadership to "make the case for more assertive policies" towards China around European and national interests rather than a Cold War logic, so that they can sell a strong, united, and compelling case for the future of the Atlantic alliance to European citizens.
I am not sure that I agree, as "more assertive policies" and "cold war" is probably the same thing in the mind of most Europeans and I don't think that the nuance helps here or matters at all. Leaders like Biden argue anyway that the US is not really pursuing a Cold War. The authors caution EU leaders against adopting a "cold war" framing. You say "framing", I say "spin". Should we be in engaging in spins at all to sell unnecessary conflict to EU citizens only to please the US?
"Unlike during the first cold war, [Europeans] do not see an immediate, existential threat", Leonard clarified. European politicians can no longer rely on tensions with China to convince the electorate of the value of transatlantic relations. "Instead, they need to make the case from European interests, showing how a rebalanced alliance can empower and restore sovereignty to European citizens in a dangerous world", Mark Leonard added. The study shows that there is a growing "disconnect" between the policy ambitions of those in Brussels and how Europeans think. EU citizens should stick to their sentiments and not be convinced to look for conflict where it doesn't exist, or change what they see and hear with their own eyes and ears in favor of elusive things like the transatlantic partnership, which the US itself doesn't believe in anyways. And the last thing that should be done is to scare Europeans by convincing them they live in a "dangerous world" and China is the biggest threat or concern.
What the study makes clear is that a Cold War framing against China is likely to repel more EU voters than it attracts, and if there is one thing that politicians know it is that you have to listen to the polls in what your people are telling you instead of engaging in spins. Those that don't listen in advance get the signs eventually. At the end of the day it's not important what Biden wants.
Germany and its Neo-imperial quest
In January 2021, eight months ago, when rumours about the possibility of appointment of Christian Schmidt as the High Representative in Bosnia occurred for the first time, I published the text under the title 'Has Germany Lost Its NATO Compass?'. In this text I announced that Schmidt was appointed to help Dragan Čović, the leader of the Croatian HDZ party, to disrupt the constitutional structure of Bosnia-Herzegovina and create precoditions for secession of the Serb- and Croatian-held territories in Bosnia and the country's final dissolution. I can hardly add anything new to it, except for the fact that Schmidt's recent statements at the conference of Deutsche Atlantische Gesellschaft have fully confirmed my claims that his role in Bosnia is to act as Čović's ally in the latter's attempts to carve up the Bosnian Constitution.
Schmidt is a person with a heavy burden, the burden of a man who has continuously been promoting Croatian interests, for which the Croatian state decorated him with the medal of "Ante Starčević", which, in his own words, he "proudly wears" and shares with several Croatian convicted war criminals who participated in the 1992-1995 aggression on Bosnia, whom Schmidt obviously perceives as his ideological brethren. The question is, then, why Germany appointed him as the High Representative in Bosnia?
Germany's policy towards Bosnia, exercised mostly through the institutions of the European Union, has continuously been based on the concept of Bosnia's ethnic partition. The phrases that we can occassionaly hear from the EU, on inviolability of state boundaries in the Balkans, is just a rhetoric adapted to the demands by the United States to keep these boundaries intact. So far, these boundaries have remained intact mainly due to the US efforts to preserve them. However, from the notorious Lisbon Conference in February 1992 to the present day, the European Union has always officially stood behind the idea that Bosnia-Herzegovina should be partitioned along ethnic lines. At the Lisbon Conference, Lord Carrington and Jose Cutileiro, the official representatives of the then European Community, which has in the meantime been rebranded as the European Union, drew the maps with lines of ethnic partition of Bosnia-Herzegovina, along which the ethnic cleansing was committed, with 100.000 killed and 1,000.000 expelled, so as to make its territory compatible with their maps. Neither Germany nor the European Union have ever distanced themselves from the idea they promoted and imposed at the Lisbon Conference as 'the only possible solution' for Bosnia, despite the grave consequences that followed. Nor has this idea ever stopped being a must within their foreign policy circles, as it has recently been demonstrated by the so-called Janša Non-Paper, launched a couple of months ago, which also advocates the final partition and dissolution of Bosnia-Herzegovina. Such a plan is probably a product of the powerful right-wing circles in the European institutions, such as Schmidt's CSU, rather than a homework of Janez Janša, the current Prime Minister of Slovenia, whose party is a part of these circles, albeit a minor one. To be sure, Germany is not the original author of the idea of Bosnia's partition, this author is Great Britain, which launched it directly through Lord Carrington at the Lisbon Conference. Yet, Germany has never shown a will to distance itself from this idea, nor has it done the European Union. Moreover, the appointment of Schmidt, as a member of those political circles which promote ethnic partition as the only solution for multiethnic countries, testifies to the fact that Germany has decided to fully apply this idea and act as its chief promoter.
In this process, the neighbouring countries, Serbia and Croatia, with their extreme nationalist policies, can only act as the EU's proxies, in charge for the physical implemenation of Bosnia's pre-meditated disappearance. All the crimes that Serbia and Croatia committed on the Bosnian soil – from the military aggression, over war crimes, ethnic cleansing and genocide, up to the 30 year-long efforts to undermine Bosnia's sovereignty and territorial integrity – have always had a direct approval and absolute support of the leading EU countries. During the war and in its aftermath, Great Britain and France were the leaders of the initiatives to impose ethnic partition on the citizens of Bosnia-Herzegovina, and now Germany has taken up their role. In such a context, the increasing aggressiveness of Serbia and Croatia can only be interpreted as a consequence of the EU's intention to finish with Bosnia for good, and Schmidt has arrived to Bosnia to facilitate that process. Therefore, it is high time for the citizens of Bosnia-Herzegovina to abandon any ilussions about the true intentions of the European Union and reject its Trojan Horse in the form of the current High Representative.