U.S. Challenges Russia to Nuclear War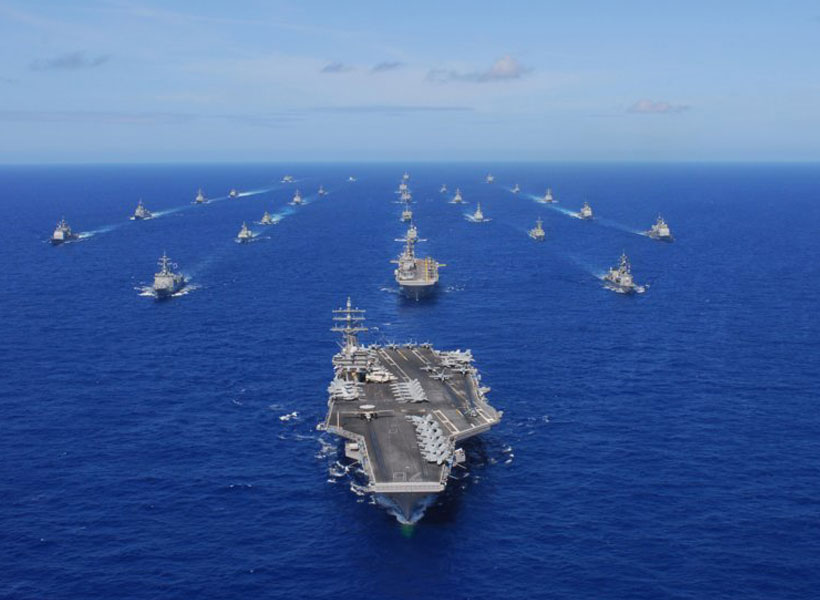 Now that the United States (with the cooperation of its NATO partners) has turned the former Soviet Union's states other than Russia into NATO allies, and has likewise turned the Soviet Union's Warsaw Pact allies into America's own military allies in NATO, the United States is finally turning the screws directly against Russia itself, by, in effect, challenging Russia to defend its ally Syria. The U.S. is warning Syria's Government that Syrian land, which is occupied by the U.S. and by the anti-Government forces that the U.S. protects in Syria, is no longer really Syria's land. The U.S. is saying that there will be direct war between Syria's armed forces and America's armed forces if Syria tries to restore its control over that land. Tacitly, America's message in this to Moscow is: now is the time for you to quit defending Syria's Government, because, if you don't — if you come to Syria's defense as Syria tries to kill those occupying forces (including the U.S. troops and advisors who are occupying Syria) — then you (Russia) will be at war against the United States, even though the U.S. is clearly the invader, and Russia (as Syria's ally) is clearly the defender.
Peter Korzun, my colleague at the Strategic Culture Foundation, headlined on May 29th, "US State Department Tells Syria What It Can and Can't Do on Its Own Soil" and he opened:
"The US State Department has warned Syria against launching an offensive against terrorist positions in southern Syria. The statement claims that the American military will respond if Syrian forces launch an operation aimed at restoring the legitimate government's control over the rebel-held areas, including the territory in southwestern Syria between Daraa and the Israeli-occupied Golan Heights. Washington is issuing orders to a nation whose leadership never invited America in in the first place! The very idea that another country would tell the internationally recognized Syrian government that it cannot take steps to establish control over parts of its own national territory is odd and preposterous by any measure."
The pro-Government side calls those "terrorist positions," but the U.S.-and-allied side, the invaders, call them "freedom fighters" (even though the U.S. side has long been led by Al Qaeda's Syrian affiliate and has increasingly been relying upon anti-Arabic Kurds). But whatever they are, the United States has no legal authority to tell Syria's Government what to do or not do on Syrian land.
Russia's basic position, at least ever since Vladimir Putin came into power in 2000, is that every nation's sovereignty over its own land is the essential foundation-stone upon which democracy has even a possibility to exist— without that, a land cannot even possibly be a democracy. The U.S. Government is now directly challenging that basic principle, and moreover is doing so over parts of the sovereign territory of Syria, an ally of Russia, which largely depends upon Russia to help it defeat the tens of thousands of invading and occupying forces.
If Russia allows the U.S. to take over — either directly or via the U.S. Government's Al Qaeda-linked or its anti-Arab Kurdish proxy forces — portions of Syrian territory, then Russia's leader, Vladimir Putin, will be seen as being today's version of Britain's leader Neville Chamberlain, famous, as Wikipedia puts it, for "his signing of the Munich Agreement in 1938, conceding the German-speaking Sudetenland region of Czechoslovakia to Germany."
So: Putin will now be faced with either knuckling under now, or else standing on basic international democratic principles, especially the principle that each nation's sovereignty is sacrosanct and is the sole foundation upon which democracy is even possible to exist or to evolve into being.
However, this matter is far from being the only way in which the U.S. Government now is challenging Russia to World War III. On May 30th, the Turkish newspaper Yeni Safak bannered "US trains armed groups at Tanf base for new terror corridor" and reported that:
New terror organizations are being established by the U.S. at the Tanf military base in southern Syria that is run by Washington, where a number of armed groups are being trained in order to be used as a pretext to justify U.S. presence in the war-torn country. …
Military training is being conducted for "moderate" opposition groups in al-Tanf, where both the U.S. and UK have bases.
These groups are made up of structures that have been established through U.S. financing and have not been accepted under the umbrella of opposition groups approved by Turkey and the FSA.
From Deir Ezzor to Haifa
Claiming to be "training the opposition" in Tanf, the U.S. is training operation militants under perception of being "at an equal distance to all groups."
Apart from the so-called opposition that is linked to al-Qaeda, Daesh [ISIS] terrorists brought from Raqqa, western Deir Ezzor and the Golan Heights are being trained in the Tanf camp. …
The plan is to transport Iraqi oil to the Haifa [Israel] Port on the Mediterranean through Deir Ezzor and Tanf.
Actually, Deir Ezzor is also the capital of Syria's own oil-producing region, and so this action by the United States is more than about merely a transit-route for Iraq's oil to reach Israel; it is also (and very much) about America attempting theft of oil from Syrian land.
Furthermore, on May 23rd, Joe Gould at Defense News headlined "House rejects limit on new nuclear warhead" and he reported that the U.S. House, in fulfillment of the Trump Administration's Nuclear Posture Review, which seeks to lower the threshold for nuclear war so as to expand the types of circumstances in which the U.S. will "go nuclear," rejected, by a vote of 226 to 188, a Democratic Party supported measure opposing lowering of the nuclear threshold. President Trump wants to be allowed to lower the threshold for using nuclear weapons in a conflict. The new, smaller, nuclear warheads, a "W76-2 variant," have 43% the yield of the bomb that the U.S. dropped on Hiroshima, but it's called a 'tactical nuclear weapon' meaning that it is supposedly intended for use in 'conventional' wars, so that it is actually designed to eliminate altogether the previous meta-strategic principle, of "Mutually Assured Destruction" pertaining to nuclear war (that nuclear weapons are justifiable only in order to prevent another World War, never in order to win such a war) that successfully prevented nuclear war till now — that once a side has introduced nuclear weapons into a military conflict, it has started a nuclear war and is challenging any opponent to either go nuclear itself or else surrender — America's new meta-strategic doctrine (since 2006) is "Nuclear Primacy": winning a nuclear war. (See this and this.)
U.S. President Trump is now pushing to the limit, presumably in the confident expectation that as the U.S. President, he can safely grab any territory he wishes, and steal any oil or other natural resource that he wishes, anywhere he wants — regardless of what the Russian Government, or anyone else, thinks or wants.
Though his words often contradict that, this is now clearly what he is, in fact, doing (or trying to do), and the current U.S. House of Representatives, at least, is saying yes to this, as constituting American values and policies, now.
Trump — not in words but in facts — is "betting the house" on this.
Moreover, as I headlined on May 26th at Strategic Culture, "Credible Report Alleges US Relocates ISIS from Syria and Iraq into Russia via Afghanistan." Trump is apparently  trying to use these terrorists as — again like the U.S. used them in Afghanistan in order to weaken the Soviet Union — so as to weaken Russia, but this time is even trying to infiltrate them into Russia itself.
Even Adolf Hitler, prior to WW II, didn't lunge for Britain's jugular. It's difficult to think of a nation's leader who has been this bold. I confess that I can't.
first published at strategic-culture.org
Macron is wrong, NATO is not brain-dead
Right before the 30th anniversary of the fall of the Berlin wall this weekend, French President Macron decided to make another staggering statement in a series of gaffes over the past weeks. "NATO is brain-dead", he said in an interview for the Economist yesterday and everyone gasped. Europeans more than anyone need the alliance alive and well.
Macron also said that he didn't know if he still believed in Article 5 of the North Atlantic Treaty – the part on collective defense which says that an attack on one is an attack on all. The French President was worried about whether the US was still committed to the alliance.
This is not the first time that NATO has been kicked. The alliance has been scorned over the years, many doubting its reason d'etre. The transatlantic alliance has proven to be a resilient one over the decades, however. It is a mathematical constant, if you wish.
If the transatlantic alliance didn't break on the rocks of the Iraq war, it surely can survive Trump.
Macron's concern is that historical forces are pulling the transatlantic allies apart but that perception is a product of Trump's rhetoric, nothing more – it is not indicative of the pattern of transatlantic relations over the decades. Transatlantic relations are not Trump.
President Trump is facing an impeachment and elections, all within the next months to a year. The assessment of transatlantic relations cannot be based on the rhetoric of a person who might be gone soon. No one in the Washington community believes that Trump would withdraw from NATO, even after all the tough rhetoric. NATO is here to stay, and that is the belief among virtually all US officials and diplomats. Transatlantic relations will soon normalize after President Trump is out of office because that is the pattern. The transatlantic partnership is deeply ingrained in the American political psyche. There is no need for apocalyptic statements that rock the boat.
The US has guaranteed Europe's security since the end of the Second World War. Europe cannot do it on its own. What is true is that Europe needs to start contributing more to its own defense.
For a third of NATO's European member states in proximity to Russia, NATO is anything but obsolete. From the Baltic States, through Poland, Slovakia, Romania, down to Bulgaria, NATO's enhanced military presence since the Crimea war has been felt as a counter-measure to Russian ambitions. That of course is far away from France, but European NATO is not France. Macron doesn't speak for all the NATO European states most of who cannot imagine political life and even survival without NATO.
What is apparent is that French President Macron is rolling out a gaffe after gaffe this week. He caused a diplomatic scandal with the Bulgarian and Ukrainian governments, by saying in a far-right magazine that he preferred legal African migrants to Bulgarian and Ukrainian criminal gangs. The week before that, he blocked Albania and North Macedonia from starting accession talks for EU membership, which drew a lot of criticism from all corners of Europe. Yesterday, Macron called Bosnia a jihadists ticking bomb, of course ignoring that France is a jihadist force itself. Macron's "brain death" comment angered Angela Merkel who warned him to cut down on the drastic remarks.
So Macron, not Trump, is the one with the divisive, anti-European role, judging by the past weeks. Macron, not Trump, is turning into the European anti-hero.
The claim that the French President's series of inflammatory statements is a strategy to position France as the alternative leader of the European Union could be as true at the hypothesis that all this is a part of Macron pandering to the French far-right.
The truth is that NATO is alive and kicking. Its very existence serves as deterrence against a potential attack on a NATO member, so that Article 5 does not even have to be tested. NATO should not be taken for granted; only when something no longer exists will one get to appreciate all the invisible deterrence benefits.
If the history of Article 5 shows us one thing, is that it was used for the first time by the Americans in the aftermath of September 11th. This is a common reminder, anytime someone in the US questions the value of NATO.
So, Macron is wrong on NATO. It will be good if he toned down the lunatic rhetoric of the past weeks, to show that he himself is not brain-dead. If Macron's intention was to make waves, he is succeeding. If his intention was to be vying for the European Union top leadership spot, he is failing.
Strategic Instability in the Era of Information and Communication Technologies: Crisis or the New Norm?
Strategic stability is once again becoming a primary concern in international relations. The topic has received a great deal of attention of late, mainly because of the steady erosion of the reduction and limitation regime: the United States has now withdrawn from both the Anti-Ballistic Missile Treaty (ABM Treaty) and the Intermediate-Range Nuclear Forces Treaty (INF Treaty), the New START treaty is set to expire soon, and no further talks on reduction and limitation of nuclear arms are being held. Another reason is the rapid development of information and communication technologies (ICTs), which are playing a growing role in the global military and political arena in the 21st century. With a new technological revolution under way, can we ensure a level of strategic security that is both necessary and sufficient? Or will instability become a new trend in global strategic security as well? It would be hard to argue that this is not a crisis.
Today there are two approaches — or rather a rift between the old understanding of "strategic stability," which took shape during the bipolar era (when the term itself was coined), and a radically new understanding of the ways of ensuring strategic stability in the modern world and the challenges that this presents.
As is often the case, the truth probably lies somewhere in between. It would be a mistake to discard the experience of maintaining strategic stability that was accumulated throughout the Cold War period and which helped prevent a deep-seated confrontation from boiling over into a large-scale war — even though the political and technological changes that have taken place since then cannot be ignored.
As an example, during the bipolar era, "strategic stability" was defined as a state of relations that would remove incentives for a nuclear first strike.
Since nuclear arms still exist and their destructive capabilities are constantly improving, this understanding of strategic stability is as relevant today as it was during the Cold War, when it was only taking shape. But the situation has grown considerably more complicated over the last three decades, and the methods and mechanisms of preventing nuclear war that were envisaged during the bipolar era are no longer in line with the current geopolitical reality and the level of technological development. With these massive changes in international military and political relations, we need to consider other parameters in addition to the nuclear component, while at the same time preserving the essence of the idea. Furthermore, the bipolar era, when the world was split between two global opposing powers, has given way to a situation where strategic stability is determined by a greater number of players. This is why we need to assess the characteristics and capabilities of the military and political system as a whole.
Strategic stability of the military and political system is a state of the world (the lack of a large-scale war) within which the framework of this system is maintained even under continuous disturbance (destabilizing factors) for a certain (defined) period of time.
Therefore, on a professional level, not only should we be talking about "maintaining" and "strengthening" strategic stability, but we should also acknowledge the need to ensure strategic stability and devise new approaches to assessing its level based on our experience — which means we must develop common qualitative and especially quantitative assessments of this level. For that to be possible, we need to agree on common assessment criteria.
The bilateral discussion of such criteria between the United States and Russia came to a halt in the 1990s, as the U.S. no longer considered it necessary. This has given rise to a global problem, because the reduction of strategic stability to a level that is below what is needed and what is sufficient is dangerous for all states without exception. It is thus in the best interests of all countries to ensure this level, but the extent of their responsibility varies. The nuclear powers are still the most responsible.
What new features of this system, in which ensuring a necessary and sufficient level of stability is so crucial, have emerged over the past few decades?
An increase in the number of local wars and armed conflicts which break out and progress increasingly under the influence of ICTs.
The restructuring of international relations after a period of bipolarity followed by multipolarity dominated by the United States. This new transformation is, first of all, caused by changes in military and strategic relations between Russia and the United States, as well as by the appearance of a new global centre of power, namely China, which is not involved in the nuclear disarmament process.
The gradual erosion of the strategic arms limitation and reduction regime: the United States has now withdrawn both from the ABM Treaty and the INF Treaty, the New START treaty is set to expire soon, and no further talks on reduction and limitation of nuclear arms are being held.
Nuclear missile multipolarity, which consists in a growing number of states possessing nuclear weapons and the increasing probability of their proliferation.
The trend towards doctrinal changes among nuclear powers that are formally aimed at strengthening the deterrence regime but in fact lead to a reduction of the threshold for the use of nuclear arms; in particular, there is a growing possibility of a limited nuclear war.
Creation of a large-scale U.S. missile defence system, which brings about serious changes in the strategic balance of power and increased uncertainty in strategic planning.
The growing role and power of non-nuclear (highly precise and highly intelligent) weapons in strategic planning. These new armaments create the hypothetical threat of a disarming strike against strategic nuclear forces. Developing these kinds of weapons complicates the global strategic landscape and makes crisis decision-making all the more difficult.
Deployment of nuclear and non-nuclear weapons on the same platforms, which may lead to the launch of ballistic or cruise missiles with conventional warheads being perceived as nuclear weapons use.
The appearance of low-yield nuclear weapons, which lowers the threshold for nuclear weapons use and, as a result, increases the probability of an armed conflict escalating to a nuclear war.
Development of ICT-based state-of-the-art anti-satellite weapons that allow countries to interfere with enemy satellites, including parts of the ballistic missile early warning system, and destroy them using ground-based anti-satellite systems. Such weapons can also disrupt the operation of satellites used for network-centric warfare, which is an approach being actively developed by militarily developed states. This is one of the most serious threats to strategic stability at this stage.
The militarization of space. In February 2019, President of the United States Donald Trump signed a Memorandum on the Establishment of the United States Space Force, which lists such purposes as protecting U.S. interests in space, "deterring aggression and defending the Nation," as well as "projecting military power in, from and to space."
In addition to technological developments, experts from various countries increasingly point to the role that psychology plays in influencing strategic stability in the modern world. Western society and its political elites no longer fear nuclear war, which may lead to a considerable reduction of the threshold for weapons use, including with regard to nuclear arms. And most alarming of all is not this confidence in the impossibility of nuclear war, but rather the belief that a "small," local nuclear war can be fought and won. Such views have started to grow and spread partly due to progress in ICTs, which makes it possible to project informational and psychological influence on a huge audience in a relatively short amount of time and at minimal cost.
We can thus distinguish several key factors of the global influence of ICTs on strategic stability. First, ICTs can be used for destructive military and political purposes. Second, the exponential growth of technologies that force countries to acquire strategic advantages can make it tempting to try and win a large-scale war. Third, the boundaries between peace and war, defence and offence in military planning (including in the nuclear sphere) tend to become blurred. Furthermore, the logic of global confrontation is changing: the combined use of non-military tactics and harmful ICTs enables countries to achieve their war goals even without armed conflict. And one last notable factor of influence is the reduced path to the escalation of conflict, caused by the probability of ICT attacks on nuclear missile infrastructure.
When elaborating criteria for assessing the level of strategic stability and developing plans to ensure it, it is wise both to consider those factors that can be found in any historical period and those specific to the current age. The accelerated progress of ICTs falls into the latter category. Analysis shows that all the destabilizing factors in the modern strategic stability system are due to the development of ICTs. According to expert estimates, over 30 states possess so-called offensive cyber weapons; this is why this threat should really be singled out as a destabilizing factor of its own. Moreover, each of the other factors is enhanced by the destructive use of ICTs, the militarization of peaceful information technologies, and the ease of use, unexpectedness and speed of both IT and psychological weapons.
Additional risks are posed by so-called cyber electromagnetic activities, which are being actively developed by the United States. These include cyber operations, electronic warfare, electronic peacetime attacks, electromagnetic spectrum management operations, the suppression of targets by active and passive interference, as well as electromagnetic disinformation.
The potential use of ICTs to undermine the security of military facilities as part of a nation's critical infrastructure is clearly a global threat. At the same time, estimating the possible damage from such threats and developing countermeasures is significantly complicated by the intangible nature of ICTs, as well as by the wide range of sources of possible malicious technologies: state and non-state actors, and even single hackers. All of this increases the level of uncertainty and instability. ICT threats may be attributed to various elements of military organization and infrastructure. But in the context of strategic stability, special attention should be paid to the security of nuclear missile weapons. All nuclear powers are modernizing their nuclear systems to keep up with the progress in computer technologies. The integration of network operations in military planning programmes began more than 30 years ago, and today we can already speak of an ICT revolution in military affairs. More and more components of the military nuclear infrastructure — from warheads and their delivery vehicles to control and guidance systems and command and control systems of strategic nuclear forces — depend on sophisticated software, which makes them potential targets for ICT attacks.
Special attention needs to be paid to the protection of strategic weapons, the early warning system, air and missile defence systems, and the command and control system for nuclear weapons. Furthermore, in addition to, or instead of, the principle of deterrence by inevitable retaliation, there is now growing interest in deterrence by blocking the use of offensive means (a "left of launch" strategy) through the use of ICTs.
Decreased strategic stability is due to the fact that the development of malicious ICTs increases the probability of a number of adverse events, such as the erroneous authorized launch of ballistic missiles; the decision to use nuclear weapons; the receipt of a false alarm from the early warning system about the launch of ballistic missiles, which is possible on account of the growing sophistication of ICT attacks or the damage or destruction of communication channels; interference in the control system of the armed forces (including nuclear forces); and the decreased confidence of military decisionmakers in the performance of control and command systems. In addition, a critical issue is the impact that the increased probability of nuclear weapons being disabled or destroyed by means of ICTs will have on future nuclear disarmament and non-proliferation processes.
The possibility that decisions about the use of nuclear weapons will be influenced by information and communication technologies is therefore the most serious threat that exists today — not in theory but in fact. There is now a greater probability of an erroneous authorized launch of a ballistic missile as a result of false information or due to a lack of confidence in the proper operation of military systems and some actions being perceived as the first step to mutually assured destruction. This leads to a considerable reduction in strategic stability.
All of the above threats are further exacerbated by the growing use of remote-controlled robotic strike weapons, the development of artificial intelligence technologies for military purposes, machine learning, the autonomous operation capabilities of various systems and subsystems, automated decision-making systems and other elements that may be subject to ICT attacks.
What global steps can be taken today in response to these global threats to strategic stability, based on the experience gained in the bipolar era? First, all the parties involved (Russia, the United States and China) will have to find common ground in terms of what in their opinion constitutes strategic stability; develop and formalize a common understanding of the danger of ICT threats; and, of course, develop common approaches to assessing the probability of intentional and unintentional ICT attacks. Moreover, they will need to have a clear agreement on the probable response in the event that an ICT attack on strategic nuclear forces is detected. These steps may provide building blocks for an ICT deterrence policy, similar to what was done with regard to nuclear weapons in the bipolar era.
At the same time, it would be reasonable to start work on an ICT arms control regime (statements, commitments, agreements and treaties) that could include: a ban on ICT attacks against certain targets, primarily military facilities; the limitation and/or renouncement of offensive ICT capabilities; the introduction of ICT arms control measures; the establishment of international norms regulating the ways and means of preventing and stopping cyber conflicts; and the development of a convention on the prohibition of the harmful use of ICTs in the nuclear weapons sphere.
From our partner RIAC
"Let Russia Be Russia" (US debate on global security system)
The controversial decision by the current US administration to withdraw from the INF treaty, as well as its threat to suspend observance of the Open Skies Treaty and the Strategic Arms Reduction Treaty (START), has been met with criticism and resistance even in the United States itself. However, opposition to President Trump's moves is multi-pronged and pursues goals not necessarily aimed at preserving what has remained of the global security system as some of the "champions of peace" also happen to be the very same "liberal interventionists," who are responsible for many of the armed conflicts happening today. It is imperative for us to distinguish between pragmatics, who really seek to reduce military threats, such as former US Defense Secretary William Perry, ex-US ambassador to the Soviet Union John Matlock, former presidential adviser Thomas Graham and some others, and experts and media personalities, whose criticism of the US withdrawal from these accords is merely an attempt to jump on the bandwagon of the ongoing anti-Trump campaign being waged by liberal "mainstream" media, which is often openly Russophobic too, faulting Trump for his "too polite" way of dealing with his Russian counterpart Vladimir Putin.
The Wall Street Journal was among the first to break the news about Donald Trump's plans to withdraw from the Open Skies Treaty (OST). In an October 27, 2019 article, the newspaper wrote that President Trump had signed a document outlining the US administration's intention to withdraw from the 1992 accord. The newspaper's sources specified, however, that the decision was not final and consultations continued.
Earlier, however, in its October 20, 2019 issue, the WSJ reported that former Secretary of State George Schultz, former Defense Secretary William Perry, and former Senator Sam Nunn, all of them critical of the US withdrawal from the OST, had warned about Trump's decision to exit the treaty. While paying homage to the customary tune about Russia's "aggressiveness," these three politicians, known for their participation in past disarmament programs, emphasized the need to keep in place existing defense agreements with Russia, reminding their readers, and above all, Donald Trump, that the great achievement of post-Cold War US diplomacy could soon be erased if some of the Trump administration officials have their say and the United States unilaterally withdraws from the Open Skies Treaty, which even during the current period of tense relations between Moscow and Washington helps to preserve transparency and trust. They argued that such a withdrawal from the treaty would be a big mistake, adding that it would undermine trust between the United States and Russia, and be detrimental to the US allies' security.
The authors added that the idea of the Open Skies Treaty, initially proposed by President Dwight Eisenhower in 1955, got a new lease on life in 1992, when Moscow agreed to open its territory for overflights to verify Russia's compliance with the Treaty on Conventional Armed Forces in Europe (CFE Treaty). With the CFE Treaty now suspended, Russia is showing clear "defense generosity" by maintaining its "most verified country" status (the authors of the letter admit that Russia is a country most extensively covered by OST overflights).
Apparently trying to fend off standard accusations at home of "working for Moscow," Schultz, Perry, and Nunn wrap up their letter with a customary admission about Republicans and Democrats having a shared view about "a serious challenge to international security" allegedly posed by Russia." That being said, they still draw a pragmatic conclusion that instead of pulling out of previously signed international security agreements, Washington should redouble its commitment to the risk-reduction strategies consistently sought by previous US administrations.
This standpoint distinguishes pragmatic supporters of maintaining the security system – the priority, which Schultz, Perry, and Nunn confirmed in their April 10, 2019 article "The Threat of Nuclear War Is Still With Us" – from Trump's professional debunkers from the Democratic Party.
Trump's opponents also criticize him for breaking agreements, and not just defense ones, but trade and environmental as well (above all the Paris Agreement on climate change). However, while criticizing Trump, they still arrive at quite opposite conclusions by calling for ramping up pressure on Russia and filling the White House with "hawks" from the Pentagon and the State Department, etc. They also talk about the imaginary "friendship" between Putin and Trump, allegedly stemming from some Russian contribution to Trump's victory in the 2016 election, and which they believe should be neutralized no matter what, including by initiating new conflicts with Russia.
Jeremy Kuzmarov, who writes for Counterpunch, points to an unprecedentedly high level of Russophobia in the ongoing debate among potential candidates for the 2020 presidential election from the Democratic Party.
Kuzmarov notes that it is impossible to explain this level of Russophobia by the election campaign alone. It is about ideology. Kuzmarov notes that former US President Barack Obama and Hillary Clinton both represent the "globalist project," which is still alive and views Russia and China as obstacles on the way of human progress (hence Obama's absurd decision not to include Russia in the Trans-Pacific Partnership project – as if Russia and China were not Pacific powers). At the same time, they see Trump's victory in 2016 as an unfortunate "stab in the back" from US voters. Therefore, all proponents of this ideology, still dominant in the United States, are up in arms and out to fight Trump, whom they never tire of calling "a Kremlin puppet." This is exactly the ideological "narrative" that makes the US Democrats incapable of compromise in the field of disarmament.
Therefore, any proposals of compromise made by independent experts are subjected to appropriate "modifications" before they are published in order to avoid accusations of being "helpful" to Moscow, just like in the case of historian Stephen Cohen. This explains the cautious tonality of the proposal made by Thomas Graham – a former assistant George W. Bush and a prominent expert on Russia. In a think piece titled "Let Russia Be Russia," published in Foreign Affairs journal, he offered a rather strange "quid pro quo" whereby the US and Ukraine accept Russia's sovereignty over Crimea (as if someone is going to discuss this with them!), and Russia withdraws its support for Donbass. Only then, Graham argues, can we discuss disarmament initiatives, joint efforts by Russia and the United States to prevent Iran from going nuclear, etc. Well, even if this rather unrealistic idea resonates with some in the US expert community, it hardly fits into the ultra-liberal ideology of "reformatting" the world, which is still espoused by US political elites. Therefore, it looks like Graham's proposal will remain just a vain wish for a possible compromise. Meanwhile, the last pillars of the global security system are crumbling right before our eyes…
From our partner International Affairs