World Oceans Day 2018: A Blue Charter for a blue planet
International concern for the plight of the global ocean is at an all-time high. In April this year, the 53 countries of the Commonwealth adopted the Commonwealth Blue Charter, creating a bright blue beacon to guide cooperative action on ocean issues.
World Oceans Day has come a long way from 1992 when it was first proposed by Canada.  Now the ocean has its own Sustainable Development Goal, thanks to the foresight of Peter Thomson and many others.  SDG 14 commits countries to "conserve and sustainably use the oceans, seas and marine resources for sustainable development."
Our ocean and the coastal communities around it are receiving a lot of negative news coverage – about plastic rubbish, declining fisheries, acidification, rising sea levels, destructive hurricanes.  But now countries recognise that time is of the essence and they are cooperating to achieve their goals.
In the Blue Charter's own words, the time has come to "move from words to actions."
Already, eight Action Groups are being established, led by Commonwealth countries.  More are anticipated.
"Innovation is key to this whole issue.  We need practical new ideas for on-the-ground action – that's what the Action Groups aim to deliver," notes Nick Hardman-Mountford, Head of the Oceans and Natural Resources Division at the Commonwealth.
For example, Australia, Belize, and Mauritius have stepped forward to co-lead a Blue Charter Action Group on coral reef regeneration. Just a few years ago, scientists were lonely voices sounding the alarm about coral.  Now it is common knowledge that the world's reefs are in peril.
Commonwealth countries realise that their work must go beyond protecting coral reefs to actively restoring them.  And they are stepping up to the task!
Likewise, Sri Lanka is leading a Mangrove Restoration Action Group. Cyprus is leading on sustainable aquaculture, and New Zealand is tackling ocean acidification. And the list goes on…
"To see Commonwealth leaders stepping forward for the ocean was a real 'pinch-me moment,'" says Jeff Ardron, who coordinates work under the Commonwealth Blue Charter.
After years of being out of sight, out of mind, the ocean is now on everyone's minds, and the Commonwealth Blue Charter is a good reason to celebrate World Oceans Day with a pinch of hope.
The Plight of Birds and Human Responsibility in the Sixth Mass Extinction
As birds become fewer, wildflowers vanish, butterflies disappear, and animals in the wild are threatened, extinction and a grim future haunts.  How often does Rumi write about birdsong … there is a reason.  Nature revives the spirit.
World Environment Day has come and gone.  It was June 5th.  A UN outreach program hosted by a different country each year, it is designed to draw attention to the country's environmental challenges and to offer it support.  This year the host is India and the theme is beating plastic pollution.  But plastics are not just a blight on the landscape, they are in the seas destroying coral and the species it shelters, painfully killing whales and other creatures … including birds.
Yet, it is far from the only cause of bird distress and their sharply declining numbers.  One example comes from the Arctic, where receding ice has taken with it the nutritious cod, which favor cold waters, and has endangered the black guillemot now forced to feed chicks on the bony and difficult-to-digest fourhorn sculpin.
When the EU commissioned a State of Nature report, they expected bad news but not quite as dire a result.  Prepared by the European Environment Agency and sourced from EU-wide data, it found one in three bird species threatened and only a little over half secure.  It also drew a bleak picture of European habitats finding over half of those studied to be unfavorable.  Habitat loss, pesticides particularly neonicotinoids, even excessive hunting, notably in southern Europe, are all to blame.
Earlier, a comprehensive study conducted by University of Exeter (UK) professor Richard Inger and colleagues had analyzed avian biomass across 25 countries over 30 years.  Using data from Birdlife International and the Pan-European Common Bird Monitoring Scheme, they discovered a surprisingly large and troubling loss:  from 1980 to 2009 the estimated total avian population had declined by 421 million birds.
Meanwhile, new research in the US with far-reaching consequences places blame squarely on human action.  It examines avian consequences of noise pollution.  If certain constant noises irritate us — think of road repair and a pneumatic drill — then birds are no exception.  Noise from oil and gas operations is stressing out birds and harming reproduction.  They exhibit signs of chronic stress, lay fewer eggs or fewer eggs hatch, and nestling growth is stunted.
So reports a study by Nathan Kleist and colleagues in the Proceedings of the National Academy of Sciences (unfortunately not available to the general public without a fee).  The authors study three species of cavity nesting birds (the ash-throated flycatcher, the mountain bluebird and the western bluebird) breeding near oil and gas operations — located on Bureau of Land Management property in New Mexico's San Juan Basin .
The researchers placed 240 nest boxes on 12 pairs of sites, close to and at varying distances from the drilling pads where loud compressors operated non-stop.  The team took blood samples of adult females and nestlings from all the nest boxes for three years.  They examined nestling body size and feather length and found them to be less well developed in both noisy and lower noise areas, suggesting any level of irritating noise is disruptive.
Baseline levels of a key stress hormone, corticosterone, showed high stress in birds nesting closest to the noise.  In addition, when subjected to a test of being held for 10 minutes, nestlings in noisy areas produced significantly greater stress hormones than those in quiet areas.
It also turned out that the western bluebird was the only species willing to nest in the sites closest to the compressors.  Such behavior had cultivated a belief it was immune to noise.  Not so, the study results revealed.
That environmental stress is increased by noise pollution, and that it degrades avian reproductive success is thus the conclusive message of this study.  With background noise constantly increasing in the US, even protected areas are no longer immune.  On the face of it, there is also the distinct possibility other species could also be affected.
If the anthropocene is our age, it is also our look in the mirror to see what the human footprint has wrought, even if unwittingly.  Global warming, extreme weather events becoming more severe, plastic pollution and stressed wildlife, record extinctions, insect declines … all appear to be portents of an impaired future warning humans repeatedly of urgency.  The sixth mass extinction is underway but it will take centuries if not thousands of years, and man can help by alleviating global warming and increasing preservation efforts.  Clearly related to CO2 levels, global warming has been the culprit in the previous five.  CO2 levels are already in excess of 0.04 percent perilously close to the 0.05 percent calculated to melt icecaps through temperature rise causing serious flooding of coastal areas.
Are leaders and decision-makers listening?
Authors note:  This article appeared originally on Counterpunch.org
How countries can trade their way to climate resilience
In the winter of 2014, the Finistère area of Brittany in northwestern France was hit with violent storms, bringing torrential rain, heavy wind and flooding. Winter floods in this part of France are common; in 2014, however, the heavy rainfall caused the river to rise to record levels – 2.5 times higher than average – threatening people and infrastructure.
As the storm intensified, 55,000 households across the region lost power, and, as rivers breached their banks, the towns of Quimper, Morlaix and Quimperlé were submerged under as much as one metre of water. Homes and schools were evacuated and city centres were closed.
Pictures of water masses that blur over landscapes and cities are gradually becoming recurring features of the television news as the changing climate brings on more violent weather events. According to the World Bank, floods are the most frequent natural disaster and the one that costs most in terms of human life and material damage. Because of this, governments are increasingly seeing the need to implement solutions for building more resilient communities.
Trade can play an important role in response, recovery and building resilience to natural disasters, particularly through the implementation of technologies that help to reduce emissions and protect livelihoods from the impacts of climate change. Many companies are seeing this trend, and are producing innovative technologies to meet the challenges of the future.
NoFloods, a Danish company, have created a mobile flood protection barrier system to protect people, infrastructure and the environment from the impacts of flooding. When this system was deployed in two towns in Brittany, significant damage was prevented and risk to residents was minimized.
During the Brittany floods, the cities of Redon and Pontivy deployed NoFloods barriers, protecting their infrastructure from damage and their residents from danger. For the local authorities, the benefits were clear: the system is up to 40 times quicker to deploy than sandbags, and it costs roughly the same amount. The NoFloods barriers are also more effective than sandbags, and they can be used again in future crises.
Globally, the economic cost of natural disasters is around $520 billion. The prudence of encouraging and investing in environmentally sound technologies to promote climate resilience is becoming clearer and clearer. UN Environment's Environment and Trade Hub works with governments around the world to help them identify opportunities for trade in environmental goods and services, open up trade in environmental goods and services, and encourage the diffusion of environmentally sound technologies.
"We know that resilience-building is a key focus of many of our government partners. We believe that trade is key to diffusing the technologies that will help vulnerable countries build their climate resilience," says Anja von Moltke, head of the Environment and Trade Hub. "Encouraging this sort of innovation also helps to create fair, green jobs and build prosperity."
Based on the system's success in managing the floods of 2014, the French Ministry of the Interior has invested in 10km of NoFloods barriers, and the system has been sold globally in five other countries. By reducing unnecessary trade barriers, the provision of and access to vital goods and services, including adaption technologies like NoFloods barriers, can be improved, thus enhancing countries' ability to build resilience and respond to the effects of climate change.
One step ahead of climate change, a 'scorecard' for Pacific Islands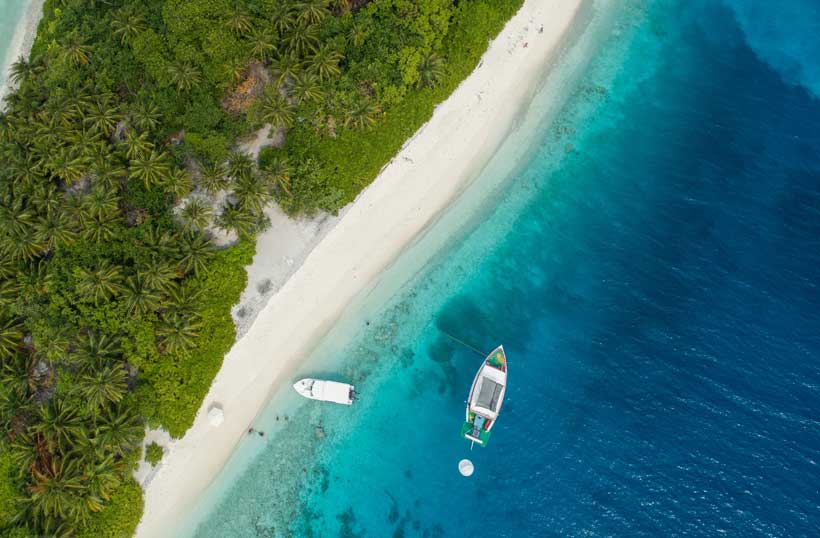 The Pacific Islands are among the most fragile in the world when it comes to climate change, rising sea levels and declining ocean health. To create greater understanding of how exactly climate change impacts the marine environment in the region, and help Pacific Islanders understand how to respond, UN Environment launched the first ever Pacific Marine Climate Change Report Card today.
Coinciding with World Oceans Day, the report card outlines what action is already being taken in the region and what further responses are needed, based on the research of 60 Pacific climate change experts and marine scientists.
"Climate change is a multifaceted issue," said Sefanaia Nawadra, Head of the UN Environment Pacific Office. "A region-specific report that summarises the current situation, recommends management options and provides guidance for action is exactly what the region needs to build  climate change resilience."
The report card recommends measures for addressing the projected impacts, including significantly reducing existing pressures from pollution, marine waste, population growth, overfishing and coastal development. It further urges to ensure coastal planning and management are adaptable and can be further developed with time, and bringing scientists and local communities together to develop a better understanding of localised climate impacts.
"We believe this report card will be valuable to our Pacific islands in helping to form policies and decisions at the national, regional and international level," Kosi Latu, Director General, SPREP said. "Pacific people are strongly interlinked with our ocean and as our Pacific islands live on the frontlines of climate change, we know all too well the impacts and risks it brings."
The Report Card initiative is a product of a dynamic collaboration that includes the UK's Centre for Environment, Fisheries and Aquaculture Science (Cefas), the Secretariat for the Pacific Regional Environment Programme (SPREP), UN Environment, the University of the South Pacific, the Secretariat for the Pacific Community (SPC) and Climate Analytics Impacts project.