Saudi effort to isolate Iran internationally produces results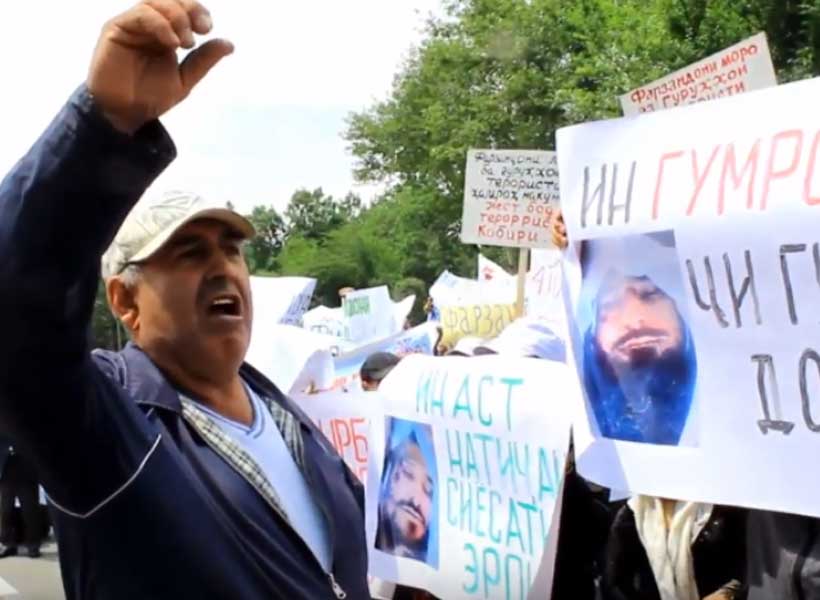 Saudi efforts to isolate Iran internationally are producing results in North Africa and Central Asia. Authorities and religious leaders in Tajikistan and Algeria have in recent weeks accused Iran of subversive activity and propagating Shiism while Morocco last month announced that it was breaking off diplomatic relations with the Islamic republic.
While similar accusations have been lobbed at Iran in the past as part of a four-decade-long covert war between Saudi Arabia and the Islamic republic, the more recent incidents suggest that the Saudis are increasingly focussing on isolating Iran diplomatically.
In doing so they are benefitting from ultra-conservative Sunni Muslim Islam's appeal in North Africa and Central Asia even if Saudi Arabia is believed to have substantially reduced its financial support for Salafi and other groups.
At times, like in the case of Algeria, a country in which Shiites account for at most two percent of the population and that has seen an increase in popularity of Saudi-inspired Salafi scholars, the allegations seem to involve above board Iranian activities that are unlikely to have the alleged effect of fomenting sectarianism.
The anti-Iranian campaign at times also appears to be designed to pressure countries like Algeria, whose relations with the kingdom are strained because of its refusal to adopt anti-Iranian Saudi policies. Algeria supports the embattled 2015 international nuclear agreement with Iran as well as Iran's presence in Syria and has refused to declare Hezbollah, the Iranian-backed Lebanese militia, a terrorist organization.
In the most recent incident, Ash-Sharq Al-Awsat, a pan-Arab, Saudi-owned newspaper, quoted, former Algerian Ministry of Religious Affairs and Endowments official Idah Falahi as demanding the withdrawal of Iranian diplomat Amir Mousavi because of his "extensive contacts with civil society groups, through Facebook and social media" and alleged attempts to meddle in the dispute between Morocco and Algeria over the Western Sahara.
Morocco last month broke off diplomatic relations with Iran, alleging that Tehran had provided financial and logistical support as well as surface-to-air missiles to the Algerian-backed West Saharan liberation movement, Frente Polisario, using Hezbollah as an intermediary. Both Iran and Hezbollah have denied the allegation.
"It…became apparent that Mousavi was in fact an Iranian intelligence agent, whose remit was to interfere in the dispute between Algeria and Morocco over the Western Sahara conflict," said Ash-Sharq Al-Awsat columnist Tony Duheaume.
The newspaper reported that Iran was seeking to recruit Algerian Shiites who travel to the holy city of Karbala in Iraq and was using Iranian companies as vehicles to promote Shiism. "With the launching of a production line for Iranian vehicles, plus another for the production of medicines, and with the two countries boosting their cooperation enormously in the private sector, Iran has ensnared Algeria through an ongoing succession of trade deals," Mr. Duheaume said.
The newspaper quoted Algerian member of parliament Abdurrahman Saidi as charging that Iran was attempting to create a Shiite movement in North Africa. "The Algerian state is aware today that it faces the risk of sectarianism," the newspaper asserted.
Algerian minister of endowment and religious affairs Muhammad Issa last year compared Iran to the Islamic State in an interview with a Saudi newspaper amid a growing anti-Iranian sentiment in Algeria.
An international book fair in Algeria banned Iranian books because they "incite sectarianism and violence" after Bou Abdullah Ghulamallah, the head of Algeria's High Islamic Council, , charged that "thousands of imported books carry dangerous thoughts that are aimed at convincing the Algerian people that their Islamic religion is wrong."
Iranian President Hassan Rouhani cancelled a visit to Algeria after an Arabic-language hashtag, #No to Rouhani's visit to Algeria, went viral.
"It is difficult to corroborate allegations made in the Asharq al-Awsat report. It is also unlikely that Tehran would be able to significantly expand its influence in Algeria through the Shiite community," said Ahmad Majidyar, the director of the Washington-based Middle East Institute's IranObserved Project.
Its equally difficult to verify a link between Saudi-inspired Salafism's increased popularity and rising anti-Iranian sentiment, but the development of anti-Shiite sentiment is not dissimilar to growing intolerance, anti-Iranian sentiment and anti-Shiism in countries like Tajikistan, Pakistan, Malaysia and Indonesia where the influence of Saudi-inspired religious ultra-conservatism is expanding.
Developments in Tajikistan, ironically a nation that has linguistic and cultural links to Iran, mirror the growing anti-Iranian sentiment in Algeria. Tajikistan's Council of Ulema or Islamic scholars, this month accused Iran of trying to destabilize the country. The council charged that Iran was funding Muhiddin Kabiri, head of the opposition Islamic Renaissance Party (IRP), that has been designated a terrorist organization by the government.
The council's statement came days after anti-Iranian demonstrators in front of the Iranian embassy in Dushanbe demanded the return of Tajik religious students from Iran and accused the Islamic republic of supporting extremists and planning assassinations.
Iran has in recent years suspended charitable operations in the capital Dushanbe, including a hospital managed with Tajik health authorities, and halted its economic and cultural activities in Khujand, Tajikistan's second largest city, on orders of the government.
"Nowhere is this contrast between the hyped-up Iranian threat and reality more evident than in Tajikistan," said Eldar Mamedov, who is in charge of the European Parliament's delegations for inter-parliamentary relations with Iran, Iraq, the Gulf, and North Africa.
Iran helped negotiate an end to Tajikistan's civil war and an agreement between President Emomali Rahmon, a former Soviet Communist Party official, and the IRP. Mr. Rahmon, determined to demolish any opposition, banned the IRP in 2015.
The stirring of the anti-Iranian pot coincided with a Saudi effort to woo Mr. Rahmon who was invited last year to an Arab-Islamic summit in Riyadh with Donald J. Trump during the US president's visit to the kingdom despite the fact that he is a bit player on the global stage. Tajikistan was earlier invited to join a Saudi-led Muslim counter terrorism force.
Like in Algeria, it also coincided with rising popularity of Saudi-inspired ultra-conservatism in Tajikistan.
In a move that garners favour in Riyadh, Tajikistan has opposed Iran's application for membership in the Shanghai Cooperation Organization (SCO) that requires approval of membership by unanimous vote. Iran has observer status with the SCO, while Saudi Arabia has yet to establish a relationship.
By stirring the pot, Mr. Rahmon has a vehicle to maintain his iron grip at home and garner investment and financial support from the kingdom.
Saudi Arabia agreed last month to acquire a 51 percent stake, in troubled Tojiksodirotbank (TSB), Tajikistan's largest bank. The Saudi investment was a life saver after other investors, including the European Bank for Reconstruction and Development (EBRD), turned the opportunity down.
God's Grace: Reichstag Fire and July 15 Military Coup
"By the grace of God!" Some rulers use the cry to explain why certain events happen and why they play out as they do. They will argue that God, in allowing the events to happen, has bestowed his grace upon the ruler. Two rulers and two events—the Reichstag fire in Germany on February 27, 1933,and the military coup attempt in Turkey on July 15, 2016—illustrate the devastating consequences this twisted logic can have on the lives of ordinary people.When Adolph Hitler arrived at the scene, he told German Chancellor Franz von Pape, "This is a God-given signal" to crush Communists (and later opponents). Immediately after the failed military coup, Recep Tayyip Erdogan announced that the event was "a gift from God" and justification for Erdogan to start cleansing the military (and later purging opponents).
The similarities between the two events are striking in terms of beneficiaries, consequences and suspicions about the rulers' true intentions going forward. Soon after the fire, Hitler started to consolidate his powers in the name of protecting the state's security and democracy. To do so, Hitlersuspended civil liberties and shut the door on the rights and freedom of the country's citizens. The fire in the heart of the countrywas used to justify the notion that the country was in a great danger. With decrees, Hitler purged his opponents, even though there was only one person considered to be responsiblefor the fire. Erdogan followed a similar path when he has declared a state of emergency after the coup attempt and consolidated his powers with radical changes in the country's political and legal systems. With decrees, Erdogan purged hundreds of thousands of people under the guise of protecting the country's security and democracy—even though soldiers who allegedly were involved in the coup attempt that night already had been into custody.In the political arena, Hitler increased the number of votes he received in the election that took place a week after the fire. Similarly, public support for Erdogan increased after the coup attempt. History does, indeed, repeat itself. These are two of many examples that could have been cited.
It may not be possible to know for sure who staged and orchestrated the Reichstag fire orthe military coup attempt; however, it is clear that the rulers' purported motives are suspicious and their explanations filled with inconsistencies, given the many controversies arising from both events.The Reichstag firehas been discussed by scholars and historians who concluded that Hitler and his team—either directly or indirectly—helped to instigate the fire. Indeed, the arsonist responsible for the fire was pardoned years later. The military coup in Turkey wasa terrorizing and wicked deed against humanity and democracy, and the persons responsible must be identified and punished based on the rule of law and democratic values. It is, however, a Herculean task. Too many loopholes and controversies about the coup attempt need to be clarified. Erdogan should provide evidence-based, honest and objective explanations to remove the suspicions surrounding the coup attempt. Many answers are needed. For example,why did Erdogan refuse to answer questions from the major opposition party (the Republican People's Party, or CHP) about the coup? Why has the investigation case report and the report of the parliament's investigation committee deemed inappropriate and unsatisfactory even by some members of the committee? More important, why has an international committee not been allowed to investigate the case? Questions such as these highlight the many mysteries and suspicions that still surround the event two years after it occurred.
An independent international investigation committee should be established by the United Nations to examine the coup attempt and eliminate possible suspicions about Erdogan and his governing team. The committee also should determine whether thousands of people were responsible for organizing the coup attempt, as the government alleges, and clarify the following: whether some U.S. citizens, such as Andrew Brunson, who is still in jail, were among the primary plotters of the coup; whether some other U.S. citizens for whom bounties were offered were behind the coup attempt; and whether the United States was behind the coup attempt, as Turkish politicians and government officials claim—even though the United States has denied any involvement in the event.
Another independent international investigation committee should be established by the U.N.(or some other internationally accepted institution)to investigate the aftermath of the coup. Violations of internationally accepted human rights (as reported by credible human rights organizations such as Amnesty International and Human Rights Watch) that have been committed by government security and intelligence officials since the coup attempt should be investigated. The committee also should also determine whether persons victimized in any way (such as imprisonment, job loss, inhumane treatment, and deprival of constitutional rights and freedoms)were based on evidence or resulted from the arbitrary application punishment. A final task of the committee should be to investigate allegations of abductions, extrajudicial executions and torture by government security and intelligence agencies. As John Dalhuisen,Amnesty International's Europe director, has said, "It is absolutely imperative that the Turkish authorities halt these abhorrent practices and allow international monitors to visit all these detainees in the places they are being held."
An independent and objective domestic committee that consists of members from every political party in the country—regardless of the parties' percentage of the vote among constituents—should be established to investigate the same issues the two international committees need to review. Care must be taken to ensure that the members of this domestic committee—unlike those serving on the committee that was formed after the coup attempt—can maintain their objectivity and are aware of their responsibilities. The committee should be transparent and its actions and discussions observed and by international representatives of the U.N., the Organization for Security and Co-operation in Europe, the European Union, and individual countries and/or journalists.
Finally, the European Court of Human Rights, an internationally accepted high court of which Turkey is a member,should determine for itself—rather than rely solely on the response from government officials—whether the country's domestic legal and judicial system can be accessed openly and freely by all citizens and the attorneys representing them in legal matters.
It is only through these independent international and domestic investigations that the truth about the failed coup attempt can come to light.
Ghassan Kanafani, the Palestinian Pioneer Author of Resistance Literature
The eighth of July marks the 46th martyrdom anniversary of Ghassan Kanafani, who was assassinated by the Zionist Intelligence;  Mossad, along with his 17-year-old niece Lamees. Days before their martyrdom, Lamees had asked Kanafani to diminish his activitism and to concentrate on his writings. He answered her," I write well because I believe in a cause, in principles. The day I leave these principles, my stories will become purposeless. If I were to leave behind my principles, you yourself would not respect me."
Kanafani was born in 1936, in Palestine, to a father who was a national activist in the resistance against the British colonialism. After the 1948 Zionist occupation, his family sought refuge to Syria, when he was 12-year-old. In the refuge camps, Kanafani wrote most of his novels which highlights the sufferings that the Palestinians endure in the diaspora. He won multiple awards for his works both during his life and posthumously. For instance, in "Umm Saad," Kanafani's protagonist is a symbol of the Palestinian women in the refugee camps.
Kanafani was inspired by Jamal Abd al-Nasser's ideas of national independence and defiance of imperialism. Due to the decline of Nasserism after the 1961 failure to consolidate Egypt and Syria under a unified United Arab Republic, the ascendancy of imperialism and Zionism and the rise of communism; Kanafani, along with his comrade George Habash, resolved to adopt Marxism. They belived that the political crisis in the Arab world could only be solved by turning the anti-imperialist struggle into a social revolution.
In Lebanon, Kanafani adopted the Communist philosophy and become a leading member of the Marxist-Leninist Popular Front for the Liberation of Palestine (PFLP). He says, "The Palestinian cause is not a cause for Palestinians only, but a cause for every revolutionary, wherever he is, as a cause of the exploited and oppressed masses in our era."
Besides, he was a prolific creative and brilliant novelist and the first to anticipate the "resistance literature" genre. His literary products and fictitious works have inspired a whole generation of resisting youth, both during and after his lifetime as they are greatly rooted in the Palestinian culture and cause. Kanafani dedicated his works to reflect on the Palestinians' lives and the challenges they face under the Zionist occupation. He states, "My political position springs from my being a novelist. In so far as I am concerned, politics and the novel are an indivisible case and I can categorically state that I became politically committed because I am a novelist, not the opposite."
The assassination of Ghassan Kanafani was the result of his commitment to the Palestinian cause and the resistance methodology. Today, his legacy echo within every free revolutionary who devoted his life to confront the imperialist conspiracies. Indeed, Kanafani was murdered merely because he had constituted an intellectual threat to the Zionist entity. He refused the negotiations with the enemy, pointing that it would be "a conversation between the sword and the neck […] I have never seen talks between a colonialist case and a national liberation movement."
The chief thematic field of Kanafani's writing was inseparably connected to the anti-imperialism struggle. He stressed that the Palestinian cause could not be resolved in isolation of the Arab 's social and political crisis. Further, he insisted on developing the resistance movement from being a nationalist Palestinian liberation movement into being a pan-Arab revolutionary socialist movement of which the liberation of Palestine would be a vital component.
Definitely, Kanafani played an influential role in raising consciousness on the issue of imperialism. He maintains, "Imperialism has laid its body over the world, the head in Eastern Asia, the heart in the Middle East, its arteries reaching Africa and Latin America. Wherever you strike it, you damage it, and you serve the world revolution. "Shortly after Kanafani's obituary in Lebanon, "The Daily Star" stated, "He was a commando who never fired a gun, whose weapon was a ball-point pen, and his arena the newspaper pages."
Bahrain's Top Spiritual Leader in U.K. for Medical Reasons
Eventually, Bahrain's prominent, 80-years-old, Top Shiite cleric, Ayatollah Sheikh Isa Qassim has been flown to the U.K., after the severe deterioration of his health conditions.
The Bahraini authorities have frequently procrastinated the proper hospitalisation of the ailing Ayatollah Qassim until last week when the Foreign Minister Khalid Al Khalifa twitted that Hamad bin Isa Al Khalifa, Bahrain's ruler, had approved off Ayatollah Qassim's "facilitation of travel" to find medical assistance.
Ayatollah Qassim was earlier transferred to Bahrain's International Airport by ambulance. The authorities have currently issued a one-year temporary passport for Ayatollah Qassim as he is technically stateless since Bahrain's Cassation Court stripped him of citizenship.
The arbitrary prosecution of Ayatollah Qassim has been related to his religious duty of collecting charities, known as "Khoums." This religious ritual has been violated by the government, the charities have been confiscated and the Ayatollah has been audaciously accused of "money laundering."
Ayatollah Qassim's medical team issued a statement confirming his transfer abroad in order to avoid further complications in his health. The team said, "Ayatollah Sheikh Isa Qassim left Bahrain for England Monday morning, July 9, 2018.This measure has been taken on the basis of medical reports and consensus of his doctors who emphasized the need for his immediate transfer to a specialised hospital to prevent a further deterioration."
Moreover, Ayatollah Qassim's health has been deteriorating after the authorities imposed on him a house arrest. Medical sources have informed that Ayatollah Qassim is suffering from cancer, which is in an early stage.
Since June 2016, Ayatollah Qassim has been arbitrarily stripped of his nationality. Bahrain's Court of Cassation convicted Ayatollah Qassim of "illegal collection of funds and money laundering, serving foreign interests" and sentenced him to one year in jail suspended for three years. It also ordered him to pay $265,266 in fines.
The unfair, politically motivated,  blatant trial had led Ayatollah Qassim's followers to peacefully protest, on daily basis, in his residence area, up to 23 May 2017.
On that day, the government violently stormed the sit-in zone, in Duraz village, murdered 5 youth and arrested around 300. Since then Ayatollah Qassim has been under house arrest and denied adequate medical care, which let his situation to drastically worsen and to another health complications.
Clearly, the denaturalisation of Ayatollah Qassim and various dissents is regarded as a systematic reprisal against the political and religious freedom in the country.
Since the onset of the 2011 peaceful uprising, Duraz village along with scores of Bahraini villages have been subjected to an ongoing clampdown and restrictions.
Bahrain, home of the U.S. Navy's 5th Fleet, has gone to great lengths to clamp down on dissents. On 15 March 2011, troops from Saudi Arabia and the United Arab Emirates were deployed.
Religious freedom has been violated  until the central Friday prayer; the largest Shiite religious congregation, held in Duraz, has been banned. Armoured vehicles were deployed to cordon off Duraz's mosque and various police checkpoints were set to thoroughly lock down the village.
Regularly, the government have been criticised for violating the freedoms to religious rituals, assembly, association, expression, etc. Since 2011, when protests; demanding democracy, reforms and justice, have erupted; tensions have simmered.
Dozens of high-profile activists have been detained or exiled, opposition associations have been dissolved and citizenships have been revoked.
Unfortunately, the Shiite community have long endured a pivotal and methodological persecution in  an attempt to forged the demographic representation.