America's Best Large Cities Unveiled
Resonance Consultancy, the leading advisors in tourism, real estate and economic development for countries, cities and communities, unveiled America's Best Large Cities for 2018.
America's Best Large City in 2018 is New York, whose domination of our six categories and 28 subcategories—from Crime Rate to Instagram Hashtags— made it America's best place with a population of more than one million.
Fifty winning large cities were unveiled at a June 5 reception at New York University as part of the City Nation Place Americas forum, an annual conference for destination branding, economic development and tourism marketing that's co-produce by Resonance.
(America's Best Small Cities, the Resonance ranking of metros with populations of less than 1 million, was also unveiled and can be referenced here.)
The large and small city rankings, gathered into the America's Best Cities Report, are one of the most comprehensive American city rankings ever attempted. It was developed to quantify and benchmark the relative quality of place, reputation and competitive identity for U.S. principal cities with metropolitan populations of 200,000 to 1 million.
"For more than a decade, Resonance has created place-branding strategies, tourism and economic development plans and trend reports for city, tourism and economic development organizations," says Resonance President and CEO Chris Fair. "We do this to empower cities with new tools and perspectives on the key factors that shape a city's competitive identity, community well-being, and future prosperity."
Fair says his firm has come to understand that traditional indicators for economic, social and livability factors used in most rankings don't reveal the whole story for cities and their tourism and economic development agencies. Why? Because it's the relative vibrancy and experiential quality of cities that are increasingly determining where talent, tourism and investment flow.
As a result, Resonance Consultancy's Best Cities rankings analyze and compare 28 factors in six key categories using a combination of core statistics to measure those traditional economic, social and livability factors as well as user-generated ratings and reviews to benchmark the experiential qualities of each city. The six categories are:
Place
The perceived quality of a city's natural and built environments, including the subcategories of Air Quality, Weather, Crime Rate, Neighborhoods & Landmarks, Parks & Outdoor Activities, and Commute Time To Work.
Product
A city's key institutions, attractions and infrastructure, including the subcategories of University Rankings, Airport Connectivity, Convention Center Size, Entertainment, Museums, Sports Teams, and Housing Affordability.
Programming
The arts, culture, entertainment and culinary scene in a city, including the subcategories of Shopping, Culture, Culinary, and Nightlife.
People
The immigration rate and diversity of a city, including the subcategories of Education, Foreign-born Residents, and Languages Spoken at Home.
Prosperity
A city's employment, GDP per capita and corporate head offices, including the subcategories of Unemployment, Household Income, and Fortune 500 Companies.
Promotion
The quantity of stories, references and recommendations shared online about a city, including the subcategories of Google Search Results, Google Trends, Facebook Check-ins, Instagram Hashtags and TripAdvisor Reviews.
An average of a city's rankings in each of these categories is used to determine the overall Best Large Cities in America, which are:
LARGE CITIES (POP. 1 MILLION+)
New York
Chicago
Los Angeles
San Francisco
Las Vegas
San Diego
Houston
Miami
Seattle
Boston
The full 2018 America's Best City Report, including the Top 10 Large and Small Cities, category leaders and full city rankings, are available for free downloaded at ResonanceCo.com/Our-Reports.
Better Cities in Latin America and the Caribbean are Essential for More Productivity and Growth
Cities can be enormous engines for growth and development in Latin America and the Caribbean (LAC), particularly when policies supporting higher productivity are in place, according to a new World Bank report.
Increased investment in infrastructure, metropolitan governance, urban planning and human capital – such as education – are key to realizing the potential of cities in the region, according to the report Raising the Bar for Productive Cities in Latin America and the Caribbean. This is particularly important considering the high levels of urbanization in LAC. According to a globally consistent definition of cities, almost three-quarters of the population—or 433 million people—live in the region's 7,197 cities.
Cities in the region show similar levels of productivity performance as the global average, but lag behind the best performing cities in North America and Western Europe, which are at the so-called productivity frontier- according to the report. Increasing productivity in LAC's cities would fuel more growth across nations and the region.
"Being average is not good enough. Our cities should strive to be at the productivity frontier," said Jorge Familiar, World Bank Vice President for Latin America and the Caribbean. "Better infrastructure, better management, and higher skilled workers can make it happen while boosting economic growth and shared prosperity in our countries."
According to the report, led by World Bank economists María Marta Ferreyra and Mark Roberts, there are several reasons for the lower productivity in LAC's cities, including the lack of adequate infrastructure, urban planning, public services, and nationwide transportation networks.
Multiple local government jurisdictions within large metropolitan areas can lead to the failure to coordinate governance and the provision of public goods and services. While skilled human capital is a strong source of productivity for LAC cities, it is highly concentrated in a few large cities, to the detriment of the smaller ones. Without adequate investment or improvements in these areas, the high density of cities can lead to congestion that challenges infrastructure and policies, and can also lead to high crime rates.
As with other cities across the world, those in LAC face the competing positive forces of agglomeration, or efficiencies based on higher population density, and the negative forces of congestion. There are a number of policies that countries can take so that the positive effects of agglomeration prevail.
"It is important to create an enabling environment for cities to live up to their potential," said Maria Marta Ferreyra, World Bank Senior Economist and one of the authors of the report. "That involves improving urban infrastructure, including roads, utilities, and communication networks. It also involves, better urban planning and management, improving the quality of the local business environment, reducing crime, and making cities of all sizes attractive for skilled individuals."
In addition, no city exists in isolation – its productivity is related to that of other cities in the country. Transport and other networks to connect cities play a fundamental role. Policies that affect the productivity of one city will have repercussions on other cities. The easier the flow of goods, resources and people across cities, the greater the contribution of cities to national productivity.
As the report finds, redoubling efforts to maximizing productivity of cities will play a key role in helping LAC speed up inclusive growth and provide opportunities for all.
How universities are revitalizing urban areas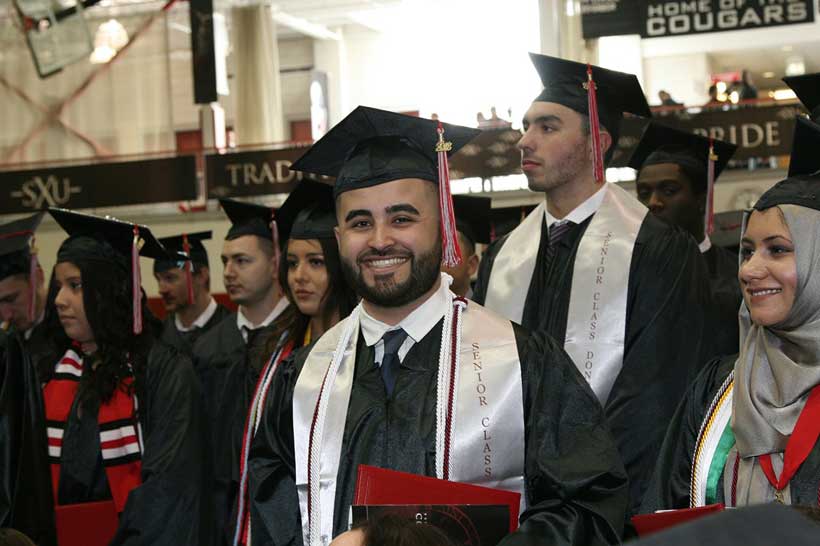 In the middle of the country, between two coasts and the two metropolises of New York and Los Angeles, is the friendlier, more mild-mannered version of the two: Chicago.
One hundred years ago, the poet Carl Sandburg famously called Chicago the "hog butcher of the world," and the "nation's freight handler." The character of the city has changed with each decade, and throughout the years.
Chicago has established itself as an educational hub, with world-class research universities, robust community colleges and ample opportunity for people to earn degrees and get ahead in life.
A force of change
During uncertain times, Chicago's colleges and universities have stood as a guiding light for the city, signaling hope, change and opportunity.
In a city that has long had neighborhoods underserved and marked by economic hardship — one university has had a particularly strong impact on the community and the city as a whole: Saint Xavier University.
For more than 170 years, a mission to serve the community and inspire future generations to succeed and make a difference has guided the university.
As the city has changed, this core mission has adapted to serve students in the 21st century. Through the dedication of students, faculty and staff, the university has been acknowledged as a source of growth in the community in the following ways:
* Ranked No. 4 in Illinois for helping underserved students overcome barriers to complete their bachelor's degrees, according to the Illinois Education Research Council's 2017 report.
* Saint Xavier University has a stable and optimal student-to-faculty ratio of 14-to-1.
* Two-thirds of Saint Xavier's student body are the first in their family to attend college.
* As part of the university's mission, Saint Xavier directs academic programs and units to partner with local, national or international nonprofit, public, private or faith-based organizations to provide opportunities for engagement, scholarship or service/service learning for students, faculty and staff.
Degrees that open doors
While Chicago's universities and colleges are the pride of the city, the question on almost every parent's and incoming student's mind is: What will I get out of the financial investment?
The School of Nursing and Health Sciences at Saint Xavier University offers top-ranked programs in the high-demand fields of nursing, speech pathology, exercise science and more. The job market for certified nurses is expected to grow by 16 percent during this decade.
This combination of high-ranking programs in growing career fields has led U.S. News and World Report to call Saint Xavier one of the best-value schools for students.
Saint Xavier University is a strong example of how universities are reviving the city of Chicago and opening doors for those who may have thought those doors were closed.
Maharashtra goes electric: beating pollution through e-mobility programme
The Indian state of Maharashtra is embracing electric mobility as the next step in sustainable transport, through leasing out electric vehicles and installing chargers in state government offices.
UN Environment today signed a funding agreement with the Government of Maharashtra and Energy Efficiency Services Limited (EESL), a company facilitating energy efficiency projects under India's Ministry of Power. The electric cars are being provided by Mahindra and Mahindra.
Electric vehicles use energy stored in its rechargeable batteries, which are recharged by common household electricity. As a burgeoning economy leads to a rapid increase in the number of personal vehicles on the road, a shift to electric mobility is instrumental in the push towards sustainable communities.
Marking the commencement of e-mobility era in the state, Chief Minister of Maharashtra Devendra Fadnavis flagged off the first set of 10 EVs at the Gateway of India in Mumbai.
"Today, Maharashtra embarks on the path of e-mobility marking an important milestone in its trajectory of growth," Fadnavis said. "Through this MoU with EESL, we are ushering in an era of clean, green and future-oriented technologies in the state. The EV programme will enable sustainable transport and further enhance our state's stature as a favoured economic destination."
The Government of Maharashtra took the opportunity to announce its Electric Vehicle and Related Infrastructure Policy, aiming to establish the state as a globally competitive destination for electric vehicles and component manufacturing. The policy also entails increasing the number of registered EVs in the state to 500,000 and the creation of 100,000 jobs.
"E-mobility is the future of our cities, said Erik Solheim, Head of UN Environment. "Maharashtra's leadership in promoting electric vehicles is a big step towards cities that can breathe, and where innovation thrives!"
The launch of the e-mobility program coincides with the national countdown to World Environment Day. As the global host of World Environment Day 2018, India is inspiring communities across the country to take bold action aimed at beating pollution. The launch of the electric vehicles will reduce emissions from traffic across the state and create an increased awareness of the advantages of electric vehicles.
Earlier this year, the Government of India launched the National E-Mobility Programme to provide an impetus to the entire e-mobility ecosystem including vehicle manufacturers, charging infrastructure companies, fleet operators, and service providers,
EESL is procuring electric vehicles to replace the existing fleet of petrol and diesel vehicles of the Central and State Governments through Mahindra and Mahindra.
"It is our endeavour to contribute to the Indian Government's e-mobility mission," said Saurabh Kumar, Managing Director of EESL. "Maharashtra is among the top contributors to the Indian economy and its transition to e-mobility will have a positive effect on national goals related to climate and sustainable growth."
The partners will also flag off self-drive e-car rental start-up Zoomcar India Pvt. Ltd which aims to expand e-vehicles use in the state also with Mahindra and Mahindra.
Mr. Anand Mahindra, Chairman, Mahindra Group said "I'm a big believer that the future lies in sustainable and shared mobility. Today, we've taken another step in this direction with our deployment of Mahindra electric vehicles with Zoomcar and the Govt. of Maharashtra. I'm excited about the pioneering role in electric mobility that the state of Maharashtra is poised to take."
EESL plans to drive down costs through its innovative business model while supporting local manufacturing facilities, gaining technical competencies for the long-term growth of the EV industry and enabling Indian EV manufacturers to emerge as major global players.