A Brave New World without Work
What's the first thing that comes to mind when you think about the soon-to-come widespread introduction of robots and artificial intelligence (AI)? Endless queues of people waiting to get unemployment benefits? Skynet drones ploughing the sky over burnt-out slums? Or the opposite: idleness and equality provided by the labour of mechanical slaves? In all likelihood the reality will be less flashy, though that doesn't mean we should ignore the social consequences of the technological changes taking place before our very eyes.
Revolution on the March
The Fourth Industrial Revolution with its robotics, bio and nanotechnologies, 3D printing, Internet of things, genetics, and artificial intelligence is rapidly spreading across the world [1]. The coming technological changes will have direct consequences for a number of existing professions and promise in the very least to transform the labour market in developed countries.
The high speed of change (suffice it to say that 10 of the most popular professions of 2010 did not exist in 2004) makes it difficult to predict the impact on society. In this regard, the assessments of experts and international organizations range from optimistic to alarmist. However, even if we were to eliminate the most extreme case scenarios, we could still say with certainty that a fundamental restructuring of the global economy, comparable to the one that took place in the 18th–19th centuries during the First Industrial Revolution, awaits us in the foreseeable future.
According to the World Economic Forum (WEF) Future of Jobs report, 65% of today's primary school students will have hitherto unheard-of professions. McKinsey came to the same conclusion, highlighting in their report that at the current level of technological development, 30% of the functions of 60% of professions can be automated. M. Osborne and C. Frey of Oxford University give an even more pessimistic forecast. According to their research, 47% of jobs in the US risk being automated within 20 years.
Who will robots replace?
What professions are at risk? First at risk is, of course, unskilled labour. The Osborne and Frey study found clerks, data entry workers, librarians, machine operators, plumbers, sales specialists, and equipment adjusters among others to be those most vulnerable.
According to WEF, from 2015 to 2020, job reductions will have the greatest effect on office professions (4.91%) and the manufacturing sector (1.63%). Employment in areas such as design, entertainment, construction, and sales should also decline by 1%. In turn, the most significant growth in jobs is predictably expected in the field of computer technology (3.21%), architectural and engineering specialties (2.71%), and management (just under 1%).
Predictably, professions related to transport risk automation in the medium term. The development of self-driving vehicles could radically change both the passenger and freight traffic markets. In the US alone, 8.7 million people are employed in the long-distance freight traffic industry. If you take into account all of the business operations connected to trucking (motels, roadside cafes, etc.), the number increases to 15 million or about 10% of the country's labour force. Reductions in passenger transport and the public transport sector are likely to be even more significant. It is also probable that self-guiding technologies will be introduced into sea freight traffic in the near future. The development of artificial intelligence should also bring down hard times on lawyers, teachers, miners, middle management, and journalists among others.
It can be said that on the whole, employment will gradually move from services to other sectors of the economy, many of which have yet to be created. The possibility is a confirmation of the revolutionary nature of the changes that are taking place rather than something unique. Before the First Industrial Revolution, over 70% of the population was occupied with agriculture, whereas nowadays the number hovers around a few percent in developed countries. The percentage of those employed in manufacturing continued to grow until the mid-twentieth century, though it has now fallen to 24% in the EU and 19% in the US (27% in Russia) as a result of the Digital Revolution. Meanwhile, although there are fewer workers, production volume continues to rise steadily. It would now appear to be time to automate services.
The Golden Age of Engineers and Psychiatrists?
Professions associated with intellectual work or direct personal contact with clients are least likely to suffer in the short term. According to the study from Oxford University, professions least susceptible to automation include various jobs in medicine and psychology, as well as coaches, social workers, programmers, engineers, representatives of higher management and creative professionals.
In other words, those whose work requires a creative approach and is not limited to the performance of predictable combinations will be best prepared to deal with the new reality. If we were to speak of engineers in this regard, it would have to be clarified that design engineers are generally safe, while operating engineers, on the contrary, are at risk.
Three key factors are keeping automation away from the creative professions. To successfully perform their tasks, artificial intelligence must possess intuition and an ability to manipulate material objects (touch) and make use of creative and social intelligence. Technology at its current level of development does not actually allow for the resolution of these problems. However, as strong AI continues to develop, the range of jobs available to it will invariably increase as well. It will expand the limits of automation that have already been achieved with existing technologies and will make it possible for computers to make managerial decisions and even, perhaps, engage in creative activity. Therefore, it cannot be ruled out that in the medium or long term, machines might successfully replace writers and artists along with engineers and managers. Furthermore, precedents do exist for AI's successfully composing literary texts.
Thus, it is quite conceivable that the majority of the labour force will find itself back in school in the foreseeable future. The problem, however, is that no one really knows what to study. It has been estimated, that as many as 85% of the professions that will be in demand in 2030 do not yet exist. Even in developed countries, the education systems have yet to adapt to the new reality.
What will become of our country and of us?
Today, most researchers have little doubt that developed countries will successfully adapt to the changes coming one way or another (which does not rule out the possibility of social tension and growth in income inequality). New technologies could help create additional jobs to replace those that have been lost, as it was not long ago following the rapid development of the Internet. It is assumed that the new professions will be more creative and better paid.
A new balance will gradually be established in the labour market. The nature of manufacturing will also change. The development of automation and 3D printing will make it possible to create efficient local production facilities focused on the specific needs of consumers. This will facilitate the return of a part of production from developing countries to developed (so-called reshoring).
In turn, the consequences of automation could be much more negative for countries of the third world. The percentage of non-skilled jobs in developing countries decreased by 8% between 1995 and 2012. Reshoring could significantly accelerate this process in the short term. Since the proportion of people engaged in low-skilled work in low and middle-income countries is much higher, the growth of unemployment would threaten to become a major global problem. The situation would be further aggravated by the underdevelopment of labour protection institutions in these countries.
It must be noted that risks of this sort are endemic to Russia as well. Despite the significantly higher level of education of its citizens in comparison to that in developing countries, the Russian economy could hardly be called high-tech. A significant part of the working population is engaged in routine low-skilled labour, and productivity remains low as well. At the present time, Russia lags significantly behind other developed countries in regards to this indicator (and behind the US by more than 100%), and according to some estimates falls below the world average. What's more, factory jobs are not the only ones at stake – an army of many millions of bureaucrats and clerks is also under threat of redundancy as a result of digitalization.
Another disaster waiting to happen to the Russian economy is related to outdated industry and the decline of domestic engineering. At present, institutions of higher education produce mainly operational engineers trained to maintain tools and machines. What's more, even the limited innovative potential of Russian engineers is not needed by Russian industry.
Furthermore, it cannot be ruled out that in the near future Russia will launch a massive programme to introduce robotic automation and artificial intelligence. All the more since it fits in perfectly with the desire to modernize and digitalize the national economy repeatedly spoken of by the Russian leadership. Because of the lack of a strong trade union movement and the prevalence of hybrid and grey forms of employment, labour automation could lead to much more severe social consequences in Russia than in Western countries. Finally, it is entirely possible that the catch-me-if-you-can nature of such modernization will result in Russia introducing more primitive technologies than in more developed countries. Editor-in-Chief of Russia in Global Affairs magazine and RIAC Member Fyodor Lukyanov cleverly described a similar scenario in his article.
Saving the Rank and File
Ways to reduce the social consequences of labour automation have long been at the heart discussions surrounding the Fourth Industrial Revolution and the development of AI. The Robot Tax is one measure being considered. Microsoft Founder Bill Gates supports the idea and has proposed collecting income tax and social payments on robot labour to slow down the pace of automation. "Right now, the human worker who does, say, $50,000 worth of work in a factory, that income is taxed and you get income tax, social security tax, all those things. If a robot comes in to do the same thing, you'd think that we'd tax the robot at a similar level," he declared in an interview for the Internet publication Quartz. It is his opinion that the funds received from payments of this sort should be used by governments to create social security systems for those who have lost their jobs as a result of automation.
The first country to resort to this measure is South Korea, which introduced an indirect tax on robots in August 2017. The European Union also discussed the introduction of a similar tax, though the clause proposed by Progressive Alliance of Socialists and Democrats Representative Mady Delvaux was rejected by the European Parliament was rejected by the European Parliament because it could slow the development of innovations. At the same time, the parliament approved the resolution itself, which calls for granting robots the status of legal entities.
A universal basic income could also soften the effect of rising unemployment and inequality. Elon Musk supports the initiative together with numerous other businessmen and experts. At the same time, a lack of work to afford one the opportunity to fulfil one's potential poses a significant social risk. Significant unemployment, even in the absence of poverty, can contribute to the marginalization of the population and the growth of crime – the first jobs to go are those of low-skilled employees, who are unlikely to spend all of their permanent free time engaged in yoga and self-improvement activities.
Possible ways of mitigating the consequences of the upcoming restructuring of the world economy include a change in the nature of employment. Technological changes and expanding access to the Internet allow more and more people to work remotely. Thus, some of those who lose their jobs will be able to find themselves a place in the new economy without having to change their place of residence.
Some believe that automation will increase and not reduce the total number of jobs by accelerating the pace of economic development over the long term. Amazon is one example of how automation has not resulted in staff reduction. While increasing the number of robots employed in its warehouses from 1,400 to 45,000, it has managed to retain the same number of jobs. It has also been noted that automation is becoming increasingly necessary due to a decrease in the working-age population (primarily in developed countries).
It should be noted that these measures are all limited in nature and hardly correspond to the scale of changes that stand to be swept in by the Fourth Industrial Revolution. To avoid mass unemployment and social instability, governments must develop comprehensive short-term strategies for adapting the population to the new reality. It is very likely that new programs will be needed to retrain citizens en masse for new professions.
Russia is no exception here; on the contrary, it is of vital importance that our country reform its education system in the near future, especially as regards technical education. It is equally important to develop targeted support programs for those parts of the population that are most vulnerable to automation and digitalization. Moreover, it would seem advisable to make use of existing experience to mitigate the social consequences of factory closures in Russian single-industry towns. If we continue to move as sluggishly as we are moving at present, we risk turning into a kind of reserve for yesterday's technologies with a population becoming ever more rapidly marginalized.
First published in our partner RIAC
[1] Marsh, P. The New Industrial Revolution. Consumers, Globalization, and the End of Mass Production. M.: Gaidar Institute Press, 2015.
Antivirals, Spaceflights, EdTech, and Hyperloops: 20 Markets That Will Transform Economies
As the world grapples with the socio-economic consequences of the COVID-19 pandemic, there is increasing demand to shape a new economy that addresses broader societal and environmental challenges while generating economic growth. To achieve this, the world needs to set an ambitious agenda of technological and socio-institutional innovations to pilot new markets that can help solve these challenges.
The World Economic Forum highlights 20 markets that could transform our economies. Some will rely particularly on advances in technology (e.g. broad-spectrum antivirals, spaceflights), while others will require radically new social and institutional set-ups (e.g. skills capital, water rights, quality credits). Others will emerge from a combination of both elements (e.g. data, genes and DNA sequences). Each of these markets has potential benefits in multiple dimensions. For example, they could help societies to protect and empower people (e.g. precision medicines and orphan drugs, EdTech and reskilling services), advance knowledge and understanding (e.g. artificial intelligence, spaceflights, satellite services), or protect the environment (e.g. greenhouse gas allowances, reforestation services, hydrogen).
"While protecting people remains the priority at present, now is also the time to plan a post-pandemic transformation of our economies. We must ensure that new economic activities do not only generate growth but also provide solutions to the problems that our societies are facing, said" says Saadia Zahidi, Managing Director, World Economic Forum. "The future of our economies, societies and the planet depend on developing these new, inclusive and sustainable markets."
Creating these markets will require close collaboration between the public and the private sectors to:
Invent new products that can be sustainably produced
Nurture a set of companies to produce new products and bring them to market
Foster enough demand to sustain a commercially viable market
Establish clear standards that all actors can rely on and the market can converge on
Create alignment within society on how to value the new product
Develop the legal frameworks to identify, hold and exchange the new product
Build the necessary infrastructure to exchange, distribute and store the new product
Coalitions of actors at country and global level can come together to pursue the establishment of these conditions. For optimal societal outcomes, these markets should be designed around fairer and more sustainable ways of producing and distributing value. Examples include more collaboration between the public and the private sectors, innovative models to finance research and development, and designing the public sector's risk-taking into the new ventures. Public institutions have a key role to play in catalysing public-private collaborations and create the systemic conditions for selected markets to emerge.
A preliminary mapping of countries' potential for breakthrough technological and socio-institutional innovation indicates that those with advanced technological capabilities, strong social capital and future-oriented institutions are likely to succeed in developing a broader set of new markets. In particular, the Netherlands, Luxembourg, Denmark, Germany and Norway have the highest potential for socio-institutional innovation, while Japan, Germany, the United States, the Republic of Korea and France have the highest potential to generate breakthrough technological development.
Most advanced economies also score highly across both these dimensions. A number of high-income economies from the Middle East (Bahrain, Saudi Arabia, United Arab Emirates) and East Asia (Indonesia, Malaysia) as well as a few small island states (Barbados, Cyprus, Malta, Mauritius, Seychelles) and emerging African countries (Kenya and Namibia) can rely on significant levels of social capital and future orientation of policy-makers but do not yet have a mature technological system. A smaller group of advanced economies (Czech Republic, Israel, Italy, Japan, Spain) as well as the BRICs and other emerging economies (Hungary, Poland) present solid technological systems but need development in the social and institutional fabric to deliver these markets.
The disruptions brought by the COVID-19 pandemic provide an opportunity to pilot breakthrough technological and socio-institutional innovations that can grow into entire new markets. Success will ultimately depend on how well multistakeholder actors work together to create the necessary conditions for a number of key new markets to emerge that will help make economies more inclusive and sustainable. Existing market structures are not neutral; high levels of concentration and market power in adjacent industries to the new markets might slow down or even curb the establishment of such new markets.
Light at the end of the tunnel: New technologies to fight the COVID-19 on transport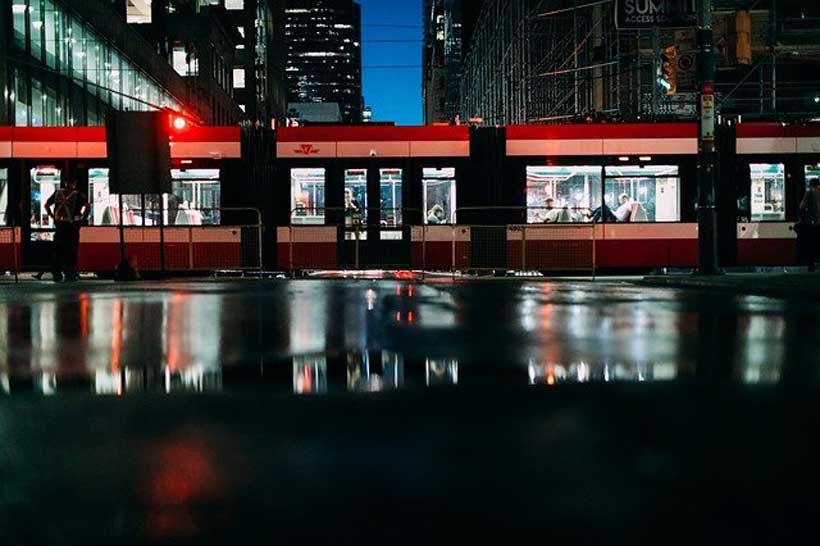 Disinfection robots, thermometer robots, smart tunnels, automatic passenger counting, powerful ultraviolet lamps and other examples of how new technologies reshaped public transport amid the COVID-19 outbreak.
The coronavirus pandemic has led to significant changes in many areas of life in just a few months. As the coronavirus continued to spread around the world, governments in several countries took measures to restrict movement, and people themselves tried to avoid traveling on public transport. The demand for the services of transport operators has dropped drastically. So, according to the Moovit Public Transit Index, passenger traffic in public transport on April 15, 2020 decreased in Israel by 92.1%, in Rome – by 89.2%, in Madrid – by 88.1%, in New York-by 74.8% and has not yet recovered. City residents are afraid to use public transport actively again, and their fears are fully justified. High daily passenger traffic and high frequency of contact between passengers make public transport an ideal environment for the spread of infections. The problem of fighting the spread of infections while maintaining normal life activity is particularly acute for large cities, such as Moscow or Beijing, where daily passenger traffic reaches 19.4 and 12.3 million passengers respectively. The average density of passengers on a bus or in a traincar at the same time ranges from 2 to 5 people per square meter, while, according to World Health Organization (WHO) recommendations, in order to comply with safety standards, passengers must maintain a social distance of 1.5 meters. Furthermore, virus particles can remain for a long time on public surfaces inside a bus or a traincar. Handrails on public transport are usually made of plastic, on which the coronavirus can remain up to 3 days, according to the New England Journal of Medicine. By touching them passengers increase the risk of contagion.
The key task for transport operators is to make the usage of public transport safe. To help them solve this problem came technology -all kinds of robots are widely used among innovations. With their help, it is possible to carry out disinfection effectively and safely without the involvement of staff. The Hong Kong Metro, also known as the Mass Transit Railway (MTR), together with the biotechnology company Avalon Biomedical Management Limited, has developed a disinfection robot that can disinfect even the most inaccessible places of traincars and stations. In addition to disinfection, robots can cope with more complex tasks. So, in Ningbo Lishe International Airport was tested a 5G-supporting robot-thermometer, which can measure temperature at a distance of 5 meters up to 10 people simultaneously and also identify those who are not wearing a face mask. Another innovation in many transport operators is the sanitary gate. According to Giulio Barbieri, one of the manufacturers, this is a "a tested, safe, and effective method to sanitize people and objects in just 5 seconds, killing up to 99% of any pathogenic microbes on the surfaces, including COVID-19"For example, the technology was tested in the Moscow and Dubai metros. In Moscow the clothes of the employees entering the depot were processed using a disinfection tunnel; at the same time, the territory was manually disinfected, so that the entire depot was safer for the staff.
The process of digitalization of ticket systems, which began long before the pandemic, also had a positive effect. Thanks to the competent actions of transport operators, the number of contactless payments in public transport around the world increased by 187% in the period from April to June, as evidenced by a report from Visa. Following WHO recommendations, many transport operators have made it mandatory to wear masks and maintain social distance on public transport. A number of digital technologies have been developed to comply with these rules. In the Beijing metro, compliance with a mask regime is controlled by cameras with a facial recognition system that can identify people. In addition, in the Panama Metro, observance of social distance is monitored by sensors which determine the degree of capacity of train cars. The technology called Mastria, which aggregates information from train weight sensors, ticket machines, signalling, management systems, CCTV and mobile networks for the Panama metro was developed by Alstom (a french manufacturer specializing in the production of infrastructure for rail transport) and installed almost a year ago. In just three months, thanks to artificial neural networks, it was possible to reduce average waiting times at stations by 12%. This development became particularly relevant during the pandemic. The Moscow metro is planning to introduce a similar technology. To maintain the social distance digital displays with colored indicators that reflect the level of capacity of subway cars will be installed. In the Moscow metro a new generation of traincars with an automatic air disinfection system built into climate control systems helped to reduce the risk of infection. It makes it possible to disinfect the air without disrupting the train schedule and attracting employees. The Moscow metro rolling stock consists of more than 50% of train cars with built-in UV lamps, and this percentage is constantly growing. After evaluating the effectiveness of using UV lamps to disinfect public transport, the transport operator MTA New York City Transit, together with Columbia University, launched a pilot project worth 1 million dollars on the use of disinfecting lamps. During the first phase of the project, 150 autonomous lamps were purchased and installed to decontaminate wagons, stations and buses in New York, during the second phase it is planned to install equipment in commuter rails. To carry out disinfection measures, the New York City Subway took unprecedented measures – the closure of the subway from 1 to 5 a.m. daily.
The use of robots, disinfection tunnels, digital technologies, ultraviolet lamps, and intensive work of staff – all this helped to reduce the risk of the spread of coronavirus in public transport and made a significant contribution to fighting the global problem. According to the coronavirus distribution model, developed by Imperial College London at the beginning of the pandemic, if no action had been taken by mid-March there would have been over 500,000 deaths from COVID in the UK and over 2.2 million in the USA. At the moment, in the middle of October, there are about 43,000 deaths in the UK and about 214,000 in the USA. Of course, these are high rates, but they could have been much higher if the necessary measures were not taken in time. Technological innovations already available today will continue to be used, which will make the stay of passengers on public transport more comfortable and safer, reducing the risk of the spread of any infectious disease, especially during the flu and cold seasons.
Modern-day threats to human rights in an era of global digitalization
Digital security is an overarching issue related to the development of information technology. More and more new opportunities are popping up here each year, all of which have their upsides and downsides too. Adding to the technical and economic aspects of this issue are all sorts of equally important legal and humanitarian ones, primarily those dealing with technologies for collecting people's personal data, with tracking systems and the risks inherent in the development of other aspects of information technology. This and many other topics took center stage during an online roundtable discussion organized by the Presidential Council for Civil Society and Human Rights at the TASS press center in Moscow. The Council's head, Valery Fadeyev, mentioned a number of negative aspects of the active spread and development of digitalization, underscoring the following topics: bullying and defamation in social networks, manipulation of people's opinions through advertising and politics, surveillance and the related problem of personal data protection, cyber fraud and censorship practiced in the digital space by commercial companies. Suffice it to mention Facebook's recent decision to block the Instagram account of Ramzan Kadyrov in line with US sanctions imposed on the leader of the Chechen Republic.
To minimize these risks, Fadeyev proposed to set up a special commission with a primary focus of human rights.
Picking up where Fadeyev had left off, National Anti-Corruption Committee Chairman Kirill Kabanov mentioned the emergence of criminal groups specializing in online fraud, and new challenges associated with the active use of the Internet by young people.
"What we are discussing right now is how the Internet and artificial intelligence should develop in Russia. I don't think that anyone believes that Russia will have its own version, like, for example, what they have in China or America. The Internet is developing in the world according to certain laws that need to be registered," Kabanov noted.
When we talk about the Chinese model, we mean full government control of all Internet resources operating in the country by means of keyword filtering of web pages, and through blacklisting of website addresses (the so-called Great Firewall of China). As for the US model, many Internet resources there are highly dependent on the current political agenda – just recall President Trump's order to ban the Chinese social network TikTok for allegedly stealing the Americans' personal data.
Kabanov believes that such issues should be resolved by analyzing specific cases with specialists.
Igor Ashmanov, CEO of Ashmanov & Partners, a company specializing in Internet marketing, raised the issue of preserving the citizens' digital identity by improving and expanding the legal framework of information security.
"We must have the right to protect a person's digital identity, essentially the right to stop using digital technology as such. Without a smartphone, we literally become stripped of our rights," Ashmanov said. He also brought up the extremely important ethical aspect of a mass-scale collection of personal data using cutting-edge digital technology done as part of an experiment in Perm schools where commercial companies installed cameras and tracking systems everywhere under the pretext of preventing the so-called "school shooting" – violent and terrorist acts by individual students or groups of students. Ashmanov argued that schoolchildren need personal space and that such measures "violate a whole list of human rights."
Victor Naumov, Managing Partner of the St. Petersburg office of Dentos, also underscored the importance of safeguarding the people's digital identity. In his report Naumov decried the lack of digital awareness among people. "Unfortunately, our society, not only in Russia, was not ready for the temptations that we faced. People do not realize that when they press the "I agree" button, they allow their fingerprints to be registered somewhere, which may have far-reaching negative consequences."
Vladimir Ovchinsky, a retired general with the Interior Ministry, outlined the time that a request for large-scale measures in the field of information security may take to come along and highlighted the main areas of high technology application directly pertaining to human rights.
"What we are discussing now are the consequences of the Fourth Industrial Revolution proclaimed at the Davos Forum in 2017. The information revolution has been happening for quite some time now, but since 2017, some things have been growing rapidly. Any technology has a triple purpose: the development of society, military purposes, and the criminal segment. In each of these areas we see human rights being infringed upon," Ovchinsky said, noting the negative impact of the global pandemic on the development of digital crime in all three areas. Crimes associated with telecommunications technologies have particularly spiked with crooks disguised as bank employees extorting money from the people by phone. "The general trend is that the mafia is switching to new technologies and hitting the most vulnerable social groups," Ovchinsky summed up.
Retired FSB General Alexander Mikhailov focused on criminal gangs of prisoners in Russia engaging in cyber fraud right from the places of their detention.
"Under the circumstances, the idea of ​​creating a digital code makes a lot of sense as it would not only regulate information flows but would also provide punishment for the illegal use of such information," Mikhailov suggested.
The head of the Cyber ​​Moscow project, Grigory Pashchenkov, also spoke about protection of a person's digital identity – "the rights of a digital person as a person," which is an aspect still generally overlooked today. Pashchenkov insists on the need to create a digital identity passport, arguing that it would better safeguard people against leaks of their personal data. However, such a measure is extremely hard to implement and, while helping prevent personal data leaks, it is still fraught with many complications, well exemplified by the need to enter passport data when restoring access to a profile on the VKontakte social network.
The participants in the roundtable meeting also discussed measures to increase the people's digital literacy and set up a working group to protect human rights in the field of information technology. Thus, the question that we have yet to answer is the extent to which our life could be covered by information technologies. Here it is imperative to maintain the right balance and clearly understand the permissible limits to the invasion of science and technology into public space and the private life of an individual.
From our partner International Affairs