The Russian Federation in Africa
In its relations with Africa, Russia – which operates on global markets especially in the field of oil and non-oil raw materials – does not use the same logic as the Western countries'. The latter have always looked only for materials to be processed and turned into finished products within their factories.
In fact – according to the most authoritative scholars and experts – in Africa, Russia seeks above all the human capital, i.e. the human capital to be developed, the ruling classes to be educated, as well as the masses to be trained and made productive, always in an integrated vision of development between the great continental Eurasia and Africa.
The Russian relations with Africa are only synergistic, as they are two large reserves of raw materials and this makes their geo-economic situation in this respect very similar. However, as often reiterated by Russian experts, these are always operations that take long time and have a strong geopolitical and strategic dimension.
Hence, again according to Russian analysts, the logic underlying the relations between Russia and Africa is the union of their best practices so as to create a synergy that, in the future, will have a global geopolitical and economic impact.
Westerners want to look for goods and resources which are essential for their technological and industrial survival, while Russia wants to support Africa to take it away from the US and EU influence and use it as the pivot of Russia's future development as a global, economic and strategic power.
However, the economic and political relations following the USSR collapse were the first ones to be sacrificed on the altar of the very severe Russian economic crisis of the time.
The current Russian establishment interpreted that crisis as an ill-managed colonization of the great Russian reservoir of raw materials. Exactly the same paradigm that is currently applied to the wide African region.
Later we witnessed the complex turn – ordered by Vladimir Putin since his official rise to power on May 7, 2000 – from a Russian GDP of only 764 million US dollars in 2006 to 2,096.8 million US dollars in 2014 up to 1,248.55 US dollars in 2016.
Moreover, the International Monetary Fund foresees that the future increases of the Russian GDP will result almost exclusively from the expansion of the internal market.
This is the example given by the Sochi Olympic Winter Games and by Russia's international initiatives.
Hence – as Keynes explained in his old, albeit always valid, General Theory -if economic growth and the capitalistic or non-capitalistic industrialization depend on the secondary processing of raw materials and on the market-driven innovation, generated by the market and its demand, obviously the West must expand itself – in a new way – where these raw materials are found, namely Africa, Asia and Latin America – and obviously the new geopolitics will repeat the one analysed by Georg Wilhelm Pahl in the 1930s: the war for primary raw materials.
Unlike technologies, said raw materials are not reproducible.
Hence, in terms of basic productive structure, the Russian Federation is homogeneous and similar to many of the countries rich in raw materials which, like Russia, make up the so-called BRICS group.
In fact, if we read the Russian Federation's "Concept of Foreign Policy" adopted by President Medvedev in July 2008, we can see that the issue of collaboration between Russia and the African countries- as well as an enhanced  dialogue with the G-20 and the G-8 -are some of the fundamental issues of the Russian power projection throughout the world.
Moreover, in the 2017 "Concept", it is made clear that "Russia intends to strengthen its position in global economic relations and prevent any discrimination against Russian assets, services and investments".
It is worth keeping in mind that, altogether, Africa and the Russian Federation hold 60% of the world's natural resources.
Hence the fundamental problem for Russia is to be so strong at international, legal and financial levels to avoid the fast and ferocious exploitation of its own natural resources – as well as of its friendly African countries – at low prices and without any political and military compensation in return.
Although many people think the opposite, imagining an impossible "tertiary society" -of "services" or, even more humorously, of "knowledge" -the "resource factor" is essential to analyse the current state of the world market.
Between 1960 and 2009 the world population grew from 2.5 to 6.6 billion people and currently, based on the 2017 data, we see the undoubtedly shocking forecasts of world population reaching as many as 7.6 billion people in 2018.
A 400% increase of the world's population recorded  throughout the twentieth century. According to UN data, between 2018 and 2100 the world population will rise   approximately to 10 billion people.
Oil extraction – the axis of Russia's current economy, which will also be diversified through these new relations between Russian and African raw materials-has risen  from 2.5 million barrels per day in 1960 to 4 million barrels in 2009 up to 6.9 million barrels per day this year, with a forecast of stable global growth in oil consumption of 1.2 million barrels per day.
Global natural gas production has risen from 190 million in 1960 to approximately 3,900 in 2018, with a consumption outlook predicting significant growth of global consumption, higher than the oil one.
The fact is that these growth trends in raw material consumption apply not only to energy products, but also to  all types of minerals and non-food raw materials.
Hence there is no monetary crisis – occurring by chance or  artfully created – which can manoeuvre this stable condition of the markets and the allocation of raw materials. Any manipulation with derivatives or other financial formulas will never be able of changing the material equilibria on the planet.
It is worth noting, however, that 16% of the world population lives in developed countries, even though  in these countries the social gap between rich and poor is increasingly widening.
The "Gini coefficient", which is a commonly used measure of inequality of income or wealth, is currently optimal in the North European countries, while it is very low in Bolivia, Colombia and generally in  Latin America.
However, it is also very low in Gambia, Namibia and South Africa, ranging between 0.66 and 0.50, in a context in which the maximum income equality is 0.50, considering that 0 means complete income equality.
The United States, Russia and China range between 0.40 and 0.45, with China following closely.
Nevertheless 10% of the richest population owns 37% of wealth in Europe, 47% in North America, 46% in Russia and 41% in China, but with 55% of wealth in Brazil, sub-Saharan Africa, India and even 61% throughout the Middle East – obviously excluding Israel.
This make us predict a future scenario that reminds us of Mao Zedong's "Three Worlds Theory", which proposed three political-economic worlds: the First world consisting of superpowers, the Second World of developing powers and the Third World of exploited nations.
The First World was composed of the USA and the Soviet Union, which engaged in imperialism and social imperialism and featured a "capitalist" country and a "revisionist" country (i.e. the USSR which, at the time, was consumed in the madness of the Cold War and in the economic and military confrontation between East and West). Japan and Canada, Europe and the countries of the global North-South divide composed the Second World, while the countries of Africa, Latin America and Asia (except Japan) composed the Third World, which would be  unified and led by Red China.
Hence 16% of the population lives in the First World,  which organizes the production and consumption of raw materials, while as much as 53% of the world population lives in developing countries.
With their 16% of population, however, the developed countries consume 52% of all the raw materials extracted.
This is the profound meaning of the "war for Africa" that everyone is currently waging with both conventional means and indirect or influence strategies.
Africa is the primary area for the extraction of manganese, chromium, bauxite, gold, platinum, cobalt – 94% of which is currently extracted indirectly by Chinese companies operating in the Black Continent – vanadium, diamonds, phosphorite and fluorite.
Africa is also the second region of extraction for copper, asbestos, uranium, antimony, beryllium and graphite, as well as the third  region in the world for oil, natural gas, mercury and iron ore reserves.
Africa, however, also possesses significant deposits of titanium, nickel, bismuth, lithium, tantalum, niobium, aluminium salts, tungsten and precious stones.
In short, the Black Continent is strategic for all the raw materials characterizing the technologies of the future  scientific and industrial revolution, which is currently  typical of the First World's economies.
Finally, another factor of geoeconomic similarity between Russia and Africa is that they are two great global regions in which the fast and often unreasonable exploitation of natural resources has not occurred yet. Political and military difficulties of ancient and now outdated colonial hegemonies.
As, indeed, it has already happened in Brazil and in some Asian areas.
The depletion of natural resources in Latin America is older and more profound than the one already underway in some regions of sub-Saharan Africa.
We must not forget, however, that in mid-21st century the demand for raw materials will grow by 50% or 60% while, again according to Russian statistics – mostly confirmed also by the United States – the oil demand is expected to grow by 113 million barrels per day until 2030.
Another important fact, however, is that every year the United States is increasing its imports from Africa – and this has been going on since 2005, with a yearly 10% increase of North American imports from Africa.
Over the same 2001-2015 period, the European Union has instead reduced its imports from Africa by 2.5%.
Nevertheless, over 70% of imports to the USA is only for oil products, while minerals and other African non-food raw materials only account for 14-15% of the US total imports.
Hence the African Growth and Opportunity Act (AGOA) – the Treaty that since 2000 has been regulating US and African trade -lays down that 6,400 products of 40 African countries will enter the USA duty free. This has indirectly created a million new jobs in Africa but, as always happens with mere free-trade treaties, they do not lead to investment, but only to the expansion of African imports which, although important, is not enough.
Currently, however, the US direct investment in Africa is on the wane: lately the US exports to sub-Saharan Africa have been worth 19 billion US dollars, while bilateral trade fell from 100 billion US dollars in 2008 to 39 billion US dollars in 2017 – a fall in North American imports mainly due to the increase in US energy independence and autonomy.
China has already funded 3,000 infrastructures in Africa in various ways and has granted 86 billion dollars of commercial credits to African governments. It has also invested 6 billion dollars a year throughout the Continent until 2025.
In 2015, during the Forum on China-Africa Cooperation Conference (FOCAC), President Xi Jinping granted a further multi-year commercial fund to the tune of 60 billion dollars, to which another 20 will be added at the end of the mandate in 2025.
Hence China is already Africa's first creditor, with 14% of the entire sub-Saharan debt stock.
China's Foreign Direct Investment in Africa, however, is still low, considering that it accounts for 5% of all the FDI in the Continent, while there are currently 10,000 China-owned companies – mainly private ones – operating in Africa.
Furthermore, in 2007 the EU launched the Africa-EU Strategic Partnership, operating between EU-27 and 54 African countries.
The fifth Partnership Summit held in Abidjan in 2017 reaffirmed the main assumption underlying the agreement, namely mutual trade, in a situation in which trade between Africa (i.e. the 54 countries adhering to the Africa-EU Strategic Partnership) and the European Union is worth approximately  300 billion euro a year, while the European Union has guaranteed additional 54 billion euro for "sustainable development" – whatever this may mean in Africa.
Following the non-brilliant concept of "equalitarian" trade  typical of the USA, the EU has established a series of Economic Partnership Agreements (EPAs) with 40 other sub-Saharan African countries of the Strategic Partnership, with bilateral treaties envisaging preferential access to European companies in those areas, while imports will be liberalized over a period of 20 years.
Too late, too little.
Nigeria is opposed to the EPA since it maintains it is an obstacle stopping its industrialization, while Brexit has greatly weakened the EU ability to penetrate the African markets and ruling classes.
Finally, the USA has recently invested 6.5 billion US dollars in 14 African countries through the Millennium Challenge Corporation alone – funds  aimed at fostering inter-African economic integration (a sort of future African EU) and to create the best conditions for standard private North American investment.
Moreover, in February 2018, the US government established the BUILD Act, i.e. the rules on Better Utilization of Investment Leading to Development, a new federal agency that will put together some functions of the Overseas Private Investment Corporation and of  USAID, which will mainly deal with equity investment in Sub-Saharan countries.
However, let us revert to the Russian Federation.
Building on a strong bilateral relationship with Abdel Fattah al-Sisi's Egypt, Russia currently plans to develop a series of relations – always and especially at bilateral level –  with many African countries, particularly those having a more difficult relationship with the EU and the USA.
At the inauguration of Vladimir Putin's current Presidency there were people of great strategic importance for Africa: Cyril Ramaphosa, President of the South African Republic; obviously Abdel Fattah al-Sisi from Egypt; Emmerson Mnangawa from Zimbabwe; Joao Laurenco, President of Angola; Hage Geincob from Namibia and finally Omar al Bashir, military and political leader of South Sudan.
With regard to Egypt, Putin is working on a nuclear power plant and a special industrial zone, as well as on a package of aid and investment amounting to approximately 32 million US dollars.
An operation that is supposed to be completed in 2022.
For Zimbabwe – currently a political pariah for the whole West – the relationship with Russia and China is fundamental for the steady flow of economic aid from the two Asian countries. This aid will soon be turned into bilateral trade and into the creation of an autonomous Russian economic zone in the Southern part of the country, in addition to the modernization of agriculture and the creation of some industrial sectors mainly linked to agricultural by-products.
Russia, however, has also invested 3 billion US dollars in a large platinum mine.
Alrosa, Russia's major State-owned company in the diamond sector, will operate in Angola where it will exploit one of the largest diamond deposits in the world, namely Luaxe. The Russian Federation is also planning to make additional infrastructure investment in South Sudan, very different from the investment planned by Europe and the United States there.
Russia, however, plans to develop – above all – the vast oil fields that Al Bashir's regime of South Sudan has on the borders of the country. As to South Africa, we will see what results the South African Presidency of the BRICS groups on July 25-27, 2018 will achieve in terms of bilateral relations.
It is worth recalling that the BRICS countries account for 26% of the world surface and 42% of the world population.
In the Third World population is growing, while the population decline in Europe and North America makes us fear the worst for our rates of development and the unsustainable costs of welfare and pension systems while, for obvious reasons, the average factor productivity is decreasing throughout the West.
With a view to underlining again the importance of relations between the Russian Federation and the African countries, there is a clear link between Russia's trading partners in Africa and the States participating in the bilateral joint manoeuvres put in place ever more often by Russia in Africa.
Moreover, the Russian peacekeepers in Africa often outnumber those coming from France, Great Britain and the United States. In Africa the Russian "green helmets" often outnumber those of the other Western powers altogether.
Furthermore – according to Standard & Poor's, but also to data from other financial research companies-to some extents, sub-Saharan Africa is more attractive for business than other areas of the world, i.e. the Frontier Emerging Markets –  37 countries in total, including Slovakia, Slovenia, Kazakhstan, Cyprus, Estonia and the United Arab Emirates.
Considering these areas, the US military imports over 50% of the minerals needed for the construction of long-range bombers from sub-Saharan Africa only, while the US military imports of cobalt from the countries of that region account for 75%.
Furthermore, Africa will be a land of conquest for the  Russian Federation, together with the People's Republic of China, inasmuch as the investment of major countries will be infrastructural, lasting and based on the training of the local ruling classes and, above all, of their local labour forces.
Russia, Indeed, Returns to Africa – says Senator Igor Morozov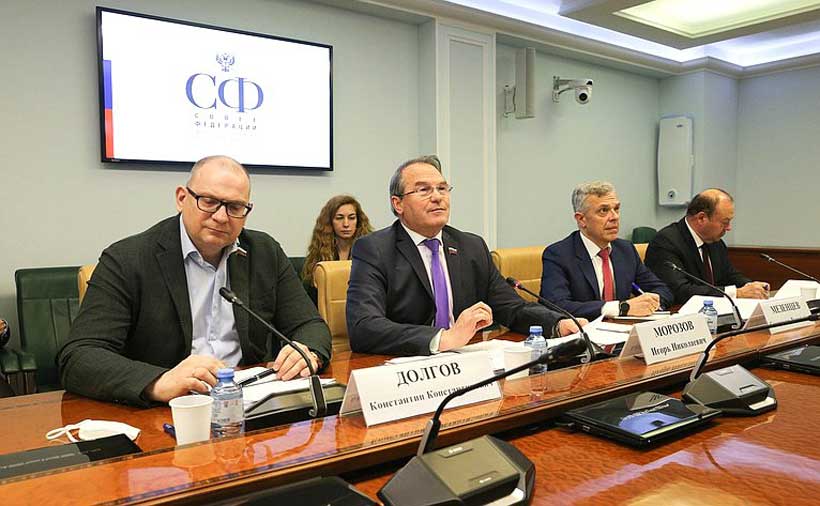 On November 23, Russian Senators, Academicians, Researchers and Experts gathered to discuss the export of non-commodities to Africa at the interactive webinar, organized by Federation Council of Russia, Chamber of Commerce and Industry of Russia, and Business Russia Association.
According to the organizers, the meeting was to identify funding for exports, to concretize proposals for increasing exports to Africa and to facilitate amendments to the Russian legislation if required to promote exports to African market.
Senator Igor Morozov, a member of the Federation Council Committee on Economic Policy, also the Chairman of the Coordinating Committee on Economic Cooperation with Africa, held the videoconference meeting on "Improving State Support for Export in African Countries."
During the videoconference, many questions including the issues of developing a system of state support for Russian enterprises exporting products to the African market, as well as the participation of Russian regions in the development of exports to African countries were thoroughly discussed.
The meeting was attended by Deputy Chairman of the Federation Council Committee on Economic Policy, Konstantin Dolgov; member of the Federation Council Committee on Constitutional Legislation and State Construction, Alexey Pushkov; representatives of the Ministry of Industry and Trade of the Russian Federation; the Ministry of Economic Development of the Russian Federation; the Ministry of Finance of the Russian Federation; the Russian Union of Industrialists and Entrepreneurs; scientific organizations and expert community.
Senator Igor Morozov noted that in conditions of sanctions pressure, new markets, new partners and allies are important for Russia. "This predetermines the return of Russia to Africa, makes this direction a priority both from the point of view of geopolitical influence, and in the trade and economic context."
"It is important for us to expand and improve competitive government support instruments for business. It is obvious that over the thirty years when Russia left Africa, China, India, the USA, and the European Union have significantly increased their investment opportunities," Morozov stressed.
He, however, suggested creating a new structure within the Russian Export Center – an investment fund, explained further that "Such a fund could evaluate and accumulate concessions as a tangible asset for the Russian raw materials and innovation business."
Konstantin Dolgov touched upon the topic of using political ties with African countries to build up economic and investment cooperation. He also pointed out the need to connect Russian regions, to maximize their export potential.
Alexey Pushkov noted that with the right strategy, such a large state as Russia has a chance to take strong positions in interaction, in particular, economic, with other continents, including Africa. "The competition will certainly grow," the Senator said, noting that the situation is constantly changing.
Representative from the Russian Export Center (REC), Veronika Nikishina, informed the gathering about Russian projects that are being implemented or planned in the African market, including the supply of passenger cars to Egypt, wheat supplies, as well as REC business missions, participation in exporters' exhibitions.
REC offers a wide range of financial and non-financial support tools to benefit the Russian exporters explore the foreign markets and build capacity in the global trade. Generally, the African market is of particular interest to potential Russian exporters, and negotiations with government, trade agencies and business community to allow establishing effective ways of entry to the huge continental market. With an estimated population of 1.3 billion, Africa constitutes a huge market for all kinds of products and a wide range of services.
According to her, since July 2020, the REC began to practice online business missions, which in the absence of physical contacts, allows continuing communications, maintaining current exports and looking for new niches.
According to Professor Irina Abramova, Director of the Institute for African Studies under the Russian Academy of Sciences, financial instruments are the main issue of Russian interaction with the continent. She touched upon such topics as Russian investments in African countries, the prospects for establishing direct contacts on the supply of agricultural products with African countries.
Quite recently, the Ministry of Foreign Affairs created the Secretariat for Russia-Africa Partnership Forum. The Secretariat further established an Association for Economic Cooperation with African States. The Russian Chamber of Commerce and Industry has also restructured its Coordinating Committee for Economic Cooperation with African States that was established as far back in 2009.
According to historical documents, the Coordinating Committee for Economic Cooperation with African States was created on the initiative of the Chamber of Commerce and Industry of the Russian Federation and Vnesheconombank with the support of the Federation Council and the State Duma of the Federal Assembly of the Russian Federation. It has had support from the Ministry of Foreign Affairs, the Ministry of Economy and Trade, the Ministry of Natural Resources, as well as the Ministry of Higher Education and Science.
After the first Russia-Africa Summit in the Black Sea city Sochi on October 23-24 in 2019, Russia and Africa have resolved to move from mere intentions to concrete actions in raising the current bilateral trade and investment to appreciably higher levels in the coming years. Indeed, all the structures are fixed for the necessary take-off.
"There is a lot of interesting and demanding work ahead, and perhaps, there is a need to pay attention to the experience of China, which provides its enterprises with state guarantees and subsidies, thus ensuring the ability of companies to work on a systematic and long-term basis," Foreign Minister Sergey Lavrov explicitly said.
According to Lavrov, the Russian Foreign Ministry would continue to provide all-round support for initiatives aimed at strengthening relations between Russia and Africa. "Our African friends have spoken up for closer interaction with Russia and would welcome our companies on their markets. But much depends on the reciprocity of Russian businesses and their readiness to show initiative and ingenuity, as well as to offer quality goods and services," he stressed.
Amid a stagnating economy and after years of Western sanctions, Moscow is looking for both allies and an opportunity to boost growth in trade and investment. Currently, Russia's trade with Africa is less than half that of France with the continent, and 10 times less than that of China. Asian countries are doing brisk business with Africa.
In terms of arms sales, Russia leads the pack in Africa, and Moscow still has a long way to catch-up with many other foreign players there. In 2018, Russia's trade with African countries grew more than 17 percent and exceeded US$20 billion. At the Sochi summit, Russian President Vladimir Putin said he would like to bring the figure US$20 billion, over the next few years at least, to US$40 billion.
The Coming Bipolarity and Its Implications: Views from China and Russia
Authors: Zhao Huasheng and Andrey Kortunov
The Chinese authorities have never accepted or used the concept of China-U.S. bipolarity. Neither the so-called co-governance (G2) nor the bipolar confrontation between China and the United States is consistent with China's diplomatic philosophy and policy. The Russian official narrative has also rejected the idea that the world has been moving in the direction of a new bipolarity, insisting on a gradual transformation of the unipolar, U.S.-centered international system of early XXI century to a multipolar (or polycentric) world order.
In spite of this, there are more and more discussions on the bipolarization of China and the United States in academic circles both in China and in Russia. Especially after the COVID-19 outbreak, China-U.S. relations have deteriorated sharply, conflicts between China and the U.S. have intensified, and bipolarization has become a hot issue in academic and political discussions of international politics. More and more often, observers of contemporary international relations look at these relations through the optics of a seemingly irreconcilable confrontation between the West and the East (or between liberal democracies and illiberal autocracies, between Atlanticism and Eurasianism, between maritime and continental powers, and so on). This intellectual flavor of the month calls for an unbiased analysis of what bipolarity means for Beijing and Moscow and how it does or does not fit into the Chines and the Russian perceptions of the emerging world order.
Three Biporlarities
There are at least three forms of bipolarities: political bipolarity, structural bipolarity and value bipolarity. Political bipolarity is the bipolarity in political cognition. It has certain political attributes and shows a number of political implications in terms of international status and influence. For example, bipolar co-governance or bipolar confrontation belong to political bipolarity. Structural bipolarity is bipolarity in material cognition. It reflects the explicit superiority of two big countries over other international actors in terms of material resources that they have at their disposal. Fundamentally, material or structural bipolarity is the foundation for political bipolarity; the latter emerges based on the former. Finally, value bipolarity implies that in defining poles, one should keep in mind value differences between major actors. In particular, libel democracies by definition cannot be divided into different poles because of their value proximity to each other; the borderline between poles should, among other things, reflect a clash in value systems — e.g., between Western-type democracies and non-Western authoritarianism of various sorts.
This triple attribute of bipolarity is an important theoretical presupposition in the analysis of bipolarization and a logical starting point for understanding the cognitive and theoretical differences between China, Russia and the West on this issue. In China, there is a tradition to emphasize the material dimension of bipolarity (or multipolarity). For the Chinese, the international structure has a natural attribute initially. Whether it is unipolar, bipolar or multipolar, these structures merge as a pure reflection of existing asymmetries in international players' material potentials. If any two actors have material resources far superior to all other actors, we can define the system as bipolar. The term has no inherent political connotation. It is neither naturally confrontational nor cooperative. Its political nature is to be given by decisions of the two "poles" in question. These "poles" can either follow the idea of equal cooperation or pursue a policy of competition and confrontation.
In Russia, they tend to emphasize the political dimension in defining the "poles" in world politics. This approach reflects Russia's active foreign policy and power projection initiatives, while the country experiences a relative deficit of material resources. In Moscow, they often claim that the United States, China and Russia constitute the top league of global politics. The material weakness of Russia can be allegedly offset by its remarkable ability to focus on achieving specific foreign policy goals, on its capacity to mobilize needed resources, on its readiness to sustain a coherent long-term strategy in various regions, and so on. In this paradigm, Moscow can punch way above its weight, bringing an important dimension to the U.S.-China equation.
In the West, it is common to emphasize the value dimension of bipolarity. This Manichean approach to international relations implies that bipolarity becomes confrontational primarily due to the gap in values, which might exist between major players in the international system. If the descending and the ascending world leader do not have this gap (e.g., the United Kingdom and the United States in the late XIX – early XX centuries), the system is not truly bipolar. At best, we can argue that the system contains elements of bipolarity. However, if the value gap exists (the United States and the Soviet Union during the Cold War), the system turns bipolar in the full sense of the word.
New Type of Great Power Relations vs "Thucydides Trap"
Based on the theoretical premise that the political relationship between great powers is malleable, China proposes the concept of a new type of great power relationship, meaning an equal, mutually respective, cooperative and win-win relationship. It is opposite to the popular "Thucydides trap" theory, believing that the confrontational nature of bipolarity is natural, inevitable and unchangeable. In other words, China questions the assumption that bipolarity means and can only be a confrontation.
It is at this point that the Chinese and the Western perceptions diverge. If great powers are destined to be antagonistic, the new type of great powers theory raised by China will lose its meaning. On the other hand, if the new type of great powers theory is reasonable, then the "Thucydides trap" is just one of the possible outcomes, and not the only one. Although both in theory or in practice the antagonistic relationship of bipolarity is much easier to appear than a cooperative one, because cooperative relations need to have a common intention of both poles, an antagonistic one could be formed by one side's intention and behavior.
In Russia, they seem to share the Chinese view that there can be no determinism in the nature of relations between the two most powerful nations in the world. Indeed, even during the Cold War, there were periods of relaxation of tensions and limited détente between Moscow and Washington. Still, the predominant view is that the West (or, to be more exact, the United States) will not abandon its claims to global hegemony in the foreseeable future. Therefore, it will not accept a "cooperative" bipolarity or multipolarity, not to mention a truly democratic and inclusive polycentric world. The overall perception in Moscow is that unless there a fundamental change in the American foreign policy establishment, any U.S. leader will try to get back to the U.S.-led unipolar world, which is likely to result in an adversarial model of bipolarity. This bipolarity should not be "the West against the Rest." It might take the form of "the U.S. against the Rest."
As for the West, many political thinkers there assume that though there might be some ceasefires and truces in the U.S.-China confrontation, as well as in U.S.-Russian adversarial relations, at the end of the day, one can reconcile the global system only on the basis of common values. This assumption means that one side is destined to win and the other is doomed to lose. Needless to say, Western-type liberal democracy should ultimately prevail over its illiberal alternatives.
The Western logic of the "Thucydides trap" is that a strong country is bound to seek hegemony and is fight against alternative sets of values. In other words, it equates a strong country with hegemony and value universalism. In this regard, it also forms a division with China's logic. According to China's thinking, the relationship between a strong country and power politics is not necessarily corresponding. A strong country does not necessarily adopt unilateralism and move towards hegemony.
Moreover, a weak country does not naturally abide by just and reasonable thoughts and policies. Strength is also relative. Most countries in the world have a dual identity. They are weaker in the face of the stronger, but stronger in the face of the weaker. They can be strong in some fields but weak in others. They might be powerful in their material capabilities but powerless in their commitment to using them. Under different circumstances, nations have the status of transformation between "strong country" and "weak country," and have the question of policy choice when facing the stronger or weaker country.
Here does not negate the basic role of structure to policy options, nor the basic principle of existence determines consciousness, and also understand the strong historical and realistic arguments of the theory of structural determinism. However, different from structural determinism, what we see in "existence" is not only the structure but also the historical civilization background, political system and culture, the changes of times and international conditions, the development and influence of technological means and other factors. More than that, the influence of existence on consciousness is not an absolutely one-way direction.
China's Choice
With national strength as the index, China's status in world structure is not for China to choose. It is formed naturally and it's not the result of a country's choice. A state may desire for some kind of international structure, but it is only a subjective will, but not necessarily the objective reality.
Suppose that bipolarity has been already formed in material terms and China is one of it, what concept and policy will China choose? According to China's thoughts, the most reasonable and possible choice is continuing to follow multilateralism. That is to say, China does not take the bipolarity as the center of international politics and does not regard the bipolarity as a super structure above the world, even if China's national strength is higher than that of the other countries. China will assume greater international responsibilities, but it will still be willing to live with other countries as political equals.
This does not contradict China's position as one of the two strongest poles, because multilateralism is a political attitude which is optional. The concept of multilateralism is closely related to multipolarization, so it is often treated as a similar or even the same concept, but in fact, they are different. Whether in Chinese, English or Russian, they are all nouns with different meanings. In nature, multilateralism is not only a method, but also a political thought and attitude with value orientation. Multilateralism is based on the principle of political equality, while multipolarization is mainly a policy based on relations of big powers. Multilateralism takes into account the interests of all countries related and is based on the balance of interests of all related countries, while multipolarization attaches importance to power and takes power as the main element. Multilateralism does not deny multipolarity and it can also contain multipolarity, but multipolarization does not necessarily contain multilateralism. It could be both compatible or contradictory with multilateralism.
Now as China's status as a great power has been firmly established, and China is not only one of the many poles, but also possible one of the two strongest, China's relations with the world have shifted to how it views relations with other countries rather than worrying about its own status. In this context, multilateralism, which focuses on relations with other countries, is more suited to China's diplomatic needs. Multilateralism is not linked to a specific international structure and transcends the constraints of it. Therefore, it is not in contradiction with China's status as one of the supposed bipolarity.
Russia's Choice
Russian-Chinese cooperation is gaining more ground, growing in all areas from the economic to political and security domains. The Chinese-Russian axis creates opportunities and temptations for neighboring and more distant states, resulting in the rapid institutional development of such entities as the SCO or BRICS. Though in Moscow they still refer to the notion of a multipolar or polycentric world, it seems that in reality, there is an increasing readiness to accept the new bipolar reality with the United States and China as the centers of gravity for this new polarization of global politics.
One might ask the question: is there anything fundamentally wrong about a bipolar world for Russia? Was it not the Soviet-U.S. bipolarity that served as the foundation of global peace and stability for some forty years after the Second World War? Isn't it fair to say that a bipolar world – with all its imperfections and limitations notwithstanding – is still much better than the potential alternative of a gradual erosion of global governance and the arrival of anarchy and chaos in international relations? So why can't Moscow simply accept this new polarity as a plausible and realistic option that can define the hierarchy and structure of the international system in the XXI century?
Some analysts in Russia have gone even further and maintain that this new global split has been historically predetermined and unavoidable, being based on "objective" realities. It is often argued that the Atlantic and the Eurasian civilizations have opposed each other from the days immemorial, that "land" powers have always and will always be different from "maritime" powers, that the "global continent" (Eurasia) is the eternal counterweight to the "global island" (America). And that it makes little sense to challenge the laws of history and geography. The logical conclusion is that we should take the emerging bipolarity as a natural and, in a way, even desirable state of affairs. The only realistic goal should be to maintain this bipolarity within a mutually acceptable framework in order to avoid an uncontrolled confrontation with unacceptably high risks and costs involved.
In our view, such a conclusion is at the very least premature. It is hard to deny that a trend towards a new bipolarity has already manifested itself not only in geopolitics, but also in the global strategic balance and the global economy. But whether this trend can be considered positive and whether it should be regarded as inevitable — these are points that can be disputed. Let me briefly outline a couple of arguments against these assumptions.
In the history of intellectual thought, any rigid determinism — be it religious, ethnic, economic or geographical — has always failed to explain and to predict social change and international developments. The period of the Cold War can hardly be described as an era of peace and stability — it included numerous regional wars and crises and an unprecedented arms race. Furthermore, in a number of cases, the world was very close to global nuclear conflict.
It is even more important to underscore the following. The modern world is very different from what it was in the second half of the XX century. Fifty years ago, the world was divided into two systems — the Western (capitalist) and the Eastern (communist) with irreconcilable (antagonistic) contradictions between them. In other words, the bipolar system was based on a solid ideological foundation. This foundation is gone and it is hard to imagine that it will reemerge in the foreseeable future. Nationalism, even in its extreme forms, and religious fundamentalism are unlikely to replace the fundamental ideological divide of the previous century.
Moreover, all of the main international players today have to confront essentially the same set of threats and challenges to their security, which are very different from the traditional threats and challenges of the XX century and earlier periods. Today, state leaders have to deal with international terrorism and political extremism, with transnational crime and illicit drug trafficking, with uncontrolled migration and climate change, with the instabilities of the global financial system and increased risks of technological disasters. Some of these challenges existed during the Cold War, but only in an "embryonic" form, being overshadowed by the all-embracing East-West confrontation.
One of the specific features of this new set of challenges is that most of them are not generated by other (rival) great powers. In fact, these threats have nothing to do with state actors of the international system, except for a small number of irresponsible, radical regimes (rogue states). The new generation of threats and challenges come from subversive non-state actors. They may represent the negative side effects of technological and economic progress, or the growing shortage of natural resources, or the obsolescence of many key international institutions and norms of international public law. This is a fundamental difference between the period of the Cold War and today's world. Additionally, this is why a new bipolar system, even if it can be established, is unlikely to provide any long-term security or stability.
One should keep in mind another important difference between the contemporary international situation and that of the Cold War. During the Cold War, the Soviet bloc was economically almost completely separated from the West, as the two poles of the world did not depend on each other for their development. Today, in the era of globalization, the level of interdependence between the East and the West, between the "global continent" and the "global island" is unprecedentedly high. Therefore, any political bipolarity, which would have an inevitable impact on the economic, financial, cultural, and humanitarian dimensions of international relations, is likely to have much higher costs for everyone than the Cold War ever had. Not to mention the massive relocation of material and human resources from addressing numerous global problems looming on the horizon.
In sum, the trend towards a new bipolarity is troublesome and dangerous. Even in its modified and "modernized" form, a bipolar arrangement is not likely to successfully handle the critical international questions of this century. If the world is split once again, this will likely have long-term negative repercussions for the whole system despite some tactical gains that can be anticipated by the leaders of the new "poles." It is in our common interest to avoid this option and move towards a more inclusive, democratic and truly global international system. Since "no one puts new wine into old wineskins. If he does, the new wine will burst the skins and it will be spilled, and the skins will be destroyed."
U.S. Choice
Looking at the current global geopolitical landscape, we have to conclude that, although the triangle is still a popular and useful analytical pattern and one of the possible future scenarios for U.S.-China-Russia relations, no U.S.-China-Russia triangle today resembles that of the Cold War. Instead, for a couple of years, we observed the U.S. policy of "dual containment" with Washington applying more and more pressure on both Beijing and Moscow. This pressure has become an important factor cementing the Chinese-Russian strategic partnership.
This situation is a clear strategic setback for Washington. Since at least the early 20th century, one of the most important goals of the U.S. foreign policy has always been to prevent any consolidated anti-American center of power in Eurasia. U.S. policymakers have perceived a divided Eurasian landmass as an indispensable prerequisite for the global U.S. strategic hegemony. Former U.S. Secretary of State Henry Kissinger understood the critical importance of keeping Eurasia divided better than anyone else did. He was more efficient than any U.S. leader before him in exploiting the growing rifts between Beijing and Moscow back in the early 1970s.
Can President-elect Joe Biden repeat Kissinger's success and resurrect the U.S.-China-Russia triangle with the U.S. at the top of it? Of course, almost 50 years have passed since the famous trip of Kissinger to Beijing in July of 1971. The world today is definitely very different from the world of the 20th century. The former bedrock theology of geopolitics may look old-fashioned and even antiquated. Still, let us consider the options that the U.S. leadership has in trying to keep Eurasia divided.
The first option would be to read Kissinger literally. That is to support the weaker U.S. adversary against the stronger one. Today, it would mean that Washington should try to bring Moscow to the American side in its predestined confrontation with Beijing. After all, Russia is a communist country no more, and Russian leaders should be concerned about the growing asymmetry of power between their country and China. To play the weaker adversary against the stronger one was a stated goal of the Trump administration, which it failed to achieve. U.S.-Russian relations did not improve under Trump. On the contrary, they fell to historic lows.
It is highly unlikely that Biden can be more successful in pursuing this goal than his predecessor was. The U.S. simply has nothing to offer to President Putin to make him reconsider his current close friendship with President Xi Jinping — be it in economic, political or strategic domains. Even if Biden were considering a new reset with the Kremlin, he would hardly be in a position to go for such a reset: The anti-Russian consensus in Washington is too strong and shows no signs of crumbling. It seems that the U.S.-Russian relationship will be locked in a confrontational mode for many years to come.
The second option for Biden in trying to resurrect the U.S.-China-Russia triangle would be to play on the opposite side of the stage, seeking an acceptable accommodation with the stronger Beijing and putting the squeeze on the weaker Moscow. Turning Kissinger's geopolitical scheme on its head is certain to find a host of supporters and advocates in Washington. For them, Russia makes a far more convenient opponent than China. America would have to pay an exorbitant price for a full-fledged confrontation with China: a drop in their bilateral trade, which is very important for the U.S., severance of established global technological chains, a rapid increase in military spending, etc. The U.S.-Russia confrontation will cost much less, given that there is very little economic and technological mutual dependence between the two states, and Moscow is far less prepared to engage in costly military competition with Washington.
However, is it realistic for Biden to count on a sweet deal with China? Such a bargain requires the White House to be willing to reconsider its fundamental ideas about the place the U.S. holds in the system of international relations. The U.S. will have to abandon its claim to global American hegemony similar to that of the times of Kissinger. Certainly, neither Biden nor his entourage is ready to do that. If a revolution in the U.S.' self-perception and its perception of the world ever starts, this is not likely to happen earlier than 2024 and, until that time, Washington-Beijing relations will remain complicated and tense.
Even more importantly, just as Trump repeatedly saw throughout the four years of his presidency that it was impossible to tear Russia away from China, Biden will steadily see that China cannot be torn away from Russia. Beijing needs Moscow regardless of the current state of affairs and the prospects for China-U.S. relations. China's leadership will be happy to act as an arbiter or "balancer" between Russia and America, but it will not actively support the U.S. in its desire to corner Russia. In other words, if a U.S.-China-Russia triangle could ever emerge, it would be a triangle with Beijing, not Washington, on the top of it.
Thus, the Biden administration will not accomplish a lot if it attempts to resurrect the U.S.-China-Russia triangle. Under the current circumstances, a version of a "dual containment" equation appears to be the most likely approach of this new U.S. administration towards Beijing and Moscow, with China being treated more as a peer competitor and Russia as a global rouge state. To cut the costs of dual containment, Biden will try to mobilize U.S. Western allies in Europe and in East Asia. It will also try to keep Eurasia divided by forging stronger ties to China's adversaries in Asia — above all, to India. By doing so, Biden will inevitably push the world closer to a new geopolitical bipolarity instead of a modernized version of the U.S.-China-Russia triangle.
Multilateralism – A Path for Future China-Russia Cooperation
Over the past years, promoting multipolarization has been an important target for China-Russia international cooperation. Now the situation has changed. China is becoming one of the supposed new bipolarity, the status of China and Russia in the international structure will no longer be the same. It can be felt that Russia's concern about it may be in an unequal position in Sino-Russian relations is increasing. In addition, it used to be said that China and Russia were a coalition of two weaker states in response to pressure from the sole superpower, the U.S. Now that China itself is becoming a "superpower," what concepts will serve as the path for future China-Russia's international cooperation?
Multilateralism certainly could play an important role in this, both as ideas and policies. Multilateralism opposes unipolarity but does not negate multipolarity. It still leaves the door open for Russia as a great power in a multipolar world. Multilateralism embodies the spirit of political equality. It stipulates China and Russia are equal partners both in international affairs and in bilateral relations. Multilateralism is consistent with Russia's diplomatic ideology as well. Russia itself is a supporter of multilateralism and takes it as the banner of Russian diplomacy. Russia proposes that the future multipolarity should have a just and democratic character and that it should not be based solely on the balance of power, but on the interaction of national interests, patterns, cultures and traditions. This can be interpreted as a moral demand of Russia to international structure, and it is certainly true. Above all, despite all of the changes, China will still pursue the same goals in international affairs, such as anti-hegemony, anti-unilateralism, anti-neointerventionism, maintaining international strategic stability and establishing a more just and fair world order. Therefore, the goals of China and Russia in international politics will remain unchanged.
From our partner RIAC
Sirius Focuses on Talents and Success of Russian Youth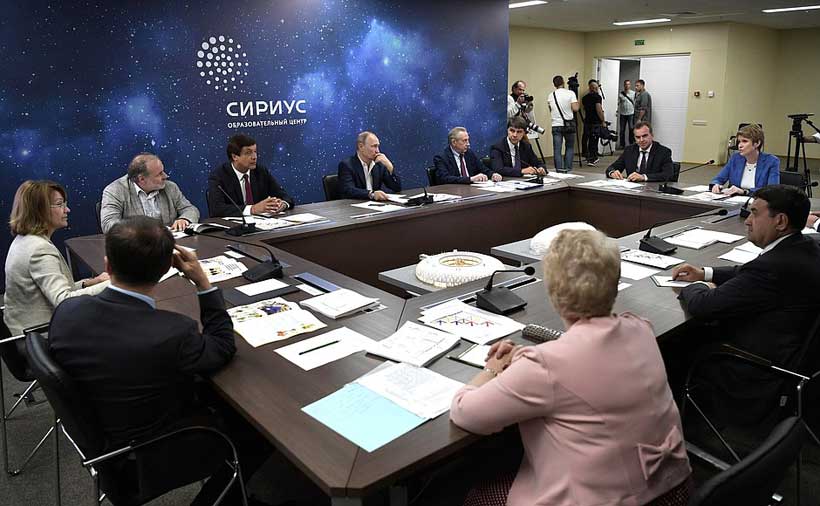 Russia's youth is Russia's future. Russia has been building its youth and offering them diverse opportunities and support. "Within this historically short period of time, Sirius Educational Centre has become, without exaggeration, Russia's true asset," President Vladimir Putin unreservedly noted via videoconference meeting with the Talent and Success Foundation Board of Trustees.
Since its establishment in 2015 on the initiative of the President Putin, the Sirius Educational Centre has cloaked a number of successes, most particularly with talents training to growing generation of teenagers. Every year, the Talent and Success Foundation Board of Trustees, traditionally, meet to discuss and review the current work and outline prospects for its further development.
As Sirius turned five years last September, it has become, without exaggeration, Russia's true asset. It was one-of-a-kind educational center set up at the Olympic facilities. This Olympic legacy (this was a decision we made in due time – to establish this center as part of the Olympic legacy) benefits children. Sirius helps gifted schoolchildren, primarily from the regions, including small towns and even remote villages, to set high goals for themselves and get off to a strong start in life.
Today, the participants in the Sirius programs study at the country's top universities and get government grants and fellowships. By the way, this support is offered via Sirius. Some of them have already signed future work contracts and even work at the largest, successful domestic companies.
Apparently, such remarkable successes and achievements of Sirius students have been made possible by an unparalleled training format, at an intensive pace and in an environment with talented peers and truly excellent star tutors. Sirius is at present the world's only educational center where teaching is conducted by world-class scientists, outstanding educators, athletes, coaches and musicians.
"But I would like to underscore that we have always regarded Sirius not as a closed elite club for the chosen but rather as an open national platform for working with talents which concentrates the best technology and expertise for unlocking human capabilities, in our case those of a young person, a teenager or a child, of course. Such practices are widely replicated, and change the system of working with the youth across Russia," argues Putin with the Board of Trustees.
Putin further pointed to its unique talent and civil patriotism, by all means be preserved and multiply human potential. "To do this, we must build up our education today and establish effective mechanisms for children's development throughout the country for them to discover their talent and soar to new athletic, artistic and scientific heights. We must create the conditions for the children to succeed here, at home, in their native land, in Russia," suggested Putin.
In this regard, it is crucial that Sirius continues to expand its orbit. Its roadmaps even extend beyond the coming decade, the whole 21st century. Sirius necessarily turn into a magnet for everyone who is ready to become a trailblazer and ensure a true technological breakthrough, for Russian scientists, for engineers at high-tech companies and, of course, for Sirius students. All that matters for them.
Their living and working space should also reflect the improving climate in general, it must reflect the sense of a new time, the beat of life, and must be designed with account of advanced trends in urban design, architecture and city development. Obviously, the very best solutions should be used for preserving the environment and expanding opportunities for the people.
And, of course, effective management mechanisms that will allow for taking prompt decisions, implementing Sirius's development projects and engaging research universities, scientific centers and companies from across the country. Sirius is expanding the horizon of experience and creativity and offering opportunities to talented children. These projects would not be possible without the support of the powerful people with strategic thinking and love for the country and its future.
Soon or later, the State Duma will push a new provision of the Constitution of the Russian Federation and grant Sirius Educational Centre the status of a federal territory, which entails economic independence for Sirius and a direct communication mechanism with both the President and the Government of Russia. As Putin has assured, all decisions must come into effect as early as next year, in 2021.