How universities are revitalizing urban areas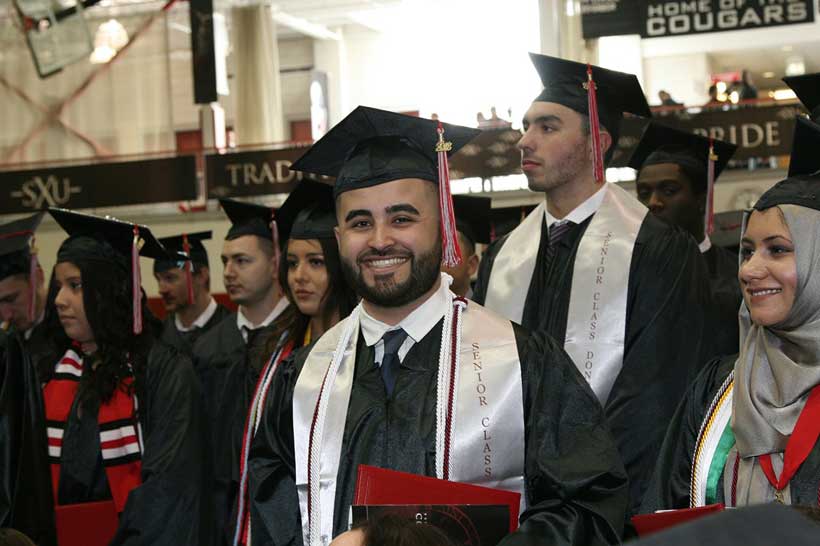 In the middle of the country, between two coasts and the two metropolises of New York and Los Angeles, is the friendlier, more mild-mannered version of the two: Chicago.
One hundred years ago, the poet Carl Sandburg famously called Chicago the "hog butcher of the world," and the "nation's freight handler." The character of the city has changed with each decade, and throughout the years.
Chicago has established itself as an educational hub, with world-class research universities, robust community colleges and ample opportunity for people to earn degrees and get ahead in life.
A force of change
During uncertain times, Chicago's colleges and universities have stood as a guiding light for the city, signaling hope, change and opportunity.
In a city that has long had neighborhoods underserved and marked by economic hardship — one university has had a particularly strong impact on the community and the city as a whole: Saint Xavier University.
For more than 170 years, a mission to serve the community and inspire future generations to succeed and make a difference has guided the university.
As the city has changed, this core mission has adapted to serve students in the 21st century. Through the dedication of students, faculty and staff, the university has been acknowledged as a source of growth in the community in the following ways:
* Ranked No. 4 in Illinois for helping underserved students overcome barriers to complete their bachelor's degrees, according to the Illinois Education Research Council's 2017 report.
* Saint Xavier University has a stable and optimal student-to-faculty ratio of 14-to-1.
* Two-thirds of Saint Xavier's student body are the first in their family to attend college.
* As part of the university's mission, Saint Xavier directs academic programs and units to partner with local, national or international nonprofit, public, private or faith-based organizations to provide opportunities for engagement, scholarship or service/service learning for students, faculty and staff.
Degrees that open doors
While Chicago's universities and colleges are the pride of the city, the question on almost every parent's and incoming student's mind is: What will I get out of the financial investment?
The School of Nursing and Health Sciences at Saint Xavier University offers top-ranked programs in the high-demand fields of nursing, speech pathology, exercise science and more. The job market for certified nurses is expected to grow by 16 percent during this decade.
This combination of high-ranking programs in growing career fields has led U.S. News and World Report to call Saint Xavier one of the best-value schools for students.
Saint Xavier University is a strong example of how universities are reviving the city of Chicago and opening doors for those who may have thought those doors were closed.
Athens is the European Capital of Innovation 2018
The European Commission is awarding Athens the title of the European Capital of Innovation 2018 with a €1 million prize.
Athens (Greece) is the winner of this year's European Capital of Innovation Awards, funded by the EU research and innovation programme Horizon 2020. The runner-up cities – Aarhus (Denmark), Hamburg (Germany), Leuven (Belgium), Toulouse (France), and Umeå (Sweden) – received €100,000 each. The prize money will be used to scale up local innovation activities and collaborate with other cities.
Carlos Moedas, Commissioner for Research, Science and Innovation, announced the winning city at the Web Summit in Lisbon: "Cities are beacons of innovation. They act like magnets for talent, for capital, for opportunity. With the European Capital of Innovation, we reward the cities that go the extra mile to test new ideas, technologies and ways to make citizens heard in the way their city is changed".
Commissioner Moedas added: "Athens stands out as an example that a city facing many challenges can achieve great things. Through innovation, Athens has found new purpose to turn around the economic and social crisis. It is proof that it's not the difficulties but how you raise yourself above them that matters."
The City of Athens has placed a lot of importance to innovation and how it can help the local community bring about change and open up to the world. Some of the innovations promoted include:
Background
This year's European Capital of Innovation contest was launched in February 2018 and opened to cities with over 100,000 inhabitants from EU Member States and countries associated to Horizon 2020. Twenty-six cities from sixteen countries applied. The selection of the winner and the five runner-up cities was made by a high-level independent jury of experts from local administrations, universities, businesses and the non-profit sector. The award criteria – experimenting, engaging, expanding, empowering – analyse how cities use innovation and new technologies to respond to societal challenges engage broad local communities in their decision-making processes and improve lives of their citizens.
The competition first took place in 2014. Past winners include Barcelona (2014), Amsterdam (2016) and Paris (2017). The awards are granted under Horizon 2020, the current EU research and innovation programme with a budget of €77 billion (2014-2020). The next edition of the European Capital of Innovation Awards is planned to be launched in the first quarter of 2019.
We live in an increasingly urbanized world. Every day, hundreds of people move to cities in search of job opportunities, better services, and infrastructure that can withstand natural phenomenon. Latin America and the Caribbean is the second-most urbanized region in the world and, as cities expand, their challenges also increase. Resilience in the face of disasters, better roads and transportation, more inclusion and access to financing are some of these challenges.
This week, more than 30 mayors and city leaders from around the world met in Buenos Aires to talk about the progress they have made and the obstacles they face, and  especially to discuss how cities – where the largest share of global GDP is produced –  can contribute to the global agenda. We spoke with two experts from the World Bank Group, Ede Ijjasz-Vasquez, Senior Director for the World Bank's Social, Urban, Rural and Resilience Global Practice, and Gabriel Goldschmidt, director of the International Finance Corporation (IFC) for Latin America and the Caribbean, to discuss their vision for the future of cities, their main challenges and how to address them.
Question (Q): Ede, urbanistic discussions have recently focused on resilience. Could you define urban resilience and give us some examples?
Ede Ijjasz-Vasquez (EIV): While there is no standard definition for urban resilience, most definitions coincide in that it refers to the capacity to manage a wide range of impacts and stresses that can occur in a city. While resilience has traditionally focused on climate change and its impacts – floods, earthquakes, hurricanes, and volcanic eruptions – it is also the ability of an urban system to prepare and adapt itself to technological and socioeconomic changes.  The former ranges from a breakdown and interruption of the water or energy system of a city, to a gas leak, a water pollution event or an explosion at an industrial plant. Socioeconomic changes refer to economic crises, demographic changes, terrorism events, strikes or social and political conflicts.
Q: In Latin America, eight of every 10 people live in cities, but many of them – the poorest – settle in the outskirts and lack access to basic services. How can we promote social inclusion and improve their quality of life?
EIV: The poor live in both downtown areas and the outskirts. Many of them live near the downtown areas to access jobs, often in informal settlements where the housing is more "accessible," but in precarious conditions. These settlements often lack quality infrastructure and services. For cities to be inclusive, it is necessary to improve these informal settlements. For example, with support from the World Bank and the Inter-American Development Bank (IDB), the government of the City of Buenos Aires is working to improve one of its most vulnerable and emblematic neighborhoods, Barrio 31.  On the outskirts, where most urban growth is occurring, cities must urgently adopt a planning process with a view to the future so that they can provide infrastructure and services along with well-located housing at prices that are accessible to the low-income population.
Q: With respect to employment, how can cities prepare for future labor market challenges?
EIV: Cities in the developing world will have to accommodate a growing youth population that will continue to migrate from the countryside to the city. At the same time, cities in the developed world will have to prepare now for migrations of youth populations from less developed countries, which will accompany the aging of the countries' own inhabitants. Migrations of people in search of opportunities, displacement due to conflict and violence, as well as an increased incidence and intensity of natural disasters associated with climate change, will increase the size of cities.  At the same time, new technologies present challenges and opportunities for employment. While automation will replace many jobs, it will create new opportunities for others. New technologies have the potential to change the way people travel to work and transform complex markets such as that of real estate. Cities should work together with national governments to develop national urban policies that integrate local sector policies, rethink labor market and job training policies, and use those same technologies to manage cities.
Q: What role should development institutions such as the World Bank play, as well as city mayors, who have an increasingly key role in the future of the urban agenda at the global level?
EIV: Mayors are key players in the development of the global agenda. As cities concentrate the majority of inhabitants, and as they produce the largest share of GDP and greenhouse gas emissions, they are centers where the future of the world's sustainability will be played out.  Even though this is obvious, cities have not been considered enough in the process to establish the global agenda. Local leaders and mayors have very interesting experiences to bring to the table; the expert knowledge they have of urban problems and their proximity to the population they represent make them key actors for developing alternative, creative solutions to the most complex global problems. For this reason, the World Bank, together with other multilateral agencies, is committed to helping cities promote the exchange of knowledge among them and with national leaders. Likewise, the World Bank is well-positioned to help municipal governments take measures to promote investment in projects that improve the population's quality of life.
The private sector, a key actor in urban development
Q: Gabriel, transforming cities is expensive. National and local governments have limited resources and high fiscal pressures. How can the private sector be persuaded to help cover the infrastructure deficit in Latin America, which according to some estimates is US$ 180 billion?
Gabriel Goldschmidt (GG): Cities are important centers of investment and economic growth. However, most cities in Latin America and the Caribbean have not grown in a sustainable way in recent decades. In a context of limited public budgets, it is important to consider mechanisms that can  attract private-sector participation while maintaining the objective of improving the quality of life of the population.
City governments cannot do this alone: the needs are simply too great. Innovation and investment of the private sector are crucial for addressing the complex challenges of cities in key areas such as infrastructure, climate change and job creation.  Where private-sector solutions exist, but are limited by weaknesses in the regulatory framework, the public sector and other players that should work together to create policies that enable the development of private-sector proposals. Finally, governments should reserve their limited fiscal budgets to invest in solutions for which there is no private-sector alternative.
For example, for the past 15 years, IFC has invested more than US$ 12 billion in 350 urban projects and advisory services in more than 60 countries, contributing to creating sustainable, competitive cities that attract the necessary private investment for inclusive growth and poverty reduction. Currently,  IFC is working throughout the region with cities as diverse as Buenos Aires, Bogota, Barranquilla, Lima, Tegucigalpa and, soon, San Jose.
Q: How can these ideas of financing and innovation be leveraged to create more inclusive cities?
GG: Well-structured, well-managed private-public partnerships can contribute innovation, efficiency and financing of the private sector in a single package. Bogota has two interesting examples of public-private partnerships. IFC is supporting the city in the development of these partnerships in the health sector for the building of hospitals, something that is highly innovative. The public-private partnership model for educational institutions is also being supported in Medellin and Barranquilla.
Green bonds are another tool that cities can use to attract commercial financing for sustainable projects. Cities are responsible for more than 80% of greenhouse gas emissions in the region. Currently, buildings generate 19% of the greenhouse gases associated with energy and consume 40% of electricity worldwide. Fortunately, many cities are proactively promoting sustainable infrastructure. IFC works with municipalities to implement green building codes. With the banking industry, it facilitates financing of sustainable projects while with real estate developers it supports the adoption of international sustainability certificates for buildings. For example, the EDGE certification, which was created by IFC, requires savings of at least 20% of water and energy and has been implemented in a variety of structures, including accessible housing.
Finally, land value capture is a way for municipalities to recover the value that public infrastructure generates (for example, property taxes, land improvement taxes and others).
Creating Smart Cities for Innovative Tourism Experiences
The UNWTO Conference on City Breaks: Creating Innovative Tourism Experiences (15-16 October 2018) concluded today in Valladolid, Spain, with a call for cities to become smart tourism destinations, where tourism governance and the digital economy mesh together to offer travellers diverse and authentic experiences.
The conference brought together tourism leaders from the public and private sectors to analyse how to respond to the growing trend of city breaks as leisure experiences. They concluded that public-private partnerships, the inclusion of local communities and the creation of smart destinations are crucial for urban destinations to gain the knowledge and define the policies they need in order to respond to the new demands of hyper-connected and hyper-informed tourists.
"We must understand the evolution of tourists towards greater sustainability and inclusiveness, using new technological tools," said Jaime Cabal, Deputy Secretary-General of the World Tourism Organization (UNWTO). "Creativity and innovation are needed when designing the experiences they are increasingly demanding."
The Councillor for Culture and Tourism of Valladolid, Ana Maria Redondo, echoed this call, adding: "We need a better understanding of the fundamentals behind the current demand for city break experiences. Smart destination tools are our means to obtain this knowledge."
The Deputy Director-General for Tourism Development and Sustainability of the Ministry of Tourism of Spain, Ruben Lopez Pulido, suggested that cities and all destinations change their models of tourism development to respond not only the most demanding tourists, but also to the rise of the digital and knowledge economy. "Being a smart destination is not just a label, but a process towards the comprehensive transformation of destinations, while always aiming at the achievement of the Sustainable Development Goals," he said.
Speakers at the conference included Dieter Hardt-Stremayr, President of European Cities Marketing and CEO of the Graz Tourism Office in Austria, who described what he considered key challenges for the growth of city breaks: transportation issues, seasonality, and the dispersion of tourism demand within a city and over time. "Our main challenge is to attract visitors to come right at this moment. To overcome it destination managers should focus on parts of the tourism offer that are 'temporary'," he concluded.
The main conclusions of the conference referred to urban tourism governance models. Participants highlighted that, with the growth of high-speed, low-cost transportation links that provide more and more visitors with access to city breaks, city destinations must respond by prioritizing investments that benefit residents and tourists alike.
They also concluded that with the technological advances that allow the creation of smart destinations, destination management organizations must shift their focus from only promoting the experiences available for tourists in cities, to managing urban tourism in all its complexity. For their part, tourism policy makers should use smart destination tools to study the impact of tourism on the profitability and sustainability of a city, and place the destination at the centre of policy changes. These conclusions will be taken into account in the UNWTO work plan on urban tourism.