St. Petersburg International Economic Forum 2018: Building a Trust Economy
SPIEF 2018 was held under the slogan "Building a Trust Economy," and this year reached new heights, both in terms of scale and results. With its numerous achievements, it would be fair to call it an innovative, technological, and indeed breakthrough event.
"In spite of the sanctions imposed by a number of countries, the St. Petersburg International Economic Forum demonstrated that Russia is a land of opportunity. The 17,000-plus participants arriving from 143 countries is testament to that fact. Over the past few years, SPIEF has developed to become an international platform, with its main achievement being the creation of a space where the spirit of trust prevails. Trust is a key asset in the business world, and discussions at the Forum focused on this crucial aspect," said Advisor to the President of the Russian Federation and Executive Secretary of the SPIEF Organizing Committee Anton Kobyakov at the event's closing press conference.
Guests from every continent, and representatives from international organizations such as the UN, IMF, OPEC and others spoke ever more profusely on the need to operate in a single economic space and find new areas of common ground in a changing world. President of France Emmanuel Macron was one of the honoured guests at the Forum. He commented that "Russia must have a leading voice in the Council of Europe." He also expressed the belief that Russia and the EU's united approach to the inviolability of underlying multilateral agreements in international politics was a key factor for the world today.
Prime Minister of Japan Shinzō Abe commented, "The slogan of our Forum this year is 'Building a Trust Economy.' It is my belief that we can deem Japan and Russia as together engaged in building this economy of trust… We now stand at a historical turning point; the path we should take and efforts we should make are all entirely clear. It is working for future generations in Japan and Russia. It is Japan and Russia becoming a major force for safeguarding and fostering regional and global prosperity for the Japanese and Russian peoples, further deepening their relationship, mutual trust, concluding the peace treaty and building up lasting peace and stability between our two nations."
Speaking at the Forum plenary session, Christine Lagarde, Managing Director of the International Monetary Fund, noted that "Russia has put in place an admirable macroeconomic framework – saving for a rainy day, letting the exchange rate float, introducing inflation targeting, and shoring up the banking system."
"This year, the Forum has come to resemble a crossroads of civilizations. Only at SPIEF has everything been put in place to ensure that discussions are open, as opposed to politically charged. It is where participants from various countries and growing economies discuss economic issues. There is no place in the world other than SPIEF that provides such an opportunity, which is why we have seen the numbers of participants grow from year to year," said Anton Kobyakov.
During this year's St. Petersburg International Economic Forum, over 3,000 flights arrived at and departed from Pulkovo Airport, including over 800 private flights. By way of comparison, SPIEF 2017 saw over 2,500 flights, including over 700 private flights.
Business Programme
The main programme incorporated over 150 business events across the Forum's numerous venues. These events were split into four distinct themes: "Technology for Leadership," "Harnessing Russia's Growth Potential," "Human Capital in the Digital Economy," and "The Global Economy in an Era of Change."
The Forum's central event was the plenary session, featuring President of the Russian Federation Vladimir Putin. He commented: "Today what we need are not trade wars, or even temporary trade armistices, but rather a fully-fledged trading world. The slogan of this year's Forum in St. Petersburg is 'Building a Trust Economy'. I am convinced – and experience bears this out – that the role of trust as a factor affecting development will grow further."
Events Held On the Eve of SPIEF 
In the run-up to the FIFA World Cup, SPIEF held a special event entitled "From the First to the Twenty-First" for officials and business figures from Latin America and the Caribbean. In a ceremony broadcast live on Russia 24, television presenter Sergey Brilev handed a capsule of earth from the Estadio Centenario to the government of St. Petersburg. The Estadio Centenario in Montevideo (Uruguay) has a special place in global football history as the stadium that hosted the first World Cup in 1930.
23 May also saw the "Australia–Russia Business Re-connection: How and Why?" business breakfast take place for the first time. The event was organized by the Roscongress Foundation's partners in Australia: the Australia–Russia Dialogue Forum and the ADC Forum. Later on, a business lunch took place entitled "Development of Trade and Economic Cooperation between the EAEU and ASEAN. Russia's Role in the Process." The event was attended by business representatives from EAEU and ASEAN.
The discussion platforms Russian Small and Medium-sized Enterprises Forum (SME Forum) organized by the Roscongress Foundation together with All-Russian Non-Governmental Organization of Small and Medium Business OPORA ROSSII and the SME Forum partner Russian Small and Medium Business Corporation saw lively debates on business practices, some of which were held in a new, interactive format. The topic of small and medium enterprise continued as part of the main SPIEF 2018 business programme.
This was the third year that issues related to women in business also took centre stage on the eve of SPIEF 2018. An international forum entitled "Increasing the Contribution of Women to Economic Growth and Prosperity: Creating an Enabling Environment" brought together around 200 female participants representing the Russian regions.
Elsewhere, the Chamber of Commerce and Industry of Leningrad Region's "Women as Leaders" conference saw animated discussions on the involvement of women in a changing economy.
The initial discussions on these topics will continue in just a few months' time, with St. Petersburg hosting the Second Eurasian Women's Forum on 21–22 September.
Officical SPIEF Programme
The official opening ceremony took place on the first day of the Forum – 24 May. Welcoming addresses were given by Governor of St. Petersburg Georgy Poltavchenko, and Under-Secretary-General of the United Nations Achim Steiner. Poltavchenko made assurances to Forum participants that Russia has been and will always remain a reliable partner.
In total, 68 business events took place that day in various formats. Topics under discussion included digitalization, the future of the labour market, energy, and a breakthrough in the Far East. Participants at the Valdai Discussion Club session focused on the effect the crisis in international relations is having on the global economy, and possible ways to resolve the standoff between Russia and the West. The first day ended with a discussion on smart cities.
Issues concerning international cooperation came under focus on the second day, which also saw a number of business dialogues between countries take place. Participants identified new opportunities for implementing joint projects, modern mechanisms by which to promote exports on overseas markets, and ways to cooperate on removing administrative barriers. The business programme for 25 May included 51 events. The highlight was the plenary session, featuring President of the Russian Federation Vladimir Putin, President of the French Republic Emmanuel Macron, Prime Minister of Japan Shinzō Abe, Vice President of the People's Republic of China Wang Qishan, and Managing Director of the International Monetary Fund Christine Lagarde. Furthermore, country's leaders conversed again during Russia–France and Russia–Japan bilateral dialogues. Additionally, Vladimir Putin met with the heads of world's information agencies and a held a meeting with the leaders of international companies.
Events took place as panel sessions, roundtables, and business dialogues. They provided platforms by which leading specialists, experts, and politicians could discuss topics such as the resources and economy of the Global Ocean, the potential of the Arctic, and the in-demand technologies of the future.
The closing day of the Forum saw 41 events take place, including 22 events held as part of the International Youth Economic Forum – a permanent SPIEF fixture for the younger generation. The day began with a business breakfast for representatives of the IT industry. According to those present, as much as 20% of global GDP today is tied to digital transformation, making it perilous to underestimate its impact. On the same day, American Chamber of Commerce in Russia and EY unveiled the results of a joint study on trade and economic ties between Russia and the USA.
The B20 Regional Consultation Forum was a special event at SPIEF 2018, and saw participants discuss recommendations for G20 leaders for the forthcoming summit in Buenos Aires, which will take place this year from 30 November to 1 December.
In what has now become tradition, SPIEF hosted the presentation of the results of the Russian Regional Investment Climate Index for the fourth time. Tyumen Region climbed five places to convincingly take first position. Completing the top five were Moscow, Tatarstan, Leningrad Region, and Tula Region.
The Roscongress Foundation is a socially oriented non-financial   development institution that puts a special emphasis on the health care in the Russian Federation, including improving the quality of life (creating the system of long-term care for senior citizens, developing palliative care in Russia, promoting healthy life style, etc.).
SPIEF 2018 held a number of sessions and interviews on increasing life expectancy that brought in representatives of the Government of the Russian Federation, as well as Russian and foreign experts.
Investing special effort in this area, the Roscongress Foundation strives to become the leading single platform for discussing national goals, objectives and priorities to improve the quality of life in Russia (in accordance with Executive Order of the President of the Russian Federation "On National Goals and Strategic Objectives for Development of the Russian Federation through to 2024" dated 7 May 2018).
Agreements
The global character of SPIEF was made even more apparent – and the communication platform even more attractive for talks – by the number of major projects and agreements that took shape. As of 30 May, 593 agreements had been signed at SPIEF, worth a total of RUB 2.625 trillion (counting agreements where the figures were not classified as commercial secrets).
The biggest of these were the following:
A strategic cooperation agreement between Rosneft, Vnesheconombank and VEB Leasing worth up to RUB 400 billion for financing projects and providing leasing services.
An agreement of intent between the Eurasian Development Bank and Belkomur Interregional Company to form a syndicated loan of up to RUB 278 billion to fund the construction of the Belkomur railway line.
Several long-term contracts with a total value of USD 2.1 billion between Rosneft and 12 importing companies based in Mongolia for the supply of petrol and diesel fuel.
An agreement worth USD 1.5 billion to construct a natural gas processing plant in the town of Ust-Luga (Leningrad Region), signed by the Russian Direct Investment Fund, the Japanese company Marubeni Corporation, the Baltic Gas Chemical Company, and Invasta Capital. The plant, which will convert natural gas to methanol, will have a capacity of 1.7 million tonnes per year.
An agreement between Nizhnekamskneftekhim and Deutsche Bank (Germany) to open a credit line of EUR 807 million, to be provided by a consortium of five European banks.
In addition, the Roscongress Foundation signed cooperation agreements with the Association of Lawyers of Russia and 21 Russian federal subjects: the Leningrad, Kaliningrad, Kirov, Murmansk, Novgorod, Penza, Pskov, Rostov, Ryazan, Samara, Saratov, Sverdlovsk, Tver, Tomsk, and Chelyabinsk Regions, and the Republics of Adygea, Altai, Buryatia, Karachaevo-Cherkess, Crimea, and Khakassia. The aim of the agreements is to build collaboration between the parties on raising the investment attractiveness and export potential of the regions.
The Roscongress Foundation's international partner network is continuing to increase. SPIEF 2018 saw the signing of agreements with the Association of European Businesses; the Federation Of Pakistan Chambers Of Commerce & Industry; the Union of Chinese Entrepreneurs in Russia; the ASEAN Business Club, the Norwegian-Russian Chamber of Commerce; the Mexican Business Council for Foreign Trade, Investment and Technology (COMCE); the General Confederation of Entrepreneurs of Argentina; the Croatian Chamber of Economy; the Israeli Russian Business Council; the Polish Investment and Trade Agency; the Ladies in the Frontline business association, MEDEF International; the Boao Forum for Asia; the Moscow Centre for International Cooperation; and the Centre for the Development of Women's Entrepreneurship.
A number of agreements with charity and socially oriented organizations has been signed as part of a plan to develop the social platform launched by the Roscongress Foundation.
The agreements cover cooperation within the social development sphere.
Additionally, agreements have been signed with sports organizations, such as the Russian Golf Association and the Golf Estate Management Company. This cooperation will focus on running sporting programmes for economic forums, including golf tournaments held at Peterhof Golf Club under the aegis of the St. Petersburg International Economic Forum to promote sport, both in the corporate sphere and among the general public.
Other organizations to sign cooperation agreements with Roscongress were the Central Union of Consumer Societies of the Russian Federation; the Boris Yeltsin Presidential Library; Rosconcert; Rostelecom; VSK; MZS and Partners; the Deposit Insurance Agency; the Water Supply and Treatment Cluster Management Company in St. Petersburg; SVEKO FSUE; and Electrificatciya PJC.
In 2019 under the auspices of the United Nations Organization Russia will host the Global Manufacturing and Industrialization Summit (GMIS). The event will take place at the INNOPROM venue in Yekaterinburg. The appropriate agreement has been signed during SPIEF 2018.
Importantly, an agreement was signed between the management of the Made in Russia national brand and Novgorod Region to work together on promoting the Novgorod Rus regional brand. An agreement with Zenden Group will result in the establishment of Made in Russia's first regional office, also in Novgorod Region.
International Youth Economic Forum (IYEF)
Following the decree of the President of the Russian Federation on establishing an on-going youth platform during SPIEF, the Forum hosted the International Youth Economic Forum (IYEF) organized by the Roscongress Foundation and the Federal Agency on Youth Affairs (Rosmolodezh). During the event young leaders of local and international business discussed contemporary challenges and awarded the winners of the All-Russia competition My Country – My Russia.
IYEF brought together graduate and post-graduate students from more than 15 Russian universities, including St. Petersburg State University, Moscow State Institute of International Relations, Higher School of Economics, National University of Science and Technology MISIS, Russian Social University, People's Friendship University of Russia, St. Petersburg State University of Economics, etc.
The youth platform created by the Roscongress Foundation together with partners allows future managers to take part in the forum with no participation fee. They get a chance to network with big business representatives and hear their success stories. Direct communication between different generations helps raise future entrepreneurs, foster international relations, and get acquainted with potential employers. Within the next five to ten years the entrepreneurs return to the Forum as new participants ready to share their experience, eager to represent their company on the international level, and take part in the international global processes.
A great example of SPIEF 2018 of the latter is presence of opinion leaders from academic, business and media environments from G20, BRICS and EEU invited by the Russian Centre for Promotion of Internal Initiatives supported by the Roscongress Foundation and the Government of St. Petersburg. Among them were the participants of the meeting of President of the Russian Federation Vladimir Putin with youth G20 leaders at SPIEF 2013. During this brief period they managed to find their way in politics and business and now they head various youth, research and civic organizations. Five years later young leaders meet in St. Petersburg again.
Youth agenda at SPIEF 2018 included meetings with officials, representatives of international companies, members of business communities, and experts. Young leaders of G20 and EEU held a series of brainstorms about the place Russian economy occupies in the global world, and about the future of digital economy. Additionally, they discussed creating a youth entrepreneurial network that would help develop horizontal interaction of G20 and EEU young leaders, as well promote business projects among the SME participants.
Armenia's inability to solve pandemic-related economic problems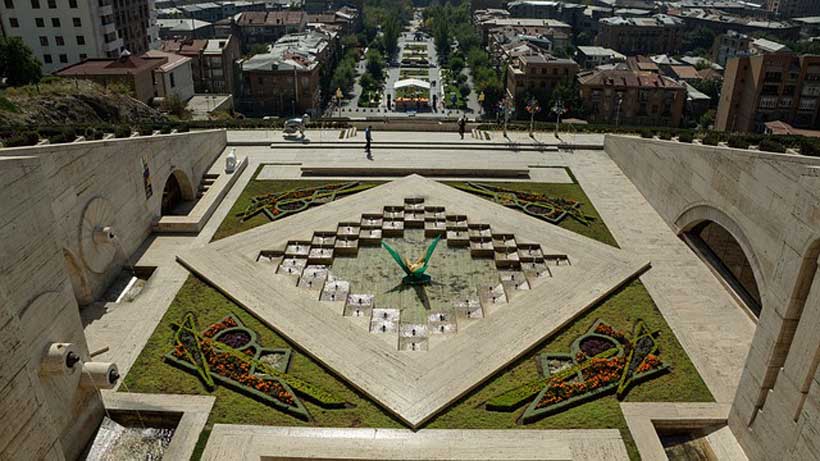 According to data from the Armenian government, in 2019 the country's economy grew by about 7.6%,which was the highest figure since 2008. Further data from the Statistical Committee of Armenia show that the trade and service sectors were the main drivers of economic development. In the same period, 9% growth in industrial output and a 4% reduction in agricultural output were also recorded. Inspired by these growth numbers, during a cabinet meeting in January, Prime Minister Nikol Pashinyan said that he was confident that, as a result of the joint efforts of government members, even higher figures will be registered in 2020. However, as a result of subsequent pandemic-related events, his confidence disappeared and difficulties in solving economic problems have proven the inability of the Armenian government to act independently.
Since the declaration of an emergency situation on March 16, economic activity has significantly slowed, thus leading to the creation of various economic problems and a financial deficit. Even though some restrictions were softened in May, that did not lead to a noticeable increase in economic activity. As a result, the economic forecasts for Armenia in 2020 worsened. According to the European Bank for Reconstruction and Development, the economy of Armenia will contract by about3.5% in 2020 as a result of global uncertainty and falling demand. However, the Armenian government is more optimistic in its prediction of a decline in GDP of 2%.
One of the main problems created by the pandemic-related economic restrictions is the impossibility of implementation of government-approved budget projects for 2020. As the forecast for Armenia's GDP worsens, it will lead to lower tax revenues than initially planned for. According to the Finance Minister, Atom Janjughazyan, with the forecast 2% decline of GDP at the end of the year, tax revenues will decrease by about 10% compared with the planned volume. If the economy diminishes by more than 2%,that will lead to an even greater reduction in tax revenues. Janjughazyan also noted that the government plans to keep budget spending unchanged in order to mitigate the negative consequences and create the preconditions for a quick recovery. Although this decision could help to prevent social discontent and avert some economic problems, it could have long-lasting economic consequences by significantly increasing the budget deficit. With a reduction in taxes generated of about 10%, the budget deficit will double, reaching 5% of the projected GDP or $676.4 million (1 Armenian Dram=0.0021 USD). To run the budgeted projects with such a high level of deficit, the government will have to amend the budget legislation in order to exceed existing restrictions.
Another financial problem for Armenia is related to the implementation of support programs. As the emergency situation has substantially impacted economic development, the government has had to implement support programs. Even though these programs have been important in supporting the economy, they have also created financial problems as the government does not have enough resources to implement them independently. To support the economy, the government approved a support package of $315 million. Of these funds, $168 million will be used for long-term economic development programs;$52.5 million for the elimination of economic problems, social tension and liquidity issues; and $42 million for the redistribution of reserve funds. So far, the Armenian government has approved 20 crisis measures for the implementation of support programs.
Financing the high budget deficit and extensive support programs creates financial problems as Armenia does not have sufficient financial resources. Therefore, Armenia must attract funds from other countries or international financial institutions. Based on the calculations of the Armenian government for financing the combined support programs and budget deficit,it needs to raise an additional$546 million. Armenia already has a large volume of external debt (40% of GDP in 2019) and raising additional funds will significantly increase that debt. Taking on an additional $546 million of debt will increase the government's external debt by about 10%. Taking into account that, during 2019, the total public debt of Armenia increased by about 14.8%, the increase of external debt by about 10% from only one source shows how seriously it will affect the financial security of the country.
Armenia also is facing economic problems in the energy sector. On April 1,GazpromArmenia, the Russian-owned natural gas distributing company, declared that it was going to ask the Public Services Regulatory Commission (PSRC) for changes to gas prices in Armenia. It proposed to set the same price for all customers beginning from July 1. This change would eliminate the discount for low-income families, thus leading to a 35% increase in price for them but a2.2% decrease for consumers that use up to 10,000 cubic meters of gas per month. The Armenian government was dissatisfied with the offered gas rates as it was already dealing with pandemic-related economic problems and it requested that Russia decrease the price of gas that they sell to Armenia.
As the talks with Russia did not lead to desired results, the PSRC accepted the changes but kept the price for domestic users and low-income families unchanged. The PSRC wants the average weighted price of 1,000 cubic meter of gas be set at $266.7 USD,$16.43 below the price that Gazprom Armenia had proposed. The price of natural gas will increase from $212 to $224 per thousand cubic meters for agricultural companies, and from $242 to $255.92for consumers who use more than 10,000 cubic meters of gas per month. The new prices will enter into force on July 19, except for thermal power plants. Despite the fact that PSRC was able to prevent price changes for ordinary citizens, the new rates will create unemployment problems. In order to operate with accepted price changes Gazprom Armenia has to lay off about 1500 employees and reduce its annual revenues about 6%.
The inability of the Armenian government to solve its economic problems with its own financial resources or to diversify its energy imports will lead to significant economic problems. Many countries around the world are facing economic and financial problems and are therefore looking to obtain foreign assistance, and this reduces opportunities to access foreign finance by intensifying competition. Therefore, it is not currently easy for Armenia to attract financial resources. The dependence of the energy sector on the price policies of other countries also creates economic instability. Even though the PSRC was able to avoid natural gas price rises for ordinary citizens, it cannot prevent unemployment issues and price rises for businesses. Therefore, countries that are dependent on foreign financial assistance and are unable to implement independent economic and energy policies during the pandemic and in the post-pandemic period will face serious economic issues. Taking into account that social and economic problems were among the main drivers of the change of government in Armenia in 2018,the pandemic-related economic problems will also have political consequences.
Coronavirus Impact On The World Of Work Traverses National Borders
With the coronavirus lockdown, one aspect of our lives has been revolutionized … the world of work. Computers have facilitated the transition and the coronavirus forced a real-life test. For jobs where it is possible, we are working from home and many of us like it that way.
There are countries that have been doing it long before the coronavirus — at least in numbers far in excess of other industrialized countries. In the Netherlands 14.1 percent of workers say they usually work away from the office compared to 4.7 percent in the UK and only 3.6 percent in the US. Only Finland is comparable.
Finland also allows flexible hours.  Indeed such flexibility has a basis in law ever since the 1996 Work Hours Act giving most workers the right to adjust workplace time.  Thus 92 percent of companies allow flexible hours there (a notable example being an employee who works remotely from Malaga, Spain!) compared to about three-quarters in the US and UK, a half in Russia and only 18 percent in Japan.   Employees can start or finish their workday up to three hours earlier or later.  A new Working Hours Act came into effect on Jan. 1, 2020 through prior legislation, fortuitously given Covid-19.  This now permits workers to schedule up to half their working hours away from the workplace.
Both Finland and the Netherlands also benefit from a culture of trust and equality; also practicality, a quality that small countries nurture to compete with the giants beside them. Think Russia in one case and Germany for the other.
Flextime has other benefits. Studies report higher output and efficiency. When workers are allowed to pick their hours, they drift towards when they want to work. In Finland, they still have to average 40 hours per week over each four-month period. Nevertheless, working at a time most suitable for their individual circumstances implies they are working at their best, which also translates to most productive.
HSBC, the large UK bank, looked at what is driving UK productivity growth in a 2018 study. Eighty-nine percent of respondents cited the importance of flexible working hours and work-life balance rating them higher than financial incentives. One-in-five also cited poor work-life balance as the main reason for leaving a prior job, ranking it higher than limited opportunities or salary increases.
Meanwhile in the Netherlands, where 98 percent of homes have high-speed internet access, there is also a culture of trust, plus a combination of technology, attitude and expectation to make remote working a success. King Willem-Alexander issued a photo of himself working from home to encourage others to do the same during the pandemic.
But then, the Netherlands is different. ING, an Amsterdam-based bank, is now trying out a policy of unlimited vacation time for pilot groups of workers. They can take as much time off as they want provided their work and set tasks do not suffer.
There must be something in all this for Dutch men averaging 163 cm (6 feet) are the tallest people on earth. At 179.6 cm, the Finns are not far behind.
Perhaps employers over here in the US will be enlightened by the statistics. If there is a silver lining in this dark coronavirus cloud then, it could be in the world of work.
Covid-19 and its impact on Belt and road initiative and CPEC
Nowadays, Covid-19 is increasing rapidly in Pakistan. As of June 30 the amount of confirmed cases had risen to 208359 along with 4254 deaths. Tremendously a very bad situation of Pakistan economy as well as global economy due to this pandemic era. Coronavirus effects many business and major Flagship project in Pakistan like CPEC development due to shortage of local labour. The China-Pakistan Economic (CPEC) is a part of ambitious Belt and Road Initiative (BRI) which runs through South-East Asia, South Asia, Central Asia, Russia and Europe by land as well as 21st century Maritime Silk Road, a sea route flanked by China's coastal regions with South-East and South Asia, the South Pacific, the Middle East and Eastern Africa, all the way to Europe.
The China-Pakistan Economic Corridor badly effect and now most of the people concerned about CPEC development and its impact of covid-19 on development projects. Specifically the CPEC development were also stopped because of the absence of local labour who were forced to stay at home due to lockdown and to avoid further spread of Covid-19. In addition, the government of Pakistan and china also announced the travel restrictions which delayed the availability of workforce. All business areas and business centers in the port of Gwadar are completely closed, and the impact of all these problems on CPEC and its branches. But there is encouraging news that the port of Gwadar is still operating under strict policies.
Covid-19 has already had a significant impact on the global economy, influencing production, supply chains and the movement of people and goods. Since the outbreak and increasing the cases of corona virus, many people concerned about the impact of covid-19 on CPEC development projects. Most of the people says it has no impact but some people says it has huge impact on development of CPEC. As per my opinion it has a huge Impact on CPEC development. According to the challenging situation Chinese government decided to work again on BRI projects. Chinese government believe that once the pandemic crisis is over BRI projects will lead the world economy recovery and sustainable development.
As our honorable PM Imran Khan said multiple time that corona virus is not going anywhere, we have to live with this epidemic situation following SOP otherwise survival in Pakistan is much difficult as compared to developing and developed countries. If all Factories, industries, and development teams closed for certain time, Pakistan economy will goes down for sure and people will die due to hunger and unemployment. Consequently, the Pakistan Government is in full consultation with the government of China as well as Chinese companies working on the CPEC projects. In this regard, Pakistan government is taking preventive measures and providing full protection to Chinese workforce on CPEC. In addition, the Chinese workers who are returning to Pakistan have to endure double quarantine system for their safety as well as the safety of other workers too.
Contemporaneous, we must be aware of the fact that there is a force in the world that does not want to see CPEC's success, so they indiscriminately amplify the impact of the pandemic on CPEC development. The Chinese and Pakistan government both nations agreed to continue this project and overcome difficulties caused by Covid-19 and support CPEC construction. Both governments have upheld close communication and coordination on particular issues of CPEC projects. Chinese companies have implemented closed management, and all CPEC projects have maintain prevention and control plans and implemented them very strictly, therefore effectively preventing the invasion of the novel coronavirus. As far as I know, there is no Covid-19 spread at the construction or development sites.
In addition, the Chinese companies contributing in the construction of CPEC projects are also actively making assistances to the prevention and control of the pandemic in several locations in Pakistan, donating material to local government's offices, schools, and hospitals. When the world suffering from corona virus, china was there for supplying material and help to various nations in the form of medical equipment, protection accessories and medical supplies. It's a bit challenging circumstances in China in pandemic situation but china prove his kindness in front of other nations that increased the trust of countries in China.
It is still unclear situation when local and global economic activities become stable, which also creates uncertainty about the feasibility of these projects. In the same way, other cross-border corridors and the Silk Road Belt and Road Initiative (BRI) are also facing delays and cancellations. Despite difficult circumstances, the Chinese are promoting BRI, gradually resuming development work and building the health Silk Road. Beijing China is much confident that BRI will lead the global economic recovery after resolving the crisis.
The most common broader issue nowadays is whether the planned BRI projects can be delay in the current economic environment. For instance, it was recently stated that nearly seven to eight years after the creation of CPEC, less than one-third of the development projects had been completed. Since sustainability of financing for BRI projects is already a challenge, and Chinese capital projected to be organized to meet the basic and domestic needs, the pandemic and the resulting slowdown in economic growth will be even more delayed and could even be a death sentence for Some Belt and road Initiative projects as well as CPEC.