St. Petersburg International Economic Forum 2018: Building a Trust Economy
SPIEF 2018 was held under the slogan "Building a Trust Economy," and this year reached new heights, both in terms of scale and results. With its numerous achievements, it would be fair to call it an innovative, technological, and indeed breakthrough event.
"In spite of the sanctions imposed by a number of countries, the St. Petersburg International Economic Forum demonstrated that Russia is a land of opportunity. The 17,000-plus participants arriving from 143 countries is testament to that fact. Over the past few years, SPIEF has developed to become an international platform, with its main achievement being the creation of a space where the spirit of trust prevails. Trust is a key asset in the business world, and discussions at the Forum focused on this crucial aspect," said Advisor to the President of the Russian Federation and Executive Secretary of the SPIEF Organizing Committee Anton Kobyakov at the event's closing press conference.
Guests from every continent, and representatives from international organizations such as the UN, IMF, OPEC and others spoke ever more profusely on the need to operate in a single economic space and find new areas of common ground in a changing world. President of France Emmanuel Macron was one of the honoured guests at the Forum. He commented that "Russia must have a leading voice in the Council of Europe." He also expressed the belief that Russia and the EU's united approach to the inviolability of underlying multilateral agreements in international politics was a key factor for the world today.
Prime Minister of Japan Shinzō Abe commented, "The slogan of our Forum this year is 'Building a Trust Economy.' It is my belief that we can deem Japan and Russia as together engaged in building this economy of trust… We now stand at a historical turning point; the path we should take and efforts we should make are all entirely clear. It is working for future generations in Japan and Russia. It is Japan and Russia becoming a major force for safeguarding and fostering regional and global prosperity for the Japanese and Russian peoples, further deepening their relationship, mutual trust, concluding the peace treaty and building up lasting peace and stability between our two nations."
Speaking at the Forum plenary session, Christine Lagarde, Managing Director of the International Monetary Fund, noted that "Russia has put in place an admirable macroeconomic framework – saving for a rainy day, letting the exchange rate float, introducing inflation targeting, and shoring up the banking system."
"This year, the Forum has come to resemble a crossroads of civilizations. Only at SPIEF has everything been put in place to ensure that discussions are open, as opposed to politically charged. It is where participants from various countries and growing economies discuss economic issues. There is no place in the world other than SPIEF that provides such an opportunity, which is why we have seen the numbers of participants grow from year to year," said Anton Kobyakov.
During this year's St. Petersburg International Economic Forum, over 3,000 flights arrived at and departed from Pulkovo Airport, including over 800 private flights. By way of comparison, SPIEF 2017 saw over 2,500 flights, including over 700 private flights.
Business Programme
The main programme incorporated over 150 business events across the Forum's numerous venues. These events were split into four distinct themes: "Technology for Leadership," "Harnessing Russia's Growth Potential," "Human Capital in the Digital Economy," and "The Global Economy in an Era of Change."
The Forum's central event was the plenary session, featuring President of the Russian Federation Vladimir Putin. He commented: "Today what we need are not trade wars, or even temporary trade armistices, but rather a fully-fledged trading world. The slogan of this year's Forum in St. Petersburg is 'Building a Trust Economy'. I am convinced – and experience bears this out – that the role of trust as a factor affecting development will grow further."
Events Held On the Eve of SPIEF 
In the run-up to the FIFA World Cup, SPIEF held a special event entitled "From the First to the Twenty-First" for officials and business figures from Latin America and the Caribbean. In a ceremony broadcast live on Russia 24, television presenter Sergey Brilev handed a capsule of earth from the Estadio Centenario to the government of St. Petersburg. The Estadio Centenario in Montevideo (Uruguay) has a special place in global football history as the stadium that hosted the first World Cup in 1930.
23 May also saw the "Australia–Russia Business Re-connection: How and Why?" business breakfast take place for the first time. The event was organized by the Roscongress Foundation's partners in Australia: the Australia–Russia Dialogue Forum and the ADC Forum. Later on, a business lunch took place entitled "Development of Trade and Economic Cooperation between the EAEU and ASEAN. Russia's Role in the Process." The event was attended by business representatives from EAEU and ASEAN.
The discussion platforms Russian Small and Medium-sized Enterprises Forum (SME Forum) organized by the Roscongress Foundation together with All-Russian Non-Governmental Organization of Small and Medium Business OPORA ROSSII and the SME Forum partner Russian Small and Medium Business Corporation saw lively debates on business practices, some of which were held in a new, interactive format. The topic of small and medium enterprise continued as part of the main SPIEF 2018 business programme.
This was the third year that issues related to women in business also took centre stage on the eve of SPIEF 2018. An international forum entitled "Increasing the Contribution of Women to Economic Growth and Prosperity: Creating an Enabling Environment" brought together around 200 female participants representing the Russian regions.
Elsewhere, the Chamber of Commerce and Industry of Leningrad Region's "Women as Leaders" conference saw animated discussions on the involvement of women in a changing economy.
The initial discussions on these topics will continue in just a few months' time, with St. Petersburg hosting the Second Eurasian Women's Forum on 21–22 September.
Officical SPIEF Programme
The official opening ceremony took place on the first day of the Forum – 24 May. Welcoming addresses were given by Governor of St. Petersburg Georgy Poltavchenko, and Under-Secretary-General of the United Nations Achim Steiner. Poltavchenko made assurances to Forum participants that Russia has been and will always remain a reliable partner.
In total, 68 business events took place that day in various formats. Topics under discussion included digitalization, the future of the labour market, energy, and a breakthrough in the Far East. Participants at the Valdai Discussion Club session focused on the effect the crisis in international relations is having on the global economy, and possible ways to resolve the standoff between Russia and the West. The first day ended with a discussion on smart cities.
Issues concerning international cooperation came under focus on the second day, which also saw a number of business dialogues between countries take place. Participants identified new opportunities for implementing joint projects, modern mechanisms by which to promote exports on overseas markets, and ways to cooperate on removing administrative barriers. The business programme for 25 May included 51 events. The highlight was the plenary session, featuring President of the Russian Federation Vladimir Putin, President of the French Republic Emmanuel Macron, Prime Minister of Japan Shinzō Abe, Vice President of the People's Republic of China Wang Qishan, and Managing Director of the International Monetary Fund Christine Lagarde. Furthermore, country's leaders conversed again during Russia–France and Russia–Japan bilateral dialogues. Additionally, Vladimir Putin met with the heads of world's information agencies and a held a meeting with the leaders of international companies.
Events took place as panel sessions, roundtables, and business dialogues. They provided platforms by which leading specialists, experts, and politicians could discuss topics such as the resources and economy of the Global Ocean, the potential of the Arctic, and the in-demand technologies of the future.
The closing day of the Forum saw 41 events take place, including 22 events held as part of the International Youth Economic Forum – a permanent SPIEF fixture for the younger generation. The day began with a business breakfast for representatives of the IT industry. According to those present, as much as 20% of global GDP today is tied to digital transformation, making it perilous to underestimate its impact. On the same day, American Chamber of Commerce in Russia and EY unveiled the results of a joint study on trade and economic ties between Russia and the USA.
The B20 Regional Consultation Forum was a special event at SPIEF 2018, and saw participants discuss recommendations for G20 leaders for the forthcoming summit in Buenos Aires, which will take place this year from 30 November to 1 December.
In what has now become tradition, SPIEF hosted the presentation of the results of the Russian Regional Investment Climate Index for the fourth time. Tyumen Region climbed five places to convincingly take first position. Completing the top five were Moscow, Tatarstan, Leningrad Region, and Tula Region.
The Roscongress Foundation is a socially oriented non-financial   development institution that puts a special emphasis on the health care in the Russian Federation, including improving the quality of life (creating the system of long-term care for senior citizens, developing palliative care in Russia, promoting healthy life style, etc.).
SPIEF 2018 held a number of sessions and interviews on increasing life expectancy that brought in representatives of the Government of the Russian Federation, as well as Russian and foreign experts.
Investing special effort in this area, the Roscongress Foundation strives to become the leading single platform for discussing national goals, objectives and priorities to improve the quality of life in Russia (in accordance with Executive Order of the President of the Russian Federation "On National Goals and Strategic Objectives for Development of the Russian Federation through to 2024" dated 7 May 2018).
Agreements
The global character of SPIEF was made even more apparent – and the communication platform even more attractive for talks – by the number of major projects and agreements that took shape. As of 30 May, 593 agreements had been signed at SPIEF, worth a total of RUB 2.625 trillion (counting agreements where the figures were not classified as commercial secrets).
The biggest of these were the following:
A strategic cooperation agreement between Rosneft, Vnesheconombank and VEB Leasing worth up to RUB 400 billion for financing projects and providing leasing services.
An agreement of intent between the Eurasian Development Bank and Belkomur Interregional Company to form a syndicated loan of up to RUB 278 billion to fund the construction of the Belkomur railway line.
Several long-term contracts with a total value of USD 2.1 billion between Rosneft and 12 importing companies based in Mongolia for the supply of petrol and diesel fuel.
An agreement worth USD 1.5 billion to construct a natural gas processing plant in the town of Ust-Luga (Leningrad Region), signed by the Russian Direct Investment Fund, the Japanese company Marubeni Corporation, the Baltic Gas Chemical Company, and Invasta Capital. The plant, which will convert natural gas to methanol, will have a capacity of 1.7 million tonnes per year.
An agreement between Nizhnekamskneftekhim and Deutsche Bank (Germany) to open a credit line of EUR 807 million, to be provided by a consortium of five European banks.
In addition, the Roscongress Foundation signed cooperation agreements with the Association of Lawyers of Russia and 21 Russian federal subjects: the Leningrad, Kaliningrad, Kirov, Murmansk, Novgorod, Penza, Pskov, Rostov, Ryazan, Samara, Saratov, Sverdlovsk, Tver, Tomsk, and Chelyabinsk Regions, and the Republics of Adygea, Altai, Buryatia, Karachaevo-Cherkess, Crimea, and Khakassia. The aim of the agreements is to build collaboration between the parties on raising the investment attractiveness and export potential of the regions.
The Roscongress Foundation's international partner network is continuing to increase. SPIEF 2018 saw the signing of agreements with the Association of European Businesses; the Federation Of Pakistan Chambers Of Commerce & Industry; the Union of Chinese Entrepreneurs in Russia; the ASEAN Business Club, the Norwegian-Russian Chamber of Commerce; the Mexican Business Council for Foreign Trade, Investment and Technology (COMCE); the General Confederation of Entrepreneurs of Argentina; the Croatian Chamber of Economy; the Israeli Russian Business Council; the Polish Investment and Trade Agency; the Ladies in the Frontline business association, MEDEF International; the Boao Forum for Asia; the Moscow Centre for International Cooperation; and the Centre for the Development of Women's Entrepreneurship.
A number of agreements with charity and socially oriented organizations has been signed as part of a plan to develop the social platform launched by the Roscongress Foundation.
The agreements cover cooperation within the social development sphere.
Additionally, agreements have been signed with sports organizations, such as the Russian Golf Association and the Golf Estate Management Company. This cooperation will focus on running sporting programmes for economic forums, including golf tournaments held at Peterhof Golf Club under the aegis of the St. Petersburg International Economic Forum to promote sport, both in the corporate sphere and among the general public.
Other organizations to sign cooperation agreements with Roscongress were the Central Union of Consumer Societies of the Russian Federation; the Boris Yeltsin Presidential Library; Rosconcert; Rostelecom; VSK; MZS and Partners; the Deposit Insurance Agency; the Water Supply and Treatment Cluster Management Company in St. Petersburg; SVEKO FSUE; and Electrificatciya PJC.
In 2019 under the auspices of the United Nations Organization Russia will host the Global Manufacturing and Industrialization Summit (GMIS). The event will take place at the INNOPROM venue in Yekaterinburg. The appropriate agreement has been signed during SPIEF 2018.
Importantly, an agreement was signed between the management of the Made in Russia national brand and Novgorod Region to work together on promoting the Novgorod Rus regional brand. An agreement with Zenden Group will result in the establishment of Made in Russia's first regional office, also in Novgorod Region.
International Youth Economic Forum (IYEF)
Following the decree of the President of the Russian Federation on establishing an on-going youth platform during SPIEF, the Forum hosted the International Youth Economic Forum (IYEF) organized by the Roscongress Foundation and the Federal Agency on Youth Affairs (Rosmolodezh). During the event young leaders of local and international business discussed contemporary challenges and awarded the winners of the All-Russia competition My Country – My Russia.
IYEF brought together graduate and post-graduate students from more than 15 Russian universities, including St. Petersburg State University, Moscow State Institute of International Relations, Higher School of Economics, National University of Science and Technology MISIS, Russian Social University, People's Friendship University of Russia, St. Petersburg State University of Economics, etc.
The youth platform created by the Roscongress Foundation together with partners allows future managers to take part in the forum with no participation fee. They get a chance to network with big business representatives and hear their success stories. Direct communication between different generations helps raise future entrepreneurs, foster international relations, and get acquainted with potential employers. Within the next five to ten years the entrepreneurs return to the Forum as new participants ready to share their experience, eager to represent their company on the international level, and take part in the international global processes.
A great example of SPIEF 2018 of the latter is presence of opinion leaders from academic, business and media environments from G20, BRICS and EEU invited by the Russian Centre for Promotion of Internal Initiatives supported by the Roscongress Foundation and the Government of St. Petersburg. Among them were the participants of the meeting of President of the Russian Federation Vladimir Putin with youth G20 leaders at SPIEF 2013. During this brief period they managed to find their way in politics and business and now they head various youth, research and civic organizations. Five years later young leaders meet in St. Petersburg again.
Youth agenda at SPIEF 2018 included meetings with officials, representatives of international companies, members of business communities, and experts. Young leaders of G20 and EEU held a series of brainstorms about the place Russian economy occupies in the global world, and about the future of digital economy. Additionally, they discussed creating a youth entrepreneurial network that would help develop horizontal interaction of G20 and EEU young leaders, as well promote business projects among the SME participants.
China's economic slowdown and its implications for the rest of Asia
China's economy has slowed down considerably since the past year. The key reasons for China's slow growth are its stringent lockdowns, to achieve its objective of a zero covid policy. Here it would also be pertinent to point out, that many of Chinese President Xi Jinping's policies especially tightening of credit for the real estate sector had an adverse impact on the real estate sector and the economy as a whole (according to estimates, real estate counts for 29% of the country's Gross Domestic Product (GDP). A number of Chinese real estate developers have been downgraded by Moody's. A number of companies, including Evergrande are part of the B3 category, which denotes "speculative and are subject to high credit risk'.
In August 2022, Chinese Premier Li Keqiang while commenting on the slowdown said:
'A sense of urgency must be strengthened to consolidate the foundation for economic recovery'
There is a growing realisation that a further slowdown could lead to serious social problems, the stringent lockdowns have resulted in growing unemployment.
A number of steps have been taken to prevent the slowdown, such as Real Estate Sector and steps for Small Medium Enterprises. In August 2022, the Chinese government offered support to the tune of US $29 billion to Chinese real estate developers so that they can complete stalled projects and deliver them to home buyers. Earlier this year, China's government announced that it would provide fiscal concessions and tax exemptions to MSME's to small businesses in China. One of the key factors behind this course correction by Xi Jinping was the 20th national congress of the Communist Party will be held from October 16, 2022 (Xi Jinping is likely to secure a third-term and also consolidate his hold over the party and consolidate his position as the most powerful leader after Mao Zedong)
Challenges still persist for China's economy
Reports of multilateral agencies clearly point to China's growth in 2022 being well below earlier estimates and targets. According to a World Bank Report, growth in 2022 for the Asia-Pacific region is likely to be a little over 3% (3.2%), while China's growth is likely to be 2.8%. China had targeted a growth of 5%, and even multilateral agencies had estimated that the country would grow at over 5%
An Asian Development Bank (ADB) report which estimated that China's growth will be a little over 3% states that 'developing' Asia (which includes Cambodia, Bangladesh, Nepal, Myanmar, Sri Lanka etc) will grow at over 5% and highlights a significant point, that the last time China grew slower than the rest of Asia was in 1990, when China grew at below 4% (3.9%) and the rest of the region grew at 6.9%. Emerging Asian economies which include China, India, Indonesia, Thailand, the Philippines and Vietnam are likely to grow at 4.3% in 2022 and 4.9% in 2023 again a drop from earlier estimates.
It would be pertinent to point out, that a number of foreign investors in China have also complained about the lockdowns and restrictions. While in the short run, it is unlikely that they will shift their operations in a big way, they are likely to look for alternatives.
In contrast to China, the rest of the region has benefited from easing out covid19 restrictions. Says the ADB report:
'Easing pandemic restrictions, increasing immunization, falling Covid-19 mortality rates, and the less severe health impact of the Omicron variant are underpinning improved mobility in much of the region'
Can ASEAN and South Asia benefit from China's slowdown?
The case of Association of South East Asian Nations (ASEAN) countries is especially important, because their policies with regard to covid have been fundamentally different from that of China. Opening up of borders has given a boost to the tourism sector in the region — especially Malaysia and Thailand. This is important, because tourism accounts for a significant percentage of the GDP of these economies. Here it would also be pertinent to point out, that a number of companies have moved out of China, in the aftermath of covid 19, with Vietnam being a favoured destination due to its geographical location and other economic advantages (some companies have also moved to other ASEAN nations as well as India).
Even the stock markets of these countries have been doing reasonably well. In April 2022, analysts from JP Morgan and Goldman Sachs had picked Indonesia, Vietnam and Singapore as their favourite markets, while last month Credit Suisse said its favourite market in the region was Thailand.
In conclusion, while there is no doubt that China has been driving economic growth not just in Asia, but globally, it is unlikely that its economic challenges are likely to reduce in the short run. It is not just covid, but Xi Jinping's economic policies which have been responsible for the slowdown. The biggest beneficiaries of China's covid19 policies as well, as it's slowdown in the longer run, would be the ASEAN region — especially countries like Vietnam and Indonesia — along with South Asian nations – especially India and Bangladesh who with investor friendly policies could attract more companies seeking to relocate from China.
Russia Struggling to Explore Africa's Market
Building on post-Soviet relations with Africa, Russia has been struggling for strategies on how to establish economic footprints, promote investment and deepen cooperation in Africa. Despite the road map adopted at the end of the first Russia-Africa summit held in October 2019, little has been achieved since then.
Late September, the Regional Chamber of Commerce and Industry welcomed the participants to another round of conference under theme: "Russia-Africa: Prospects for Cooperation" held in St. Petersburg. That gathering featuring a few interested Russian enterprises was part of a series of steps brainstorm and discuss opportunities, developments and challenges with regards to the preparation of the forthcoming Russia-Africa summit planned for July 2023.
Additionally, the goal of this St Petersburg conference event was in line with the priorities on how to engage with credible investors who can partner with the government and private sector to exploit the market. It discussed the possibilities of strengthening partnership between Russia and Africa, as well as issues related to export/import, logistics and peculiarities of working with African partners.
Vice President of the Chamber of Commerce and Industry of the Russian Federation Vladimir Padalko welcomed the participants via video link from Moscow. In the video, Padalko emphatically reminded that "preparations for the second Russia-Africa summit, scheduled for July 2023 in St. Petersburg, are in full swing and we should come to it with concrete results in the form of agreements ready for signing."
According to him, the Coordinating Committee for Economic Cooperation with African Countries should focus on conducting business missions that would identify specific areas for conducting business cooperation with African countries. It is necessary to help Russians to learn what the African market is, so that they are not afraid of taking investment risks in Africa.
Padalko said that the prejudices that Russians have regarding Africa should be overcome. He referred to his own experience, emphasizing that the first trip to the African continent made him change his mind significantly about the opportunities offered by cooperation with Africa. Russia is trying hard to improve its commercial relations with its African partners. In 2009, it established the Coordinating Committee for Economic Cooperation with sub-Saharan Africa to assist in promoting Russian business interests in Africa.
Senator Igor Morozov, Chairman of the Coordinating Committee for Economic Cooperation with African Countries, called for increasing the pace and level of cooperation with African countries through, as he put it, "bringing small and medium-sized businesses to Africa."
According to him, Russia is far behind in its activity on the African continent from such countries as the United States, Britain, China, France and even India and Turkey. These countries are developing a network of technology parks, working in the continental free trade zone, participating in the development of the infrastructure of African countries, the construction of roads, bridges and railways.
Senator Morozov noted that "Russian business does not have the tools to enter Africa ​​and, above all, in the field of the banking system. No other banks give guarantees to Russian business. According to him, African countries are interested in the supply of agricultural machinery, and in this sense, the Kirov Plant in St. Petersburg may have good opportunities. And in this sense, we should take an example from our Belarusian friends."
That was not the first time analyzing the development of business and trade elations with Africa. The African market is competitive and complex, therefore Russian business needs to work thoroughly and systematically in it in order to achieve success. It is necessary to help interested businesses willing to navigate African realities, find a niche for their work, learn about the conditions for entering certain markets.
According to Morozov, there is really the need for a specialized investment fund to support entrepreneurs. In general, with the prospect of working with African partners for many years, more serious state support is needed, and finally suggested that it is necessary to return to barter trade and concessions, which will make it possible to obtain minerals from Africa.
"We need to develop our international payment instruments – sanctions are already being imposed against the Mir system," he said. A great deal of hope is being placed on the working group for developing new mechanisms in currency regulation and international settlements led by Kremlin aide Maxim Oreshkin, "which is supposed to work out these mechanisms soon," Morozov said.
"We need to see how we will work within the framework of national currencies" and use them for settlements with African countries, he said. "We need to work in this direction, understanding that SWIFT will never again be [the main system for interbank payments] for us," Morozov, who also serves on the Federation Council's Economic Policy Committee, said.
Talks on options for settlements between Russia and African countries in the current economic circumstances are already being held, but "we shouldn't get ahead of events. African central banks are already beginning to come [to Russia]. Everyone understands that we are leaders in grain exports, leaders in sunflower oil, mineral fertilizers, and it is necessary to settle up," Morozov.
Other options for settlements could be barter and concessions. The outlook for cooperation and possible Russian projects in Africa, Morozov said Russia can offer its competencies in hydropower, electric passenger transport, automobile manufacturing, farm machinery and pharmaceuticals. Afrocom operates with the support of the Russian Chamber of Commerce and Industry, the Federation Council and government institutions, according to the committee's website.
Associate Professor Ksenia Tabarintseva-Romanova, Ural Federal University, Department of International Relations, acknowledges huge existing challenges and perhaps difficult conditions in the current economic cooperation between Africa and Russia. Creating African Continental Free Trade Area (AfCFTA) is the most important modern tool for the economic development of Africa, and this is unique for exploring the market and to get acquainted with the opportunities that it offers for business cooperation.
She, however, maintains that successful implementation requires a sufficiently high level of economic development of the participating countries, logistical accessibility, developed industry with the prospect of introducing new technologies. This means that in order for African Continental Free Trade Area to effectively fulfill its tasks, it is necessary to enlist the provision of sustainable investment flows from outside. These investments should be directed towards the construction of industrial plants and transport corridors.
Speaking earlier in an interview discussion, Tabarintseva-Romanova pointed to the fact that Russia already has vast experience with the African continent, which now makes it possible to make investments as efficiently as possible, both for the Russian Federation and for African countries. In addition, potential African investors and exporters could also explore business collaboration and partnerships in Russia.
Local Russian media, Rossiyskaya Gazeta also published an interview with Professor Irina Abramova, Director of the Institute of African Studies under the Russian Academy of Sciences, focusing on the economic cooperation with Africa. In this interview, Abramova reiterated explicitly that Russians have to do away with negative perceptions and attitudes toward Africa. The change in attitudes has to reflect in all aspects of the relationship with Africa and Africans.
"In Russians' minds, Africa is synonymous with backwardness, poverty and hunger, which is not true at all. It is currently one of the most promising regions for foreign investment. In fact, it is a tiger ready to pounce. Africa today is in the same situation that China was in the 1990s. Today, China is the world's number-one economy in purchasing capacity, a strong power which largely determines global development," she explained.
"Africa is the zone where all big players overlap since its geographic location between the east and the west puts it at the peak of controversy and big game between all players, meaning between Europe and America, on the one hand, and China, India and other countries, on the other. And if Russia poses as a superpower it will lose its global influence without indicating its position in Africa as well," she said.
According to her, seven African countries specifically Egypt, Algeria, Morocco, South Africa, Tunisia, Nigeria and Sudan, account for nearly 90% of Russia's trade. "At the same time, China is present in almost all African countries. Millions of Chinese work in Africa today. It is a good moment for Russia now, because Western partners are trying to impose their values on the Africans, while China is dealing with its challenges at the expense of Africa," the expert stressed.
The middle class is expanding very fast there, already amounting to 250-300 million people and this constitute a huge consumer market for products and services, according to her estimation.
Professor Abramova noted that it is a very good market for Russian products. The Chinese understood that long ago and are tapping the African market, having flooded it with their products, though Russia also has opportunities as it is fairly competitive in the energy, infrastructure and agriculture sectors, and exporting products such as fertilizers, trucks and aircraft supplies.
The fact that many prominent politicians and businessmen of the African continent graduated from Russian universities and speak Russian well contributes to strengthening of Russian-African relationship, the expert said, adding though that a new generation is about to take over in Africa, which is also reason why Moscow should maintain the existing solid social and cultural ties.
Senator Igor Morozov and Professor Irina Abramova are both members of the Kremlin's Committee assigned the responsibility for coordinating and preparations for the next Russia-Africa summit in July 2023. Both Russia and Africa had problems finding a suitable African venue for the summit. The joint declaration adopted in Sochi says the summit be held every three years and the venue alternated between Russia and Africa.
Sampson Uwem-Edimo, President of the Nigerian Business Council and General Director of Trailtrans Logistic LLC, delivered a report "Nigeria as a Window to Africa" and further stressed that Russia does not have a common strategy on how to enter African markets, which exists, say, in China or France.
By removing barriers to trade in the region will create new entrepreneurial activities and spur innovations in technology. Now the African Continental Free Trade Area (AfCFTA) seeks to create better conditions for investment. On the other hand, Russian corporate directors most often have problems with their business in Africa. The key obstacles ranging from their inconsistencies in approach, poor knowledge of the local political and business environment. Russians must also invest more in R&D collaborations with their African partners.
According to him, while Russians hope for brisk business, many African business leaders today are still Western mind-oriented, have various support from the United States and Europe. But the practical reality, Russia could still steadily transfer technologies for local processing of raw materials as a catalyst for Africa's development.
Uwem-Edimo noted that such former colonial powers as France and Great Britain, although they left their colonies, keep control panels in their capitals. The Nigerian businessman, who spoke in Russian, introduced the conference participants to the opportunities and vast potential of the African continent, focusing on Nigeria, which makes up 18 percent of the continent's population – 240 million people.
President of the St. Petersburg Chamber of Commerce and Industry, Vladimir Katenev, also addressed the conference participants with a greeting. The moderator was Ekaterina Lebedeva, Vice-President of the St. Petersburg Chamber of Commerce and Industry Union, who called on representatives of the business community, in spite of the emerging challenges, to consistently work towards prioritizing Africa.
China-ASEAN Comprehensive Strategic Partnership: A Shared Future for Pursuing Regional Economy Integration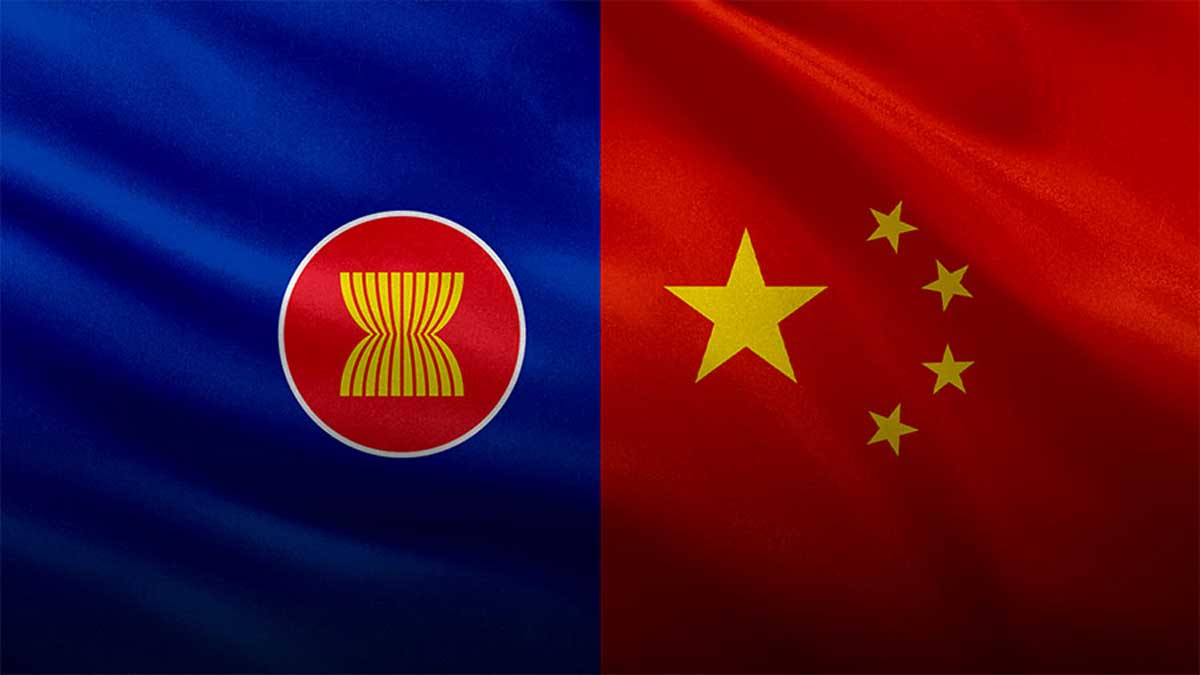 For ASEAN, China is a neighboring country as well as a strategic partner in various fields, especially in the economic field. China has become the largest ASEAN trading partner for 13 consecutive years since 2009 (Global Times, 2022).
A survey conducted by the ISEAS-Yusof Ishak Institute to more than 1,600 ASEAN citizens said that 76.7% of them chose China as the most influential economic power in ASEAN (Heijmans, 2022). China has also grown to become an economic giant in the Asian region and is predicted to surpass the US as the world's strongest economy by 2030 (Jennings, 2022).
This mutual relationship between China and ASEAN is getting stronger after the agreement of the Comprehensive Strategic Partnership (CSP). In the economic aspect, the implementation of the CSP is carried out in line with the Belt Road Initiative (BRI) and the Regional Comprehensive Economic Partnership (RCEP) project. Both projects are grand plans that have been prepared for economic integration and encouraging a more inclusive trade between two parties.
On the other hand, ASEAN also has a similar agenda in the region, which is to build an economic community that regulates trade as well as delivers economic benefit to its members. The common vision between China and ASEAN certainly smoothes the process of this cooperation. Then, how can China and ASEAN achieve their common goals? Are there any obstacles and challenges that they will face in implementing this CSP?
China-ASEAN: Sharing The Same Economic Vision
In pushing its foreign policy agenda, China has made visits to various neighboring countries in recent years. Rather than building an image as an economic great power, China focuses more on a friendly approach by promoting "a community with a shared future" to its neighbors (Wei, 2022). As a close neighbor and strategic partner, ASEAN become the one whom China wants to share the future with.
For ASEAN, BRI and RCEP itself have an aligned purpose with the establishment of the ASEAN Economic Community (AEC). AEC aims to promote a single market and product base, a highly competitive region, with equitable economic development (ASEAN, 2020a). Through AEC, ASEAN also commits to a freer flow of goods and services, and eases the distribution of skilled labor and the flow of capital in the region (Asian Development Bank Institute, 2015).
ASEAN's ambition to build an integrated regional economy sounds promising. However, building an integrated economy ecosystem doesn't only require geographical proximity, but also an adequate infrastructure (Donghyun et al., 2008).
Even though Southeast Asia is rich in resources and manufacturing, some areas still suffer from infrastructure lack and slow industrial development. Several ASEAN countries still have poor transportation infrastructures. In fact, transportation is a key factor in fastening economic distribution.
At this point, China came up with a BRI project plan which mainly prioritized large investments in transportation infrastructure (Donghyun et al., 2008). This long-term project has ample potential to provide infrastructure and other development facilities, hence promoting the growth in the region (Iqbal et al., 2019).
The CSP also regulates the Regional Comprehensive Economic Partnership (RCEP) agreement that aims to broaden and deepen free trade activity between ASEAN-China, Japan, Korea, New Zealand, and Australia ("RCEP: Overview and Economic Impact," 2020). The RCEP later marks the birth of the world's largest FTA which surely opens up wider trade and market access for ASEAN.
The RCEP will also help both China and ASEAN forge mutually beneficial industrial chain and supply chain partnerships, also to shape more inclusive trade cooperation in the future (Bo & Jing, n.d.). This opportunity is expected to be an open door for ASEAN integration with global trade, which is also the initial mission of AEC. Also can attract other countries to plant their foreign investment in ASEAN countries (ASEAN, 2020b).
For China, BRI and RCEP are essential to strengthen China's position in the region. China is contriving to build "literal and metaphorical" bridges as a connector and a highway to greater influence in global politics and economy (Lockhart, 2020).
Overcoming Challenge
Both China and ASEAN share great economic interests in the CSP agreement. This makes both parties find a smooth path in the negotiation and agreement process. However, in the implementation process, ASEAN and China need to be more serious and committed.
ASEAN is currently in the process of compiling the ASEAN Economic Community (AEC) Blueprint 2025. The mid-term review criticized the uneven implementation of the AEC blueprint, with "easier" initiatives prioritized over challenging commitments. Both policy-making processes at national levels and practice need to be in line in order to reach common goals (Chen & Jye, 2022).
The Covid-19 pandemic becomes another obstacle to realizing economic integration in the region. The pandemic hits ASEAN quite heavily, where currently the members are still concerned about restoring the stability of the domestic economy. The cooperation with China is used well by ASEAN countries at the national level, such as the proposal submission for building several economic infrastructures by Indonesia, encouraging digital development in Thailand, signing economic bilateral relations with Vietnam, etc. Yet for the regional purpose, it still needs to be maximized.
The CSP begins a higher level of relationship, as reflected in the deeper cooperation, shared normative frameworks and institutionalized cooperative mechanisms, and high-level political commitment and priority from China and ASEAN (Ha, 2022). It will be less than optimal if ASEAN only sees CSP as a bridge to strengthen bilateral relations with China. ASEAN needs to view CSP as a strategic relationship for an ideal future of regional economic integration.
For optimizing the common goals for both, mutual political trust is the basis and safeguard (Bu, 2015). CSP does not happen overnight, building connectivity and an integrated ecosystem is a large-scale and long-term project. In order to reap the rewards of this investment and agreement, active dialogue, healthy relations, and stable growth of the upbringing of China-ASEAN relations must be strived by both parties.