The Post-War Order is Over -And not because Trump wrecked it
The 75-year-old post-war order crafted by the United States after World War II is falling apart. Almost every major foreign-policy initiative of the last 16 years seems to have gone haywire.
Donald Trump's presidency was a reflection, not a catalyst, of the demise of the foreign-policy status quo. Much of the world now already operates on premises that have little to do with official post-war institutions, customs, and traditions, which, however once successful, belong now to a bygone age.
Take the idea of a Western Turkey, "linchpin of NATO southeastern flank" — an idea about as enduring as the "indomitable" French Army of 1939. For over a decade Turkish strongman Recep Tayyip Erdogan has insidiously destroyed Turkey's once pro-Western and largely secular traditions; he could not have done so without at least  majority popular support.
Empirically speaking, neo-Ottoman Turkey is a NATO ally in name only. By any standard of behavior — Ankara just withdrew its ambassador from the U.S. — Turkey is a de facto enemy of the United States. It supports radical Islamic movements, is increasingly hostile to U.S. allies such as Greece, the Kurds, and Israel, and opposes almost every foreign-policy initiative that Washington has adopted over the last decade. At some point, some child is going to scream that the emperor has no clothes: Just because Turkey says it is a NATO ally does not mean that it is, much less that it will be one in the future.
Instead, Turkey is analogous to Pakistan, a country whose occasional usefulness to the U.S. does not suggest that it is either an ally or even usually friendly.
There is nothing much left of the old canard that only by appeasing China's mercantilism can there be a new affluent Chinese middle class that will then inevitably adopt democracy and then will partner with the West and become a model global nation. China is by design a chronic international trade cheater. Trade violations have been its road to affluence. And it seeks to use its cash as leverage to re-create something like the old imperial Japanese Greater East Asia co-prosperity sphere. U.S. trade appeasement of Beijing over the last decades no more brought stability to Asia than did nodding to Tokyo in the 1930s.
Trere is also nothing sacred about the European Union. It certainly is not the blueprint for any continental-wide democratic civilization — any more than Bonaparte's rigged "continental system" (to which the EU is on occasion strangely and favorably compared to by its proponents). The often-crude imposition of a democratic socialism, pacifism, and multiculturalism, under the auspices of anti-democratic elites, from the Atlantic to the Russian border, is spreading, not curbing, chaos. The EU utopian mindset has altered European demography, immigration policy, energy production, and defense. The result is that there are already four sorts of antithetical EUs: a renegade and departing United Kingdom, an estranged Eastern European bloc worried over open borders, an insolvent South bitter over front-line illegal immigration and fiscal austerity, and the old core of Western Europe (a euphemism now for German hegemony).
After all, as Anis Bajrektarevic claims in his 'Europe of Sarajevo 100 years later' – there is no one, but 5Europes: "… Atlantic Europe is a political powerhouse, Central Europe is an economic powerhouse, Russophone Europe is an energy powerhouse, Scandinavian Europe is all of that a bit, and Eastern Europe is none of it." Professor concludes: "'America did not change on September 11. It only became more itself' – Robert Kagan famously claimed. Paraphrasing it, we may say: From 9/11 (09th November 1989 in Berlin) and shortly after, followed by the genocidal wars all over Yugoslavia, up to the Euro-zone drama, MENA destructions or ongoing Ukrainian crisis, Europe didn't change. It only became more itself – a conglomerate of five different Europes."
As for Germany, it is no longer the "new" model West Germany of the post-war order, but a familiar old Germany that now pushes around its neighbors on matters of illegal immigration, financial bailouts, Brexit, Russian energy, and NATO contributions, much as it used to seek to expand Prussia and the Sudetenland. German unification now channels more the spirit of 1871 than of 1989. Call the new German attitude "Prussian postmodernism" — a sort of green and politically correct intimidation. Likewise, in terms of the treatment of German Jews, Germany seems more back in the pre-war than in the post-war world.
As far as the U.S., Germany has redefined its post-war relationship with the America on something like the following three assumptions: 1) Germany' right to renege on its promise to spend 2 percent of its GDP on defense in order to meet its NATO promises is not negotiable; 2) its annual $65 billion surplus with the U.S. is not negotiable; 3) its world-record-busting account surplus of $280 billion is not negotiable. Corollaries to the above assumptions are Germany's insistence that NATO in its traditional form is immutable and that the present "free" trade system is inviolable.
Soon, some naïf is going to reexamine German–American relations and exclaim "there is no there."
The post-war energy norm ended about ten years ago. The U.S. by next year will be the world's largest producer of natural gas, oil, and coal — at a time of real progress in all types of hybrid engines. Israel does not need the Middle East's — or anyone else's — oil or natural gas. The Persian Gulf is now mostly a strategic concern of Iran and its archrival Gulf monarchies selling their oil to China and Europe, neither of which so far has the naval power to protect the precarious fonts of its energy interests.
The Palestinian issue of the last 75 years is ossified. If the millions of persons displaced in Europe and the Middle East between 1946 and 1950 — at about the same time as Palestinians left present-day Israel —were not considered "refugees" for decades, then Palestinians can hardly be singular sufferers. Perpetual victimhood is not a basis for a national agenda, much less a blank check for endless, virtue-signaling Western aid. Moving the U.S. embassy to Jerusalem was simply an iconic recognition of what has been true for nearly a decade.
The West Bank's rich Arab patrons now fear Iran more than they do Israel. The next Middle East war will be between Israel and Iran, not the Palestinians and their Arab sponsors and Tel Aviv — and the Sunni Arab world will be rooting for Israel to defeat Islamic Iran.
Even nuclear proliferation no longer quite follows the post-war boilerplate of the anxious West clamoring for non-proliferation, rogue regimes getting nukes with a wink and nod of either the Chinese or Russians, and then the world assuming "once a nuclear nation, always a nuclear nation."
Instead, if there is a next round of proliferation, it will likely be among democratic nations — Japan, South Korea, Taiwan, Egypt, and Saudi Arabia — to counter the failure of Western nations, the U.N., and international associations to stop proliferation by the unhinged. They will seek deterrence against regimes that were nuclearized and supported by Russia and China in the past. Likewise, it is not written in stone that North Korea or Iran will always have nuclear weapons, given their isolated economies' vulnerability to sanctions and blockades, their international unpopularity, and the costs that will be imposed upon their stealthy patrons.
Finally, we're seeing the end of the old truism that the U.S. was either psychologically or economically so strong that it could easily take on the burdens of global leadership — taking trade hits for newly ascendant capitalist nations that ignored trade rules, subsidizing the Continental defense of an affluent Europe, rubber-stamping international institutions on the premise that they adhered to Western liberalism and tolerance, and opening its borders either to assuage guilt or to recalibrate a supposedly culpable demography.
Historic forces have made post-war thinking obsolete and thereby left many reactionary "experts" wedded to the past and in denial about the often-dangerous reality before their eyes. Worse is the autopilot railing for the nth time that Donald Trump threatens the post-war order, undermines NATO, is clueless about the EU, or ignores the sophisticated institutions that hold the world together.
About the only metaphor that works is that Trump threw a pebble at a global glass house. But that is not a morality tale about the power of pebbles, but rather about the easy shattering of cracked glass.
An early version published by the National Review
The Butina Case: The Americans Send a Signal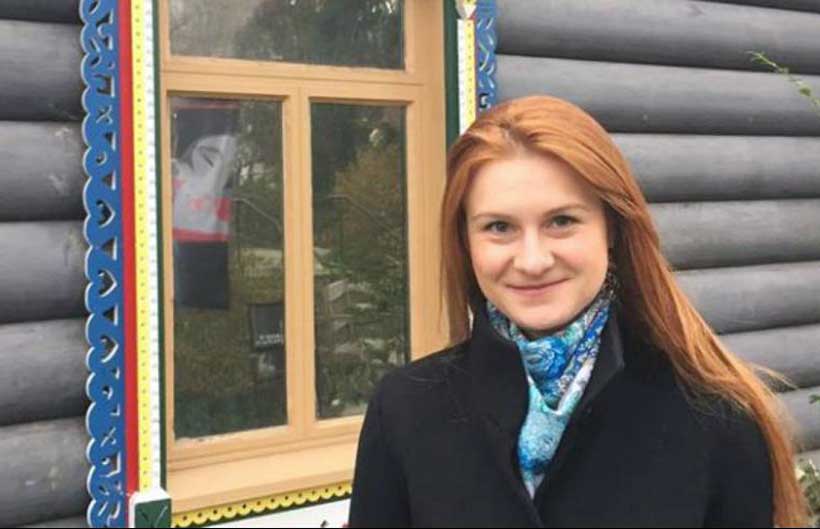 The arrest of Russian national Maria Butina in Washington is a significant blow for Russia–U.S. relations. It goes well beyond official diplomacy. The Americans are sending a signal to Russia that any Russian citizen dealing with the United States may very well end up behind bars, that their email and social media posts may be used against them, and that they should be quiet, avoid meetings and basically sit tight. Especially when gentlemen from the upper echelons are having an argument.
For both countries, this latest development is worse than the most severe political crises. After all, the fabric of relations in the ultra-mobile and transparent world of today is woven at the grassroots level and goes way beyond official diplomacy. This has been the spirit of Russia–U.S. relations for the past 25 years. On both sides, scientists, celebrities, businesspeople, students and public figures have communicated quite freely with government officials and members of political parties and movements. It was a useful, honest and interesting dialogue that allowed everyone to better understand and get to know each other, to go beyond stereotypes, propaganda, myths, clichés and, at times, outright lies. The dialogue itself may not have involved a great number of people, but it was a living process that gave people the opportunity to discuss common problems openly and in a creative manner. Diplomats can hardly afford such a luxury. This is why the activities of the expert and civilian track have been a vital boost for the official diplomatic courses pursued by both Russia and the United States.
The arrest of Maria Butina is a huge step backwards. It razes to the ground Russia–U.S. relations, killing off any good soil limiting them to clichéd official narrative. The American initiative is sure to be echoed in Russia, and with great pleasure. The groundwork is already done. This will probably facilitate the job for the intelligence services, making it easier to keep an eye on the officials. Everything is clear and understandable. But this further exacerbates relations between the two countries, which were already at their lowest ebb. The enthusiastic few who are still trying to do something for the Russia–U.S. dialogue, those who have become black sheep against the background of the throngs of Russophobes and Americaphobes or who are simply indifferent on both sides of the ocean, and those who need to be supported and kept by any means can easily end up behind bars to scare the rest.
It is quite easy to do this. They are exposed and vulnerable. And it is easy to carve out a career on the back of them. It is funny that the official document accusing Maria Butina of espionage contains excerpts from emails. I find it hard to believe that a special agent would coordinate actions with his or her "handler" in a non-encrypted format, testify voluntarily before Congress, offer to testify before the Special Counsel Investigation (headed by Robert Mueller's team) and fail to hide their gadgets. These are the kind of "special agents" that the terrible and bloody Russian regime recruits!
From a formal standpoint, there is certain logic to the methods used by the American investigator. U.S. legislation contains provisions on lobbying activities which need to be observed just like any other law. It is high time that Russians formalized their activities in the United States, made them more professional and put them on a clear and formal track. Americans in Russia should do the same. Deviations from these norms are possible, but they do not require excessive repression. It is enough to explain the "rules of the game" to people, rather than drag them to prison. Especially if there is no malicious intent in their activities.
The issue of malicious intent is key to the case of Maria Butina. The investigator claims that Maria's activities were directed against the United States, although this is not clear from the messages that have been submitted as evidence. The investigator's arguments boil down to his extensive experience and a deep understanding of the case. And, of course, to the fact that Russia is an enemy of the United States and a threat to the national security. This means that any contact with officials is nothing short of evil. The media has happily jumped on the bandwagon, hyping against the backdrop of the meeting between Putin and Trump. Serious damage has been caused to Maria Butina's reputation as a result. The least she can do is file a counterclaim. The final decision must be made by a U.S. court which at least appears to maintain a modicum of independence and impartiality.
First published in our partner RIAC
The 'Reverse Nixon' and New Nero: Where to Focus After the Trump-Putin Summit
It would be too easy to simply jump on all of the stereotypical bandwagoning going on across most of the world's media (especially the American) coming out of the Trump-Putin summit that took place this week briefly in Helsinki. It was most certainly NOT a bravura performance by the American president, but honestly that really is low-hanging fruit to focus any commentary on. Instead, let us consider some more subtle but nevertheless crucially important takeaways as we move on from Helsinki and are still left to consider what's next for the incredibly poor Russian-American relationship.
1.Trump has unfortunately become the 'reverse Nixon'
While most millennials may not recall or understand the importance of this historical reference, it bears repeating: Nixon, as Vice-President to Eisenhower, was an adamant opponent of establishing relations with China. Flash forward 15 years or so to his own presidency and suddenly Nixon himself was going over to China and opening up a new world of diplomatic contact and relations. "Only Nixon could go to China" was the refrain, meaning it was exactly because of his historical animosity toward the country that the American people would trust him making new maneuvers toward China. With Trump, alas, it is the exact reverse: even if he had an important policy innovation or sound diplomatic strategy for creating new relations with Russia, it wouldn't matter. If only Nixon could go to China, then today literally ANYONE can go to Russia except Trump.
2.The 'Putin smirk' lives!!!!
Putin has a long-established and well-deserved reputation for teasing and even somewhat bullying/lecturing Western media, especially when American/British journalists think they have damning information or uncomfortable questions for him. There are few world leaders today who relish the opportunity to go toe-to-toe with foreign journalists as much as Putin. This is simply unquestionable fact. He also loves having the upper hand or at least giving the impression that he does on the world stage. Make no mistake: while he has steadfastly denied any direct Russian meddling in the American elections of 2016, he has absolutely LOVED every single minute of hand-wringing and treason-talking that has taken place in America because of the possibility. The Helsinki Summit proved this beyond measure. It is quite possible this was one of the quietest summit performances ever given by Putin. The reason for it was embarrassingly simple: all he really needed to do was sit there and look bemused 80% of the time while Trump mangled his own native English language trying to do verbal acrobatics around awkward questions about election interference. If Putin is famous for his 'I know something you don't know' smirk, then the Helsinki Summit gave us all one of the most permanent exhibitions of said trademark in recent memory.
3.The regression of President Trump's relationship with his own Intelligence Community will continue
Trump's uncomfortable declaration that Putin gave him a very strong and powerful denial of election meddling (and therefore that should be good enough for all present to believe) had one very significant but little identified post-summit domestic consequence: it was yet another example of the Commander-in-Chief basically throwing his own Intelligence Community and the analysis of all 17 of its member agencies under the bus in favor of a foreign leader's opinion who had every reason to not tell the truth. Trump's relationship with the IC has been complicated even before his presidency began but has only become more antagonistic and unfriendly in his first year in the Oval Office. The Helsinki Summit did nothing to repair that relationship or even give anyone reason to search for a kernel of hope that a new more positive foundation could be established. If the IC in general felt the President of the United States was not in its corner before the summit, then it had no doubt of that impression walking away from it.
4.The summit only deepened Trump's political Catch-22
Most media and pundit circles in America are flabbergasted by Trump's refusal to believe the obvious when it concerns an attempt by Russian intelligence to hack/influence the 2016 election. But for Trump it is not so simple as admitting to the obvious: he clearly has made his own mental connection whereby admitting that Russia meddled leads to a semi-confession that he may not have legitimately won the election. Many Americans, if not most, on the liberal side also want to believe in this connection. Unfortunately, that connection is most likely NOT true. It is entirely plausible (even likely) that Russia to some degree attempted to meddle in the election AND Trump legitimately won the electoral college that gave him the presidency. Current American media seem to be treating the two as if they cannot be mutually exclusive when in all likelihood they are just that: Russia meddled; Trump won the electoral college. If we could get into a time machine, go back in time, and zap Russia with a special 'removal of meddling' laser beam it would not mean we would be analyzing the foreign policy of President Hillary Clinton today. It would most likely still be President Trump's foreign policy. But Trump, despite his constant lamentations of so-called fake news and trying to make all mainstream media appear like sycophants of the Democratic Party, has clearly given in to the overall media impression that the admission of one sin (Russian meddling) results in the confession of another (he did not legitimately win the presidency). Consequently, stuck in this Catch-22, he continues to side with the ridiculous statement of 'not having enough facts' to know what really happened and it seems like it should be ok for him to just believe Putin at his word.
5.Is Putin the new Nero?
Remember the old adage, "Nero fiddled while Rome burned?" After the Helsinki Summit it seems at least plausible to ask if Putin is the new Nero, fiddling away happily oblivious while the American media burns. If the original point of Russian election meddling was not to actually sway the results of the election (no one in the Russian Intelligence Community really believes they could engineer that much power over the American electorate) but to just cause general chaos, havoc, and discontent within American society, then it is hard to imagine a more successful disinformation intelligence campaign than this one. American media is in a tizzy and the louder the cacophony of discontent rings after the Helsinki Summit, the crazier social media becomes in the never-ending battle between liberals and conservatives over what to do about it. Facebook alone has blown up since the Helsinki meeting with memes about treason, only to be countered by photographs of prominent Democratic congressmen/women smiling and laughing happily in the past during their own meetings with Putin. The discord and disconnect only grows. The anger and counter-anger only gets more intense and indignant. And all the while, in a lush suite of opulence deep inside the Kremlin, Vladimir Vladimirovich sits at his desk, smirking, fiddle in hand.
Shooting the Messenger: Corruption and Peace
It is the most natural of behaviors for the guilty to lay the blame elsewhere and to make the most noise.  The Democratic Party leadership did the meddling — not the Russians — when it conspired with Hillary Clinton to deny Bernie Sanders the Democratic nomination.  Thus Hillary was an illegitimate candidate to begin with.
Then there was the question of emails.  Hillary refused to use the secure State Department server preferring a personal one.  Why?  Because she would then be selective in the emails that became public record.  And an accurate historic picture of her tenure as Secretary of State is debatable if 33,000 emails were not surrendered.  She said these were personal and not work related but the FBI later recovered about 17,000 and many of these were work related  (para 7 from end of ABC report).
How did the Clintons become so rich?  First, if you give commercial banks a license to gamble with depositors' money, they ought to be grateful.  Speaking fees are one answer, and heaven knows what else.  That gambling can also lead to ruin proved true.  Bankrupted, the banks sought help, and were rescued through the public purse.  Turning losses public while bonuses and profits remained private emerged as a new capitalism for the very rich.  The banks crooked schemes included certain risky mortgage-backed securities sold as safe that caused huge state pension funds losses, destroying state finances in some cases.  People in those states are still suffering.  Any surprise then if Donald Trump's pejorative "crooked Hillary" resonates to this day.
Second, during Hillary Clinton's tenure as Secretary of State, there was talk of her either using the position, or of the position itself leading to favor seekers donating to the Clinton Foundation.  During the 2016 election campaign, Trump said Hillary Clinton received tens of millions by countries that 'treat women horribly … and countries that kill gays'.  Politifact says the claim is half-true.  He also asked that she return the $25 million Saudi Arabia gave to the foundation.
The Democrats continue to blame the Russians for the election loss despite their own meddling — nothing like shooting the messenger — and other issues like emails erupting just before the election.  Hence the uproar over the Helsinki summit.  Add the Ukraine and Crimea issue and assorted lobbies, and soon Republicans joined in.  But anger and hysteria are their own catharsis, and after Trump had been accused of treason and called a traitor, there was little else except to cool off.
When Trump placed the blame for poor relations with  Russia on 'many years of US foolishness and stupidity,' he was being mild.  Others might have said worse.  Look at the record.  Years of recruiting Eastern bloc countries into NATO after promising not to; after all, Russia accepted peace and disbanded the Warsaw Pact.  Then the blatant interference in Ukraine, toppling an elected government and dismembering the country leaving a trail of blood.
The fact is, one either supports peace or one does not.  In the US unfortunately, there are plenty of supporters for war.  Otherwise, why would we get Libya, Somalia, Yemen, Iraq, Syria, Afghanistan (17 years and continuing), etc., etc., etc.  And the Nobel Peace Laureate Barack Obama delivering the 2018 Nelson Mandela Annual Lecture.  A supreme irony because the old man himself refused to meet Obama after what he had done to his friend Gaddafi.  One has to be reminded, Gaddafi provide financial support to the ANC independence movement when no one else cared or dared.  At the time in the West, Mandela was a terrorist.  Gaddafi also helped the IRA.  And what do we have in Libya now?  A descent from a secular country supporting women's rights and leading Africa in the Human Development Index to a disaster spawning fundamentalist extremists as far south as Nigeria.  How soon the world forgets?
One may criticize Trump for much of his agenda — and I do often enough — but he has kept us mostly out of war.  With Hillary the Hawk, we would have been mired in Syria up to our necks, in serious danger of a major conflagration with Russia.
Let's support peace irrespective of who nurtures that gentle dove.