Sino-US relations, Trade, and Values
A long time ago, Grecian Aesop told such a story, saying, "One winter, a farmer found a snake being frozen to half death. Out of compassion, he took it up and placed it in his bosom to warm it back to life. The snake revived soon, but when it had enough force, out of natural instinct, it gave the kind benefactor a deadly bite. Lastly, the farmer said to those standing around when he was dying, 'Not take pity on a villain.'"
The story of Sino-US relations since 1989 is fairly like this one.
In 1989, the Chinese government, to crack down on its people's democratic movement, massacred barbarously thousands of its citizens in Tiananmen Square. But following this, the US administration stretched out its gracious hands to it to invite China, a country viewed at that time by it as a backwater, to join the international economic system to help it develop and thrive. Later on, in 2001, China entered the World Trade Organization(WTO), an international economic institution which has been still most important for development to date.
Today, China has been the world's second largest economy and has had the world's second biggest military expenditure, but more importantly, it is tenacious to challenge the international order headed by the US and more relentlessly suppress the huma values universally recognized by the international community of freedom and democracy. In addition, it doesn't conceal its intention to occupy the center of the world stage instead of the US either.
To achieve the aim, not only did China set up an it-led multilateral financial institution, the Asian Infrastructure Investment Bank (AIIB), but it designed and carried out an ambitious project, the One Belt, One Road (OBOD) venture, to interlink economic activities throughout Eurasia and the Pacific to gain more political and economic influence.
Moreover, China doesn't forget using its economic clout to lift its soft power overseas. By Hanban, an affiliate of China's Education Department, China has set up over 500 Confucius Institutes in more than 130 countries all over the globe. At once, it also launched an international $6.6 billion media expansion campaign, which includes creating a monstrous media outlet called Voice of China, to tell China stories overseas, propagate China's ideas, and boost China's image.
China doesn't likewise forget exerting its economic clout to bow foreign companies and academic institutions to its will. Last year, it demanded Cambridge University Press to pull out from China Quarterly more than 300 articles and book reviews seen as sensitive by it. This year, it ordered more than 30 international airlines, including some US carriers, to delete any information from their websites that could suggest that Taiwan, Hong Kong or Macau are not part of China. At once, China also employs its economic clout to put up its first overseas military base in Djibouti and has started using the base to goad, even injure US troops near the base.
All these events seem unlike some separate ones but more like part of a great national strategy, especially when associated with large-scale military exercises recently conducting by Chinese troops in the Taiwan Strait and the South China Sea and the eventful fact that the Chinese government has removed presidential term limits from its constitution for its sitting president Xi Jinping to become an actual dictator.
In history, an autocrat was usually both ambitious and a nuisance of war, for instance Alexander the Great, Gaius Julius Caesar, Genghis Khan, Napoleone Buonaparte, Adolf Hitler, Mao Zedong, Deng Xiaoping and so on. For his part, Xi isn't short on ambition: his China dream to rejuvenate the Chinese nation is just a good proof. For Xi, what Xi lacks or needs is a momentous achievement to prove himself to be on a par with his two predecessors Mao and Deng.
Unlike his another two antecessors, Jiang Zemin and Hu Jintao, the two ones had both marvelous martial accomplishments and aspirations for changing the country's history. Mao was both one of the founders of the Chinese Communist Party(CCP) and the Chinese People's Liberation Army(CPLA) and the founder of the People's Republic of China(PRC). Deng was first one of the prime acolytes of Mao and then as the supreme leader of the country, he designed China's economic reform and opening-up policy and firmly supervised its execution.
Jiang and Hu had no military backgrounds and compared with the former two, as presidents, they both were not only mediocre but feeble, yet it was under their rule that the country went through its present-day history's best and longest economic growth and also it was during Hu's presidency that the country came to become the world's second largest economy, which has hold the title since that time the whole way until today. Besides, Jiang also finished another historical task, namely recovering China's control of Hong Kong and Macao. The two regions had been the UK's and Portugal's colony before respectively.
Thus, if Xi is keen to surpass Jiang and Hu to fall into the dictatorial ranks of Mao and Deng, he needs to solve the following two issues:
(1) leading China to the position of the world's largest economy or most powerful country;
(2) bringing Taiwan back to China's reins.
This is the only two both feasible and glorious things his ancestors left him to resolve, but both them involves the US and their settlement seems to be not so easy.
Now, the US is the world's biggest economy and strongest country. Moreover, it is also China's largest trading partner and largest export market and still has a law which can be invoked to aid Taiwan in emergency, the Taiwan Relations Act and especially significant, the US has come to wake up to and is starting seriously reacting to threats from China.
At present, the president of the US, Trump both designates China in his national security strategy (NSS) as the US's key strategic rival power, a revisionist country and also signs off the Taiwan Travel Act to enhance relations between the US and Taiwan governments, but more importantly, he is fulfilling a series of hardline trade policies on China: his administration has proposed to impose $150billion in tariffs on Chinese imports to avenge its unfair trade behaviors and lower its as much as over $300 billion trade deficit with China. Furthermore, it also banned US companies from selling high-tech products to a Chinese telecom equipment maker named ZTE for seven years because it had continued violation of US sanctions against Iran and North Korea. This will surely make the firm, which is now China's second biggest telecom equipment manufacturer, grind to a halt because it can't buy the irreplaceable US microchips again it uses in its products, according to some technical reports.
Yet nevertheless the Trump government's objective isn't still containing China but stressing competition with it, as stated in its NSS. This isn't much different from the former Obama government's goal. Still and all, there is a big discrepancy between them: the Obama government's aim was stressing earning peace by diplomacy and dialogue, but the Trump government's end was emphasizing gaining it through strength. Such large transmutation in means or behavior will have sizeable meaning.
In Obama's times, the US government was picking up peace by non-violent means and sometimes even by unprincipled non-violent means. In 2012, Obama draw a red line, vowing that if the Syrian government used chemical weapons, the US would take military action in response. But a year later, when Syrian President Bashar Assad employed sarin gas to kill hundreds of his citizens, the Obama governement failed to follow his promise, instead letting Russia broker a deal for Assad to give up his chemical weapons.
Obama's naked betrayal and inaction gave the whole world a definite signal that the US wouldn't resolve international disputes or conflicts by military means. Afterwards, Russia annexed Crimea from Ukraine and a year after this, militarily intervened in Syria in Assad's favor. At once, China also sped up the reclamation and expansion of maritime land in the South China Sea. The Obama didn't take any action in response to these behaviors.
Moreover, in Obama's days, with his passivity, Iran's navy never stopped harassing US navy vessels in the Persian Gulf and even one time detained two US navy ships and the US sailors aboard them and then publicly humiliated them on television. In Obama's presidency, Iran never received any punishment for the behaviors, but when Trump entered the White House as successor of Obama, the situation came to change. The Trump government reacted by strong military action to chemical weapons reuse by the Syrian government and out of expectation, Iran's navy stopped badgering US warships, let alone demeaning.
For Obama, a particularly diabolical fact was that during his eight year presidency, the world just encountered an eight consecutive years of decline in democracy and freedom: Obama won peace by his extra appeasement and omission but let the values of democracy and freedom pay down.
No sign shows that Trump is steadfast adherent of these values. In fact, according to Freedom House, in his first year as US president, these values suffered further loss, with 71 countries having net decreases in political rights and civil liberties and only 35 registering gains. But still Trump manifests by his action that the authoritarian countries can be deterred effectively only by strength.
In the past 40 years, only two US presidents, Ronald Reagan and George W. Bush, had worked with such policy to win peace or promote democracy with strength. Ronald Reagan's hardline was the direct cause of the collapse of the Soviet Union and Communism and paved the path for Eastern Europe's succedent democratic revolutions while the direct result of George W. Bush's hardline was directly overthrowing by the US by force Iraq 's autocracy and Afghanistan's ultraconservative Taleban government and building up democracy in the two countries, abolishing authoritarianism. So, both the presidents boosted tremendously the development of the world's democracy and freedom by their hardlines.
In present Sino-US relations, Trump could also make history if he is determined to go on his hardline on China.
In present Sino-US relations, China's weakness lies in trade, in addition to education, science, and technology while the US's fragility sits only in trade. This is an outcome of the US's nearly 40 years of economic integration policy. This policy's aim was turning China into a liberal democracy by assimilating it into the international economic system led by the US. But now the two countries' economic relationships are so close that the fluctuation of either of them in economic activity will touch correspondingly another. In a Chinese word, in present Sino-US relations, if the US would like to start a trade war with China, then this is akin to that it kills 1000 enemies but itself loses 800 as well.
But nevertheless this isn't a reason why the US shouldn't kick off a trade war: there are three reasons why it needs to do so:
(1) running concession and tolerance would only further encourage China's unfair trade behavior and heighten its resolution to challenge the current international order;
(2) the US needs to redress its own unprincipled trade expansion demeanor;
(3) such a war would likely give China a chance to reshape itself and push it towards democracy and freedom.
US past immoral trade behavior is the root cause of present China's unfair trade behavior. While the US claimed that the idea of letting China enter the WTO was changing it into a liberal democracy, this couldn't hush up the two facts, namely
(1) using the event, it opened China's huge domestic market for its goods and services;
(2) the thing that China was allowed to joine the WTO was taking place after the its government put down bloodily the country's democratic movement in Tiananmen Square and happening at the time following this the government still kept on quashing the country's democratic movement but didn't fulfill any political reform towards democracy and freedom.
So, If the US government really believed that the values of democracy and freedom are the same important as trade, it wouldn't have initially admitted China into the establishment or at least it should have set up an international trade institution based on the values.
This is why Xi utilized a series of remarkably high-profile events to mark the 200th anniversary of Marx's birth of late, because Marx asserted over 100 years ago that the limitless greed of capitalism would bring disaster to itself. For Xi, the US's wrath at China's trade behavior is just the start of such a calamity and Xi also believes that it is the US's gluttony that renders China an opportunity to develop itself.
The US still should remember such a fact: it is it that helps kill China's democratic enthusiasm and cause by trade and then creates a monster for itself. At the same time, the US should also ask itself such a question: if it is willing to kneel under China's foots and lick its toes for more trade and prosperity.
For China, it is the US's inordinate pragmatism and mercantilism that terminate its hope for democracy and freedom. China itself has no free and democratic heritage; it needs to introduce thought of the values from overseas, especially the West, to build up a democratic tradition for itself, but such hope has broken up since after 1989. While the Chinese government's ruthless suppression is the main occasion of its breakdown, the US's rapidly growing business with China is also an inescapable important factor. Sino-US business has been simply about money and weath because the Chinese government strongly resisted political reform for democracy and freedom from the commencement.
Yet Sino-US trade flourishing makes the Chinese government able to gather more money for buying advanced equipment for repressing the democratic movement. Now, not only does the Chinese government have the world's most complex surveillance network, but also it has the world's most complicated firewall. Thus, as expected, present China is also the country having the world's least Internet freedom.
At the same time, Sino-US trade thriving and the rapid development of the Chinese economy also offer a heap of work opportunities for common Chinese. This makes them have more choices and chances for their living, but this also make them think that there is no need to go to risk pursuing a cause that looks beautiful but is destined to cost a very high price, even life. In their own words, dying with glory isn't better than living in humiliation.
This is why since after 1989, never has a democratic movement or revolution fallen in China, the territory, where the disappearance of the democratic movement is only because at here the will and fervour for democracy and freedom have been cut to the bone by trade and prosperity, surveillance and suffocation.
By comparison with this, the languishment or decline of the West's democratic movement seems to be because too much familiarity breeds too much contempt. Present Westerners are so accustomed to their democratic traditions and beliefs that they have forgotten how these democratic habits and beliefs were established. So Trump said, "it is great that Xi is president for life now, and maybe we'll give that a shot some day." Taking democracy and freedom for granted but not thinking that they are a belief and cause needing to defend with action and passion is a worrying thing.
Now, the West has many human rights organizations conducting research and observation, such as Amnesty International and Human Right Watch but no or only very few bodies willing to back the international democratic movement by practical action. Lack of action is a mark of faith loss. So, it seems that what west non-governmental organizations (NGO) say is far more than what they do, in the eyes of a foreign person. This may be one of the weighty origins of the persistent downturn of democracy and freedom worldwide.
Back to Sino-US relations. Current Sino-US relations are at the crossroads. When the Trump government planned imposing $150 billion in tariffs on Chinese goods and has imposed 25 percent tariffs on Chinese steel products and 10 percent on Chinese aluminum products, the Chinese government vowed to retaliate with equal-degree tariff measures and has already levied 25 percent tariffs on US soybeans.
Yet it seems that the US has yet to be sure how to deal with an aggressive China, when it sent its top economic team to Beijing to discuss the escalating trade war. In Obama's age, the US government debated trade disputes and human rights issues with the Chinese government every year but all to no avail.
So, the problem is not that the US government doesn't know that the Sino-US trade dispute isn't too possible to resolve by talks but that it has yet to prepare to entail itself in an all-out trade war with China. Yet the US has no other choice unless it intends to accept China's unfair trade behavior. Trade war is a bitter pill for the US, but this is a result of its own long-running unscrupulous trade behavior; China is only cunningly and unflinchingly taking advantage of it in its own favor.
Immoral trade behavior also lies in other West countries, such as the UK. About 150 years ago, the UK was the first west nation that made China open its national doors by force for business, while now it is also the first west state which joins the AIIB set up and led by authoritarian China.
A crucial feature of such behavior is that it puts trade over values, so it can also called the Trade First principle. This rule has never been explicitly expressed by the West, but it encourages China's malformed development and leads to the decline of the whole world's democratic developmental level. So, the US should end such unethical trade behavior and come back to a one balancing trade and values.
In this respect, the first thing the US can and should do is making a law requiring that all students from authoritarian countries, especially China, studying in the US first or at once know or learn knowledge of democracy and freedom if they would like to learn sciences and technology in the US. The US can't help authoritarian countries, especially China, breed a great number of scientists and technicians any more but not teach them what are democracy and freedom. Such cases are particularly necessary and valuable with these students from authoritarian countries, especially China, because the kind of knowledge is unable to be learned or strictly prohibited in their own countries.
In order to promote democracy and freedom and erect strong faith in them, the US has no reason not to do it. In history, every democratic movement or revolution, whatever successful or unsuccessful, had a run-up to it when knowledge of the values took an active and widespread propagation. This makes the diffusion of such knowledge extraordinarily important. The US has a chance to do so: now, for China alone, it sends hundreds of thouands students to the US for study every year and half the number of them are learning sciences and technologies. This is just where China's proneness lies. The country's scientists and technicians haven't even had the capacity of engineering a high-performance engine for its fighter. So, it is no surprise that in Sino-US trade, US companies have been required to hand over their intellectual property to Chinese firms for access to the Chinese market.
For the US, aside from trade war, another ostensibly imminent crisis will be from the Taiwan Strait. The status of Xi in the CCP isn't so strong as expected usually. He now has almost all the most important powers, being a real tyrant, but so far he hasn't finished any historic mission proving that he deserves all the powers. So as a despot, his status is factually more susceptible than his four predecessors. Thus, he needs an honor to show himself. Taiwan is just the place being likeliest to bring glory to him. This is mainly because Taiwan is China's last domestic issue of territorial integrity.
So, for Xi, the Taiwan issue is of extreme importance, as if he doesn't take any action to bring it back in his pocket, this will make his China dream of making China great again become a joke: how can a partite country become great over?
The reality also attests that Taiwan is just his most wanted objective: in the last two years, Taiwan has seen the Chinese military carry out drills near it as never seen before, with the CPLA executing 16 exercises in 2017 alone.
For the US, in present Sino-US relations, it still has the upper hand, but if it keeps on with the Trade First rule, it needs to ask itself if it will go on putting up with the country's unfair trade behavior until some day it receives a fatal bite from China, the viper.
The Forgotten Analogy: World War II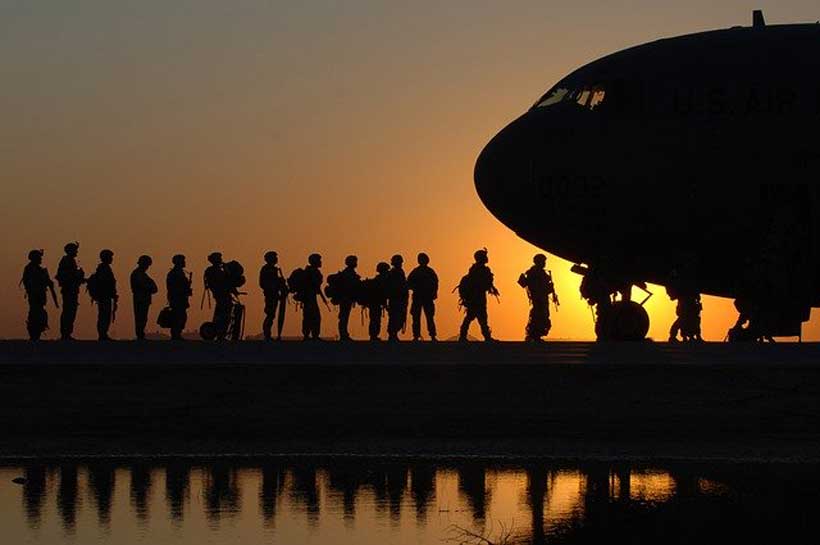 Pundits are searching for adequate analogies to explain the growing China-U.S. rivalry and predict its future direction. Two main ones appear: the pre-World War I era and the Cold War. Both have their merits. The early twentieth century pitted Germany, a rising power, against status quo Britain and France. The Cold War also shares similarities to the current situation. The United States engaged in a prolonged struggle to contain a nuclear-armed great power. However, neither the Cold War nor the First World War offers an entirely appropriate analogy to make sense of the current world order.
Wilhelmine Germany was a formidable power but it largely stood alone, cornered in the center of Europe. London, Paris, and Saint Petersburg had an easy time concentrating their forces to balance against Berlin. Although it had Asia as secondary and the rest of the globe as tertiary theaters, the heart of the Cold War was also Central Europe. There were only two great powers, the Soviet Union and the United States, wholly occupied checkmating each other. 
Today's international politics differs by the number and locations of the main protagonists. Although China legitimately attracts most of the attention, Russia remains a great power. Both China and Russia are the sole great powers of their respective regions — Asia and Europe. Both are bent on correcting the balance of power to their advantage and pushing the United States out of their neighborhood. On its side, Washington has a deep-seated interest in making sure that no great power competitor dominates Asia or Europe because both regions concentrate a big share of the world's wealth and advanced industries. Indeed, a regional hegemon in possession of such resources would be strong enough to potentially overpower the United States. 
Washington found itself in the same position during the late 1930s and early 1940s. Nazi Germany had become the strongest power on the European continent and seemed bound to dominate all of it. Imperial Japan's bid for Asian hegemony was unfolding unabated. The Americans had a vested interest in ensuring that neither Berlin nor Tokyo would seize control of their neighborhood because local powers were unlikely to get the job done on their own. It is now Beijing and Moscow occupying these roles.
Asia and China
China is the strongest state in Asia by a wide margin. No regional state can counterbalance Beijing on its own. Even a coalition of current U.S. partners — say Australia, Japan, the Philippines, Taiwan, and South Korea — would likely be too weak to seriously deter China without America's support and strength. If Washington wants to prevent a Chinese bid for regional hegemony, it needs to throw its weight behind the balancing effort.
During the World War II era, America had to work alongside allies with widely divergent interests (notably Britain, Free France, and the Soviet Union) against the would-be German and Japanese hegemons. In a similar vein, the United States needs to help repair the relations between Japan and South Korea and accommodate those who have had rocky relations with Washington (India, Vietnam) or that are non-democracies (Singapore). The sheer power of China and the challenge of putting together a working balancing coalition imposes to the United States an "Asia First" strategy in the same way that the Third Reich's superior military and industrial capabilities forced "Europe First" during World War II.
Another similarity with the World War II era is that power dynamics are rapidly changing. In Europe, the primary focus of American planners, Germany was with little doubt the strongest power on the continent. But the balance of power was evolving and the Soviet Union, still reeling from its civil war and Stalin's purges, appeared to the Germans as a rising threat. Today, Beijing is growingly wary of India, a state as populous as (and very soon, probably more than) China and enjoying economic growth rates superior to China's.
Europe and Russia
While most Asian states are directly exposed to Chinese military power, the states of Western and Southern Europe are separated from Russia by several other states in-between. Therefore, many European states feel less threatened by Russia and have been slow to balance against Moscow. Although France has been increasing its military spending and Britain vowed to redeploy heavy forces to Germany, these small incremental changes do little to correct the overwhelming military superiority of Moscow. No Western European state is ready or willing to confront Russian power head-on. Europe needs American leadership for that. It is not unlike the late 1930s, when the Soviet Union, separated from Germany by Poland, readily passed the buck of containing Berlin to London and Paris, with disastrous results.
On paper, European states — most notably Britain, France, and Germany — have enough latent capabilities to counterbalance Russian power. But geography and the collective action problem stand in the way. Indeed, Russia is not an immediate threat to Western Europe like the Soviet Union was. Today's Russian army is unable to threaten the survival of France or Germany due to the East-Central European states acting as a buffer. Even if the Western Europeans acknowledge the resurgence of Russian power and are slowly rearming, they just do not feel the same sense of urgency as in Eastern Europe.
Collective action is difficult when many actors have to provide for a common good. An instinct is to do as little balancing as possible and wait for others to take the mantle of deterring Russia. Also, with no clear leader, effective decision-making is unlikely. Berlin, London, Paris, and others will push for their own preferences, thus resulting in lowest-common-denominator policies and under-balancing. Russia would then be free to cherry-pick its small neighbors and subjugate opposition. Eventually, Western Europeans would balance more effectively; but by the time they do so, Russia will have grown its power base and will already dominate Eastern Europe, thus representing a far more formidable challenge.
NATO is a powerful but imperfect tool to contain a Russian aspirant hegemon. The misaligned interest between many western and southern states and those closest to Russia stands in the way of effective balancing. A potential cure would be to form an additional smaller and more focused alliance system of Poland as the main bulwark, the Czech Republic, Romania, the three Baltic states, and maybe Sweden. In any case, to overcome buck-passing tendencies and problems of coordination, American political leadership is inescapable.
No Easy Fix
Historical analogies are always risky and no situation ever recurs in the exact same way. Yet, if we are to compare the current international situation with a past example, the World War II analogy appears more powerful than the World War I and Cold War ones.
Indeed, the United States faces the same conundrum of having to deal with two formidable rivals on two different continents. World War II had Germany as the most powerful opponent and Europe as the theater concentrating the most resources. Now, both the strongest competitor and the main loot are in Asia. During World War II, U.S. policymakers wanted to focus their forces on taking down Germany but they also had to cope with Japan out of fear that Tokyo would successfully absorb much of East and Southeast Asia and become a far greater threat than it already was. Today, although Russia lacks the power potential of China and Asia has now more wealth than Europe, with potential hegemons in both Asia and Europe, Washington is forced into a gigantic act of dual containment. Therefore, the same dilemma that plagued the United States eight decades ago plagues the Americans of today.
There is no roadblock in the way of improving Sino-US ties
According to my long-term observations, the challenge that the US strategic circle has been confronted with in assessing Sino-US ties is: How to comprehend China? What is the best strategy for dealing with China? What is the proper topic for researching Sino-American relations? If they have a more objective perspective of China and a more reasonable understanding of China's growth, there will be less friction between China and the US, and bilateral ties will develop more smoothly. Otherwise, there will be additional difficulties and twists and turns.
Of course, the United States has no shortage of discerning and young people. Nixon and Kissinger, for example, ventured to question American society, "Should the United States open the door to China?" "Should US-China relations be broken?" They had the "Ice-Melting Theory" because the questions they presented were valid. Despite the fact that diplomatic ties have not yet been established, Nixon has decided to visit China as President of the United States.
Such an accomplishment is still remarkable and admirable. Because the topic they propose is appropriate, their efforts will live on in the annals of history and will be remembered in perpetuity. In truth, the Chinese did not have the present degree of awareness of the United States at the time, and the "Cultural Revolution" had not yet finished. Even if the sign on the edge of the Beijing airport welcoming President Nixon remained "Down with US imperialism."
Despite the removal of the Beijing Airport tagline, Nixon's successors have always had a swinging perception of China, whether clear or muddy, straight or crooked, and floating. As a result, Sino-American ties have been bumpy along the road. Because some Americans misunderstood the subject of China studies, the ensuing misconceptions appear to be a black cloud in the sky of Sino-US relations; when the dark cloud appears, the US and China will lose ground in their interactions with China.
The current challenges in Sino-US relations are likewise similar: there are both black clouds of the so-called "China threat theory" and aggressive actions continually unleashed by the US administration, which throws a shadow on US policy toward China while also casting a shade on the US itself. There are several impediments to growth. In truth, the different "evidences" of the so-called "China Threat Theory" are not difficult to understand and do not need profound knowledge or secrets that cannot be made public.
Viewing China's peaceful development trend honestly and logically is not an insurmountable challenge for Americans. Nixon and Kissinger of the United States strove hard 50 years ago not to "hide from the clouds." Today, the US likewise has no need to invent a slew of fictitious "reasons for China threats" in order to keep Sino-US ties from improving!
Otherwise, I'm not sure whether future Americans will be able to answer the question, "Who lost China?" However, as the adage goes, "the house leaks and rains," referring to the ongoing epidemic of the new crown epidemic, which prevents direct face-to-face connection. The hurdles, which include psychological and emotional barriers, have exacerbated the difficulty of removing these black clouds.
Expressions like "I am in you, and you are in me," "Everything is thriving, and everything is lost," and "Global Village" are also taught from American scholars, and they reflect true developments in Sino-US ties. As far as I am aware, virtually few researchers over the age of 40 in American academic circles have not been inspired by the thesis of "interdependence." As a result, they recognize the importance of interdependence and will not turn a blind eye to the breadth and depth of dependency between China and the United States today.
The United States and China's interdependence today is extensive, multi-layered, and multi-faceted. It is a network structure system that is vertically and horizontally interwoven and coexists peacefully. What exactly is "hehe"? It is designed to meet the demands of both China and the United States. If the difficulties of matching and matching between the two nations via peace and collaboration is unique in history, then the matching and matching accomplished between the two countries after a half-century of hard effort is also exceptional. There are few countries in the world that can be compared to it, and none that can replace it.
To put it another way, the compatibility that China and the US require may be achieved through hard work. Even though China and the United States do not share the same destiny or synergy for the time being, the American people's everyday lives are nearly inextricably linked to China. Based on this, I've understood the truth: the mutual relationship's ability to shift from danger to safety is due to their interdependence, and no one can abandon others. This is the heart and soul of Sino-American ties. There is no justification for anybody to overlook this basic due to the disagreement between them, let alone dig out the roots and harm the truth!
There is no obstacle that cannot be overcome in order for Sino-US relations to develop, because there are always more solutions than challenges. The author has firsthand knowledge of the development process that occurred after the "hard ice" of Sino-US ties was cracked. I've witnessed both the flowering spring and the dismal winter that appears to be on its way. Even if "apes on both sides of the strait couldn't cry," they can nonetheless show up. Situation in which "the light boat has crossed ten thousand huge mountains." Following the upheaval of the late 1980s, Sino-US relations were practically intolerable, and they persisted until the end of 1991, with little indications of improvement.
There is no obstacle that cannot be overcome in order for Sino-US relations to develop, because there are always more solutions than challenges. Following the upheaval of the late 1980s, Sino-US relations were practically intolerable, and they persisted until the end of 1991, with little indications of improvement. On January 24, 1992, excellent news came out of Chinese diplomacy in the midst of such a "severe winter": Following a brief conversation with Israel, they agreed to formally establish diplomatic ties without any impediments, based on the strong affinity forged in the history of the Chinese and Jewish peoples. The two countries' long-awaited wish. The positive news of the creation of diplomatic relations between China and Israel has taken the Jewish world by surprise and has had a significant impact on the inclination of the American media to report on China issues.
There are many Chinese in the United States, and most Chinese expect Sino-US ties to strengthen. Only until Sino-American ties improve will Chinese people have a place and be appreciated in the United States. Foreigners will also consider a person's "birth background," which is natural and nothing strange; if the "birth background" is favorable, they will be "admired." China is also the "birthplace" of Chinese people in the United States. Chinese in the United States have put in a lot of effort and made significant contributions to the establishment of stable and seamless Sino-US ties. This tradition is not only alive and well, but also thriving.
There are a considerable number of Americans who rely on China-related employment, business, and investment, whether in China or the United States. Only until Sino-US ties improve will they be able to focus only on China-related professions, business, and investment, and they despise "McCarthyism." As a result, they anticipate that Sino-US ties will improve, which is unavoidable.
For example, in July 1990, at the invitation of the "National Committee on U.S.-China Relations," then-Shanghai Mayor Zhu Rongji led a delegation of Chinese mayors to the United States, aiming to dispel U.S. government and opposition to China's reform and opening up through the development of Pudong.
The Sino-US relationship, which was harmed by the late 1980s instability, also sought an agreement from the US Congress to prolong China's most-favored-nation status. According to Zhu Rongji's suggestion, Shanghai organized a delegation of scholars led by Ding Xinghao from the Shanghai Institute of International Studies, Hong Wenda from the Department of Economics at Fudan University, Yao Tinggang from the Shanghai Academy of Social Sciences, and Yao Tinggang from the Department of International Politics at Fudan University. Shanghai Institute of Foreign Trade's Zhou Dunren and Zhou Hanmin are made up of five persons.
These five people's round-trip travel expenditures were not covered at the time. When the National Committee on US-China Relations learned about the situation, they quickly said that they would offer it in its entirety. American friends are very ruthless! At the time, Sino-US ties were exceedingly tense, but China had made many American friends via bilateral exchanges with the US, as well as diplomatic assets for the growth of Sino-US relations. Trusted friends will provide genuine assistance in times of need.
As a result, the Chinese mayor delegation led by Zhu Rongji's tour to the United States outperformed expectations. Friends such as the "National Committee on US-China Relations" are not only there, but numerous. This decision should be practical and in line with objective reality. Furthermore, the US still has a vast number of international challenges that cannot be managed by one country alone and necessitate China's assistance. There are still many shared interests between China and the United States that must be pursued in order for individual interests to be realized. There are several elements that benefit both China and the United States. The challenge is how to make the most of these advantageous circumstances. The overarching theme is how to persuade Americans to view China's peaceful growth trend objectively and rationally.
In sum, their concept of the character of the United States has been constantly painted and has not been in place for a long time. The examination of the character of the United States, on the other hand, differs from the policy of international affairs in the United States. The primary purpose of US strategy is to enable the US to comprehend China objectively and logically. There is still a lot of opportunity for improvement.
The impact of Biden's policies on China
The main Indications of US policy towards China have begun to become clear, and this policy reflects an American approach based on dialogue, without abandoning the militancy adopted by the administration of former President "Donald Trump". In this context, the Egyptian researcher will analyze what (the shift in the language of China's political discourse towards the policy of the new US administration and its impact on the Middle East, and the corresponding Chinese policy determinants). On the other hand, the scholar will shed light on the position of the Middle East countries, especially in the Gulf region, with the intensification of competition between the two major powers.
The moves of US President Joe Biden's administration, since he formally took office on January 2021, have focused on building a policy toward China based on alliances. This policy includes:
Trying to coordinate with Washington's allies to confront China's foreign policies.
Re-enhancing the influence of the United States in international organizations.
This trend also shows that the determinants of the US administration's policy towards China are not exclusively related to Washington's management of bilateral relations with Beijing, as much as they are affected by the management of its relations with other countries as well.
The "Biden administration" stems from a position of weakness in the East Asian region following the isolationist policies of the previous "Trump's administration", and the impact of the Corona pandemic.
Chinese officials and analysts have pointed to a crisis (the failure of the Trump administration's pressure on Japan and South Korea to increase their defense spending).
On the other hand, China's success in persuading most countries in the region to join the (Regional Comprehensive Economic Agreement) was the biggest blow to American influence.
In mid-March 2021, a "Quad Summit" was held, which brought together the leaders of (the United States, Japan, India, and Australia), and focused on China. The summit showed that "Biden" wanted to expand the scope of cooperation among the group's members, to include elements of "soft power", in addition to its military dimension.
We also note the tours of the US Secretary of State, "Anthony Blinken" and the US Defense Minister "Lloyd Austin" to Japan and South Korea as well to coordinate US efforts against China.
Washington has announced the holding of a high-level meeting in Alaska between Secretary of State "Anthony Blinken" and National Security Adviser "Jack Sullivan" on the one hand, and Chairman of the Foreign Relations Committee of the Communist Party of China "Yang Jiechi" and Foreign Minister "Wang Yi" on the other hand.
On the bilateral level with China, we note that (the Biden administration has adopted a parallel dimension based on a balance between diplomacy in issues on which the two parties agree, and deterrence in controversial files). The US strategic objective of this approach is to adopt dialogue, but to a lesser degree than the administration of former President "Barack Obama", in conjunction with maintaining the policy of confrontation, but to a lesser degree than the Trum's administration.
One of the most important contentious issues that is expected to occupy the agenda of the two countries, and which is witnessing the intensification of competition between them, is "technological competition". Chinese Professor (Wang Da), Deputy Director of the American Institute at Jilin University in China, analyzes the course of this technological competition between Washington and Beijing, saying:
The United States will continue to adopt a hard policy towards China in certain areas, such as 5G networks, quantum computing and artificial intelligence, but it will reduce the policy of "aggressive detachment in other less sensitive areas".
We note here the Biden campaign pledge during the US election battle to allocate $300 billion for innovation, and this will be the main driver behind US policy, in parallel with (Washington's endeavor to undermine China's capabilities in the field of science and technology).
On the (political level), the Biden administration seems to have no options but to be tough on China. One of the most important strategic goals of President Biden is to end the internal political division. It is understood from this that adopting a different approach from the Trump administration towards China may deepen the division further, and this complex position for the American administration means that at a time when "the files that might produce consensus between Democrats and Republicans are almost absent". Here, we can see that the "Chinese threat" appears to be the most important consensual issue on the American political scene at the moment.
American analyzes indicate that between a quarter to a third of men in the United States may lose their jobs by the middle of this century. In addition, the expansion of globalization and the accelerating digitization process caused great pressure on the working class in some crucial states, which are called (Rust Belt states), in which Biden achieved a hard or hard victory in the last presidential elections in the face of his opponent, "Trump". These are the states of (Pennsylvania, Michigan, and Wisconsin), which means that this class will determine the outcome of the US presidential election again in 2024.
Based on this complex political equation towards the US tightening policy against China, the Biden administration announced its intention to tighten trade policy with China, with the "Joe Biden administration", stressing the need to "reconsider the agreement of the first phase of trade negotiations with China and not to rush to lift trade sanctions against it".
On the (security level), the White House issued guidelines for all US agencies in the month of March 2021, we note that it "mentioned China's security risk more than 20 times".
President "Biden" pledged the importance of (strengthening the US military presence in the Indo-Pacific region), and obtaining the support of Japan, South Korea, Taiwan and Australia in the face of "China's hostile practices in the Northeast Asia and the South China Sea", in addition to the support of NATO, As essential components of the American alliance against Chinese policies in that region, according to the new American vision.
The US security document also pledged the importance of "strengthening the US partnership with India, Singapore, the Philippines, Vietnam and the rest of ASEAN countries" to undermine and besiege China.
In order to undermine and besiege Chinese influence, Washington announced in March 2021 several plans to build (a network of guided and high-precision missiles along the so-called "first island chain", which constitutes the first strategic defense line for China), and includes mainly "Taiwan and the Philippines", and as well as several islands disputed between Japan and China.
The Biden's administration's tendency to double (media and diplomatic pressures on China in connection with the human rights file in Hong Kong, Xinjiang and Tibet, and with regard to the international investigation of the source of the spread of the Corona virus, as well as the file of freedom of navigation in the South China Sea) was also clearly shown.
On the other hand, there are files around which the views of China and the United States of America converge together, according to the same American vision, and among the files of: (controlling nuclear arms, climate change, and combating epidemics), which are the foundations for points of cooperation between the two sides, as it focused Biden made his first call with Chinese President "Xi Jinping" in February 2021.
But the main dilemma that will face the "Biden administration" lies in (the different visions of most Southeast Asian countries for the security approach to confront China from the American vision itself), and the inability of the Asian countries allied to Washington to withstand Washington's strategic pressures to confront Chinese influence, which is mainly supported by policy interactions. interior in the United States. These mainly Asian countries share a common destiny with China politically, economically, geographically and historically. Moreover, most do not view US-China relations as a "zero-sum" as in Washington.
Here, we note from the foregoing, the contradiction of the policies and vision of the American administration with its allies regarding China, and therefore, the United States will have to (invent new formulations in its dealings with each country separately according to its interests), and this is the most important obstacle in Washington's relations with its allies in dealing with China.